Anti-Inaugural Circus on DrSuzy.Tv!
Length 1:52:03 Date: January 21, 2017
Oh, what a show! After that dreary, dreadful inauguration of America's scary new Clown-in-Chief and the closing of Ringling Brothers and Barnum & Bailey, Bonoboville busts out the perfect antidote with a sensational, spectacular "Anti-Inaugural Circus," featuring human animals and party animals, Bonobo Way book-spankings and Bonoboville Communion, rousing speeches and arousing striptease, an über-orgasmic Sybian ride and a breathtaking, sparkling climax with four hot ladies giving Trump a series of Golden Showers.
Yes indeed, after over 125 years, P.T. Barnum's "Greatest Show on Earth" is shutting down, but the "Greatest Sexuality Show on Earth," hosted by your devoted ringmaster, now entering our 33rd year, is going stronger than ever, featuring a uniquely exciting sex-educational "Erotic Theater" experience that makes you laugh and go "wow!" as it turns you on.
Human Animal Acts that Even PETA Would Approve
Without a doubt, our entertainment is more A-List than Trump's, though that's not saying much, his most prominent performers being a 16-year-old "America's Got Talent" runner-up and Angelina Jolie's dad. Under the Womb Room's Big Top is a glittering gathering of mistresses and submissives, artists and exhibitionists, political animals and well-trained human beasts.
In the first ring is roleplay fetish specialist and human animal trainer Madame Margherite and "Monkey" Andres Rey Solorzano, winners of the 2016 SUZY Award for "Sexiest Animal Act." This time, Madame also brings an Elephant, a Unicorn and a Lion. It being a circus, they perform tricks that delight the crowd, as Madame explains "how to turn a man into your pet," which also happens to be the subject of a course she'll be teaching at DomCon LA this year.
The Monkey juggles his balls, the Elephant flaunts his trunk and balances on one foot, the Lion shakes his mane and the Unicorn struts on his hooves, showing off his impressive horn—both the one on his head and the other in his tightie-whities. Later the Unicorn and the Lion play their own version of "Grab the Pussy" that winds up with some happy interspecies humping you won't see in any other circus but the Greatest (and wildest!) Sexuality Show on Earth.
FemDom Power
In the next ring is U.S. Presidential Candidate Mistress Tara Indiana, winner of the 2016 SUZY Award for "Best Presidential Candidate," who brings along her "Trump," leading him by the tie (which makes the perfect collar and leash), beating him and letting us whack him hard for our pleasure, as well as the release of our Trumpocalypse-engendered emotions… and body fluids. More on that in a minute…
In the third ring, we have artist/Mistresses extraordinaire Sheree Rose, "Best Blast from the Past" SUZY award winner, and Rhiannon Aarons, winner of "Best Boobie Cake Plate." Continuing our Bonobo Way Female Empowerment Outreach Project, thanks to the generous gift of investor, philanthropist, feminist and Bonobo Way reader, Malcolm Jones, our first prize of the new year goes to Sheree: a crisp new hundred-dollar bill, which both she and Rhiannon agree to invest into publishing their soon-to-be-released Book of Medicine featuring the cutting edge performance art and poetry of the late great Bob Flanagan, with whom I go way back to my first year in LA.
To celebrate their Mal prize, Rhiannon busts out her magnificent, all-natural, SUZY-award–winning 36G's to serve as Altar Girl for Bonoboville Communion. My beautiful, circus-corseted assistant Gypsy Bonobo volunteers to take Communion from Rhiannon's bounteous boobies, as well as a good Waterboarding (Bonobo-Style) with Agwa de Boliva Herbal Coca Leaf Liqueur.
Bambi Bootie
What's a circus without a sideshow? Ours features a very sexy DrSuzy.Tv virgin, statuesque Dominion submissive, Bambi Leigh (thanks to Del Rey).
After showing off her shiny hot pink corset, fishnets and curve-hugging black pencil skirt, she takes off the skirt, revealing a g-string that barely covers her lovely, shaved vulva and perfect heart-shaped ass.
Graciously and gracefully, Bambi submits to my Ringmaster's riding crop (made by Jux Leather), and soon her bottom is as pink as her corset.
This sets off a series of spankings featuring Mistress Tara giving her signature, bare-handed OTK (over-the-knee) whacks to sweet Gypsy, as well as our "Best Submissive" SUZY award winner, Jacquie Blu. Then Sheree lays into Trump's ass, pulling down his Presidential pants to reveal Fruit of the Loom undies—bankers grey and made in the USA!—and I give it to him with the business end of The Bonobo Way.
If only the real Donald Trump took his punishments like our "good boy" instead of the crybaby he is, we'd all be better off.
Bonoboësque Marches & Spencer-Smacking
After the break, we enjoy more human animal acts and some lively discussions about the nature of "Resistance, the Bonobo Way." The peaceful, colorful and creative demonstrations during and after the inauguration (also much better-attended than Trump's total fail of an inauguration celebration) are the best examples of bonoboësque resistance. We're proud that our new gal Clemmy participated in the LA March, and "Most Bonobo Political Speech" SUZY award winner Chris Gagliardi participated in the über-bonoboësque Women's March on Washington.
Capt'n Max reminds us that we must heal ourselves of Electoral Dysfunction and abolish the antiquated, slavery-based Electoral College, if we want our national political leaders to be as bonoboësque as We the People are.
In terms of other demonstrations of bonoboësque spirit, the guerrilla face-smacking of White Nationalist Neo-Nazi Trump supporter Richard Spencer deserves a mention. At first, I thought this timely smack heard round the cyberworld was "not bonobo," it being an unequivocal act of violence. However, upon viewing the video several times and laughing harder with each viewing, I decided that it was actually a rather bonoboësque piece of street performance art.
After all, the real bonobos can be violent and sometimes they do bite, grab and smack each other, rather like that bold young protestor smacked Spencer. What strongly distinguishes bonobos from common chimps and other great apes is that they don't kill each other. So, a light smack like Spencer received does qualify as bonoboësque, especially since the Hail Trumper apparently wasn't hurt by the mild blow; indeed, he kept on talking even as he was hit again and spit on by another protestor. Not so physically painful, but quite internationally humiliating—and with all the hate-filled, white-supremacist, pseudo-intellectual vitriol he spews, he certainly had a little street humiliation coming to him.
Orgasmic First Sybian Ride
Inspired by Gypsy and Daniele's New Year's Eve Sybian rides, Rhiannon asks if she might mount the magical orgasmical machine.
Gypsy prepares the ride with a fresh saran-wrapping, and topless Rhiannon straddles the mechanical beast as I turn up the vibrations.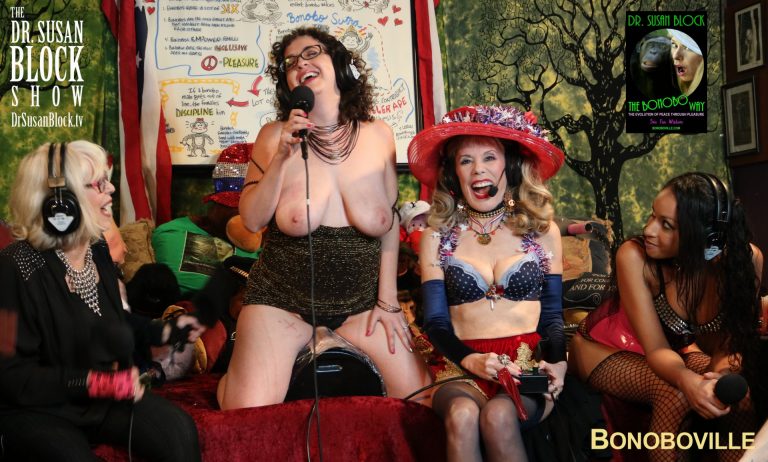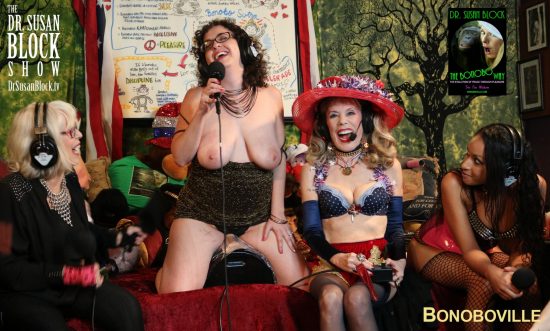 To give her a little challenge, I ask Rhiannon Madam Librarian to describe the Book of Medicine as she rides, which she does quite well, that is, until the vibrational pleasure goes into overdrive, and all she can do is come, and come again, as the circus crowd goes wild, the Lion roars, the Monkey shrieks and the Unicorn whinnies in orgasmic empathetic appreciation.
Golden Showers on Trump!
The media-verse has been wet with "news" of Trump receiving Golden Showers from a gaggle of Russian prostitutes who reportedly peed on the Moscow Ritz-Carlton bed where former U.S. President Barack and Michele Obama had slept on a previous visit. Whether or not any of this—from Russian hackers to Russian hookers—is true or fake news is anyone's guess. However, it has the "stink" of truth, especially considering the Big Baby's self-proclaimed "germaphobia" (clean freaks often have the "dirtiest" sexual fetishes), as well as his gilded hair and infamous affinity for all things golden.
Mistress Tara is "on the record" for having predicted this years before the Buzzfeed report, giving interviews to several publications (though only Vice was bold enough to print it) calling the Trumpster a "human toilet."
Well, that calls for a demonstration! The Womb Room crowd leans forward as we lay out a plastic tarp on the floor, and strip off all of Trump's clothes but those Fruit of the Loom's, and he lays down obediently and Ms. Tara hikes up her skirt and squats over him. Alas, but you cannot "fake" a pee (well, not without some fancy equipment), and Ms. Tara is not in the mood… at least not yet. However, Rhiannon, having just come with a bang on the Sybian, is ready to let loose a shower of golden nectar, and that she does, all over Trump's chest and jiggling tummy.
Next, Jacquie pees all over his chest and aims a good long "Water of Life" arc right into the Trumpster's mouth, a golden Trevi Fountain.
Even I take a turn. Not having prepared for this by imbibing gallons of H2O, I pee just a little, but I hit my target of the Big Guy's notoriously tiny wiener, nicely staining his Fruit of the Looms with the Fruit of my Womb… well, my urethra. And I gotta say: it feels good! Gold rush….

Bambi straddles the Donald with impressive poise and even pulls off her skimpy g-string to completely reveal her gorgeous bald Mound of Venus. Though her attempts to pee are a pleasure to behold, and most of us could watch all day and night as she tries and sighs, she can't seem to squeeze out one golden drop. However, just the sight of Bambi's beautiful bare vulva is enough to stimulate Mistress Tara into trying again. This time, she lets loose a shimmering golden storm to rival the current rains drenching Southern California, baptizing our new Clown President in her sacred urine, and stuffing the napkin she uses to wipe herself into his big mouth.
And the crowd goes insane. Woo-hoo! Supporter or resistance, you gotta love this sex-therapeutic scene: We pee on Trump!
We Are One
After an intense sex and/or fetish act, it's always nice to enjoy a little of Shakespeare's "Food of Love," music. For that we have Ikkor the Wolf, winner of the SUZY award for "Sexiest Rapper," singing "We Are One" as we throw up our fingers in solidarity with the only real "race" there is, the human race.
This is important to remember in these Divided States of America when Richard Spencer, Steven Bannon and the other clowns and plutocrats appear to have kidnapped our nation's capitol. They and our corporate overseers prefer that we are at each other's throats, Trumpers against Resisters, Blacks against Whites, Men against Women, Immigrants against "Natives," etc. That way, we are too busy fighting to see how they are stealing from all of us. Will we let them goad us into another Civil War? Or will we see the scientific and very spiritual, and yes, sexual truth, that "We Are One?" Only time will tell in this nerve-wrackingly unpredictable, Big Topsy-turvy Brave New Reality Show we now seem to inhabit.
Three cheers and a Bonoboville beer to Counterpunch for picking up my opening shot to the new year, #GoBonobos in 2017: Happy Year of the Cock!
Three cheers and an Agwa to us for greeting the horrifying new regime with comedy (Trump's Achilles heel, according to Michael Moore), circus sex, fetish fun and the time-tested wisdom of the bonobos.
Thanks to this week's volunteers: Camera Operator – Angel Huaman, Sean Deidy; Photographers – Deejay LainFiesta, Maurice Dedeaux; Bartenders – Marcia Parker; and our On-Campus Bonobos Abe Perez, Del Rey, Gypsy Bonobo, Harry Sapien, Jacquie Blu, MarsFX, Johnny Jungle, Cammy Cockatoo, Ana & Miguel.
© January 22, 2017. Susan Block, Ph.D., a.k.a. "Dr. Suzy," is a world renowned LA sex therapist, author of The Bonobo Way: The Evolution of Peace through Pleasure and horny housewife, occasionally seen on HBO and other channels. For speaking engagements, call 310.568.0066.

---
Explore DrSusanBlock.com
Need to talk? Sext? Webcam? Do it here. Have you watched the show? No? Feel the sex. Don't miss the Forbidden Photographs—Hot Stuff, look at them closely here. Join our private social media Society. Join us live in studio 😊. Go shopping. Gift shop or The Market Place. DrSusanBlock.tv, real sex TV at your toe tips. Sex Clips Anyone? FASHION, we have fashion! We also have politics. Politics? Have you Read the book? No? How about the Speakeasy Journal? Click here. Ok, how about some free sex advice?
---
---