Stormy St. Paddy's Mermaids
by Dr. Susan Block.
"Kiss Me (I'm Irish)!"And Erin Go Bragh—or go Bragh-less. It's coming up on the Feast of St. Patrick, and we are still making love through the March Madness. Engineering this show—for the first time!—is our multi-talented manager, Harry Sapien.
St. Paddy's is a sexy holiday with all that kissing, drinking, pinching and more drinking—and it's almost Spring, time for a romp with the birds and bees (but try not to get stung)! Nevertheless, Patrick was a celibate "saint" (allegedly), though I don't know if anyone saw his shillelagh; being Irish, if you go by stereotypes, it couldn't have been too big.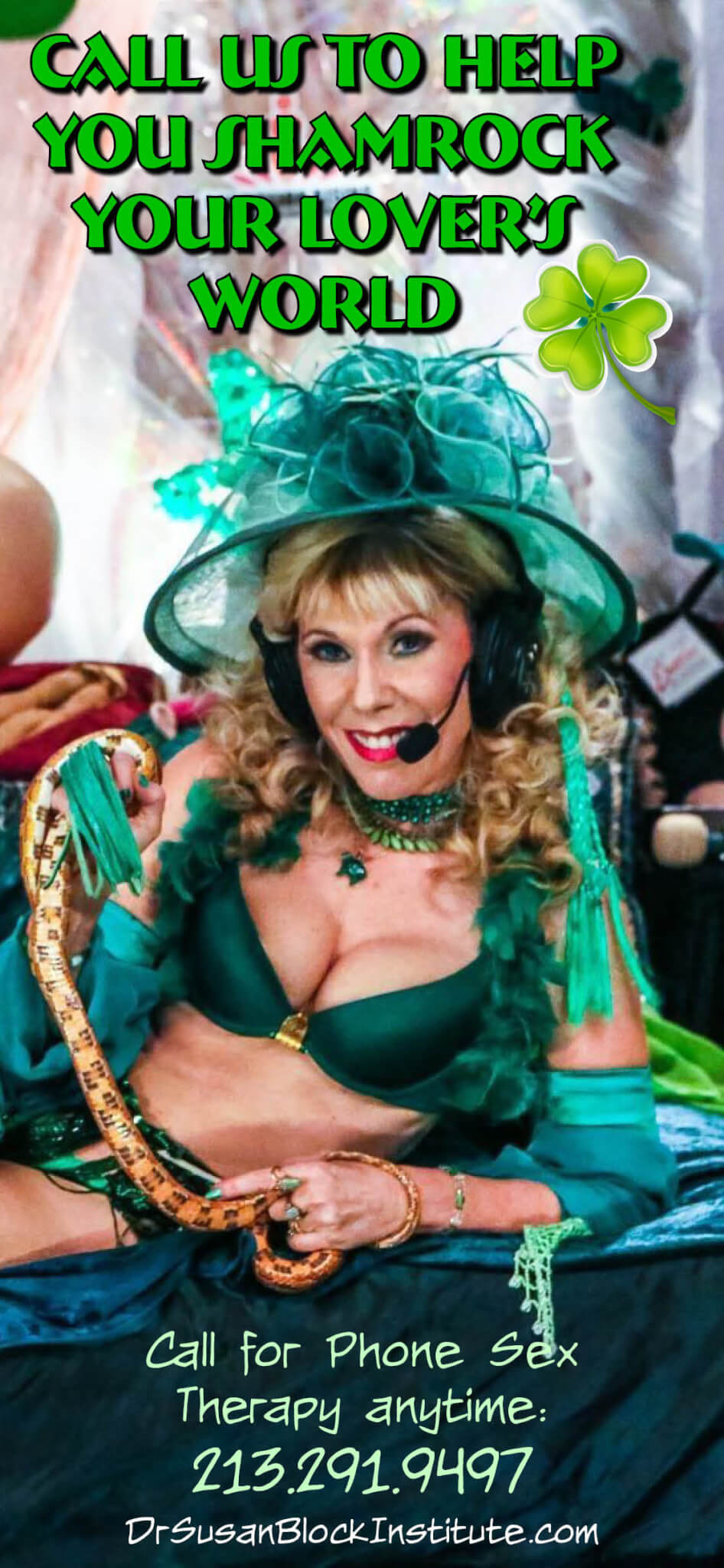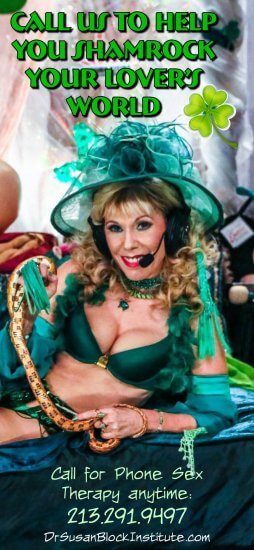 Whatever the size, it's pretty certain St. Pat was a man, but it's still Women's Month 2023, aka Women's History Month, so we leave the Saint and his snake to honor a great woman—and a sex worker—making history as we speak: #GoBonobos for Stormy Daniels!
Stormy spanked Trumpty Dumpty with a Forbes (before sitting—briefly—on his wee mushroom), and now she's spanking his ass with the law. Yes indeed, prosecutors are poised to criminally indict Individual 1, aka Donald J. Trump, for paying hush money to Stormy.
Will they do it this time? Or will Teflon Don slip through the hands of justice yet again? Of course, his crimes extend far beyond the Stormy Scandal—i.e., leading an Insurrection to overthrow a fair election, stoking a racist, sexist, xenophobic culture of violence, stacking our Supreme Court with Neo-Puritan misogynists, letting the Kurds get slaughtered, falsely claiming "election fraud" and ruining sex. Yes, sex.
As I discuss in my State of the Sexual Union 2023 address (now on all platforms except YouTube whose bots, though my Block Curse forced YouTube CEO Susan Wojcicki to resign, are still censoring me)… Libertine hypocrite and Christofascist-fellating narcissistic Trumpty Dumpty, contributed "bigly" to wrecking sex for the rest of us. In a sick twisted all-American way, Harvey Weinstein (whom I would by no means defend) has been imprisoned for life to *make up for* Trump's utterly unpunished crimes against women. It's almost like we were so frustrated with the Trumpus getting away with so much harassment, rape, pussy-grabbing and mayhem, we decided to catch and fry some easier fish.
Speaking of fishy things, somehow we wind up underwater in a deep discussion with our Callin commenters about fish, smelling like fish (down there), mermaid sex (watch out for the scales), Starbucks' two-tailed mermaid being a copy of Pr. Max's Filangieri family crest, and stormy seas.
Pop question: Why do we wear green on St. Patrick's Day? According to Celtic myth, wearing green acted as camouflage as you traipsed through the verdant forests of the Emerald Isle, making you invisible to leprechauns who, though magical, are kind of nasty. Like mini-Trump pussy-grabbers, they sneak up and nonconsensually pinch you if they can see you; that is, if you are not wearing green. Luckly, it's all a good excuse to party like a bonobo in St. Paddy's green panties and leprechaun lingerie.
Some of our great St. Paddy's Bacchanals have been Squirting St. Paddy's Eve with Deauxma, St. Paddy's Day The Bonobo Way with Gasmaskgirl, A Poly St. Paddy's Day, St. Pat Sexual Evolution, St. Paddy's, Steak & a Blowjob Day & Spring with Karen Summers (giving a great blowjob!), Purim & St. Paddy's Convergence with Luzer Twersky; Liz Warren celebrates St. Paddy's Day on DrSuzy-Tv with Sally Mullins, Be Bonobo on FDR and, with a little luck, we'll have more in the future.
Swimming along the atmospheric river of the "Stormy" theme, we take a call from "Stormy Rayn"—a nice term for female ejaculation, but this particular Stormy Rayn would like more "rough sex" with her boyfriend, eliciting kink tips, scratching talk, choking warnings (approach with caution, if at all), domination and some surprise twists.
More March Madness (in a good way): the Ides of March (when poor Roman dictator Julius Caesar got axed by his jealous friends) is Steak and a Blowjob Day! So eat some beef—fake meat, if you're vegan—and sausage—fake or fantasy blowjobs are cool too—before your St. Paddy's Guinness and bangers (more sausage-eating)!
By the way, there's always fake meat and fantasy oral available with the Therapists Without Borders of the Dr. Susan Block Institute—so you can always celebrate S & BJ Day with us! Or call us for St. Paddy's sex tips, and we will help you SHAMROCK your lover's world.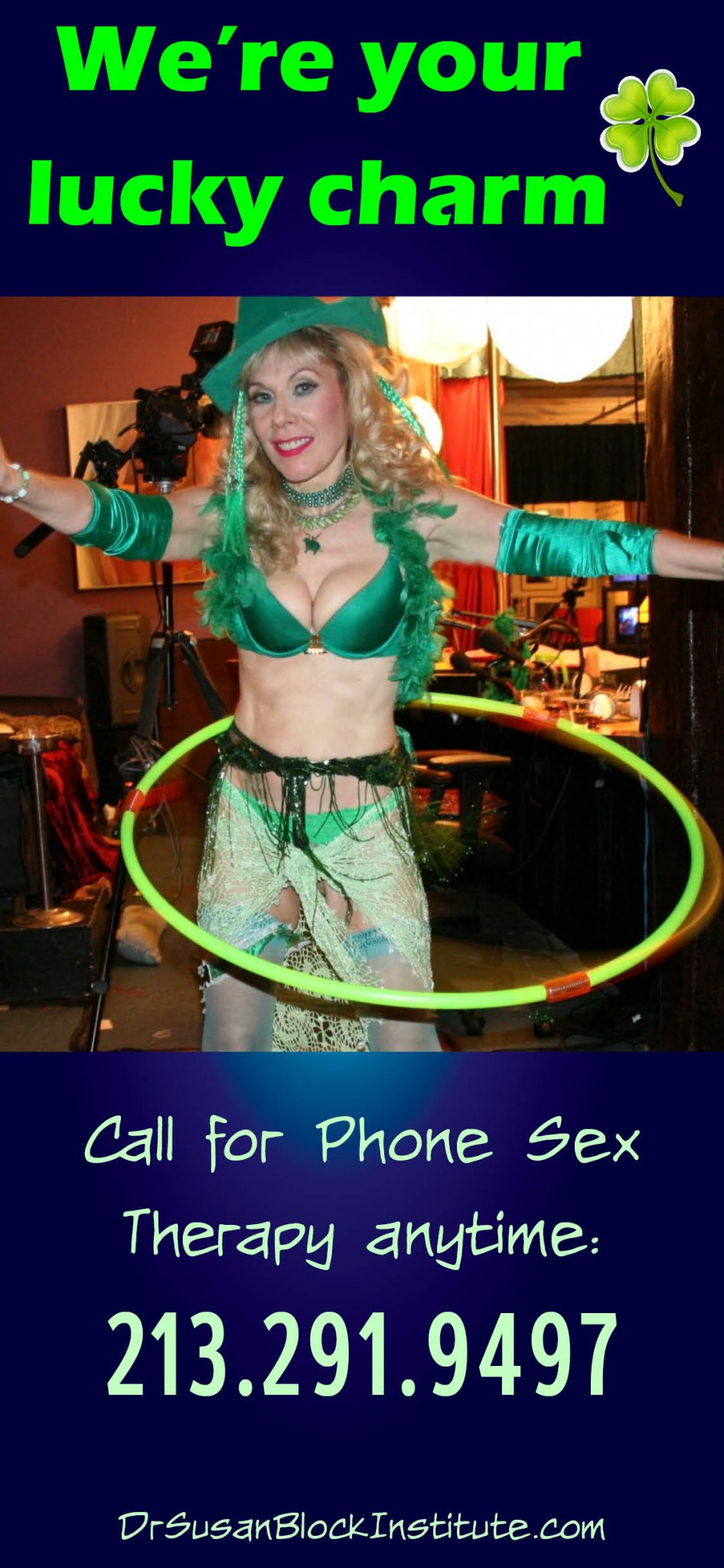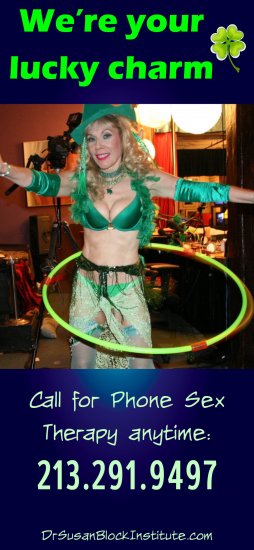 In Censorship News: The word "pussy" in "Pussy Cookie March Madness" has been censored on Twitter (which, hypocritically enough, runs loads of XXX-rated content)! Elon may be Musky, but he's got pussy-phobia. It's so annoying, but mild censorship like that is like stealing your Guinness or slapping you at the Oscars, and then there's severe censorship—i.e., YouTube's termination of our channel of 15 years—which is like burning down your house with all your stuff inside, and with no insurance—leaving you bereft in the ashes, or as Max said, it's like gagging and raping you in a dark alley where no one can see you fall or hear you scream.
We had less censorship when we were on HBO's Real Sex; for more about those "good old days" of sex-positive television, check out my interview on Vice TV's Sex Before the Internet.
Then there's the ultimate censorship—the actual death of activists like murdered Cop City protestor Tortuguita and Palestinians under apartheid—and the living death of imprisoned journalist Julian Assange. It's easy to feel helpless before the overwhelming power of the corporate Megamachine poisoning our environment and silencing our voices, but I believe in continuing to fight the power as best we can, without violence but with passion, in the Bonobo Way of female empowerment, male well-being, sharing, caring and peace through pleasure.
Lots more to this lucky, lusty ride into March Madness through the Tunnel of Love, from the Capitalocene to the Bonobocene…
Make Kink Not War (get the T shirt)!
© March 13, 2023 Susan Block, Ph.D., a.k.a. "Dr. Suzy," is a world renowned LA sex therapist, author of The Bonobo Way: The Evolution of Peace through Pleasure and horny housewife, occasionally seen on HBO and other channels. For speaking engagements, call 626-461-5950.
insert show
---
Explore DrSusanBlock.com
Need to talk? Sext? Webcam? Do it here. Have you watched the show? No? Feel the sex. Don't miss the Forbidden Photographs—Hot Stuff, look at them closely here. Join our private social media Society. Join us live in studio 😊. Go shopping. Gift shop or The Market Place. DrSusanBlock.tv, real sex TV at your toe tips. Sex Clips Anyone? FASHION, we have fashion! We also have politics. Politics? Have you Read the book? No? How about the Speakeasy Journal? Click here. Ok, how about some free sex advice?
---
---