The Block Curse Makes YouTube Censor Susan Wojcicki Resign +The Average Dick Gets Bigger!
by Dr. Susan Block.

All aboard the Love Train (no, not Norfolk Southern Railway) as we ride through the countryside of mass censorship, war, contamination, ecological degradation and the titillating growth spurt of the human penis.
Hold onto your joysticks guys, because first things first. There has been an intriguing development in my Kafkaesque tale of unjust YouTube censorship, a saga noteworthy for many reasons, chief of which is that it is happening to a lot of us. Many noncorporate voices like mine are being unfairly silenced by dumb bots incapable of discerning human nuance. Why? Because bots—aka, AI which is less "artificial intelligence" than artificial ignorance—are cheaper than hiring human beings. That translates to more cash in ad revenue for YouTube CEO Susan Wojcicki.
Except YouTube lost ad revenue this year. Also the bots went bananas, having "hallucinations" (i.e., making things up), according to Google Senior V.P. Prabhakar Raghavan, blundering their botty way into terminating innocent channels like mine for bogus charges like "harassment."
So, besides making fruitless phone calls and writing emails that disappear into the ether, I placed the "Block Curse" on the woman in charge, YouTube CEO and Censor-in-Chief Susan Wojcicki. And guess what? Within three weeks, she resigned! Not that I'm claiming credit, and I certainly didn't "harass" her—though she harassed me by unleashing those dumb bots that terminated my channel.
Indeed, the Block Curse worked like a charm on the Rigas Family of Adelphia Cable TV that censored us back in 2003 under somewhat similar circumstances, so perhaps it had a hand in the resignation of Susan Wojcicki. Though I'm sure that many curses were placed upon her, even from "inside" YouTube.
Insider Intelligence analyst Paul Verna said, "It strikes me as a forced exit caused by YouTube's under-performance in recent quarters." In other words, you reap what you sow.
Here's one "Good Riddance Susan Wojcicki" Tweet among many (from @PoliticalAwake): "Under her leadership she turned YouTube from a Platform led by Content Creators to one led by Corporations. Due to the Adpocalypse & Mass Censorship YouTube no longer drives Youth Culture thanks to Susan Wojcicki leadership."
Here's another from @Yetunbroken1: "Susan Wojcicki, YouTube's Nurse Ratched and censor in chief, is finally out. Her time as a CEO of YouTube was a demonstration of what can happen when a stupid totalitarian gets to decide what is, and what is not true."
Then there's the little matter of Ms. Wojcicki's Congressional subpoena for unfair censorship practices. Ironically, these particular Congresspeople are more concerned about Rightwing than Leftwing voices like mine, but the fact is YouTube bots have unjustly censored many shows, whether they are Right or Left (and mostly, they're Left)—from "Youth Culture" to seniors—simply because they include controversial material.
I'll be talking about censorship this coming Saturday in my new "State of the Sexual Union" address on WCAP 980 AM's "Active Radio" in Massachusetts with Hartley Pleshaw, specifically the resurrection of the old Hollywood Hays Codes, a setback for human sexuality and Free Speech.
Hopefully, YouTube's new CEO Neal Mohan will support Free Speech and reinstate my channel, as well as many others that were unfairly terminated by "hallucinating" bots.
Giving more control of our world to bots and less to humans is also one underlying reason for the catastrophe in East Palestine, Ohio which particularly bothers Capt'n Max and me here on the Love Train because, well, we love trains. We also love freedom, but not the "freedom" for corporations like Norfolk Southern Railway to run freight cars carrying hazardous chemicals including liquid vinyl chloride without proper labeling and unequipped with electronic brakes, thanks to the GOP pushing through deregulation. Now THAT's obscene.

Though growth is arguably a good thing for penises, it is unquestionably a bad thing for the military.

In other news, the human penis and the American military are both getting bigger. A study, published on Feb. 15, 2023 in The World Journal of Men's Health, examined data from 75 different studies between 1942 and 2021 that recorded the penis size of their study participants, finding that overall the average erect penis length has increased 24% in the past 29 years—from 4.8 inches to 6 inches between 1992 and 2021.
No one knows why the average human penis is lengthening (Hormones in the food? Sedentary lifestyle? Porn stars procreating?), though scientists are "concerned" because this phallic growth spurt has been accompanied by a drop in sperm count, testosterone and potency.
Kdot calls in from Kentucky by way of Kenya to ask if nipples are also increasing in size. This might be wishful thinking on Kdot's part as he recounts a teenage experience that left him with a "phobia" for small or "inverted" nipples. This brings us to a discussion of nipples—human and bonobo—as well as a shoutout to Facebook for potentially freeing the nipple, even as YouTube strictly censors it.
Then it's back to dicks, dickheads, "penis fencing" and circumcision. Unscene Abe wonders if the increase in average shaft length could be due to less circumcision over the past three decades. Hmmm…
Though growth (and no circumcision) is arguably a good thing for penises, it is unquestionably a bad thing for the military—unless you're a war profiteer—and our military is most assuredly growing. The bigger the armed forces, the more likely diplomatic solutions are ignored in favor of military ones. Meanwhile, "our freedom shrinks as our military expands."
This unfortunate fact comes up as we talk about the "Rage Against the War Machine" rally with Brady, which features some speakers with whom we strongly disagree on other issues, including a few with Putin fetishes, but we feel that more is better when it comes to being antiwar.
Speaking of the fateful year that the average penis started growing (1992), check out this vintage Dr. Susan Block Show episode we just resurrected from November 8, 1992, "The New Voyeurism +Happy Birthday Max" (watch me lick Max's penis cake)!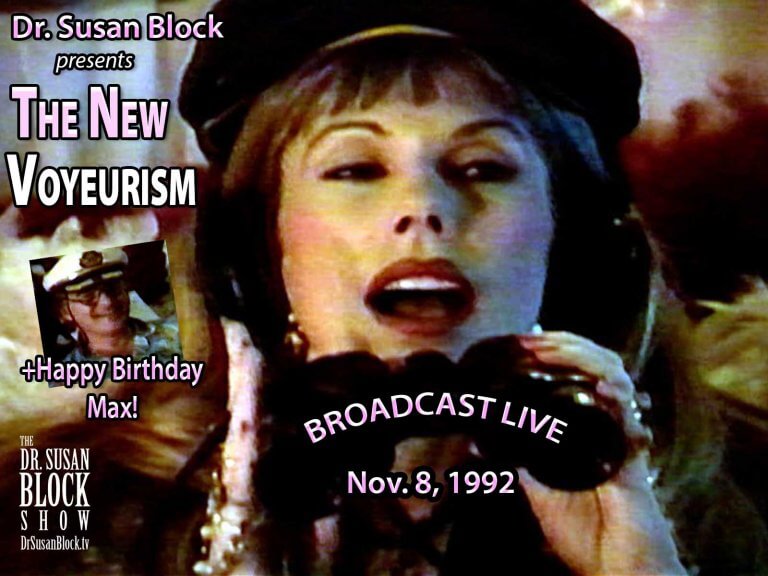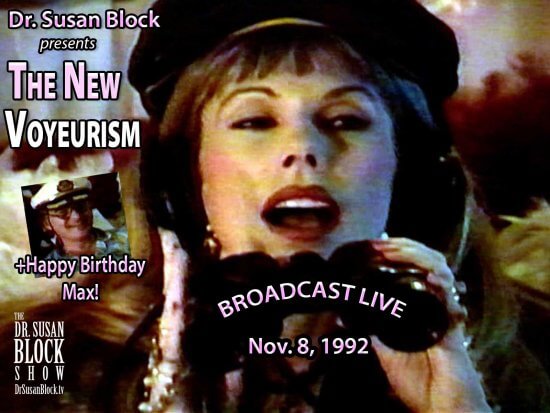 And happy birthday to my dearly departed Dad who would have been 112 on the night of this live broadcast. It was my Dad who taught me to think critically, maybe a little too critically for my own good, but he was a good Dad and I love him.
I love you too. Keep making love through the madness, Brothers and Sisters.
© Feb. 18, 2023 Susan Block, Ph.D., a.k.a. "Dr. Suzy," is a world renowned LA sex therapist, author of The Bonobo Way: The Evolution of Peace through Pleasure and horny housewife, occasionally seen on HBO and other channels. For speaking engagements, call 626-461-5950.
---
Explore DrSusanBlock.com
Need to talk? Sext? Webcam? Do it here. Have you watched the show? No? Feel the sex. Don't miss the Forbidden Photographs—Hot Stuff, look at them closely here. Join our private social media Society. Join us live in studio 😊. Go shopping. Gift shop or The Market Place. DrSusanBlock.tv, real sex TV at your toe tips. Sex Clips Anyone? FASHION, we have fashion! We also have politics. Politics? Have you Read the book? No? How about the Speakeasy Journal? Click here. Ok, how about some free sex advice?
---
---