F.D.R. (F*ck Da Rich):

Stop the War! We Want to Get Off!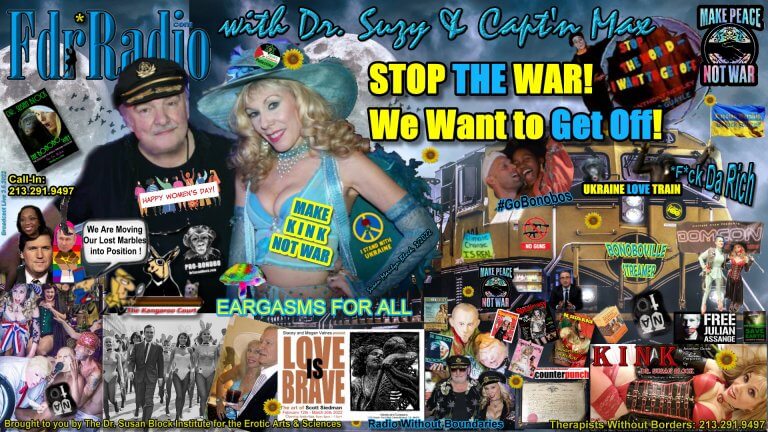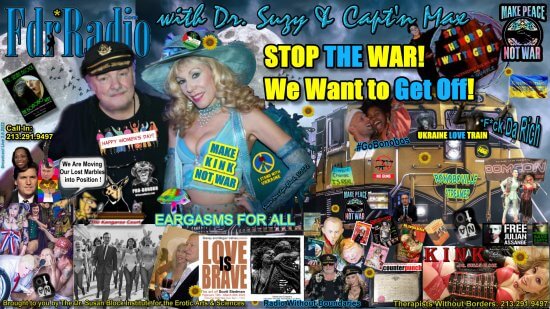 by Dr. Susan Block.
"Stop the World! I Want to Get Off," the 1960s hit musical, told the subtly anti-capitalist tale of a man so obsessed with his own success, he cannot fall in love.
"What kind of fool am I?" the poor rich man sings. And what kinds of fools are we who run this money-and-power-mad world that communicates most passionately through bombs, war and sex-negativity?
Here on F.D.R., we say NO to war and occupation, and YES to kink and copulation!
Or masturbation (we're not fussy), depending on your pleasure and opportunities.
It's still a Ukraine Love Train like last week, but now that the horrific novelty of attack has turned into the depressed reality of war, we're just looking for a way out of World War III.
Stop the War! We Want to Get Off (in every sense of "getting off")!
Not that it's really our "choice," but Capt'n Max and I do have a lot to say about it, as well as several other burning topics in the realms of love, war, sex, politics and the Bonobo Way…
Max wonders just how "crazy" Putin is and if it might be a good idea to have him droned.
I prefer incapacitation to assassination, describing my recurring dream of an irresistible Russian Dominatrix, probably a Domme-y Mommy type, definitely a heroine to the world, who somehow seduces the Putin Monster, ties him up—maybe "bootin' Putin" (a listener idea!) or fisting the bastard with no lube (another listener idea!). Having rendered him helpless, she then takes away his nuclear codes, and stops the war… so we can get off.
Since last week's show was virtually a Putin Hate Fest on the Ukraine Love Train, this week we more seriously consider NATO's role in inflaming Russia, especially U.S. President George Herbert Walker Bush who broke America's promise to Russia that we would not expand NATO when we waged the first war on Iraq. Putin was a young man carving up Russian assets with Henry Kissinger for himself and his cronies at the time, and never forgot that broken promise. Not that it's an excuse—at all—but now we are all paying the price.
The Captain and I reminisce about how we fell in love through our mutual opposition to the first Gulf War producing Desert Susan and embarking upon 30 years of kinky antiwar marriage.
Stop the War, we want to get off! That's "get off" as in get out of the war, and come, baby, come, baby, CUM! Turn swords into plowshares and bombs into vibrators. It's the Bonobo Way. Sounds crazy, but no crazier than these crazy warmongers.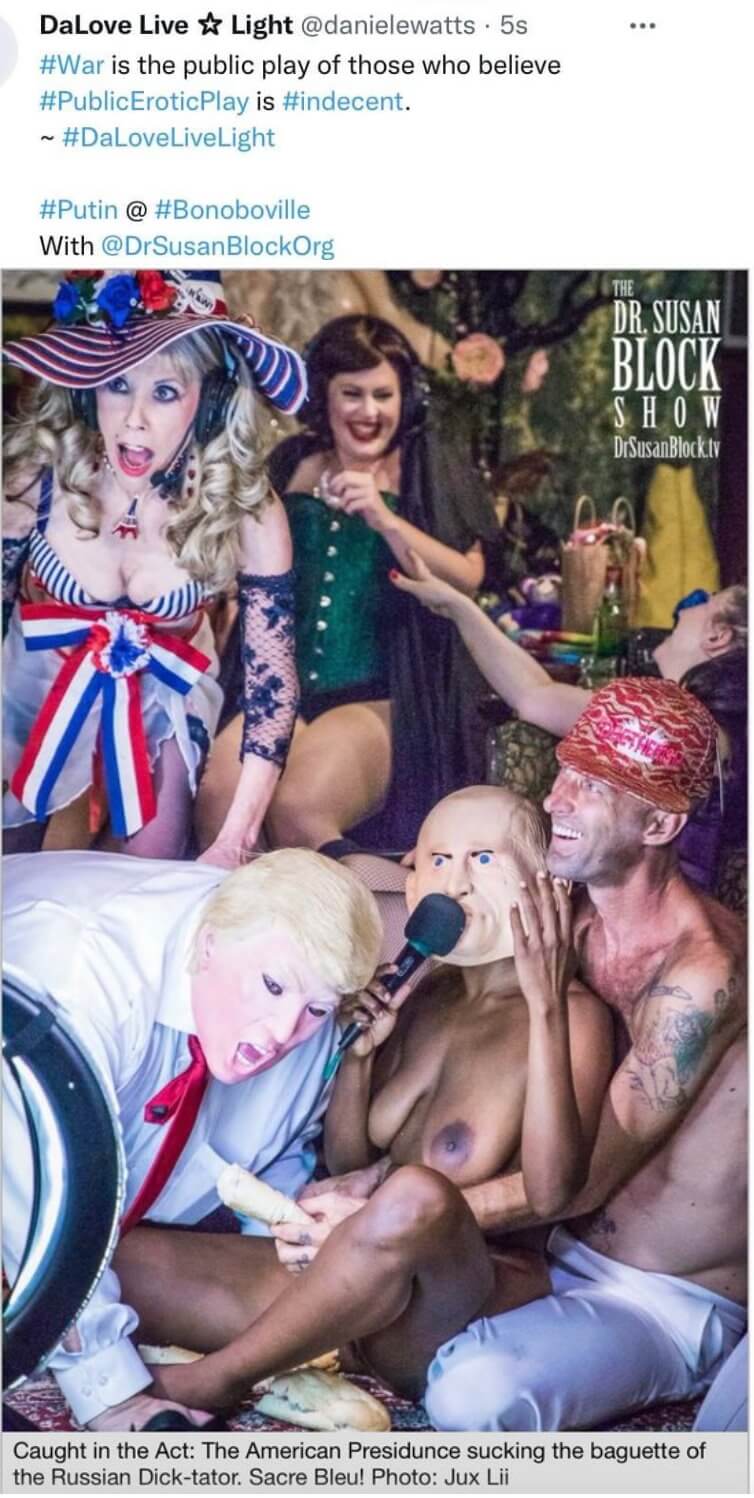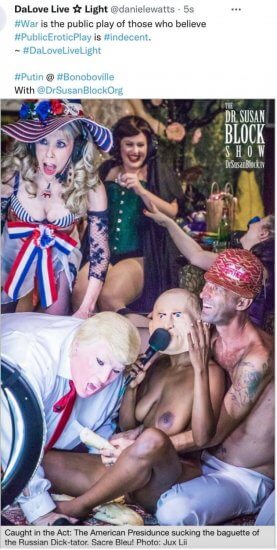 Django Unchained actress Daniele Watts responds to my KINK article, as well as to the Make Kink Not War show that she and Belive called in on two weeks ago with a couple of magnificent essays.
Daniele also posts a photo of herself naked in a Putin mask, leaning back in Belive's arms as he holds a phallic baguette between her legs for "Trump," played by Tim Sewell, to service, on an exciting episode of The Dr. Susan Block Show, and writes "War is the public play of those that believe public erotic play is indecent." Amen and Awomen!
"Make Kink Not War" vs "Share Kink Not War" ?
"Love is Brave," a new art show (Feb. 12 – March 20) presented by Stacey and Megan Valnes at 1712 Ocean Park Blvd. in Santa Monica, features the gorgeous and whimsical works by one of our favorite erotic artists, Scott Siedman, whom I call "Kinky Michelangelo" due to his classical style and kink-positive themes.
Vice TV will soon film a documentary about Bonoboville because we are such "icons." Want to be part of it? Call us at 213-291-9497 and ask for Max.
DomCon is coming in May. Though Mistress Cyan offered to make me Mistress of Ceremonies 2022, I had to decline the honor. Between Vice and the following week's Yale reunion—not to mention the Arcadia Politburo breathing down our necks like Putin without bombs (so far)—there's just too much to do. I am going to give a presentation, "Make Kink Not War: The Bonobo Way" so hope to see you at DomCon 2022!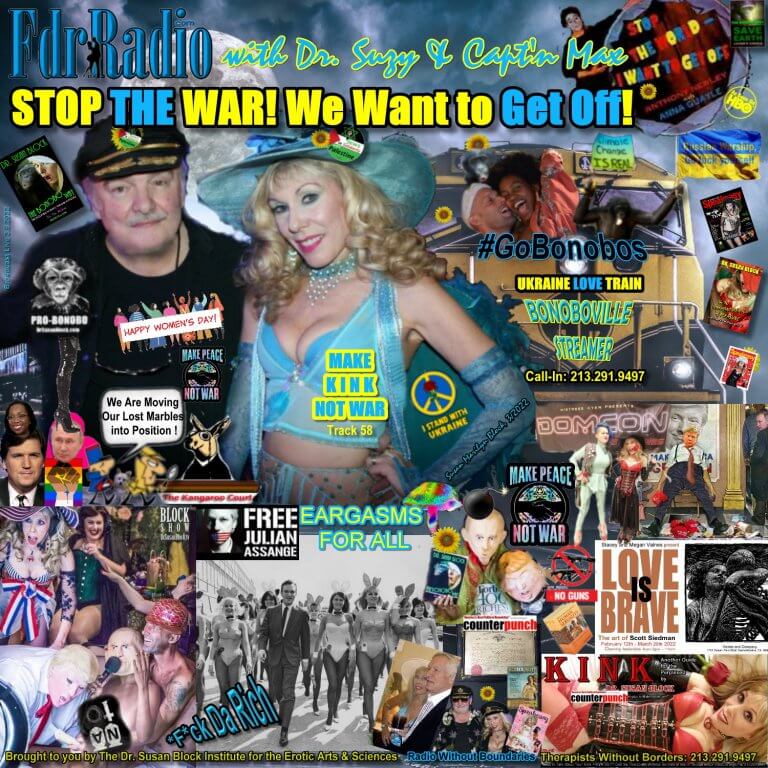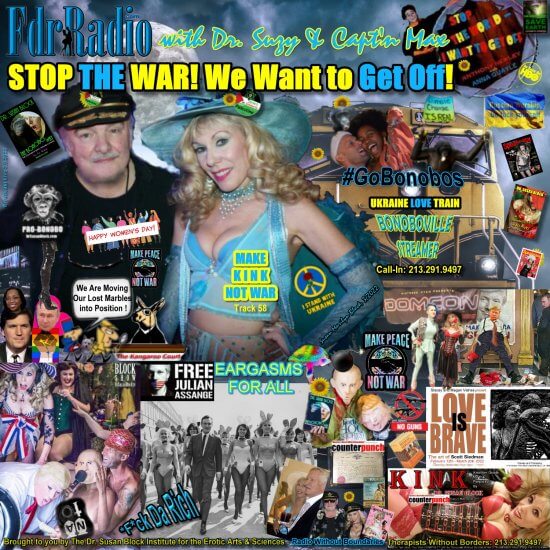 Meanwhile, listen above or below, and check out the voluminous transcript for all the juicy details.

Can't Watch or Listen to the Show Right Now? Read the Transcript to "Stop the War! I Want to GET OFF" (or follow along as you listen)
MAX
This is FDR radio and I'm here in our Bonoboville studio and we're actually doing what Susan and I have been doing for about 30 some odd years or more. Now we've become podcasters, is that right Dr. Suzy? With podcasters now, I always think of a hen laying eggs. I think this is trying to get you ready for the word pod because basically they're putting everyone in pods.
Dr. SUZY
I always think of that movie "Invasion of the Body Snatchers."
MAX
What they do there?
Dr. SUZY
They snatched your body and put it in a pod and regrew you into one of them.
MAX
Ah yeah, there's a guy now. They have a thing where they bury you in this pod of dirt and then you kind of grow into a tree.
Dr. SUZY
Well, the pods that we are now buried alive in aren't that complex. They're simply our phones. And they don't have to bury our body, at least not immediately. They just bury our minds.
MAX
So the brain is on the phone.
Dr. SUZY
Well, first they snatched the minds. That's what happened in "Invasion of the Body Snatchers."
And now they put you in a pod, and the pod is your phone, and they grow you into a META being that spends a lot of money and fights wars and has minimal sex.
MAX
Yeah yeah, yeah.
Dr. SUZY
Sex is just to reproduce so that they can have more pods and more bodies to snatch.
MAX
Dr. Suzy… You know what's going on in Ukraine? That disaster over there?
Dr. SUZY
Yes.
MAX
Right?
Dr. SUZY
It wasn't a dream. I wish it was.
MAX
Yeah yeah. They say that Putin has lost his mind or his marbles somewhere?
Dr. SUZY
Are you asking me a question or you just know you have something to say about it?
MAX
I do, I'm just no, I'm just I'm wondering.
Dr. SUZY
Are you doing an opening here? Are we on the train yet? Or are we just kind of meandering?
MAX
Yeah Oh no. No, no, no. We're meandering right now.
Dr. SUZY
Oh, so we're not on the train yet.
MAX
Let's hear that. Give the signal to the train to come.
Dr. SUZY
Where's that train?
MAX
Right, OK, the trains come.
Dr. SUZY
F.D.R. is "Fuck Da Rich" and it also stands for Franklin Delano Roosevelt, our 32nd President, who was definitely a wartime president.
MAX
He was a wartime president.
Dr. SUZY
Well, of course, although he didn't drop the A-Bombs. Truman did that.
So yeah, Ukraine. Last week, Putin's war was a horrific novelty. This week, it is a depressing reality.
MAX
Yep.
Dr. SUZY
Last week we took an in-depth look at the people, the history, and the culture of Ukraine with our friend Luzer Twersky who is also a SUZY Award winner for "Funniest Fundamentalist Refugee" and almost a Ukrainian. Right?
MAX
Who, oh yeah, yeah no, as he is Ukrainian, right?
Dr. SUZY
Well, he's American.
MAX
Yeah, he's American, but what is he?
Dr. SUZY
His ancestors are Ukrainians.
MAX
Wasn't he the son of the Jewish Jesus or something?
Dr. SUZY
Yes, I mean some of my ancestors come from Ukraine also. But Luzer's Ukrainian ancestors were like princes and princesses in the way. Including the Baal Shem Tov, who was the founder of Hasidic Judaism, the mystical leader and a very important Ukrainian, and Luzer was actually there making a movie about that. And Luzer is actually his great, great, great, great, great, great, great, great grandson. The movie is called "Dovbush."
That is the name of another hero of Ukrainian folklore that I learned about. He's kind of like a Robin Hood who is a little bit socialist, who steals from the rich and gives to the poor. And Putin doesn't like that.
Meanwhile, Nectarsauce says "Shalom, Wallachum" and then he has a Ukrainian flag. And I'm not sure what platform he's on because my staff is not giving me that information, but-
MAX
Second, OK, what's going on here where?
Dr. SUZY
So, I need to know what platforms people are on, but it's OK. We're on all kinds of platforms tonight.
MAX
I'd just like to find one of the platforms.
Dr. SUZY
So, should I keep going or…?
MAX
Yes, no, I don't know. Go baby go, go, go Suzy go. Remember Yale, you know go, go, go.
Dr. SUZY
For God, for Country and for Yale!
MAX
For God, for Country and for Yale.
Dr. SUZY
Not that I would pick up a gun for Yale. I wonder if Luzer would pick up a gun for Ukraine? I don't know. I didn't ask him that because he was so intense about Ukraine, passionate. And of course I understand his friends are there and he just made a movie there. It was practically like having Zelensky himself on FDR, wasn't it? Well, not really, but it was a Ukraine Love Train on FDR.
And we talked about sex workers in the Ukraine. The Ukraine Love Train baby – Go Bonobos! And tonight is still a Ukraine Love Train, but we also have room for anti-war Russians. Really, we have room for all
kinds of Russians. Even if you're on the fence, just lay down your arms. And other refugees are welcome.
Even Putin can get on the Love Train, as long as he is bound and gagged with a Russian flag. And we'll keep him alive to call his Mama. And then we'll alert the troops to Stop the War! We want to get off.
It's a recurring dream of mine actually. Except instead of us being on a train, we're in the Kremlin. A beautiful sex worker Dominatrix, sometimes in the dream, she is me, but other times, she's Russian, a favorite of Putin's who says, "Russia has the best hookers," doesn't he?
MAX
Yes, he does.
Dr. SUZY
And so, in the dream, she comes in to see him in a very private Kremlin room. Putin needs to relax. Waging war is stressful. She's tantalizing him with his favorite fetishes. I keep thinking like foot-fetish, really bootlicking, humiliation peeing maybe on a bust of Lenin. And then pegging his ass while she's wearing a Trump mask. Or maybe a Zelenskyy mask. I don't know his particular fetishes. I am not Putin's sex therapist. And if I were, for what I just told you, I'd have to kill you. All of you!
Well, anyway, at some point in my dream, this Dominatrix kind of seduces Putin into consensually accepting a little bondage play, which I think he would be into under the right circumstances. Maybe with some mushrooms?
MAX
'Cause the mushrooms, all you have mushrooms, you can go a lot of places.
Dr. SUZY
Yeah, right? He could have a taste tester that would test it and see it's not poison, it's okay… but it's mushrooms. OK, yeah it tastes good and it's mushrooms.
And then he would start tripping and accept being in bondage, and once you do that, yep, I'll tell ya, just a little jute rope around the arms and the legs and a gag in the mouth, a hanky of the Russian flag. You stuff it in his mouth, and voila! Your monster is captured. Stop the War! We want to get off.
That is my spin on the title of an old Broadway show, just in case you don't know. It was called "Stop the World. I Want to Get Off" with Anthony Newley, and it was actually about the pitfalls of capitalism, which is kind of interesting. "What Kind of Fool Am I?"
Sammy Davis, Jr. was famous for singing that song.
So now Nectarsauce says, "Putin is looking to take all Baltic countries."
Nectarsauce has some good Intel.
And Nick Boyer says, "Great show, Dr. Suzy" and he's on Instagram and Kristen Rock gives me a lot of different little symbols of fire and smoking and candles on Facebook.
MAX
On Facebook.
Dr. SUZY
Yes, so I do sympathize with Ukraine. I'm all for you people putting Ukraine flags in your social media. I actually have Ukraine flags in my social media, because I support the people under attack. But I just want to say no World War 3 for me.
MAX
And you know, if you are evil, you better watch out.
Dr. SUZY
I am against war and for love or kink. And this is not an easy position to be in right now. Everybody wants to fight. They mostly want to fight Putin. And I kind of do too. You heard my fantasy. It involves a sneak attack and then we don't kill him. We just put him in tight bondage and then take all his toys away. Then we stop the war. And then we all get off.
MAX
I like all these rich people trying to hide their 500-foot yachts.
Dr. SUZY
Yes, where would you hide yours, Captain Max?
MAX
Where would I hide mine?
Dr. SUZY
Where would you hide your yacht? Maybe that's the question of the night.
MAX
You know, that's one of the things- I don't know if you want to own the yacht, or just rent it.
Dr. SUZY
Well, that's why we mostly rent and don't own.
MAX
Right?
Dr. SUZY
We are nomads, though we do have an RV that we live in. But we rent all real estate.
Jux Lii says "Go Bonobos indeed."
Yes indeed. Yes, that's what we gotta do. We gotta Make Kink, Not War. We gotta #GoBonobos. I don't know how exactly. I have my fantasy about capturing Putin with a hot Dominatrix. He does seem to admire the Russian hookers. He said so. So there's something there.
Poor guy, he needs help. He needs to be captured. In that case, I admit it would be non-consensual. 99 point 9999 times percent. I'm for only consensual activity. But with Putin? I'm gonna capture that MOFO.
MAX
You know we should drone him out.
Dr. SUZY
Well…
MAX
Make lots of noise. Did I say "Drone him out"?
Dr. SUZY
Yeah, you did say that. You used it as a verb. You did.
MAX
I did? Oh, sorry about that, Pute, Poo poo. Yeah, you ain't Putin nothin' over us.
Dr. SUZY
Putin needs a bootin'!
MAX
Right now, yeah.
Dr. SUZY
That's from Adriana. I think she'd like to boot him herself. I think we'd all like to boot him, that's for sure. He's got a couple of defenders. Actually, he's got a general of Trump's that says Putin's too gentle on the Ukrainians and that Zelinskyy is a puppet.
Okay, Zelinskyy, my Lonsman, my man, my hero! You are a hero. BUT it's not good to be asking to join NATO now. We want peace talks now. And actually, we should dissolve NATO, really. They dissolved the Warsaw Pact. We should dissolve NATO. We got to give Putin a bootin' and also NATO. Really let's NOT "make war, not love."
We do have to protect the Ukrainians somehow. But protect? Actually, we have to help the Ukrainians. I guess I don't know what verb to use. But at the same time, nothing makes us remember that "we are one" more than the presence of nuclear weapons in the hands of a madman. And you know what? All these guys at the tippy top of power are Mad Men, though some a little madder than others.
MAX
There, there's a benevolent evil and non-benevolent evil. It's all evil in a way. You know it's OK.
Dr. SUZY
So, someone who calls himself "Go Boy" is writing, "Dr. Block, I'm trying to watch some of your recorded videos."
I don't know what he's saying here. I need some help with my little thing here.
MAX
That's not my little thing, that's she's talking.
Dr. SUZY
No, you have a big thing, baby.
MAX
She's talking about her little thing. Little finger.
Dr. SUZY
Little Miss Clitty. She's kind of little anyway.
MAX
I like her.
Dr. SUZY
So GoBoy says, "I'm trying to watch some of your recorded videos on other websites but having difficulty finding many. Where is the best place to catch your recorded videos with other girls and such?"
MAX
"And such," that's what we have to find out what that "such" means.
Dr. SUZY
I guess "such" means other people, perhaps other sex toys. Anyway, you can find a lot of videos on DrSusanBlock.tv or if you've got lazy fingers, DrSuzy.TV. Either way, you're going to have to spell something weird, DrSuzy.Tv or DrSusanBlock.Tv. And then you can see me with "other girls."
Other girls? I like how he called me a girl. I am a cougar. I don't really consider myself a girl and I'm not really trying to be politically correct here because I like being one of the girls. Makes me feel young. But I understand it's politically incorrect to say "girls" about women. To say that so I sort of say gals sometimes, so anyway, Go Boy, that's his name, Go Boy.
YouTube censors us, so we can't show me with the girls doing hot stuff like Bonoboville Communion. We can't show me even doing kinky things anymore.
MAX
No nipples.
Dr. SUZY
They've gotten more conservative.
MAX
No nipples
Dr. SUZY
Well, I understand the no nipples rule, but now it can't even be "suggestive," which is impossible to define, so it's not fair.
MAX
Yeah, not even thinking about sex. If something could lead you to think about sex, you're banned.
Dr. SUZY
That's why our title tonight is "Stop the War! We Want to Get Off!"
So, we mean we want to get away from the war, get off of the war game, and we also just want to GET OFF, baby we want to come, we want to come, we want to CUM. What is wrong with that? And what is wrong with these people making this war? And yeah, the main one, the bad guy, the bully is Putin. But there are other people involved on the Russian side. And I don't know about the Ukrainian side, but definitely the NATO side that are also making this war. And definitely the worldwide Military-Industrial Complex, most of which is run by America.
So that side, which is a "side," an aspect of war, is the Military-Industry Complex that always wins. And the people of the world always lose. And we are the people of the world. And we want to win. We want to win back life. We want to win through love and kink and pleasure and the Bonobo Way. We want to swing from the trees and with each other.
MAX
The lowering of violence is important.
Dr. SUZY
Right, just lowering the violence level would be great. Like, you can do the wrestling thing.
MAX
Wrestling?
Dr. SUZY
Well, you know when they do the naked wrestling like the Greeks used to do.
MAX
Oh yeah, yeah.
Dr. SUZY
I like that, but I understand they gotta put clothes on now. Naked wrestling, bring it back. I would watch it. But you know, it's a contest in violence, with rules. It's cool. It's like Sperm Wars or any sports. They're all substitutes for war. It's good to have substitutes for war. I'm not a big sports fan, but it's better than war so I'm OK with that.
But I am against war, and I am for love. This is not an easy position to take right now. Everybody wants to fight Putin the Villain. Mercenaries are running off to Ukraine to fight.
MAX
Can you hold your thought there for a second? There's a listener that's calling in, he wants to know, what's the best line to call in?
Dr. SUZY
To phone? OK 213-291-9497.
MAX
Yeah, yeah.
Dr. SUZY
Actually, that is our therapy line during the week, but on Saturday night we are live on the air and so you can call 213-291-9497. Not that anybody is ever on the air that calls in for therapy which is a completely private and confidential experience. When you call the show, you are fairly anonymous. It's just your voice. But your voice is on the air and don't use a voice changer because they don't work and they sound awful. Just put on one of your politically incorrect accents.
MAX
Oh man.
Dr. SUZY
Right?
MAX
Who woulda thought?
Dr. SUZY
Who would have thought we'd be almost celebrating our 30th wedding anniversary, two antiwar people? And we fell in love – many times, really – but one of the times we really fell in love was in 1990, when we were experiencing the first Iraq war, what they called the Gulf War. The buildup was called Desert Shield, and it was built up by the elder Bush, George Herbert Walker Bush. And he was the first President to break the American promise to the Russians. And our promise was to not build up NATO. And he started adding countries to NATO in order to invade Iraq.
We were against that war. I didn't quite understand at the time how bad it was, not just to invade Iraq, ruin that country.
MAX
I mean, just destroy it. Just destroy it, an independent country.
Dr. SUZY
And then destroyed further through sanctions and then further and further with the big 2003 Rape of Iraq that George the Junior perpetrated. Blech!
And anyway, right at that time with the first Iraq War, I didn't realize that Bush, Sr. was also finagling this NATO thing that I think was very upsetting to the Russians. Putin wasn't in charge yet but he was a young middle aged guy that would have been affected by it.
MAX
Affected by it by the propaganda and all the lies, the lies. It was all a Big Lie. So you know, in the past it's been the same thing. There's where we never learn. I don't know what it is with us humans. What don't we understand? What do we teach here? You know? Anyway, wow. That's pretty amazing stuff.
Dr. SUZY
So now there's this war going and yeah, it's human, but I don't know if it's so human to have these big wars. I think that that is more a function of capitalism, of making money through the war machines around the world. And the biggest war machine is in America, but there's a war machine in Russia and it's pretty big too. And during any kind of war, those war machines make money.
And everybody thinks the best thing to do in this world is to make money. Whatever you do, you must make money and that is our Capitalogenic disease, and of course, it is human. But I guess I feel that we humans, we are more than that. We are animal too. We're not just this machine, let alone this war machine.
And so, these people who get lots of power and get lots of money – and they are related – they become a little less human. They close themselves off. You see Putin at the end of that long – what is it, a dining room table?
MAX
Conference table
Dr. SUZY
Intergalactic ping pong table.
It's all crazy-making, and of course yes, the Coronapocalypse, the pandemic, has made this distancing much worse. And we have to do it to live. But it makes us less human, doesn't it?
So now it's like a fight to the finish. I mean, that's what it seems to be to some of these people out there, both pro and anti and whatever. But I don't mean anti-war. If you're anti-war, you know the fight has to stop. But if you're pro this or that, it's a fight to the finish. And it's not easy to be antiwar, especially because my heart goes out to Ukraine.
But my heart also goes out to the Russians that did not start this war, although they're not being bombed right now, but the antiwar protesters are being taken into custody for 15 years, sometimes just for protesting.
I thought they were gentle. Last week I said, oh they don't seem as rough as the US police, but whoa, they put you away into the gulag!
MAX
Yeah
Dr. SUZY
So it's not easy to be anti-war.
And it wasn't easy when we fell in love over our anti-war stance, amongst all those warmongers surrounding us when Bush was going into Iraq with NATO.
MAX
Is that when we did the tape?
Dr. SUZY
Yes, Desert Susan.
MAX
Desert Susan, sure. By the way, if you have one of those tapes, I'd like to get a copy.
Dr. SUZY
They're collector's items. But we have it online at DrSusanBlock.com/desert-susan. I don't have to spell that, it's not fancy, just regular Susan none of that "Susanita" stuff, no offense to you Susanitas out there. But I'm just a plain – not even Jane – Susan.
So we fell in love, in part, over being anti-war.
MAX
We did.
Dr. SUZY
Because "Make Love Not War" was our meme before there were memes.
I got that from Danielle Watts, and I'm going to talk more about it a little later, because she likes our "Make kink, not war" phrase. But she of course has to do her poetic thing, which she prefers: "Share kink, not war," because she's into this whole sharing thing, which I'm into too, that's very Bonobo.
And Jux Lii says "there better be some such."
"Some such" what? Of course, I don't know what he's referring to because that's what happens when you guys post comments that are in response to something that is being said.
Think of it this way, it's like when you do an interview on a documentary or TV and the interviewer is asking you the question, but the interviewer is going to be edited out, so you have to include the question in your answer.
OK class? You know how to do that. Just include whatever the subject is in your comment please.
MAX
Right.
Dr. SUZY
Well, now Jux Lii writes, "Aw… we miss Bonoboville Communion."
Good, he included the subject, and yes, I know. I'm thinking about what to do about Bonoboville Communion which isn't so suited for the Coronapocalypse, even the end, because it involves a lot of licking.
Dr. SUZY
But we'll see. We're going to have a Vice TV visit soon and you're all invited.
MAX
Right, right.
Dr. SUZY
Well, not all of you. Actually you gotta pass a lot of hurdles, but we're going to have it in a couple of weeks, so give us a call here at 213.291.9497 if you want to be here for this.
MAX
Oh my goodness, look at that! That's some place we had there.
Dr. SUZY
Yeah, there's Danielle Watts.
Dr. SUZY
If you're watching live and Rhiannon, Aarons and Chef Belive and Ikkor the Wolf and Tim as Putin. No excuse me, Tim was Trump in that show actually. Danielle played Putin later and she showed some very interesting Putin stuff from this show in her feed today. Jux Lii says, "Now I want a voice changer, Dammit" Another comment with the subject included – woohoo!
MAX
OK.
Dr. SUZY
OK so now you're including the subject in your message so I would say to my.
Dr. SUZY
Tech support team don't include his statements that don't make sense.
MAX
We'll wipe stupidity from you.
Dr. SUZY
So the Wizard says, "What did Hunter Biden do when he was in the Ukraine?" Wasn't it like pharmaceutical representative?
MAX
It was a good deal.
Dr. SUZY
I thought he was a drug dealer, I don't know, maybe he was just a drug taker.
MAX
Yeah no.
Dr. SUZY
He was the vice president's son, you know, and now the president's son
MAX
Here's the president's son and using his dad which? Don't know what. What kid doesn't add to profit from it? Especially if they're rich and have lots of money, yeah?
Dr. SUZY
Right, so he had a profitable position. It was probably not a good idea, all in all, to have so much American influence in Ukraine. Ukraine should be neutral. I totally understand that position. That is the Great Monster Putin's position. And he is a monster. He's a bully. But he has a few points. Everybody has a few points. But that doesn't mean they're right to do what they do. It just means, if we really want peace, we ought to try understand where we might be wrong, and what we can do to make peace. And one way is that Ukraine really should be neutral. I believe we should all be neutal! Let's not get too fancy about this.
I don't think we should have military alliances. I don't think we should have nukes.
I am anti war. I am pro kink.
MAX
They're getting defeated anyway.
Dr. SUZY
Wizard says "Make Heart Not War."
Dr. SUZY
I believe the heart means love, hope.
MAX
Hopefully not heart surgery.
Dr. SUZY
Right? It's a Valentine.
MAX
Well, you never know nowadays.
Dr. SUZY
No, but it's not the cardiac organ, it's more like the heart and Valentine's Day, which is Lupercalia. Which means it looks like a heart shaped ass, baby. I love it. So it says Make Heart Not War. GoBoy on Youtube says Putin sits at the head of a groveling table. See, This is why I think Putin Is kinky. Anytime that somebody plays out that dominant a role in public, they usually have a little boy inside that needs to be submissive to some sort of mommy figure who could tie him up and take away the keys to the nukes and even the other bombs, so we really could stop the war that is killing Ukrainians. And this Domme-y Mommy Sex Worker would be such a heroine to the world.
Of course she might be dead before she even gets started. But somebody has got to do something and I do think kink could be a weakness of Putin's. I'm sure he has other weaknesses, like being an asshole.
MAX
It should have a couple of farts after that.
Dr. SUZY
There are all types of kinksters. There's the good ones and the bad ones. Kink in and of itself – well, I don't know – again, it depends, so to speak. Actually, when I hear the phrase kink, I kind of think consensual kink and so I do think it's good.
So there you go.
Dr. SUZY
"Kinky" is one of those loose words that can go either way. There are kinky people that are naughty, that are beyond naughty, that should be in really tight bondage. So the wizard said "Teach, Dr. Suzy."
Dr. SUZY
And he spelled it right. At first it was spelled wrong, by the way, I want to say he spelled SUSI, which I spelled it that way for a period of time in my life. I tried that spelling and Susie. No, no, no, no, no, no. That's not it. Not when you're talking to me. You talking to me, you spell it: Suzy. But it's not SUZAN. That's the thing. That's what's confusing. It's just SUSAN. So that's how you have to spell it if you want to follow me and find me… with girls!
Jux Lii says, "That listener was asking about where to find videos of you with other girls and such. Hence the demand for such."
MAX
All they have to do is go to our archives in the TV site, which today has had a wonderful amount of people visiting.
Dr. SUZY
A renaissance
MAX
Yeah, and it's all free. Yes, well we hold on saying it's all free but nothing in life is free. So if you like to donate something, go ahead all right. If not, fuck you, go ahead anyway, yeah and yeah.
Dr. SUZY
Right, so it is free, but we ask for donation.
MAX
Right, so that other people can see it for free.
Dr. SUZY
And then you get a password and it's easier to get in every time, right?
MAX
Right? And so that I can eat.
Dr. SUZY
Because if you don't pay a little fee.
MAX
And I need gasoline to the racketeers.
Dr. SUZY
Then when you don't pay, you have to enter more digital crap in order to get to the free stuff so it's worth a little donation. Also, you're helping the bonobos, both the real bonobo great apes in the wild, who we help through Lola Ya Bonobo and the Bonobo Conservation Initiative, and you help the human bonobos, the Bonobo sapiens, your Bonobo Comrades, us. We need a lot of help. And the Wizard says "Yes, the heart means love. I love you" Oh I love you Wizard. And I love the Wizard card in the Tarot.
Yes indeed, and Lily says – wow, she's getting triple X now – "Putin needs to be" and then she has a symbol of a fist. It's a nice symbol, you know the fist up is the symbol of "Power to the People" and it also means, "I am fisting you." As for really capturing somebody, I think it's almost as good as bondage, because if you are fisting someone, they really can't maneuver too well.
MAX
Wait a minute.
Dr. SUZY
So if he gets fisted by this intrepid sex worker I am imagining, or fantasizing about in my mind…
MAX
That it's Putin?
Dr. SUZY
Right that would pretty much incapacitate Putin, and then we get control of the nukes and stop the war, and the rest would all work out.
MAX
Got it.
Dr. SUZY
Jux Lii is ruminating on my name now, that "Susi or Suzi with an I would only work with a heart over the eye which is so not you right?" I would have to have a devil over the "i" and that would be too complicated for an "i" but the "y" in "Suzy" looks like a swing, so you could have a bonobo swinging from the Y or a couple of people.
MAX
I see.
Dr. SUZY
We should do that. Swing something from my Y, Dr. Suzy. Y… Why? Why fist Putin? It could be very disgusting. I grant you that. But if you save humanity, isn't it, as Madeline Albright might say, "worth it"?
MAX
It or yes, of course it's a, it's a, it's a, it's a determined very Nazi ideal.
Dr. SUZY
What is?
MAX
You you knock off whoever is running the organization.
Dr. SUZY
Well, I don't want to be like supporting any Nazi ideals, and I wasn't saying to knock him off. Actually, I don't think you have to knock him off.
MAX
You can drone him out.
Dr. SUZY
No, you can get a sex worker to capture him. You just have to THINK harder than these drones do. You have to THINK of how to capture Putin the Villain, to slip the spider web around him so he can't get away. Spidey Sense is what it takes. Yes, as GoBoy says, in the immortal words of Ronnie James Dio, "We are all rainbows in the dark." Yeah, and Rich Bigly adds, "Fist Putin for freedom."
I'm all for that. See you don't have to drone him. I mean, you could drone Putin. If you do, I wouldn't complain. But I, as Sexologist of the Year (thank you Glennys), say: Fist him, tie him up, render him helpless and take away the controls. There are many ways to render people helpless.
MAX
So they're experts at it, by the way.
Dr. SUZY
The Russians Oh yeah, they drug you that we could do that too.
MAX
They have the best hookers and they have the best assassins.
Dr. SUZY
Speaking of Putin's best hookers…
I always think he's talking about female hookers, but maybe male or trans because he does seem to have a little I would say pansexuality going there. Yeah I think he goes both ways, actually not just both ways, but all different ways. Though he needs a mommy.
MAX
Yeah, if you put him in in diapers and stuff and there's like a big baby.
Dr. SUZY
I think so. I think the baby thing is definitely there. I thought that about Trump. He's a big baby. I think that's true about a lot of bullies. A lot of bullies are big babies who need mommies. If they don't get their way, they throw a tantrum. And Putin is throwing a humongous tantrum right now.
MAX
Right?
Dr. SUZY
So somebody could fill that need. That's why I'm saying a sex worker who's kind of like a Domme-y Mommy or a Daddy. Could be Putin needs a Big Daddy.
MAX
They finished.
Dr. SUZY
"Now bend over, Little Vladimir, Daddy's gonna fist you now." That's it any. And then he'd crumble and say, "Yes, Daddy please fist me! and then Daddy says, "OK Vlady, call off all the wars." Stop the wars! We want to get off. OK Putin you get to get off too. Don't get off this way, the War way. Come on, you know, a bomb is a terrible ejaculation substitute. It's embarrassing, isn't it?
Everybody sees you like this, Vladimir, bombing innocent people to compensate for your sexual inadequacies. Aren't you embarassed by that? You know? Sometimes embarrassment is a good thing. A little shame over violence is a good thing. Not usually, though usually shame is misplaced, especially sexual shame.
By the way, there's an awesome piece about sex work by John Oliver that is out now, so y'all check it out and thank you. Veronica Monet, a former sex worker and current sex therapist and Don Pascal also sent it to me and Maxine Duggan. I got it sent to me by everybody, this great Sex Work piece by John Oliver.
Although I will say Don Pascal is correct in saying John gets everything right except he doesn't really get that a lot of the problem that America has with sex work is American erotophobia. This is even a wider problem than the problem with sex work, and it is seeping into all aspects of life, this Puritanism, this NEO Puritanism cloaked in modern clothing.
Jux Lii says a devil tail totally works on the Y in "Suzy" Yeah, that's true. We could do a little devil tail on Suzy "y" Why not?
MAX
I'm wondering if I have to be some part of this I'm just, just part.
Dr. SUZY
Of what?
MAX
Oh, just the story.
Dr. SUZY
What do you mean the story of?
MAX
Like this story you're telling right now.
Dr. SUZY
Which story am I telling right now? I've been telling a lot of stories, so I'm not sure which one you want to be part of.
MAX
The one that I apparently have interrupted in some way.
Dr. SUZY
There the point that I don't OK.
MAX
Go ahead.
Dr. SUZY
That wasn't so much a story as I was just giving some kudos to John Oliver.
MAX
Yeah, yeah, I know who he is.
Dr. SUZY
You know who he is.
Dr. SUZY
OK, he has a great piece out pro sex work.
MAX
Yeah, yeah, yeah, of course, yeah not.
Dr. SUZY
Pro decriminalization. He doesn't even make the mistake of saying we need legalization. He says that
would be OK. Better than nothing, but we need decriminalization. Power to the sex workers! Make Sex Work, Not War.
MAX
Yeah, the Dutch were very concerned with outlawing it or just basically ignoring it.
MAX
Technically, drugs in most of Holland are illegal. Yeah, but nobody prosecutes 'cause that's kind of the deal.
Dr. SUZY
And it helps keep the crime rate down.
MAX
Correct, correct?
Dr. SUZY
That and also the decriminalization of a lot of porn and that is often the expression of sex workers. That's the original meaning of the word "pornography"
MAX
Dirty writings.
Dr. SUZY
No, writings of prostitutes, of sex workers.
MAX
That's the meaning, right.
Dr. SUZY
That's the original meaning, and not that porn is all writings of sex workers. And of course, it's more than writings now, but it's a form of sex work or sex play, and we all do it even when we just send each other hot selfies with our tongues hanging out. The tongue is a sex organ. At least as much as the butthole is a sex organ, the tongue is a sex organ. Right, oh back to fisting Putin, yeah.
MAX
Oh, that's disgusting.
Dr. SUZY
Well, OK.
MAX
I'm not doing that.
Dr. SUZY
I didn't say it was easy to be a hero for humanity.
MAX
I'm here. I'm not against it, right, you know.
Dr. SUZY
It would stop him, at least for that moment, then you'd have to take control and tie him up. You put him away into one of those little gulag rooms.
MAX
Where are you at right now?
Dr. SUZY
Where am I at?
MAX
Yeah on the screen.
Dr. SUZY
I am a woman of many screens. I have GoBoy on one screen saying, "Ronnie James Dio says 'If we listen to fools the mob rules." Sure, that sounds like a good meme, but everybody has a different idea of what the "fool" is.
MAX
And who the mob is, the confusion and the mobs. The legal mobs. They work exactly like the mafia. You pay me. You can do business in a my territory. Yeah, otherwise we fire shoot you.
Dr. SUZY
This is what the Capitalogenic society devolves into when we don't take care of each other.
MAX
Yeah, right. That's great. This is extraordinary.
Dr. SUZY
So let's talk about fools… This show is called "Stop the War, We Wanna Get Off." We do. And it's from a play, Stop the World, I want to get off. And the play is about a guy who's always thinking about himself and getting ahead and he makes a lot of money, but he hurts the woman who loves him. It's a classic capitalist's tale, and in the end he says, what kind of fool am I?
Dr. SUZY & MAX
Actually, he sings, "What kind of fool am I? Who never fell in love?"
Dr. SUZY
Because he's been spending all this time focusing on making money.
Speaker 1
Then he sings, "it seems that I'm the only one I'm ever thinking of."
Dr. SUZY
And he is! When you have to make a lot of money, you think about yourself.
MAX
Well, you better
Dr. SUZY
But it's toxic. It's brought us Putin. Putin represents an extreme form of this disease. I will grant you that, but a lot of people have it and a lot of people suffer for it…
Happy International Women's Day. It is that almost…
MAX
Today?
Dr. SUZY
We're getting there, right?
MAX
Yeah, yeah.
Dr. SUZY
We're on the cusp of it. So Chef Belive who has a birthday today, he's 51 – celebrating 51 around the sun – happy birthday Chef Belive! Anyway, Chef Believe says to "womanifest" your dreams. Get it. So that's his little new word for International Women's Day.
MAX
Oh yeah, yeah, yeah, I got it. I get a better phone.
Dr. SUZY
And we say kudos to Ketanji Brown Jackson. She seems cool, and I just thought I'd give her a Kudo as she might be the first black woman on the US Supreme Court.
MAX
You know you. You, it's at one point you have. Had a lot of amazing women around you.
Dr. SUZY
Yes indeed, at many points, I had a lot of amazing women around me. Happy International Women's Day to all the amazing women I have had around me and a few men and such.
MAX
Right
Dr. SUZY
So anyway, Ketanji is kind of hot. I would have her around me.
Dr. SUZY
I don't know if she'd accept my invitation, but I would certainly invite her over. The first black woman on the Supreme Court may be nominated by your Pal Joe.
MAX
Oh yeah, yeah, yeah.
Dr. SUZY
And she used to be a public defender. Right, which is cool. Though she's hot. So, Tucker Carlson wants to know her LSAT scores, and I want to know her measurements. So both of us are highly inappropriate. I'd rather be me though. Why you asking for her LSAT scores when you didn't ask Amy Coney Barrett's LSAT scores? Or any of your friends? Anyway, we know why. We know why. I'd say it's racist. But it could be misogynist. I don't know. I guess it's anti Democrat, that's for sure, but it's Tucker. It's gross. And Jux Lii is asking me about a "Womanafort" – is that like a Manafort woman? Cuckold Paul Manafort's hotwife?
Happy International Women's Day! Speaking of women, there's a feud going on now which I don't know a lot about, but it is between the Playmates of the Playboy Mansion.
It is mostly about Hef, aka Hugh Hefner, and as you can see by these photos of me and Hef that I was not one of his favorites exactly. So I did not suffer some of the horrors that these ladies are claiming. Although I think the big claim is that if you lived in the Playboy Mansion, Hef would offer you a Quaalude and have sex with you.
MAX
Right?
Dr. SUZY
And he would do it in his bed, which was rather large with a lot of other women in it. Sounds fun to me, but maybe not. Maybe it was not fun, but you didn't have to be there. You could leave. And there were also the kind of bad things that happened to some of them that might happen at any big party which was sometimes people would be obnoxious, not Hef, but other people.
MAX
Yeah, and snort, coke or something.
Dr. SUZY
Well, that would be one of the things.
MAX
Right, well, you know they'd be doing that. You can just imagine.
Dr. SUZY
Anyway, there's this feud going on between some of the Playmates who are accusing him of I guess some types of perversion, and maybe a little light coercion.
MAX
I mean how many of these playmates are there? 10, 20 like 100.
Dr. SUZY
There's lots of playmates. Oh, but the ones accusing him, not that many right, right?
MAX
See, that's what I want to know.
Dr. SUZY
There was a gal who made another documentary about Paris Hilton. And it was about how this this place that Paris Hilton went to school. That was for bad girls was really mistreating her abusing her.
And maybe it was true.
MAX
I know it.
Dr. SUZY
That was an obscure place. And they got the place into a lot of trouble and maybe even closed them down because other people also came forward to say this place was awful and they got a lot of viewers because of Paris Hilton, and because people love to hear about sexual things. And then of course, what the mainstream media does is they tell you about these sexual things. They show you sexy pictures, seducing and enticing you to watch and then they say, oh, but it was all bad. It was really a lot of rape and harassment and evil and so the same producer of that Paris Hilton show decided she would produce a show about the Playboy Mansion, in which she would show all the real beauty of all of these Playmates and the Grotto and the places in and around the Mansion, with some really amazing eye candy… And then of course, talk about how awful, awful, awful Hef was.
MAX
I can imagine no, no really, I could imagine. Wait, what is this?
Dr. SUZY
Oh ok, so if you're watching live, you see me with Hugh Hefner at the Hollywood Erotic Museum, actually, although I went to the Playboy Mansion too, but this was a picture where I'm with Hef and his girls, but he is looking straight ahead, not at me, and I am looking at the camera, so it's kind of not an intimate picture. And there I am looking at Hef with a chair and two Playmates between us, so as you can see, he and I were never close. But yeah, I went to some of his events and you know it was in the days where I didn't carry a camera. People didn't take that many pictures in the late 1980s.
Basically, I had a good time with Playboy, what can I say? So I'm kind of on the side of the ladies that are saying it was a cool place and let's not just completely trash this dead guy, but at the same time hey, it's show business. I get it. I hope Vice doesn't do something similarly weird like that with us. But one thing I can tell you all out there, don't you trust that mainstream media! Some of the Playmates that were interviewed for this documentary said the producers cherry picked what they used. They'd be interviewed for three hours. They use 30 seconds.
So, keep that in mind. It's hard to keep in mind when we are all being seduced with digital storytelling. We are all being body-snatched by nefarious forces in the Metaverse. When I think of the pod, I kind of think of Zuck. Yuck! Like Mark Zuckerberg is holding this pod. Yeah, yes. And I have to go in there! Oh noooo… it's so scary.
And then there's Putin. There's all these monsters around. What do we do?
MAX
You know? Who knows? Yeah, nobody knows. Everybody thinks they know nobody know really knows. Do you know?
Dr. SUZY
I don't know. I say that very freely and very often. However, I have that human need to be liked, listened to, and I'm an exhibitionist. I want to interact with people, and I find that people like it when you DO know, or at least act like you know. Especially when you are on a podcast, they like you to say, "This is how it is."
But folks, we're a little different as podcasters. Everybody acts like they have the answer, especially all these podcasters that sell you stuff.
MAX
Yeah, they have still got answers. Boy, they got answers. They're selling from dental creams that will grow your teeth back. They're just amazing health stuff because the government has to pay for those medications, yes, so it's a big business.
MAX
Very nice, so very nice.
Dr. SUZY
Big business.
MAX
And licensed, it's not like some outlaw kind of business dealing in drugs for $1,000,000 or so. This is big.
Dr. SUZY
So Brian Lucas AKA Chef Belive AKA RAWKSTAR Birthday Boy says, "I love the woman within."
MAX
Yeah, jeez. Ah yes. I like it inside there also myself.
Dr. SUZY
You mean Mr. Penis likes being inside of this woman.
MAX
Yes, yeah, well this one here, yes.
Dr. SUZY
Right, I like it too.
MAX
Otherwise, he says you better watch out.
Dr. SUZY
Well, I'm a lucky girl. My penis doesn't really want to be in other women. But if your penis does, that is not a bad thing.
MAX
Yeah, it's OK.
Dr. SUZY
That's OK.
MAX
It's alright yeah.
Dr. SUZY
Just make sure you know you take precautions. Put security cameras in there. No, seriously, wear condoms. There are other precautions, of course.
MAX
Well, what's going on?
Dr. SUZY
We're talking about penises going into different women, as a way of being within a woman, but I think that what Chef Belive was talking about is the woman within him, which is like the Jungian idea of the anima, the female energy within the man.
MAX
Right? Yes, of course. I'm a little stoned now. What's going on?
Dr. SUZY
If Tucker wants Ketanjis LSATs, Jux Lii wants to know Trump's University of Pennsylvania grades. I have my parents report cards from there and they went to University of Pennsylvania.
Jux is also wishing Chef Belive a happy birthday and Jux's birthday is coming soon.
Dr. SUZY
So Speaking of Chef Belive, Danielle wrote a long beautiful essay, two essays.
MAX
Oh the essay 2 essays.
Dr. SUZY
One of Daniele's essays was inspired by our "Make Kink, Not War" show as well as our "Ukraine Love Train" show. And the other piece was more about her experience here that she had on Bastille Day when she was mostly her beautiful self, but during a period of time she played Putin. Naked Putin in Bonoboville.
MAX
Oh, that's that was a great scene.
Dr. SUZY
Exactly, Danielle was Naked Putin in Bonoboville. Amazing. Then she shared that piece and she wrote.
MAX
She did great.
Dr. SUZY
What if every time we were tempted to talk about our confusion fears and anger about Russian and Ukraine or any other war, we instead consider the ways we relate with pleasure and liberated transcendent communion in our own lives? In our own relationships?
The expression Make Love, not war is a very real command that the creators of our modern American culture asked us to take seriously. And this is why it was one of the first ideas to go viral in our modern culture, that continues to go viral even though it was created before viral memes even existed. When we are supported in meaningful relationships where we share and reveal love in deeply transformational ways, love and the way we can love more delights our imaginations.
Not war. War dominates the cultural imagination because we also have the same energy that Vladimir Putin has in us. And one of the best ways humans have found to transform our conflict obsessed fear based minds is to share our kinks through deep loving communication and communion. Chef Belive and I recently called into the wondrous Dr. Susan Block radio show together that Dr. Suzy shares with her adoring husband, Maximilian Lobkowicz and Villa Bonobo, she's talking about FDR.
We had pulled over to the side of the freeway after a wild night at Atlantic Grill and Bolero at Atlantic Station in downtown Atlanta. Little commercial there for Atlantic Grill: Get their fish. That's what I would get.
MAX
Yeah right yeah. Yeah, that sounds good, right?
Dr. SUZY
And I mean that in every sense of the word.
MAX
Doing there.
Dr. SUZY
Sense of the word.
MAX
And what is she? What is she doing there?
Dr. SUZY
Well, she was there when she called in a couple weeks ago on our "Make Kink Not War" show.
MAX
You were at the Bar and Grill.
Dr. SUZY
They were getting the fish, baby, the fish.
MAX
Ah, the fish.
Dr. SUZY
OK, I'm going to go on because this is interesting.
MAX
Yeah yeah go ahead. Yeah, yeah go ahead.
Dr. SUZY
Kinks had come up in our relationship that night and I'd shared several live videos on my Facebook expressing them, she writes. By the way, I haven't fully read this. Later on the way home on the side of
the freeway we called in.
MAX
Hold it.
Dr. SUZY
Because Dr. Suzy is also a therapist… Also? Is also a therapist? What was the other thing? Right, I do a show.
MAX
So that's what we do.
Dr. SUZY
the number is 2132919497. Don't tease us though. Call or don't call.
Back to Daniele… We hope to share more with the Dr. Susan Block Institute in the future. I think this is a commercial for us. In the meantime, here's the kink themed linked to the radio show and also please enjoy the screen jab grab or I thought it said screen jab, which was kind of interesting of a philosophical musing that I shared on Twitter. This morning, along with an image of a spontaneous performance art moment of me channeling a sexually liberated version of Vladimir Putin on the Dr. Susan Block show in 2018. And then we have a censored but very erotic, explicit photo of her as Putin, Daniele Watts as Putin with Chef Belive right behind her holding a phallic baguette towards Trump.
MAX
This is it. Will be.
Dr. SUZY
So I just want to read you what Daniele wrote.
MAX
Great
Dr. SUZY
She made a beautiful little meme here. Danielle is quite the writer. Danielle, I just want your dad and mom to know that all that money they spent on your education was very well spent. "War," Danielle Watts, AKA DaLove says, "War is the public play of those who believe public erotic play is indecent."
MAX
Yeah no, I understand that.
Dr. SUZY
And Putin is quite the Puritan.
Dr. SUZY
I mean, Putin's got his hookers, but he's all for Christian repression and suppression of expression.
MAX
Oh yeah, right right? Yeah, he's Christian Orthodox.
Dr. SUZY
He censored Pussy Riot.
MAX
Yeah, yeah.
Dr. SUZY
He sent them to the gulags. He tortured them. And he harmed them. Putin needs someone like Mistress Tara, who ran for president against Trump, to discipline him.
MAX
There the ships alright. Everyone calm down now! Everything is going to calm down now.
Dr. SUZY
Someone just came up and ate my pussy riot.
MAX
oh no
Dr. SUZY
Jux Lii says, now I'm picturing Mr. Penis as very Mr. Peanut like Oh no, Mr. Penis is more like Mr. Cucumber, not a peanut.
MAX
Who's Mr. Peanut?
Dr. SUZY
Mr Peanut, I know what he's saying. He means the Planters Peanut character with the top hat and a monocle. Kind of like the little emoji with the monocle, except it's a peanut. And a lot of people use the peanut analogy to describe a cock. Like the astronomers say that the planetoid Eros is shaped like a peanut. Now the planetoid Eros is bigger than.
The whole city of Manhattan. So it's well-hung for a planetoid.
MAX
Yeah, you have to consider that.
Dr. SUZY
So JuxLii says wait, getting the fish is euphemistic?
MAX
It says as an issue.

Dr. SUZY
Of course getting the fish. I mean, maybe it's too obvious, but we were talking about a restaurant, so in that context it is euphemistic, but I'm sure they were getting the fish in the fun way, as they were acting busy in the car. Ok, so kink. All right?
MAX
I am lost somewhere.
Dr. SUZY
So David D says Hugh Hefner had no need to do anything, shady. He literally had an army of hot models beating down his door. Dave D. is on YouTube. And I will say that that is very true that he had no need for women who weren't interested, and I will also say that sometimes people with no need will be obnoxious and they do things they have no need for because they're pushing for power.
And you know they do things they have no need for because they're pushing for power. It's possible it's just not the stories I've heard about him. I had a lot of good times and not only that, I was inspired to create my own Playboy Mansion that was very different, more hippie like and more kinky and more political. Although Hef was very political actually. Maybe more artsy, fartsy. We're also different than Playboy in that we have more of a variety of different kinds of bodies. And we have a woman in charge.
MAX
Well, I mean he was. He was liberal. He was liberal and of course the right wing always. Called him a communist. You know?
Dr. SUZY
He was pretty capitalist. Although he didn't seem greedy and he shared his wealth with his Playmates as long as they followed his rules.
MAX
Well, it's the same thing if you work at the factory. If you're not following the rules. Somebody might not want to pay you.
Dr. SUZY
Well, that's capitalism.
MAX
Right?
Dr. SUZY
When you got a boss, you got to deal with that or not, and certainly he didn't force anybody to stay in the Playboy Mansion.
MAX
Right or not?
Dr. SUZY
He might say if you were one of his girls, and if you were not feeling well or you're you're tired, and he needed to go out for an engagement, he might say oh come on, let's go. I mean boyfriends, do that all the time. Girlfriends do that. They're probably getting ready to sue his estate. These days if you've got money you can get sued. Not that I feel sorry for the people with money because in a way I feel like, well, maybe this is a redistribution of wealth. Although it's very bad for sex in the culture. It gives a lot of young people a bad feeling about sexual pleasure.
For me, the extension of the Playboy Philosophy was to say, yes, it's good to honor pleasure. But it should be open to more people, for more different kinds of humans.
MAX
Yeah yeah yeah
Dr. SUZY
Hef seemed to only like and promote a certain body type. And that was limited, and so yeah, we should open it up. Also he seemed to be very oriented towards male power, although honestly he was a big fan of my friend at the time. Dr. Toni Grant. But she was into exploring her femininity, so yeah he was kind of the old style Madman 50s guy in many ways but he was also very much for many aspects of Women's Liberation as well as Sexual Liberation.
Because birth control and the right to choose are part of both revolutions.
Can't we rejoice in that instead of one revolution hiding from the other? Like pretending that birth control is all about family planning? Yeah, it's partly about family planning, but it's also about having a good sexy time without worrying about getting knocked up. Anyway, I want to show some great art.
Dr. SUZY
Can we do that now?
MAX
Sure, sure.
Dr. SUZY
I want to show art from the show, LOVE IS BRAVE, with Scott Siedman, who is a fabulous artist, a
painter. And he is doing a show. So February 12th to March 20th. If you're tuned in live. Otherwise, I guess you can find his work online.
LOVE IS BRAVE is the title of the show the art of Scott Siedman, and it is on 1712 Ocean Park Blvd. The Valnez and Co Gallery in Santa Monica.
MAX
Ah, here we go.
Dr. SUZY
And Stacy and Megan Valdez are presenting this amazing show. We are very excited about it. We are hoping to get there, maybe even go with the Vice TV crew. I'm fantasizing, but the reality is that we have showed a lot of his art in Bonoboville, and he has some really beautiful work. So we are very excited. I see Scott Siedman as a Kinky Michelangelo. Earlier I was talking to one of our Bonoboville comrades, who felt he was like Salvador Dali.
This is a painting where a man is running across the beach naked from the waist down and his pants are flying through the sky.
Dr. SUZY
It looks like he is flying a kite, or maybe the pants are just flying away.
MAX
Me too!
Dr. SUZY
Either way, it's fabulous looking.
MAX
And he's holding it in his hand the right side.
Dr. SUZY
Pants as a kite
MAX
Yeah side.
Dr. SUZY
There's so much freedom and simplicity and innocence in this and so much of Scott Semen's work.
Did I say Semen? I meant to say Scott Siedman, but you know, with a name like that, Scott, you're bound to get some malapropisms that turn people on, so deal with it. Maybe that's why you have pursued erotic art, and I must say, your erotic art is quite exceptional. There's a lot of fantastic erotic art out there and in here in Bonoboville. But Scott Siedman's erotic art is classical, beautiful and always somewhat humorous.
MAX
Yeah, this is a great piece.
Dr. SUZY
We are showing a piece that shows 2 ladies pulling hair and being very erotic and the original painting actually shows their nipples and I know you can show art nipples, that's okay, but I don't know if that will change. Probably next week. So I'm not taking risks and the picture is actually square anyway, so for the horizontal purpose I cut it off.
MAX
That's funny, that's great. No, I love his work.
Dr. SUZY
Speaking of kink, I'm going to be at DomCon 2022. Interesting that we're now showing a Scott Siedman piece that is called "Trust Me," because I will be talking about how to combine trust with lust. And that is exactly what this painting does. Because you can tell this couple knows each other; whether they've just met that night or they've known each other for 10 years. It seems more like 10 years.
MAX
Looks like he has a two way tape above and below his lip and that and also his nose up there and when he goes to kiss her, they're stuck together. Wow, yeah because now the other part of the tape is is holding it back.
Dr. SUZY
Hmmm… well, it's called "Trust Me"
MAX
Oh no, those are our fingers.
Dr. SUZY
Yeah, I didn't know what you were talking about. I wasn't about to interrupt your interesting interpretation, but yes, those are her fingers. Yes, she's putting her fingers in his mouth and over and under his lips.
MAX
Right, that's the thing. I take it all back.
Dr. SUZY
Right, and actually in the new version of it, the other hand is like a paw, a claw like it's.a tiger 'cause she's very tiger like and it is very animal and yet very human.
MAX
Yeah, yeah.
Dr. SUZY
Gosh, it's got so many elements they're really struggling with each other. And yet so turned on by each other. And I think they're in love and naked, but you don't see anything. So it's really a piece for our times. And it's about kink.
And now we have another piece about kink which is more traditional kink with a Dominatrix in boots that should go up Putin's nose. Really, the stiletto? Up his nose. He's got those big nostrils. I don't mean to insult his appearance, but they're kind of piggy and they could easily go up his nose. Putin needs a bootin' and DomCon is coming and I'm going to be there. We are going to be there. Bonoboville is going to DomCon. I'm going to do another one of my lectures or talks or presentations or workshops. Whatever they call them. And it's going to be called Make Kink, Not War: The Bonobo Way. I always do the Bonobo Way. Last time, I called it "FemDoms of the Wild" One year I called it the Bonobo Way of FemDom power. Yet this year, I feel because we're at war, I should recognize and confront that through kink.
Dr. SUZY
Hopefully, by the time I have to do it, I'll feel like, oh, geez, I really blew this title, because now we're at peace. I hope I feel that way.
Anyway, I feel that we are at war, and I had to come up with a name like yesterday, so "Make Kink, Not War: The Bonobo Way" is the name and it is going to be on the Saturday of DomCon. And I will also be drawing from my new Kink Manifesto: A Guide for the Perplexed (with apologies to Maimonides) because many of us are perplexed by our kinks. We are certainly perplexed by this war.
I am perplexed by the war, but in a way, I get it. It's the military industrial complex, you know. Like they said, during the 1992 election when Clinton was running, "it's the economy stupid."
Now, "it's the military industrial complex stupid."
Eisenhower, a Republican warned us about it.
MAX
Second World World War. It became clear that war was a money maker. There was money they decided, oh yes, all of this has to be replaced and we're going to make it so. It became very clear that war was their bread and butter.
Dr. SUZY
Yes, they felt it had to be a perpetual money maker.
MAX
Absolutely.
Dr. SUZY
I think we always thought it was a money maker, but it was a seasonal thing.
MAX
No, but the Second World War made it clear it needed to make war
Dr. SUZY
Making war makes money. We even imported Nazis to make the Atom Bomb.
MAX
Right to it, right?
Dr. SUZY
Right, we imported these guys that worked for Hitler. They really worked there.
MAX
They left.
Dr. SUZY
They left.
MAX
Better pay.
Dr. SUZY
And yeah, better pay exactly. No real morals, but some of them actually worked there. They were Nazis.
MAX
Yeah ,yeah, yeah, no, no.
Dr. SUZY
Like Werner Von Braun, the guy that the movie "Dr. Strangelove" is about. Yeah, that's why he has an arm that every once in a while, gives the Nazi salute. It can't help itself. At intense moments, it just goes straight up. It's a fantastic movie, one of the best ever.
OK, so you have to see it, Dr. Strangelove. Now is the time to see it…. OK, so the date of DomCon somebody excellent is giving it to me. May 18th to 22nd. I will not be DomCon Mistress of Ceremonies this year. I was asked and I am honored to be asked but I feel as though it would be too much work. I'm a lazy bitch. What can I say? I don't want to do that much work.
I have to go to my Yale reunion right after that. And we've got Vice and our 30th wedding anniversary right before that. And then, I got you all to deal with, F.D.R. so I can't do it, but I love DomCon with all my heart, and my ass, and my whipping arm. And so I will be there for the Saturday of this great gathering and I hope you will be there too.
David D. says "In America, if you have money, you will get sued."
I don't even have money and I've been sued.
MAX
If you have insurance, you'll get sued for sure.
Dr. SUZY
There you go. I don't even have insurance, well, not that kind of insurance.
MAX
Your company insures you for that, and if you have insurance for sure, you're going to be sued. But that's OK, you know, for some people it's great.
Dr. SUZY
So Jux Lii says, "He really is a fantastic artist," and I'm not sure who he's talking about, not Hitler 'cause he was an artist, right?
MAX
Yeah he was.
Dr. SUZY
Oh no, he's talking about Scott Siedman, right?
No, I'm kidding. That was a bad joke, except you never know about these artists, I will tell you that. You never know about anybody.
MAX
I love his work.
Dr. SUZY
That's why we shouldn't have anybody with that much power. We need checks and balances for realz.
So, Daniele Watts says Max seeing tape instead of fingers reveals maybe a kink he has from all those years surrounded by tape and other office supplies in the publishers office. This is Daniele trying to enter your mind.
MAX
Ah, you're in my office.
Dr. SUZY
Or you could say PENETRATE your mind. It's better than invading your country with bombs.
MAX
Yes, that's true, yes.
Dr. SUZY
But she is invading your mind to try to imagine that you imagined tape because you've been looking at office supplies… No Daniele, we have a nicer environment than a regular office with office supplies.
MAX
Because I've been looking at an office.
Dr. SUZY
Come on, you've been here. We have better things to look at than tape. We have beautiful erotic art all over Bonoboville.
MAX,
There she is. Look beautiful. And Chef Belive.
Dr. SUZY
And Rhiannon Aarons is coming to join us for Vice too.
MAX
Something terrible happened to Chef Believe. Someone just punched him.
Dr. SUZY
I know, how awful!
MAX
In the eye.
Dr. SUZY
He's so gracious about it.
MAX
Yeah, he's very gracious about it and everything. He dresses different than most people and sometimes he dances rather than walks, yeah, so someone decided, "I will punch that guy."
Dr. SUZY
Yes, it's terrible. Number one, there is a lot of punching going on in our world, and it's disgusting.
MAX
And shooting!
Dr. SUZY
And that's even more disgusting, and bombing and so much violence, you guys. Make Love, Not War! Or, if you don't know how to love… because love can be complicated… then, Make Kink, Not War! Kink is simple, you just think of something that gives you pleasure. It doesn't even have to be sexual. It actually can be anything that gives you pleasure. People can have kinks for foods or clothes. It's like addiction without the addiction. And anyway, the word addiction is misused all the time. So make kink, not war.
"Looking forward to DomCon," says Jux Lii.
As long as we're going Daniele crazy, she also did a cool post about "Make Kink Not War."
"I listened to the whole show," she writes.
"It's very seductive to believe that because everyone in the world is sharing war stories, that we also have to share war stories," she writes.
Yes, well that's why we try to share Kink stories, Daniele.
"I wonder if the idea of the T shirt should be 'Share Kink, Not War,'" she writes.
She likes "SHARE" kink, not war. Now I get it like it's cool, but I still prefer "Make Kink Not War" just because of the long tradition of Make Love Not War, and because I think you do make kink, in a way. But Daniele makes an argument that I respect, that kinks already exist.
"Like you said in the previous show," she writes, "they are literally everywhere."
"So we don't really have to make kink," she writes.
"For some," she writes, "I've noticed they are like landmines in the psyche, presenting themselves to us in different forms throughout the day. Even the subtle idea of a Madonna sitting straight up on a kitchen table can be suggestive toward the idea of sliding into greater openness and physical pleaure," she writes.
You need an "S" in "pleasure," Daniele. Well, you do.
MAX
No, no, no, I get that. I hear that all the time.
Dr. SUZY
I do tell you when words are misspelled. I think of it as a service.
MAX
As a service.
Dr. SUZY
I know people find it in annoyance to have their spelling corrected, which is the case with a lot of us service people.
So, Daniele goes on, "We don't really have to make kinks as much as we need encouragement revealing them and sharing our kinks in relationships."
She has a good point there. Actually, I agree with that. Except I still like the phrase "Make Kink Not War" better than "Share Kink Not War," also because you don't share war. You make war. It's a phrase. The "making" of things – that aren't so much "made" as shaped from what's already in nature – is a human figure of speech.
MAX
You all got that.
Dr. SUZY
But I respect Daniele who is actually more intellectual on this than me. I'm going with the popular usage, and she's going with this deep understanding.
"Most I've met in life who work jobs in the capitalistic system have been scared in recent years to make kinky jokes or even follow kinky people like us on Facebook because of all the sexual harassment workplace laws that could threaten their existence if they share their own kink."
That is true.
"Then let's say if you free yourself from the matrix and decide to work for yourself like Belive and I. We are still recovering and need examples of what it can look and sound like for different people to share their deep scary kinks in conversation." Yes!
MAX
Far out, Man. That's it, that's what we used to say. That's great so far.
Dr. SUZY
"We already know from all the other shows in the world how to talk about the developments in Ukraine," Daniele says.
I kind of disagree with that. We don't know enough. A lot of people are Pro-Ukraine in a very war-like way. I don't know if they realize how dangerous that is. I am Pro-Ukraine also, believe me I am. My grandfather and great grandfathers were from Ukraine. I love Ukraine and I believe in their independence. I do think they should be neutral though, and I hope to stop this war.
And there are some really interesting things on Daniele's post about our show.
OK, so we are going to continue the Daniele Watts' awesome messages next Saturday or whenever we come back. In the meantime, you can go to where it is on our Ukraine Love Train thread, which is a very interesting thread in many ways. It even has my cousin on it telling me how I am standing up for family values, which is very rare. Diane Z. Block.
MAX
Oh yeah, yeah.
Dr. SUZY
Of course, she loves me, and I love her. But you know, she rarely comments on my kinky posts.
MAX
I love her too and I wouldn't, you know.
Dr. SUZY
Yes, go on.
MAX
No, I was just saying I love her too.
Dr. SUZY
OK, well we all love each other.
MAX
We have something in common.
Dr. SUZY
Anyway, because this was just a little bit kinky, but mostly a Ukraine Love Train, she posted a very supportive comment about how important it is that I turn all my sex maniacs into supporters of Ukraine. Which yes. I don't think there are too many Putin lovers in my audience, although there are probably a few. But we don't hate the Russians. OK, we are not Russophobes like I see a lot of people becoming these days. Again.
Like I said on last week's show, my great grandfather's American citizenship papers say he was from Russia, even though he was from the Ukraine. So, Ukraine was part of Russia, off and on. No excuses, just perspective.
Rich Bigly says, "Spread cheeks not hate."
And I think on that note we will start to kind of close the cheeks of the show. The cheeks of the show have been open for an hour and a half, and we have been screwed long enough.
MAX
Right, thanks. Oh OK, those are nice cheeks.
Dr. SUZY
No, those are not his cheeks. My great grandfather never let his cheeks be shown
MAX
Oh my goodness.
Dr. SUZY
To my knowledge. There aren't too many records of those days.
MAX
Great, that's great, thank you. Yeah yeah, go to it.
Dr. SUZY
Check out Scott Siedman's show. Check out all of Daniele and Belive's fabulous posts. Go to DomCon. Stop the war. We wanna get off. We are tired of focusing on war, and yes, we understand, when you're being bombed, you gotta focus on war. Maybe you either gotta get out of there, and by the way my heart goes out to all those refugees and thank you so much all you people that are accepting refugees.
And remember there are refugees. from Yemen, from Africa, from many, many places that kind of aren't as accepting, so maybe you should accept some of them too. So anyway, accept all the refugees. We are all part of a mess. We are one and we have to help each other.
MAX
And it's just the beginning.
Dr. SUZY
We take in a lot of refugees here in Bonoboville. Actually, Luzer Twersky is the "Funniest Fundamentalist Refugee" SUZY award winner.
MAX
Yeah, it's great.
Dr. SUZY
Absolutely we accept all kinds of refugees as long as you can answer the phone.
So anyway. make kink, not war. Stop the war. We want to get off! What kind of fool is this who is involved in this war?
MAX
Stop the killing.
Dr. SUZY
Make like bonobos, not baboons. Make Love not war. Make Love to someone you love tonight, even if that someone is you. I love you. Stop the war, I wanna get off. Ohhh…. I'm getting off.
MAX
Whoo wow. Beautiful.
Show Length 01:31:11 Date: March 5, 2022
© March 5, 2022 Susan Block, Ph.D., a.k.a. "Dr. Suzy," is a world renowned LA sex therapist, author of The Bonobo Way: The Evolution of Peace through Pleasure and horny housewife, occasionally seen on HBO and other channels. For speaking engagements, call 213-291-9497.
---
Explore DrSusanBlock.com
Need to talk? Sext? Webcam? Do it here. Have you watched the show? No? Feel the sex. Don't miss the Forbidden Photographs—Hot Stuff, look at them closely here. Join our private social media Society. Join us live in studio 😊. Go shopping. Gift shop or The Market Place. DrSusanBlock.tv, real sex TV at your toe tips. Sex Clips Anyone? FASHION, we have fashion! We also have politics. Politics? Have you Read the book? No? How about the Speakeasy Journal? Click here. Ok, how about some free sex advice?
---
---