Sticky in Bonoboville: RIP Hef & Masturbation Education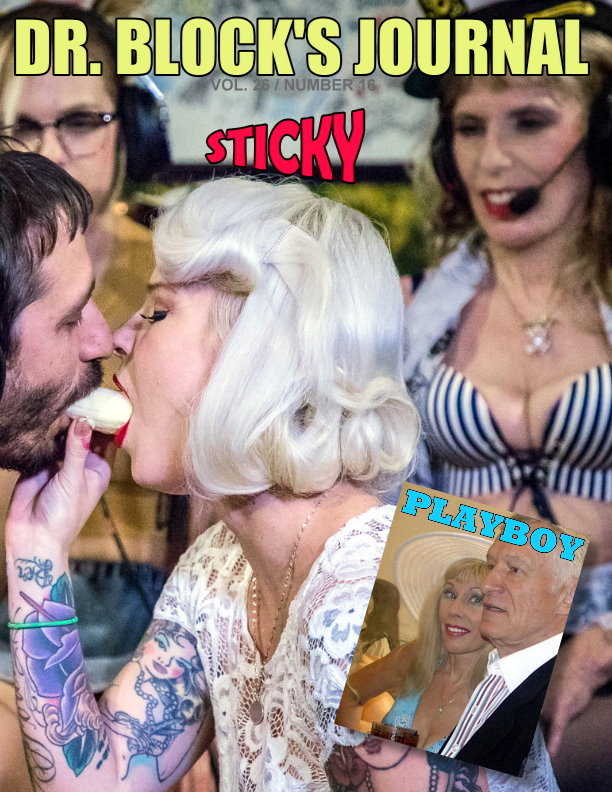 Length 02:10:07 Date: September 30, 2017
Wankers, spankers, filmmakers and pornstars gather together in the Womb Room Cathedral of the Church of Bonoboville to wind up Self-Love September, break the Yom Kippur fast (well, I was breaking the fast) and kick off Kink Month with stimulating talk about masturbation education, a sensuous topless Bonoboville Communion and an orgasmic, remote-controlled ride on the Motorbunny.
Wheee!
RIP Hef
Speaking of bunnies, we begin the live broadcast with a fond farewell to Hugh Hefner, king of the bunnies, playboy of Playboys, lover of lovely ladies, publisher of naughty pictures, sexual freedom fighter, Freedom of Speech defender and feminist. Yes, Hef has been criticized for his strict rules for his bunnies, right down to how they twitched tails; however people feel about the sexual and financial arrangements, they were all consensual. Unfortunately, Hef's empire housed a few tragedies, like Bill Cosby's infamous 1974 sexual assault, and the tragedy of Dorothy Stratten, a Playmate of the Year murdered by her own former husband and manager, Paul Snider. Hef did his best to leave an empowering legacy for women by supporting feminist causes, including funding court cases to challenge the states that outlawed birth control in the '50 and '60s. And didn't Ms. Magazine founder and feminist spokeswoman Gloria Steinem get her start as a tell-all Playboy bunny? You bet your twitchy cottontail.
Not many realize that Hef was also a Civil Rights activist. The first Playboy clubs opened to all races back in 1960, when integration was rare. He had African-American activists and entertainers like Dick Gregory, Ella Fitzgerald and Sammy Davis Jr on stage and on his TV show, Playboy After Dark, and Hef personally donated to Martin Luther King and other Civil Rights causes. Playboy published many interviews conducted by the great Alex Haley, before he wrote Roots, including an interview with Dr. King that was the longest interview of his career.
Not many know that Hef was also an early LGBTQ activist, publishing a pro-gay science fiction story called "The Crooked Man" in 1955. Hef had experimented with bisexuality during the '60s. Though he stuck to being pretty much the ladies' man himself, he was not only open-minded, he opened his wallet to gay causes.
Back in the sexual Dark Ages of the 1950s, Hugh Hefner's erotic, romantic vision and relentless drive helped to change American society's ideas about sex, opening the floodgates to the Sexual Revolution. It also affected women's ideas about themselves and their bodies, for better and worse. Many gals developed eating disorders, comparing themselves—usually negatively—to the airbrushed perfection of Playmates. On the other hand, seeing such beautiful depictions of female sexuality liberated a lot of women from the idea that sexual expression and exhibitionism is bad or shameful.
It's interesting how many girls and women I've met over the years who grew up wanting to be one of Hef's bunnies. Me? I grew up wanting to be Hef.
Of course, I am not Hef. There is and never will be another Hef. But he inspired me as he inspired many other women and men. And then, there was his place; a magical, sprawling, Tudor-style "adult Disneyland" called the Playboy Mansion.
Many places in reality and fantasy have inspired Bonoboville—from the gatherings of Epicurus to the legends of Shangri-La to real-life bonobo communities—and the world-famous, hedonistic Playboy Mansion in Holmby Hills is one of the top 10.
My Adventures at the Playboy Mansion
Years ago, when I was single and before I started throwing the best parties and shows of anyone I know (so why go anywhere else?), I used to go to parties and "movie nights" at Hef's fabled Mansion. The thing I enjoyed most about these evenings was not the sex or the glamour—which were never quite what I expected—but the comfort, which surpassed my expectation. Hugh Hefner's Playboy Mansion was a very comfortable place to hang out, especially for a single gal. It was classy without being stuffy (well, maybe just a little stuffy) with good food, great service, newly released films (in the days before Netflix), open bar, fun games, plush grounds, cute animals, nice restrooms, a great pool, and discreet but primo protection from assholic other guests by the helpful Mansion staff. All this, along with a smattering of A-list celebrities and plenty of up-and-coming as well as down-and-going B-listers, bevies of gorgeous women (a definite benefit to bi-chicks like me), and tons of appreciative men who all seemed to feel that if you, as a female, were there at the Mansion at all, even if you weren't a Playmate or a Bunny, you must be pretty hot stuff.
I liked Hef. Not that I ever got to know him well. At the time, I was very shy and a little intimidated by all those tall, gorgeous Playmates. Moreover, when I first started visiting, Hef had just had a stroke, one of the reasons the parties were kind of low-key for a few years. But he always found the energy to stride around in his silk robe and pajamas, greeting and bantering with all his guests, from the A-listers to even us lowly, non-Playmate females. I loved the PJ's; they combined sensuality, comfort, humor and great promotion for Playboy, all in one easy costume. Hef in his pajamas was one of the great inspirations for me to host my show in lingerie.
How Cuckolding Created Playboy
When I first started going to the Mansion, Hef was also pretty busy with one of his girlfriends, Carrie Leigh, a vivacious and tempestuous brunette. On one of her jaunts, Carrie cuckolded Hef with Screw Magazine Publisher Al Goldstein's jeweler, whereupon the irate and disconsolate Playboy icon had her banned from the Mansion.
Hef's battles with the horns of cuckoldry began when he was in the service and his first wife, Mildred, cheated on him. Mildred confessed her infidelity, devastating Hef and, in an apparent effort to save their marriage, she gave him permission to have sex with other women, leading to his "playboy" lifestyle. The marriage didn't last, but Playboy took off. Indeed, you could say that the entire Playboy empire and Playboy philosophy was spawned as a response to being cuckolded.


A psychology buff, Hef was particularly intrigued by one of my consorts at the time I was visiting, the lovely, archly articulate pioneer radio psychologist Dr. Toni Grant (with whom I had the pleasure of writing Being A Woman, a NY Times bestseller based on Dr. Toni Wolfe's four Jungian aspects of womanhood: the Amazon, the Mother, the Madonna and the Whore). The most exciting thing I ever heard going on at the Mansion was Toni having sex with Al Goldstein on the pool table in the Game Room. That was Toni: a Madonna in the Living Room, and a Whore in the Game Room. On the other hand, I don't think Dr. Grant would have had sex on just any pool table. This was Hef's pool table. It was special.
After Carrie cuckolded him, Hef fell for the more stable, blonde Playmate-of-the-Year Kimberly Conrad who married him and had two sons, Marsten and Cooper, with him, at which point the Mansion became a little too much like a regular—rather than an Adult—Disneyland for me. Also by this time, I was married which meant it wasn't as easy for me to get in as when I was single.
Did Playboy exhibit women as sex objects? No doubt, it did. That sounds so sordid, but there can be power in objectification. Often, royalty and celebrities are objectified; these days so are politicians, who "model" our political desires just as Playmates model our erotic desires. In terms of being "exploited," well, yes, but those Playmates made pretty good money considering the going rates for nude modeling, and some, like Jenny McCarthy, Kim Kardashian and Pamela Anderson, parlayed their Playboy appearances into extremely lucrative careers.
Playboy also featured Marilyn Monroe, Hef's favorite female, even though he never actually met her. But being as she was his first nude centerfold and fellow icon, Hef seems to have felt closer to Marilyn than any of his wives or many girlfriends and, at a cost of $75 grand, he'll be buried by her side in that little Westwood Cemetery where her ashes reside, just down the street from where we filmed most of our HBO shows. My middle name is Marilyn, chosen for me by my Dad, so I've always felt a deep connection to Monroe. Even though Dad himself wasn't much of a Playboy, a part of him wanted his daughter to be a Marilyn. Mom planted the seeds for me to be more like Hef. So here I am, reflecting on the spirits of my sex-revolutionary ancestors.
Another one of my favorite Playboy centerfolds was Bettie Page, the "dark Marilyn," whom I interviewed in '96. For Bettie, who was mostly an underground star when she posed, Playboy was a break into the "big time."
Later in my life, when I established myself as a sex therapist, talk show host and (non-ghost-writing) author, I too was proud to work with Playboy, occasionally including my show Adult Stars Up Close on Playboy TV, in addition to many interviews on Playboy radio, as well as a Site of the Day Playboy award and a 1997 endorsement from Playboy magazine editors for The Dr. Susan Block Show as being "an excellent X-rated alternative to Leno, Letterman and Nightline," pretty good for a bonobo like me.
But back to Hugh Hefner and the bunnies. As has often been said, Hef is dead, but he couldn't possibly have gone to a "better place" in heaven than he was in right here on Earth. He stayed true to his motto, "Life is too short to live someone else's dream." Hef lived Hef's dream.
Part of that dream involved reveling in a bevy of "girlfriends," his own Playboy-based version of sister-wife polyamory. Yet, Hef always seemed to be searching for his one true love. Sadly, I don't think he ever found it. That's why he'll be buried next to Marilyn, the love he never met.

Maybe that means that there are limits to the Playboy lifestyle. Maybe Hef just never got over being cuckolded by Mildred, Carrie and who knows who else. Maybe no one woman could keep up with him, or maybe, especially as he got older and the women stayed young, he just couldn't keep up with them. Maybe the Girl Next Door wasn't really a Girl Next Door, but a Barbie doll far more breakable than a real woman.
And maybe monogamy isn't for everybody, as the bonobos know. Not that you have to be monogamous with your one true love. You can be "monogamish," like me and Capt'n Max. I'm grateful to have one true love in my life, my prime mate and favorite Playboy, who was also a nude centerfold (let's hear it for male objectification!) for his own magazines, the LA Star, Love and Finger, which published photos and stories by real "girls next door," aka everyday women. I'll never forget when Capt'n Max first plopped a yachting cap on my head in the middle of one of my radio broadcasts back in 1991, making me feel like my own, new and improved version of Hugh Hefner.
And I'm grateful to have known Hef. His quirks and philosophies live on in me and millions more. But Hef the man is now ashes in a box next to Marilyn, and maybe it's the "end of an era." This point was driven home to me when I found out that the Playboy Mansion was purchased by the guy who owns Hostess Twinkies. From bunnies to twinkies. It's kind of sad.
My farewell to Hef is also pretty sad, though also celebratory. Hey, the guy made it to 91, almost as old as one of my other friends and mentors, Col. Jirayr H. Zorthian, which is a pretty good endorsement of the health benefits of hedonism. In Hef's memory, I wear a yachting cap and robe, while Gypsy Bonobo dolls herself up as Marilyn Monroe.
PHOTOS 2 & 3: CLEMMY
Of course, the main unspoken use for Hef's magazine was as a visual aphrodisiac for self-pleasure. People might say that they enjoyed Playboy "for the articles," which happen to have been extremely well-written and progressive. But there's little doubt that the lush photo spreads of nude, gorgeous, available-looking women were the driving "sell" of the magazine, the pages of which would often become very sticky…
"Sticky: A Self-Love Story"
Which brings me (finally!) to my featured guests, the charming producers of "Sticky: A Self-Love Story" a documentary film about masturbation (see it on Amazon). I met Sticky's producer/director Nicholas Tana and producing partner Denise Acosta at David Bertolino's Golden Age of Adult Cinema. Almost immediately, we realized we had something in common: wanking.
Actually, it's something everyone has in common, but Nicholas, Denise and I like to talk about it.
And talk about it we do. It's interesting how the two masturbation-related news events that triggered Nicholas' drive to make a film about this taboo but very common subject ("masturbation touches us all," says Nicholas) also affected Max and me. The first was Paul "Pee-Wee Herman" Reubens being arrested for "public masturbation" in a Florida adult theater sting operation in 1991, and then shamed and excoriated by the media. I remember dedicating my radio show to Pee-Wee's defense, masturbating to orgasm live on the air, which the LA Reader described as "a total airwave meltdown," moaning and coming into my mic without uttering a single FCC-forbidden "dirty" word.
News event number two was the firing of U.S. Surgeon General Dr. Joycelyn Elders who appears in Sticky, defending her sensible yet somehow shocking statement that masturbation ought to be taught in public schools as a safer sex option.
Another event that triggered Nicholas was more personal. When he was about ten years old, he admitted to his friends that he masturbated, as he assumed they did too. To his abject mortification, they laughed at him and kept their "shame campaign" going for some time, making him wonder: How could something so good be so bad?

Denise got involved in the project because, well, Nicholas asked her to, though at first, she felt the whole subject was a bit creepy. Then as she learned about the psychology and history of masturbation, its practice and repression, she warmed up to it. Now traveling the world to promote "Sticky," also showing in colleges, she's become something of a masturbation mouthpiece (pun intended).
Veronica Valentine & Sailor Luna
The few people on Earth who claim they "never masturbate" notwithstanding, it's something to which we can all relate. My other two featured guests, raven-haired teen porn starlet Veronica Valentine, just featured in my "Bonobo Way of Great Sex" talk at Adultcon (blog and photos coming soon!) and her blonde, pig-tailed and bespectacled "porn person" friend from North Dakota, Sailor Luna, chime in on the subject.
As webcam gals, Veronica and Sailor are also the "sex objects" of many a webcam voyeur's masturbation fantasy. Nineteen and twenty respectively, they're just testing the waters of their sexual power and pleasure, as well as teaching us dotards (see below) about Millennial Sex..
From Playboy Bunny to the Motorbunny
After all that hot talk, it's time for a little refreshment, starting with that potassium-rich Specialty-of-the-House of Bonoboville: bananas.
Veronica and Sailor are first up at bat… or banana.

PHOTOS: JUX LII
Then Nicholas and Gypsy take the double-dong banana-sucking challenge with as much panache as the porn stars.
Nick even takes off his shirt for the job, though he winds up eating his end, mid-swallow, proving there is more than one way to suck a banana.
Then Veronica rides the Motorbunny for the second time (for her first, see "Sexpot Sister Resisters"). This neatly combines our twin themes of masturbation with bunnies.
We also test-drive the new Motorbunny remote control with Clemmy's iPhone, which works rather well, as long as the screen isn't too slippery, and your fingers aren't too… sticky.
Dry-fingered and nimble, Clemmy operates the Motorbunny remote controls as Ikkor the Wolf whispers dirty talk into Veronica's ear and, per her request, chokes her lightly (don't try this at home, unless you take a good sex educational course in how to do it safely) until she comes in orgasmic ecstasy.
Usually "masturbation" means "solo sex," but in this case, it's a group effort. There are so many, many ways to "polish the pearl."
Bonoboville Communion
Next on the agenda, Bonoboville Communion. Marilyn Gypsy Bonobo Monroe takes hers with gusto from Altar girl Veronica's lovely natural boobs.

Then she receives her Waterboarding with Agwa, Bonobo-Style, like a beauty in the Valley of the Dolls.
PHOTOS 1 & 3: CLEMMY. PHOTO 2: JUX LII
The two of them make quite the gorgeous topless tableaux, hotter than a Playboy centerfold.
Then it's Team Sticky's turn. Though Nicholas was raised Italian Catholic, he was never an Altar Boy and barely remembers taking communion. But he serves well as a Bonoboville Communion Altar Boy. His lovely Communer Denise chooses to lick sacred salt from his whiskered chin, a first in Bonoboville Communion history, giving new meaning to the "salt and pepper" beard.
Aaliyah Corsets Squirts
Suddenly who bursts into the Womb Room but one of my Prodigal Daughters returned, the vivacious Aaliyah Corsets, wielding a white Jux Leather flogger, accompanied by a bevy of beautiful girlfriends to rival Hef's.
Then Aaliyah proceeds to tell the story of how, with the help of the Dr. Susan Block Institute, she experienced her first female ejaculation. It's true; a few months back, she told me she really wanted to experience the pleasure and power of squirting, how she had tried and tried, but never succeeded in getting out more than a tiny trickle. I told her the "secret" to female ejaculation is to relax and breathe deeply into your pelvis as you squeeze and release your PC muscles, pushing out gently but firmly as you release. A few days later, while in a threesome, Aaliyah followed my instructions and lo and behold, like a Holy Water Miracle, soon she was squirting clear across the bedroom.
Another Bonoboville success story. We're not the Playboy Mansion (and I do wish we had their old Grotto). But in terms of women's pleasure, we're a lot better.
From Folk to Rap in Bonoboville
For our first musical interlude, shirtless Nicholas pulls out his guitar and strums his folksy Sticky theme song (Jacquie Blu holding up his lyrics), featuring more terms for masturbation than an Urban Dictionary listicle.
Then Ikkor steps up to the stage and, at my request, strips out of his sweater, #Bonoboville shirt and undershirt, and the Womb Room gasps and titters with a little good, wholesome, male objectification.
Thus freed from his shirts, our favorite rapper belts out a rousing rendition of "She Bad" as all of my guests, plus Aaliyah's gal pal posse, rock out, releasing our inner bonobos and bunnies.
PHOTOS1 & 3: CLEMMY. PHOTO 2: JUXLII
Punishing Dotard Trump
Back to bunnies, and other less adorable creatures. In a way, Hef and Trump are two of a kind, and in other, more important ways, they are each other's opposites. Both Hef and Trump like leggy, model-slim but busty young women who aren't the Girl Next Door at all, more like the upscale model uptown. Other than that, Hef was a gentleman and a progressive. Trump is a self-confessed "pussy-grabber," and in the immortal words of Kim Jong Un, a Dotard.
When I first saw that Un called Trump a "mentally deranged U.S. dotard," I assumed it was a typo perhaps meant to be that old-fashioned slur, "retard." But no, it's a real word, an archaic term for a feeble-minded old man, and a rather telling assessment of this unpresidented President who, when one is being charitable, could seem a bit senile, especially to a youngster like Un.
Though this past week (like every week), tRUMP has gone far beyond dotardly into dastardly. Calling on NFL owners to fire players who kneel during the National Anthem, as though he's telling plantation owners to whip uppity slaves, is bad enough. But tweeting this racist vitriol just after Hurricane Maria virtually destroyed the beautiful Island of Enchantment, where Max and I spent so many beautiful moments in 2016, in San Juan and in Mayaguez, is beyond the pale. Then the awful Orangutan (with sincere apologies to real orangutans who are actually rather wonderful apes) in the White House managed to make a bad situation much worse, through tweets and actions, treating American citizens on the island of Puerto Rico, languishing without electricity or water, like literal second class citizen, not to mention denigrating the beautiful brave Mayor Carmen Cruz of San Juan.
Some think that Trump doesn't know Puerto Rico is an American territory, but he's more dastard than dotard on this point. He knows. He ran a golf course there that defaulted in 2011, leaving Puerto Rican taxpayers on the hook for $32.7 million.
For my Trumpocalypse therapy, I give our Trump surrogate a hard Bonobo Way book-spanking, but it's difficult to channel all the rage I feel over this particular Trumposity.
PHOTOS 1 & 2: JUX LII. PHOTO3l SELFIE
In part, fasting on Yom Kippur all Saturday reminded me that people—our friends and fellow American citizens—are starving in Puerto Rico, as Trump tweets, golfs and wolfs down overcooked flesh at his New Jersey golf club.
Goddess Soma Makes an Entrance
Just as we wind up the show, who sweeps into the Womb Room with all the grandeur of BDSM royalty but the great Goddess Soma Snakeoil Herself, decked out in black latex and blue hair with Her busty submissive galpal Antoinette.
I've known Soma since 2009 when she wowed the crowd at our Downtown Speakeasy in a bondage party we threw for our old friend, Master D. Her presence is enough of a present, but She also comes bearing a gift, a beautiful painting of Bettie Page by Jamie Roxx, aka Sissy Pesticide.
Then the Goddess proceeds to dominate three different ladies, Antoinette, Jacquie Blu and Aaliyah Corsets, on the Bondage Cross, each in a different way.
It's a beautiful sight to behold, a real BDSM ballet. I'm inspired to take Communion from Antoinette.
We say farewell to our new Sticky friends, Nick and Denise, now off to Vietnam to try to make up for America's legacy of truly shameful destruction in that fair country, as ambassadors of peace through pleasure. I give them a Bonobo Way to read on the plane.
Then it's time for the Captain and me to ascend the stairs of Bonoboville Mansion and get a little sticky ourselves.
Happy Kink Month, Brothers & Sinners, Lovers & Sinners!
Thanks to Our Volunteers: Videographers: Michael Sullivan; Khristian Abasolo; Photographers – Jux Lii; On-Campus Bonobos – Abe Perez, Camille Rosebud, Del Rey, Gypsy Bonobo, Harry Sapien, Jacquie Blu, MarsFX, Clemmy Cockatoo, Ana & Miguel.
P.S. Just got news of the horrific mass murder on the Vegas Strip, the worst mass shooting in U.S. history. Will we ever stop the violence? Will we learn to follow the Bonobo Way of peace through pleasure before it's too late? #StoptheViolence

© October 1, 2017. Susan Block, Ph.D., a.k.a. "Dr. Suzy," is a world renowned LA sex therapist, author of The Bonobo Way: The Evolution of Peace through Pleasure and horny housewife, occasionally seen on HBO and other channels. For speaking engagements, call 310-568-0066.