Kink Month Kick-Off 2016 on DrSuzy.Tv
Length 1:46:20 Date: October 1, 2016
Happy Kink Month, Brothers and Sisters! In case you haven't heard the word, October is "Kink Month," as The Stockroom, in its infinite marketing wisdom, has declared. Therefore, it being October 1st, we kick off Kink Month in BOOnoBOOville and throughout the wondrous witchy cosmos with a Kinkster dance, kink-positive talk and an ultra-kinky Bonobo Way book-spanking or three.
It's all in the autumnal spirit of darkness descending and adventure rising, whirling like a devilish dervish around Halloween revelry, roleplay and just plain playing (consensually, of course) with fear as an aphrodisiac. Not to mention buying lots of kinky paddles, padlocks, kink-positive books and piggie hoods from places like The Stockroom, as well as our own BlockBooks and Shopping Heaven.
And no, Virginia, that doesn't mean you can only get your kink on in October. You can be kinky as you wanna be any month, anytime. But just as May is Masturbation Month (thanks to the good folks at Good Vibrations and my dear friend Dr. Betty Dodson), February is Black History Month, March is Women's History Month and June is LGBTQ Pride Month, so as to spotlight the subject and stimulate discussion, October is the month to open up your erotic closet and let your kink flag fly.
This is a key aspect of releasing your inner bonobo. And indeed, we "go bonobos" in this grand and free-ranging Kink Month Kick-Off featuring that high-intensity Bonobo Way book-spanking, boobalicious Bonoboville Communions, dancing to the beat and pervy lyrics of The Kinkster and serious, stimulating talk about how to kink up your listless sex life.
Sweet, Petite Goddess Godiva
A diverse array of guests exemplifying various levels of kink enter the Womb Room. First up on the broadcast bed is Goddess Godiva, a petite and kinky courtesan who loves turtles and other nonhuman (as well as human) animals, all decked out for Kink Month in a shiny black vinyl corset, g-string, lacy slip, thigh highs and high-heeled, steel-tipped booties. The vivacious and loquacious Godiva regales us with tales of the kink-hungry clients requesting her services for "Mommy" play and other discreet fetish games that they can't or just would rather not play with their prime-mates.
She also stimulates a few fantasies in DrSuzy.Tv viewers, lifting her slip to take a good Bonobo Way book-spanking, then stripping down to almost nothing to take Bonoboville Communion and then waterboarding, bonobo-style with Agwa di Bolivia Herbal Coca Leaf Liqueur (served up by Liz of Divinitys Beverage Service). Deliciously kinky!
Statuesque Lady Miguire
Next up is Lady Miguire, and when I say "up," I mean that is where you have to look to see her pretty mischievous smile, because this lady, at 6'7" without high heels (!), towers over everyone except maybe Hasheem Thabeet.
Though she doesn't play basketball, at least not on this show, m'Lady does let loose a mean arm-swing when walloping Jacquie Blu's bare bottom with The Bonobo Way. She does it hard—probably too hard for most people, but that's just the way kinky Jacquie likes it.
Fresh out of Stockholm, Lady Miguire calls herself a "Stepford Wife," also playing mommy to many men (does that mean the perfect Stepford wife is your mom?), certainly making most of them feel like little boys.This Episcopalian-raised giantess in a blue and white polka-dot sundress graciously doffs her top to play Bonoboville Communion Altar Girl. Later, she ups the ante on Jacquie's kinky paddling in the afterparty, rechristening her Jacqui-Black-and-Blu.
Kinksters on the Verge of an Erotic Breakthrough
Lady Miguire's lady-in-waiting, Goddess Ilain Pupo, also joins the Kink Month kick-off with a kick of her heels and a flounce of her Spanish-lacey shawl. A teasingly charming senorita, Ilain could be a character in Women On the Verge of a Nervous Breakdown, and indeed she is a fan of her fellow kinky Spaniard Pedro Almodóvar's films.
Ilain also enjoys reading French philosopher Georges Bataille, whom I paraphrase (from The Bonobo Way) when philosophizing about "kinky" or forbidden fruits being the sweetest and most erotic in all post-agricultural human civilizations, despite or because of their taboo nature.
Goddess Ilain does more than philosophize, showing off her lovely boobs, giving and receiving Bonoboville Communion with panache, despite (or perhaps because of) her semi-devout Spanish Catholic, post-Franco upbringing.  Then she, Lady Maguire and Goddess Godiva "get lei'ed," Agwa-style.
Dr. Myrtle Means' Recipe for Ecstasy
Last but not least in our Kink Month Kick-Off line-up is a surprise guest: Dr. Myrtle Means, licensed sex therapist, proud Detroiter and author of Recipe for Ecstasy: What Women Want: Sexual and Relationship Satisfaction. I met Dr. Means on a plane, but no, we didn't join the Mile High Club… although that certainly would have been kinky. We were both leaving AASECT conference in San Juan, Puerto Rico, where I presented The Bonobo Way and she presented her own talk. It also happened to be the day of the Orlando massacre, so we bonded immediately in our mutual horror over that heartbreaking atrocity, shaking our heads over the shooter's apparent sexual shame, twisted by kink-negative religiosity and sexual ignorance. We agreed that it was too bad there was still such a stigma attached to people getting the sexual help they so deeply and desperately need and often don't want to admit to anyone, even their families… sometimes especially their families.
We also talked bonobos, of course, as well as Dr. Means' fascinating dissertation on women's sexual satisfaction which found that married women without children report the greatest sexual satisfaction, with single moms ranking #2, single women without children at #3 and married women with children bottoming out at #4, reporting the least satisfaction with their sex lives.  "Ah hah!" I can't help but gloat a bit; childfree's the life for me… On the other hand, Dr. Means herself happens to fall into the lowest satisfaction category, one of the reasons that her book is an empathetic resource for fellow married women with those adorable little passion-killers otherwise known as "children."
One way to keep monogamy from becoming monotony is to spice up your marital sex life with a little kink. Dr. Means encourages couples to open up to each other about their kinks and fantasies, so they can enjoy sexual intimacy with unrestrained "abandon," a literary, sort of old-fashioned term for "kinky" or "releasing your inner bonobo."
As we discuss, "abandoning" your inhibitions with your spouse can be very scary—much scarier than sharing them with a professional such as Lady Miguire or Goddess Godiva. But the relationship rewards are great, in part because the emotional hurdles are so high.
PHOTOS: ANTHONY ORTEGA
Though she maintains her professional decorum, by no means is Dr. Means a prude, showing off her strappy, subtly kinky footwear, as well as the bodacious black and white polka-dot push-up bra and killer abs under her tailored jacket.
#GoBonobos for "The Kinkster"
Mid-show, we all get up and boogie to "The Kinkster," a fun and wild new song by Mark Will of the indie band [ai] aka Carmina Formosa, that is inspired, in part, by The Bonobo Way.
As Will puts it in a Hollywood Progressive interview:
"I have long been interested in the theories of sex therapist Dr. Susan Block, who argues very convincingly that the reason our simian relatives the bonobos are so much better at conflict resolution than we humans are is because they are basically hedonists who have lots of sex. Unlike other apes, who can be quite aggressive amongst themselves, the oversexed bonobos never kill one another. They make love, not war. Dr. Block urges us all to follow "The Bonobo Way" of peace through pleasure. I am a strong supporter of her #GoBonobos campaign online, and "The Kinkster" definitely reflects some of her ideas."
Other influences include Prince, Muddy Waters, Ludacris, Henry Miller, the Greek god Pan and, of course, Ray Davies of the Kinks. What can we say but we're delighted to be in such good kinky company, and "The Kinkster" is Pantastic.
Music being the "food of love, [it] plays on" (with a hat tip to that other Will), and it also goes live. Our Kink Month Kick-Off climaxes with fellow Detroiter Ikkor the Wolf rapping "She Bad," another kink-positive song that turns what "they" call "bad" into something very good.
PHOTOS 1, 3, 4, 5: ANTHONY ORTEGA. PHOTO 2: L'EROTIQUE
In the last remaining moments before Jacquie's uber-spanking, Capt'n Max mixes some politics in with the music and kink, reminding us to Vote #NoProp60 and stop the police killings of innocent African-American citizens, some of which we see on YouTube. Isn't it weird how we can watch virtual snuff films of actual murders on YouTube, but no sex, not even a nipple? Well, at least we can free the nipple on DrSuzy.Tv.
Selfies
We also continue our Beat Trump campaign (last Saturday's Presidential Debate between Mistress Tara and Jeffrey Vallance was much more substantial—not to mention fun—than Donald vs Hillary), for the sake of the nation, the universe, and the future of Kink Month, which would certainly be outlawed by a Vice President Pence, buttressed by a conservative Supreme Court hand-picked by Trump's psychotically narcissistic, over-compensating little hands. I have officially endorsed Mistress Tara, and I must say that Mr. Vallance's post-debate offer to be his running mate is quite enticing, but I will probably just vote for Hillary, and so should you. When you get in the privacy of that dark and kinky voting booth, even if you can't or won't come out of the closet with your personal kinks, support your fellow humans' rights to be consensually kinky!
And have a Happy Slappy Kink Month! We'll be celebrating every Saturday night of the month, and we invite you to join us in Bonoboville for a little peace through pleasure under the palm trees, or just watch last year's Kink Month shows (Kink Month I, II, III, IV), release your inner bonobo (consensually, of course) in whatever way you like, share a recipe for ecstasy with your prime-mate, vote kink-positive, abandon unnecessary inhibitions, and let your kink flag fly high in the erotic sky.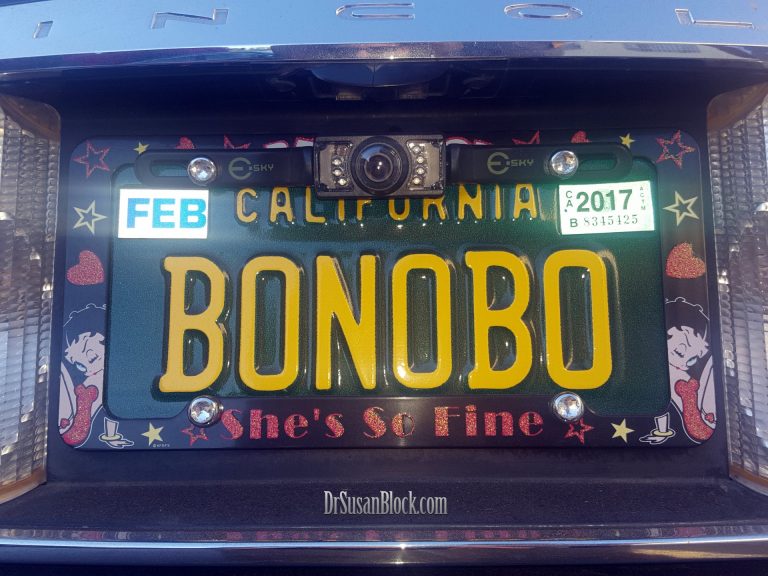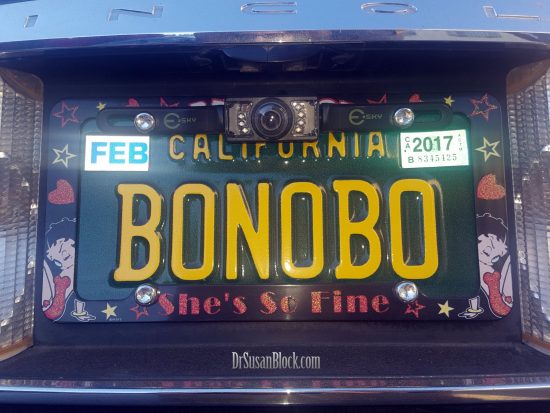 © October 1, 2016. Susan Block, Ph.D., a.k.a. "Dr. Suzy," is a world renowned LA sex therapist, author of The Bonobo Way: The Evolution of Peace through Pleasure and horny housewife, occasionally seen on HBO and other channels. For speaking engagements, call 310-568-0066.
x