First U.S. Presidential Debate: Ms. Tara VS. Mr. Vallance on DrSuzy.Tv!
Length 1:51:58 Date: September 24, 2016
LiVE from the Womb Room in the all-American small-town village of Bonoboville, it's the Great Debate, the first of the 2016 U.S. Presidential Debates, the most watched debates in history, maybe even the most watched TV shows ever. Yes indeed, Brothers and Sisters, Democrats and Republicans, Libertarians and Vegetarians, Voters and Debaters, Masturbators and Master-Debaters: the whole world is watching… to see who cracks, mangles their facts, has a wardrobe malfunction or just gets their panties in a twist. We, the citizenry of the virtual states of America, are all a bunch of sadomasochistic voyeurs, and our candidates are shameless exhibitionists; they have to be to put up with the scrutiny and abuse. I guess that makes the media our pimp…

Yet the art of debate is great, and very bonoboësque. It's a way for communicative great apes like us to express conflict without killing one another or going to war. A great debate incorporates Weapons of Mass Discussion, as well as Weapons of Mass Seduction, and it is the key to every democratic institution, from tribal gatherings to the Supreme Court. Without debate, there is only either anarchy or monarchy.  The "United States" is the product of debate. In 1787, delegates to the Constitutional Convention agreed "to argue without asperity, and to endeavor to convince the judgment without hurting the feelings of each other." That would leave Trump speechless, of course, and that's just one way that times have changed in the Age of Dollary Clump.
"Female Supremacy" Party VS. "Let's Party" Party
Since the official Clinton/Trump Debates won't allow any "Third Party" candidates, here in Bonoboville, we are delighted to present two major "Fourth Party" or "Block Party" candidates in our U.S. Presidential Debate: Mistress Tara Indiana of the Female Supremacy party VS Jeffrey Vallance of the Do Nothing party, the Cal Arts party, the White Middle-Aged Male party or the "Let's Party" party, depending on the question. We talk about the issues (actually this is a remarkably issue-packed show), do some Bonoboville Communion, some Waterboarding (the Bonobo Way), along with some Bonobo Way book–spanking, some whipping, some quipping and lots of debating, advocating, communicating, humiliating, masturbating and, of course, master-debating.
Supporting this atmosphere of bonoboësque debate and idea-exchange is none other than Trump himself (that is, Mistress Tara's compliant Trump surrogate, ably embodied by Nemo), lying prostrate and defeated on the floor beneath our feet.
As debate moderator, I wear more red-white-and-blue than a 4th of July parade, including my old Frank Moore for President campaign button from when I was his running mate in 2008, a campaign 2000 pin from our historic Democratic Sex art exhibit, a relic of my Presidential run in 1992 and a couple of #NoProp60 buttons. Thus festooned, I solemnly ask the candidates to present their platforms—both shoes and campaign.
Beating Trump… literally
Ms. Tara's platform is clearly based on female domination and her well-honed ability to "beat Trump," which she demonstrates with a stick, a book and a kick in his crotch that has all the boys in Bonoboville protectively covering theirs.
As in most public debates, what the candidate does is more significant than anything he or she says. Thus Ms. Tara's Trump-beating and humiliation demonstration is quite effective, as well as cathartic for the anti-Trump crowd, which includes more than half of the country, and most of the world. It is also bonoboësque; although Ms. Tara most decisively beats and humiliates Trump (and invites me to beat him with The Bonobo Way) she doesn't kill him.
Never in American history have we had two major party candidates so despised by so many voters. Many of us are not enthusiastically for either candidate so much as we are against the other one. Most of Bonoboville (with a few exceptions) are against the Trumpocalypse.
PHOTOS 1 & 3: GLYNDON.  PHOTOS 2 & 4: L'EROTIQUE
Thus we take a small sadistic, somewhat cannibalistic delight in Ms. Tara's utilizing a baby carrot to represent Trump's tiny penis for which he is constantly over-compensating with HUUUGE bluster, "bigly" buildings with his name on them and gigantic imaginary walls.Then she pops the carrot into her mouth and eats it, castrating-ly. Ms. Tara walks the talk, whacks the bottom and gobbles up the wanna-be tiny dick-tator for breakfast.
As a fellow middle-aged white male with a vulnerable something-or-other somewhere in his pants, Mr. Vallance winces, but gamely holds down his fort, utilizing the crowd-pleasing art of quipping to deflect all that whipping (also his tip for beating back bullies: laugh at them). Furthermore, he bribes the moderator with a signed copy of his latest book, The Vallance Bible, a truly beautiful and fittingly ironic "conceptual art" piece that, whether or not it "beats Trump," sure beats the original Bible (later, I use it to beat Trump, much to Mr. Vallance's delight). In return, I give him the Bonoboville "bible": The Bonobo Way. Amen and Awomen.
Questions & Conflict Resolution
The candidates answer several of my questions about the politics of reality TV (and the reality TV "makeover" of politics), terror, torture, California Proposition 60 (both candidates, like every major and minor political party in California, are against it), small business development, racism and police brutality (Capt'n Max has some choice words for this one). We also take a few q's from the social-media-verse, including questions about violence vs. sex in the media and climate change from Jules, aka "Erotic Gent," a query from Chris Gagliardi about how to stop bullying, various questions about intern treatment and bonobo rights from Parisianne Modert, and a couple more from our studio audience. Want to hear their answers? Listen to the audio archive above or watch the show when it goes up (soon!) on DrSuzy.Tv and in the Bonoboville lounge.
After all that contentious debating, it's time for some sexy relating, that is, Bonoboville Communion, poured with panache by Handsome Hollywood Jake and his adorable new girlfriend Rica.
The real bonobos reconcile their differences through sex, affection and sharing resources (mainly food), and our human Bonoboville's version of this also happens to be a parodic, erotic perversion of religious, eg., Christian communion.
Political Pasties & Communion
Demonstrating Bonoboville Communion for our master debaters, are Nori and Rachel, last seen on our 9/11 Eve show. Rachel was raised in that Children of God cult that I happen to mention in The Bonobo Way as being the kind of pseudo-bonobo group of which one should be wary. In fact, it almost seduced me when I was a new arrival in San Francisco (if only they were into Jesus Jackhammer dildos instead of trying to shove Jesus down my young unbelieving throat…). So it's quite meaningful that Rachel, along with her lovely natural 34Bs, serves as the Altar Girl for this demo. Nori, an Air Force veteran, takes his Communion and Waterboarding (the Bonobo Way) with soldierly fortitude and a lust for salty nipples chased by Agwa di Bolivia Herbal Coca Leaf Liqueur.
Thus inspired by their constituency, our candidates turn their conflict into bonoboesque bonding. Ms. Tara is game to present her magnificent natural 36Ds as a Bonoboville Communion altar, but the married Mr. Vallance (raised Lutheran) demurely chooses to take his Communion from his opponent's dainty wrist. This stirs up historically-based fantasies of Sir Walter Raleigh dedicating the colony of Virginia to the "Virgin Queen," Elizabeth the First. Ahh, M'Lady…
PHOTOS 1 & 3: GLYNDON.  PHOTO 2: SARAH BELLA
Then I waterboard him, bonobo-style, and he takes it all like a President!
Despite Mr. Vallance's forbearance, Ms. Tara takes off her top and pulls out her gorgeous jugs anyway, pressing "Vallance Now" stickers strategically over her nipples, thereby actualizing one of Mr. Vallance's fervent fantasies and earning his eternal appreciation, if not his vote. She also persuades Rachel to wear Vallance Pasties on her boobs. Boobalicious politics!
Auto-Fellatio Birthday
It also happens to be bunny-eared auto-fellatrix Jay Toriko's 29th birthday, which we later celebrate with a cake and a song at the bar.

During the show, however, Jay pulls down his Hello Kitty pantyhose and displays his specialty of auto-fellatio, stroking and sucking away, as the hulking, bowing, practically dick-less Donald quivers on the carpet below him.
Then the Birthday Bunny pastes a Vallance Pasty onto his dick! Even in his wildest, artsiest, pastiest fantasies, Mr. Vallance didn't imagine that…
Don't Be a Weiner!
Speaking of fantasies, as we fall past the Autumn Equinox, please learn to release your "inner bonobo" with consensual adult partners, and don't let your Weiner ruin your life!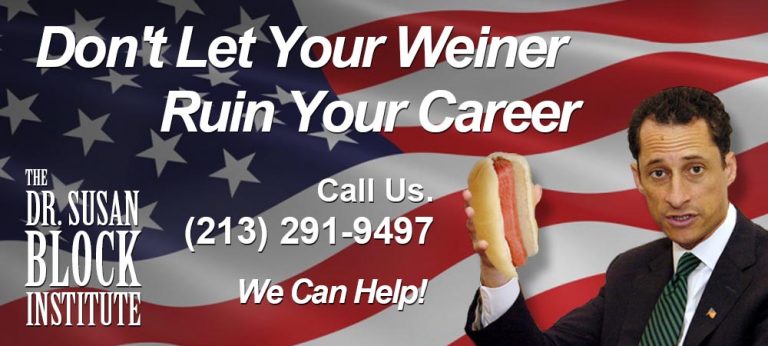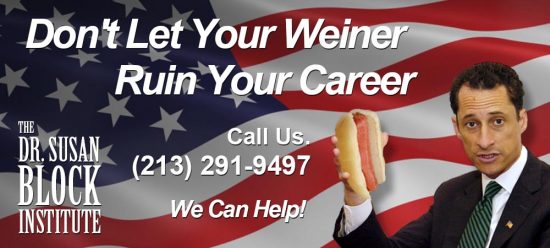 Consider the recent news and if you've got a sexual problem of any kind, you can call the Therapists Without Borders of the Dr. Susan Block Institute. We're here to help.
Ikkor & the Donald
Just as the show edges to climax, enter Ikkor the Wolf, accompanied by theater director Tuesday Conner.
We're always happy to see Ikkor hasn't been murdered by nervous, racist, trigger-happy police on his way over here.
After Ikkor weighs in on some of the election 2016 issues, he leads Bonoboville in a rousing rap of "We Are One."
Even Trump, still on his knees, bobs his head to the music, albeit off the beat, of course. Actually, most of us clueless white folk are off the beat, not to mention late with the music but, compared with the rest of these Divided States of America, harmony flows through Bonoboville.
Bonobo Way Female Empowerment Award to Ms. Tara
Mid-show, I break my moderator neutrality stance to present the Bonobo Way Female Empowerment Outreach Project award (courtesy of philanthropist, feminist, inventor, investor, bonobo buff and Bonobo Way reader Malcolm Jones) to Mistress Tara Indiana for her many years of work as a premiere dominatrix and teacher, empowering women through BDSM, and this year in particular when her U.S. presidential candidacy, though obviously somewhat prankish, seriously reminds us to take women seriously.
She says she's going to use her Ben Franklin to make some campaign stickers! Hooray for political pasties.
If Mr. Vallance is at all jealous of Ms. Tara's much-deserved award, he hides it as well as any fine politician.
Trump Bros So NOT Bonobos
This reminds me to shout-out one Wendy Sachs for penning a mostly good article, Boast Bitches & Lady Bonobos. It begins well enough, quoting Natalie Angier's recent New York Times story that references Dr. Amy Parish's primatological work demonstrating bonobo female solidarity.  Sachs' piece explains that female bonobos who aren't even sisters stick up for each other like a sisterhood, but she doesn't say why. This might be because the main reason that unrelated bonobo females love each other so much is that they literally make love to each other regularly, that is, they have sex, aka "genito-genital rubbing" or "hoka-hoka." It's an important part of what I've been calling "the Bonobo Way" since I first encountered our kissing cousins, the peace-through-pleasure-loving bonobos, in 1993.
I don't so much mind Sachs' sex-avoidance (or maybe ignorance?), and I do like the way she uses bonobo female solidarity as an inspiration to American women voters to support our fellow woman, Hillary. This is the main reason that I support Hillary, other than my deep and visceral Trump-loathing. 
However, when Sachs describes "Trump's own tribal group of… so-called fratty 'Trump Bros,' who either shrug off his hateful speech and lack of experience or embrace it," as "Trump's bonobos," I have to say no, no, oh bonobo, no!
"Trump Bros" are NOT bonobos!
Really, Trump Bros are more like common chimps (patriarchal and violent) or baboons (even more patriarchal and violent).
As director of the Bonobo Anti-Defamation League, having exposed Dawn of the Planet of the Apes for their defamatory and just plain wrong depiction of the murderous Koba as a "bonobo," I feel compelled to call upon Ms. Sachs to edit her otherwise fine article asap, so as not to mislead any more readers about the good nature of male bonobos..

Empowered females are one half of the bonobos' peace-through-pleasure equation. Playful, kind, mostly well-behaved, female-empowering bonobo males are the other half. Yes, bonobo males can get overly aggressive occasionally at which point the females will attack (but not kill) him, as depicted in the New York Times article, but most of the time, bonobo males are sweet, sensitive, sexy and very sensual "Mama's Boys" and lady lovers. Not Trump Bros.
Moreover, the real Trump Bros, the actual sons of Trump, are SO not-bonobos, that they joyfully murder endangered species.
Ms. Sachs, I ask you to be woman enough to admit your error and use a different analogy for Trump Bros. Common chimps or baboons fit the bill, though it's a bit insulting to chimps and baboons. The great primatologist Jane Goodall has the right idea comparing Trump behavior to raging male chimpanzees. If you quit calling Trump Bros bonobos, I will herald the greatness of your article and you, and maybe even give you an award. I may even vote for Hillary, even though, for now, I'm supporting Mistress Tara, and I must say, I enjoyed Mr. Vallance's charming quips, love his Bible and am seriously considering his recent offer to make me his running mate.
Though if the going gets the least bit tough in California, I will support and vote for Hillary, of course. Got to beat Trump, and not *just* with a stick.
As to who "won" U.S. Presidential Debate 2016 in Bonoboville, listen to the archive above or watch the show now playing on DrSuzy.Tv. It's your vote.
© September 24, 2016. Susan Block, Ph.D., a.k.a. "Dr. Suzy," is a world renowned LA sex therapist, author of The Bonobo Way: The Evolution of Peace through Pleasure and horny housewife, occasionally seen on HBO and other channels. For speaking engagements, call 310-568-0066.