9/11 Eve Bonoboville Bacchanal
Length 1:41:54 Date: September 10, 2016
It's 9/11 Eve in Bonoboville, the night before the 15th anniversary of that most horrific and outrageous of terrorist attacks that shocked the world and triggered the Perma Wars in which we are still enmeshed.
Where were you on 9/11? I remember watching, mouth open and brain stretched to point of disbelief, as two passenger planes flew headlong into the world's tallest buildings. Not only was it a terrible atrocity, murdering over 3000 innocents, it was an attack on America's psyche, cutting down our biggest architectural phallic symbols, Dick 1 and Dick 2, a catastrophe that castrated those towering icons of World Trade and American corporatocracy in a breathtakingly cruel, low-tech conflagration of box-cutters, billowing smoke, fire and fury. It was totally surreal for most of us watching what looked like a special-effects-laden science fiction film broadcasting LIVE on an otherwise typical Tuesday morning, and then replayed in slow-motion and from different angles, over and over again. Yet it was also very real, and it changed our world. In its fiery, furious wake came the freedom-trimming Patriot Act, the gulags of Guantanamo and Abu Ghraib, and the Perma-War that we now live, breathe and pay for every day.
In those dizzying days and mournful candlelit nights immediately following 9/11, when we weren't sure what America's response would be, I asked my viewers and readers to join me in imagining "if our President, instead of calling for war (against whom?), called for peace. Just imagine if he exhorted us to follow the Bonobo Way instead of acting like baboons. Just imagine if he reminded us that the best revenge is living well. Just imagine if he told us that we mustn't be afraid, that we mustn't let sheer terror guide our hearts or our missiles. Some of us would feel frustrated. But America would prove itself to be a greater Beacon of Hope than ever."
A few short weeks later, it was clear that our President, George W. Chickenhawk Bush was not going to take my advice. Instead that overgrown frat-boy (an embarrassment to our mutual alma mater) invaded Afghanistan, carpet-bombing thousands of innocents, without finding Osama bin Laden. Then he invaded Iraq with Shock & Awe, killing many thousands more, even though Iraq and its dictator had nothing whatsoever to do with the 9/11 attacks nor did they have any working Weapons of Mass Destruction. Bush, Dick and Rummy did this for no discernible reason other than that they just felt like it. Oh, and also to enrich their old cronies at Halliburton, Bechtel and other international Defense Industry conglomerates. Thus here we are, 15 years later, still embroiled in Bush's Perma War, though Obama did nail Osama. Barry also prefers drones, which give the perpetrator the illusion that war is just a video game, except for the real people who are being killed and the real PTSD suffered by the killers.
Meanwhile, the terrorists have multiplied, mutating and spreading like viruses, moving from box cutters to pipe bombs, as well as the usual guns, axes and butcher knives, using social media with as much contemptible skill as it took for those 9/11 hijackers to pilot passenger planes into floors 93-99. Mass-murder now appears to be all the rage on the street and in the desert, with refugees streaming in every direction like blood from a terrible wound.
To say we have been acting like baboons (not bonobos) is insulting to baboons. America leads the world in war, death and destruction, our biggest export, and we reap the consequent terror that we sow.
Not many politicians can stand up to the War Machine that has grown so big and fat on our fears. Certainly, neither of the two major party U.S. Presidential candidates is about to stop the Perma-War triggered by the trauma of that shocking day 15 years ago when terrorists castrated our big dick buildings. This is why, for the office of Commander in Chief of America's armed forces, I support a dominatrix, someone who knows how to handle terrorizing men with HUUUGE penis-size anxieties. And not just any dominatrix, but U.S. Presidential Candidate Mistress Tara Indiana, who happens to be my first guest on this show.
Candidate Indiana is dressed down for this rather impromptu appearance. Lovely as always, even without makeup and pearls, She wears jeans, a T-shirt and a denim jacket, as if She's just been out on the ranch "clearing brush," like that old Presidential Perma War-starter, in a clever bid for the Good Ol' Boy vote. On previous shows, Ms. Tara has shown us exactly how She will beat Trump—with a paddle, a gag and a firm yet bonoboësque hand (actually She has small hands, perfect for fisting!). On this show, Trump is MIA, so She beats Jacquie Blu, giving her a book–spanking with The Bonobo Way, rendering Jacquie's butt red as the stripes on Old Glory and her smile as broad as a billboard.
Then Madam Candidate takes Bonoboville Communion from subbie Jacquie's perky pierced nipples—Oh my, call Wonkette!—followed by Waterboarding the Bonobo Way with Agwa di Bolivia Coca Leaf Liqueur.
Pouring the magical green stuff is the one and only Shannon Coronado, resplendent in post-Labor Day white, creating Shock & Awe in the Womb Room just by standing up. Her Weapons of Mass Seduction include a see-through, nipple-poking halter top, Betsy Johnson hose wrapped around her endless gams, cute off-white booties and a tight white miniskirt barely covering her amazing boo-tay.
One good Bonoboville Communion leads to another, and our next round features Sarah Bella as the Altar Girl, freeing the nipple for her First Communion with androgynous Jay Toriko. They are a cute match, with Jay picking up the butch theme in a slinky latex catsuit, pigtails and hip-wonky glasses, while Sarah is ever-so femme in a coquettish corset and fishnet cutout pantyhose. Their Communion is quite sensuous and, dare I say, rather meaningful, considering the close nature of their friendship. It even launches a volley of Weapons of Mass Discussion on trans boob sensitivity before and during hormone treatments, after which several of us show that we can suck our own boobs, or moobs, as in the case of Jay.
This segues into auto-fellatrix Jay unzipping his latex to show off his sexual specialty: Shock & Awe with no casualties! It's also a nice moment to chat about the organic natural beauty of the uncircumcised penis. Props to Sarah for lending a hand.
Our third Bonoboville Communion altar girl glides up like a Goddess into the Womb Room from the Speakeasy bar: Rachel Majenta, standing almost 5'11" in her bare feet (even taller than Shannon, those two are like the Twin Towers of feminine pulchritude), is a graphic designer and international adventurer. In the Bible (Genesis), Rachel was the most beloved of all four of Jacob's wives, and this Rachel certainly wins the hearts and minds of the Womb Room.  Daughter of a Jewish dad who worked with her Christian mom as hippie missionaries in South Africa, the statuesque Rachel is ripe for Communion. With a generous smile and laughing eyes, she bares her all natural 34Bs as an altar for longtime bonobo sapien and U.S. Air Force veteran (not in that order) Nori Carter.  Taking his Communion with extra licks, Nori seems happy to be relieved of his military duties in America's Perma-Wars, settling into the lap of Rachel's luxury as he gets waterboarded like he never got in Air Force training camp. A peace-through-pleasure alternative to "enhanced interrogation techniques," Bonoboville Communion gets its *victims* to tell the truth at least as the CIA.
As we cross over the midnight hour, from 9/11 Eve to the day itself, it seems only right to call upon our beloved buddy Ikkor the Wolf, who winds up our plea for peace through pleasure with a rap-turous reminder that "We Are One." It's the Bonobo Way.
Speaking of bonobos, our first shout-out of the night goes to Natalie Angier, who I interviewed way back before 9/11 about her book Woman: An Intimate Geography, for her newest NY Times article on bonobo female power which quotes fellow Mal Jones award recipient, Dr. Amy Parish.  Shout-out #2 goes out to the Free Speech Coalition, including our old friend, FSC attorney Jeffrey Douglas, as well as FSC activists Julia Ann and Siouxsie Q James who will be on DrSuzy.Tv this coming Saturday, September 17th to tell us why we should vote #NoProp60. Speaking of upcoming excitement, Ms. Tara will return to DrSuzy.Tv on the next Saturday, September 24th for a hot debate with fellow U.S. Presidential candidate and artist Jeffrey Vallance.
Shout-out #3 goes to Italy for declaring that public masturbation is not a crime as long as it is not performed in front of minors.  Shout-out #4 goes to Gonzo Bonobo, Bonoboville resident since 2013, now *graduating* and starting up his own graphic design business, though promising to come back for Saturday night shows. Ever the multi-tasker, Gonzo shoots hand-held camera as he basks in our applause for his service, great graphics, good humor, delicious blunts and awesome T-shirt designs.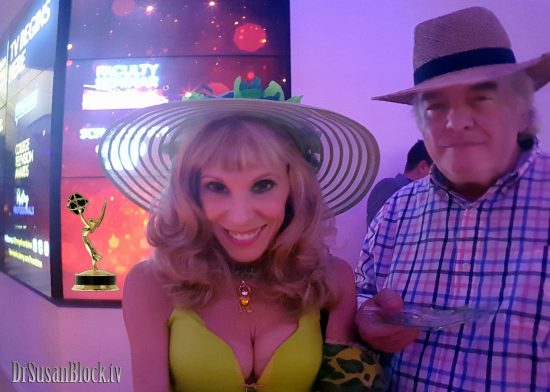 That brings me to a shout-out to the Emmys, Documentary and Reality TV division, where Capt'n Max and I (wearing a Gonzo-made Bonobo Way tank top) spent a delightful evening the night before at the Academy of Television Arts & Sciences reception for the nominees, escorted by Bonoboville driver, Luzer Twersky, who also happens to be the winner of several "Best Actor" awards for his brilliant and sensitive portrayal of a Hasidic cuckold in "Félix & Meira," winner of the SUZY Award for "Best Pick-Up Artist" (2014) and "Funniest Former Fundamentalist" (2015). But Luzer's best win is some very personal attention from none other than Sharin' Shannon.

It was wonderful, as always to see our former HBO director Shari Cookson (whom we just saw in sadder circumstances at the Dave Bell memorial), as well as meet a bunch of talented nominees and other filmmakers, not to mention sip dirty martinis in the newly renovated Academy.
Meanwhile back in Bonoboville, the afterparty moves and grooves throughout the garden, on the balconies and at the bar where Shannon rules like the Goddess that she is, sharing kisses with a lucky, happy few bonobo sapiens, inspiring me to  accidentally and then purposely call her Sharin' Shannon. Luzer's a winner in that division too!

Into the Garden steps the alluring Asia Stone who puts chopstick nipple clamps on Jacquie Blu, wows the crowd with her FemDom style and promises to come back soon to be a featured guest on the show. Gigi Bonobo, our newest recruit, shoots camera for most of this one, then dances, clowns and mimes up a storm in the afterparty, plus enjoys her own breakthrough close encounter with Sharin' Shannon.

So despite the post-9/11 Perma Wars, it's been another smoking hot Bonobo Summer of Love, and we're about to FALL into the Bonobo Way as the beauty of autumn approaches. Life is good in our little village of Bonoboville.    
All of it gets the Captain quite worked up, and off we go for our own private reenactment of 9/11 in which I fly through the air and make his tower explode. Wheeeee!
© September 10, 2016. Susan Block, Ph.D., a.k.a. "Dr. Suzy," is a world renowned LA sex therapist, author of The Bonobo Way: The Evolution of Peace through Pleasure and horny housewife, occasionally seen on HBO and other channels. For speaking engagements, call 310-568-0066.