FALL Out of Line
by Dr. Susan Block.
It's not like a police raid or mad outburst, but for me, it's one of the roughest Love Train rides ever, mainly because Capt'n Max isn't there.
Actually, he IS there, right on the other side of the table from me, as usual, but he is silent. He won't speak, and it's my fault (I think), I accept that, but I try to correct it (on the air, no less), and I can't.
Despite many apologies and attempts at persuasion, he won't say a word throughout the entire long and winding ride. He's had some health issues recently (just before the show, for instance) and sometimes expresses his pain in anger (as do so many of us) though never violence. Regardless, this Scorpionic silence is maddening; FDR has always been a show that we do together, so I'm at a little at a loss. But the staff is waiting so, like a "good student" or veteran soldier—or a cog in a wheel at the bottom of a megamachine I can't see taking me to places I've never been—I carry on.
"The show must go on" is a maxim I've long lived by.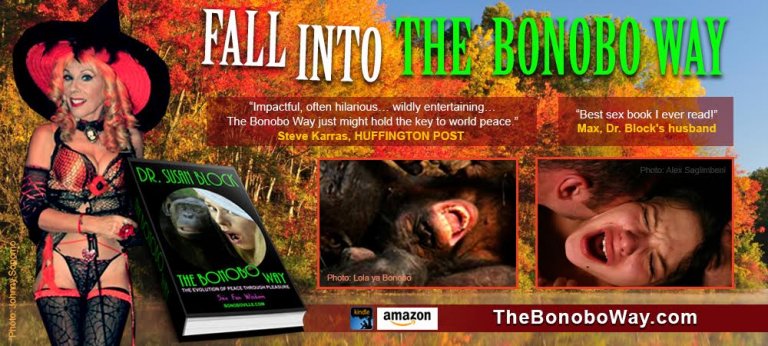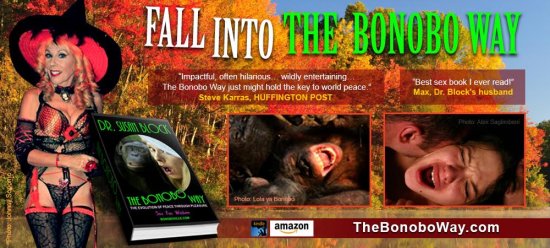 So, on I go, masking my dread with a smile I hope shines through my shaky voice, missing Max's deep, assuring baritone in my earphones, haunted by his silent presence. Honestly, if you're looking for uplifting positivity, maybe you should skip this episode.
Then again, maybe our uncensored personal drama will make you want to listen to it even more, and I also address some interesting issues like…
Fall Equinox in these times of Climate Catastrophe brings another sweltering heat dome to LA, but we're the lucky ones as earthquakes, fires and floods erupt throughout the world, putting one third of the country of Pakistan underwater, with mounting weather monstrosities whirling and crashing through all of humanity's expensive yet fragile structures.
Meanwhile the Capitalocene Megamachine keeps pumping gas, digging up the earth, polluting the air and poisoning the water, wreaking havoc with everything, including with our sex lives. For example, the tap water in which you bathe (don't drink it!) is "filtered" from sewage, including human poop laced with all the pills your neighbors are taking, including SSRIs (antidepressants) that notoriously lower your sex drive.
Speaking of SSRIs, you might want to listen to the fascinating Tale of William, addicted to the antidepressants that have reduced his libido to zero, and how I am helping him and his wife to "get it up" again… on Twitter!
Speaking of sex, it can be complicated these days, but it's vital to mental and physical health and healing. Solo sex, since it only involves you, may not be the *best* sex, but it tends to be less complicated, and it's not (yet) too late to celebrate Self-Love September! Need a hand? Give us a call: 213.291.9497. Our Therapists Without Borders are lounging by…
Meanwhile, the Dead Queen Cosplay carries on and on and on, led by Tampax King Charles III and his beloved Trouser-Queen Consort Camilla, the Heir—Big Willie, #PrinceofPegging accompanied by wife #KKKate (ouch!) —and the Spare, #GoodKingHarry to his fans, half of whom want to #AbolishtheMonarchy, the other half want to reestablish it in Montecito with #PrincessMeghan on the throne.

Furry Cock Hats may make you look silly, but an "improperly" worn hijab can get you killed in Iran.


There I go thinking of life as "progress," like a story, or a "show (that) must go on," moving from point A to B to C and so on, if only there's enough time, and there never is.

Be Bonobo. The bonobos don't live under the Tyranny of Linear Thinking, or any of the Four Tyrannies of the Megamachine. Remember peace through pleasure is the name of a very long game. Note to Girl Bosses: Male well-being is essential to female empowerment.
For the past few hours since the show, I've been trying to make amends to my beloved Capt'n Max, as well as help him handle his physical suffering. It's intrinsically connected, of course. Not that it's all about pain; there's pleasure, orgasms, laughter and so much love, but so little time.
There I go thinking of life as "progress," like a story, or a "show (that) must go on," moving from point A to B to C and so on, if only there's enough time, and there never is.
Climate Change is teaching us all the hard lesson that "progress" isn't what it's cracked up to be, not for human beings, and certainly not for our habitat, the Earth.
I probably shouldn't have taken Max's anger (or silence) so personally; he's going through "a lot" right now. Besides, I'm not even the main character in most of his stories. Linear thinker though I am, my actual life is less of a S/Hero's Journey than an explorer's experience.
Falling out of line might mean "going with the flow," to use a good cliché, taking life in less of a straight line and more of a series of circles—without going full-tilt Kanye—is challenging, but essential for me, and maybe for all of us, right now.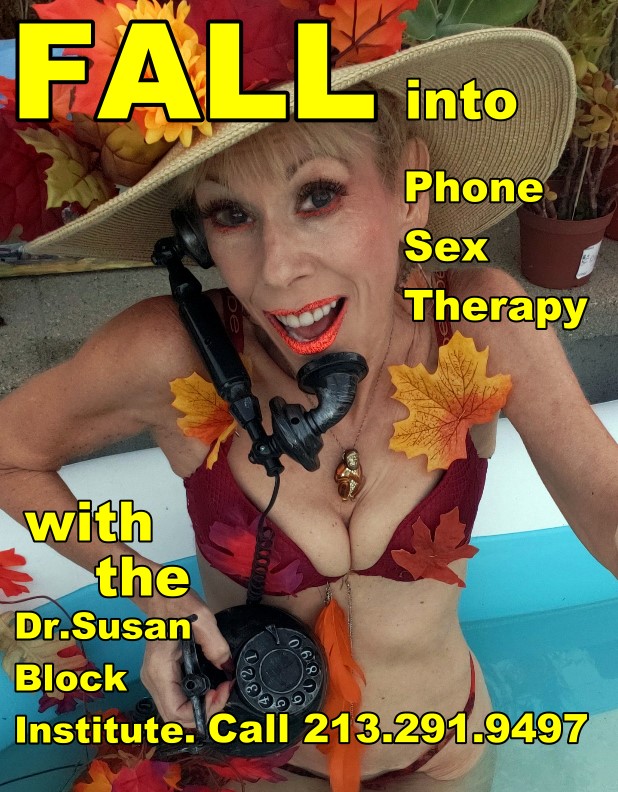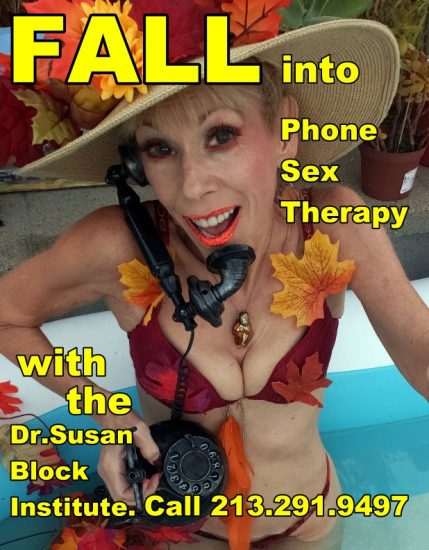 "FALL Out of Line" TRANSCRIPT
UNSCENE ABE
And 3, 2, 1…
Dr. SUZY
Hi. I'm Dr. Susan Block, your Love Doctor, your Sexy Lefty, your erotic philosopher, and I'm on a train. We call it the Love Train, the Peace Train, and F.D.R., which stands for our 32nd President, Franklin Delano Roosevelt, who had some good qualities. I know he had some bad qualities too, everyone does, but we prefer to emphasize the good on FDR, which also means "Fuck"—in a good way— "Duh" —you know, like "the," but with an Italian accent— "Rich," as in the 1%, the overstuffed, wealthy, aristocratic, Royal Crime Family rich. Fuck Da Rich!
Some of them like to get pegged, but what we mean is to tax them. And we'll get into that as we roll down the track through the Tunnel of Love, "we" being, of course, me and my darling husband, Max, who is getting onto the train as we speak and will join us shortly. And of course, I've also just been abandoned by my engineer, ah, that's OK, and that would be Unscene Abe. Of course, we're all unseen tonight because it's radio. And it's kind of a show between shows. It's a podcast. And if you're listening to us, live on one of our great platforms, of course our greatest platform is Fdrradio.com, as well as DrSusanBlock.com/live and Facebook, yeah, get on board, Facebookers, book your ride.
I don't really have a singular topic, and I don't think Capt'n Max does either. We're just kind of talking about stuff. Where else are we? YouTube and of course, Twitter spaces. You guys can just hop on Twitter spaces and we're still a little unfamiliar, as well as Instagram. We love you all.
Well, we do prefer if you join us in one of our sites like Bonoboville, where we have more control and after all, we are going from neoliberalism to a kind of neofeudalism, which involves a lot of little fiefdoms, and so that's why we're on all these platforms because we never know when we're going to be censored on one, and we're on even more when we share the show later, which just censored us one of those LinkedIn. How about that for a purely audio show?
Well, Happy Self-Love September, if you're listening live tonight, it is still Self-Love September, and it's the fall. So happy fall equinox. Fall into the Bonobo Way and play a little. Well, as much as you can. There's so many restrictions now, really, and so many problems. But we mustn't forget that our sexuality is very important to us. I guess I say that being a Love Doctor, a sexologist and a sex therapist. So maybe I'm biased, but I think you agree, whoever you are, I think you all agree that sex is important. It's the essence of life and we need to express it somehow, and it is very difficult in these ages of various diseases to express it physically, although it's good to do that, it's very good for the body and the mind and the soul to express our physical, animal, sexual nature. A lot of that is closed off now, and so we do it to some extent in the Internet and we are censored every which way, and for many different, capricious reasons. It's not as clear as it used to be. There was a period of time when you could post anything, and then they started censoring sex and nipples and genitalia on the Internet. And now it's certain words. It's terrible. And yet. we try to communicate.
Harry on Facebook, says, "Censorship is the beginning of the end to any free country." Yeah, it's pretty drastic and I can't wait till Max comes in because he's had a lot of experience with censorship over the decades of his magazines and what type of censorship that involved then. And yet there was certain freedom that we don't have now.
It's Fall Equnox, well, we're just kind of past that a little bit, if you're tuned in live, it's kind of that time, although, whoa, here in La La land, it just feels like, we were talking about Apocalypse, climate catastrophe, under the Heat Dome we were under like 2 weeks ago and we thought maybe it was lifting and we would fall into fall, but here we are back, sizzling worse than summer. But we're lucky because, hey, we're not on fire. A lot of people are on fire. A lot of people are underwater. One third of Pakistan is underwater. We have friends there. They're OK; I mean, they're OK technically, but no one is OK who is there and who cares about Pakistan. And I have been there, so I care, I have a little personal connection. But we should all care, and all recognize that this is coming for us, like one of those monster movies where you see the monster in the distance, and, you know, we've had time to prevent it from coming, but we've frittered away that time.
So, it's just a question of how we operate, like, do we keep this going, as the earthquakes and the fires and the floods and the heat destroy us, do we keep the Megamachine pumping gas and digging up the earth and ruining the atmosphere and the water and our sex lives?
Max was telling me that the tap water, which some people drink tap water, and most of us bathe in, is laced with sewage. Human sewage, right, Capt'n Max?
Yes, he's nodding, meaning other people's poop, which is gross enough, even if it's natural, unless you're into brown showers, in which case I apologize if I'm insulting your fetish. I am very open minded and actually I talked to somebody the other day that is into that, and you know, it's perfectly fine to have that as a fetish, though it's a little bit dangerous if you do too much, but a little bit is OK, but not my fetish and honestly even a little bit kind of grosses me out.

But I can handle it as a therapist. I'm just telling you guys it grosses me out because, I know you won't tell anybody how I really feel. I love you for that and so much more.
But in any case, yeah, other people's poop is bad enough natural, but this sewage in our tap water is also filled with all the pills that our fellow humans take, all the chemicals that they absorb into their system and their medications, including their sex-debilitating medications such as SSRI's that really can lower your sex drive. I don't know what I'm even telling you for, it's so depressing, but just know that this is happening, because I think it's better to be informed than not, and it kind of makes sense that this is what is happening, and so we should just be understanding of ourselves and our difficulties, and people do have a lot more sexual problems nowadays. A lot of people are so traumatized by their other problems they don't even realize they have sexual problems. And a lot of other people know they do and are struggling with that knowledge.
Adriana on YouTube says, "More people should be talking about the disaster in Pakistan instead of spending too much time mourning a monarch." Well, yeah, I agree. I mean, we talked half of our show last time about Queens of all kinds, and you know, the dead one, RIP Queen Lizzy 2. I guess she wasn't the worst, but she certainly was not worth all this sacrifice that a lot of people are going through during the imposed mourning, people who want to exercise their freedom of speech in various parts of England have been arrested for saying something like "Fuck the Monarchy" on a sign holding up a sign.
UNSCENE ABE
Like a paper sign?
Dr. SUZY
Yes, it says, "Fuck the Monarchy," and I grant you that is vulgar, but arrested for that? I mean, this is a public place, the Commons, and people should not be arrested for holding up signs and it's not just that that happened to be a vulgarity, which I don't find some so vulgar. After all, we call this show Fuck Da Rich, although sometimes we use an asterisk because we know, we get it, except it's not right to shut people down for expressing themselves about something that they pay taxes to support and that doesn't pay taxes, that is a billion dollar entity based on a history of slavery and genocide and colonialism, and that is kind of laughable.
I suppose the Queen sort of kept her dignity, even though she was the Queen of all that, but I don't know if the Tampax King and his Trouser Queen Consort Camilla are going to be able to carry on this cosplay. I guess they can with a lot of armed guards, that's how they do it, which is really kind of horrifying. I mean, if the monarchy is really that great for tourism, you don't have to squelch people's freedom, of speech or that forcing like 2 weeks of mourning or whatever is a bit much.
So, some people are being arrested for freedom of speech, other people are taking it to Twitter and sometimes getting shut down with their hashtags. #PrinceofPegging is my favorite, and it's sometimes used as an insult, but I think there's nothing wrong with pegging.
But then KKKate is pretty offensive, and they're using that. I don't see so much against Harry and Meghan in hashtag form. I think that the people that are against Harry and Meghan, of which there are many, are mostly Brits and arch conservatives that are part of the Royal Network and the mainstream media, and so they're not so savvy about hashtags. It's more the supporters of #PrincessMeghan, a big hashtag and #GoodKingHarry that are all there fighting the Twitter field of battle.
Speaking of which, I do loathe all the military regalia. It's all part of it, the cosplay that glamorizes the violence supports the empire, the theft and the colonialism and the slavery and all of it. So yeah, it makes sense to have all these military uniforms and everyone arguing about whether Harry can wear his silly offensive militaristic military uniform. Yeah, he looks sexy in it, I have to say, and it fits him better than the morning coat, I get it. But maybe I think it's sexy because of what my culture has fed me, and I could admit it's sexy and enjoy a little kinky cosplay but come on parading around in this stuff and backing it up with real weapons. Awful
And then there all those big hats I found out are made from the real fur of black bears in Canada. Real black bears.
UNSCENE ABE
Their fur?
Dr. SUZY
I hope that's not true. I hope that's just fake news. I hope it's just synthetic, even though that's also bad, but real bear fur is worse. Yeah, you shouldn't be using the poor bears for your hats, boys.
What else do you got in those hats? Some kind of animal in there sitting on their head? It is very phallic looking, honestly. They look like Big Black Furry Dicks walking down the street.
Those soldier boys with their big Prussian furry hats! I'm all for phallic symbols, but this just looks silly.
But if it turns you on, well, happy Self-Love September!
And did you know that it is Bi Week? And that's not Buy Week, as in, shop for what you can't afford week, OK? It's Bisexuality Week.
UNSCENE ABE
Woo, woo.
Dr. SUZY
And I think we're all Bi, actually, at least a little, like bonobos. Even macho Max likes to wear pink, right Max. Max, would you put your headphone on, please?
UNSCENE ABE
I think I've seen Max wear a pink shirt once or twice before. I have pink shoes. I wear pink shoes. The pink Air Max are my favorite shoes.
Dr. SUZY
Well, pink is getting popular, but Max wore pink before it was popular.
UNSCENE ABE
Yeah, it's very fascinating.
Dr. SUZY
So, it is an expression of his feminine side, and Max wore pearls for our 30th wedding anniversary, which is symbolized by the Pearl.
David D on YouTube says, "Whenever a royal is in military uniform, they are actually just doing cosplay. Bluebloods would shit themselves if they ever saw real combat."
Yes, of course, but the cosplay is very damaging. It's part of the glamorizing of war, and the recruitment into the military.
And I guess Harry was in Afghanistan. I don't know if he saw a real combat, probably not, but he hung out with the other troops in war fatigues, and he was there for quite a while, which I'm not a fan of, but yeah, he served in the military as something and it was photographed a lot, and it was part of trying to get people to join up for this terrible invasion of a country that did nothing to Britain, and nothing to America, either. It's just that Osama was hanging out there, and already gone by the time we invaded, so this was a big invasion that did not accomplish anything, so Harry is no hero for being part of it, and thank Goddess we got out of there, and we can thank Max's friend Joe in the White House for getting us out of there. It was a kind of bloody mess, but—at least we got out of there now.
Ha ha. Um, I wasn't laughing about the bloody mess, I was actually laughing about—and this is the problem with doing a show that has lots of different topics—is that Lily G says, "The furry hats are sort of a turn on. They do resemble big dicks." Yes, that's what I said, but I don't want fur on my dicks. But they do resemble big dicks.
And Aaliyah Corsets is questioning whether the hats are made from the fur of black bears. I must admit I saw that on Twitter. Maybe somebody could look that up and see if that is correct, because I should perhaps stand corrected if they're now made of plastic or whatever, but I think they perhaps used to be made of the fur of black bears, and from what I saw they still are. And what are these hats called? Bonobo gang comrades, whoever's listening, do a little research. What are those hats called?
Maybe because I like big broad brim hats, I don't tend to go for those high-level hats.
UNSCENE ABE
Yeah, it says that they call them "caps." Just regular caps.
Dr. SUZY
Those big furry things are just called "caps"?
UNSCENE ABE
Yeah, cap. I got my phone.
I don't know, that was a poor accent, but yeah, they said that these military bearskin hats—
Dr. SUZY
There you go. They are bearskin still.
UNSCENE ABE
Yup, the standard bearskin cap of the foot guards is 18 inches and weighs just about one and a half pounds.
Dr. SUZY
Wow, and we are paying for this. Not us, but the Brits, actually, and of course, the bears.
UNSCENE ABE
The bears are paying.
Dr. SUZY
The poor bears. The Tampax King should put a stop to this bear-trapping. Two weeks ago, I called him the Tampon King, but I'm going to get specific, because really in his conversation with Camilla in which he said, "I want to live in your trousers," and then "with my luck I'd be a tampax," so he was being a little self-deprecating. He has that self-deprecating humor, probably submissive in bed, like his son. After all, he's the King. And then he was almost king. He was almost-king for so long, the poor guy probably is traumatized. But in any case, he fantasizes about being a tampax, which is why I call him the Tampax King.
And he is an environmentalist or was. So, I hope he really does keep that going. That is important for the sake of the bears and everyone else. I might put up with some of the other things, if he does, although. I don't know, not the basic "royal" idea that you are better than others, which is perpetrated by these two weeks of enforced mourning.
Ruby Aruba says, "Bisexuality week didn't know." I must share this info with all my bisexual friends, male and female, and don't forget nonbinary. And you know pretty much everybody is if you define bisexual in The Bonobo Way which is just not being too picky. I mean, everybody has that in them, like bisexuality is a lot more common than we think. Or you could call it pansexuality. I think that's a better term.
So, what else is going on? Max? I'm looking at him. What can I do to get you to put your microphone on? I mean, you're sitting here. you look so handsome and cute, and I know I did something awful in the beginning of the show, and I apologize. I really do this show for you, and with you, because I enjoy doing it with you. This is not my show, this is our show. And people deserve to hear your voice. It's not their fault that I fucked up. It's not the audience's fault. So, let's not make them suffer with just listening to me. No? Oh well, should I continue? Yes or no or go ahead? Go ahead? All right. The show must go on…
We were talking about SSRI's. And I've been having this Twitter conversation with a guy who asked me about them, it's been very interesting. And he asked a bunch of other sex therapists and educators, but they did not respond. He said, "Any sex education professionals out there have any suggestions for overcoming anorgasmia delayed orgasm caused by SSRI's? Can't stop the meds."
And is quite interesting thread because my first idea is talk to your doctor, because most people just don't do that because they're scared, or because their doctors are genuinely uptight, or don't know or care about sex, they want to just prescribe what the pill companies have given them and are paying them commissions to prescribe.
But a lot of the psychiatrists out there are human beings, and if you say you want to have a sex life, they will listen to you. And that is important to find out if you're on antidepressants. And I'm not saying you shouldn't be on them, although I have mixed feelings. But if you are, and they are harming you, and if they are lowering your sex drive, that's a harm, and yet they are making you feel good, you know, feel calm, then you should talk to your doctor about adjusting the dosage, brand or timing, and you can have a good sex life.
So, when I suggested that to him, he said he'd already done that. And so, then I put on my fun Dr. Suzy Sexpert hat which is to try some ideas like 1) try new forms of erotic stimulation, since novelty is an aphrodisiac, and 2) don't expect orgasm, just pleasure and 3) take more time between orgasms and they will come more easily.
Now all these suggestions actually go for all of us, even if we're not affected by chemicals. But if we are affected by chemicals, they just should be perhaps boosted, you know, like those boosters. Of course, he liked #1. He didn't want to forego orgasm because he wants to have an orgasm because, yeah, he thinks in a linear way, he wants to have that climax. I get it, but sometimes it pays to just think in a more circular way. I know it's difficult, but just to think about the pleasure, not climax. And I tell you that for Self-Love September, for self-love, and I tell you that also for love with your lover.
And it's funny, sometimes when you don't expect orgasm, that's when it happens.
And of course, #3 is taking more time between orgasms, which makes each one easier to achieve. He doesn't want to do that. He wants to do it when he wants to do it, and that's that. Immediate gratification when you want it. But it's true that if you take more time between your orgasms, whether it's hours or days, maybe weeks—although if it's getting into weeks then maybe you have a problem. So yeah, if you take days and that can help make each orgasm come easily. But this guy didn't like that. He's too busy for that.
He did like the idea of novelty, although at first, he said he "wishes with his wife it was a possibility, the novelty. Long story. Not going to change." So, I let him go with that. I could see he was being negative about everything. I said, "If that's the case, then you really need a sex therapist. You need to talk to someone," and he acknowledged that I was right, he needed a sex therapist, but he couldn't afford it and his insurance didn't pay for it, by the way.
Yeah, your insurance doesn't usually pay for sex therapy, and it should. It's important to your mental health and your physical health, all of it, and your heart health, which is related to your mental and your physical health.
Sadly, insurance companies fail – on purpose – to recognize the value of sexual health. I say "on purpose" because they don't want to pay for it.
He also says, "My personal joke is that I should get into adult entertainment since I can last so long now."
UNSCENE ABE
Oh, right. Yeah.
Dr. SUZY
So I took that as a signal. I said, "Your 'joke' about going into porn might be the novelty that you need, even if you just enjoy the fantasy." Also, libido is perverse, so believing you have to last, and you're not allowed to cum sometimes does make you cum. You just have to make it believable, though, so you have to act like you're auditioning to be in a porn movie or something like that in your mind.
Anyway, he jumped on that he liked that idea. That is a fun idea. AND he also told me that he talked to his wife (finally!), and he was pleasantly surprised to hear she was interested in novelty now! I took that as a compliment, even though he wasn't all that complimentary, although he did say thank you a lot.
But he told me that it was "impossible" to talk to his wife. That's when I said, well, then you got to get into therapy, but he didn't want to do that 'cause it's expensive, which is true. So, if that's true for you, you might consider this: talk to your partner. Sometimes you don't need a therapist, you just need to talk. Of course, a good therapist helps you do that. I was just doing that with a couple the other day, just helping them to talk, both very smart, very together people who love each other. They just needed a little referee, a chaperone.
So sometimes you might not need that, like this guy, William. On my suggestion, he talked to his wife, and she said, "OK, I'm open to it. I want to see what we can do to get our sex life back." Good for her, good for him for trying this.
UNSCENE ABE
Yeah, so they just needed to try something new, right? New location, new outfit, or…?
Dr. SUZY
All those things might work, any of those things, depending on a lot of factors. A new fantasy, a new position, maybe going to a hotel, spending the night somewhere different, maybe a new sex toy.
UNSCENE ABE
Maybe wearing a wig and I was kidding.
Dr. SUZY
No, you're not. I mean, yes, a wig could work too. Anything actually fits that is different.
But he also gave me another piece of information.
UNSCENE ABE
What was that?
Dr. SUZY
He said he was 330 pounds.
I did say "good for you" about the novelty thing, I really gave him a lot of compliments for that, as well as talking to his wife. But then, I had to say I felt because this was a semi-public conversation and I'm not getting paid for it, I had to say, "I don't mean to fat shame (and I really don't) and all of us deserve sexual pleasure, regardless of weight. That's very important. But now that you've revealed to me that you're 330 pounds, I have to say that could also be one reason that you have difficulty climaxing. Of course, now, if your sex life improves, you might lose weight.
He said right back that he didn't feel it was about his weight (he didn't want it to be about his weight) because he's been 330 pounds for a long time, and he didn't have a sex problem before. But let's just say this as you get older and you still have the weight, it's harder. Maybe if you're 330 pounds and you're 25, it's not a problem, but if you're 330 pounds and you're 50, like this gentleman, William, yeah, it could be a problem.
So, there are always lots of factors in any sexual situation, which is why it's important to talk to a sex therapist, because doctors often have very specific areas of expertise, and they know nothing about anything else. This is why psychiatrists, they think they just know about the brain, which is about are you happy or are you sad? If you're sad, take this pill. That's how they are lately. I think they were a little more nuanced in the old days, but now, that's all. Psychiatrists don't talk about the body, just the mind. And doctors that specialize in different body parts, they often don't know about other parts, and sex involves all of your parts, including your heart.
And I mean that in every sense of the word.
And certainly, your brain in every sense too, so If you want to talk about that more and you would like to do so privately, and no, we do not take insurance at the moment, although maybe we will… Will we, Capt'n Max? He's sort of half nodding. You can call us at 213-291-9497.
What else is going on in the world? Lots of things…
Ken Starr just died, and we have an amazing throwback up now on all the platforms that is really a piece of erotic history and comic history and sad history, that Ken Starr took over our imaginations for over a year, almost two years. And round that time, in 1998, we gave him an award for "Pornographer of the Year" at the PORNUCOPIA with Annie Sprinkle, and a lot of other luminaries of the porn world, and we got on all the news channels and talked about Ken Starr and the investigation into the president's pants, which he lost.
Yep, Bill Clinton got his blowjob and could keep his day job.
But America lost a lot of credibility thanks to Mr. Starr. And we lost a lot of faith in our leaders. And I think we lost some momentum that we were getting towards sexual freedom. And now we have a lot of little Ken Starrs around. Lindsey Graham is one, and he was one of the House Managers that impeached Bill Clinton in the House, and then he went into the Senate and tried to convict him, but he did not succeed in that. However, he did succeed in poisoning our minds with his nonsense, with his obsession with sex. I think I'm obsessed with sex, but my goodness, these Republicans were really obsessed with sex, and not for the good reason, not because they were turned on by it, although they probably were, but because they wanted to use sex as a weapon, as a political weapon against a Democrat in the Presidency that was pretty popular. And I didn't agree with a lot of things Bill Clinton said and did, he was too neoliberal for me. But at the same time, I didn't appreciate that he was being forced out through a Coup de Twat.
They pounced on him because he was popular and he had a different kind of sex life, and he got caught with his pants down, and he shouldn't have done that. He should have practiced self-love. He should have listened to his Attorney General, Dr. Joycelyn Elders, instead of firing her.
But you know, we all have sexual foibles, we humans, and I think we need to be more understanding of them, especially when they involve consensual sex, of course. We shouldn't be understanding if they're nonconsensual. But this was consensual. She came on to him and she was 21. And yeah, yeah, there was this discrepancy and a power imbalance. There's often a power imbalance. Sometimes there's just too much of a power imbalance. Sometimes it's hard to tell. And very hard when people are working all the time not to get involved with the people they're working with.
Anyway, Bill Clinton was wrong, but he shouldn't have been punished like that, and moreover, the nation should not have been punished like that by, as Hillary Clinton, who was not exactly a Lefty, said the Vast Right Wing Conspiracy, embodied by Ken Starr at that time.
And now we feel bad to see the Religious Right getting back in charge here in America. It's very disturbing. And not only is this House Manager Lindsey Graham from the attempt to impeach the president over his sex life still in office. But also, one of Ken Starr's protégés, Brett Kavanaugh is now a Supreme Court Justice, and his vote has been very crucial to taking away women's sexual rights, taking away our abortion rights quite recently.
And yet, as Daniel B says here on YouTube, "We are doing well, at least in terms of fashion freedom in the USA. A young woman in Iran got beaten to death for not wearing her hijab properly."
UNSCENE ABE
To cover her head?
Dr. SUZY
Yes, that's what I'm hearing. It's terrible, terrible news and awful to think about. And yet it is exciting to see all these women pulling off their hijabs, and dancing and cutting their hair. I guess that's a sign of something liberating to cut your hair.
UNSCENE ABE
Well, I think that her hijab is supposed to cover the hair, right? So, I guess the hair is supposed to be like, "Only my husband is allowed to see my hair."
Dr. SUZY
Yes, you're supposed to keep your hair long, and definitely, you're supposed to wear the hijab in public.
UNSCENE ABE
Something like that.
Dr. SUZY
It's terrible, and we stand in solidarity with all of the protesters. And we really are not against religion, but we are against religious fascism, whether it's Christofascism or Islamofascism or Judeofascism. And a lot of this type of fascism of religion seems to be directed against women. So, I guess this was too. I mean, I'm sure it was. Certainly, this woman who was wearing a hijab; she just wasn't even wearing it properly was their so-called problem. And she was somehow killed, I guess. Beaten to death, maybe raped to death.
UNSCENE ABE
No, it's good.
Dr. SUZY
Terrible things happened to her, and it was in police custody. And it is not shocking, I hate to say, but it is terrible.
UNSCENE ABE
Yeah, that's the worst part. It was in police custody.
Dr. SUZY
Yeah, it's terrible no matter where it happens, but very bad that these were police, and at least something to really protest in a major way when it is happening by the people that are supposed to protect and serve, and I think that that's true of police all over the world, that's what they're supposed to do and all over the world. And that's the opposite of what they seem to do. So terrible.
So… In fun news, there was a—well, it's kind of fun—it was an accident. A truck filled with Dildos and Lube overturned on the highway in Oklahoma and lost its load.
UNSCENE ABE
Ha ha.
Dr. SUZY
Some people in Oklahoma are probably going to have a good night tonight if they pick up one of those dildos, although I don't know if I would. They've been out there on the dirty highway.
UNSCENE ABE
They have concrete on them now.
Dr. SUZY
So, they might be kind of gross.
UNSCENE ABE
I guess that truck hit the curb pretty hard, right? You know?
Dr. SUZY
Thanks for the tip, Chris G—and about 100 other people in my social media circulating this news.
What else is going on? There's LA Sheriff Villanueva. Max has been on a kind of crusade against Sheriff Villanueva's crusade for more power for himself and for his deputy gang of gangbangers and their politically motivated investigations that went over the top in the last few weeks.
But this week, he got pushback from California Attorney General Rob Bonta. So, go bonobos for Rob Bonta, right, Captain Max?
He's nodding, and he's been talking to me about Trump all week. I have been trying not to pay attention to the Trump Clown, but he's such a clown, and he did tell Hannity that he can declassify top secret documents "Just by thinking about it." It's magic. I had to hear that, and yes, he did say that. He says just by thinking about it, he can declassify something.
UNSCENE ABE
That's like a special superpower, I guess.
Dr. SUZY
Yes, and that is what he has to claim in order to explain what he did, which was to take classified documents improperly, violating the Espionage Act.
I kind of hope Trump gets nabbed for one of his other things he did against the law because I don't want him to get nabbed for the Espionage Act because they're also trying to use that against Julian Assange, and I certainly want to free Julian Assange, a journalist that does not deserve to be imprisoned and is being slowly tortured to death. If you're tuned in live, there will be a demonstration for Julian's freedom soon around Parliament.
UNSCENE ABE
Well, yeah, how convenient that he's getting charged with the same thing. Assange is going through.
Dr. SUZY
Yes, and of course I want Trump to go down somehow or other. But he should go down for trying to fix the election, for calling up the guy in Georgia. That my belief. I think he should just go to prison for that utterly illegal meddling. There's a tape of it. The guy's testified Trump pressured him to fix the election, and there's also, of course, Coup Anon, inciting the big Insurrection. But that's maybe a little less clear, the clarity of trying to fix the Georgia vote is the best, him asking "Can't you find a few more votes for me?"
UNSCENE ABE
Right.
Dr. SUZY
He asked the elections official, "Can you find a few more votes for me? Just find a few thousand more measly little votes?" He's asking him to cheat there. He asked a lot of people to cheat, but it's all on tape. I know it's a little more complex and it's not as interesting as espionage. I think it's more slam dunk, personally, but people like espionage because it reminds them of 007.
And speaking of 007, I just got a laugh out of Max because someone calling themselves "OO7" put out today that there's been a coup in China.
UNSCENE ABE
Oh really?
Dr. SUZY
It's probably Fake News, but it goes to show, we honestly don't know what is going on anywhere.
UNSCENE ABE
Wow, in China? China's been kind of quiet lately.
Dr. SUZY
For you, maybe.
UNSCENE ABE
Yeah, well, for me, yeah.
Dr. SUZY
Actually, things have been happening in China. Xi has been having key people arrested and one is being executed or supposed to be. Maybe some people are not happy about that and just putting this out there. And then there's Taiwan, although they are suffering because they have had an earthquake recently. It's tough to have an earthquake on a little island like that, and Puerto Rico has had terrible storms, and my goodness, it's just so overwhelming. There's so much climate catastrophe right now.
And I'm reading a book that is kind of interesting. I just started it, but since I'm here just chatting, I'll tell you about it. I recommend it if you like to read. Of course, if you're Kanye, you don't. Kanye said he never read any books.
UNSCENE ABE
Don't recommend books to Kanye.
Dr. SUZY
Kanye does not read books, he just confessed. It explains a lot actually. And his mother was a teacher. I kind of don't believe him. Maybe he doesn't read books now. I think he doesn't read anything lately.
UNSCENE ABE
He's on Twitter. That's what he does.
Dr. SUZY
I don't know if he reads Twitter. I think he just tweets. I don't know that he reads much, he says very little. It can't be kind of clever, you know, and he gets it out there, but it's not the writing of a reader.
Don't be like Kanye, Brothers and Sisters. One is enough. And one is good. I do like a lot of his music, so there's that.
Everybody is complicated. It's hard to like everything about any one person. And nowadays you get to find out a lot about people that you didn't find out before. And it makes a lot of people very angry and confused. They think someone's their hero. And then they find out they have feet of clay, and we all have feet of clay. We're all part animal. We're not – wait, what am I saying? We're all animal, we humans, we're not part angel, that's a myth. Humans are a type of animal like bonobos, like common chimps, like gorillas, like all the animals.
I like the bonobos. And I think because the bonobos are close to us, we should follow the Bonobo Way of peace through pleasure and all kinds of weather, bonobo FemDom power, that is, female empowerment – and I'm going to be coming out with a video Make Kink Not War at DomCon very shortly, so you're going to get a sense of some FemDom power and some ways to make kink, not war – and they do it while nurturing male well-being, and we should do that, we humans, so #Me2 doesn't turn into #MePoo. Anyway, coming soon, "Make Kink Not War: Be Bonobo" at DomCon 2022.
So, meantime, what am I reading? "The End of the MegaMachine: A brief history of a failing civilization" by Fabian Scheidler.
I know, that's all a big mouthful. I've talked a little bit about the MegaMachine before and you might have heard that phrase and it's a little bit corny, but it's a little bit – actually, it's a lot meaningful. Mr. Scheidler didn't create it. Somebody else did (Lewis Mumford), but Scheidler wrote this book in which he talks about the end of the mega machine, though I haven't gotten to the end part. I'm in the middle. But it's very interesting that he talks about how civilization came about. Human civilization is really very recent. Humans have been around for 200,000 years. And yet we've only been so-called civilized for maybe 6000, 7000 years, seriously civilized for 5000 years, with the Middle East and really ancient Greece where they started having the armies and the writing and the art of what we call civilization.
And we often think of ancient Greece as a wonderful time, but it was the first place, more or less, to beIt was ruled by what Scheidler calls the Four Tyrannies, which were new at the time, and are now entrenched in our world.
What are the Four Tyrannies? Well #1 is military violence. This is different than regular violence. We humans, we can be violent. All primates can be violent, even bonobos. They just don't kill each other, and they certainly don't make war. Common chimps make a kind of war, not much war though. They can gang up on each other, which is sometimes interpreted as war, but bonobos don't even do that. They do gang up, but they don't kill each other. But humans are the only Great Apes that created a military. And we could talk about why they did – and we have one other shows – but they did, they created an organized form of violence, and this is what Scheidler calls one of the Four Tyrannies that create this mega machine that is grinding us down, chewing us up and spitting us out. So that's the first Tyranny, the military and the violence of it, the Killing Machine.
Number 2 is money. People didn't have money for 195,000 years. And they had plenty of fun, and they did plenty of things, and they got things and they exchanged things, and they gave gifts and they looked for things and they found things and they ate well and took care of each other and got what they needed, or maybe they didn't, without money. Anyway, then they invented money.
UNSCENE ABE
They didn't hoard money, right? Nobody was hoarding money, I guess.
Dr. SUZY
People didn't even have money for 195,000 years.
UNSCENE ABE
Yeah, right. Yeah.
Dr. SUZY
And right, they didn't hoard things either, because they were hunter gatherers, so they would move around. So even crops and things they wouldn't hoard. They didn't have crops, but they might "have" plants, animals or special items, but they would only take what they could carry.
UNSCENE ABE
Maybe a handful of seeds and just underways, yeah.
Dr. SUZY
Or they might create a knapsack of some sort.
UNSCENE ABE
Yeah.
Dr. SUZY
But then they started to create plots of land that were owned by people and maybe defended violently, but even this early "ownership" was diffuse for quite a while. But then they created money, along with the economy, which really says you own this, and you don't own this, and how you pay for this is with money. According to Scheidler, money was created to pay the military, because crops are too bulky.
Interestingly, money was created in the land of King Midas. You've heard of the Midas Touch, where everything he touches turns to gold, and that's what he wished for.
UNSCENE ABE
Yeah, yeah. Right, right.
Dr. SUZY
And then Midas touches his beautiful daughter.
UNSCENE ABE
Oh, oh no.
Dr. SUZY
And she turns to gold. And she's gone because the Midas Touch kills.
UNSCENE ABE
Oh no. Not the daughter.
Dr. SUZY
Yes, of course, they knew back then how money kills. They understood something that we seem to have lost, the understanding that this obsession with money does kill us. Anyway, that's the second tyranny.
The third tyranny is philosophy and religion, this idea of a single all-powerful God that knows everything and that speaks through certain emissaries and that tells you to do certain things, and that you must follow those things, you must do those things, even killing others, like in a crusade, you must go forth for the religion or belief. It gives you a reason to use that military besides your own greed for the money.
You see these parts, the four tyrannies, they're all interdependent. You got your military, you got your economy, and you got your reason, you got your philosophy, you got your religion. It's often a religion, but it could be conquest, it could be a belief in Nazism or Royal Britain or the power of your nationality. Russia power. Or even the idea of progress through technology. All of that is a philosophy that always is tied to the other two tyrannies money/economy and military violence.
And then there's the 4th tyranny. And this one gets me. I have a hard time with this one. I feel I am in a way a slave to this one.
UNSCENE ABE
You're scaring me.
Dr. SUZY
I'm almost not a slave to the other ones, at least not internally. I'm a little bit of a slave to money economy because everybody got to make money in this economy and so do I. But I try not to let it rule my life. I do have a philosophy, the Bonobo Way, but I'm not much for religion. Of course, I'm very anti-military and killing and violence. So, I don't feel like I'm really at least not inside of my brain—by the other three tyrannies.
But the 4th, can you guess what it is?
UNSCENE ABE
Uh no.
Dr. SUZY
I wouldn't have guessed myself. But it is linear thinking. This is the kind of thinking that says that things happen one after the other in a predictable fashion, that you can go from point A to point B and then you will have Point C. That's Linear Thinking. I think that way most of the time, too much of the time. I think that our society teaches children to think that way, and then as adults, we continue think that way, even when it's proven wrong. I was a good student in school and at Yale. And that's how you were taught you had to think. You had to think, I have a test this Tuesday and I'd better study for it and then I'll take it and then I'll get an "A." Or I have to hand in this paper by a certain deadline or make this speech in my class, complete the assignment and then I will get my just desserts, because things work according to plan.
UNSCENE ABE
Right, right.
Dr. SUZY
And that's how school is, or was, but the real world is not like that. Reality often does not work according to plan, and that is why a lot of good students don't necessarily do that well in life. I have to say, Kanye does pretty well, he's a billionaire.
UNSCENE ABE
Right.
Dr. SUZY
And he's nuts. He doesn't read books. And he certainly does not think in a linear fashion. I'm not saying people should think like him, and it scares me to realize that more and more people do think like Kanye. Honestly, yes, I am still in a bit of the grip of the "linear thinking tyranny." It's the way writers think. It's the way readers think. It's the way a lot of us think that like a good story with a beginning in a middle and an end, and that's not just the way days go, nights go, weeks go. It's just not the way life goes. Life is really more circular, and things happen that you can't control or even plan for. You know I say it, but do I really understand it?
The best laid plans may not get you laid the way you planned.
I know these things. But it's so hard to put that knowledge into practice, to go with the flow. Max is always trying to get me to go with the flow, and he gets so frustrated when I can't do that, when I need to know what's going on. I should have been brought up by Native Americans. They really teach you how to see the world in a much more circular manner. Certain cultures that are less judeo-christian or islamofascist, they do allow you to have a more circular approach to life.
Writing itself, especially Western writing is connected to linear thinking. Maybe Asian writing is not quite the same because so much of it involves pictures. I don't know, I might be offending somebody there, but I will say Western writing, which I know a little bit about, is very linear. Ironically, according to Scheidler, it was developed for a terrible reason. We think of writing as being developed to write great poetry like Homer, and we think of it as a beautiful thing, writing. I certainly think of it that way, but history tells us that writing was developed to count bushels of hay and slaves. That was what the scribes did. They had to count these items for the king or the leader. And he paid them. Because people don't write for themselves, they write for someone else. You don't have to write for yourself, much as you might say, oh, I like to write in my diary, you really are writing for someone else. You might be thinking someone else will read that diary. I'm sure you are. In any case, the first scribes wrote for someone else, usually their boss.
The Cave writings, you know, they weren't writings, they were paintings. That's a different thing. It's not words. Those are pictures. Painting's a more perhaps you could say pure form of art. But writing and counting brilliant stuff with letters of an alphabet, letters, not just pictures to show you things, but letters that have to be put together in a linear way that must be clear, but that is very confusing if you don't speak the language or know what the letters mean.
UNSCENE ABE
Or if you read left to right or-
Dr. SUZY
It divides people, like the Tower of Babel.
UNSCENE ABE
Right to left. Or top to bottom.
Dr. SUZY
Because the letters have to be put in this or that way that you have to learn in a tedious linear fashion, and it does separate people. Really, it's a tyranny. The tyranny of linear thinking. And yet I practice it. And I'm not going to stop, at least not completely. But it's good to be aware that it's not natural.
The awareness is like the Bonobo Way. I'm not going to live in a nest. I'm not going to have sex just like they do or live at all the way they do. But I do like to be aware of them and be inspired by them.
As for these four tyrannies, three of which I feel like I have a pretty good sense and can keep under control, at least in my own brain, that 4th tyranny of linear thinking is oh, so difficult to get a handle on. And yet I do feel I should try to get it under control, especially as I get older. Because guess what? Linear thinking is an illusion, but it's great when you're young, you're growing up, up, up, up! But as you get older, it's not so much fun, you feel, if you think in a line, oh, now I'm not getting better. But if you think in a more circular way, perhaps you are. Perhaps it is all happening again and again, and you're absorbing life in a different way from that going from point A to point B way of thinking.
Anyway, check it out folks, if you want to be challenged. Though it's easy reading. It was recommended by one of my Counterpunch colleagues, Patrick Mazza. So, thank you Patrick Mazza.
UNSCENE ABE
Yeah, the Fabian Scheisler is his name is the author Scheisler.
Dr. SUZY
Sheidler, yeah.
UNSCENE ABE
Yeah, I'm reading his Amazon page and it says we are witnessing how the entire planet, which took 4 billion years to develop, "is being used up by a global economic machinery that produces vast quantities of goods and mountains of garbage at the same time insane wealth and mass misery over massive workload and forced inactivity."
Dr. SUZY
Well, yes, I read that, but it's good to hear it, you know, in my ears because it does remind me of how it is just appalling that we are kind of burning this place up that's taken 4 billion years to build and not just that, but the civilization that humans have built up in these 8000 or so years is destroying the humanity that has been around for 200,000 years. And yet I think that Fabian Scheidler does give you hope in this book, from what I understand, I haven't gotten to the end of it, folks, so it might not. But I think there's an idea that there will be an end to the megamachine, that it is going to destroy itself, it is going to eat itself up. This is what capitalism does, and this is what war does and it's going to be horrible, it is already horrible for many people, and yet it might not kill off everything, so there is some hope.
It's interesting the way Scheidler describes the Dark Ages. People that studied it in school, like me, will recall that the Dark Ages is often described as a very bad time.
UNSCENE ABE
Yeah, yeah, yeah.
Dr. SUZY
It was dark.
UNSCENE ABE
Dark Ages, yeah.
Dr. SUZY
But he says it actually was pretty good for most people that were alive, when you think about the fact that the Roman Empire collapsed, so there were no more Roman soldiers running around slaughtering people hither and yon.
UNSCENE ABE
Oh yeah, that's uh, yeah.
Dr. SUZY
And it was before the age of the next major slaughterings, which would be the age of the kings. But in the Dark Ages, there was some Knights and Lords, but they didn't have that much power. And the peasants sort of lost touch with money. Actually, they started paying with crops again. Very interesting time, but in any case, I think we are out of time. We're running out of time on the show, and we're also running out of time for our civilization.
It seems as though it is really showing the cracks in its beauty. We see even Hollywood is supported by the military for most of its big hits. Maybe not all of its movies, but most mega hits like Top Gun are really advertisements for the military. Hollywood is rife with just nonsense.
Nevertheless, I'd like to preserve some of human civilization, if possible. I would hope there will not be a nuclear war, although that is being threatened right now by Mr. Putin on the one side and of course, yes, he is in the wrong, very wrong. But as I am not thinking in a linear fashion, I think we all have some blame. And so, we all have to figure out a way to get to the peace table, folks. You know, it's all quite exciting to see these Ukrainians use our US and NATO weaponry so skillfully and beat back the Russians, who have, of course, more people, but bad equipment, old equipment, some equipment from North Korea. And I got excited myself, I'm pro Ukraine, I know people connected to Ukraine. I also know people connected to Russia, but I don't know people personally who support Russia. I do know people that support Ukraine. So, I was excited to think, oh yeah, Ukraine is going to win, maybe I'm wrong about peace being the only way, and there could be a winner, and that's how the war is going to end.
Well, no, not exactly. As I feared and continue to fear, it's a Perma War. Putin is keeping it going. I'm not saying it couldn't end, and I sure hope it ends soon somehow. Hey, we just ended the war in Afghanistan, after 20 years. It's not easy to end these wars once you start them. And we are in the Gears of the Mega Machine, and one of the most basic 4 Tyrannies is war and the violence of the military. It really has become a tyranny in our lives, I feel. You know, we were all kind of excited to come out once we got COVID a little under control and then these fucking wars started again. And there are other wars, it's true, but this one between Russia and Ukraine, and with backing from NATO, well, we are paying for it, and it is particularly in our face, because the war is fought not just by the military, but by the other three tyrannies. It affects our economy, our gas prices.
UNSCENE ABE
Yeah.
Dr. SUZY
It affects our media, the people that put out our philosophy, the people out there that we listen to, whether you listen to MSNBC or watch Fox or read Counterpunch, you got this war in your face. It's invaded your brain. It's tyrannizing you.
UNSCENE ABE
Yeah, not only did they are terrorizing the people on that side of the world, but they're terrorizing us when we're trying to think positive thoughts, you know and now one more.
Dr. SUZY
Now we're in war. So, we have to try to come to the peace table, and it seems impossible, but it always is possible, and it will be possible at some point. I just hope it doesn't have to happen in the middle of a nuclear winter when you have some skeletons coming together on a long table.
David D on Youtube asks, "what is SSRI?" It's an antidepressant. It's a serotonin inhibitor. I don't know all the fancy ways in which to describe how it affects your brain, and I certainly don't know if it works. I know people that take it and that swear by it. And so, I'm not against it, but there are a lot of people it does not help and a lot of people, it makes worse. And I see it as a problem because psychiatrists seem to prescribe it like candy.
Weston on Facebook says, "Loving your advice, Dr. SUZY." Thank you, Weston!
Let's see, Harry. Hi, Harry. He says no, he refuses to get pegged. Good thing you aren't PRINCE Harry, then, you know, because you got to be the Prince of Pegging. Actually, it's the Prince of Wales that's the Prince of Pegging, and maybe he has to get pegged by a whale now.
But Harry, our Harry says, "Open doors I think are best kept shut." Well, first of all, Harry, they are not shut because if you gotta have something come out of there, they gotta open or you will get very sick. But yeah, it is a door that a lot of people think of as a back door, and yet a lot of people enjoy anal pleasure, and Harry, you are perfectly welcome to enjoy other things in life. There are plenty of other things and there are plenty of other parts to your body that you can enjoy. But some people do enjoy anal stimulation or some form of pegging. By the way, for those who do not know, "pegging" is when a person, usually a man, would be penetrated anally by a strap-on dildo usually worn by a woman. And I am so sorry if I get my genders too specific, but that's usually what pegging is, and sometimes yes, it can be a gateway to doing it with a man and sometimes no, it is not. It is just something you enjoy with your lady friend or whoever is wearing the strap-on since it could be a non-binary person and it could even be a man who maybe can't get hard or maybe wants to pretend he's got a big dick so he wears a big strap-on dildo. So different people wear them to peg.
UNSCENE ABE
So yeah, all I'm saying is I've never seen Harry and Pegging Prince Harry in the same room together. If that's you, Harry says your secret straight.
Dr. SUZY
Well, the Pegging Prince is William.
UNSCENE ABE
Oh, William. Oh, it's not Prince Harry.
Dr. SUZY
No, no, no, no, no. Harry is being left alone by the hashtag gossips in terms of his sex life, or else he just has quote-unquote "regular sex," I'm not sure. Although when he was young, in a cosplay, he dressed up as a Nazi one year for a party, yeah. He kind of got a lot of flack for that, as he should have. But, you know, there's a lot of Nazism in his family's background. His great uncle was pretty much a Nazi sympathizer, the guy who gave up the crown so that he could marry his great love, Wallis Simpson who was an American divorcee. The two of them went to Germany and supported Hitler. So that's Harry and William's great uncle, that's Elizabeth's uncle who did that. And then Elizabeth's father became king and reigned for a few years. And then he died suddenly, and Elizabeth, while she was vacationing in Kenya, was called to be Queen. And just around that time there was a big rebellion in Kenya and the English killed a lot of Kenyans at that time.
And so, darling Queen Elizabeth, that slaughter was the backdrop for your coronation, your assumption of the throne.
Yes, the Royals are all full of sexual fun and horrible ruling. I mean, all ruling is somewhat horrible, but theirs is one of the worst, probably 'cause they're really one of the most powerful. The British Royals always hate socialists, of course. They want to keep their money and make more. They hate the people. They pretend to love the people because they depend on the people for their power. They feel that they are superior. And their family is superior. That's Family Values right there, brothers and sisters, that's what Royals are all about, their family being superior to everyone else's.
I don't have anything against Prince William for enjoying a good pegging, or for King Charles wanting to be a tampax. Maybe that makes them bearable.
UNSCENE ABE
Yeah.
Dr. SUZY
Anyway, I just want to encourage you to be kind to each other. We're all making a lot of mistakes these days. I certainly make a lot of mistakes, and I feel bad about them. And yet I also feel I gotta try to move forward best I can. So, I apologize to those of you who I have wronged. I especially apologize to Capt'n Max 'cause I know I upset him, partly because of my linear thinking. But I would also hope that he appreciates that in my linear fashion I did complete the show, although I wanted him to come on, but he didn't want to come on and I can't make him come on. He is a man of his own will. So, I'm hurt and a little confused, but trying to understand… in real time.
See, sometimes I share the pain with you, brothers and sisters, lovers and sinners. I guess I usually share the pleasure, and very often I hide the pain, just like a royal. The Royals are humans, of course, just like us, any of us that go on TV or just appear in the kitchen in front of the rest of the family, or just anytime you've got to put on a happy face for the crowd, it's like you're a Royal. Everybody watching you, you have to hide that pain. Mostly, that's what we all do.
But Prince Harry, #GoodKingHarry, is right about the importance of taking care of your mental health. I don't know if he really does it 'cause he seems to always be acting, but you do need to take care of your mental health and talk about your feelings. So, I feel pain right now, like I'm all alone. But I know I'm not totally alone. I know I have my husband just a little upset or something. And I know that I have you. You just probably think I'm a lunatic right now. But hey, we've been through a lot together, you and I. A lot of years. And hopefully we have a lot more ahead, but you never know.
You never know where the megamachine is going to grind you down and chew you up and spit you out. You got to try to follow the Bonobo away, but it's hard, with all those four tyrannies bearing down on you, grinding you up, hard to share happiness and peace through pleasure, female empowerment, male well-being. And here I am taking some hope in this book that maybe he's going to say there's a light at the end of the tunnel. That's because I have linear thinking.
Hey, there might not be a light at the end of the tunnel. We could burn out this star if enough Putin's other military cheerleaders destroy it.
UNSCENE ABE
And we're not going to let them.
Dr. SUZY
I don't know if I have the power not to let them. I'm not going to think in a linear fashion about that. I'm going to try to make peace, to support peace efforts, and I'm going to try to enjoy this moment with you, my darling listener. I want you to enjoy this moment with me. Cuddle up to your lover if you're lucky enough to have a lover… if they're not mad at you. Or cuddle up to your vibrator if you found one that fell out on the highway in Oklahoma. Be sure to clean it off. Or just cuddle up to your D'vice… and pleasure yourself with no end in sight. No matter what kind of body you're or brain you've got, you deserve pleasure. You could always make changes and sometimes it's good for you, but you always deserve pleasure. Not at others expense, not that kind of royal pleasure where you steal everybody booty. But if you want to play with your booty, go right ahead.
Be good. Be happy. Try not to hurt anyone, including yourself. Make kink, not war. Make like bonobos, not baboons. Make love, not war. Make love to someone you love tonight, even if that someone is you. I love you. I love you, Max.

Show Length 01:25:15 HD
© September 24, 2022 Susan Block, Ph.D., a.k.a. "Dr. Suzy," is a world renowned LA sex therapist, author of The Bonobo Way: The Evolution of Peace through Pleasure and horny housewife, occasionally seen on HBO and other channels. For speaking engagements, call 626-461-5950.
---
Explore DrSusanBlock.com
Need to talk? Sext? Webcam? Do it here. Have you watched the show? No? Feel the sex. Don't miss the Forbidden Photographs—Hot Stuff, look at them closely here. Join our private social media Society. Join us live in studio 😊. Go shopping. Gift shop or The Market Place. DrSusanBlock.tv, real sex TV at your toe tips. Sex Clips Anyone? FASHION, we have fashion! We also have politics. Politics? Have you Read the book? No? How about the Speakeasy Journal? Click here. Ok, how about some free sex advice?
---
---