Happy Thanksgiving & Slappy Spanksgiving 2022
+ Who Needs to Get Stuffed?
by Dr. Susan Block.

It's our duty to spank booty on Spanksgiving!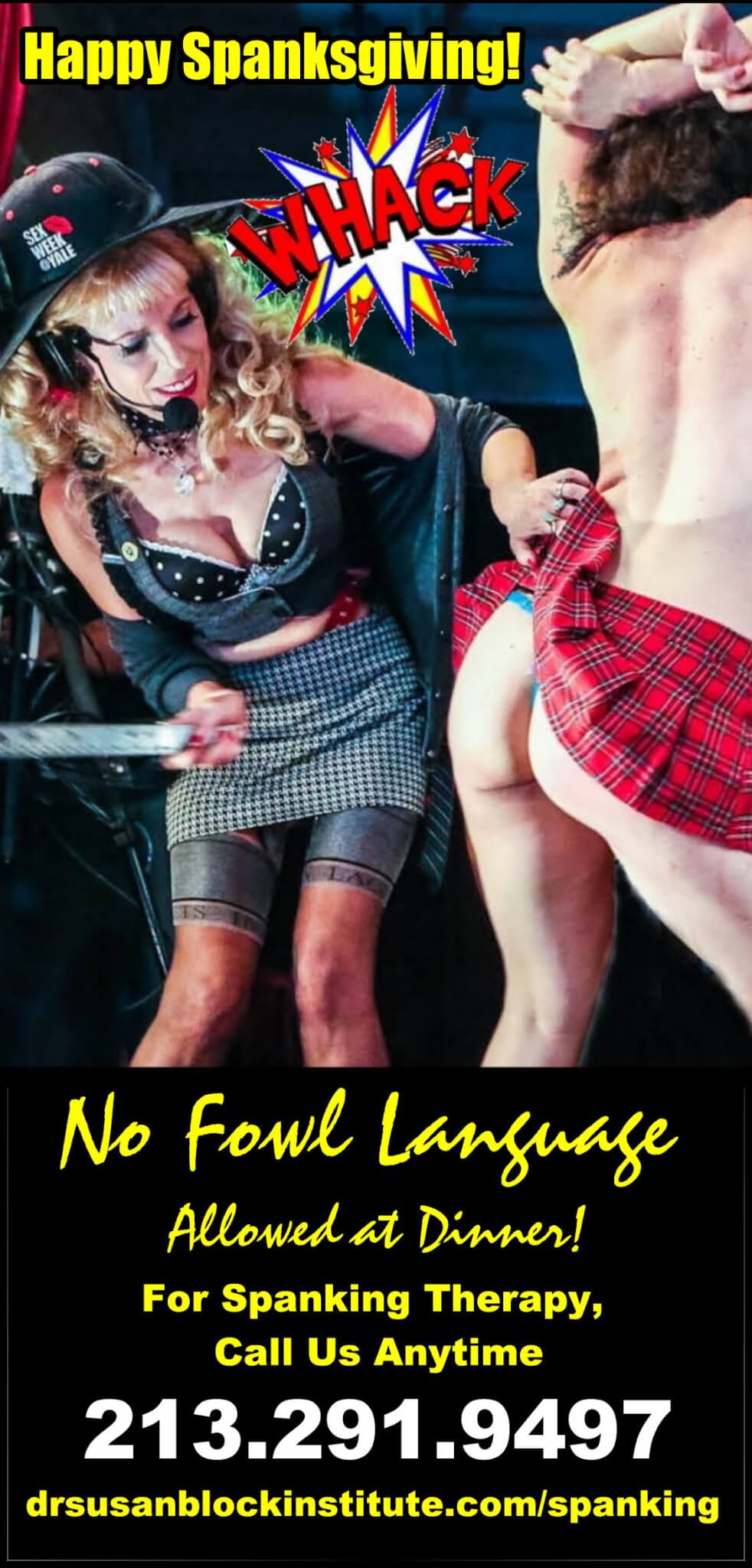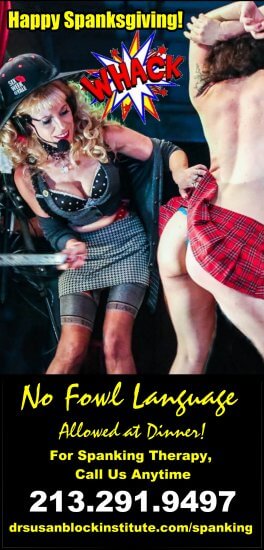 Season's Beatings, Brothers and Sisters, Lovers and Sinners, Pilgrims and Puritans, Libertines and In-Betweens … Come let us play… and let us sing: Amen and Awomen.
Praise be to the power and glory of spanking. Hallelujah. Praise the butt.

The Bible says, "Spare the rod and spoil the child." I say: Spare the child and save that hot rod for your (consenting adult) lover.

On Thanksgiving, let us give thanks, and on Spanksgiving, let us give spanks. Let us spank away the hate, greed and fears that divide us. And let us practice the Bonobo Way of peace through pleasure… with a little spanking. Consenting adults only please. Don't spank kids (they can't consent).
The Bible says, "Spare the rod and spoil the child." I say: Spare the child and save that hot rod for your (consenting adult) lover.
Speaking of lovers, on this special, very intimate ride on the Love Train, my husband, partner and Spanksgiving lover, Capt'n Max, and I give thanks, spanks and hope you get stuffed—from both ends!
Spanksgiving More Authentic Than Thanksgiving
Historically speaking, Spanksgiving is more reality-based than Thanksgiving. It's far more likely that our Pilgrim ancestors practiced Spanksgiving than the mythical love-in with Native Americans that we in willfully ignorant America have come to call Thanksgiving.
Those pious Pilgrims and Puritans known for sharing food (so bonobo!) with the Wampanoag tribe actually slaughtered these Native Americans with their matchbox muskets and smallpox-infested blankets, kickstarting the North American genocide.
In terms of their own people, servants and slaves, every day was Spanksgiving in the Massachusetts Bay, as Puritan "fathers" administered spankings, paddlings, whippings, floggings, "stocks and bonds," "tar and feathering," "public disgrace" and witch-hangings galore. All were, of course, totally nonconsensual atrocities delivered with sanctimonious relish, often to punish sexual transgressions that the Puritan fathers were themselves committing.
Despite our abhorrence for these practices (which, thanks to the GQP, are making scary "comebacks," like corporal punishment in schools), we feel that consenting adults can take kinky healing pleasure in roleplaying such crimes of colonialism, and we talk about how we do that at the Institute via phone sex therapy as well as in Spanksgiving celebrations past in Bonoboville.
Besides nonconsensual BDSM, Pilgrims had a fetish for buckles—on shoes, belts, as well as hats—which leads Max into an Ode to his Silver Penis Buckle, hand-carved by Jonathan Straus of the previous Macy's-owning Straus family, and now for sale (to make Max an offer, call 626.461.5950).
We also thank a few special people from in and around Bonoboville and verbally spank some real turkeys, specifically three Turkeys in the News, a toxic trio of truly foul fowls, flapping their well-funded wings, squawking their twisted lies through various media and gobbling up way too much of the goodness in our lives.
Trump Turkey, Leaky Alito Gravy & Elon Burning Tweety-Bird
First out of the oven: the Trump Turkey. We thought we stuck a fork in it when Trumpty Dumpty lost, but no, the Trump Turkey is still squawking that he didn't lose in 2020 as well as running—like the proverbial chicken with its head cut off—for President in 2024. Hopefully, Merrick Garland's new Special Counsel Jack Smith will put this gobbler in a cage before it's too late… for all of us.
Another rather juicy—and leaky—Turkey in the News is neo-Puritan "Forced Breeding"-fetishizing narcissist and Supreme Court Injustice Samuel Alito, Jr. (Yale Law School, 1975). Thanks to former anti-abortion crusader and now whistleblower Rev. Robert Schenck, we now have more proof that incel-ish Judge A-leak-o has been leaking his own decisions—including Hobby Lobby and Dobbs—to Rightwing donors and activists, and now the news is leaking all over the other Turkeys on the Supreme Kangaroo Court, staining what's left of its reputation with curdling Christofascist gravy.
Gross.
Then there's billionaire "Space Karen" Elona Musky burning the Twitter Turkey. It's a tragedy-in-progress as Chef Elon Musk sets our beloved Tweety-Bird ablaze like one of his terrible Teslas bursting into flames that burn so long, the charred remains are unrecognizable.
Thanks, Spanks & Databanks
There are disturbing similarities in the Thanksgiving story and Zionist fairy tales about Israel. Btw, with antisemitism rising, we feel the need to clarify: We're Jewish, but not religious, nor are we Zionist. Judaism is not Zionism. Judaism is a religion not a race. Most Jews are not Zionists. Many Zionists are not Jews. Many Zionists hate Jews. Many Jews hate Zionism (like me). Many Christians are Zionists, especially Christofascists. Opposition to Israel and Zionism is NOT anti-Semitism.
Spank THIS: Our SEX CALLS series has just released Kinky Newlyweds, a blast from the distant past (1998) within the DrSuzy.Tv broadcast archival databanks that I think you'll find really stands the test of time. Note: These aren't real telephone sex therapy calls; those are absolutely private, confidential and NOT on any databanks. Call 213.291.9497 for more information.
Back to Thanksgiving, which can be delicious, but also difficult to digest. For some, Thanksgiving is a delightful reunion with those they love the most, and for others, it's a conflicted, stressful, deeply hypocritical and downright nauseating family feast of carbs and bullshit, where we have to repress our real feelings for fear of triggering Uncle MAGAt's Loser trauma which might trigger his finger on that AR-15 that he has a Second Amendment Right to bring to dinner.

Too bad the NRA doesn't profit from sales of spanking paddles.

So, see why I give spanks… as well as thanks? Spanksgiving puts Thanksgiving into perspective. Bottoms up! Turn the whole plutocratic, ecocidal oligarchy upside down and spank its naughty ass. Too bad the NRA doesn't profit from sales of spanking paddles.
Well, we can always just stay home and choke our chickens instead of swallowing their turkey and taking their crap. Forget "No Nut November"—a Neo-Puritan nightmare, if ever there was one.
If you're lucky enough to stuff or get stuffed by a loving partner, give thanks. If not, give spanks—spank the monkey for Spanksgiving!


Feast or fap, be good, be happy and follow the Bonobo Way.
Show Length 01:26:46 HD
© November 19, 2022 Susan Block, Ph.D., a.k.a. "Dr. Suzy," is a world renowned LA sex therapist, author of The Bonobo Way: The Evolution of Peace through Pleasure and horny housewife, occasionally seen on HBO and other channels. For speaking engagements, call 626-461-5950.
---
Explore DrSusanBlock.com
Need to talk? Sext? Webcam? Do it here. Have you watched the show? No? Feel the sex. Don't miss the Forbidden Photographs—Hot Stuff, look at them closely here. Join our private social media Society. Join us live in studio 😊. Go shopping. Gift shop or The Market Place. DrSusanBlock.tv, real sex TV at your toe tips. Sex Clips Anyone? FASHION, we have fashion! We also have politics. Politics? Have you Read the book? No? How about the Speakeasy Journal? Click here. Ok, how about some free sex advice?
---
---