VOTER Boner!
by Dr. Susan Block.
Our election erection gets wet with waves of blue, popping our political corks for the 2022 midterms with love, laughter, liquor, socialist hope, sexual fantasies, erotic compassion for our so-called "enemies" and a sense of relief that's such a release, we need a smoke afterwards. Whew! Go Blue.
Though both parties in America's undemocratic duopoly are undoubtedly indebted to and corrupted by billionaires, the military and corporate oligarchy, at least the Dems are not as batshit crazy as Trumpty Dumpty's falling, failing Christofascist Coup Anon gang of thugs and MAGAts. Nobody's perfect, but evil is relative, and—against all pollster predictions—the "lesser of two evils" just retained the Senate… so why not celebrate?
Joining our Block Party on the Love Train is "Most Bonobo Couple," DaLove and BeLive, plus Julia, a vivacious Russian/Ukrainian model and Chase, a self-described "Christian" calling from the scarlet swamps of Mississippi who voted straight Red and goes to Church, but still wants to chat and party with us.
Who wouldn't?
MAGAts Get Cucked
As a sexologist, I'm mindful of the twisted effects of erotic humiliation—even in metaphor—but I must say, the MAGAts got cuckolded—and not in the fun, consensual way.
For months, these compulsive liars have been bragging about the BIG Red Wave bursting at their zippers, coming to drench us all. But it turned out to be so small—smaller than my finger!—that now all these losers have "small wave syndrome."

Women (apparently more akin to Hot Wives than Handmaids) and young voters (#GoBonobos for Gen Z) really rocked the vote.

How did it happen? It seems that those flirty, flighty "independent" voters, said to be leaning Right, instead went Left with us gun-controlling socialist abortionist hedonists. Woohoo!
Women (apparently more akin to Hot Wives than Handmaids) and young voters (#GoBonobos for Gen Z) really rocked the vote.
Hopefully, the Supreme Injustices that just aborted women human rights are quivering in their panties under those big black robes as they watch the votes come in, flooding their tainted Court with a strong Blue Tide.


As for us, we've got Voter Boners! Being a She/Her, I have a Voter Ladyboner… or would that be a Lady Voter Boner? Who cares? Let's celebrate now, for tomorrow, all these corrupt politicos will surely give us something to cry about.
Max's Bday Voter Boner
Actually, our party started on Capt'n Max's birthday, November 8, 2022. Despite our Media Betters telling us we'd best prepare for a Red Tsunami (coupled with traumatic memories of the Electoral Dysfunction of November 8, 2016), we partied anyway—in Bonoboville and in bed—as the first results of the election trickled in like precum on Max's erection, leading to a big candle-blow-out climax and powerful Blue Riptide that really drained the swamp (or felt like it did).
As for me, I was riding that Big Blue Wave like Malibu Barbie. Surf's up, Comrades!
Internationally, we Americans showed we are not quite as fascist as the rest of the world thinks we are (with good reason). By and large, sick of the Mango Mussolini from Mar-A-Lardo, Americans voted against fascists, Christofacists, Pinocchio's and clowns– amen and awomen!


On a related tangent, we talk about the steady rise in interracial sex, both in reality and fantasy. Soon, there won't be much of a so-called "white race" to worry about.
We also cheer the defeat of Sheriff Alex Villanueva, leader of LA County's brutal Deputy Gang, whom we've been denouncing for years. We're also happy to see Measure A pass, enabling the LA Board of Supervisors to fire any Sheriff who tries to "pull a Villanueva" in the future.
Californians also passed Prop 1, making Cali the second state after Vermont to codify abortion rights in the state constitution. Hell yes!
Phony DeSantis & Creepy Thiel
It hasn't all been good news for blues. Texas (even Uvalde!) was bloodred as usual, and New York, of all states, really sucked for the Dems, which may cause them to lose the House; as of this writing, we don't know. In Florida, America's Worst Governor, the odious Ron DeSantis, won big. When Max learns he's Italian, he calls him a "cafone," meaning "peasant," but it sounds like "phony," and that's just what Ron is, a slick phony. An elite Neocon proto-fascist in the Mussolini mold who graduated from Yale and Harvard, he mimics family values "folksiness" for his "populist" base while catering to the economic desires of his corporate owners. Perhaps because Ron DeSantis' phony branding is attracting a lot of MAGAts, tRump now calls him Ron DeSanctimonious. It's not the Trumpster's wittiest insult (obviously he's losing his touch), but at least he didn't call him Ron DeSatan, because that would be an insult to Satan.
Changing trains from politics to business/media at the Bonoboville Station, we acknowledge that immigrants are indeed ruining America, except those immigrants are not the poor hardworking folks at our border, but billionaires like Elon Musk from South Africa, Rupert Murdock from Australia and Peter Thiel from Germany.
Cold calculating "start-up" guru Peter Thiel founded PayPal, funded Facebook and heavily "invested" in several 2022 Republican candidates, winners like Yale-grad "Hillbilly" J.D. Vance as well as losers like creepy ammosexual Blake Masters. It's hard to say which of these super-rich, functioning psychopathic narcissists is worst for life on earth, but Thiel is a contender. We're especially proud of having sued PayPal (when he actually owned it) in Small Claims Court because the greedy bastard wouldn't give us our money… and we won!
DaLove & Belive, Russian-Ukrainian Julia & Christian Chase

Our train mates, the dazzling DaLove, aka Daniele Watts, and "Rawkstar" Chef BeLive, call in from Chez Jacob the Chimesmaker, where they are beautifying the environment, talking about "how to destroy the Patriarchy without destroying Daddy," singing songs of love and telling tales of passion.
They also bring on Julia, quite a character, a gorgeous (says Daniele) young refugee who embodies the crises that was rarely brought up this election: Her father is Russian, and her mother is Ukrainian. She is "angry and happy" because, she says, "anger elevates my depression." Listen to her angry, enthralling, erotic and disturbing stories and ideas about disarming Putin like Mata Hari—in her very sexy Slavic accent—on this show.
Julia's Russian-Ukrainian persona reminds me of one thing neither Republicans nor Democrats much talked about this election was the elephant—and donkey—in the room: the War in Ukraine. All candidates appear to want to keep the war going to please their sugar daddy donors who run the Military-Industrial Complex. Personally, I'm for peace; it's The Bonobo Way. Now that the Russians are fleeing Kherson, it's a great opportunity to negotiate. Let's not be greedy now. Let's Be Bonobo. Make Kink Not War—before it's too late!
Finally, we get a call from "Chase" who asks why I include "religion" as one of the four earth-destroying tyrannies of the "megamachine," before revealing that he is a "Christian," and though not exactly "Christofascist," he is a rather serious, straight, family values Republican at that, voting Red straight down the line in the Deep Red state of Mississippi. At first, the tension between us is palpable, but as we talk about Jesus, bonobos, peace, fascism, the virgin fetish, erections, resurrections and more, our divisions thaw and our Red vs. Blue positions turn into a lovely shade of purple. Too bad we don't have more time to explore Chase's sex life and politics, but he promises to "callin" again.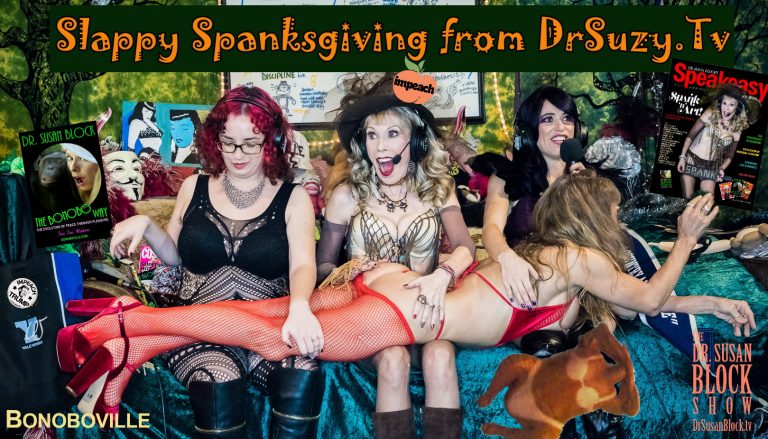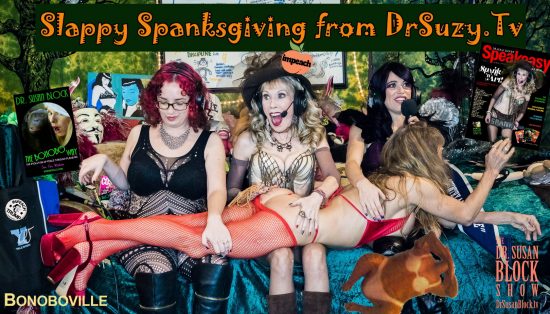 Happy Blue Wave, Naughty November, Native American History Month and almost Spanksgiving!
Show Length 01:26:58 HD
© November 12, 2022 Susan Block, Ph.D., a.k.a. "Dr. Suzy," is a world renowned LA sex therapist, author of The Bonobo Way: The Evolution of Peace through Pleasure and horny housewife, occasionally seen on HBO and other channels. For speaking engagements, call 626-461-5950.
---
Explore DrSusanBlock.com
Need to talk? Sext? Webcam? Do it here. Have you watched the show? No? Feel the sex. Don't miss the Forbidden Photographs—Hot Stuff, look at them closely here. Join our private social media Society. Join us live in studio 😊. Go shopping. Gift shop or The Market Place. DrSusanBlock.tv, real sex TV at your toe tips. Sex Clips Anyone? FASHION, we have fashion! We also have politics. Politics? Have you Read the book? No? How about the Speakeasy Journal? Click here. Ok, how about some free sex advice?
---
---