It's The SUZYs!

Announcing the 11th Annual DrSusanBlock.Tv Awards for 2022
by Dr. Susan Block.
It's Xmas Eve as Capt'n Max and I broadcast live, sliding down your chimney with gifts (awards!) if you've been sex-positive, and coal in your stocking if you've been a warmonger. That's the boobie prize—and I don't mean Jingle Jugs.
It's the SUZYs 2022!
Honoring excellence in broadcast artistry and exhibitionism, erotic performance, pro-sex politics and Weapons of Mass Seduction, celebrating The Bonobo Way of peace through pleasure in all kinds of weather, for the 11th consecutive year…
Are YOU a winner?
Well before XBIZ, the AVNs, the TEAs, the Oscars, Critics Choice, the Grammies, the Tonys, the Emmys, the BAFTAs, NAACP, XRCO, SAG and MTV awards and the Golden Globes trot out their awards, we are here to acknowledge the best and worst of 2022 with the DrSusanBlock.tv Awards, a.k.a., "The SUZYS."
So… Merry XXXmas, Sexmas, Festivus AND a Happy Hanukkah (it's the 7th night when we broadcast live), Happy Kwanza, Happy Pancha Ganapati, Io Saturnalia, Merry Winter Solstice, Happy Whatever You Celebrate 2022 AND a Happy Nude Rear!
Yes indeed, we're looking up the ass of the past year! And I haven't even gotten to the Prince of Pegging award.
Our goal, as always (besides having a cum-ton of fun), is to advance the noble cause of sex education—more important than ever, as we face draconian crackdowns on sexual speech and activity by Big Tech and our Supreme Court Injustices. We also aim to inspire better erotica and pro-sex political activism, as well as to save the real bonobos from extinction and support a more bonoboësque, Make Love Not War, Make Kink Not War ethos in the world.
Speaking of "ethos," our Bonoboville Ethics Committee has, since our inception, stipulated that DrSuzy.Tv and/or F.D.R. staff members, no matter how deserving, are ineligible to receive SUZY awards.
However, because we were raised in the United States of Everybody-Gets-an-Award, we do give a special "staff award" to our beloved staff, a "thank you for your service" award. Otherwise, all award winners are selected from guest appearances, calls and mentions on the over 35 live broadcasts in 2022 of FDR and the Dr. Susan Block Show, including a couple presentations on location at DomCon LA 2022 and Yale University.
As is traditional for The SUZYs, we do not invite the winners, or anyone at all to the award show, so don't worry, you didn't miss out! Just sit back by the yuletide fire, pour yourself a flute of champagne, smoke a doobie, relax, cheer for The Best, boooo The Worst and enjoy the SUZY awards….
And The Winners Are…
#GoBonobos
Sex & Pleasure
Kink, Fetish & BDSM
Arts, Science & Media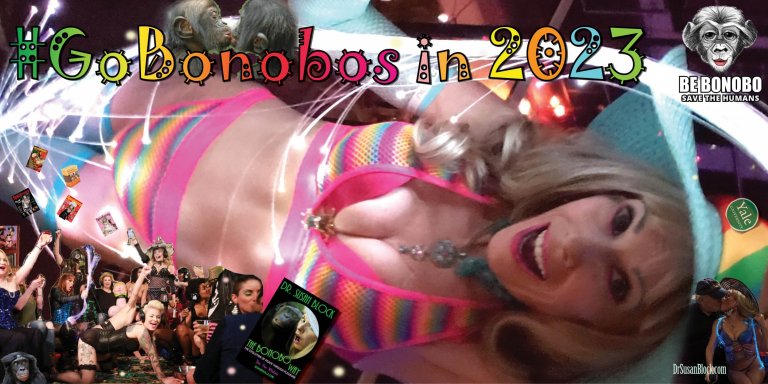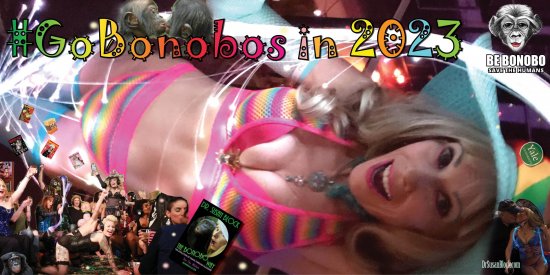 See 2021's Winners. See 2020's Winners. See 2019's Winners. See 2018's Winners. See 2017's Winners. See 2016's Winners. See 2015's Winners. See 2014's winners. See 2013's Winners. See 2012's Winners.

There you have it, another hot listicle of sexperts, sexpots, sex workers, politicos, artists, exhibitionists, visionaries, revolutionaries, hot babes, bitches and a few bad bastards who have appeared, been mentioned or parodied immortalized, honored for greatness or exposed for evil on FDR and/or DrSuzy.Tv.
In a way, the SUZYs are the Anti-Award Awards. You may question some of our choices (so did we!), which is one reason to listen to the show (above or below). Another reason is that it's full of sex, fun, bonobo wisdom and leftist politics, always bubbling up in our champagne as we toast the winners and pee on the losers. Just virtually; don't panic, Arcadia Kangaroo Courtiers.
Religious Hypocrisy
Honorable mention on this show goes to the one Callin caller who manages to squeeze onto this SUZY award-packed holiday show, and wouldn't you know Hussein is Islamic and doesn't celebrate any winter holidays. He also says he has never had sex or even touched himself because premarital sex and masturbation are against the laws of Islam. This gets us talking about how all the major monotheistic religions condemn and denigrate sex outside reproduction, which is one reason the SUZYs honor recreational sex. It's also very bonobo!


We can't give him much time, so Hussein joins the Callin chat and within minutes, he's asking me to "practice sex" with him via cam. Wait a minute! Now he wants me to help him Allahu Akbar his mini Mohamed? Apparently, concern over the Islamic sin of premarital sex and self-pleasure goes out the window if the opportunity knocks at the front door.
We've got nothing against Islam in particular. Sexual hypocrisy is integral to all denominations of religious piety, and it is making a comeback in our Neo-Puritan times, which is one reason the SUZYs honor sexual honesty and denounce religious sanctimony.
The Perfect Sexy Lefty Gift
Need the perfect gift for the socialist-feminist-orgiast who has everything? Give The Bonobo Way for the holidays… or Valentine's Day (which is World Bonobo Day)!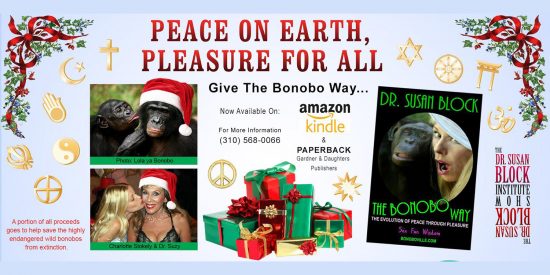 And if you need to talk, the award-winning Therapists Without Borders of the Dr. Susan Block Institute are here for you 24/7 throughout the holy daze and into the future. And if you haven't got a dime, everything you can see on DrSuzy.Tv is still free.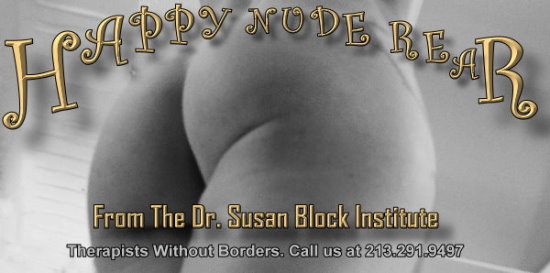 Peace on Earth. Pleasure for All. Amen. Awomen. And a Happy Nude Rear!
Show Length 01:13:37 HD
© December 24th, 2022 Susan Block, Ph.D., a.k.a. "Dr. Suzy," is a world renowned LA sex therapist, author of The Bonobo Way: The Evolution of Peace through Pleasure and horny housewife, occasionally seen on HBO and other channels. For speaking engagements, call 310-568-0066.