Saturnalia Hanukkah Sonata
by Dr. Susan Block.
From ecstatic highs to stormy lows, we ride the turbulence of the 2022 holiday season. Still high from my incredible "Dosed" interview with the amazing Abby Martin and Mike Prysner, I hop on FDR with Capt'n Max, rolling through the Tunnel of Love and into a forest of fury—oh!—but trimmed with fun… in the true upside-down spirit of the Holy Daze.
Roaring through Saturnalia—featuring jolly Roman Saturn, Father Christmas or Babbo Natale's "Io Io Io" forecasting Santa's "Ho Ho Ho"—with a new release of our orgiastic "XXXmas Saturnalia 2005" live broadcast from exactly 17 years ago (don't miss it!), we trace the history of "Christmas" further back to the Mesopotamian Winter Carnival and the even more primeval Winter Solstice, with bonoboësque wishes for Peace on Earth and Pleasure for All.
But the evil Krampus—and Antiochus—are never far… and there's always that nagging Hanukkah worry: Who wants to kill all the Jews NOW?
Every mashugana with a mezuzah knows the answer to that question. This Hanukkah 2022, Jews everywhere are thinking, whispering and probably yelling over the latkes about that dude with the two letter name, Ye (Oy Ye!), aka Kanye, that is Ye is conning us into thinking he's a genius, a poor misunderstood artist, a bipolar Christian or a poor lonesome cuckold… when he's just an old-fashioned, garden variety, dumb-as-rocks, obnoxious-as-farts anti-Semite.
Con Ye's been buddying up with Neo-Nazi-to-the-Stars Nick Fuentes, dining at Mar-a-Lardo with the Loser, then out-Rightwinging Alex Jones by giving Hitler an affectionate shout-out. "There's a looottt of things that I looooove about Hitttlerrrr," croons Ye, with his Balenciaga gimp mask on and his decent-person mask off.
Con Ye Incel
Ye's new white nationalist anti-Semite sidekick says women shouldn't have the right to vote and that rape is no big deal. Fuentes is so into being incel, he's volcel. When asked why he's never had a girlfriend or even had sex with a woman, and whether he might be gay, he replied with typical Rightwing spaghetti logic, "Never having sex with a woman makes you more heterosexual. Because really, dating women is gay. Having sex with women is gay."
Max and Abe explode at the news.
Apparently, Ye himself is now an upscale incel "for Christ," though not as upscale as he was, since us "Jewish people" and our friends aren't buying Con Ye the Incel's sloppy sneakers anymore.
It's sad. Like all antisemites, Kanye is pathetic, miserable, angry ignoramus, bleeding more money daily than most people make in a lifetime. I can't help but feel sorry for him, as I would for an alligator that accidentally bit his own tail and is now crying in pain. Though it's best not to approach that bleeding gator, or he'll bite you.
Max doesn't even want to dignify it with discussion, but Ye is still a huge "influencer," and especially around Hanukkah, it's good to light a candle in the dark. I am also incensed at how he and so many others conflate Judaism with Zionism, when they are not the same and even, in a way, opposite ideologies. At this point, that might be what hurts a Jew for Palestine like me the most.
Though we do more kvetching than celebrating, over the years, we've had some fairly big bacchanalian Hot-Wax Hanukkah party shows, including Hanukkah Girls Gone Wild (2010), Massive Musical Orgy of Love, Lights & the Bill of Rights (2012), Hot Wax Chanuka in Bonoboville (2015), Xmas Eve Confessions with Hanuka Hot Wax (2016), Hot Wax Hanukkah & the Alabama Miracle (2017), Squirting Hot Wax Hanukkah (2018), FemDom Hot-Wax Hanukkah (2019) and our Coronapocalyptic Hanukkah-Xmas Bedside Chat 2020, to name a few.
We also say farewell to a true musical genius, Angelo Badalamenti, composer for Twin Peaks, among other unforgettable works of art. In the early 1990s, Max and I made love every night to that sexy, eerie music. Dare I say I feel about Badalamenti the way Kanye says he feels about Hittttlerrrrrrr?
And it's the International Day to End Violence Against Sex Workers, if you're tuned in live, so we take time to speak out for the safety and honor of all sex workers.
Unfortunately, this ride isn't all about honor, Hot-Wax Hanukkah and joy to the world.
Indeed, this episode of FDR is a veritable linguistic sonata, not for the fainthearted as it delivers the raw political fury that can rage through the holidays with "conflict instead of continuity, ultimately deriving its impact from the explosive power of tonal organization (definition of "sonata").
Amen and Awomen. Praise be to the power of explosive tonal organization.
The center of the storm is Heidi, slipping into our Callin room like Krampus dressed up as Babbo Natale. It does feel like she's been crowding (stalking?) us a bit, calling in to last Saturday's "Yale, Jail, Sexual Grail and the Bonobo Trail," as well as my Dosed interview with Abby, and then back for this show. I managed to steer her into a good chat about bonobos and female orgasm last week, but this week, as soon as we put her on, the conspiracy theory lover who insists she's not into conspiracy theories started spouting one of her favorite (many times disproved) conspiracy theories about the Clintons in Arkansas. This set off Max, and when Max gets set off like that, there's no putting Jack back in the Box.


Yelling matches ensue, topping the screams of the first Saturnalia, even as I try, hopelessly and helplessly, to break up the fight, only to get caught in the crossfire, an object of disdain for both parties. Great radio, huh? Well, it's not our usual "slow radio" style, but it's the sort of verbal boxing match that many love to hear.
Of course, I'm on Max's side, and I mute Heidi, though I'd prefer to let her stay in the chat (without permission to speak) for the sake of "free speech," but Max had had it up to his eyeballs with her manic rightwing, Biden-trashing, DeSantis-boosting comments, one after the other in rapid succession. Free speech or trash talk, I wasn't about to insist she stay, especially since her incendiary comments were making my beloved husband uncomfortable and boiling mad enough to wrestle a reindeer.
But we do express ourselves, so if you get vicarious thrills from the raw unfiltered sounds of fresh marital discord live-on-the-air, this show's for you! It's also a great show for other reasons, such as the topics discussed above, and Max and I do eventually come together via bonoboësque make-up sex and mistletoe kisses, though the holiday conflicts rage on around the world, and the Hanukkah dramas continue.
Like a gift we can't open until the holiday, Max predicts that his friend Joe, aka Brandon, will drop all charges against Julian Assange. All Saturnalian conflicts aside, this is our Solstice wish.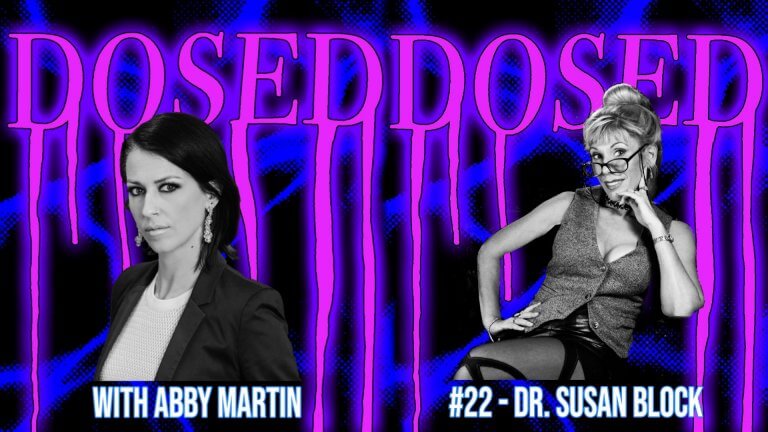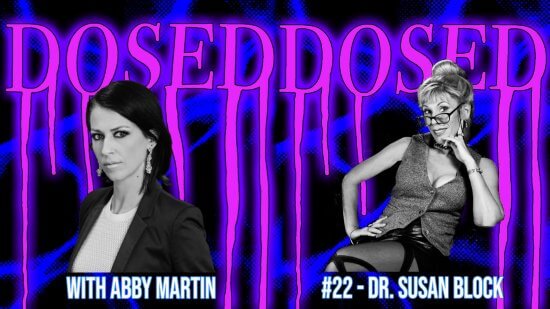 Speaking of drama, a couple LA Sheriff's deputies were caught having sex on the radio, and after they "fired the surgeon general," they got fired. Sure it was during working hours, but assuming it was consensual, I'd rather they have sex than shoot us, wouldn't you?
Show Length 01:26:17 HD
© December 17, 2022 Susan Block, Ph.D., a.k.a. "Dr. Suzy," is a world renowned LA sex therapist, author of The Bonobo Way: The Evolution of Peace through Pleasure and horny housewife, occasionally seen on HBO and other channels. For speaking engagements, call 626-461-5950.