Hanukkah Girls Gone Wild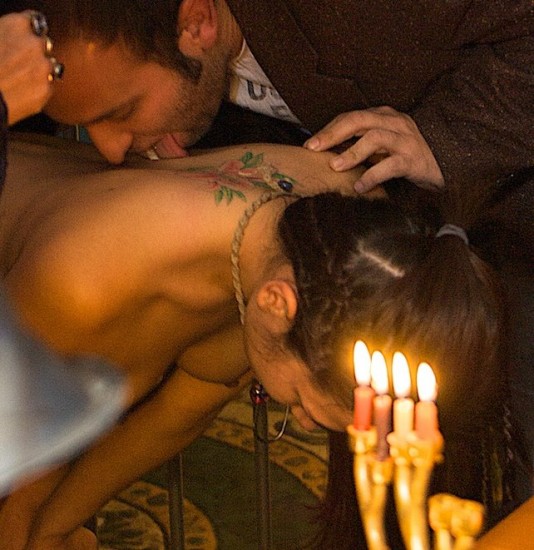 Length: 91 minutes
Date: 12/04/2010
Hanukkah Girls Gone Wild
We've seen a lot of girls go wild here at the Block Institute, but on this episode of the Dr. Susan Block Show we've got an expert on the subject: Ryan Simkin, former producer of Joe Francis' pop culture phenomenon Girls Gone Wild and author of the new book Flash: Bars, Boobs, Busted: 5 Years On the Road with Girls Gone Wild! Wild girls come in many forms, so we've also got the fierce dominant Goddesses Sadie Hawkins and Goddess Helena and porn star girlfriend and boyfriend Misti Dawn and Michael Vegas joining us at the Speakeasy to help the Irreverand Dr. Susan Blockcelebrate Hannukkah, radioSUZY1 style, with candle races, chocolate, Agwa shots, and plenty of bare breasts. For those not familiar with Girls Gone Wild, Ryan talks about his experience during the early "glory days" before the franchise's legal troubles, sharing a wild story about Paris Hilton and Joe Francis, whom Dr. Suzy met during Sex Week at Yale 2004, and his own stint in jail as a result of the aforementioned legal woes. As Ryan and Dr. Suzy discuss the fine art of getting girls (of legal age!) to go a little wild, they muse about the wider trend of females publicly embracing their sexuality as a source of empowerment rather than exploitation.
 Our two Goddesses most definitely own their empowered sexuality and are willing to wield it over others, as evidenced by their shirtless, shoeless submissive (the cryptically named Negative Eight) who kneels at their feet with a pair of black panties over his head. Goddess Sadie Hawkins last graced the Speakeasy at the 9/11 MiLFs, Man-Eaters and Bisexual Marines erotic after-party, flogging journalist Tiki Pavelle on the St. Andrew's Bondage Cross. This time, she gets some microphone time, sharing her background as an ordained minister in the Native American and Universal Life Church (from which Dr. Suzy—and anybody who wants to—is also ordained). Goddess Helena, also known as Mommy Fiercest, discusses her love of dominating and humiliating others through exhibitionism. Misti and Michael are no strangers to exhibitionism, and they've got extra incentive to let loose tonight as they celebrate their AVN Award nominations. Michael is up for Best Male Newcomer (won last year by past show guest Dane Cross), a prestigious honor indeed, bust he's also excited for his upcoming role as Eros at our upcoming orgiastic Eros Day celebration (January 22, 2011 )! Misti will play the role of Venus during this sensual and sexual celebration of the Greek God Eros, who blew the breath of life into all things (the primordial blow job, according to Dr. Suzy) and the phallic planetoid closest to earth in mid-January.
 To get in the orgy spirit, a flurry of Agwa shots ensues, with salt licked off bare breasts and, in Michael's case, bare cock. No matter how secular we are in spirit, we love our holidays, and Dr. Suzy leads the Hannukkah prayers and candle races as she makes it rain chocolate gelt.  Wild girls are still on the mind, though; the guests notice an audience member's fishhook necklace and call Leilani Figueroa, gorgeous companion of Dark Phoenix, to the microphone to share her own recent wild forays involving suspension by hooks in her back. The scars are still visible, and Ryan is the lucky one who licks his Agwa salt off her lovely, though scarred back glowing in the Hanukkah candlelight. The show closes as Goddess Sadie wins the candle race and Dr. Suzy condemns the imprisonment of both Girls Gone Wild's Joe Francis and Wikileak's Julian Assange, just accused of rape in Sweden at a time when he is wanted by the U.S. for embarrassing Wikileaks.  Politics returns to erotica as the girls get even wilder in the post-show erotic after-party, where Leilani takes a dramatic flogging while chained to the St. Andrew's cross, newly collared Siren Selene and Exceter Miles get busy with their floggers in the webcam room, and Michael and Misti just get busy, very busy.
 Considering it's a mitzvah–good deed–to make love to someone you love on a holiday, we'd say this Hannukkah night was filled with more than enough good deeds to go around and around again!
---
Explore DrSusanBlock.com
Need to talk? Sext? Webcam? Do it here. Have you watched the show? No? Feel the sex. Don't miss the Forbidden Photographs—Hot Stuff, look at them closely here. Join our private social media Society. Join us live in studio 😊. Go shopping. Gift shop or The Market Place. DrSusanBlock.tv, real sex TV at your toe tips. Sex Clips Anyone? FASHION, we have fashion! We also have politics. Politics? Have you Read the book? No? How about the Speakeasy Journal? Click here. Ok, how about some free sex advice?
---