#GoBonobos in 2023 & RIP Willem de Ridder
It's our first live show of 2023 and the birth of a new year, but it's also the death of a good friend, Capt'n Max's former partner in revolutionary publishing, radio, art and adventure, Willem de Ridder.
So, besides making our annual resolution to Go Bonobos in 2023—with a few detours into current events, sex, politics, censorship and The Bonobo Way—we spend most of this podcast talking about Willem, his life, work and the history of underground sex publishing in LA, with a few exciting expeditions to Rhode Island, Holland, Italy and beyond.
A multi-media artist, storyteller, painter, publisher, radio and TV producer, inventor, musician, actor, talk show host, sound and costume designer and much more, Willem de Ridder was also the chairman of the FLUXUS art movement in Northern Europe, collaborating with prominent innovators like Nam June Paik (said to be the founder of video art and to have created the term "information superhighway" in 1974), as well as Misja Mengelberg, Dick Raaymakers, Louis Andriessens, George Maciunas, Wim T. Schippers and Andrew McKenzie. "Internationally famous in Holland," Willem also produced the film series, "Sad Movies," founded the esoteric organization, Hollandia International, and organized, with American expatriate Bill Levy, the first International Erotic Film Festival. One of Willem's greatest and most controversial claims to fame was SUCK, the first European erotic magazine, which he founded and published. SUCK featured luminaries such as Germaine Greer, baring all in sex-positive prose and very explicit pictures, and found its way around the world and into the hands of another young publisher named Maximillian R. Lobkowicz, aka Mickey Leblovic.
Then Willem met Mickey, and the two began a great friendship and collaboration, publishing some of the most innovative sex magazines and journals, including Love, Hate, Finger, God, Annie Sprinkle's Hot Shit, The Sprinkle Report, The Ladies Room, the LA Star, Sound Finger (the first talking magazine) and more. They also plundered the European airwaves, producing remarkable "pirate" radio shows in Italy, whose influence can be heard in many modern audio productions, including our own FDR. They worked with many great artists and porn stars like Annie Sprinkle (who was Willem's lover in Italy), "Alien" creator Dan O'Bannon, Geraldo Rivera's ex-girlfriend and erotic journalist Marco Vassi. Together, accompanied by their families, lovers and hippie *groupies,* they trailblazed free speech as they traveled through Europe and America, making art, getting busted (22 times) and publishing "reader-written" magazines that changed the world.
Yes, changed the world. Now, with social media, 90% of what most of us read is "reader-written," but back in the Swinging '70s, it was unusual if not blasphemous to publish the prose, photos and art of readers—not professionals—with virtually no editing or judgment. An amazing, if unheralded accomplishment for Max, Willem, the Star Family and surrounding hippie groupies.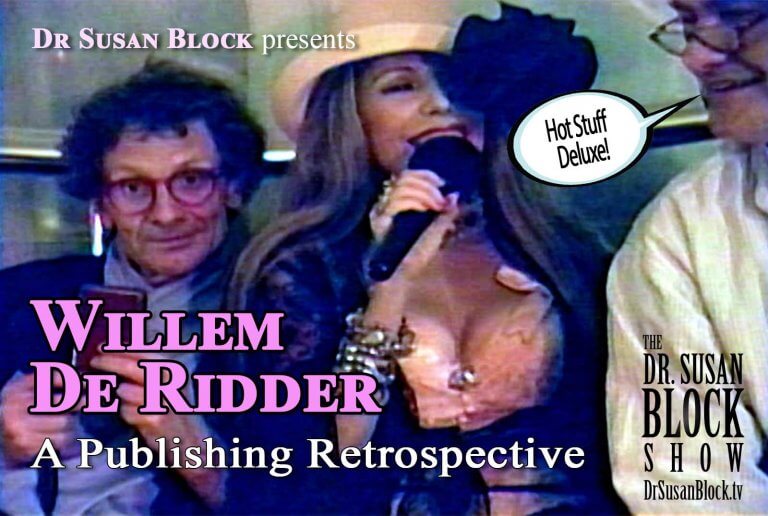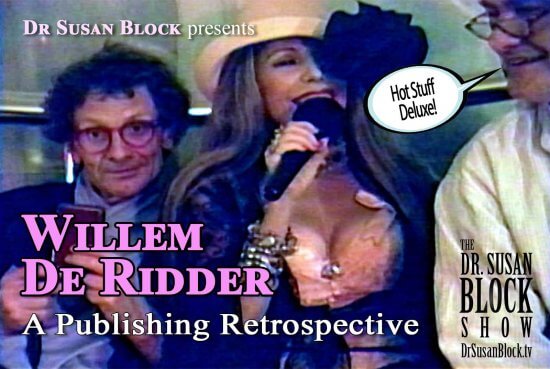 We heard that Willem, who suffered from asthma, had passed away after contracting Covid, and considering his condition, it's a miracle he lasted into his 80's. Though we have talked about this great man in Max's life many times and will continue to do so, on this show, we say farewell to his physical body on Earth. There are way too many stories to tell in one show, but Max tells quite a few unforgettable tales here, including one of their more slapstick police chases that inspired a scene in Beverly Hills Cop.
For more stories, including how the Manson Family tried to kill them—and much more—listen to my radio interview with Willem and Max in 2008.
I also interviewed Willem and Max on The Dr. Susan Block Show (video) back in 1995, where we displayed an exceedingly rare trove of copies of Finger, Love, Hate, God, etc. shared with us by a magazine collector for this special retrospective. Actually, it's so "special," that when we brought it out of archives recently, we noticed that we can't even show some of the material nowadays without risking another raid. Ugh. Self-censorship is a terrible thing, but better than being shut down and possibly locked down by politicians owned by corporations.


Before we go, we manage to squeeze in a few shoutouts to our beloved SUZY award winners, some of whom are in the Callin chat; to our old friend, Ron Jeremy, who has been declared "incompetent" to stand trial due to "severe dementia" that's been brewing for the past decade; to our friends in Louisiana who now have to show their driver's license (or some government issued ID) to Big Brother to watch porn; to Prince Harry losing his virginity in a field behind a pub to a horse-loving older woman (#GoBonobos for Cougar Power) who (he says) spanked and humiliated him—oh, and then there's the thing about his brother assaulting him (how unbecoming for a royal Prince of Pegging—or anyone else!); to Julian Assange, still tragically imprisoned for practicing journalism; to the MAGAts in Congress creating the political chaos that their oligarchical sponsors pay for them to create, so nothing can get done for the people and everything can get done for the rich.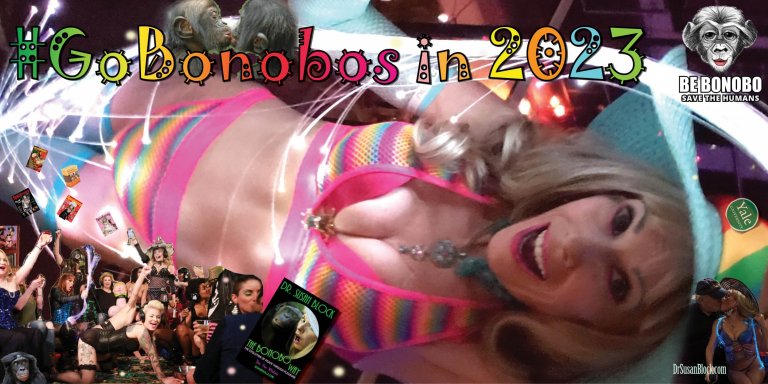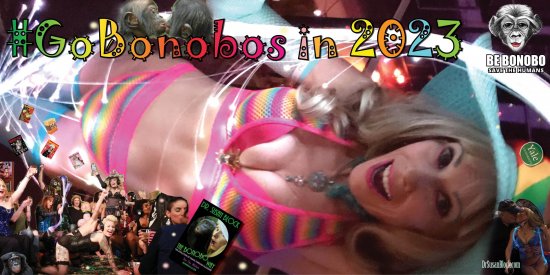 Go Bonobos in 2023! Make Kink Not War! Get the T shirt! Stand for peace and kink as the wars rage for the benefit of no one but the arms dealers.
And google Willem De Ridder! Prepare to be inspired.
Show Length 01:35:15 HD
© January 7, 2023 Susan Block, Ph.D., a.k.a. "Dr. Suzy," is a world renowned LA sex therapist, author of The Bonobo Way: The Evolution of Peace through Pleasure and horny housewife, occasionally seen on HBO and other channels. For speaking engagements, call 626-461-5950.
---
Explore DrSusanBlock.com
Need to talk? Sext? Webcam? Do it here. Have you watched the show? No? Feel the sex. Don't miss the Forbidden Photographs—Hot Stuff, look at them closely here. Join our private social media Society. Join us live in studio 😊. Go shopping. Gift shop or The Market Place. DrSusanBlock.tv, real sex TV at your toe tips. Sex Clips Anyone? FASHION, we have fashion! We also have politics. Politics? Have you Read the book? No? How about the Speakeasy Journal? Click here. Ok, how about some free sex advice?
---
---