Bedside Chat 22: Going Deep with David Steinberg & Flying High with Crystal Taylor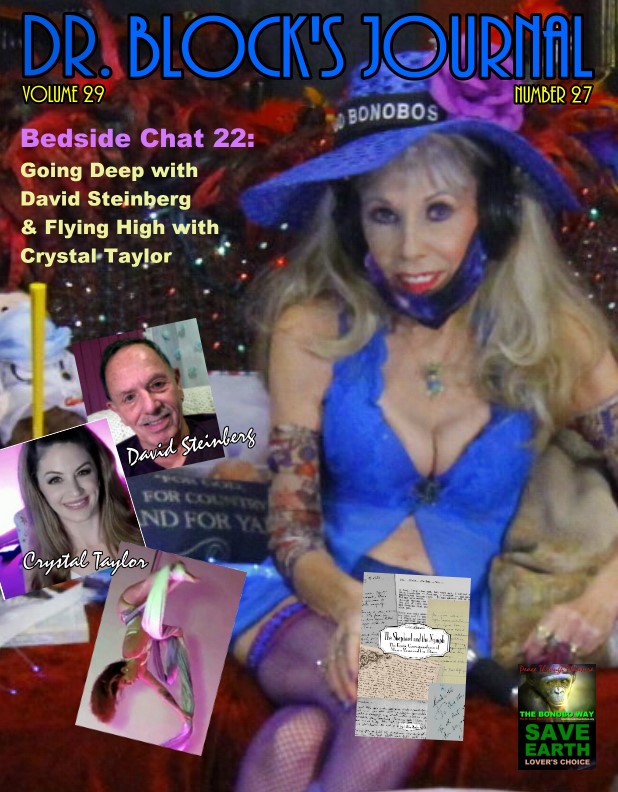 Length 1:32:29 Date: Sept. 26, 2020
by Dr. Susan Block.
From the depths of epistolary sex confessions to the heights of aerial silk performance art, this show takes us on a trip of amazing sights and erotic discoveries.
First we dive deep into the very personal letters of Marco Vassi, the celebrated "Marco Polo of sex" in the 1960s-80s, with veteran author/editor David Steinberg. Then we fly high in the sky (well, up to the skylights) with stunning erotic aerialist Crystal Taylor.
Oh, and we also discuss politics!
Talk about highs and lows. What crazy, precipitous times we are living through.
New Bonobo Way & Old Censorship
It's my 22nd Bedside Chat of the Coronapocalypse, inspired by FDR's Fireside Chats, here to comfort, inform, eroticize and inspire you to seize the day—in a Bonobo Way.
Speaking of which, my newest Bonobo Way talk at DomCon 2020 Virtual is now on Youtube!
Unfortunately, you'll have to sign in with your birthdate. Even though this video contains no naked humans whatsoever—just a few naked bonobos—it has been thrust nonconsensually into the "Age-Restricted" gulag.
It's not just me and the bonobos; Youtube has let it be known that the future is censorship, the censoring primarily of erotic expression.
In a period of sex panic, scandal and heightened suspicion, it's tough to stay sex-positive.
In the era of SESTA/FOSTA, all sex workers are treated as terrorists, and everybody else who tries to express themselves sexually is treated as a dangerous pervert that must be censored lest the tender populace get the dangerous idea that erotic pleasure might be fun.


The only thing the Trumpus likes better than a "stacked" woman is a court stacked in his favor.

In the time of the pussy-grabbing Trumpus, the radical anti-sex Religious Right is flexing their murderous might, pushing one of their "Handmaids," Amy Coney Barrett, a longtime devotee of the fringe Catholic sect, People of Praise, as a replacement for the late great champion of women's rights and sexual freedom, the "Notorious RBG," Ruth Bader Ginsburg.
Barrett appears likely to vote towards overturning hard-earned women's liberties like Roe vs. Wade, and LGBTQ rights, not to mention minority voting rights, environmental regulations, government support for health care, as well as freeing the rich to buy even more political influence than they already have. Despite all this—or maybe because of it—tasteless Republicans are calling her "The Notorious ACB," in a clear insult to Ginsburg before her corpse is even in the ground.
Beyond that, cute, sweet-looking little Amy was on the team that handed the 2000 Presidency to Bush! So were Brett Kavanaugh and Chief Justice John Roberts. No wonder Trump wants SCOTUS to determine the election. The only thing the Trumpus likes better than a "stacked" woman is a court stacked in his favor.
The energized American Religious Right is also pushing another ultra-Catholic legalist, the slimy, Trump-butt-licking AG Bill Barr (who should be disbarred for behaving more like Trump's personal lawyer than U.S. Attorney General) into cracking down on all forms of sexual expression—except Daddy Donald's pussy-grabbing, of course. They're painting porn as a "public health crisis" more serious than COVID-19. Interesting factoid: Bill Barr's Dad (born Jewish, but converted to Catholicism and soon out-Catholic'ed the native Catholics) hired Jeffrey Epstein to teach kids in his elite private school.
Now they're trying to resurrect ancient obscenity laws that years ago imprisoned sexual pioneers like my husband Capt'n Max, who was shackled and tortured (and not in a fun, consensual way), so we could be free.
Now that freedom is being taken away, a little bit every day.
READ "FALWELL FALLS" in COUNTERPUNCH


Arch Evangelical Jerry Falwell, Jr. has fallen from grace—and he didn't fall well.
He literally fell down drunk, hitting his head on a trashcan, after he was forced to resign as president and chancellor of Liberty University—a fully accredited American college that teaches "creation science," the idea that Earth was created 5,000 years ago, and forbids its students from indulging in alcohol or any kind of sex outside of marriage.
Liberty was founded by Jerry, Jr.'s Dad, the late Reverend Jerry Falwell, Sr., a.k.a. Mr. "Moral Majority," the rabid reactionary segregationist Southern Baptist pastor and Reagan-boosting televangelist who put rightwing Evangelicals squarely on the political map, planting the seeds of White Christian Nationalism now blooming under the least Christ-like President ever and his piously hateful Veep.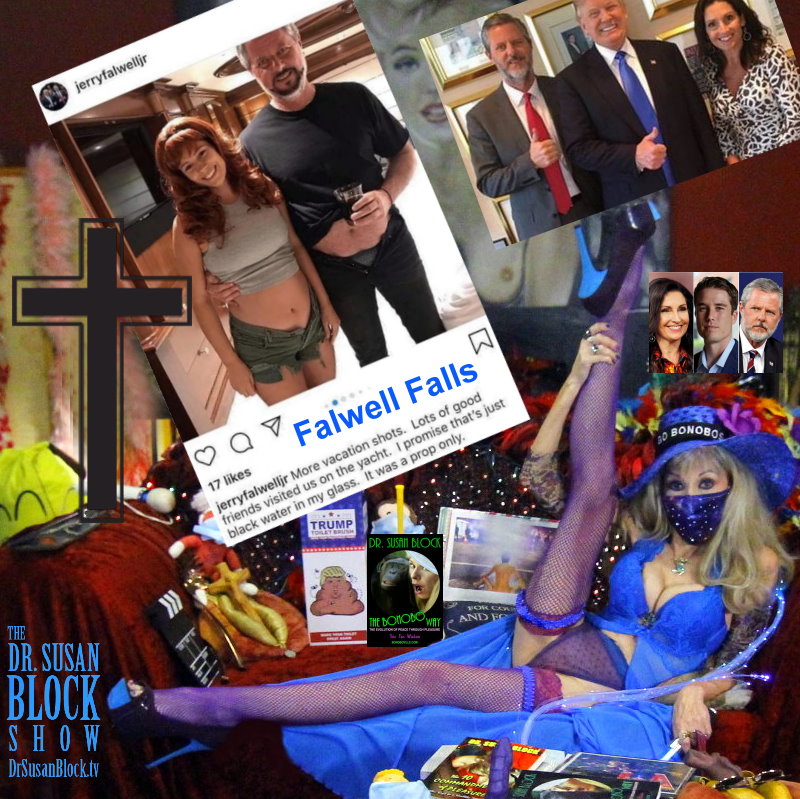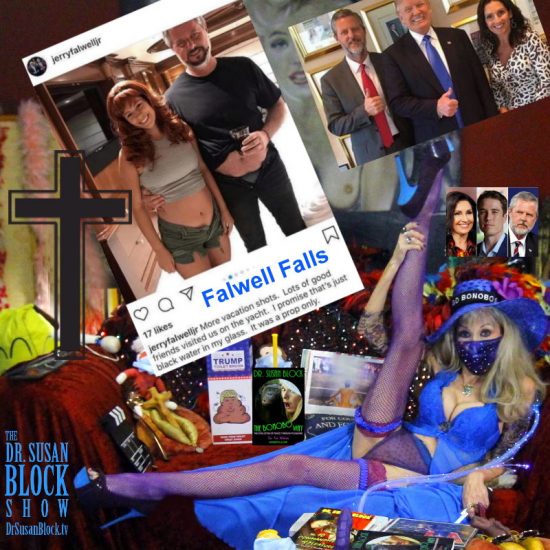 There were a few triggers for Junior's demise, all containing a sexual element that would have been excoriated by Falwell, Sr… if he hadn't crossed over to the Promised Land in a sudden attack—no, not of conscience, but of cardiac arrhythmia in 2007.
One such trigger was Jerry, Jr.'s exposure as a cuckold engaged in a three-way relationship with his "hot wife" Becki and a Miami pool boy named Giancarlo Granda (called a "bull" in the world of modern consensual cuckoldry). Though Jerry likes to describe Becki and Giancarlo as "cheating," the bull has got the goods.
Photos, receipts and phone records make it clear as the heavens above that Falwell set up the sex the same way he set up the deal for the Fontainebleu Hotel pool attendant to acquire part ownership in a building Falwell purchased containing an LGBTQ-friendly youth hostel, restaurant and liquor store.
As Giancarlo describes their fateful first meeting at the pool, "Becki [Falwell] approached me and invited me back to their hotel room to have sex while Jerry watched… After that night, Becki actively pursued me."
Sounds like the sex was divinely inspired.
Thus, Jerry Falwell, Jr. joins the swelling ranks of prominent Trumpus-loving cucks-who-deny-their-cucks, including Paul Manafort and Roger Stone.
Unlike tweeting racist memes or calling a COVID-concerned parent of one of his students a "dummy," Falwell's cuckold scandal was a bridge too far for Liberty.
Then there's that viral "yacht" photo of Falwell, Jr. jauntily posed with his pants unzipped, prosperous belly protruding, glass of dark liquid in hand, which he cheekily described as "just black water… I promise." Looks like a Black Russian… straight up Orthodox, of course.
"Falwell Unzipped!" would be enough of a Fundamentalist Christian crisis, but his arm (the one without the drink) is wrapped cozily around a smiling woman who is not his wife, her shorts similarly unfurled.
Heaven forfend!
Nothing wrong with unzipping as you unwind, indulging in a little erotic play among friends or consensual cuckolding with pool attendants, at least not in this sexologist's not-so-humble opinion.
However, this sort of natural, slightly kinky, bonoboësque behavior becomes a big issue when you regularly thump the Bible, support anti-sex legislation and preach to your tender, trusting flock that sex should only be for procreation purposes between husband and wife. Jerry Junior isn't a pastor like Dad was, but as president and chancellor, he was the spiritual leader of Liberty, and he certainly cashed in, making millions off devout Christian students who yearned so badly to believe.
Furthermore, Granda's accusations of the Falwells "grooming" him for his bull role at the tender, albeit legal, age of 20, are pretty disturbing.
All in all, the whole duplicitous, sordid cluster-church qualifies as the 2020 textbook definition of religious hypocrisy.
So, it's Good News to see Falwell fall like an untrained aerialist who had a few too many Black Russians tumbling off the high wire into a puddle of poop.
That's a metaphor; there's no evidence (yet) that the Evangelical scion is into brown showers. Just "black water." Wait, isn't Blackwater the former name of the nefarious private military company owned by tRump's Education Secretary Betsy Devos' brother Erik Prince that serviced Born-Again Bushie's faith-based Perma Wars? Yep, this Crusade's been going on for years.
Falwell's fall is especially good news since, back in 2016, his support (secured by Disloyal Drumpf henchman Michael Cohen whose Mafia-lite intimidation skillset helped Falwell keep Granda quiet for a few years) got Trumpty Dumpty the White Evangelical vote—from one trashcan to another—even after the notorious "pussy-grabber" video emerged.
Apparently, the Combover Caligula is worthy of their worship—as long as he remakes the Supreme Court in the image of his favorite female body type ("stacked") —but Jerry Unzipped is a liability.
Now that they've fallen—literally and figuratively—maybe Jerry and Becki will make cuckold porn.
I'd watch it!
Though they might need another bull. Granda's ascent from pool boy to part owner of that gay hostel to scandal celebrity has probably made his current rate higher than a fallen Falwell can afford.
Of course, they could repent and be born again. America loves a comeback, and Evangelicals often adore a sinner who swears off the sin and returns to the faith with even greater gusto.
On the other hand, it would be nice if, after Falwell's head heals (there was "a lot of blood"), he sobers up a bit and gets into some good sex therapy and/or relationship counseling. Then he could announce that he and Becki are a polyamorous, swinging or cuckolding couple (I'll leave the kink descriptor for them to work out), and withdraw his support for Proud Boy-Loving, Pussy-Grabbing Don the Con.
I'm not holding my breath, but stranger things have happened in the whacky world of sex, religion, politics and cuckoldry.
P.S: Let's tax the churches—and all houses of religion. They are not unbiased sanctuaries of spiritual worship. They are financial juggernauts powering political vehicles that are often driven by drunks.
READ "FALWELL FALLS" in COUNTERPUNCH

Meanwhile, there is no justice for Breonna Taylor and so many other Black Lives that matter.
Meanwhile, Civil War brews on American streets, stoked by the Combover Caligula (with apologies to the real Roman Emperor Caligula who may have gotten a bad rap, at least according to the late great Lady Caligula author and porn auteur Lasse Braun) in the White House who's really just a failed businessman with the skills of a lifelong grifter.
Meanwhile, corporations are taking over what's left of America, as the "rich get richer" (with appreciation to Percy Bysshe Shelley), and the poor die faster. The Covid death count in America passes 200,000, disproportionately striking poor people of color, which the Trumpus defines as "virtually nobody."
Meanwhile, when a reporter asked tRump if he'll respect the vote for a peaceful transfer of power, he casually replied, "Get rid of the ballots and there won't be a transfer… there will be a continuation."
Say what?
A joke, mistake or planned strategy to unconstitutionally hold onto power, them's fascist words, Brothers and Sisters.
So, I'm in Blue not just because I like the hue, but because I want you to Vote Blue.
The Dems are not perfect. Indeed, like almost all politicians these days, they're pretty bad, corrupt, craven and beholden to their corporate benefactors. Nevertheless, they are by far the "lesser of two evils," and that other evil is so great, we ought to do whatever we can to stop it.
So, let's not Make America (the) Great(er Evil)!
Let's make America Bonobo. Let's make America decent. Let's make America loving.


I'd love to say "We can do it!"
However, this country is so viciously torn apart right now, I honestly don't know if we can.
I do know that we have to try. Well, I have to try, and I hope you try too.
My Bedside Chats are one way we try to make a difference in a Bonobo Way.
First, I introduce the beautiful and bubbly Bunny Bee, one of this show's associate producers.
She's looking festive and stylish in her handmade Versace fabric facemask and shades.
During a break, she goes off, then comes back wearing pink bunny ears.
I ask if she's "releasing her inner rabbit."
"Yes!" she exclaims and reveals her nickname is "Bunny Bee."
Bunny Bee is just as excited as I am to meet our two featured guests.
If she had a cottontail, it would be wiggling with anticipation!
Going Deep with David Steinberg & Marco Vassi
Our first guest is David Steinberg, prolific writer, author, editor, activist, "sexual enthusiast" and old friend of Capt'n Max.
I first encountered David when Max and I were newlyweds, in the early 1990s, when he wrote about some of Max's old, sex-revolutionary, reader-written publications from the 1970s and early 80s, Love and Finger, for the Spectator Magazine.
That article has since been published in This Thing We Call Sex: A Radically Sensible Look at Sex in America, a collection of David's writings and photographs.
We also published one of David's articles that was written back in 1994 (and that we posted in 1996, in the very early days of the Internet), "A President and His Underwear," all about Bill Clinton's briefs… and I don't mean his legal documents.
Now David has edited a very special, historic and enthralling new book, The Shepherd and the Nymph: The Erotic Letters of Marco Vassi and Eve Diana.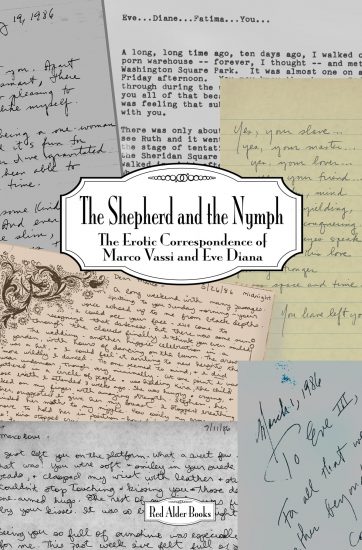 Just in case you don't know your sex-revolutionary literary history, Marco Vassi was the Marco Polo of sex in the 1960s and '70s when sexual revolution accompanied political revolution.
Marco Vassi was a great, sapiosexual, confessional writer, sometimes compared to Norman Mailer, always writing about what he did, felt and lived in as authentic a voice as could be mustered in those days of mass erotic awakening.
This book of private letters between Marco and his lover, Eve Diana—also an excellent erotic writer and sexual confessionalist—is a fascinating exploration of lust and trust, love and despair, openness and jealousy and deep personal discovery.
I told you we go deep on this Bedside Chat!
These profoundly personal, sometimes erotic letters were never meant for publication, but just for the eyes and heart of the other lover. Nevertheless, I can't help but wonder if, on some level, Marco Vassi knew they would at some point see the light of publication, and if there's a heaven, he's smiling to see it happen at the hands of a masterful, minimalist editor (he only fixed some typos and left almost all of the original content as it was), David Steinberg.
We do know that Eve Diana is happy about it as she provided the letters, stored away for over thirty years. So is Marco Vassi's son, Eric Van Johnson (whom David tracked down for permission to publish the letters), a married professor leading a relatively normal family life, but not so "normal" that he's not proud of his sexual renegade father.
Eve met Marco in 1986, introduced by longtime friend and lover, Dr. Annie Sprinkle, and she almost immediately fell in love with him, even though she wasn't really on the market for sex or an intimate relationship, and even though our other friend and mutual mentor, Dr. Betty Dodson, warned her against falling into the deep dark well that was Marco Vassi.
But she fell for him anyway, and Marco fell hard for the beautiful, intelligent, sexually adventurous Eve (over 20 years his junior)—body, mind and soul—though the fire of their intense relationship burned out after just eight months.
These beautifully composed letters overflow with love and lust, but also serious trust issues and white-hot jealousy, mostly on Marco's part, even though he admittedly cheated on Eve. Whoever said jealousy depended on fairness?
Marco's sadomasochistic obsession with Eve's "lovers" (with whom she didn't even have sex… for the most part) is so deep and somewhat shocking—especially considering his reputation as a pansexual satyr for whom anything goes, as long as it's consensual—that I wonder if he had a bit of a cuckold fetish with a dash of emotional humiliation for that spice that burns the palette and the heart.
From Marco Vassi to Jerry Falwell, Jr., the cuckold fetish cuts across party lines and moral constructs.
Not that he's mentioned in these letters, but the 1980s was also the decade when Donald Trump emerged in New York media as a brash real estate mogul (mostly propped up by his father's millions), who was famously despised by New Yorkers of taste and decency. Little did we know how far the "short-fingered vulgarian" would go…
Filled with personal revelation and kaleidoscopic detail, Marco and Eve's letters pretty much never discuss politics. Nevertheless, one senses that deep foreboding that pervaded the Reagan years (for some of us), as the American pendulum was swinging towards sex-negativity, though lots of folks were just swinging—even more than during the Sexual Revolution of the so-called "Swinging" '60s and '70s—and having a helluva time.
In 1986, people were also just starting to take the bitter medicine of truth about AIDS and HIV, how it was transmitted (mainly through rough, unprotected anal sex and sharing needles, but sometimes through other acts of sexual intimacy) and its deadly, devastating impact on human life. This lingering ignorance was, in part, due to the reluctance of the Reagan administration to address the reality of the "gay" disease that was killing so many human beings. Sound familiar?
Perhaps unsurprisingly, Marco contracted HIV, getting the diagnosis shortly after his break-up with Eve. It is somewhat surprising and very disturbing that he didn't tell Eve!
Leave it to no-nonsense, down-to-earth Betty Dodson to tell Eve the bitter but vital-to-know truth. The good news is that she—somewhat miraculously, considering all the unprotected anal and other kinds of sex they had—tested negative.
Did Marco Vassi die of AIDS? In his afterward, David attributes Marco's death to "self-induced pneumonia," though he doesn't explain exactly what that means, so I ask him on our Bedside Chat.
Apparently, a distraught and sickly Marco ventured outside on a very cold Winter's night wearing nothing but his boxers, deliberately contracting pneumonia which soon killed him.
Early in their letter-writing saga, Marco expresses despair that all the sex-revolutionary enlightenment and progress, to which he and so many others had dedicated their lives, was being eroded by rightwing backlash.
With the nomination of Amy Coney Barrett to the U.S. Supreme Court, the erosion continues apace.
David is keenly sensitive to this situation. Indeed, his own Facebook avatar is a photo of Ruth Bader Ginsburg. Ironically, when I first saw it, I thought it was just an odd photo of him or maybe his Aunt Ruth. We laugh about that, then sober up as he contemplates the SCOTUS with yet another radical rightwing jurist on the bench.
Capt'n Max and I also congratulate David, along with the Free Speech Coalition (FSC) and several other erotic artists, photographers and pornographers, for their legal triumph, a "victory of common sense over hysteria" in hysterical times.
Essentially, the Federal Third Circuit Court of Appeals ruled on their Section 2257 lawsuit challenging the constitutionality of extreme record-keeping requirements related to the production of sexually explicit photographs and films.
Watch the show below or listen above to David give more details on this refreshingly positive ruling that's so important to everyone who makes erotic and/or sex educational content.


It's great to chat with David, whom we haven't seen since he and his longtime partner Kim Mears were at our Bonobo Way Launch Party. We're thrilled for his latest literary accomplishment and we hope to see him again soon… Coronapocalypse willing!
Flying High with Crystal Taylor
Having plumbed the depths of sexual revelation, we now ascend the heights of erotic aerial silk performance art with Crystal Taylor.
A beautiful, multi-talented actress and erotic performer, Crystal found DrSuzy.Tv through our good friend Ikkor the Wolf.
She's an erotic aerialist as well as a roller skater. Both activities make her feel like an "angel," she tells me.
Crystal certainly looks like an angel. Watching her skate, climb the aerial fabrics or "fly" around her ceiling is certainly a heavenly experience.
She reminds me of one of my former producers, acrobat Tasia Sutor, who often "flew" on her trapeze in the huge afterparties we held in our gigantic Downtown loft 2011-13, as well as one of our recent guests, Dutch champion gymnast-turned-porn-star Verona Van de Leur.
But Crystal's more Circus-y—like Cirque du Soleil for adults.


According to the notorious Dr. Sigmund Freud, dreams of flying tend to be about sex.


After we chat for a bit, she treats us to a visual spectacle that lifts our spirits as she rises.
I've seen aerial silk performance before, and I've even done a bit of it myself, but Crystal is clearly a pro.
She commands those silks with great skill, doing splits, flips and head-spinning spins.
And she makes it all look as natural and effortless as a bonobo swinging through the trees.
According to the notorious Dr. Sigmund Freud, dreams of flying tend to be about sex. Of course, Freud said the great majority of items and actions in dreams are symbols of some kind of sex, fetish, frustration or desire.
But flying is rather special because it symbolizes sexual release, a.k.a., orgasm.
Crystal enthusiastically agrees that flying—on her skates or her silks—feels like an erotic release for her.
She also takes it to the next level, having sex with a physical trainer while she's hanging from her silks.
Wow!
Though she does some very cool "regular" porn, we're most impressed by her aerial erotica.
We're also impressed when she says she's 39 years old, since she looks at least a decade younger than that.
Apparently, flying is a fountain of youth—at least for Crystal.
She's also very Zen about life. When I ask what her future plans or fantasies are, she shrugs and expresses gratitude for all she has and what she does right now. She's as happy as she can be, says this Angel of Aerial Erotic Art.
And we're very happy to watch her!
Post-Show Denouement
Then before we can say the show's over, it is.
Half my crew joins me on stage, masked up and physical-distancing.
Well, our physical-distancing won't win any awards.
But we are wearing some cool masks.
Mine is a graphic of the Milky Way (not the candy).
The only one without a mask is Chico Peggles Quintana, Ana's new and ridiculously adorable Pomeranian puppy who lets me hold him for the photos, as long as he can lick my face between shots.
Speaking of shots, almost-teetotaler Harry Sapien gets half of Bonoboville drunk as Jerry Falwell, Jr. on a bender.
The drink of choice is Midori, a sweet Japanese jade liqueur that tastes like liquid marzipan, though it's supposedly "melon"-flavored.
Whatever it is exactly, it's too delicious to resist for most of Bonoboville.
Drunkenly, we slobber over Adriana's special deck of sexy Tarot cards, the Tarot of Sex Magic, that almost makes my Aleister Crowley Thoth Tarot Deck look like the Disney version.
Well, not quite. Aleister's deeply kinky deck will always be my favorite.
Then we drink some more, engaging in intense political discussions that I can't possibly remember, thanks to Midori.
And we all stumble off to wherever we're going, Capt'n Max and I falling (but not like Jerry Falwell please!) into each other's arms in orgasmic bliss that might not be as wild as Marco Vassi or as high as Crystal Taylor and certainly isn't as sacred as Amy Coney Barrett.
But it's just right for us.
September 26, 2020 Susan Block, Ph.D., a.k.a. "Dr. Suzy," is a world renowned LA sex therapist, author of The Bonobo Way: The Evolution of Peace through Pleasure and horny housewife, occasionally seen on HBO and other channels. For speaking engagements, call 213-291-9497.
BEDSIDE CHAT 22 PHOTO ALBUM
---
Explore DrSusanBlock.com
Need to talk? Sext? Webcam? Do it here. Have you watched the show? No? Feel the sex. Don't miss the Forbidden Photographs—Hot Stuff, look at them closely here. Join our private social media Society. Join us live in studio 😊. Go shopping. Gift shop or The Market Place. DrSusanBlock.tv, real sex TV at your toe tips. Sex Clips Anyone? FASHION, we have fashion! We also have politics. Politics? Have you Read the book? No? How about the Speakeasy Journal? Click here. Ok, how about some free sex advice?
---
---