Coralyn Jewel interviews Dr. Susan Block on "Embrace"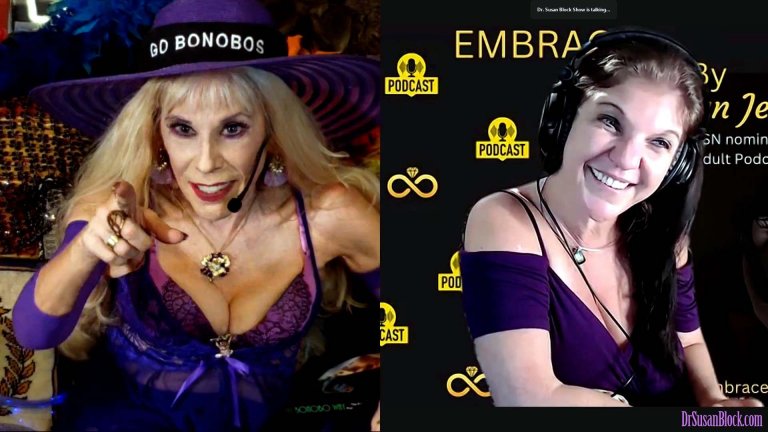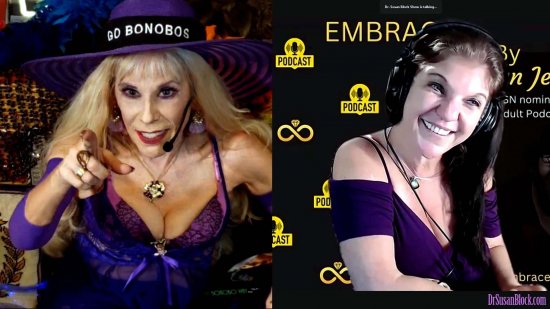 Sex-positive alternative relationships expert Coralyn Jewel interviewed renowned sexologist Dr. Susan Block, aka "Dr. Suzy," on her award-nominated podcast "Embrace" about human sexuality, censorship and the state of the world. The interview kicks off Season 4 of Embrace, "Open Up," and is now available for your listening and viewing pleasure and knowledge on multiple platforms.
Subjects of discussion include:
Dr. Suzy's Philadelphia upbringing, family, Yale University education and other early influences on her life, loves and work as a sexologist and sex therapist in private practice.
Phone Sex Therapy and video therapy with the Dr. Susan Block Institute (where Coralyn is a therapist).
Bonobo apes, Dr. Suzy's book and her philosophy of the Bonobo Way of peace through pleasure (bonobos don't kill each other!), female empowerment, male well-being, sharing, caring and lots of great sex!
Dr. Suzy's relationship with Pr. Maximillian R. Lobkowicz, aka "Capt'n Max," her husband of 31 years, executive producer of The Dr. Susan Block Show, publisher of The Bonobo Way: The Evolution of Peace through Pleasure, Dr. Block's Speakeasy Journal and many other publications, and co-host with Dr. Suzy of F.D.R. radio.
Dr. Suzy's definitions of "Sexual Fetishes," "Phone Sex," "Striptease," "Spanking" and "Cuckolding" published in the Wiley-Blackwell Encyclopedia of Human Sexuality.
Censorship in America, YouTube's termination and META's deactivation of Dr. Suzy's various accounts and channels, and how she is taking META to arbitration—and YouTube will be next!
Vice TV's new documentary on Dr. Suzy and Bonoboville (including an appearance from Coralyn at the Bonoboville Reunion) which is "salacious, suspicious and rather sanctimonious," inciting anti-sex comments, especially compared to the shameless sex-positivity of the #1 Nielsen-rated documentaries Dr. Suzy did with HBO.
How to balance your personal sexual needs with respect for the so-called *morals* of your more prudish family—especially if you live with them!
How to prevent our erotic humanity from being destroyed by the billionaires and their bots.
Other topics include the power of kink, masturbation, sexual fantasies, cuckolding, relationship counseling, religion, fantasy roleplay, virginity, erotophobia, taboo thoughts, mother issues, Yale thongs, Bedtime Stories for Adults, The 10 Commandments of Pleasure, embracing your sexuality and more!
Watch it on YouTube
Listen on Spotify
Listen on more platforms
Screenshots from "Embrace"


+Photos from the Day in Bonoboville
---
Explore DrSusanBlock.com
Need to talk? Sext? Webcam? Do it here. Have you watched the show? No? Feel the sex. Don't miss the Forbidden Photographs—Hot Stuff, look at them closely here. Join our private social media Society. Join us live in studio 😊. Go shopping. Gift shop or The Market Place. DrSusanBlock.tv, real sex TV at your toe tips. Sex Clips Anyone? FASHION, we have fashion! We also have politics. Politics? Have you Read the book? No? How about the Speakeasy Journal? Click here. Ok, how about some free sex advice?
---
---