31st Wedding Anniversary Easter Resurrection
by Dr. Susan Block.
Popping open our 31st wedding anniversary week like a bottle of bubbly with a couple of effervescent orgasms, Capt'n Max and I bunny-hop onto F.D.R. for an Easter Eve ride through the Tunnel of Love along the Bonobo Way. Speaking of joyful trips through your lover's love tunnel, take a tip from your elders (that's us):
Make love first if you want to make love last.
When celebrating a romantic milestone, try to have sex towards the beginning of your big day, night or week, just in case—after a heavy meal or a little fight—it doesn't work out later. If it does, well, you can always do it again… and again.
That's how we roll down the tracks—from the collapsing Capitalocene to the Bonobocene of our wet dreams—all while getting ready for our Great 31st Anniversary RV Adventure up the Left Coast to parts unknown.
Watch One of Our Great Orgiastic Wedding Anniversary Bacchanals…
Persephone Has Risen!
It being Easter Eve, we also explore "resurrection," a theologically serious but subtly salacious subject—and not just because it contains the word "erection"—but due to Jesus rising up from the depths of Thanatos (death) to heavenly Eros (life, lust and love). And then, when He is "born again," whom does He first see? His favorite Easter Bunny: Mary Magdalene!
Here in Bonoboville, we sometimes roleplay the res-erection with our Divine Interventions "Jesus Jackhammer" dildo rising up out of Dorrie Lane's Wondrous Vulva Puppet or perhaps a real woman's pussy or mouth, as we sing, "Hallelujah! Jesus is in her now!"
We also celebrate Jesus' ancestors and antecedents. Long before the Rebirth of the Holy Son returning to His Father in Heaven, people honored the Resurrection of the Holy Daughter returning to Her Mother on Earth. That is, the Greek Goddess Persephone (Proserpina to the Romans) rises up from the bowels of Hades (Pluto) to rejoin Her Earth Mama Demeter (Ceres) who is so ecstatic to embrace the fruit of Her loins that She showers the world in Spring (now that's some serious squirting)!
"Persephone Has Risen" (another video censored by YouTube) explores this ancient Eleusinian mystery tale of primeval climate catastrophe healed by love, conflict resolution and the divine, bonoboësque power of compromise. Remarkably similar to the Easter Story, it preceded the New Testament by about a thousand years—celebrating organic erotic girl power on the cusp of its violent suppression by dirty, power-hungry, old men.
Speaking of girl power, if you like historic novels with a feminist spin, I highly recommend my Yale classmate Gerald Weaver's new book, "The Girl & the Sword." Ironically, just as I was posting my 5-star review, Gerry was sending me a hard copy that arrived just before the show—inscribed with "Cool for Life." For some reason, it was stuffed with clippings from my 1992 Outlaw Biker cover and centerfold. Even Unscene Abe was impressed with my Harley-straddling "Outlaw Doctor" turn. Thanks Gerry!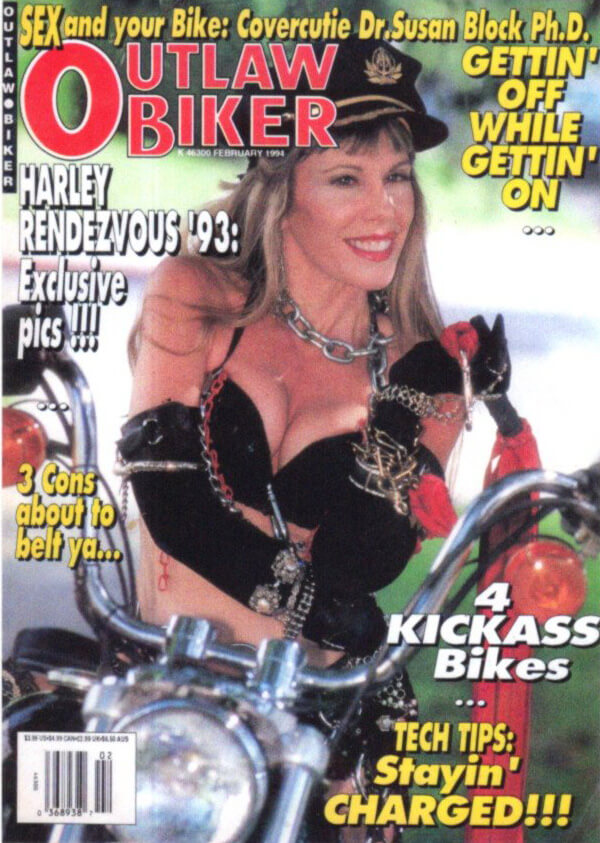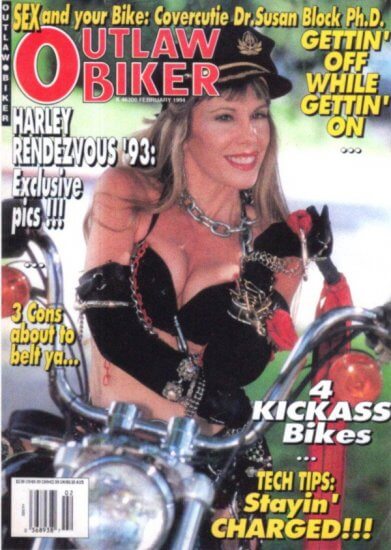 From "cool for life" to cold, cruel death, with more deadly shootings and less gun control than ever, we discuss the "ammosexual feelings so many gun fetishists have for their AR-15. Wally the Big Banana calls in to share his experience teaching "gun safety" to gun lovers who too often turn out to be "gun nuts" with major ego issues, delusions of heroism and yes, a dangerously ammosexual passion for their firearms.
Trumpty Dumpty Has Fallen!
Tis the season of rising and falling, and Trumpty Dumpty has fallen—splat—with 34 felony counts falling on top of him.
Even more exciting are the charges to come in Fani Willis' Georgia election interference case, E. Jean Carroll's defamation suit and Special Counsel Jack Smith's J6 and stolen documents investigations… coming soon!


#GoBonobos for Stormy Daniels, the only one in this torrid tale who's been telling the truth all along

But this is the first arraignment, and it's appropriate that the first counts to embroil the Mango McMuffin are illegal hush money payments to a sex worker (#GoBonobos for Stormy Daniels, the only one in this torrid tale who's been telling the truth all along), given Trump's compulsion to screw over people, businesses, and even the entire nation.
Moreover, it just goes to show: sexual desire is always on the forefront of human endeavor.
Lots more on this show—protesting the murderous Megamachine, celebrating long-term love and banging like bunnies!
© April 8, 2023 Susan Block, Ph.D., a.k.a. "Dr. Suzy," is a world renowned LA sex therapist, author of The Bonobo Way: The Evolution of Peace through Pleasure and horny housewife, occasionally seen on HBO and other channels. For speaking engagements, call 626-461-5950.