New Vice TV Documentary, "Phone Sex Therapy" featuring Dr. Susan Block generates Great Love & Virulent Hate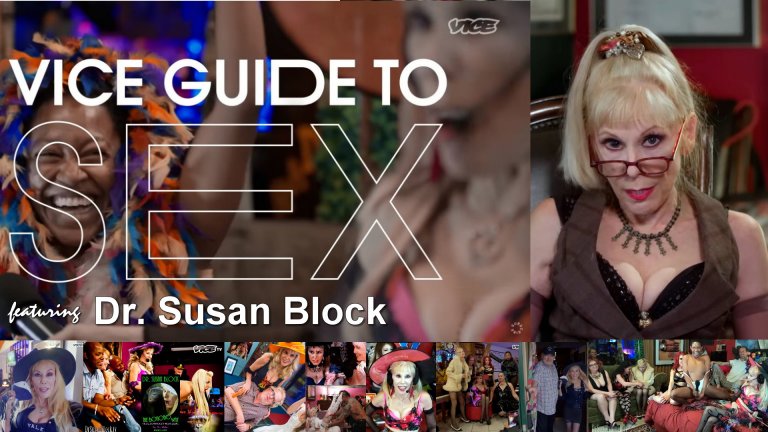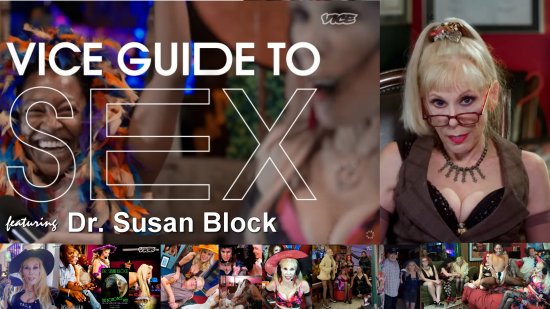 Dr. Susan Marilyn Block, a.k.a. "Dr. Suzy"—her remarkable life, pro-bonobo world and "controversial" sex therapy system, clients and techniques—is the subject of the new Vice TV documentary, "Dr. Suzy's Controversial Phone Sex Therapy." The piece premiered in August, 2023, shot past 100,000 views within its first week and is edging towards 200,000.
"The practice of sex therapy is changing," says Dr. Susan Block about her groundbreaking approach. "30 years ago, when I was just starting to conduct therapy sessions over the phone, no one else was doing it, and some of my colleagues were appalled. Gradually, they realized it's safer, more convenient, intimate, private, better for the environment and available to anyone with a phone worldwide, and started doing it themselves. Nowadays, tele-therapy or phone therapy and phone sex therapy are as common as in-person sessions. However, my unique brand of therapy allows clients to talk about ANYTHING. We are not the 'thought police,' and we believe in the value of talking about what's on your mind with someone who can help you handle it. Most find this unconventional approach liberating and effective, but some—like Vice—see it as 'controversial'."
With unfettered access, Vice TV ventured deep inside the Dr. Susan Block Institute for the Erotic Arts & Sciences and Dr. Suzy's Speakeasy in Bonoboville. Filmmakers documented two days in the life of Dr. Suzy, her husband Max and their merry band of bonoboësque collaborators and volunteers. Vice even takes viewers into the lives and homes of real phone sex therapy clients of the Institute who discuss how phone sex therapy has helped them.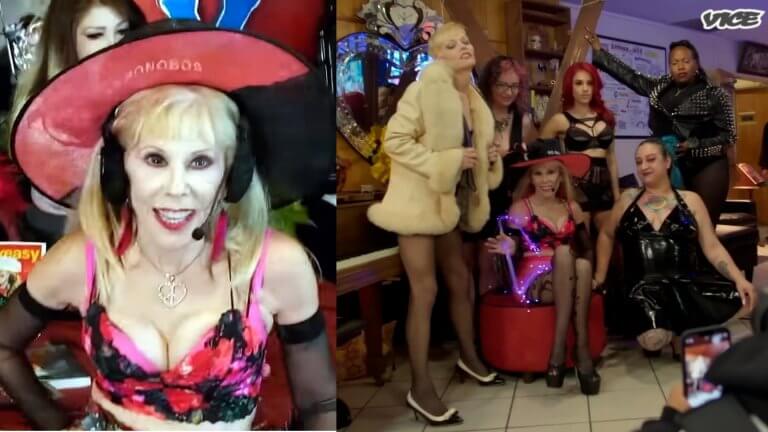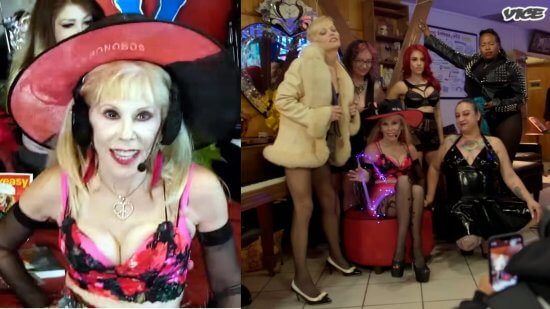 Dr. Suzy's playful, mindful techniques come to life in the invisible, intimate and often very healing realms of the telephone, as well as in the extended "capitalist socialist" community she calls "Bonoboville," which exists in virtual reality as well as regular reality.
Part of the "Vice Guide to Sex" series, the episode climaxes with a bacchanalian "Bonoboville Reunion" of artists, kinksters, actors, comedians, political activists, friends and lovers in the "Womb Room" sanctuary of the "Irreverend" Dr. Susan Block's very special "Church" of the Bonobo Way in the "Eco Village" of Bonoboville centered around her philosophy of peace through pleasure, female empowerment, male well-being, ecosexuality, friendliness, inclusivity and sharing resources.
Though the Vice piece touches upon Block's philosophy, it focuses on the "controversies" as well as the erotic action, packing into the 17-and-a-half-minute piece much nude cavorting, while just managing to stay within YouTube's vague but unforgiving "community guidelines."
Taboo body parts are revealed but concealed by a whitish film. "If you squint, it looks like the editors must have ejaculated all over everyone's nipples and genitals, and some butt crack, depending on the angle," quips Block. "It's funny because the Vice cameramen really focused on the nudity in Bonoboville, almost like they were trying to shoot porn, only to hand the footage over to editors who then censored it in this eerie, dehumanizing but still provocative way. It's digital ejaculation censorship. They do seem to love that white stuff. It's all over a painting of Marilyn Monroe, her breasts and even her face."
Was it worth it?
"It's a great honor and privilege to be the focus of a Vice TV documentary, reaching their huge viewership of millions," says Block. "Their spin, however, is pretty salacious, suspicious and a little sanctimonious. After all, they call themselves 'Vice," and present my work as a kind of 'vice.' They're more sex-positive than most major media, but with a dash of disapproval. And it's not just the sex. Much of our art is censored, as is our politics. They also keep changing the title, making it sleazier with each alteration. I've complained to the producer, but he says there's nothing I can do, as all the Vice marketing team is looking for are 'views'… and not getting sued."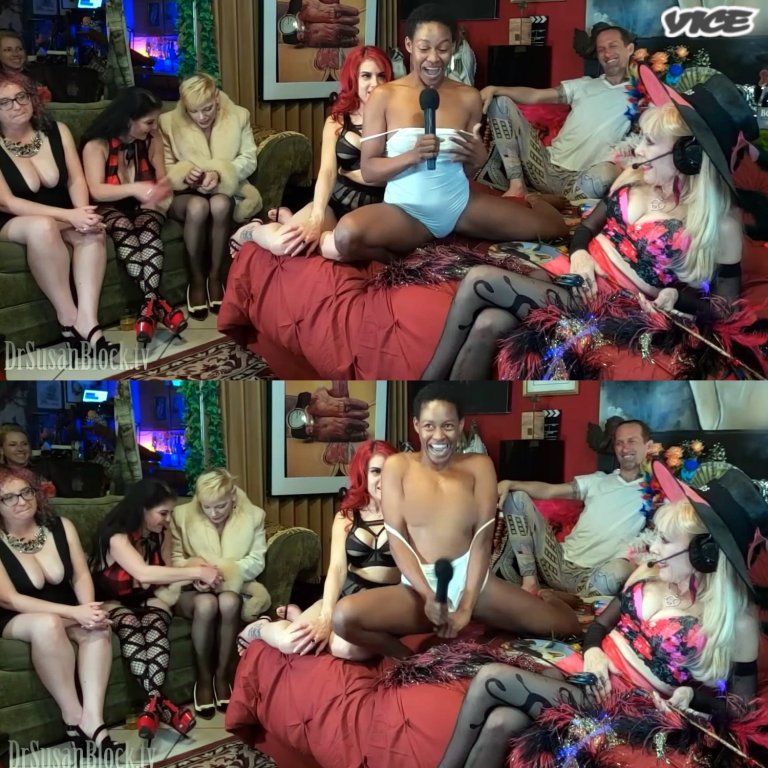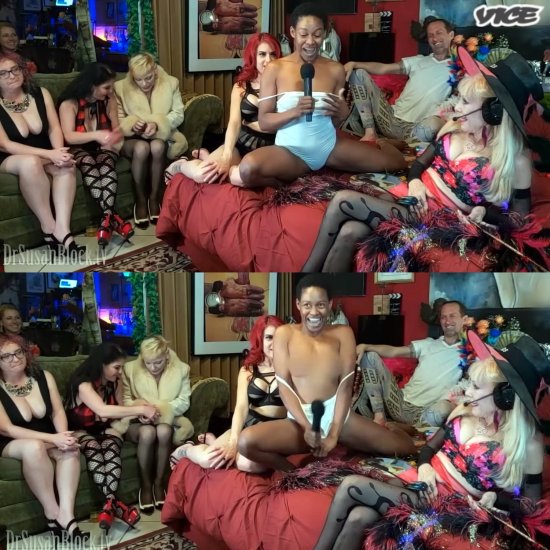 Besides garnering over 180,000 views, the new Vice documentary has inspired hundreds of passionate comments, ranging from great praise, support, tributes and testimonials to thundering rage, outrage, disgust, condemnation, denigration, slut-shaming, elder abuse, misogyny, thought-policing, prayer-reciting and even violent threats.
The ongoing, name-calling debate between lovers and haters of Dr. Suzy's "controversial" phone sex therapy, kink-positive Bonoboville community and Bonobo Way philosophy is a sign of the times, elucidating a views-driven cultural divide in America and around the world that questions the very nature of sexual health and mental well-being.
Bonoboville Reunion guests include Daniele Watts (aka DaLove), Chef Belive, Amor Hilton, Sally Mullins, Man-Pet, Shannon Coronado, Mistress Mina Nietsche de Sade, Nova, Kacy T-Girl, Onyx Muse, Rhiannon Aarons, Coralyn Jewel, Erikka Rijks, Ikkor the Wolf, Luzer Twersky, Abby Martin, Mike Prysner, Stan Kent, Cyn Yen, and John Barrymore.
Other segments show flashbacks of Dr. Suzy's shows with Too $hort, Dr. Christopher Ryan, Nancy Friday and Dave Bautista.


Susan M Block, Ph.D., aka "Dr. Suzy," is an internationally renowned sexologist best-known for her groundbreaking HBO specials. She has hosted The Dr. Susan Block Show for almost 35 years, and is the best-selling author of The Bonobo Way: The Evolution of Peace through Pleasure. A magna cum laude Yale graduate, Counterpunch columnist, DomCon and AASECT lecturer, and champion of sex education, bonobo conservation and freedom of speech, recently featured in Vice TV's Sex Before the Internet, interviewed on Abby Martin's Dosed and nominated for the "Most Popular Sex Educator" Urban X Award, Dr. Block hosts F.D.R. Radio every Saturday night with her husband of 31 years, publisher and producer Maximillian Lobkowicz di Filangieri. She's also been featured on NPR, Oprah, Health, The Doctors, and many others. But she'll never quit her "day job" as director and chief therapist with the Dr. Susan Block Institute, helping couples, singles and groups to explore, enjoy, take responsibility for and live their best sexual lives.
"I just hope that, despite—or because of—its flaws, this Vice piece inspires some viewers to check out our own shows and books and join us in Bonoboville, as well as encouraging people who need help to call the Institute for private therapy whenever they need to talk."
For information or to arrange an interview with Dr. Susan Block, email drsusanblock@gmail.com or call (626) 461-5950.
Dr. Suzy's Vice TV Documentary
PHOTO GALLERY
---
Explore DrSusanBlock.com
Need to talk? Sext? Webcam? Do it here. Have you watched the show? No? Feel the sex. Don't miss the Forbidden Photographs—Hot Stuff, look at them closely here. Join our private social media Society. Join us live in studio 😊. Go shopping. Gift shop or The Market Place. DrSusanBlock.tv, real sex TV at your toe tips. Sex Clips Anyone? FASHION, we have fashion! We also have politics. Politics? Have you Read the book? No? How about the Speakeasy Journal? Click here. Ok, how about some free sex advice?
---
---