Urban X-pats
by Dr. Susan Block.
Are you urban or suburban, urbane or insane?
My urban X-pedition to the Urban X Awards mid-hurriquake for sex education's sake flows through this show like a red-carpeted river of love.
Praise be to the heroes and heroines of free X-pression in the center of today's storms of repression.
Get my fringed DreDay Vest!
Mug Shots & Muggers
Into the storm drops Trumpty Dumpty, Big Egg of the Trump Crime Family and Rico racketeering mob boss of the legal beagle Batman Villains Club, MAGAt cult leader, and leading Republican 2024 Presidential candidate, on an urban X-pedition to Atlanta's Fulton County Jail for Indictment #4 (with a total of 91 criminal charges), and all the mug makers are putting his mean mug shot on their mugs.
The Mango Mugger mugged America once; the next time could be fatal.

As the raiding cops barged through her door, the 98-year-old Meyer confronted them with remarkable courage and strength, challenging them from her walker, calling them "assholes" engaging in "Hitler tactics," which they were, and ordering them to "get out," but they didn't.

Related or not, as our live broadcast begins, another horrific racist body-armored ammosexual incel mass shooter murdered multiple human beings before turning his weapon of war on himself. This time, the particular racist ammosexual sprayed a Dollar Store in Jacksonville, urban center of Ron DeStupid's Florida where sex is censored and racism is empowered with "permitless concealed carry" gun laws.
Armed killers are on the loose through America, and some of the worst are wearing badges.
RIP Joan Meyer: Killed by Kansas Cops

Sometimes, cop kills are obvious shots in the back. In other cases, they're a bit more subtle.
A couples of years short of a century old, Kansas newspaperwoman and owner of the Marion County Record, Joan Meyer, died the day after an unconscionable police raid of her newspaper's office and her home.
As the raiding cops barged through her door, the 98-year-old Meyer confronted them with remarkable courage and strength, challenging them from her walker, calling them "assholes" engaging in "Hitler tactics," which they were, and ordering them to "get out," but they didn't.
The next day, she died of cardiac arrest. What a travesty, tragedy and atrocity. These Marion, Kansas police "assholes" with their "Hitler tactics" murdered this almost centenarian journalist. RIP Joan Meyer.
Censorship Industrial Complex, Anatolian Apes & Callin Calls
Meanwhile, the Censorship Industrial Complex strikes again and again. Anti-imperialist website Mint Press News—friends with Frank Moore's people (who tipped us off about this), as well as Abby Martin, Mike Prysner and Robbie Martin–has had its TikTok account deleted without warning or explanation. This comes after it was previously de-platformed from PayPal and had its money withheld.
We know the feeling, being currently censored by YouTube, Facebook, Spotify and Instagram which we are about to take into arbitration. Social media censorship is all around us, always aiming to monetize and/or silence us, with guidelines clear as polluted skies, and bots as bad as bad cops.
We take a call from Reza in Iran, which he prefers to call Persia, though he's very picky about who or what is actually "Persian," and he's a little obnoxious about it, but he too is in a fight against censorship and deletion of his shows, and we support him in that. To paraphrase a paraphrase of Voltaire, though we may disagree with what you say, we defend—though probably not "to the death"—your right to say it.
Chris G calls in from New Jersey to talk about his recent Tik Tok successes (social media builds you up and takes you down, sometimes in close succession!), his mom's podcast and his media studies at Felician college. At one point, when he is delivering one of his stirring speeches to "save this precious woman" (I believe that's me), in support of the restoration of my terminated channels and accounts, we hear music in the background (he says it helps relax him before bed)—which is kind funny, but also makes his speech even more stirring!
Then "Hybrid Bonobo," aka David, calls in to say he loves my 1996 interview with Harvard Anthropology Professor Richard Wrangham, but can't get over how "different" we sound (it's called aging, David!), and asks some challenging questions about sex, vision and genitalia. Listen up for my illuminating answers!
Speaking of human apes and the Persian region, here's some 8 million year old breaking news: We always thought we humans and all of our ape cousins evolved in Africa, but now there are fossil findings that show that our human ape ancestors migrated from Anatolia, Turkey to Africa, and then back to Europe again. It's all quite mind-blowing in ways I will explain at another date…
Not so mind-blowing, but worth a shoutout: Our Vice TV piece, flaws and all, has over 155,000 views. If you haven't yet seen it, what are you waiting for? Check out what all the fuss is about.
Our Urban History
Back to our Urban X-pedition to the Urban X Awards at the Globe Theater in Downtown LA (DTLA) in the middle of the Hurriquake! It was fun. I was nominated for "Most Popular Sex Educator." I didn't expect to win. Because even though the Urban X Awards is inclusive of everyone—and it really is—all colors, all sexual orientations and gender identifications, it's still "urban."
Originally called the Urban Spice Awards, established in 2008, the Urban X Awards "recognize achievements by performers and others in adult media, with a focus on Black, Latin and Asian achievers." I can't really check those boxes, although I am Jewish, which is not a race, but it's actually very urban if you define "urban" as being "of the city."
Jews of all races are the original urbanites. We may not have a country (Palestine is not *our* country; the Zionists are dead wrong), but we are often of the City.
Luzer plays Baal Shem Tov
Speaking of urban Jews, we take a detour to talk about our friend Luzer Twersky, raised Satmar Orthodox Jewish, now atheist, and he's starring in a movie called Dovbush that just premiered in Ukraine in which he plays the Baal Shem Tov.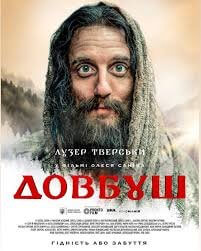 In fact, he's now in the urban center of Kiev, Ukraine at his movie premiere under Putin's attack, with air raid sirens blaring.
Talk about living the ultimate urban experience.
Going Downtown
One definition of "urban" is "downtown," of course, and "going downtown," i.e., cunnilingus, is one of the yummiest sex acts. No wonder, we love the urbanities…

Capt'n Max and I reminisce about our urban days, from our HBO shows to our LAPD raids.

But we also love the other kind of "downtown" of our DTLA days, 1998 – 2013. We were DTLA arts area pioneers, urban campers camping out in abandoned factories which were rough for life, but fantastic for art and big bacchanalian events like Eros Day and Lupercalia.
Actually, DTLA and I go back even earlier to the late 1980s when the late great Scott Kelman ran the Factory Place Theater and Boyd Street Theater on Skid Row (yes, those were the days when you could run a theater on Skid Row, which at the time was just a row; now it's 40 blocks), featuring such up and coming stars as Whoopi Goldberg just before she did "Ghost." That's how far back I go with DTLA. I am OG Urban.
Capt'n Max and I reminisce about our urban days, from our HBO shows to our LAPD raids. Then, thanks to the Staples arena, DTLA became too pricey and too dirty for us. And the dirt wasn't worth the price.
So, we moved to Inglewood which was just the right mix of urban and beachy. But after a few years, thanks to the Coliseum, Inglewood also got too pricey (all these giant sporting arenas really ruin urban areas) and too dirty (the air pollution). So, we moved out to Arcadia, which is more suburban sprawl than urban life, part of what Henry Miller called "The Air-Conditioned Nightmare." But we like it here, and everybody likes us. That is, our neighbors and our landlady do, but not the City of Arcadia inspectors who pretend to be urban, but are really the same kind of small town "assholes" whose flagrant violations of constitutional rights wind up killing upstanding citizens like Joan Myer (see above).
They haven't killed us, and hopefully they won't, but they do try to trample on our rights. Could it be because we are hard to classify? Because we're sex educators?
Sex Education is Power
Which brings me back to my Urban X nomination for 'Most Popular Sex Educator' which I did not win. But my favorite of all my fellow nominees, the lovely Sinnamon Love, did win, and deservedly so. After all, while I am followed by just over 25,000 on the X (formerly Twitter), Sinnamon has over 495,000 followers. Now that's "popular."
Moreover, I love Sinnamon love. She was a guest on DrSuzy.Tv a few times during our early urban period in the 2000s. And speaking of "X," Ms. Love was also a guest star of our Eros Day X in 2009, one of our biggest, most urban bacchanals in DTLA, our Eros Day Orgy for Obama, our 10th annual Eros Day which doubled as a wild inaugural ball for our most urban and urbane President.
Though my urban days are numbered, I still went to the show. Max didn't; he would have gone, just to accompany me, but we both knew it wasn't his thing, so I our new bonobo Rodrigo escorted me through the hurricane! From the weather reports and X hysteria, I thought I might have to swim Downtown. But I'm an adventurer; I climbed to the top of the Golden Gate Bridge when I was an urban San Franciscan, and I'd paddled a canoe through white water rapids in the Adirondacks.
So, I figured I could make it to DTLA in an Uber. It was pretty wet splashing out of Arcadia. I wore boots, a hat and an OG Fringe Logo Vest custom made by Dre Day of Dr. Block's Pleasure Shop.
As soon as we splashed down, like a miracle, those Urban vibes zapped that rain as soon as we got to the City. No hurricane. Barely any rain. So, we did the Red Carpet where they interviewed me about the meaning of "urban" and the importance of sex education.
Education is power, and sex education is sexual power. And in this erotophobic era of sex education suppression, banning books, police raids, the blooming powers of the anti-sex Censorship Industrial Complex, repression of sexual expression, social media account closings, defunding the Kinsey Institute, firing sex educators, taking away women's sexual rights, making The Handmaid's Tale a blueprint for reality, death threats on my Vice piece, and the list goes on, it's great to be honored for our work… and play of sex education.
Then we watched the show (which was a little overlong and disorganized as awards shows often are), but several longtime DrSuzy.Tv guests from our DTLA days were the evening's main winners, including big male winner Isiah Maxwell, big female winner September Reign, PR Queen Erika Icon and the great and glorious Ana Foxx. It was also very cool to hear the hyphy beat of another of our favorite urban guests—Too $hort—playing throughout the festivities. Blow the whistle!

Kudos to the Urban X Awards, for courage, great taste and a good time—not to mention a stimulating talking point on this fun-for-all F.D.R!
Urban X Awards Photo Gallery



Photos: Rodrigo Alvarez +Author's Selfies
© August 26, 2023 Susan Block, Ph.D., a.k.a. "Dr. Suzy," is a world renowned LA sex therapist, author of The Bonobo Way: The Evolution of Peace through Pleasure and horny housewife, occasionally seen on HBO and other channels. For speaking engagements, call 626-461-5950.