Self-Love September HiGH, 9/11 Reflections & VICE of All Kinds
by Dr. Susan Block.
It's Self-Love September 2023, and we're celebrating with all our fingers and toys! According to the Internet, Self-Love September is more about affirmation than masturbation. There's nothing wrong with affirming how great you are to your Doubting Thomas self, but seriously, if self-love doesn't include a little quality self-pleasure time (which could include mutual masturbation, if you have a lover), you're not fully loving yourself.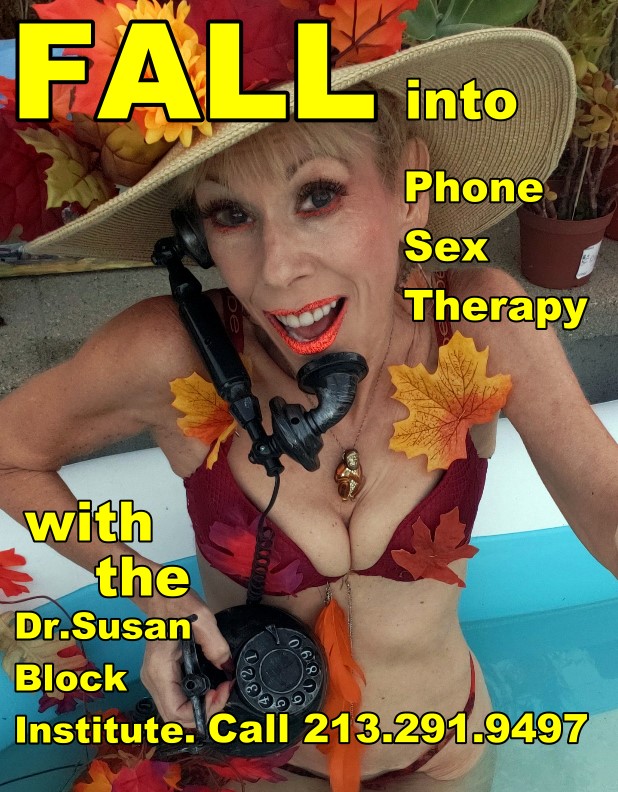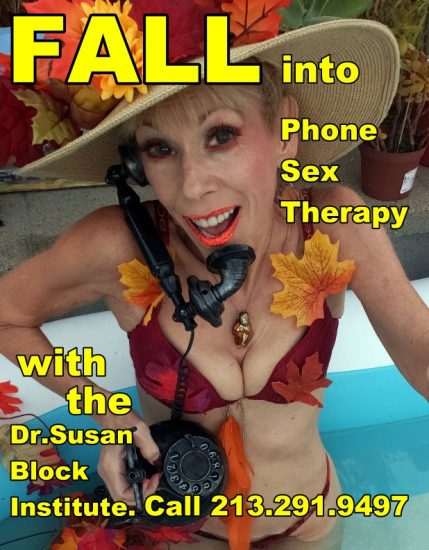 Sex with partners can be complicated—verging on treacherous—especially these days. Consent is essential, but can be difficult to discern for some. Given the post-#MeToo climate and other concerns, sex with other people comes with new dangers. Better to be safe than sorry and err on the side of caution. Nevertheless, sex is vital to mental and physical health and healing. So, what are we to do? Sacrifice our sexual health and seek safety in celibacy? Never fear! Wanking is here. Solo sex, since it only involves you, may not be the *best* sex, but it does tend to be simpler, especially since consent is 100% guaranteed.
It's natural! Aside from grasping tree branches and smartphones, the human fingers appear to be made for stroking, strumming—and self-loving! Bonobos love to masturbate, as do other apes like us – it's part of keeping the PEACE through Pleasure. If we were more masturbation-positive, we would probably be a less violent species.
As George Carlin said, "If God had intended us not to masturbate, he would have made our arms shorter." Of course, there's no reason you can't go bonobos for self-love all year around; but Self-Love September is a great time for you self-love slackers to step up your game.
RIP Jimmy Buffet
Masturbation is often denigrated as a sort of "slacker" sex since, unlike sex with someone else, it's easy, please-y and doesn't require hardly any work. In that slacker pleasure spirit, we say "Rest in Paradise" to the late great Jimmy Buffet.
No, he didn't promote masturbation, though I'm sure he did it, like everybody else. But Jimmy Buffet did popularize slacker chic.
There was something bonoboesque about about Jimmy Buffet's songs, though bonobos don't drink margaritas—at least not in the wild—even if it's 5 o'clock somewhere, though they would enjoy a cheeseburger in paradise.


Just as some people are ashamed of masturbation, back in the late 70s and 80s, I used to be ashamed of liking Jimmy Buffet, because his music wasn't serious or important. But then I learned how serious and important pleasure and relaxation are, so no, I'm not a Parrothead, but I'm proud to say I like Margaritaville. It's right next to Bonoboville.
Mabon'er & the Fall of Persephone
It's almost Fall or Autumn Equinox, another name for which is "Mabon," after the Welsh God of the Harvest. In keeping with Self-Love September, I call it "Mabon'er" (yes, women get Lady Boners).
For the Greeks and Romans, Fall Equinox is actually a "fall," aka the Rape of Persephone (Proserpina to the Greeks), daughter of Demeter (Ceres to the Romans), the great Earth Mother Goddess of the Harvest, Fertility and Agriculture. Like too many unfortunate maidens then and now, Persephone is sexually assaulted by her mean old Uncle Hades, or Pluto, the Lord of Hell.
As Hades sweeps her up into his chariot, Persephone literally falls through the Earth into the Underworld, taking her Mother's joy and the Earth's abundance down with her. Raging with grief, the Earth Mother almost destroys the Earth. Fortunately, Mama Demeter has the wherewithal to work a deal for sustainability with King Zeus, aka Jupiter, for her beloved daughter to reunite with her half the year, at which point, she blesses the Earth with the glories of Spring and Summer.
Of course, these Greek myths were created before Climate Change started wreaking havoc with our seasons. Still, they show us that no matter how bad things get or seem to get, we can usually work out a deal to make them better.
Vice & 9/11
It's also coming up on the 22nd anniversary of 9/11, that horrific yet surreally cinematic castration of America's tallest Towers of Power, Dick I and Dick II, whose destruction served as two mega doses of Viagra for America's Military-Industrial-Congressional Complex.
Thus G.W. Bush's self-proclaimed Wars on Terror entered the Perma War phase of American hegemony, turning into modern "crusades" and devastating losses for everyone (except the war industries) that still harm us all to this day.
Capt'n Max, Unscene Abe, our Callin commenters and caller Burt Sesame reflect upon the 9/11 attacks and American's aggressive response that changed our world.
If any single country was responsible for this crazy crime, it would be Saudi Arabia, as 15 out of 19 of the 9/11 hijackers were Saudi, and there has long been evidence of Saudi funding, but we don't bother the Kingdom—that happens to sit atop 17% of the world's oil—because they're our friends. With friends like that, who needs enemies? Well, we do—at least our war machine does—and so we made Iraq and Afghanistan our enemies and attacked these countries without provocation, virtually destroying these nations, gaining nothing for the American people (unless you consider American weapons makers and oil companies "people"), and paving the immoral way for Vladimir Putin to attack "Iraq – I mean Ukraine. Same thing." Yes, that Freudian slip and accidental confession comes courtesy of our war-criminal-turned-bad-painter George W. Bush when he was attempting to condemn Putin.
Though Dubya was the Prez, he was a puppet president whose strings were pulled by the Dark Lord of Perma War, his "Vice," Dick Cheney.
Sadly and frighteningly, the crimes of Bush and Dick carry on and expand, as Julian Assange, who exposed them, languishes in prison. It is sad that these two Chickenhawk war criminals can fly free while eagle-eyed journalists who embody the First Amendment are confined to cages.
More VICE
Speaking of "Vice," our Vice TV piece has over 180,000 views. If you'd like to see some of the fun frames from the piece, and read about my mixed feelings regarding Vice portraying my adVice and phone sex therapy practice, click here.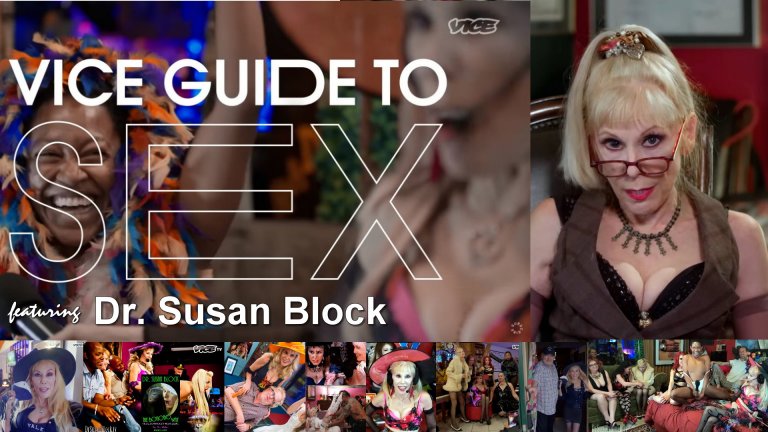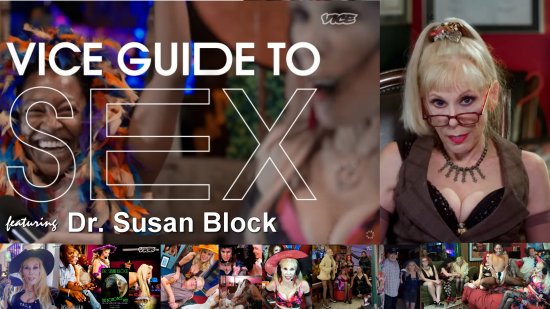 View-hungry Vice execs also changed the beginning of the title from "Dial 'O' for Orgasm" to the more salacious and neo-Puritan-triggering "Masturbating During Therapy." It's irritating, but it's Self-Love September, so I might as well embrace it, and it's true that I allow masturbating during phone therapy. It's a good thing!
I am not the 'thought police,' and I believe in the therapeutic healing value of talking about what's on your mind with someone who can help you handle it.
High Times
In honor of everything, Max smokes a joint and I munch edibles, as we discuss the impending decriminalization of magic mushrooms, psychedelics and other fine drugs in California.


We need a little socialism injected into the run-amok capitalism that is choking us

Of course, legalization or decriminalization is only the first step. Uva 13 calls in to talk about the problem of corruption in the cannabis industry, as there is corruption in every American industry, including other, more respectable drugs hopelessly corrupted by Big Pharma and the doctors they bribe.
All the more reason we need a little socialism injected into the run-amok capitalism that is choking us—literally (try breathing our so-called air without coughing like you're toking weed) and figuratively (try starting up new companies in any field without really good, well-connected lawyers).
Well, we end on a positive note with Uva: As long as the corruption doesn't poison your pot, it's a great aphrodisiac!
Happy Jewish New Year: Free Palestine!
It's also almost Rosh Hashanah, the Jewish New Year, and even though I am NOT a Zionist nor a religious Jew, I'm Jewish so I wish a "L'shanah Tovah Rosh Hashanah!" to all my Lonsmen who celebrate. Also: Free Palestine!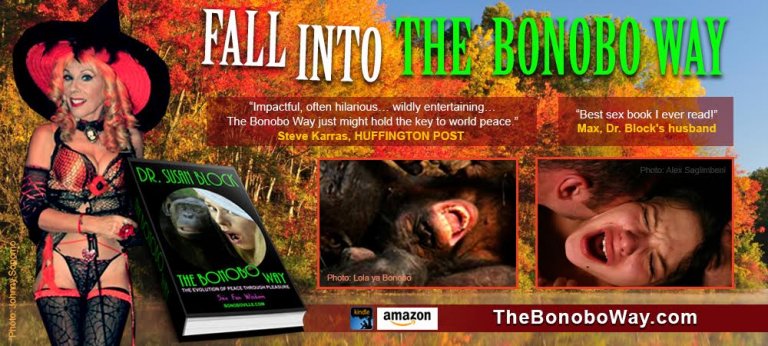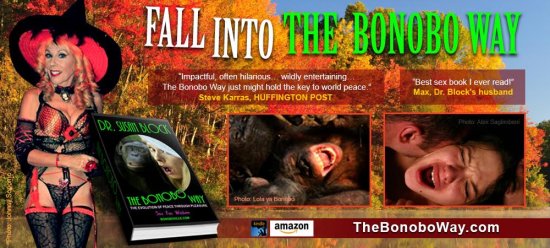 And free Assange! Make Kink Not War. Follow The Bonobo Way of peace through pleasure. Be Bonobo.
© September 9, 2023 Susan Block, Ph.D., a.k.a. "Dr. Suzy," is a world renowned LA sex therapist, author of The Bonobo Way: The Evolution of Peace through Pleasure and horny housewife, occasionally seen on HBO and other channels. For speaking engagements, call 626-461-5950.
---
Explore DrSusanBlock.com
Need to talk? Sext? Webcam? Do it here. Have you watched the show? No? Feel the sex. Don't miss the Forbidden Photographs—Hot Stuff, look at them closely here. Join our private social media Society. Join us live in studio 😊. Go shopping. Gift shop or The Market Place. DrSusanBlock.tv, real sex TV at your toe tips. Sex Clips Anyone? FASHION, we have fashion! We also have politics. Politics? Have you Read the book? No? How about the Speakeasy Journal? Click here. Ok, how about some free sex advice?
---
---