Bedside Chat 13: Summer Solstice 2020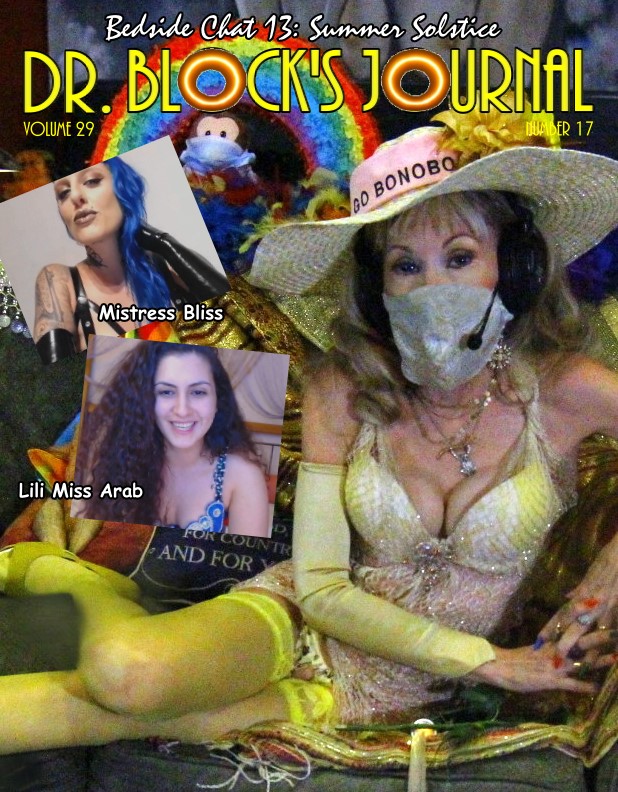 Length 1:36:28 Date: June 20, 2020
by Dr. Susan Block.
It's Summer Solstice, which we often celebrate in Bonoboville with a big orgiastic bacchanal.
But it's also the Coronapocalypse, which isn't gone just yet despite America "opening up," so we mask up and we keep our physical distance.
Nevertheless, thanks to the virtual magic of Zoom, we get up close and very personal with two fascinating guests: an extreme fetish-skilled Aussie FemDom and a mysterious Arab porn star who squirts and masturbates in hijab.
Mysteries of Midsummer 2020
Summer Solstice, aka Midsummer, is the longest day of the 365, when the sun is directly above the Tropic of Cancer and the northern hemisphere of Earth basks in the most sunlight of the year.
The moon is called the "Honey Moon" because it's slightly golden, and it's traditional to drink mead made of fermented honey during the many weddings held at Summer Solstice, a pagan holiday, as all the best holidays are (Valentine's Day, Easter, Xmas, etc.), at least originally.
On the Summer Solstice, the sunrise aligns with the ancient stones of Stonehenge where Druids, pagans and tourists have gathered every Summer Solstice for thousands of years, but not this year. It's the Coronapocalypse, after all, and, though many venues are opening up, Stonehenge is, for the first time ever, closed.  Sad… but the Stonehenge Summer Solstice is taking place for the first time online (though even that's a little sad too because the sunrise is covered with clouds)!
Yes indeed, human life is becoming more virtual every day. But no, it's not a conspiracy of liberals or even really conservatives. It's the result of rampant capitalism, corporations and billionaires destroying our environment, making war on each other as well as our Mother, the Earth, and acting like ammosexual baboons instead of following the Bonobo Way…
Isn't it past-due time for a (masked and physical-distancing) Bonobo Summer of Love?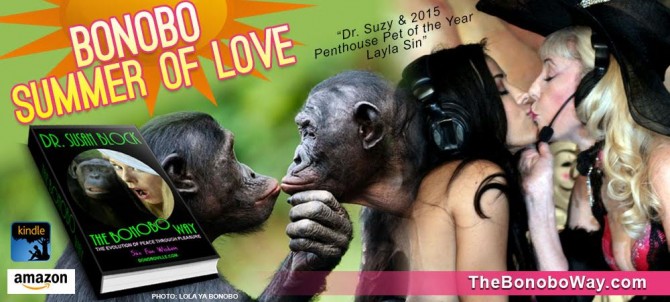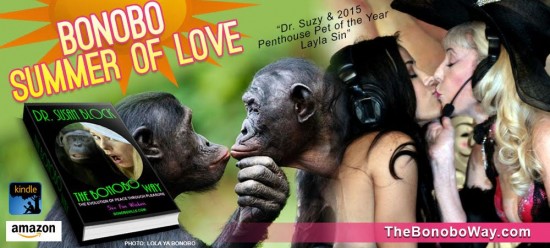 Tis the season of hot nights, hot sex, magical faeries flying the friendly skies—masked faeries in the Coronapocalypse, of course.
Speaking of masks, I'm pleased to report that California Governor Gavin Newsome agrees with me and has ordered all Californians to wear masks in public as we traverse the exciting but risky "opening up" stage of the Coronapocalypse.
Sorry to be an "opening up" party pooper, but these days, if you're less than six feet away from me or my loved ones, I'd rather see your cock or pussy than your mouth or nostrils.
Masked or shaded, if you looked up to the heaven above us from parts of Asia and Africa, you might have seen a dazzling solar eclipse in a ring of fire (this one's not too cloudy and definitely worth a look) in the darkness of early Summer Solstice morning.
From Coronapocalyse to Mayanapocalypse… According to certain calculations of the Mayan Calendar, we are up to the End Times. Though as I write this, no floods, fires or brimstone showers are raging through Bonoboville and, though murder and mayhem is everywhere, according to Twitter, both the virtual and "real" world appear to be carrying on.
Maybe those mystical Mayans were just predicting the end of the "system" I've been ranting against for decades, that millions around the world are now protesting in one form or another and that, in some ways, seems to be coming apart at the seams (pun intended).


Perhaps, this Bonobo Summer of Love marks the beginning of the end, the hot summery melt-down of the divisive, devastating, ecocidal, sexist, racist, capitalist system.
Juneteenth Jubilation
Speaking of which, the day before this live broadcast was the 155th anniversary of Juneteenth, also known as Freedom Day or Emancipation Day, marking the date in 1865 when Union soldiers finally arrived in Galveston, Texas, and brought news that the dreadful institution of slavery had been abolished more than two years earlier.
Here in Bonoboville, we've been honoring Juneteenth in some form since I first became aware of the holiday in 2001, almost 20 years ago.
When I heard the story back then, I realized it should be a national American holiday; now many others have jumped on that bandwagon, and the more the merrier!
Last year, we didn't do much because I was in Philly delivering the Bonobo Way to AASECT, but we had a great Juneteenth celebration in 2018 featuring deep discussions, music and orgiastic partying with Ikkor the Wolf, Frankito and Tahyira.
And wow, those Black Lives Matter protests merging with Juneteenth 2020 make this year the biggest Juneteenth ever!


From a Ring of Fire to a Ring of Shame…. Though his impotent Tulsa rally might not be the Mayan End of the World, it could be tRump's Waterloo.

The protests have been phenomenal (the Oakland gathering graced by the brilliant, beautiful, radical intellectual Angela Davis), with very little "looting" on this special day.
By the way, if you think "looting" is a problem, I agree and deeply empathize with the small business owners whose storefronts have been trashed, but tRump, McConnell and the rest have looted a trillion dollars from working people and handed it to billionaires and corporations destroying the environment.
And they keep on looting…
TikTok Trumpus Takedown
Speaking of the Trumpus… how about that total bust of a rally in Tulsa?
It was supposed to be YUGE, a tremendous gathering of the tRump faithful eager to brave the Trumpandemic to get up-close with their Dear Leader, the Chosen One who would preside, like Jim Jones telling his flock to "drink the Kool-Aid," inviting his devotees to take off their masks (though most aren't even wearing them) and breathe deeply of the infected air, later sharing what they "picked up" with loved ones.
But alas and alack (a major lack), Trumpty Dumpty's crowd, like his wee mushroom peepee, was rather tiny.
They had to take down the outside stage set up for the "overflow crowd" because there was no overflow crowd. There was barely even a crowd inside the BOK (Bank of Oklahoma) Center which was less than a third full, an ocean of empty blue seats surrounding our Presidunce in a Ring of Shame.


The tRump 2020 campaign team tried to say the low turn-out was due to "protesters," but there were hardly any protesters, and the few that got near the arena were forced to leave or were arrested by the Tulsa Police, acting as tRump Gestapo for the occasion.
No, the miniscule crowd was more likely the result of what TikTok and Twitter teens are calling the "Best Senior Prank Ever" for the Class of 2020. That is, thousands of bored, increasingly progressive Zoomers (and some of their *cool* parents), mostly consisting of Black Lives Matter teens and K-pop stans (including, float some wild theorists, young Barron Trump himself!), registered for the free tickets to the rally, causing the organizers to prepare for a deluge of supporters making the pilgrimage to drink the Kool-Aid, buy the T-shirts and breathe the air of their Great White Dope in what was sure to be an unpresidented Coronapalooza.
As I start this live broadcast, I'm not aware of the teen prank (I guess this proves I need to stop avoiding TikTok like most older folks), but just seeing that empty arena gives me hope and joy I haven't felt since our Impeachment Parties.
Yeah, I know, that impeachment didn't turn out too peachy. But America's been through a LOT since then—an assassination, the Coronapocalypse, the worst unemployment crisis since the Great Depression and the Floyd Rebellion against racism and sadistic policing.
From a Ring of Fire to a Ring of Shame…. Though his impotent Tulsa rally might not be the Mayan End of the World, it could be tRump's Waterloo.
Ritualistically beating our Agent Orange effigy's furry pink balls and mushroom dicklet with the great Goddess Phoenix's sparkling fiber-optic whip, I exult, "We are beating tRump!"
Extreme Fetish with Mistress Bliss
On that high note, I open up my bedside to my first guest: the self-described "Mistress of Misandry," a dominant blue-haired beauty with a big smile (when she's not being stern) named Mistress Bliss.
Born and raised in Australia, Mistress Bliss passed through Jolly Old England on her way to Lotus Land, aka Vancouver, from where she Zooms in to join us.
We chat about the differences among kinksters in these countries. According to this world-traveling Dominatrix, the English winning the booby prize for "least adventurous."
Mistress Bliss herself is certainly adventurous.
She's always felt free to explore kink, having been raised by rather open-minded parents.
Since it's Father's Day weekend, I ask her about her Dad's influence on her. She says he never repressed her sexually partly because he was so busy enjoying various forms of adventurous sex himself.


Unfortunately for Ms. Bliss' mother, her father's approach to erotic adventure was simply to cheat on his wife.
Cheating is probably the most popular way to pursue unorthodox sexual interests, but it is also one of the most painful for loved ones.
Partly thanks to Papa's imperfect example, Mistress Bliss has chosen to pursue her sexual desires openly and honestly, instead of through secret affairs.

Unlike America's sadistic police who shoot first and ask questions later (if at all), Ms. Bliss gains enthusiastic consent from her adoring submissives before performing her sadistic tricks.

When I ask if she's bisexual, she declares that she's open to everybody. These days, that translates to pansexual.
It being Pride Month, maybe we should consider adding a "P" for "pansexual" to "LGBTQIA" (Lesbian, Gay, Bisexual, Transgender, Queer, Intersex, Asexual). That would be a step toward making the bonobo (pan paniscus) the Pride season mascot.
I ask Mistress Bliss if she's a "sadist," and she says yes, she certainly is.
Though unlike America's sadistic police who shoot first and ask questions later (if at all), Ms. Bliss gains enthusiastic consent from her adoring submissives before performing her sadistic tricks.
Interestingly, she started playing in her home country Australia's kinky playgrounds as more of a masochist than a sadist and more submissive than dominant.
Gradually, she grew into her dominance, as well as the sadistic joy she derives from inflicting erotic pain on those who wish to receive it.
Mistress Bliss revels in "extreme" fetish, one of her favorites being cock and ball torture (CBT).
She also enjoys pegging and other forms of anal penetration.
But her most controversial extreme fetish would probably be brown showers, aka "hard sports."
Normally, I don't mind Golden Showers. I've even enjoyed giving a few.
Since I'm wearing gold and yellow for the Summer Solstice, I actually look rather like the "victim" of a giant golden shower from heaven.
But I usually draw the line at the brown variety, this being one of the few fetishes that gross me out—certainly too much to perform, have a guest do on my show or even look at. Yuck!
However, Mistress Bliss is so charming, matter-of-fact and brimming with enthusiasm for having her submissives "consume (her) waste" that I find myself chatting with her about the subject for some time.  Listen above or watch below for the grossly fascinating details…


Much as she gravitates towards the extreme, Mistress Bliss also enjoys administering a good traditional spanking to a nice round ass.
We watch her spank, paddle and whip a moaning and squealing young lady lying across a spanking bench, her bottom bared for her Mistress.
Another Summer Solstice revelry, Shakespeare's famous comedy A Midsummer Night's Dream, features the recurring theme of the "ass," a.k.a., a man named "Bottom" who is magically transformed into a donkey, who (also magically) seduces the beautiful Titania, Queen of the Faeries.
"My Oberon, what visions have I seen! Methought I was enamored of an ass…" declares the Faerie Queen Titania in Act 4, Scene 1 of A Midsummer Night's Dream.
So, it's fitting that we celebrate Midsummer 2020 with a little virtual ass-spanking, courtesy of Mistress Bliss… bottoms up!
The imperious Mistress Bliss isn't *just* one of the world's hottest Dommes. She's very political, displaying "Black Lives Matter" images and posts on her social media platforms.
Most dominatrices and other sex professionals don't want to talk politics on the show—or at all. Some just don't care about the world outside their dungeons, but most prefer to keep their political opinions to themselves, afraid they might alienate clients or potential clients who disagree with them.
Not Ms. Bliss! She's proud of her progressive politics. Any submissives who don't like them can just… consume her waste!
On second thought, that's a privilege, not a punishment, in Bliss World.
Sex, Pride & Black Lives Matter
Read "Sex, Pride & BLM" on COUNTERPUNCH
As I finish up with Mistress Bliss, I'm ready for my next guest—but alas, she's not yet ready for me, and my crew doesn't seem to know when she will be.
So, inspired by my sapiosexual chat with Ms. Bliss about sex work and politics, I take the opportunity to tell the rather politically incorrect but progressively inspiring story of one of my sex therapy clients whom I'll call Jack (not his real name, of course).
Married a couple of times, Jack is a Southern white conservative, former U.S. Marine, Karate black belt and self-described "tough guy" who voted for tRump in 2016.
Ready to vote tRump again in 2020, Jack recently changed his mind, having been radicalized by none other than Black Lives Matter.
"I was bored out of my gourd from the quarantine," he explains. "And I was watching the crowds online. I felt a strong urge to go out and join them."
So, he put on his mask (Jack's tough, but not crazy) and went to a local BLM protest. He marched with the crowd and listened to the speeches. Then he struck up a conversation with one of the many Black men in attendance and, after the march, the two found a private area where happy Jack gave his new friend a nice blow job. Obviously, he pulled down his mask for that part.


"We white men have been in charge for years," declares the *new* Jack. "It's time for Black men to take charge. I'll even suck them off!"

"I love sucking Black cock," exclaims the former Leatherneck and MAGA man.
Yes, this is the politically incorrect, potentially "obscene" part, but these are Jack's words, and rephrasing it just wouldn't be the same.
Actually, Jack's been talking to me for years about his fetish for interracial sex, most specifically for sexually servicing well-hung African American men, trying to make sense of it in relation to his right-wing lifestyle.
Indeed, many white guys, including lots of tRump supporters (certainly among my clients), feel the same way. Unfortunately, their fetishes don't usually make a dent in these MAGA men's rigid, right-wing political positions.
But occasionally, they do. I remember back in 2008 when a conservative white guy with cuckold fantasies, who always voted Republican, told me he was going to vote for Obama. "I want a Black man inside my white wife… and my White House!" he declared.


Back to Jack, who's long felt sexually submissive to Black men, but never let that affect his politics… until this wave of BLM protests which he started attending regularly. Of course, he was doing it mainly for the sexual opportunities (and partly out of sheer loneliness), but so what if his motives weren't pure?
Sex can be a great motivator for all kinds of transformative change. Pretty soon, Jack was actually listening to the BLM speeches as well as the more casual conversations of his new Black friends and lovers.
"We white men have been in charge for years," declares the *new* Jack. "It's time for Black men to take charge. I'll even suck them off!"
Of course, that's Jack's fetish (which is, perhaps, one reason why neither Black or white women figure in his vision of a better world). Does that make Jack a BLM "ally" or just a different kind of racist who sexually objectifies Black men?
I suppose a bit of both. I will say that, thanks to being educated by his new Black sex buddies, he sounds sincere in his embrace of BLM values. Though it's difficult to say whether that's the head between his ears talking, or the head between his legs.
Bottom line: He pulled the "Keep America Great" bumper sticker off his SUV and proclaimed, "I will never vote tRump again." Maybe it's just a passing, heat-of-passion feeling, but I believe him.
Between  TikTok Fans, K-pop stans, dudes like Jack and the rest of us, I think there's a good chance we'll beat the malevolent, bleach-hawking, relentlessly self-promoting, deeply racist, sexist Carnie-in-Chief that, for going on four years, has been sadistically torturing us all.
Happy Pride Season, Jack!
Read "Sex, Pride & BLM" on COUNTERPUNCH
Arab Porn Star Lili
Next up is what some might consider the embodiment of an oxymoron: an Arab porn star.
She even does porn in hijab!
Indeed, she calls herself Lili Miss Arab, so she is not afraid to let the world know who and what she is.
Of course, the lovely, curvaceous, flirtacious and very sensuous Lili, winner of the Eroaward for "Best Arab Model," is from Lebanon, which is one of the most liberal of Arab countries, both in terms of sex and religion.
Religious tolerance is important in Lebanon since—according to a 2012 study conducted by Statistics Lebanon, a Beirut-based research firm—the country's population is estimated to be 54% Muslim (27% Shia; 27% Sunni), 5.6% Druze, 40.4% Christian (21% Maronite, 8% Greek Orthodox, 5% Melkite, 6.4% other Christian denominations like Armenian Orthodox, Armenian Catholic, Syriac Catholic, Syriac Orthodox, Roman Catholic, Chaldean, Assyrian, Copt), plus a smattering of Zoroastrians (about 100,000) and an even smaller smattering of Jews (about 100).
No wonder Lili is rather mysterious about specifying her own religion, though she does say her upbringing in Lebanon was "very strict," and she seems to have suffered great trauma before finding her freedom.
She also had a hard time, as do most immigrants, when her family moved from Lebanon to Holland. But eventually, she mastered Dutch and English, as well as her native Arabic. She even went on to get her college bachelor's degree and almost got her master's in criminology. But one fateful day, as she listened to her law professor drone on, she realized, "this is not for me."

When she has sex in hijab or niqab, Lili gets very turned on, feeling the excitement of breaking taboos, and semi-consciously remembering her pent-up sexual feelings as a sexually repressed young girl in Lebanon.

It wasn't long after that epiphany that she found herself doing porn.
Like her Dutch compatriot, Verona van de Leur, the gymnastics champion who became a porn star, Lili found erotic entertainment to be fun, meaningful, financially rewarding and perhaps her true calling in life.
Despite her strict anti-sex upbringing, or maybe because of it, Lili was always interested in sex. At an early age, she started masturbating, though she didn't touch her clitoris or labia. Rather she fingered her anus (usually while crossing her legs), giving herself an anal orgasm, aka an analgasm.
Sunshine, my lovely Associate Producer (Ass. Prod. for short) whose very name honors the Summer Solstice, chimes in that she too didn't touch her clit either when she masturbated as a young girl, but rather "humped the floor."
Many of my sex therapy clients masturbated like this, in the sense that they didn't touch their vulva or penis, at least not directly with their hands.
My theory is that these children were taught or just *knew* (semi-consciously, for the most part) that they shouldn't touch their "dirty" genitalia.
So, they found more indirect ways to "scratch the itch" and satisfy their sexual desires.
Eventually, Lili learned to climax from touching her clitoris, but it seems she'll always have a soft spot for her original sweet spot, her bottom.
Well, Shakespeare's Queen Titania felt the same way about her Bottom, aka her beloved ass.


Lili's sex education took place mainly at the well-known Dutch kink parties, especially from other women, as she learned she was, like most people, bisexual.
Celebrating LGBTQ Pride, we chat about her bisexuality.
Then we move on to female ejaculation.
Naturally, it was one of her female lovers who taught Lili how to squirt.
Now she prides herself on being an expert female ejaculatrix!
Watching her use a dildo (that squirts fake "jizz") and vibrator to emit a small tsunami of "holy water" from her urethra, we have to agree.
It's "A Midsummer Night's Wet Dream"!
We share tips on how to squirt, including using the "come here" gesture to reach the G-spot.
But Lili Miss Arab's most highly requested custom videos are those in which she wears a hijab, the traditional Muslim head scarf, or a niqab, the scarf that also covers the mouth, popular in Saudi Arabia.
I wonder if the niqab is effective as a mask preventing transmission of COVID-19.
Certainly in the Coronapocalypse, many of us resemble Saudi women, our eyes peeking out from over our masks as theirs do over their niqab.
The idea is supposedly to keep men from viewing women's beauty. But I doubt it effectively makes Saudi men less horny. Seeing those seductive flashing eyes and maybe a bit of ankle is all it takes to turn them on… at least that's what my Saudi sex therapy clients tell me.
Perhaps making up for her repressed upbringing, Lili really enjoys exhibitionism.
When she has sex in hijab or niqab, she gets very turned on, feeling the excitement of breaking taboos, and semi-consciously remembering her pent-up sexual feelings as a sexually repressed young girl.
We've had Muslim porn stars on the show before, including Persia Monir and Persia Pele of Iran.
But Lili is quite an exceptional erotic entertainer.
Innately artistic, she's also a painter and shares some of her colorful paintings with us.
Psychedelic!
Masks Down to Make Out
Then, before we know it, it's time to wind up another great, sapiosexual, intimate and illuminating Bedside Chat of the Coronapocalypse.
We mask up again to mingle, though eating Ana's amazing empanadas requires the masks be taken off or pulled down.
So does kissing Capt'n Max, foreplay to an orgasmic Solstice night of bonobo married love, his Stonehenge-hard sarsen pleasurably penetrating my ring of fire, inspired by our sexy guests.
Happy Summer Solstice, Brothers and Sisters, Lovers and Sinners!
June 20, 2020 Susan Block, Ph.D., a.k.a. "Dr. Suzy," is a world renowned LA sex therapist, author of The Bonobo Way: The Evolution of Peace through Pleasure and horny housewife, occasionally seen on HBO and other channels. For speaking engagements, call 213-291-9497.
BEDSIDE CHAT #13: SUMMER SOLSTICE PHOTO ALBUM
Read "Sex, Pride & BLM" on COUNTERPUNCH
---
Explore DrSusanBlock.com
Need to talk? Sext? Webcam? Do it here. Have you watched the show? No? Feel the sex. Don't miss the Forbidden Photographs—Hot Stuff, look at them closely here. Join our private social media Society. Join us live in studio 😊. Go shopping. Gift shop or The Market Place. DrSusanBlock.tv, real sex TV at your toe tips. Sex Clips Anyone? FASHION, we have fashion! We also have politics. Politics? Have you Read the book? No? How about the Speakeasy Journal? Click here. Ok, how about some free sex advice?
---
---