Bedside Chat 12: Blind Dominance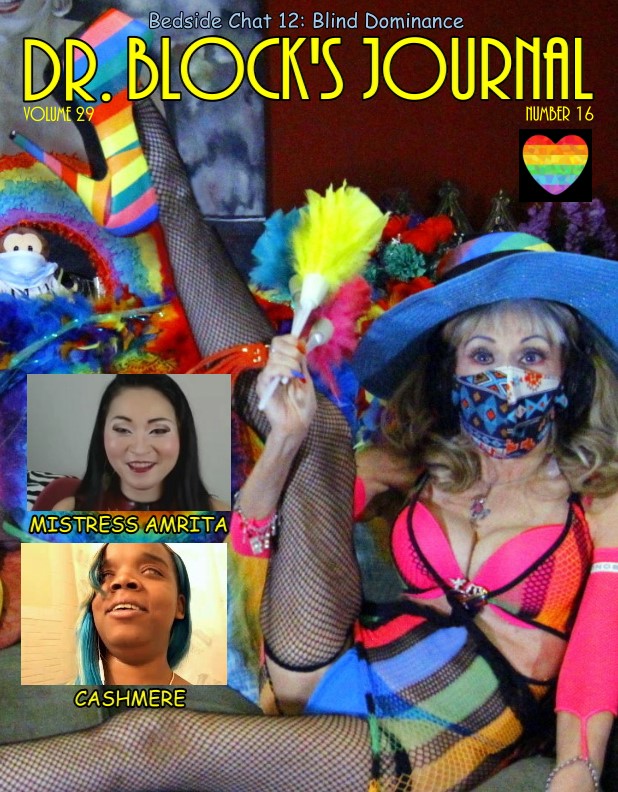 Length 1:30:42 Date: June 13, 2020
by Dr. Susan Block.
You've heard of the dangers of "blind obedience," but what about the dangers—and pleasures—of "blind dominance"?
That's the essence of my 12th Bedside Chat of the Coronapocalypse—featuring a sightless stripper and a seductive dominatrix.
With one guest Zooming in from London and the other from Miami, we travel the world of kink, pleasure and pain.
More Sadistic Policing
Perusing the news, it feels like we're all in a world of pain—and not the consensual kind.
As we begin, the fires of protest are are burning down a Wendy's in Atlanta, where another Black man was shot in the back and killed by police just the night before.
Suddenly (or gradually, if you've been paying attention), it feels like sadistic policing is everywhere in and out of America. Most of it is directed against Black people (thus "Black Lives Matter"), but these gangs of thugs with badges are coming down on everybody—white, black and brown, from little girls to elderly men to a homeless guy in a wheelchair, anybody who's "protesting," walking home or sleeping in their car. Some celebrities too: Saturday Night Live alumnus Jay Pharaoh got the "knee" treatment in LA; First Nation Chief Allan Adam got tackled in Canada. Journalists are also being attacked, injured and arrested while reporting.


Just as the protesters cry, "Black Lives Matter," the rioting police appear to be making their own statement: "Don't fuck with us."

Has it always been this way? Are we just now seeing the police brutality because people are filming it on their phones? Are the media covering it more often than they used to?
Do these cops even know what they're doing or is this some kind of ruthless, nonconsensual, devastatingly brutal "blind dominance"?
Or is there an uptick in law enforcement violence these days due to cops raging against the Black Lives Matter movement and its overwhelming popular and even corporate support?
Is this a civil war between the police and the protesters?  Is it a police riot?
Just as the protesters cry, "Black Lives Matter," the rioting police appear to be making their own statement: "Don't fuck with us."
Meanwhile, two Black men were found hanging from trees—lynching-style—in Palmdale and Victorville, California.


It's horrific, and it's hard to say whether it will get better or worse in the near or far future.
Masked and Unmasked Madness
On the lighter side, we confirmed this week what we always suspected: that Melania took so long to move into the White House not only because she was busy humping her lover in New York, but to force the Trumpus to revamp their pre-nup… Now we know why her motto is "I really don't care… do U?"
On the unfortunate side, just in time for Pride Month, Team Trumpus Rumpus has rolled back Obama-era nondiscrimination protections for LGBTQ people in healthcare and health insurance. On the other hand, as I write this, good news is coming in: the Supreme Court (with the lead opinion delivered by tRump appointee Neil Gorsuch) just voted to uphold LGBTQ rights in the workplace. But the tRump LGBTQ healthcare rollback especially harms an already vulnerable group—transgender people—in the midst of a pandemic.
Speaking of the Trumpandemic, things are opening up in America as the death count is going up, just passing 117,000 COVID-19 deaths in America the day of this broadcast.
With more in-person interaction and less physical distancing, it's more important than ever to wear masks.
Though not everybody does.


Most notably, our Presidunce does not mask up, maybe because he's worried his orange-tinted tanning spray, pancake makeup or whatever he wears will come off inside the mask. Or perhaps he just doesn't want to acknowledge the lethal extent of the Trumpandemic. Maybe he wants to show his "blind dominance" over science and decency. Maybe he's just a big old baby who likes making everybody look at that repulsive kisser of his.
Why is it that the people who refuse to wear masks tend to be unattractive? Seems like the better-looking people don't mind wearing masks. I don't mean to ugly-shame you raging, red-faced mask-haters. Then again, maybe I do. Your "freedom" to show off that unsightly, selfish, spitting, very possibly virus-spreading snout of yours directly infringes on my freedom to live, if you're within six feet of me.
Honestly, in the Coronapocalypse, I'd rather you show off your so-called private parts, rather than your saliva-spewing mouth and nostrils.
I'll bet you're better-looking down there anyway. Most of us are.
Of course, we can't wear masks all the time, like when eating or drinking… or giving head. And there are times when we're far enough away from each other that masks aren't necessary… maybe. It's hard to calculate. Mask-wearing is not an exact science. I think it comes down to just doing your best.
I wear masks to begin and wind up the show, when my crew is more likely to get close to me, as well as to remind my audience to mask up in public interactions.
But I tend to take off the mask—literally and figuratively—to talk with my Zoom guests, partly because at that point, nobody gets physically close to me; and partly because these one-on-one "chats" are so intimate, they don't even feel public.
They feel like private conversations.

The Stylish Dominatrix
First to Zoom in to the show, all the way from London, is exquisite and elegant Japanese FemDom, international fetish model and performance artist, Mistress Amrita.
Decked out in red and black latex, she "shows us the ropes," so to speak, displaying her colorful collection as she tells us how she got into BDSM in Japan, but really found her calling as an international pro-Domme through traveling the world.
We talk about the differences between various cultures' approaches to kink. Though dungeons are illegal in Japan, Amrita feels that the Japanese have a deeper, more clear-cut understanding of the art of "submission," while Western subs are more likely to try to "top from the bottom."
Sunshine, having lived in Japan for a while, agrees.
Though she feels that Japanese are more polite, Mistress Amrita prefers Western clients, partly because they are more appreciative of her stern approach to domination, her "exotic" style and theatrical sense of roleplay. Most of her Japanese compatriots prefer the less threatening "Girl Next Door" type, though some acknowledge their need for a powerful, womanly mistress like her.
She feels that people in cold countries like England and Germany enjoy bondage and spanking, while her clients in warmer climates like Italy or Spain are more likely to have a foot or high heel fetish.
She also specializes in turning her human slaves into pets like dogs or horses. Release your inner animal!
As to her mellifluous name: female ejaculation fans know that "amrita" is the Hindi word for vaginal secretions, female ejaculate or the "nectar of eternal life."
Mistress Amrita picked up the word from singing in a Japanese band called Amrita Magenta. Though when I ask her if she ejaculates, she just giggles; she feels that the name "Amrita" expresses her feminine power over her submissives.
I doubt we'll see Mistress Amrita at DomCon 2020 (where I will be Mistress of Ceremonies, if all goes well, Trumpandemic-wise), as she is being wisely cautious in the Coronapocalypse. She's one of those beautiful people who always wears a mask in public.


We also explore the history of Shibari and Kinbaku rope bondage.
Shibari started in Japan as a way for soldiers and police to tie up criminals and prisoners of war. By around the 17th century, the Japanese artist Seiyu Itoh developed Kinbaku, the art of erotic bondage. We've had several guests demonstrate Kinbaku on DrSuzy.Tv, including Professor Oni, Ishara Gabril and Domina Mara.
But in talking with Mistress Amrita, I wonder if our police should use Shibari to restrain suspects. It does require skill and patience, while tackling suspects, handcuffing them, kneeing them on the neck and/or shooting them in the back does not.
Police departments should engage Dominatrices like Mistress Amrita to teach the rank and file how to securely and restrain someone, as well as how to "dominate" them effectively without killing them.
Mistress Amrita agrees.
Dominatrices like her are experts at this.
Also it's the Bonobo Way. Older bonobo females "police" the community, and if a bonobo male has the nerve to attack a bonobo female or her baby, her gal pals will jump on him. They'll "teach him a lesson," which usually involves some pain, but they won't kill him. If and when he behaves himself, they'll reward him, usually with food or a sexual treat, like a nice blow job.
No, I'm not saying our cops should go down on our model prisoners. But perhaps they can learn something about compassionate policing from the bonobos… as well as human FemDoms like Mistress Amrita.
The Blind Stripper
My next guest is Briana Blayre, aka Cashmere, aka Bae Charles, the Blind Stripper.
"Briana" is her Twitter handle.  "Cashmere" is her stripper name because, in her words, she's "boughetto" and "cut from a different fabric."
It's a very soft fabric, and Cashmere has her soft, sweet side. But she's also tough. Seems that when you're a blind stripper, you've got to be tough, or else you'll be knocked down faster than those Buffalo cops pushed 75-year-old Martin Gugino.
Which brings us to her third nickname, "Bae Charles," in homage to the late great blind jazz pianist Ray Charles. It was bestowed upon her by gossip vlogger Lovelyti whose video of Cashmere standing up for herself in a dressing room filled with backstabbing fellow strippers went viral.
Cashmere/Briana/Bae regales us with tales of growing up poor with a single mother who often put her in charge of her younger siblings. Then at the age of ten, she was forced to handle the news she was going blind due to the rare eye disease of high myopic tenses.
Listen to the show above or watch below to find out how the trauma of losing her sight plunged her into deep depression. Then listen to how she climbed out of that well of darkness, with the painful push of her desperate mother's "tough love," to lead a very full, exciting life.
And oh, what a life!
She's a stripper, and yes, she got into it "for the money," but then who doesn't?
Though she's still learning the pole, Cashmere twerks that bootie like a champion.
She's also a MILF; though she looks like a kid herself, she's the mother of two!
Last but not least, she's a rapper, and quite a talented one.
Don't miss her new single, "Clickbait"! Listen above or watch below.
Seriously, Cashmere could be the next Cardi B or the blind Blac Chyna.
This gal can't see a thing, but she has many skills.
Cashmere's a great example of how when you lose one sense, your other senses get enhanced.
She's also a great inspiration to anyone who's been traumatized by anything. She takes a Darwinian "Survival of the Fittest" approach to life, and she feels she's a survivor.
No argument there!

The media, salivating over footage of violence and fire, is much more likely to show images of looting, arson and vandalism than the much more prevalent peaceful protesting.

We don't concur on all issues related to Black Lives Matter. Not that we totally disagree, but street-smart Cashmere takes a more jaundiced view of the protesters' motivations than I do.
We're all against rioting, though I think the looting of America's treasury by Wall Street is a lot worse than the looting of a few Walmarts by some broke losers who grab some Pampers or a laptop.
Moreover, the media, salivating over "sexy" footage of violence and fire, is much more likely to show images of looting, arson and vandalism than the much more prevalent peaceful protesting.
Listen above or watch below for the back-and-forth on this subject between Cashmere, me and Capt'n Max.
We may disagree on details, but I think we'd all be happier with more compassionate policing; it's just hard to see—whether you're blind or not—how to get there from here.
Mask-Free Intimacy
Nevertheless, it's important to fight for the cause.
Though we've attended many protests in person during our youth,  Capt'n Max and I are participating in this very important one from the sidelines.
Call me a "pussy," but an infected cough in our faces or a direct hit of tear gas, as so many protesters have received from trigger-happy sadistic police, might well kill us, as it killed 22-year-old Sarah Grossman and blinded many others.
We're not so inspired by Cashmere that we want to go blind.
Though we are stimulated enough to have a very nice, orgasmic and maskless night.
#GoBonobos for consensual "blind dominance," bonoboesque policing, public masking and private, mask-free, true love!
June 15, 2020 Susan Block, Ph.D., a.k.a. "Dr. Suzy," is a world renowned LA sex therapist, author of The Bonobo Way: The Evolution of Peace through Pleasure and horny housewife, occasionally seen on HBO and other channels. For speaking engagements, call 213-291-9497.
BEDSIDE CHAT #12 PHOTO ALBUM
---
Explore DrSusanBlock.com
Need to talk? Sext? Webcam? Do it here. Have you watched the show? No? Feel the sex. Don't miss the Forbidden Photographs—Hot Stuff, look at them closely here. Join our private social media Society. Join us live in studio 😊. Go shopping. Gift shop or The Market Place. DrSusanBlock.tv, real sex TV at your toe tips. Sex Clips Anyone? FASHION, we have fashion! We also have politics. Politics? Have you Read the book? No? How about the Speakeasy Journal? Click here. Ok, how about some free sex advice?
---
---