Bedside Chat BiRTHDAY 2020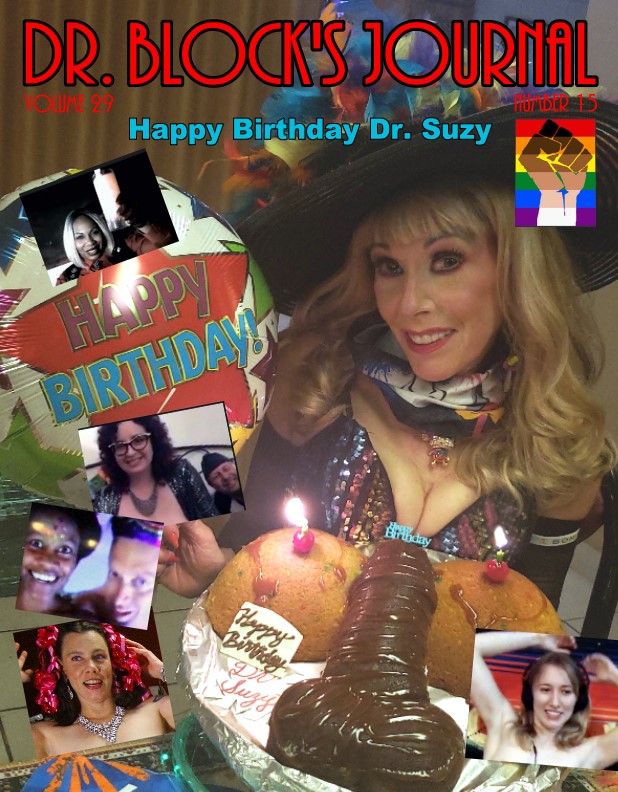 Length 1:33:46 Date: June 6, 2020
by Dr. Susan Block.
It's My Birthday! And in the midst of the Coronapocalypse, galvanizing Black Lives Matter protests, cowardly Drumpf depravities, sadistic police attacks and "Lady G" outings, I find myself surrounded by friends and lovers (in-studio and in a Zoom Party!), some decked out in Tutti Frutti rainbows of Bonobo Gay Pride, others in their birthday suits, to celebrate the day I emerged.
What a Powerhouse of Pleasure Stars: pro-Domme Madame Mina De Sade-Fatale, sapiosexual porn star Riley Reyes, MFA/artist Rhiannon Aarons, and pansensual power couple—acclaimed actress Danièle Watts (Django Unchained, Weeds, etc.) and Rawkstar Chef Be*Live—who look like they're Zooming through a tropical acid trip into Bonoboville for the occasion, plus my own Ass. Prod. Sunshine McWane, wearing nothing but a few ribbons as my "birthday present."
In the mid-20th century, we had the Baby Boom; now it's the Baby Zoom.
And the cake—ooh la la! A delicious, decadent and beautiful BBC-lover's delight!
All in all, especially considering the Coronapocalyptic contingencies, it's a very feliz cumpleaños, un buon cumpleanno, yom hooledet samayeach, bon anniversaire, and the best birthday ever in quarantine.
"Racism is Small Dick Energy"
It's my 11th Bedside Chat, inspired by Franklin Delano Roosevelt's Fireside Chats, a flickering light in the darkness of the Great Depression of the 1930s.
These are a different kind of dark times, Brothers and Sisters, Lovers and Sinners. Unlike that Great Depression when a strong, wise President FDR leveled with, comforted and united Americans as he sat by the White House fire, America is commanded by the sadistic, narcissistic, divisive Trumpus Rumpus who hides in a bunker, teargasses peaceful protesters for the sake of a photo op, and is neither strong nor wise.
Meanwhile, sadistic policing rages in cities and towns throughout America, stimulated by the Sadist-in-Chief, though it's been going on for a long, long time. Now, of course, we can see it in living color: Cops, National Guard, military and ammosexual mercenaries molesting and beating protesters, teargassing, macing and pepper-spraying them (particularly dangerous in the Coronapocalypse), knocking them down, shooting and sometimes badly wounding them with rubber bullets.
Not doing much about the looters, by the way. Just assaulting the peaceful protesters to establish what our cucky Presidunce lovingly calls "dominance" over the American people.
Dark times indeed.
But these are also times of bright, almost blindingly beautiful light, the fires of revolution, the revelation of long-concealed truths and audacious hope for change.
Thanks in part to the sheer in-your-face awfulness of the Trumpus, the virtual "snuff film" of the murder of George Floyd and many other African Americans at the hands and under the knees of sadistic police, as well as the flagrant inequities and unique opportunities of the Coronapocalypse, people—in the street and sheltering at home—might possibly be waking up.

I have great hope this People's Uprising leads to great commitment to righting this country's deep and pervasive wrongs against Black people, as well as a more bonobo way of policing for America.

That doesn't mean we're "woke." It just means we're getting radicalized, joining together to fight for freedom from police and other ammosexual brutality. We are waking up to the meaning of "Black Lives Matter" and the crying need for racial justice and fairness in America, "our" land that white Europeans stolen from the Natives and then built largely on the backs of African slaves.
This could be just a temporary awakening. Indeed, it could be crushed and "dominated," gassed until it can't breathe. Looking at the news, that seems likely. On the other hand, the crowds are tremendous, millions of people risking Coronavirus, though many are courteously wearing masks, to come together to protest an older but still virulent pandemic, the virus of racism.
The day of this broadcast, we even have our own neighborhood BLM protest near Bonoboville with great signs like "Cuck the Police" and "Racism is Small Dick Energy." Very peaceful, and even though the cops are geared up for battle, they are peaceful too.
Photos: Harry Sapien
So I have great hope this People's Uprising leads to great commitment to righting this country's deep and pervasive wrongs against Black people, as well as a more bonobo way of policing for America.
It's also the first Saturday night of Pride Month. Interestingly, one of the first Multicultural Movements in America was the Rainbow Coalition, founded in 1969 by Black Panther Fred Hampton and members of the Puerto Rican Young Lords group. Later in the '80s, Jesse Jackson expanded it into his own National Rainbow Coalition.
Of course, unlike being Black, you can hide being gay, sort of… until you can't… which is what's happening now for South Carolina Senator and passionate tRump asslicker (that asslicking should have tipped us off): Lindsay Graham is now being outed as "Lady G" by the male escorts that she made sign NDAs before she let them in her back door.
I don't believe in outing anyone, even tRump-asslicking assholes like Lindsay. But it's all over the news and the Senator from South Carolina has voted against pro-LGBTQ legislation for years.
Honestly, being gay is the only thing Lindsay Graham shouldn't be ashamed of. Wake up and smell the sex, Lady G!
Another Birthday in Paradise
And did I mention it's my birthday?
Any time's a good time to celebrate something in Bonoboville.
And did I mention that it's also Abe's birthday? Abraham, aka Unscene Abe, our technical director and webmaster, was born June 1, 1992, the same year Capt'n Max and I got married, making him the ripe old age of 28.
I won't say the year I was born; I don't want to shock you… or me. I try not to think about it too much, which is one reason I'm ambivalent about my birthday.
Birthdays make me feel silly. It's not as if you've accomplished something like winning an award, graduating school, publishing a book, having a baby or maintaining a marriage. People congratulate you for nothing but being alive.
Though at my age, I suppose that's an accomplishment.
Nobody celebrated birthdays back in prehistoric times because no one knew what day it was. Evidence of birthday observances date back to the advent of farming, calendars, telling time and needing an excuse not to go to work (of course in the Coronapocalypse, we don't need an "excuse" anymore). People began celebrating annual holidays, and one of those was the king's birthday. Eventually, folks realized that the head honchos weren't the only ones getting older every year, and before you knew it, everybody was celebrating everybody else's birthday.
Not that birthdays were or are always a picnic. Ancient people feared evil spirits, and it was a common belief that these malevolent forces stalked you on your birthday. This is not as superstitious as it sounds. A long list of prominent people who kicked the bucket on the same date they were born includes history's greatest playwright William Shakespeare and the son of our great Fireside Chatter himself, FDR, Jr. A study found that statistically speaking, people are fourteen percent more likely to die on the day they were born than any other day of the year. Sorry, I don't mean to blow out your candles too soon, but it's true.
One of the purposes of the "birthday party" is to surround the birthday person with friends and supporters to keep those evil spirits away. Despite my ambivalence about birthdays, I find that this "Party Method" really works. In fact, I've been utilizing it since I was a kid when my hyper-creative Mom created huge colorful Birthday Carnivals utilizing the skills of every man, woman, child and several dogs in the neighborhood to keep those evil birthday spirits away from her little Suzy. As I grew older, I threw some birthday carnivals of my own that, over the years, morphed into massive orgies and wild bacchanals.
The few times I've tried ignoring my birthday were unsuccessful. I guess when your mom raises you on Birthday Carnivals, you can't just pretend it's another day.
Of course, one can't always throw a big bacchanalian orgy. It can be expensive, financially and emotionally.
In the Coronapocalypse, with physical distancing, it's pretty much impossible. Well, it's possible, but it wouldn't be wise.
So I throw another Zoom party, kind of like we did on our 28th wedding anniversary, with five of my favorite DrSuzy.Tv guests.
These Zoom Quarantine parties are a little strange, but better than being on a ventilator or getting whacked by sadistic police, to say the least.
The Consensual Sadism of Madame De Sade
First up is Madame Mina De Sade-Fatale, winner of the 2019 SUZY Award for "Best Bonobo Way Book-Spanking" and "Best Hot Wax," as well as "Best Attitude Adjustment" in 2018, featured in Spank 'n' Art Speakeasy Journal.
Since she is a "professional" sadist and obviously a fan of the notorious Marquis de Sade, I ask Madame De Sade to talk about the relationship between consensual sadism and sadistic policing, as well as the considerable differences.
Listen above or watch below to hear her fascinating and enlightening answers to my questions, as well as the stories of her parents and grandparents' struggles due to their mixed race marriage.
Also, dig on what a "boss" she is in her sharp black and silver checked tie, burgundy button-down shirt, black leather vest and perfectly coiffed blonde bob.
I'm sure her submissive clients get excellent lessons in race relations and religious freedom from this self-identified "Black Jewish" FemDom.
I know I always learn something whenever we get together. Getting her perspective on the Black Lives Matter uprising is a great birthday present for the sexologist who has everything.
Well-Rounded Rhiannon
Rhiannon Aarons Zooms in to join the party, a Happy Birthday sign hanging festively behind her.
An MFA, artist, author, filmmaker, university professor, real-life MILF and "Most Well-Rounded Kinkster" SUZY Award winner for four years in a row, Rhiannon is also featured in Spank 'n' Art Speakeasy Journal.
Decked out in a glittering silver, plunging-necklined party dress, Rhiannon confesses that the Coronapocalypse quarantine and the scenes of police brutality—compounded by the sounds of sirens, crashes, screams and other frightening noises right outside her window—is reactivating her own PTSD (Post-Traumatic Stress Disorder) from having been abused as a young girl.
At least, she's not alone. She's joined by her husband Jonny Menton who joyously licks her voluminous ta-tas during Bonoboville Communion, and her submissive Tim Sewell who sings me a rousing rendition of "Happy Birthday."
It's not Marilyn singing to JFK, but I wouldn't want to see Tim in a skintight beaded gown. On second thought, it might be funny, especially if he wears his tRump mask.


I think Tim is tired of playing the Trumpus, bending over for our beatings as therapy for Post-Trump Sex Disorder.
Well, the only way he gets to stop is if we beat tRump at the polls. Let's do it America!
I'm not saying Biden is inspiring. He's no Bernie and certainly no FDR.
However, Senile Stuttering Neo-Liberal is better than Narcissistic Sadistic Fascist.
Last time Rhiannon was in Bonoboville (for Lupercalia 2020), she gave me a beautiful blue cock candle which I light (and lick!) for my birthday in her honor.
Angela Davis-Reading Porn Star Riley Reyes
Gorgeous activist porn star and APAC Chairwoman Riley Reyes is casually attired in a tank top and shorts, with rainbow Pride décor.
Riley is the SUZY Award winner for "Most Bonobo" (twice in a row) and "Most Sapiosexual."
She's definitely the "thinking person's porn star."
We love Riley!
Since there are rumors swirling around the Interwebs that George Floyd did porn—complete with video that shows a big muscular (and super hung) guy who looks just like him, calling himself "Floyd the Landlord… from Houston"—I have to ask Riley if she'd ever worked with Floyd.

Prisons developed in America as slavery was criminalized, creating "convict leasing" for plantation owners without slaves to "lease" inmates to work their fields. Because they didn't technically "own" the prisoners, they treated them even worse than they treated their slaves.

No, she didn't, but somehow that leads to chatting about gangbangs.
Riley's done a few, the biggest being her and nine guys.
No it's not the world's biggest gangbang, but I'm impressed.


We talk about how the Coronapocalypse might change the face of sex work and the porn industry as sex workers return to work with a better understanding of their value having been forged in quarantine.
Riley is also feeding her hungry mind in the wake of the George Floyd uprising. She just read Are Prisons Obsolete? by the great socialist thinker and Black Panther supporter Angela Davis.
We talk about how prisons developed in America as slavery was criminalized, creating "convict leasing" for plantation owners without slaves to "lease" inmates to work their fields. Because they didn't technically "own" the prisoners, they treated them even worse than they treated their slaves.
This is one basic reason why our Prison Industrial-Complex and police system are so brutal, racist and sadistic.
Whether she's quoting Angela Davis or The Bonobo Way or showing off her beautiful boobs or incredible ass, Riley is always a bonoboësque delight.
Just her presence is a great birthday present.
Dazzling Danièle Watts & Rawkstar Chef Be*Live
Last but not least, pansensual power couple Danièle Watts and Rawkstar Chef Be*Live join the birthday festivities from what looks like a trippy Tahitian island in outer space.
Maybe it's just a phone app, but with these two, anything is possible.
Interestingly, they met Riley when all three were DrSuzy.Tv virgins at our 24th Wedding Anniversary.
Since then, they've gone on to win the SUZY Awards for "Most Bonobo Couple," "Best Married Sex" and several more.
They're also stars of Splosh 'n' Art (launched two birthdays ago).
In keeping with their nudist lifestyle, they wish me a "Happy Birthday" in their Birthday Suits.
Though, Danièle starts out in a set of Gay Pride suspenders she created with rainbow cotton balls.
With a starburst of jewels on her forehead, she looks like a Genie someone just let out of her bottle.
Be*Live wears a matching rain-bow tie so bright it lights up Bonoboville, even from afar.
Married for almost four years now, the two of them seem more in love and lust than ever.
Both were brought up in religious Seventh Day Adventist households, so they've come a long way in terms of Bonobo Sexual Liberation.


As always, they're effusive, appreciative guests. Maybe a little more than usual, because it's my birthday.
They talk about being harassed and arrested by an LAPD officer who found them having sex in their car—a story which was all over the news for a while in 2014, partly because Danièle was an up-and-coming actress, star of the hit TV show Weeds (where she played a cop) and featured in Quentin Tarantino's Django Unchained. Interestingly, in that film, Danièle plays Coco, a "house slave" to Leonardo DiCaprio.
At first Danièle hid the fact that they were having sex in that car by virtue of omission, but then on my show, she made her confession to her Mother Confessor (me), and what a release that was. I didn't do much except encourage her to be honest and reassure her that she'd done nothing wrong (what's wrong with making love in a parked car?), but she credits me with "saving" her.
I know, I should just graciously say, "thank you," but instead I moan absurdly, "Oh Danièle, I'm not Jesus," to which she insists that I am, so I rename myself "She-sus."
It's all just silliness. The important thing is that Danièle and Be*Live's love and creativity keep growing and glowing and, Jesus or She-sus or biogenesis, I'm thrilled to be a part of their lives.
BBC Bday Cake
In the middle of everything, out comes Ana with the birthday cake, a homemade giant chocolate penis between two big vanilla boobs with cherry nipples.
What more could a kinky sexologist in support of Black Lives Matter want than a BBC cake?
Well, a lot more, like defunding the police and putting those funds into helping poverty-stricken Black neighborhoods, decreasing sadistic policing by following the Bonobo Way, etc., etc.
But you can't have everything—at least not all at once—and this giant fudge dick is a great symbol of Black Power (remember that old Black Panthers motto?) rising.
Plus it's delicious!
But first, I make a wish, put my lips together and blow (with a hat tip to Lauren Bacall)…
Communion, Spanking, Bday-Gasms!
Now it's time for a birthday toast!
What better way to do that than via Bonoboville Communion, followed by Waterboarding, Bonobo-Style with Agwa di Bolivia Herbal Cocoa Leaf Liqueur.
Usually Communion is a physically intimate affair, wherein we lick salt off each other's nipples, then lie back in each other's arms for our Agwa "waterboarding."
That's pretty impossible with physical distancing, unless you're doing it with your breath-bonded partner, as Rhiannon does it with Jonny and Danièle (who hilariously pulls out a big salt shaker for the salt section) with Be*Live.
The rest of us lick our own nipples or other body parts.
Quarantine definitely brings out the self-sufficiency in all of us, even when it comes to erotic activities.
Though physical distancing doesn't necessarily entail social distancing, as we can get very intimate through social media and other platforms.
For example, Riley lets Sunshine lick virtual salt from her gorgeous ass.
It looks almost real…
…and very tasty!
Birthday spankings ensue, of course, which means I whip Sunshine's beautiful g-stringed bottom.
I know, it's usually the Birthday Person who gets spanked, and very often, I've laid across someone's knee—or several knees—for that (see past birthday bacchanals or flip through the pages of Spank 'n' Art to catch me getting spanked over the knee (OTK).
Of course, you can't do OTK while physical distancing.
But I can wield my whip from several feet away, and my sexy Ass. Prod.'s ass makes the perfect target.
And after all, she gift-wrapped herself for me, didn't she?
She also gives me a card, signed by most of the denizens of Bonoboville, along with photos of all the guests and little fake presents from imaginary fans.
That's what I get for having an art major as my Ass. Prod!
Thank you, Sunshine and thank you everyone in the "inner circle" of the Institute, as well as Greater Bonoboville (which reaches around the world, for all the many wonderful things you do to make my crazy marvelous life possible, birthday after birthday.
Thanks most of all, to my charming Prince Max, the Captain of My Heart (as inscribed inside my wedding ring), husband of 28 years and partner in sexual revolution, for always being here for me, and always loving me, no matter how bad a birthday girl I am.
Then, before we know it, the show's over.
Time to celebrate some more!
After a few mojitos mixed by Ana and too much chocolate cock(!), we slip away.


What's a happy (adult) birthday without a couple of birthday orgasms?
Not much of a birthday at all.
Fortunately for our libidos, between all of our super-hot, sapiosexual and just plain sexy guests, we have a lot of food for fantasy, and it isn't long before we both explode into another year of sex, fun and wisdom.
As I drift off, I make a wish, the same one I made blowing out the candles, for our society, teetering on the edge of a people's revolution and police-state repression, to go in a Bonobo Way of ecosexuality, fairness, compassion, sharing resources, female empowerment, male well-being and peace through pleasure.
Oh, and we should also save the bonobos themselves who are, as we go through all our human upheavals, still highly endangered and in need of our support.
Is that too much for a birthday girl to ask?
My actual June 10th birthday popped out of a cake—and oh, what a cake!—on a Wednesday this year.
It started bright and early with an interview on KJAG Radio with the charming Jiggy Jaguar about sex, kink, cuckolding, bonobos and phone sex therapy—some of my favorite topics.
Yes, doing an interview could technically be considered "work." But for me, work like this is also play, and a fun way to start "My Day.
After the show, the Big Question was… now what?
Usually, when my birthday is mid-week, Capt'n Max takes me somewhere fun. Last year, we frolicked among the flora at the famous, fabulous Huntington Gardens.
This year, with the Coronapocalypse upon us, we didn't feel like going anywhere.
It's true that restaurants and bars are "opening up," but COVID-19 cases and deaths are also going up.
I'm not willing to die for my birthday.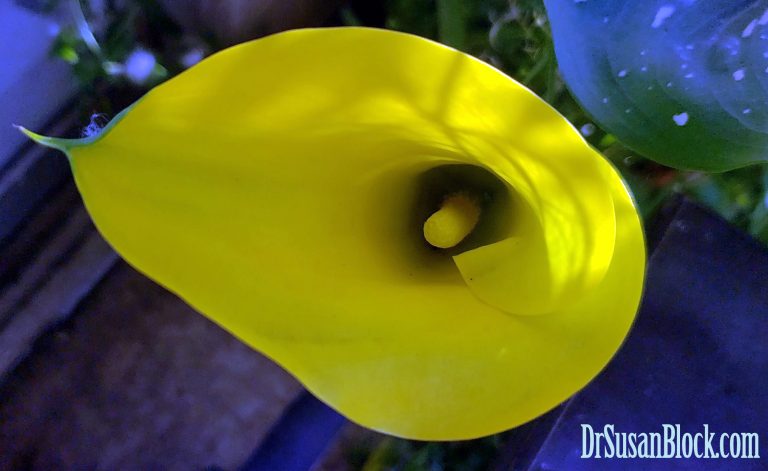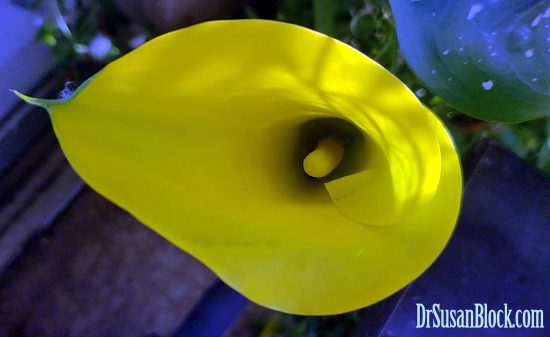 Nor am I willing to die to get my hair done nor to protest (I feel kind of bad about that, but I can just see police pulling my mask down to pepper-spray me, and—with my respiratory issues—that would probably kill me). nor least of all, for the sake of tRump's economy.
So, instead of the Huntington Gardens, I enjoyed the blossoming flora of the Bonoboville Gardens.
Rather than swimming in a hotel pool filled with screaming children and their telltale golden water trails, I swam (okay, actually, I just sat) in the Bonoboville pool, thoroughly enjoying the pleasures of clean (well, except for a few drowning bugs), cool H2O splashing my hot skin.
As for the food, it couldn't have been better at the finest restaurant.
Plenty of meat—burgers, ribs and very phallic sausages—for the carnivores and fresh corn for the cornivores (I know it's a bad pun, but I can't resist, especially since that corn was so good)!
All grilled to perfection on the new Bonoboville Barbeque by the amazing Chef Ana and Chef Miguel.
Meanwhile, Harry was sizzling up homemade fries (French, Freedom or Belgian—take your pick) and his spinach-mushroom special.
I felt like such a Birthday Queen, basking in the pool, delicious aromas of dinner mingling with the fragrance of the Bonoboville Garden roses and cactus flowers, Capt'n Max resting up for the festivities to cum…
By the time the vittles were ready, the other bonobos—including the other Birthday Person, Abe—were assembling.
We wore masks much of the time, but they still haven't come up with a mask that you can wear while eating, so they came off.
Nor can you wear a mask on while blowing out the candles on your birthday cake… which, I now realize, is the perfect way to spread COVID-19.
Speaking of the cake, wow!
For a tutti-frutti fruit lover like me, this cake was the cake of cakes, smothered in blackberries, strawberries, blueberries, mangos, apples and dragonfruit with just a little cream and crust on the bottom.
Thanks for the cake of cakes, Ana and Miguel!
And thanks Sunshine, for the birthday cups, hats and other paraphernalia. Food, sex and people are important, but you got to have your props.
Though I love to hug, I didn't hug anybody on my Coronapocalyptic Birthday.
It felt a little strange not to hug or kiss, let alone have one of our big birthday orgies.
Though it did climax with a big Birthday Climax in the arms of my best birthday gift of all.
June 11, 2020 Susan Block, Ph.D., a.k.a. "Dr. Suzy," is a world renowned LA sex therapist, author of The Bonobo Way: The Evolution of Peace through Pleasure and horny housewife, occasionally seen on HBO and other channels. For speaking engagements, call 213-291-9497.
Bedside Chat BiRTHDAY (#10) Photo Album
BiRTHDAY BBQ PHOTO ALBUM