Bedside Chat 7: Happy MILF Day!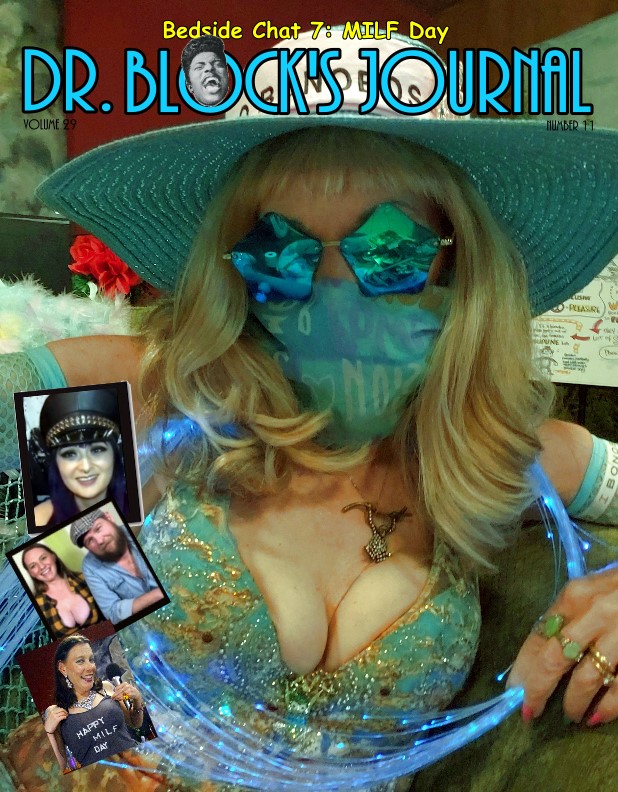 Length 1:26:46 Date: May 9, 2020
by Dr. Susan Block.
Mother's Day is MILF Day on DrSuzy.Tv, as we continue celebrating Masturbation Month 2020 with two sexy guest MILFs—one of whom lactates and squirts for us—and we say farewell to the great Little Richard, Father of Rock 'n' Roll and sex revolutionary for our "Tutti Frutti" times.
It's our seventh Bedside Chat of the Coronapocalypse. Inspired by FDR's Fireside Chats, our goal is to warm you up in times of hardship… as well as heat you up in times of hardness—or wetness.
No partner? No problem!
Remember, it's the "M" Month.
Hands down (and between your legs); in self-isolation, the best sex is masturbation.
Photo 1: Selfie. Photos 2-5: Harry Sapien
And you know you need an erotic outlet during these bored, frightening, dazed and confusing times.
So quit yapping and get fapping!
Mom and Masturbation
It's also Mother's Day—technically Mother's Day Eve—if you're tuned in live.


How Mom reacts to our first forays into self-pleasure—whether she punishes, encourages, inhibits or ignores you—has a big influence on our developing sexuality.

I've often wondered: How can these apparently opposite celebrations—chaste and wholesome Mother's Day and wild and whacky Masturbation Month—coexist in the same moon cycle?
It just doesn't seem right.
Then again, solo sex is almost always the very first erotic activity of our lives. Even in utero, some of us touch ourselves. As babies, if we're healthy, we play with any part of our bodies we can reach, but our genitals are especially exciting, because of the intensity of sensation.
For better and for worse, our beloved mothers are the ones who often "catch" us at this common pastime—which is really very innocent, albeit freighted with fears and concerns for many people.
How Mom reacts to our first forays into self-pleasure—whether she punishes, encourages, inhibits or ignores you—has a big influence on our developing sexuality.
Like most kids, I started playing with myself at around the time I started playing. Fortunately, my own Dr. Spock-influenced mom didn't punish or even inhibit me for masturbating. But she didn't exactly encourage me, nor did she ignore my early efforts at muffin-buffin'.
She did warn me to cool it in public–like when she caught me holding the sprinkler under my crotch on the front lawn, or sliding my hand under my skirt during the boring parts of the Passover Seder.
Most likely, she was just trying to keep me from getting arrested, raped, chastised by other adults or thrown in the looney bin (nympho wing). At the very least, Mom's pragmatic attitude didn't denigrate my budding sexuality.


She was also, even in those golden olden days, decades before Coronavirus made hand-washing hip, concerned about hygiene.
"Suzy," she chided, "Your hands are dirty, and it's clean down there."
She was right about my hands—probably sticky with peanut butter and jelly, playbox sand or something I'd pulled out of my nose.
More important to my sexual development, I will always appreciate her designation of my ladyparts as "clean."
She wasn't George Carlin ("If God had intended us not to masturbate, He—or She—would have made our arms shorter") or even Truman Capote ("The good thing about masturbation is you don't have to dress up for it"), but at least Mom had an oddly sex-positive way of attempting to regulate my masturbatory passions. I suppose that's one reason I've taken such great joy in self-pleasure and felt so little shame about it all these years.
Thank you and Happy Mother's Day, Mom in Heaven!
 So maybe May being shared by both Mother's Day and Masturbation Month isn't really so incongruous.
Then why not take it to the next level and give your Mom a Motorbunny or at least a Hitachi Magic Wand for a Mother's Day present? One reason that the Hitachi is called a "massager" is so you can give one to your Mom, saying it's for her back. Rest assured, she'll know how to use it.
There's also the even naughtier gift of getting your Mom laid by your best friend (or some reasonable facsimile). Though Barbara Scott, as played by Kay Parker, in Taboo, might appreciate that, it's more likely to spring from the erotic theater of the mind of a son with a Mom fetish. Like Justin Timberlake and Andy Samberg in Motherlover, but serious… or at least, seriously fantasizing.
Lots of guys, some gals (but mostly guys) and many gender-fluid people, have erotic fantasies about their mothers. Freud even came up with a name for the syndrome: the Oedipus Complex. If their ardor is not for their real mothers, perhaps a fantasy mom, an aunt, a special teacher, one of mom's friends, a "mature" female celebrity or the sexy MILF next door.
Everyone loves MILFs!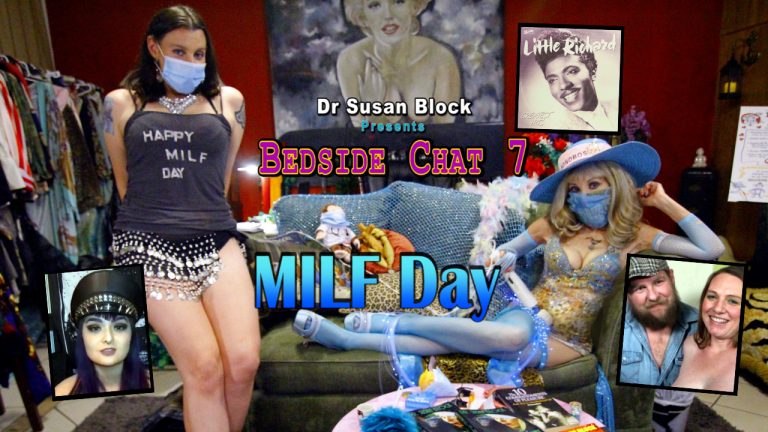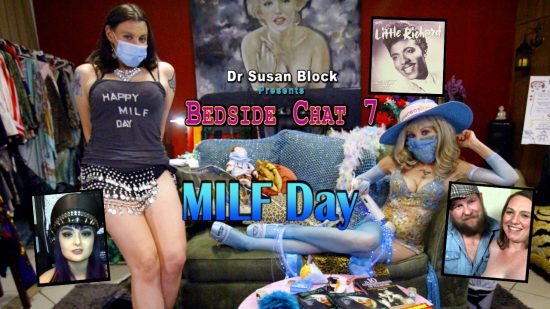 National MILF Day is even a thing (though I think it should be international since MILF appreciation is certainly global)!
It's the Bonobo Way!
Bonobos are not *just* great lovers; they're also great mothers. And great MILFs (for their girlfriends' sons).


Speaking of motherhood, May is also National Teen Pregnancy Prevention Month. And what better safe sex method is there for pregnancy prevention than the old five-finger knuckle shuffle?
Another good reason to make love to someone you love this month, and every month, especially if that someone is you.
And don't forget to wash your hands before you do. Remember what my mama said!
 Then you can lick your fingers…
 Mother Earth & Her Problem Children
In terms of the Coronapocalypse, the good news is that Quarantine is giving our Great Mother of us all, Mother Earth, a much needed break from the stinky, rotten, massively lethal messes made by her "smartest" and worst problem children.
The forefathers of various religions might punish you for "onanism" (even though the Biblical Onan wasn't even masturbating; he was just practicing coitus interruptus), but Mother Earth doesn't mind.
In fact, She blesses us for practicing self-pleasure with easy orgasms.
And who knows… an orgasm a day might keep the Coronavirus away!


The bad news (well, some of the bad news) is that COVID-19 can be transmitted via semen, which experts said wasn't true a few weeks ago, but now they say it is.
It's all so confusing!
Not that you could easily have sex in person anyway—unless your dick is six feet long, or you're using a sex toy on the end of a broomstick.
Or you could just masturbate!
Make it interpersonal by having phone sex, camming or sexting.
Want to know more about all of that?
Of course, you do. It's looking more and more like the future of sex.
Look into my crystal ball… tune into Marabelle Blue's excellent interview with me on KEM Top Talk radio, where we delve into the ins and outs of masturbation, phone sex and other kinds of virtual sex as well as phone sex therapy and healing your sexual shame…
More good news for Mother Earth: The Trumpus' poll numbers are plummeting!
More bad news: He's still our Presidunce, and the American death count is rising, even as this Tyrannical Toddler and his mostly Caucasian cult followers insist on "opening" the country prematurely, bringing back noxious pollution, hurting Mother Earth and sending thousands of "essential" workers (most notoriously in the meat-packing industry) and their family members to their deaths.
Photos: Harry Sapien
Talk about a problem child. This Big Baby-in-Chief definitely has Mommy Issues.
RIP Little Richard, Tutti Frutti Sex Revolutionary
Before we open up our Bedside Chat to our fabulous guests, we say farewell to the one and only Little Richard who just left Mother Earth on his way to Rock 'n' Roll Heaven.


Not *just* the Father of Rock 'n' Roll, Little Richard was also an erotic pioneer for the Sexual Revolution and Gay Liberation… paving the way for many people to embrace their own not-so-straight sexuality.

It was cancer, not the coronavirus, that took the life of the 87-year-old rock music pioneer known to the world as Little Richard.
But Good Golly Miss Molly, it's still hard to lose such a blessing to our culture, especially when gifted ground-breakers like Little Richard seem to be rarer than ever.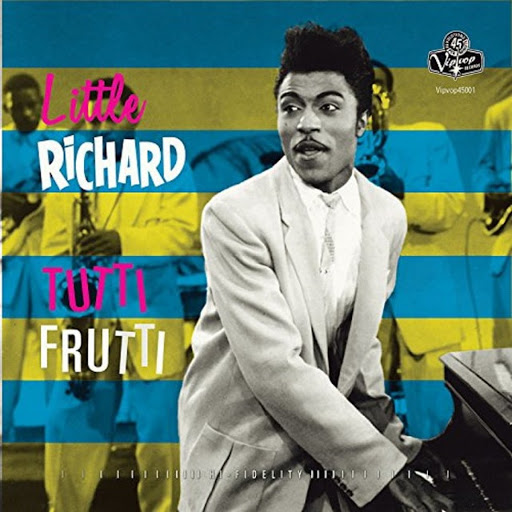 In fact, there was nobody like Richard Wayne Penniman, the dirt-poor dishwasher who transformed himself into the self-dubbed "Architect of Rock 'n' Roll." Yes, his ego was big as his towering hairdo, but he deserved that honor and many more, profoundly influencing the Beatles, the Stones, Elvis, Hendrix, Bowie, Patti Smith, Prince, MJ, everybody!
Not only did he inspire future generations of rock, Little Richard was also an erotic pioneer for the Sexual Revolution and Gay Liberation. I'm no music critic, but as a sexologist, I'd like to credit him with paving the way for many people to embrace their own not-so-straight sexuality.
He called himself "omnisexual" which is pretty much the same as "pansexual," aka bonoboesque. In other words, he liked everybody. He was married, dated women and loved it when the ladies in his audience threw their panties at him as he performed, but he was also very much into guys. An avid cuckold, he enjoyed watching his girlfriends have sex with other men (which got him busted for "lewd conduct" in Macon, Georgia). Other times, he'd just get it on with the men himself; no girlfriend necessary.
However, Little Richard was a devout Christian whose father kicked him out of the family home for being "gay," so he struggled with his desires for men throughout his life. He often denied or proclaimed that he'd "conquered" those feelings. Then, a few years or minutes later, he'd confess that he always was and always would be attracted to men.
Interestingly, he never seemed to struggle with what we call "crossdressing"—even making it an aspect of being a successful "crossover" musician in such segregated times. He later opined that his effeminate manner made him seem less of a threat to insecure white men who gave him easier access to "whites only" venues.
Little Richard was the King and the Queen of Rock 'n' Roll. His style was aggressively feminine: the bouffant pompadour, pancake makeup, mascara, powder like his beautiful mother used, lots of glitter and flamboyant fashions during a very grey-flannel-suited time when flamboyance was not "in" for any man but Liberace.  Indeed, this was years before Ziggy Stardust touched Earth and decades before Sir Elton donned his sequin shades or RuPaul's Drag Race was even warming up.
Then there was Little Richard's first major hit, "Tutti Frutti." Sounds sweet as candy, but what is it?
When I first heard the song, I felt he was singing about me, "Got a gal named Sue / She knows just what to do."
Though I had no clue what to do.
"A-wop-bop, a-loo-mop, a-lop-bam-boom" was, apparently, the answer, but what was that?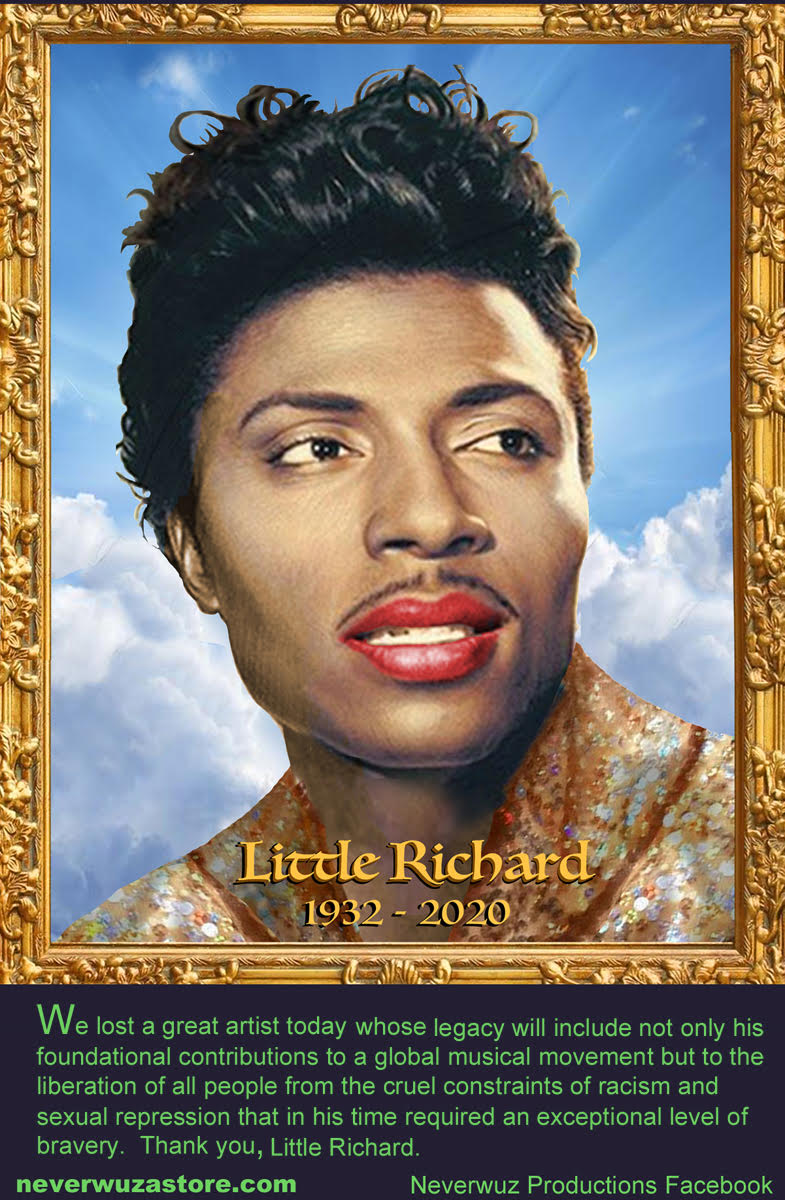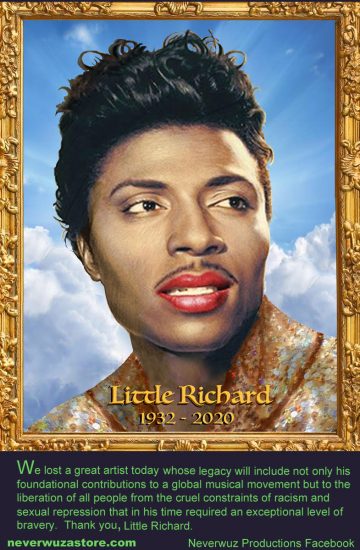 Years later, I learned the true meaning of the mysteriously tasty Tutti Frutti: anal sex.
The original lyrics he couldn't record in-studio were "Tutti Frutti, good booty / If it's tight, it's all right / If it don't fit, don't force it / You can grease it, make it easy…"
So Little Richard was a sex educator too, teaching us how to make sweet backdoor love without force and with a lot of lube.
He wasn't shy about the centrality of his libido, though he usually framed it with a disarming rhyme. When asked about rockabilly music, Little Richard didn't miss a beat, "I don't know about rockabilly, but I been rockin' willy for years."
Last but not at all least, Little Richard was a great integrator, bringing black and white people together from their strictly segregated sections of the club, sock hop or concert hall and into the aisles to dance. It was revolutionary, it was very bonobo and it's the type of revolution we as a society need again and again and right now.
We love you, Little Richard, and we are grateful for all you have done for our sexuality, our culture and to heal the wounds of our bigotry.
Go get that Tutti Frutti Booty in Rock 'n' Roll Heaven, Baby!
Mom & Domme
Our first guest joining us via Zoom from San Francisco is Avarice Noir, a MILF who also happens to be a FemDom.
We chat about the challenges of balancing motherhood and sex work in a society that generally doesn't *see* mothers as sex workers or vice versa.
Fortunately, the Coronapocalypse isn't hurting Avarice too much.
Even though the John-in-Chief refuses to acknowledge that sex work is work and send COVID-19 relief checks to sex workers, Avarice did receive a check thanks to her "other" job in the food industry.
Of course, one measly $1200 check doesn't make a dent in a San Franciscan's expenses, but it's $1200 more than most American sex workers are getting.
Avarice Noir met Sunshine (rocking her "Happy MILF Day" tank top) when they were both strippers at the Lusty Lady in San Francisco.
At that point, Avarice's child was just two, so she was lactating. She even let Sunshine suckle some of the milk from her breast, an experience that Sunshine has never forgotten.
Avarice isn't lactating anymore, but our lactation conversation leads us to examining the rather erotic depictions of "The Lactation of St. Bernard."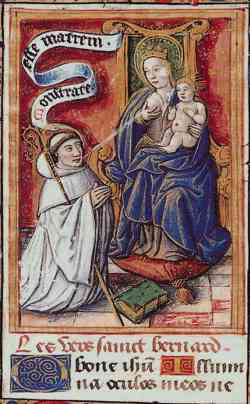 No, this has nothing to do with big shaggy Alpine dogs.
It's the tale of a Catholic saint who had a "vision" (which, as a sex therapist, I would call a "fantasy") that the Virgin Mother Mary squirted her divine breast milk into his open mouth. Some versions have her squirting it into his eye, instantly curing him of some sort of ancient eye infection.
Apparently, this story had a profound effect on Sunshine when she was an art student and studied paintings of the piety-laced lactation-fetish "miracle" in her art history class.
Some depictions show Mary taking a break from nursing the future Savior of Humanity, squeezing her Holy Bosom, a long shimmering arc of Virgin Mother's Milk flowing forth in lucky Bernie's direction.
Avarice isn't currently lactating, but she does show us some of the bondage toys she uses to discipline her clients, including a shiny, sinister-looking cock cage that acts as a chastity device.
It's kind of an "anti-masturbation" device, she explains, as we discuss Masturbation Month, for those who have a fetish for being frustrated.
Though many submissive men fantasize about a dominant mother or "Domme-y Mommy," Avarice doesn't get such requests. Maybe she will when she's a little older.
When I ask her why she chose the name "Avarice," which would make a great name for a FinDom (financial dominatrix) as it means "greedy," she explains that she is not just greedy for money, but for many other good things in life.
Happy Mother's Day, Avarice!
And to all Moms who are Dommes or other types of sex workers: We love and appreciate you all.

TRIGGER WARNING
The following section contains explicit images of beautiful female nudity and uncensored sexuality. Proceed at your own risk (you'll be glad you did).
Meet The Lebowskis: Bunnie & the Dude
Next up via Zoom is porno couple Bunnie and the Dude.
If you like the Coen Brothers' irreverent cinematic ode to bowling and pedicures, The Big Lebowski, you'll love The Lebowskis.
In fact when Bunnie met the Dude, one of the many things that drew them together was their love for the 1998 cult comedy.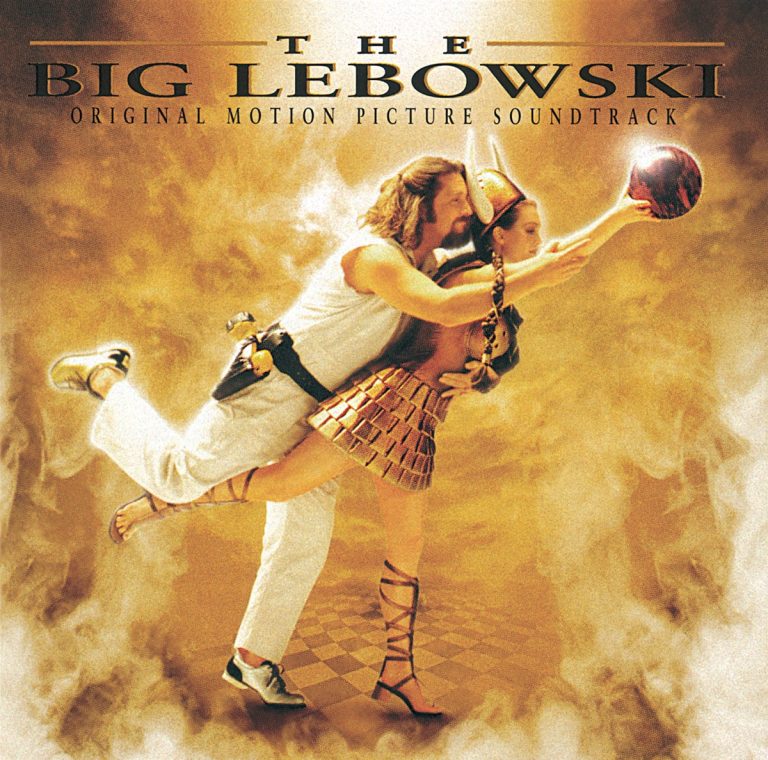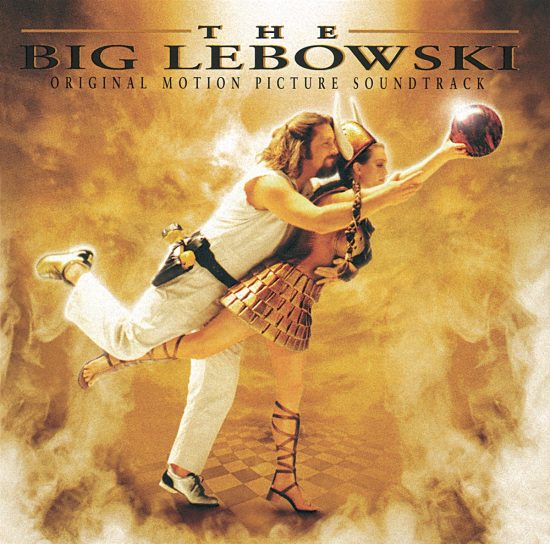 Bunnie is just as sexy as "Bunny" (no, that's not a typo; they spell it differently), The Big Lebowski's title character's resident sex worker/trophy wife (played by Tara Reid), though a lot more down to earth.
"Will you suck cock for $1000?" I ask Bunnie, referencing one of Bunny's great lines.
"I'll just go find a cash machine," deadpans the Dude, referencing the response of the original Dude (Jeff Bridges).
While Bunny and the Dude in the movie have an inherently problematic relationship, to say the least, this Bunnie and Dude seem made for each other.
They are the perfect porno couple; exuberant, exhibitionistic, affectionate, caring, in love and in lust.
They're also funny enough to be a comedy team, but they like Bunnie sex and Dude-ishness too much to derail their home-based porno project.
AND they just had a baby!
This is why Bunnie's a little late to our interview; she was feeding the kid.
Which means, yes, she's lactating.
When the Dude confesses to sharing the other Dude's preference for White Russians, I have to ask if he drinks them with breast milk.
Yes, El Duderino affirms, he most certainly does.
Then Bunnie pulls out one of her gorgeous, gigantic (36G), all-natural boobs, squeezing her right nipple until a pearl of breast milk emerges.
His Dudeness licks that sweet stuff up: the perfect White Russian, minus the vodka and Kahlua.
Boobalicious Bunnie and the Abiding Dude also revel in being "hairy," a burgeoning fetish among fans who prefer their porn stars to be au naturel rather than shaved and hairless.
To start the Lebowski Hairy Tour, Bunnie makes a point of showing off her hirsute armpit hair which His Dudeness makes a point of licking.
Of course, like the original Duderino, this Dude has a bushy beard, even bushier than the original. Or maybe just being a new dad means no time for trimming.
Then again, maybe his trichophile fans prefer it that way, along with his hairy chest, of course.
No manscaping for this Dude!
But it's Bunnie's luxuriant bush that beckons us.
Does that make us pubephiles?
Political animal that I am, I feel moved to differentiate Bunnie's "good bush" from the Bad Bush who occupied the White House from 2001-2008, lied and cheated America into two horrific and fruitless Perma Wars, botched his response to the Katrina disaster and, despite his recent attempts at rehabilitation, will never live down being America's worst Presidunce… besides tRump.
Not only is Bunnie's vulva bushy, it's ginger! This is a delightful surprise since her head hair is a medium brown.
Bunnie's bush inspires Sunshine's to come out from under her panties.
My own wondrous vulva isn't very bushy, but it comes out anyway.
I haven't seen this many pussies since Labia Day!
Thanks to our requests and her exhibitionism, soon Bunnie is completely naked, legs spread, balancing on her toes, reminding us that she's an amateur gymnast.
The Dude then begins his expert fingering (aka masturbating her), and before we can say, "It's Holy Water, Brothers and Sisters," she's squirting.
What a beautiful baptism for MILF Day!
What a beautiful, versatile couple. They even did "pregnancy porn" when Bunnie was expecting.
The one thing they have yet to do is anal sex. No "Tutti Frutti" for the Lebowskis… yet.
With their fans clamoring for it, they are prudently saving Bunnie's virgin butthole for "later."
Meanwhile, they share numerous other sexual activities, and they are thriving in the Coronapocalypse.


Even though she's a brand new mom, Bunnie loves sex and couldn't wait to get back into camming as soon as she healed from giving birth.
What true sex performers!
We appreciate them both and look forward to having them back on the show, maybe in-person when they're in LA, post-Coronapocalypse.
Meanwhile… Happy MILF, MILF-lovers and Mother's Day to the Lebowskis and all the sexy parents and child-free "parent figures" out there!
A special shout-out to my own child-free masturbation "mom," actually the "Godmother of Masturbation," who taught me things my biological mother never would in her seminal book, Sex for One (then called Liberating Masturbation), Dr. Betty Dodson.
She Bop, We Bop, A-Wop-Bop, a-Loo-Mop, a-Lop-Bam-Boom!

"Social Distancing" is an inherently misleading phrase for what we're doing in the Coronapocalypse since many of us are as social as ever; we're just connecting through social media.
COVID-19 isn't social; you can't catch it through Twitter (though all those Trending Topics can drive you insane).
You catch it through physical proximity to someone who has it, especially if they're coughing and sneezing all over you, or even just exhaling near you.
That's why we need physical distancing.
Still, it's not an exact science, and even our most esteemed scientists, along with our sleazy politicians, are giving us mixed messages about how to maintain physical distance as American "opens" for work and play.
Photo 1: Harry Sapien.  Photos 2 & 3: Sunshine McWane.  Photos 3 & 5: Selfies
My way of handling physical distancing is to mask up as we set up and start the show.
Then, with the crew at a distance, Sunshine and I, keeping our six-foot-apart distance (more or less) take off our masks to interview our guests on Zoom.
Post-show, we put the masks back on to pose for a few post-show photos with Capt'n Max, Ana (another great Mom and MILF) and Miguel.
Speaking of Moms and masturbation, Sunshine says her mom never discussed the subject, except to let her daughter know (as an adult) that her favorite Cyndi Lauper song from her childhood, "She-Bop," is all about it.
That explains Uncle Siggy's Master Bingo and the self-service station.
Indeed, she bop, he bop, we bop.
And in the words of the immortal Francois de la Brioskee, "Everybody bops" (especially in quarantine).
Technically, Capt'n Max and I could have any type of sex, since we are sheltering together, but we bop too.
At least, mutual bopping is a favorite sexual activity of ours, as it is for so many couples.
Photos: Selfies
Thus, we bop our way into "a-wop-bop, a-loo-mop, a-lop-bam-boom" heaven.
READ "RIP LITTLE RICHARD, TUTTI FRUTTI SEX REVOLUTIONARY" ON COUNTERPUNCH
© May 9, 2020 Susan Block, Ph.D., a.k.a. "Dr. Suzy," is a world renowned LA sex therapist, author of The Bonobo Way: The Evolution of Peace through Pleasure and horny housewife, occasionally seen on HBO and other channels. For speaking engagements, call 213-291-9497.