Bedside Chat 14: Hawaii to Bollywood to Twin Towers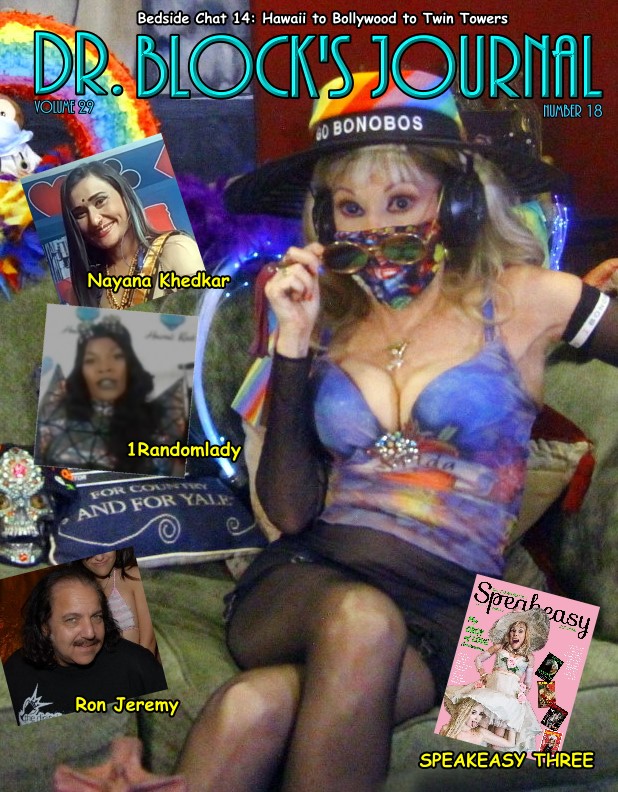 Length 1:27:59 Date: June 27, 2020
by Dr. Susan Block.
This is a show of many colors, some bright, sexy, exotic, comical and far, far away; others dark, murky, disturbing, tragic and very close to home.
From a celebration of LGBTQ Pride history, to kinky adventures in Hawaiian "vacation domination" with Honolulu Pro-Domme 1ranDOMlady, and a virtual visit to Bollywood—the Hollywood of India— with sexy actress and "stylish Memsaab" Nayana Khedkar, we're in kinky, balmy, erotic heaven.
But alas, life isn't just a bowl of orgasms.
So, just before we close, we get serious, sad and kind of mad as we talk about the recent arrest and incarceration of Ron Jeremy with Ron's assistant, Albert Minero, Jr.
So you're treated to a full-spectrum rainbow of emotions on this one.
Rainbows, of course, fit right into our colorful climax to Pride Month.
Rainbow Pride History

We start by revving up the Rainbow Pride Wayback Machine.
It's my 14th Bedside Chat of the Coronapocalypse, inspired by FDR's Fireside Chats that warmed America's hearts almost a century ago
Twelve years ago (if you're tuned in live), the U.S. Supreme Court ruled in Lawrence vs. Texas that Anti-Sodomy laws prohibiting consensual anal or oral sex were unconstitutional.
Interesting factoid: Lawrence and his lover Garner were gay interracial lovers.
Then, five years ago, the Supremes ruled to recognize another basic right of love: Same Sex Marriage.
It's also the 50th anniversary of the first Pride March in New York City, commemorating the Stonewall Rebellion, called the Gay Liberation March.
Of course, "gay love" is natural, valid, and common among humans and other animals (like bonobos), but these rulings make it legal, and that is something to celebrate with Pride.
Praise be to the power of the Sun, the Moon and the planet Uranus!
Our assholes belong to us!

If I can cover my cunt—which only wants to breathe freely!—to placate society's dubious morals, you can cover your face to keep from spreading a deadly disease.

Though Agent Orange is trying mightily to reverse those rights, not because he gives a damn about it (after all, his mentor was the notoriously gay Roy Cohn), but to satisfy the bigoted urges of his base, just as he supports sadistic policing disproportionately targeting Black people, and encourages Americans to give each other Coronavirus by not wearing masks.
You think being "made" to wear a mask is an infringement on your freedom to show your face?
Well, I think being made to wear pants is an infringement on my freedom to show my pussy.
Really, it does put me out to have to put on pants, a skirt or something to cover my genitalia every day just to go outside! Having spent some quality time in nudist resorts, I know what a pleasure and health benefit it is to walk around naked in the great outdoors.
If I can cover my cunt—which only wants to breathe freely!—to placate society's dubious morals, you can cover your face to keep from spreading a deadly disease.
The Trumpus is leading the raging band of anti-maskers, like the Pied Piper or Jim Jones, as the Coronapocalypse continues to take American lives in unpresidented numbers.
Well, we just have to hold on tight for a little while longer because the Trumpus is losing so bad, it's beautiful!
For a nice lift with an LGBTQ twist, check my new piece in Counterpunch, "Sex, Pride & Black Lives Matter," about a Trumper who goes to a BLM rally for sex (and yes, he wears a mask—except when he's giving head), and winds up getting radicalized.
Then he swears off Trump in 2020 like it's a dangerous drug—which it has been for some folks, but they're kicking the habit. Trump's polls are plummeting! He is poised to lose—or maybe he'll drop out.
But let's not get cocky about polls, Brothers and Sisters, like so many of us did in 2016.
Don't forget to vote!
With that in mind, we open up our Bedside Chat to our fabulous guests.
Hawaiian Vacation Domination
We say "aloha!" to our first guest Zooming into Bonoboville from Honolulu, Hawaii: a bold and beautiful Dominatrix named 1RanDOMlady.  
That's pronounced "One Random Lady" with an emphasis on the "Dom" in Random.
I love the wordplay, though it's a little awkward to use regularly. So we just call her Lady, Goddess,  Goddess Lady, or "your Majesty."
Indeed, this Goddess Lady looks quite majestic in her shimmering, skintight, silver rainbow catsuit and black corset lacing in the waist of her gorgeous hour-glass figure.
Despite the rainbows, her Majesty maintains she's "straight," but she's also the "Goddess of Uranus," so….
She's new to professional Domination, though she's been dabbling in the kink scene for a while as a sub, Dom and switch, finding the dominant role to be her preference.
She loves roleplay and creating erotic scenes for her submissives that might involve pet play, goddess worship or signing contracts.
"Vacation Domination" is one of her specialties. The concept reminds me of the classic 1994 kink vacation satire (based on an Anne Rice novel) about a BDSM island resort, Exit to Eden, starring Dan Akroyd, Dana Delaney and Rosie O Donnell.
But "vacation subjugation" under her Majesty is a lot more intimate and personalized.
Unfortunately, the Coronapocalypse is interfering with the launch of this Goddess' pro-Domme business, and things are pretty depressed in Hawaii, economically and otherwise.
When you feel safe enough to explore new horizons and you're ready to submit to a stunning, creative FemDom, a BDSM vacation with her Majesty sounds heavenly.
We talk about how to engage in kink play safely, whether via Zoom or a very long whip, like the fiber optic whip Goddess Phoenix gave me that I use to spank Sunshine's spankable bottom.
Pegging is another specialty of the Goddess of Uranus.
We talk about the pleasures of anal penetration, including for men who consider themselves "straight," as the Goddess puts on and shows off her see-through silver-grey strap-on dildo.
In the haze of Zoom, it becomes the Ghost Penis of Uranus.
Sauntering around her room, she shows us her favorite fucking machine, her Pet Play supplies, some lovely art work, a lot of blue Hawaiian hearts and a "Humbler" (the first time we saw one of those in action was on FemDom Earth Day), among other kinky goodies.
We also talk about Black Lives Matter. Fortunately, her Majesty has never been arrested, harassed or experienced police brutality personally, but she's from Alabama, and she developed a profound understanding of racial bigotry and sadistic policing through her parents who grew up with it there in the Deep South.
We discuss the idea of teaching BDSM protocol and sadomasochism psychology to police in order to enhance awareness of the prisoner's condition—whether they be submissive or suspect.
This kooky Coronapocalypse has everything screwed up. Her Majesty was all set to go to DomCon in May, and she was actually really looking forward to seeing me as DomCon 2020 Mistress of Ceremonies. But thanks to the pesky virus, Mistress Cyan had to postpone DomCon from May to August, and the Goddess Lady can't make it in August.
Oh well, next time…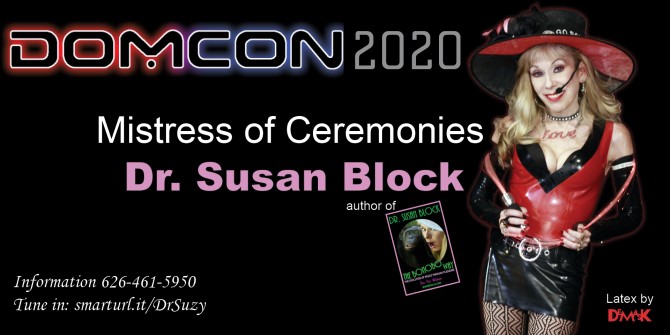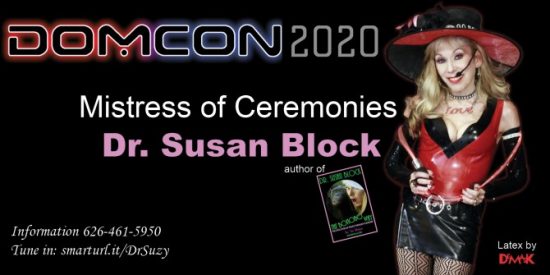 Or maybe we'll soon be taking her Majesty up on her invitation to visit her in Hawaii!
The "Stylish Memsaab" of Bollywood
Next we interview the lovely and alluring Nayana Khedkar, a Bollywood actress, life coach, dancer, Yoga expert and sex educator, Zooming onto DrSuzy.Tv from Mumbai (formerly Bombay), India.
Seductively attired in a traditional but delightfully revealing sari, with the four suits of cards—spades, diamonds, clubs and hearts—above her, Nayana looks like a romantic Bollywood dream come true.
In a way, that's just what she is, having starred in a variety of music videos, comedies and serious films.
Our chat starts off with a few technical difficulties, but Nayana rolls with it like a true professional, keeping her charming smile on her sweet face throughout the glitches.
"Bollywood," just in case, you don't know, is the Hindi Hollywood. When Nayana talks about the hopefuls who come to Mumbai from all over India "with stars in their eyes," but soon find it's not exactly the adult Disneyland that the movies make it appear to be, I have to chime in, "that sounds just like Hollywood."
Apparently, Nayana has that special combination of talent, beauty, determination, good timing and good luck that enables her to survive and thrive in this challenging, competitive world.
I love Bollywood films.
Though I spent a few months traveling through India during a summer vacation from my Yale education, I don't know much more Hindi than "namaste," "baksheesh," "ganja," and "Boom Shiva Shambalay Boom (the old smoker's ode to the great god Shiva before taking a puff from the chillum)."
But I love the Indian culture. It's so erotic—yet so oddly Puritanical—and so spiritual, yet so industrialized—and brimming with drama, passion, pathos and mischievous humor, as portrayed in Bollywood cinema.
The musical numbers make me think of old American musicals like The Wizard of Oz, Oklahoma! and West Side Story.
And talk about rainbows! Bollywood films are as colorful as confetti.
Honestly, I was embarrassed to admit my appreciation for the Bollywood style in the 1980s when I first became aware of it and joined the chorus of cinema snobs condemning it as irredeemably cheesy.
Maybe as I've cut cheese out of my diet, I've developed a taste for it as cinematic art.


Like many Bollywood films, this one is great soft-core eye candy. Every move is suggestive of some kind of sex, but nobody's actually having sex.

We show an excerpt from one of Nayana's music videos, "Jale aag bhitar jale."
Nayana translates the title and lyrics to mean "there is fire which is burning inside me… and I'm just flying into that smoke… People can only see the smoke but they don't see fire…"
You can get a contact high just by looking at the billows of ganja pouring through the dancers' dramatic lips and nostrils as they puff on chillums.
Boom Shiva Shambalay Boom!
Like many Bollywood films, this one is great soft-core eye candy. Every move is suggestive of some kind of sex, but nobody's actually having sex.
Some of the clothing is quite revealing, but you never see any genitalia nor even a nipple.
Nayana is the only female among over a dozen hot, horny (well, they look horny!) men, dancing and prancing around her.
Maybe I have a dirty mind (uh… maybe?), but the whole thing looks to me like a simulated gangbang.
A consensual gangbang, to be sure. Nayana appears to be extremely happy throughout the video, occasionally conveying rapturous ecstasy through her expressive face and energetic dance moves.
At one point, she's dancing in a barrel of hay, and I wonder if "a roll in the hay" translates to "having sex" in Hindi as it does in English.
Nayana is a woman of many talents with a lot of fans that she has been known to call her "slaves," as a "Stylish Memsaab" and the "First Dominating Actress of Indian Cinema."
A strong dominant woman who seems to revel in dominating her slavish fans, Nayana also says, "I want to find the male version of me. That would be epic."
Listen to the show above or watch it below for Nayana's explanation of this search for love that mirrors the self.
She also has some nice words for yours truly, and I'm not too modest to quote from one of her emails to Sunshine:  "I really love Dr. Susan… she is so unique and special for me… one of the most beautiful personalities and souls… I simply love her."
And I'm not too proud to admit I'm now blushing.
And I simply love Nayana right back. Especially since this first interview was beset by technical problems, and I couldn't hear half of what she was saying, I want to have her on DrSuzy.Tv again soon.
Or we'll be visiting her lovely, whimsical place (among other professional skills, she's an interior designer) in Mumbai!
So… Ron Jeremy was just arrested. You know who Ron Jeremy is, of course, the famous porn star, the icon of old-style erotic cinema, a former schoolteacher (in real life), famous for being a totally unglamorous "regular guy" who gets laid by gorgeous women—on and off-camera—on a regular basis, and has for forty years. I've known him for over thirty of those years.


Prison is a long-term chokehold.

A few days ago, Ron was taken into custody and is now being held in LA's notorious Twin Towers jail, several women having accused him of "forcible rape" and assault. Now, unsurprisingly and without missing a beat, the virtual #MeToo mobs of social media have judged and juried him to be guilty as accused, as they have judged and juried so many others.  
Don't get me wrong. I, like every decent human being, condemn all forms of rape, sexual harassment, abuse or assault. I have the utmost sympathy for any woman, man or gender-fluid individual who suffers the trauma of being physically attacked, I have been a booster of victim's voices in the #MeToo Era, and I believe strongly in the benefits of female empowerment, the Bonobo Way.

But I don't "believe all women" any more than I believe all men.  
I've known too many people—male, female and gender-fluid—who lie about anything, including sex, to jump on that trope, catchy as it sounds.
I wasn't in the room(s) where these acts allegedly occurred, so I can't know what happened.  I am not a witness.
All I know is that Ron Jeremy has never raped anyone here in Bonoboville, nor has he been accused of rape in Bonoboville. He's never assaulted anyone either, in my view. Though the popular definition of "assault" is changing to where a surprise hug from behind or any unwanted touch at all could be called an assault. So, maybe I just don't know what "assault" means anymore, and I say that in all humility.
Ron's had consensual sex with a lot of women on my show and in the after-parties, and he's groped a lot of women, 99% of whom asked for it or were delighted to experience a grope from THE Ron Jeremy. It's not that they think he's a great-looking guy (though some find him "adorable"), it's star-fucking pure and simple. They want to be fondled by the world's most famous porn star just like some people want to climb Mt. Everest, the world's highest mountain.
Most women come on to Ron, in my experience, but sometimes he approaches them.  When they say "no," push him away or just give him a dirty look, he always backs off.
No means no, and from what I've seen over the years, Ron knows that.
Honestly, Ron is more likely to grab hors d'ouevres than women here in Bonoboville. We've had to tell him to keep his hands off the sushi more often than the ladies.
If there's no food available, and if he's not performing, he usually falls asleep. The guy's narcoleptic, which can be pretty annoying if you're in the middle of a conversation.
Ron Jeremy is not a perfect person. Nobody is, and Ron might be a little less perfect than most. However, now that his life is literally on the line, I feel compelled to stick my neck out a bit and say this: according to my limited but long-term personal knowledge of who he is and what he's done over three decades, Ron Jeremy does not belong in jail, let alone prison.
Of course, most people who are incarcerated in our giant Prison-Industrial Complex (PIC) don't belong there.
Prison is a long-term chokehold.
Though, where there's sex, there's hope. Maybe he'll have some secret fans in that courtroom. Considering it's Ron, there could be a hung jury.
Sorry, I can't resist a bad pun.
I'll be talking more about Ron over the next few months, at least, as his case unfolds, but this being the first Saturday after his arrest, I just want to make this statement in my old friend's defense.
I don't believe in loyalty without question any more than I "believe all women." But I do think there's something to be said for standing by old friends who haven't done you harm in their hour of need.
I also chat with a few people about the situation, including Capt'n Max who has had his own experiences with sadistic policing and the notorious PIC,  having been arrested 23 times for exercising his First Amendment rights.
Max reminds us that, no matter what the Internet mob says, a person is supposed to be innocent until proven guilty.
Though, of course, we've all seen the mob destroy many people's careers, and sometimes their entire lives, without a day in court.
We also chat with Ron's personal assistant, Albert Minero, Jr., who expresses his support for and concern about his old boss.  Shout-out to Janelle who was my first show assistant in the 1980s when we both met Ron through the late Dr. Toni Grant, and whose return to the show was quite emotional in and of itself.
Of course, a lot of Ron's old friends, colleagues and business associates are abandoning him right now, including his own managers, as well as heads of companies that have made a lot of money off of Ron. But Albert, who accompanied the "Hedgehog" (Ron's porn nickname to convey his characteristic hairiness) to many bars and parties, believes in Ron's innocence. So does Elliot Preschutti, bar manager of the Rainbow (another rainbow on this rainbow show!), as well as our mutual friend, AVN award-winning director Axel Braun.

In the few minutes we have left in the show, we chat with Albert about the man, the case, our culture of fear and American society which seems to be becoming more sex-negative every day, as more and more sexual people are attacked by the religious zealots on the right and virtue signalers on the left. Many of the accused seem to deserve it for what appear to be pretty heinous acts, but then, I have to admit, I don't know those people, the ones that I firmly believe "deserve it."
So maybe they don't.  After all, a lot of folks out there firmly believe that Ron Jeremy deserves worse punishments than murderers. They look at some of his more unflattering photos and status of being the world's most recognizable symbol of old-school porn, and they conclude he must be guilty of sex crimes. This is what I have called "sexual profiling."
I'm no lawyer (though I tried a case against the LAPD in pro per and won a nice settlement). I just want to use my platform to provide three views of Ron Jeremy and his current predicament that are different from the mob, that of Albert, Capt'n Max and me.
Listen above or watch below for details.
This is not easy to talk about, but I'm trying. I plan to have other guests on my next few Bedside Chats to discuss related issues—such as my Counterpunch colleague, JoAnn Wypijewski, author of What We Don't Talk About When We Talk About #MeToo: Essays on Sex, Authority and the Mess of Life—in the near future.
In the meantime, Bonoboville celebrates the climax of another great Bedside Chat in the Coronapocalypse with Rainbow Pride and Ana's home-cooked tacos and fruity-spiked champagne.
Then off go the Captain and I, over the rainbow of love and into each other's arms, just like a Bollywood movie, but with fantasy romance and more reality-based orgasms.
June 27, 2020 Susan Block, Ph.D., a.k.a. "Dr. Suzy," is a world renowned LA sex therapist, author of The Bonobo Way: The Evolution of Peace through Pleasure and horny housewife, occasionally seen on HBO and other channels. For speaking engagements, call 213-291-9497.
BEDSIDE CHAT #14 PHOTO ALBUM
---
Explore DrSusanBlock.com
Need to talk? Sext? Webcam? Do it here. Have you watched the show? No? Feel the sex. Don't miss the Forbidden Photographs—Hot Stuff, look at them closely here. Join our private social media Society. Join us live in studio 😊. Go shopping. Gift shop or The Market Place. DrSusanBlock.tv, real sex TV at your toe tips. Sex Clips Anyone? FASHION, we have fashion! We also have politics. Politics? Have you Read the book? No? How about the Speakeasy Journal? Click here. Ok, how about some free sex advice?
---
---