FemDom Earth Day ✿
Length 01:48:28 Date: April 22, 2017
It's Earth Day in Bonoboville, and an effervescent mix of fabulous FemDoms, Science Marchers, sex therapists, a rapper and a reunited family from my distant past gather together in my Womb Room to celebrate, confess long-held secrets, plan political actions, gag Big Baby Trump with a penis pacifier, lick sacred salt from luscious nipples and erotically ritualize our deep connection to our collective Mother, the Earth.
We begin this broadcast with the unnerving awareness of thuggery in the air—and on the runway. Earlier that day, American Airlines joined United in spicing up pre-takeoff procedures with some hardcore BDSM; the problem is that it's not consensual! It's probably no coincidence that both these incidents—in United's case, brutalizing an elderly doctor, and on American, attacking a mother with a baby in her arms—were perpetrated by overly aggressive male flight attendants.
Our fabulous FemDoms have a solution to this problem of out-of-control male aggression: Get it under control!  But how? The bonobos, the FemDoms of the Wild, show us one way to do it, with female solidarity, non-lethal consensual discipline and a lot of hot sex for the good bonobo boys who follow the rules of peace through pleasure and respect for the female.
Inspired by the bonobos (at least if they come to my show or hear my talk, they are), these FemmeDommes, are creating a bonoboësque FemDom revolution, from the dungeon to the ballot box, that just might save our species, if the science-disdaining, missile-fetishizing Thug-in-Chief in the White House doesn't get us blown up.
Madame Margherite & Police Misconduct
My first guest is fetish specialist and animal play monarch, Madame Margherite, last seen in Bonoboville directing her devoted human "pets" in a command performance on our 25th Wedding Anniversary. This time she's solo, elegantly attired as always and rocking a "Trump: What a Cunt" button by Clemmy Cockatoo designs. With my encouragement, the clever Madame Margherite tickles our funny bone, telling BDSM jokes that I believe could land her a spot at the Comedy Store doing "FemDom Stand-Up."
My favorite:"What do you call it when a dominatrix makes you sit through her jokes?… Pun-ishment."
The strong-minded Madame also weighs in against abusive police in our discussion of out-of-control thuggery in positions of authority. She urges Angelenos to vote "yes" on Measure C, in the May 16th election, which would allow police officers accused of misconduct to choose to go before a hearing board composed of three civilians, rather than two command-level officers and only one civilian. Essentially, it's a progressive step toward getting more civilian oversight of our police force.
Mistress Eva Cruz & "The Humbler"
My next guest is Mistress Eva Cruz, last seen on DrSuzy.Tv at Halloween 2015. Winner of the "Sultriest Domme" 2016 SUZY award, Mistress Eva has a different solution to male misconduct.  She calls it "The Humbler." Demonstrating this medieval-looking metal contraption on one of my dildos with sultry sadistic joy, she shows us how The Humbler can squeeze the misconduct right out of a man's balls.
Mistress Eva is assisted in her disciplinary efforts by Mistress Liz, back from this past Saturday's Easter Eve & Kinky Passover, who adds rubber bands and "C47s" (clothes pins) to the torture mix, much to the horror of most of the Bonoboville boys, now clutching their walnuts protectively. 
Fortunately, we also have a therapist in the house, a marriage and family counselor (and friend of Johnny Jungle) named Miss Molly who, though a bit more reserved than the FemDoms, is rocking a lacy little black dress that could humble some men—no torture device necessary. We talk about BDSM as a way to channel violent impulses and anger into a controlled, consensual discipline. Though a dominant generally should not enter a BDSM session feeling anger toward the submissive, the bondage arts do provide a relatively safe outlet for the violence that runs, to varying degrees, through all of us.
Ball-squeezing is thirsty work. After severely humbling my dildo, Mistress Eva is in need of both spiritual and physical refreshment.  For that, the lovely  Gypsy Bonobo volunteers to be her Altar Girl for a remarkably beautiful, feminine Bonoboville Communion. Mistress Eva was raised strict Catholic, so it is with great passion that she takes the Jackhammer Jesus dildo, and places it upside down between Gypsy's bared breasts, before leaning back against the altar to receive her Waterboarding Bonobo-Style, with delicious Earth Day-green Agwa de Bolivia Herbal Coca Leaf Liqueur.
Back from the break, I'm joined on my broadcast bed by some old friends that I used to work with in the very early, pre-Capt'n Max days of my show, before Bonoboville was Bonoboville, and before I even knew a bonobo from a banana. John Clark, now 84, was the second producer of my radio show in the late 1980s, when it was called "Date Night" on KIEV 87.9 AM Glendale-Los Angeles.  In those days, I would match callers up on the air for dates and other adventures. One of my callers was an adorable, Betty Boop-voiced, 19-year-old named Janelle Hopkins. After a few calls, we invited her into the studio where she made herself at home. Janelle became my assistant and, eventually, John's lover. Together they made a baby (one consequence of unprotected vanilla sex), and I am pleased to say that I was there on the first day of that baby's arrival into the world.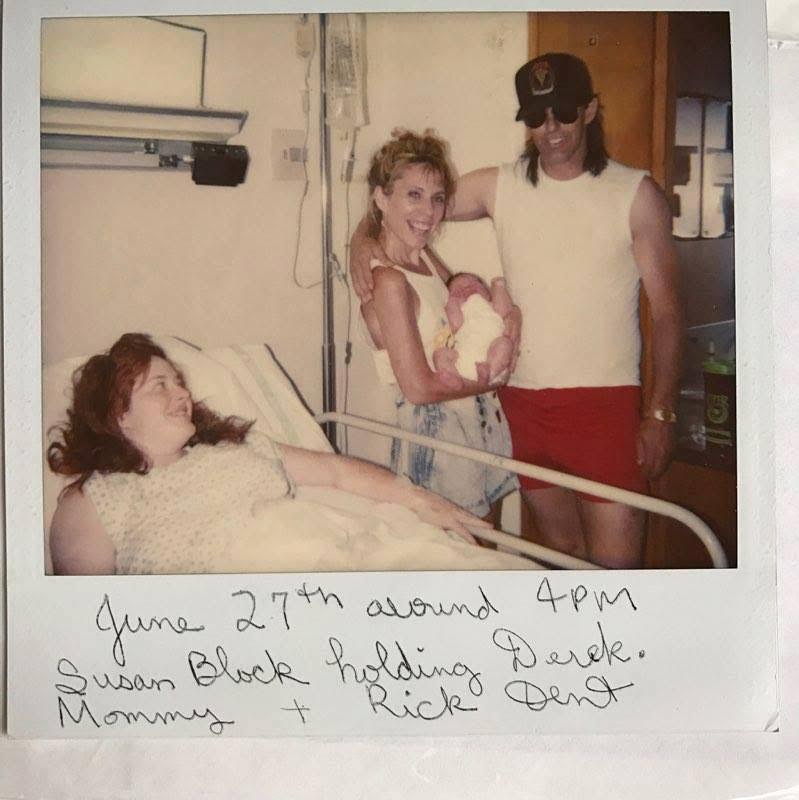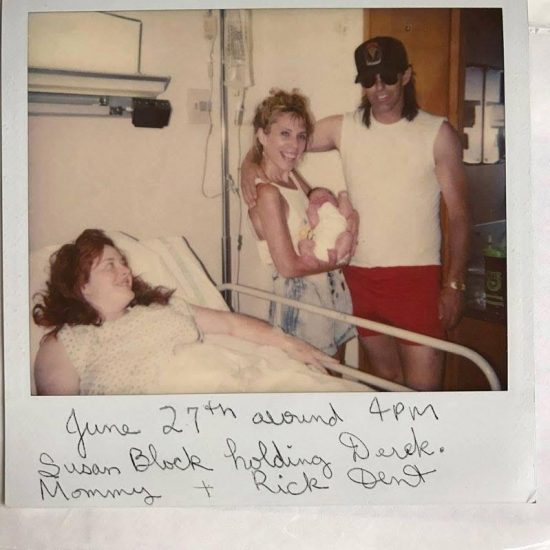 Alas, this was no ideal Hollywood family. John was married to the great actress Lynn Redgrave of the distinguished Redgrave acting dynasty, with whom he had three children. He also had another son and, eventually, another one with another woman. Needless to say, there were complications, and a variety of perspectives, that could fill the pages of a book or two. Surfing the sea of complications, for many years, John didn't fully acknowledge his paternity. Meanwhile, Janelle, John's semi-secret "Baby Mama" (her term) raised their son, Derek Wilder, pretty much on her own. My other guests and I all hail the Great Mother, embodied by Janelle, who creates and nurtures all of life on Earth.
By the looks of it, Janelle did a great job. Having grown quite a bit since that day almost 27 years ago when I held him in my arms, Derek is now a nice-looking, thoughtful, very "bonobo" young man who happens to like older women.  Like his dad, Derek was a successful child actor, working with major stars like George Clooney; he adroitly handles the crazy situation that his parents have put him into by being a guest on "Aunt Suzy's" wild show.
After John and Janelle tell their stories and make their confessions, the FemDoms of Bonoboville begin to fawn over the young man. Though he politely declines an offer to place his balls into Mistress Eva's Humbler, he does accept Gypsy's invitation to take Bonoboville Communion from her lovely breasts. Before the sacred Communion act, Mama Janelle exits stage left.  "I'm his Mom," she explains quite reasonably. "I can't watch this."
Interestingly, Papa John can… and does. 
Another beautiful Bonoboville Communion ensues. Due to Janelle's desire to act "conservative" with a series of husbands, as well as time passing at the speed of sound, I haven't seen Derek since he was a toddler. It feels surreal to go from holding him as an infant in my arms to "waterboarding" him, bonobo-style, as he leans back with an open-mouthed grin between Gypsy's open thighs. The proud Papa watches the Son receive the ecosexual-green Agwa, baptized in the spirit of Bonoboville.
Happy Earth Day! March for Science #GoBonobos
Speaking of Ecosexuality, we wish Dr. SerenaGaia, the co-editor of our book by that name, a Happy Earth Day. We also lend our big support to the tens of thousands of Science Marchers, all getting out of their labs and into the streets due to mounting concern over Trump Baby's ignorant and/or diabolical disdain for every type of science except nuclear, as well as his proposed budget cuts that will decimate research and education in many different branches of science and medicine.
Thanks to Del Rey for wrangling a dynamite Science March sign that uses letters from the periodic table of elements to spell out "FUCK TRUMP." There are so many reasons to support science; it seems like a no-brainer to accept that science improves our lives, notwithstanding the nuclear science that could destroy us all. Of course, sexology is a science, and science tends to help us lead better sex lives. Moreover, we need primatological science for the study of the bonobos, who show us that some kind of "femocracy," aka matriarchy, is not a silly human feminist pipedream, but a real-life primate culture that has developed successfully in humanity's closest cousins, the bonobos.
Now more than ever, bonobos need our help. Besides being Earth Day, April is Ape Awareness Month, so please give what you can to Lola ya Bonobo, which rescues bonobo orphans; and also consider donating to the  Bonobo Conservation Initiative, creating a Bonobo Peace Forest to stop the killing of wild bonobos as bushmeat.
I'd also like to encourage you to donate to the  Bonobo Project, a newer organization that is helping to spread the bonobo word. Recently, in appreciation for my own efforts to help the bonobos, the nice humans at the Bonobo Project sent me some great swag from their shop, including an "I BONOBO YOU" bracelet I wear on this show.
Let's add the Dr. Jane Goodall Institute to the list; recently, she said she "loves" the Bonobo Way!
We Are One
As this emotional, Earth-loving, FemDom "family" show comes to a climax, we bring up Bonoboville's favorite rapper, Ikkor the Wolf, stylishly attired in his Dr. Susan Block Show cap and his #Bonoboville T-shirt, which doesn't stay on long, as the ladies ceremoniously strip it off of his muscular torso. 
On this very special Earth Day, with the March for Science against the Big Baby Science-Denier in the White House, and the Dr. Susan Block Show reunion of the Clark-Hopkins-Wilder family, it's quite uplifting to join in with Ikkor as he reminds us that, whether we acknowledge our connection or not, there are no alternative facts.  "We Are One."
We are also really excited for DomCon 2017 where I will be a Guest of Honor, as well as presenting The Bonobo Way – Part 2 – FemDoms of the Wild (Part 1 available here) at 11:30 am on Saturday, May 20th,  just before Madame Margherite presents her sure-to-be-captivating talk on "How to Make a Man Your Pet." Throughout the convention, I will be wearing fabulous latex outfits designed by Mademoiselle-Ilo of Paris and Libidex of the UK.
Happy Earth Day, Brothers and Sisters, Lovers and Sinners. Love the Earth You Make Love on. She's one Baby Mama we can't deny.
Thanks to this week's volunteers and staff: Camera Operator – Oswaldo Martininez, Kevin Torres; Photographers – Trent Heday, Louis Carrasco, Rick Slick; Intern –Maurice Plough; On-Campus Bonobos – Abe Perez, Del Rey, Gypsy Bonobo, Harry Sapien, Jacquie Blu, MarsFX, Johnny Jungle, Clemmy Cockatoo, Ana & Miguel. 
 © April 22, 2017. Susan Block, Ph.D., a.k.a. "Dr. Suzy," is a world renowned LA sex therapist, author of The Bonobo Way: The Evolution of Peace through Pleasure and horny housewife, occasionally seen on HBO and other channels. For speaking engagements, call 310-568-0066.