Riley Reyes & UCLA's SATYR Magazine punish Trump's Rump for the Worst First 100 Days & Kick Off a very Merry Masturbation Month 2017 on DrSuzy.Tv!
Length 01:50:27 Date: April 29, 2017
This show really hits the spot! Yes indeed, like a great massage for the body, mind and spirit (including school spirit), it hits a lot of spots: sex, politics, parody, poetry, punishment, lapdance, domination, education, masturbation, an amazing, very explicit gynecological demonstration and an ecstatic sapiosexual celebration—the kind you can only experience (as far as I know) in a place we call Bonoboville.
And did I mention that lovely and talented porn star Riley Reyes sensuously inserts the entire huge head of a Hitachi Magic Wand (covered with a Glyde American Vegan Condom, of course) into her vagina (talk about hitting the spot—the G-spot!), and then turns it on, all while professorially explaining the finer points of internal female anatomy to a group of current students at UCLA?
Yes indeed, this show brings a variety of guests to my Womb Room from seemingly very different worlds: from dazzling Riley Reyes and the whip-wielding Mistress Liz to the whip-smart student editors and writers of UCLA's Satyr Magazine. Yet, it turns out they have a few key things in common…
Worst First 100 Days
Our first piece of common ground is, of course, the Drumpf Dump upon America and the rest of the world by our own Electoral Dysfunction, or perhaps by a laughing, sadistic Satyr in the Sky—who knows?
This show happens to fall on the exact 100th Day of the Orange Ogre's "unpresidented" presidency. So, throughout this show, we bemoan and laugh at the multitude of manifestations of his horridness, such as stealing from the poor to give to the rich, his racist Muslim Ban, his narcissistic War on the Media, his support for the human corporate raping of Mother Earth, his fetish for dropping large missiles into various foreign lands—kind of like grabbing pussies nonconsensually, but on a deadly, international scale (see Satyr's "Leaked Photo of Trump Foreign Policy Meeting" for a visual). And there's so much more, the head spins, the mind shuts down, the body goes to the bar…
Trump loves to win, and he definitely wins the boobie prize for the Worst First 100 Days in the history of the American presidency. His supporters might see it as a Badge of Honor, another "alternative fact," but we know this Scary Clown deserves to be punished.
Perhaps the "climax" of this show comes when sultry Satyr Magazine Editor-in-Chief Sarah Crosthwaite (check out her articles) does a spontaneous and riveting "spoken word" take-down of Trumplethinskin's First 100 Days, beginning with anointing the anti-education heiress, Betsy Devos, as Secretary of Education, and going down an astonishingly long list of goof-ups and bad moves, as Mistress Liz and Riley Reyes (looking remarkably like Ivanka) spank and penetrate, "rape and pillage" our Trump surrogate with a big black police baton dildo, his punishment for such an appalling First 100.
But you know who's had an excellent, though challenging First 100 Days? We have. We the Resisters, the Women's Marchers, the Science Marchers, the Safety Pin wearers, the Satirists, the FemDoms and Mad Pussy Hatters, the ACLU, the cogent commentators and Trump impersonators, the bonobo sapiens trying to practice the Bonobo Way to a nation being run by baboons (with apologies to real baboons), the peaceful protestors and so-called Snowflakes, ought to give ourselves a hand for our First 100 Days. We're still here.
Speaking of giving ourselves a hand… it's that time of year again: The Merry Masturbation Month of May.
Merry Masturbation Month, Satyrs!
Amazing but true: the namesake of Satyr Magazine is actually a symbol of self-pleasure. According to those lyrical, satirical ancient Greeks, masturbation is a gift from the gods. The Great God of Communication, Hermes, revealed it to the Great God of the Wild, the leader of the satyrs, Pan (from whom the bonobos take their Latin name Pan Paniscus), after Pan's love for a nymph had gone unrequited. This shows how the simple act of masturbation can be an excellent rape prevention technique. Pan then taught the other satyrs to masturbate, as well as the shepherds… for which we can only assume that the sheep must have been grateful.
Everybody has a bit of a satyr inside of them. Everybody masturbates sometimes. Bonobos masturbate in the wild and in captivity. Humans do it in private, or on webcam. If you don't masturbate, you should, at least occasionally. If you don't know why you should, check out 8 Great Benefits of Masturbation.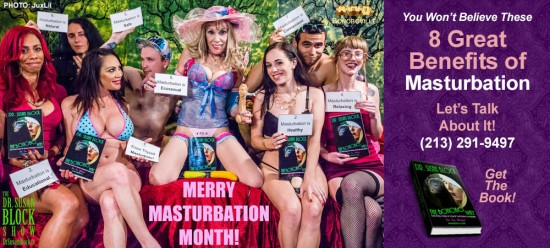 History teaches us that even, or perhaps especially, U.S. Presidents should masturbate.
Since Melania never sleeps in the White House (for which she has my sympathies), one would wish that the Donald would diddle that micro-penis of his sometimes, maybe just before bed, instead of staying up all night tweeting "sad!" vitriol, watching Fox News-Porn and shooting off those big phallic missiles, like a big baby playing with dangerous toys.
Photos 1 & 2: Jux Lii.  Photo 3: Louis Carrasco
Here on DrSuzy.Tv, part of our Trumpocalypse Therapy is to treat Trump as a big baby… which he is. Or a big dickhead with small penis syndrome… which he is. But enough coddling! On this show, we take off the mask, make him grow up, become a man (sort of) and take his punishment… pants down, on his hands and knees. For this feat, we definitely need a dominant mistress, a fabulous porn star who looks remarkably like Ivanka (and really wants to play her in a porn parody!) and a group of students who call themselves Satyr.
Satyr Style
Sarah leads the current Satyr editorial "femocracy," with the help of her right hand woman, writer Rachael Frank (check out "The Second Amendment Guarantees Me the Right to Own a Gun and to Get Physically Aroused While Holding One"), who takes a few of her own well-timed whacks—both verbally and physically—at Trump and Trump's rump. Supporting the ladies and adroitly managing to stay out of the way of the whacking is Satyr Magazine writer George Gutten, who bemoans the challenge of parodying a President who is already a parody of presidents.
Several more students, including other writers and roommates of the on-camera guests, are watching the fun at the Bonoboville Bar, turning it into a Bruins hangout for the night. Feeling the need to balance things out collegiately, I wear one of my Yale Bulldog thongs under my royal blue and gold lingerie, a la UCLA. Funny, no one else wears the UCLA colors. Probably because wearing royal blue and gold is tough to rock unless you're in the process of scoring a touchdown. Of course, Gypsy Bonobo and I rock it. We're such school-spirited cheerleaders… maybe because we're not actually going to school right now. Unless you consider Bonoboville a school, which it is, though we're not accredited, and we're into all the colors of the rainbow.
Whether you're a Bulldog, a Bruin or a Ruin, but especially if you're a bonobo, you'll enjoy flipping through the witty pages of Satyr Magazine, before or after watching the Satyrs themselves frolic and converse on this show, now playing free in the Bonoboville Lounge.
Riley Riles Us Up for Masturbation Month
Riley Reyes is a total Southern California Girl, though she hails from South Carolina. She's not a college girl, but she used to be, showing us once again how the worlds of college and porn are converging.
Riley's new lover offers more evidence of this trend. When I met Riley on my 24th Wedding Anniversary, she was dating MIT grad and ErotiqueTV porn CEO and leading man, Eric John. Now Riley is leaning toward the lesbian side of her bisexuality. Her new girlfriend (whom she met on Tinder), the adorable Amelia Jones, doesn't do porn. When I ask what she does do, she reveals that she's a freshman… at UCLA!
Six degrees? There are no degrees of separation in this group. We're all just a bunch of educated wankers.
But Riley is, you could say, a wank above the rest. Not only is she the object of more and more wanking among college students and everyone else, she shows herself to be an expert in exploring the outer—and inner—reaches of female masturbation, breathing like a Tantric yogi, squeezing and releasing her PC muscles, and then thrusting that giant Hitachi head into her vagina like it's just a finger. Wow!
This isn't Riley's first teaching stint, not at all. She will also teach classes in how to have Anal Like a Pornstar and The Art of Lapdance on the Couples Cruise. She gives us a sizzling lapdance to the tune of Carmina Formosa's "The Kinkster" and even balances dollar bills on her nipples!

Riley Reyes can teach a class anytime here at Bonoboville University erotic digital classroom. She certainly holds our entire student body spellbound on this show.
Mistress Liz & Ikkor the Wolf
As Ikkor would say, "She Bad." And that's exactly what he raps as ravishing Riley twerks, and my Womb Room explodes in rapture.
I myself am seated triumphally upon Trump's rump, spanking him with The Bonobo Way (read it, or get red by it!) and humiliating him for the innumerable sins of these Worst First 100 Days.
PHOTO 1: RICK SLICK.  PHOTOS 2,3 & 4: JUX LII
Kudos to Mistress Liz for lassoing the Angry Cheeto and bringing him—on his hands and knees—into the Womb Room for our pleasure and shoving his missile fetish up where it can explode safely. This is Mistress Liz's third time in a row on DrSuzy.Tv, each appearance a FemDom revelation.

The Chef & Danièle + Aaliyah Surprise Us
We also have some surprise guests: Awesome actress Danièle Watts & Rawkstar Chef Be*Live, winners of the 2016 SUZY award for "Most Bonobo Couple," suddenly slide into the show and, after some conversational-sensual foreplay, they get naked and play like real bonobos, deep into the night.
Danièle feels she has to be here for our show with UCLA because she went to USC. That school spirit can get very spiritual. Danièle even gets hazed after the show on the spanking couch; and to think she only got spanked consensually for the first time on Spanksgiving 2016.

Then who runs into Mama's arms but Aaliyah Corsets in a beautiful purple corset. My very first radio assistant, Janelle Hopkins, who was on last week's FemDom Earth Day show is also in the house. It's a Bonoboville College Reunion!
But we really couldn't do it without UCLA. Kudos to the Satyrs for rolling with their kinky elders. Though the Donald's next 100 days has me nervous, I feel confident that smart, funny, sex-positive young women like Sarah and Rachael are the future leaders of America.
Bonobo Way Bound for DomCon 2017
Speaking of the future, DomCon is coming! I will be a Guest of Honor, wearing designer latex outfits by Mademoiselle-Ilo of Paris, as well as Libidex and Catalyst latex of the U.K., and presenting The Bonobo Way, Part 2: FemDoms of the Wild at High Noon on Saturday, May 20th. Be there!
Watch Part 1 now, and get inspired.
The Day When Women Are In Charge (not a satire, though the title might bring to mind an Aristophanic satire called "Women in Power"), by fellow Yalie, Gerry Weaver, might also inspire, or at least prepare you for the impending femocracy, assuming we survive the next 100 days under The Prima Donald angry white male backlash.
Are Selfies a Socially Acceptable Form of Masturbation?
Meanwhile, whatever your race, gender, education level, religious or political belief system, give yourself a break from the fake news and celebrate the real thing: YOU and your pleasure. You can also observe the holilday, like the Captain and I, by enjoying a little mutual masturbation. Whatever way you celebrate, masturbate, and have a very Merry Masturbation Month!
Thanks to this week's volunteers and staff: Camera Operator – Stan Gagulsky; Photographers – Jux Lii, Trent Heday, Rick Slick; On-Campus Bonobos – Abe Perez, Del Rey, Gypsy Bonobo, Harry Sapien, Jacquie Blu, MarsFX, Johnny Jungle, Clemmy Cockatoo, Ana & Miguel. This show is associate-produced by Harry Sapien & Jacquie Blu.
© May 1, 2017. Susan Block, Ph.D., a.k.a. "Dr. Suzy," is a world renowned LA sex therapist, author of The Bonobo Way: The Evolution of Peace through Pleasure and horny housewife, occasionally seen on HBO and other channels. For speaking engagements, call 310-568-0066.