America's Birthday Spanking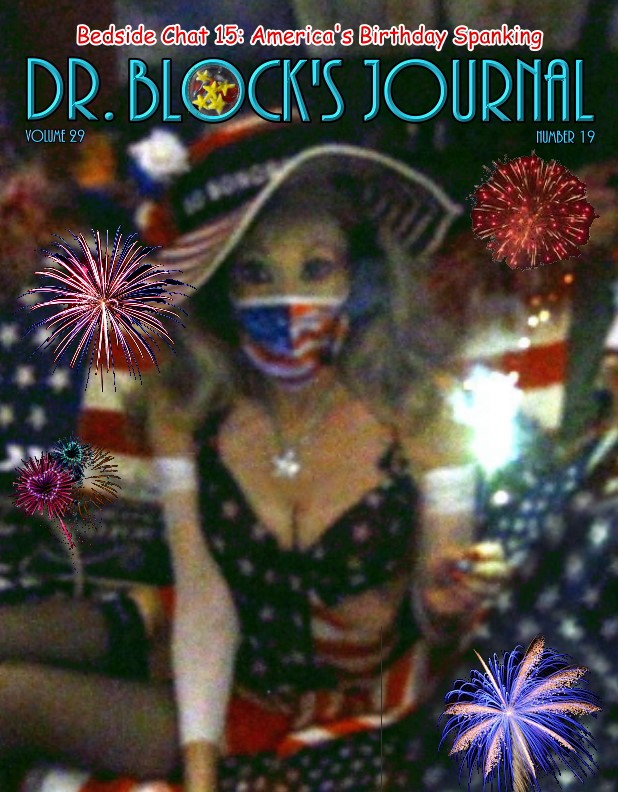 Length 1:23:13 Date: July 4, 2020
by Dr. Susan Block.
The 4th of July has long been one of my favorite holidays—the fireworks, the skimpy clothes, the sexy stars and stripes.
But this year, it's kind of strange, like so much is strange in the Coronapocalypse, for reasons both personal and political.
A Fool's 4th of July

The best part is that we celebrate America's birthday with a big, beautiful birthday spanking, enhanced by helping out a caller who wants to know how to "properly" spank his hot new girlfriend.
The worst part is that, essentially, I'm "stood up" on the 4th of July, and I'm so blindsided by the sudden, unexpected no-show of my one and only guest, I feel like breaking down and throwing a tantrum right there in the middle of the live broadcast.
Is this part of "cancel culture"—canceling your appearance on a show without making sure that the show staff knows you've canceled?
Though I successfully cover my feelings behind my mask (that's another thing these damn masks for good for, covering your not-so-stiff upper lip), I can't hide my eyes.
They say "the eyes are the windows to the soul," and mine are portholes to roiling oceans of rage within me when I hear the news that my heavily-promoted, special featured guest is blowing off our interview.
But my name's not "Karen" nor is it "tRump," so after a few minutes of "What?" "Why?" "When?" and "Whatever," I just try to go with the no-show flow.
As the seconds of dead or murky air tick by, I wrack my foggy brain—all decked out in screamingly bold stars, stripes and sparklers, in preparation for a celebratory Bedside Chat (#15 in the Coronopocalypse, in the spirit of FDR's Fireside Chats)—trying to determine how we lost our guest, like some people lose their car keys.
Honestly, I can't figure it out (I still can't) and, priding myself on being pretty good at figuring things out, I feel like a complete and utter fool.
Interestingly, the "Fool" is the most powerful card in the Tarot, as well as the wisest character in Shakespeare's plays.
A "fool for love" is a great romantic, a believer in the goodness of humankind, even when faced with proof of the opposite.
Among the Lakota Sioux tribes indigenous to the Black Hills of North Dakota, home of Mount Rushmore, the fool or "heyoka" is sacred.
So, in a way, this is a very special, sacred show, a Fool's 4th of July.
Tacky Statue Fetish

It's also a full moon, which is beautiful, but does tend to make things a little loonier, upsetting whatever plans you might have.
After all… The best laid plans may not get you laid the way you planned.
Our plans are laid on a bed of flags as we start the show. We've got more stars and stripes than a tRump rally, but we're patriots—waving our flags in the name of sexual freedom, bonobo love and peace through pleasure—not "hatriots" waving their flags in the name of hate and bigotry.

Should I, a Jewish American, tolerate a statue of Hitler in my local park, or else I'll get gassed in the local gas chamber?

Calling Black Lives Matter a "symbol of hate," the tiny-fingered Trumpus with the big Rumpus rages against the toppling of Confederate statues, warning BLM, "If you don't understand your history, you will go back to it again."
If that sounds familiar, it's because it's an evil perversion of the old saying "Those who don't know history are doomed to repeat it."
But you don't learn history from strolling past a badly-carved bigot on a horse on your way to work.
Is the Trumpus really saying that African Americans must accept Confederate statues in their local parks, or else they'll be enslaved again?
Should I, a Jewish American, accept a statue of Hitler in my local park, or else I'll get gassed in the local gas chamber?
Our parks and streets are what we have left of "The Commons," places of honor and community. If you're so concerned about history, put your lousy, kitschy, tacky statues in a museum of U.S. imperialism, genocide and slavery with big plaques teaching the tourists that these guys were selfish, racist looters and murderers, in addition to their finer qualities. No doubt they had some fine qualities such as, perhaps, horseback riding, dedicated fathering, throwing kick-ass parties or writing eloquent documents. Or maybe they were great lovers… in addition to being haters. We are all complex humans. But to honor these Native American-slaughtering, slaveholding dudes with statues?
Why not honor Attila the Hun? He's a very important part of history.
Personally, I don't care about what happens to a bunch of poorly sculpted (hey, these ain't no Michelangelos) statues. However, when Trumpty Dumpty says Black people need to learn history or things will go back to the way they were, he's not just expressing his fetish for tacky statues; he's dog-whistling that he would love to expand the Mar-a-Lago plantation with just a few good slaves…
Mount Rushmore COVID Fest
Not content with vilifying and threatening African Americans to stir up his base, the tiny-handed Trumpus exploited the 4th of July to go after Native Americans, pepper-spraying over 100 Native protestors so he could hold his big Mount Rushmore Coronavirus Festival and rail against the "Left-wing Cultural Revolution" before a backdrop of fireworks threatening the Black Hills of North Dakota around him.
Don't get me wrong, I love fireworks. But the Black Hills are highly combustible, and just the smoke kills surrounding flora and fauna.
Moreover, Mount Rushmore is looted land. Of course, all of America is looted from the Natives. But Mount Rushmore's four U.S. Presidents—George Washington, Thomas Jefferson, Teddy Roosevelt and Abraham Lincoln—were carved by Ku Klux Klanner, Gutzon Borglum, by order of U.S. President Calvin Coolidge, into the Black Hills of North Dakota.
And these were not just any Black Hills. Mount Rushmore was carved into a mountain range sacred to the Lakota Sioux. Yes, the same Lakota Sioux who honor the "heyoka," or fool.
They called the original range "The Six Grandfathers," named for the Earth, sky and four directions. The U.S. government pretended to honor their ownership of this area in the Treaty of 1868, then broke the treaty—with less explanation than my no-show guest gave me for not showing up—upon discovering that Thar's Gold in Them Thar Hills…
I suppose that makes it a fitting setting for Presidunce Golden Showers to spew his lies and divisive drivel, composed by self-hating Jew-turned-fascist with a COVID-positive wife, Stephen Miller. Speaking of fascist Trumpist GFs with COVID, Kimberly Guilfoyle, Donnie Trump Junior's girlfriend, tested positive just in time for the 4th Fest.


I don't wish the deadly virus on anyone, but is it wrong for me to hope that Kimmy gave Big Don a hug the other day? He'd probably say, "She wouldn't have it if she wasn't tested so… who tested her? Fire that guy!"
I'll tell you what guy we're firing: Trump! Enough of this bloated-on-bigotry, malevolent, narcissistic bore.
Campaign Games & the NFAC
Meantime Biden is bidin' his time, sitting in the basement. No, he's not my first choice or even my fifth, but of the two evils, he's the lesser, if only because he wears a mask. I'll take the senile stutterer over the fascistic narcissist any day.
Speaking of sick presidential candidates, notorious bipolar (or is he bi-polar?) rapper, Kanye West, has thrown his hat (his MAGA cap?) into the POTUS ring… for how long, we don't know.
Sunshine McWane quips, "A narcissist, a dementia patient and a bipolar maniac walk into a bar and say, 'Let's run for President!'"
The news comes in just as we start the live broadcast, along with striking images of the new Not Fucking Around Coalition (NFAC), bringing to mind the old Black Panthers, flaunting their legally registered AR-15s and other semi-automatic weapons, as they march on one of the most racist monuments in the world, Stone Mountain, also designed (though not finished) by KKK carver Gutzon Borglum.

It's funny how "fireworks" can symbolize sexual orgasm on the one hand, and "bombs bursting in air" on the other.

I climbed Stone Mountain (illegally) as a kid, getting close enough to Robert E. Lee's horse's snorting nostril to elicit a warning on the loudspeaker: "Whoever is trespassing on the Stone Mountain sculpture better come down right now or you're under arrest." Ready to risk my life for a great view—but not willing to go to jail for it—I scampered down to join my mates before the police could catch me. Despite these fond memories, I wouldn't shed a tear if they dynamited the whole racist monstrosity (you can't fit this one in a museum), and in that sense, I support the NFAC, though I don't support their gun-toting style.
Of course, if "open carry" is legal for whites, it's legal for Black Americans. Wonder what the NRA thinks of the NFAC. Maybe the NFAC will be even more effective than the Parkland Student movement in making headway with gun control in America. After all, California Governor Ronald Reagan was all for the Second Amendment rights of his cowboy constituents, until the Black Panthers arrived on the steps of the California statehouse armed with .357 Magnums, 12-gauge shotguns and .45-caliber pistols and declared, "The time has come for Black people to arm themselves." At that point, Reagan signed the Mulford Act, prohibiting open-carry… faster than a speeding bullet.
Talk about "learning from history," Mistah Presidunce…
Nevertheless, carrying loaded firearms around like they're designer purses is dangerous and, needless to say, not bonobo.
I'd rather shoot water pistols, which I do, since it is crazy-making hot in Bonoboville (Global Warming, ya'll).
Even more than the Holy Water, I love the sacred fireworks: orgasms for the eyes on the 4th of July.
It's funny how "fireworks" can symbolize sexual orgasm on the one hand, and "bombs bursting in air" on the other.
Here in Bonoboville, we love the fireworks of sex, not bombs, and love not war.
No Guest? No Problem!
The cold squirts of water refresh and the sparklers dazzle, and the time is right to celebrate, collaborate and liberate our inner bonobos, and set off some fireworks in our pants.
Time for our special featured guest!
Well, it's supposed to be time. But our guest is not there. I don't want to spend much more valuable time and space on this person by speculating about what happened. I've even cut my on-air speculating out of the edited show because that's just what it is: speculating. I really don't know why she doesn't show.
Whatever reason, she essentially leaves me in the lurch, without so much as a "sorry, can't make it."
I'm a lover, not a fighter, and a bonobo, not a baboon, so I won't give her more fame by naming names. I'm not saying I've never called out a few people who have dramatically flaked on their planned DrSuzy.Tv appearances, but it's rare that I do. If you're really determined to learn this particular guest's identity, you might be able to figure it out by going through old social media promotions, though I've deleted most of it. I'm just not into outing, blaming or shaming, unless I feel someone—like the Trumpenstein—is a danger to others.
At first, they tell me there are "technical problems," so I spend a few minutes checking out Sunshine's creative culinary drinks featuring strawberries, blueberries and banana slices cut in the shape of stars floating in the water (or is that vodka?). So patriotic and delicious!
She also makes red, white and blue deviled eggs—unfertilized, of course. They're very cool, but the way things are going, I already have "egg on my face," so I'm not inclined to eat one.
Ever caring about his "bambolina," Capt'n Max comes over for a little "Bedside Chat" with me in an attempt to calm me down.
It works!
I pull off my insanely patriotic platform pumps and plop my stocking feet into his lap whereupon he gives me a nice foot massage.
Every dark cloud has its silver lining. If not for my guest flaking, I might have missed a great foot rub.
Still, I'm in kind of a funk, and what more appropriate thing for a funky boss lady to do than take out her frustrations on her lovely assistant?
Whereupon, I ask Sunshine—who is even more decked out in 4th of July regalia than me, if such a thing is possible—to bend over for a spanking.
Not that our disappearing guest is Sunshine's fault, but I spank her anyway.
What's a good Ass. Prod. (assistant producer) for, if you can't spank her ass when production goes awry?
You could say she saves her ass by presenting it for a spanking…
The show must go on!
Spank You Very Much
Since Sunshine looks like a super-colorful Commedia Erotica Miss USA, it's America's Birthday Spanking.
Yay! Happy Birthday USA!
Our country is 244 years young—very young—compared to the Native Americans who have been here thousands of years.
So, Miss Sunshine USA deserves a good spanking for more reasons than one.
Not that it's a traditional spanking. This is the Coronapocalypse, after all, so it's more of a "physical-distanced" whipping with Goddess Phoenix's fabulous, fireworking, fiber-optic whip.
Later, we both pull down or off our tops, and it's topless spanking time.
We really whip up a festival of spanking hot fun
Then, before I get to 10 swats, let alone 244, a call comes in from a guy named "Derek" who wants to talk about spanking.
Suddenly this lost show has a theme!
He's not too experienced in the impact play department, but he's open to learning. Mainly, he wants to know how to spank his new girlfriend who loves to be spanked.

Don't spank helpless children, even when they're "bad." It lowers their IQ and teaches them that violence is the solution to problems. Do spank consenting adults who enjoy being spanked.

Since I have no guests, and since spanking is one of my favorite fetishes, I give Derek a whole kinky bag of spanking tips from how to cup his hand for maximum sound and minimal pain to how to communicate verbally and physically about this somewhat touchy subject.
Sunshine joins the convo as we discuss being spanked as children (she was, Derek wasn't, and his girlfriend was), and whether that affects your enjoyment of spanking as an adult.
Listen above or watch below for more about how childhood spankings influence your feelings about consensual adult impact play, but the short answer is that adults who enjoy spanking may or may not have been spanked as children.
There are so many reasons to enjoy spanking (though if you're already sure that you don't enjoy it, you shouldn't let anyone coerce you into it), and so many ways to enjoy it that Capt'n Max and I created a whole SPANK 'n' ART issue of Speakeasy Magazine to explore it.
Which reminds me: Don't spank helpless children, even when they're "bad." It lowers their IQ and teaches them that violence is the solution to problems.
Do spank consenting adults who enjoy being spanked.
Which is what Derek is doing. He insists that his GF is the one who really wants the spanking, and he just likes a good handjob.
We discuss the pros and cons of handjobs versus blowjobs, a comparison that seems to interest just about everyone and anyone except hardcore lesbians and the "asexual" crowd.
This is turning into a more sapiosexual show than it might have been had my skittish guest shown up!


Despite spanking being all the GF's idea, Derek does seem interested. In fact, he's wondering how to take it beyond the traditional over-the-knee (OTK) hand spanking he's been delivering into something… more.
He doesn't seem ready to wield the whip, though that's really the best for physical-distancing in the Coronapocalypse. The idea of a hairbrush doesn't seem to push his pleasure buttons. He's somewhat more interested in book-spanking, one of my favorites, bibliophile that I am.
But when I suggest ping-pong paddles, his voice lights up like a Vegas casino (if a Vegas casino could talk). He is definitely bringing a ping-pong paddle along on their next date. He even has a built-in excuse since his workplace (where they get regularly COVID-tested, thus his comfort with not physical-distancing from the new GF) is enlightened enough to have a company ping-pong table.
And, he says, he is definitely calling us back to let us know how it goes.
Should I believe him?
Though there are always individuals like my no-show guest popping up in my life to let me down, the great majority of my guests do show up, very often exceeding my expectations, and I still believe most folks are honest and responsible. At least they try to be.
Pyro Pleasures & the Fireworks of Love
Truth be told, I feel sorry for our phantom guest (zombie guest?) who didn't even have the courage to cancel her appearance with one of our staff, a couple of whom had been in touch with her for several days. According to her own admission, she texted our landline, which would have immediately let her know her text was not received, even though she could more easily have texted either Sunshine or Abe's cell phone numbers or simply called the landline.
But now I'm going down the rabbit hole with her, and I'd rather hang out above ground in the fresh air of fun and good vibrations.
Still, when the show ends, I can't help but feel a little let down.
Pyromaniac that I am, I cheer myself up by lighting more sparklers and almost burning down Bonoboville.
Meanwhile, Ana's Cucina is open for "business," providing tasty vittles for everyone.
Guests or no guests, end-times or out of minds, Bonobovillians need to be nourished.
So we pull down our masks and chow down on Ana's ambrosia and more of Sunshine's red, white and blue chicken fetuses (they taste better than that sounds).
Guests may come and go or no-show, but no one goes hungry in Bonoboville.
And the love, light and fireworks continue into the arms of My Captain who, in over 28 years of marriage, has never let me down.
July 4, 2020 Susan Block, Ph.D., a.k.a. "Dr. Suzy," is a world renowned LA sex therapist, author of The Bonobo Way: The Evolution of Peace through Pleasure and horny housewife, occasionally seen on HBO and other channels. For speaking engagements, call 213-291-9497.
AMERICA'S BIRTHDAY SPANKING PHOTO ALBUM
---
Explore DrSusanBlock.com
Need to talk? Sext? Webcam? Do it here. Have you watched the show? No? Feel the sex. Don't miss the Forbidden Photographs—Hot Stuff, look at them closely here. Join our private social media Society. Join us live in studio 😊. Go shopping. Gift shop or The Market Place. DrSusanBlock.tv, real sex TV at your toe tips. Sex Clips Anyone? FASHION, we have fashion! We also have politics. Politics? Have you Read the book? No? How about the Speakeasy Journal? Click here. Ok, how about some free sex advice?
---
---