F.D.R. (F*ck Da Rich): Wank Don't Shoot!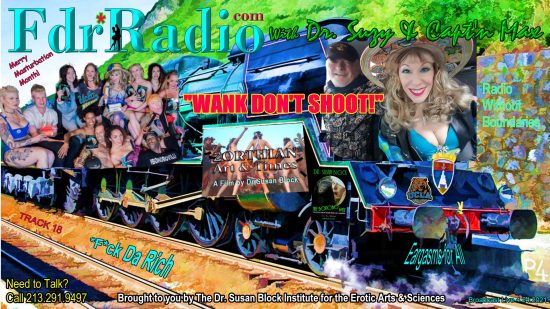 Length 01:29:45 Date: April 24, 2021
by Dr. Susan Block.
Deadly ammosexual shootings continue to assail America, but I have a better idea. It's almost Masturbation Month, so please just shoot the gun between your legs: You DO You. It's much safer and more fun for all!
If you need inspiration, hop aboard this bonoboësque ride on the Love Train as Capt'n Max, Mariah, Unscene Abe, the rest of the Bonoboville crew and your trusty Love Doctor here celebrate the "guilty" verdicts for George Floyd's slow, sadistic murderer with a *jealous cuck* attitude, Officer Derek Chauvin.
Ding Dong, Derek Douche Goes Down!
Ammosexual America
Much gratitude goes to courageous teen Darnella Frazier; she deserves a cinematography Oscar because without her phone film of that little streetside execution, it's unlikely that Chauvin, like so many officers, would have been charged let alone convicted.
Unfortunately, Chauvin's unchecked sadism isn't an anomaly in America's ammosexual, racist, ruthless law enforcement system, where a veteran police academy instructor can tell cadets that one of the "perks" of being a cop is that after killing a "bad guy," you're likely to have "the best sex… the most intense sex" ever. As a sexologist, I'm all for folks using quirky things as aphrodisiacs—but not killing someone!
Even as more forms of sexual expression are censored and demonized, virulent ammosexuality is on the rise in America, aided and abetted by various political shills for the bankrupt NRA, such as Montana Governor Greg Gianforte. He just signed a bill essentially nullifying President Joe Biden's attempt at federal firearms restrictions—so his fellow Montanans can freely shoot one another.
It's bad enough that everyday Americans are firing their easily purchased lethal weapons into massage parlors, supermarkets and the brains of a sleeping cuckold pastor. But it's particularly disturbing when it's our "peace officers" that are shooting people the way hunters shoot prey, and indulging in other forms of sadism, such as the recent case of an Orange County cop punching a handcuffed woman in the face. At least, his partner pulled him off before he broke her jaw. Some cops do the right thing!


So, the bad apples of the Big Apple will no longer bust hookers!


We discuss all of this, as well as the international version of American police brutality: Military brutality, the glorious and devastating imperialism this country has been *exporting* prodigiously around the world for over a century. But we celebrate the good news that the U.S. will soon be leaving Afghanistan and maybe finally, that part of the Bush-Family Perma War will finally be over (maybe). Woohoo!
Yes, of course, the Taliban are a very special kind of awful, especially in terms of Afghan women's rights and human sexuality, but American occupation has only made it worse. The invasion and occupation has murdered and maimed countless Afghanis, as well as destroying homes, farms and infrastructure. Taliban-style repression thrives on enemies, so if and when we remove ourselves from the Afghan equation, everything in that beautiful, war-ravaged country might improve. It certainly did in Vietnam.
More good news: Biden is now the first U.S. president to acknowledge the Armenian Genocide, one million slaughtered by Ottoman Turks. I first heard about the Armenian Genocide in a visceral way from survivor and fellow Yalie, Colonel Jirayr Zorthian, who shows me photos of his relatives who were killed when he escaped at the age of five, in Zorthian: Art & Times.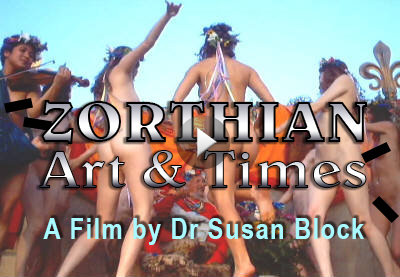 A film from the heart about a great man and his nude art.
NY Moves Toward Sex Work Decrim (We Hope)
New York will not prosecute sex workers… kind of.
Thank you Veronica Monet for this promising, though not entirely satisfying, news. Apparently, Manhattan DA Cyrus R. Vance Jr., asked a judge the other day to dismiss 914 open cases involving prostitution and unlicensed massage, along with 5080 cases against loitering for the purposes of prostitution.
So, the bad apples of the Big Apple will no longer bust hookers!


Obviously, this is a great step and no one should be prosecuted for selling sex among consenting adults. However, it appears that Cy (I can call him that as the NYC DA happens to have been my classmate at Yale, though unfortunately, he hasn't returned my calls lately) will continue to prosecute people who promote and arrange sex work, as well as the clients, aka "johns," that patronize sex workers. That sucks, so we have a long way to go.
I'll have to try to buttonhole Cy at the next Yale reunion!
Trans.Gov Reveal Party

We also talk about not voting for California Governor hopeful, Caitlin Jenner, a trans woman who doesn't support pro-trans policies, a rabid (former) Trumper and an insipid (also former) Kardashian. Worst of all, in 2015 she caused a car accident that killed a woman, paid virtually no price for her extreme negligence and showed no remorse. So, it makes sense she's running as a Republican with thieving Trumpster Brad Parscale (mis)managing her campaign.


Really, this whole QAnon-powered recall of Newsom is just a nuisance.
Instead of trying to be the trans-Kardashian Arnold Schwartzenegger, Caitlin should use her clout to speak out against "gender reveal" parties. The latest baby-declaring explosion just rocked New Hampshire like an earthquake caused by a God or Goddess raging against humans trying to control their child's sexuality before they're even born.
Fuck Da Censors
Being as our train's name is "F.D.R." which stands for Franklin Delano Roosevelt, as well as "Fuck Da Rich," we're excited that the U.S. Supreme Court will once again hear arguments for and against our beloved word "fuck" this week, as high school cheerleader Brandi Levy brings her case against her school for suspending her from the cheerleading squad after she posted a message on Snapchat showing herself and a friend holding up their middle fingers with the caption "fuck school fuck softball fuck cheerleading fuck everything." In 1969 it was "Fuck the Draft." Now it's "fuck cheerleading"! Well, we say: Fuck da Rich! And of course, we hope Brandi wins.


We don't have much time to discuss One Taste's Nicole Daedone being investigated for sex trafficking. We've known of her "Orgasmic Meditation" (OM) system of precise, almost clinical clitoris-stroking for a while. We're all for sexually empowering women and teaching men about female sexuality, and we've got nothing against One Taste, though over the years, we've been a bit suspicious about their *clit cult* practices and promises. Nevertheless, the charge of "sex trafficking" seems extreme, though not surprising since it's an accusation that's being thrown about a lot these days.
Bruin Masturbation Month
At least, they can't prosecute you for wanking in the privacy of your bed… yet. So, make the most of your erotic freedom, such as it is, and get ready to celebrate the Merry Masturbation Month of May 2021 with our sensational, sapiosexual post-show throwback, Collegiate Masturbation Month 2017.
The full title of this amazing show is "Riley Reyes & UCLA's SATYR Magazine punish Trump's Rump for the Worst First 100 Days & Kick Off a very Merry Masturbation Month 2017 on DrSuzy.Tv." It features UCLA Satyr Magazine Editor-in-Chief Sarah Crosthwaite, Satyr writers Rachael Frank and George Gutten, "Most Bonobo" Suzy Award-winning porn star Riley Reyes—who not only masturbates with a Hitachi Magic Wand, but gracefully sticks it inside her vagina—plus Riley's girlfriend Amelia Jones—who also happens to be a sophomore at UCLA! Go Bruins!
Suzy Award-winning "Most Bonobo Couple" Danièle Watts & Rawkstar Chef Be*Live are also in this marvelous M Month mix, plus Donald Trump surrogate Cali Cuck (whom we spank and ream for having the worst First 100 Days ever), Aaliyah Corsets, Ikkor the Wolf and my beautiful assistant Gypsy Bonobo. What an amazing group of guests, plus my very first show assistant, Janelle Hopkins, is in da house!


Like a lot of guys, Pan didn't know how to deal with rejection.

Interestingly, Satyr Magazine is named after a classic icon of self-pleasure. According to those lyrical and satirical ancient Greeks, masturbation is a gift from the gods. The Great God of Communication, Hermes, revealed it to the Great God of the Wild, the leader of the satyrs, Pan (from whom the bonobos take their Latin name Pan Paniscus).
Why? Pan's love for a nymph had gone unrequited and, like a lot of guys, Pan didn't know how to deal with rejection. As other legends explore in some detail, Pan was very horny and not just because of the horns on his head. Usually, the wood nymphs of the forest were happy to receive his affections, but occasionally they weren't. I love Pan, but there's no doubt, he could be a divine asshole (like all the Gods), sometimes handling a nymph's rejection by chasing her down and raping her—though some of his intended victims managed to escape his clutches by turning themselves into trees or rivers. Even those sexist, bawdy Greeks realized that rape was a terrible solution to unrequited horniness.
So, Hermes, patron saint of Gemini (Abe's sign—and mine!), taught Pan the simple act of self-love and how it can be an excellent rape prevention technique.
Side note: A bunch of dumb dudes on Tiktok, possibly incels (but who cares?), declared the day of this live broadcast to be "National Rape Day." Are they kidding? I'm sure they are, but it's no joke, dudes. It's anti-sex, misogynist, unbonobo and just plain evil.


I wish these dumb dudes, clueless dudettes, misogynistic incels, so-called "sex addicts," snarky misanthropes, lonely singles and others without partners would learn the timeless lesson that Hermes taught to Pan without the shame and denigration that modern society still attributes to the peaceable practice of wanking, fapping or polishing the pearl.
You DO You
Back to the Greek myth: Having learned the magical skill from Hermes, Pan then taught the other satyrs to masturbate, and they taught the shepherds… for which the sheep (as well as the nymphs) must have been very grateful.
Don't be left empty-handed for Masturbation Month 2021! Order your sex toys from Dr. Block's Pleasure Shop! And if you need a helping hand, call the Therapists Without Borders of the Dr. Susan Block Institute.


We're here to help You Do You—with an emphasis on "do."
© April 24. 2021 Susan Block, Ph.D., a.k.a. "Dr. Suzy," is a world renowned LA sex therapist, author of The Bonobo Way: The Evolution of Peace through Pleasure and horny housewife, occasionally seen on HBO and other channels. For speaking engagements, call 213-291-9497.