ZORTHIAN: Art & Times
A Film from the Heart about a Great man & His Nude Art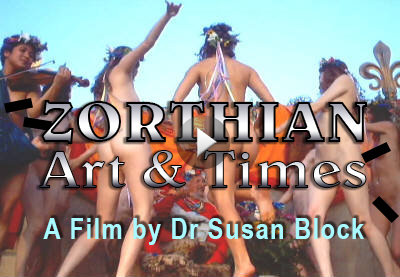 by Dr. Susan Block
"To see you naked is to recall the Earth."
–Federico Garcia Lorca, Casida de la Mujer Tendida
For 92 years, my friend and fellow Yalie, Colonel Jirayr H. Zorthian, lived, loved, ranched and painted. He attributed his remarkable longevity and vitality to three elements of his life: 1) fine art, 2) red wine and 3) being center stage, surrounded by a bacchanalian ring of nude young women wearing nothing but wreathes on their heads, at least once a year.
"Zorthian: Art & Times" is a short documentary I made about the man, the artist and the bon vivant. In the spirit of Bacchus (Dionysus to the Greeks), Zorthian's patron pagan "saint," this very personal 15-minute film weaves intimate interviews with the artist and his luminous wife Dabney with footage of his art—including his erotic masterpieces. Zorthian's tales of surviving the Armenian genocide, his mischievous experiences as a student at Yale in the 1930s, and Dabney and Jerry's fateful first meeting at a "Spinsters' Ball," lead into festive scenes from our own Speakeasy Gallery exhibit of Zorthian's art, as well as the last two "Primaveras" of his 92 years. These spring revelries at the Zorthian Ranch in the hills of Altadena, California featured homespun music, outdoor art displays, sumptuous feasting, and the centerpiece of the celebration: the breathtakingly beautiful dance of the nude Nymphs of Zorbacchus around the elfin, crimson-clad artist.
The film's virgin screening was at our "erotic art historic salon," Zorthian & Yale, held shortly after the great man's death, and both those who had known Jirayr Zorthian, and those who wished they had, greeted it with laughter, cheers, a few tears and great acclaim. I was touched that they could see through the film's shaky camera and rough "production values" to the subject at its heart: an extraordinary man and the ecosexual artistic community surrounding him.
Alas, various events intervened, and I never showed the film again (though I do quote Zorthian's great maxim, "The purpose of life is living," in my new book The Bonobo Way). A decade went by in the blink of a nude nymph's eye, and then suddenly, I was reminded of my little film a short while ago, when fellow Yalie Aman Chaudhary sent me this KCET article, about the newly remodeled Zorthian Ranch, and before I'd even finished reading it, I felt inspired to pull "Zorthian: Art & Times" out of mothballs. I couldn't post it on YouTube because of the nudity, so I opened a Vimeo account just to share it with you. I hope as you watch it, you experience a little of the Zorthian magic that transported so many of us into a greater appreciation of art, community and the naked, ecosexual beauty of nature.
If the film makes you hungry for more art and nude nymphs, click the following links to my old journals and articles on Zorthian, his philosophy, his art and amazing Primaveras:
Nude for Zorbacchus: Adventures at Zorthian Ranch
Zorthian & Yale: An Erotic Art History Salon
Stage Blue: The 1999 Yale Event where I first met Jirayr Zorthian '36
Let this remarkable bon vivant artist's wisdom inspire you, and let his dazzling nude Nymphs delight you in "ZORTHIAN: Art & Times."

© April 22, 2015. Susan Block, Ph.D., a.k.a. "Dr. Suzy," is a world renowned LA sex therapist, author of The Bonobo Way: The Evolution of Peace through Pleasure and horny housewife, occasionally seen on HBO and other channels. For speaking engagements, call 310-568-0066.
---
Explore DrSusanBlock.com
Need to talk? Sext? Webcam? Do it here. Have you watched the show? No? Feel the sex. Don't miss the Forbidden Photographs—Hot Stuff, look at them closely here. Join our private social media Society. Join us live in studio 😊. Go shopping. Gift shop or The Market Place. DrSusanBlock.tv, real sex TV at your toe tips. Sex Clips Anyone? FASHION, we have fashion! We also have politics. Politics? Have you Read the book? No? How about the Speakeasy Journal? Click here. Ok, how about some free sex advice?
---
---