The Bonobo Way Coming to AASECT in Philly! Amazing DomCon 2019! Bonobo Gay Pride! Dr. Suzy Crushes Rush Limp Balls! New Shows Playing Free on DrSuzy.Tv! Dr. Suzy on "Sex in the Pews"! Need to Talk Privately about Religious Abuse, Cuckolding, Fetishes or Anything Else? Call Our Therapists Without Borders Anytime!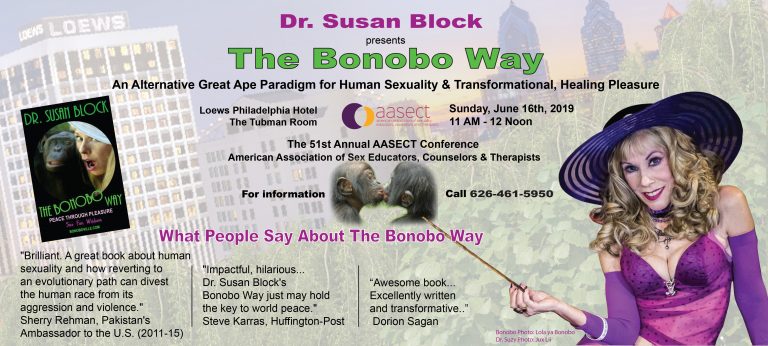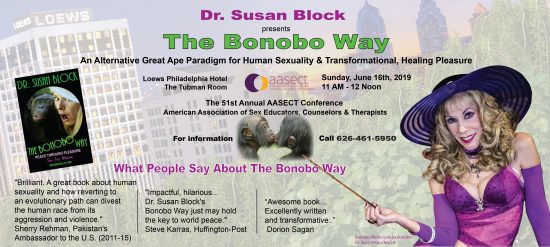 For Info: Call 310.568.0066
Masturbation Month CAME… to an end, but that doesn't mean the self-love should stop! Do you need a hand? Or do you want to learn why you're so turned on by cuckolding or "cuck" fantasies, even though you don't believe that you *should* be? Want to explore the Erotic Theater of the Mind: spanking, splosh, striptease, stockings, teasing, sex and religion or other secret sexual fantasies? Need help with relationship issues or integrating your sexual desires into the rest of your life? Call the Therapists Without Borders of the Dr. Susan Block Institute, available 24/7, anytime you need to talk.  Whatever your fetish, fantasy, interest, question, problem, pleasure, kink or conundrum, you can call the Institute at (213) 291-9497 anytime to talk about anything; we're just a phone call away. Experience therapy by phone, webcam or sexting. If you want some serious (but fun) scientific cocktext for those cuckold fantasies, watch Dr. Susan educate about sperm wars NOW. For more videos featuring Dr. Suzy's wit, wisdom and inimitable eroticism, check out the Dr. Susan Block Youtube Channel! Subscribe for more!

 

Dr. Block's Journal

We've got another threesome of great new shows that you can now watch free on DrSuzy.Tv! Death, SEX and Nazis is a darker, more confrontational show where we deal with the murder of Bonobo Way-loving Goddess Sadie Hawkins, the nationwide attack on abortion rights, Chelsea Manning and Julian Assange in prison, dismal Dems and, well, tRump-empowered Nazis–but it climaxes (post-show) with an orgasmic bonoboesque conflict resolution! Also it features a couple of fascinating callers, including Michael, ambivalent but eager to explore his sperm wars-driven cuckolding desires.

Following this show cloaked in black (lace and fishnets), is one sparkling in red, white and blue, our Masturbation Month, Memorial Day & Rush Limbaugh ReBUTTal show, where Dr. Suzy calls out Rush for using her Post-Trump Sex Disorder theories to try to sell his newsletters (even as he tries mock them), plus gives an OTK spanking to the lovely Goddess Maya. with the brand new Speakeasy Journal: SPANK 'n' ART.

Finally, it's almost time for AASECT, so Dr. Suzy gives us a sneak peek of her talk, "The Bonobo Way: An Alternative Great Ape Paradigm for Human Sexuality & Transformational, Healing Pleasure" in AASECT Sneak Peek, Bonobo Gay Pride + Happy Bday Abe & Marilyn show, and celebrates having crushed Rush Limp Balls who actually took down his show right after she called him out on hers!

And in honor of Unscene Abe 27th, we sing "Happy Birthday Mr. Technical Director" in our best, breathy, sexy imitation of Marilyn Monroe (who would be 93!) singing "Happy Birthday, Mr. President" to JFK. Watch it all free on DrSuzy.Tv, or enjoy more fantastic photos and immerse yourself in Dr. Suzy's sapiosexual show blogs


 

DrSuzy.TV Archives

Revisit 20+ years of sex, politics, porn stars, dommes, birthdays, anniversaries, sex educational demos, fascinating interviews, inspirational monologues, squirt salons, masturbation marathons and orgies – now all FREE and only on DrSuzy.Tv! Get ready for summer (and AASECT), celebrate how sexy sexual knowledge is, and learn more about how to talk with both your mind and body: check out Summer Sex Therapy playing NOW!


Block Books

Enhance your sex life, keep love alive for decades, find like-minded partners and be more ecosexual with Dr. Susan Block's critically acclaimed, paradigm-shifting book, The Bonobo Way: The Evolution of Peace Through Pleasure. Give it to someone you love, and spread the bonobo message of peace through pleasure, female empowerment and male well-being! A portion of all proceeds goes towards conservation of the real bonobos. NEW! Buy it HERE: The brand-spanking new issue of Dr. Suzy's Speakeasy Journal: SPANK 'n' ART!

 

 

Clip-O-Rama

Here at Bonoboville, we love a good threesome, so to honor DomCon 2019, Dr. Suzy's upcoming AASECT conference, and the release of issue #2 of Dr. Suzy's Speakeasy Journal: SPANK 'n' ART, we present Spankology 101 with Mistress Damiana Chi, Ph.D., that can be watched NOW! View it here.

 

Time Machine

Travel back to the not-so-distant past of 2018 when Dr. Suzy and special guest, Moushumi Ghose, MA MFT, sex therapist and author of Classic Sex Positions Reinvented, go past the borders of conventional sex and travel to beyond realms of pleasure, on the episode SEX POSITIONS 101 on DrSuzy.Tv. EXPLORE NOW! On our YouTube time machine, watch Dr. Block's Bonobo Way of Inclusivity at AASECT 2016


 

The Bonobo Way

Happy Bonobo Gay Pride! Bonobos are gay, in a way, and that's okay! Learn the pansexual arts of Pan paniscus in The Bonobo Way. A portion of all book sales are donated to bonobo conservation, so when you order your copy of this life-changing book, you are also helping to save these marvelous creatures from extinction.

Interested in the intersection of sex, science and religion? LISTEN to Dr. Suzy talking about The Bonobo Way as well as god, gods, ethical hedonism and sex, sex, sex in "Sex in the Pews"!

And don't miss the fabulous photos, fascinating stories and sapiosexual reflections in Dr. Suzy's DOMCON 2019 blog, including the Bonobo Way of BDSM: FemDoms of the Wild, Mistresses on Parade, sex toys in the Marketplace, kinky fun in the private room, splash in the Jacuzzi and sexual revelations at the Mistress Tea. 

Bonoboville

Cruise Bonoboville.com to find out what's new in the Bonoboville universe and beyond. See the Forbidden Photographs from Valentine Splosh, Sex & Love, SQUIRTING Kink Month Kickoff + LABIA DAY 2018, Erotique Politiques. Masturbation Month Kick-Off 2018, Spring Showers, Woman Power and our 26th Wedding Anniversary Bacchanalia. Featured Post: NOW BOOKING Guests for the LIVE broadcast of The Dr. Susan Block Show! Explore the Bonoboville City Limits and build your village using our Classifieds, Events, FAQ page, Forums, Groups, Obituaries & much more!


---

The Marketplace of Possibilities

Shop Dr. Susan Block's Pleasure Shop and spread The Bonobo Way of pleasure this throughout the new year. Does your loved one enjoy the bonobo lifestyle but not a big reader? Surprise them with a beautiful, handcrafted Vulva Pendant or a stylish bonobo t-shirt instead!


---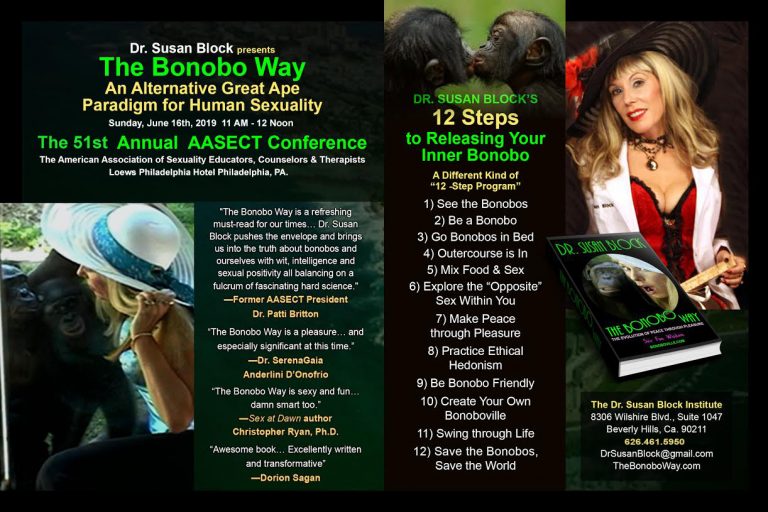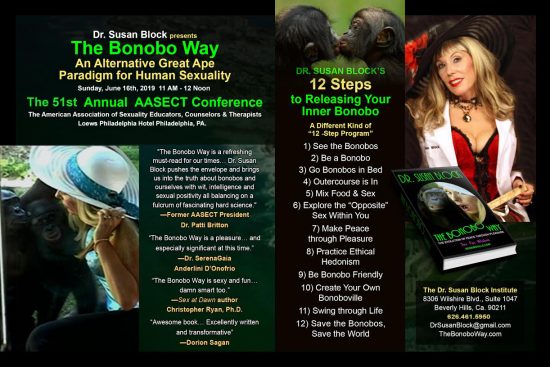 ---
Explore DrSusanBlock.com
Need to talk? Sext? Webcam? Do it here. Have you watched the show? No? Feel the sex. Don't miss the Forbidden Photographs—Hot Stuff, look at them closely here. Join our private social media Society. Join us live in studio 😊. Go shopping. Gift shop or The Market Place. DrSusanBlock.tv, real sex TV at your toe tips. Sex Clips Anyone? FASHION, we have fashion! We also have politics. Politics? Have you Read the book? No? How about the Speakeasy Journal? Click here. Ok, how about some free sex advice?
---
---