Dr. Susan Block to Deliver the Bonobo Way at AASECT 2019 in Her Hometown of Philadelphia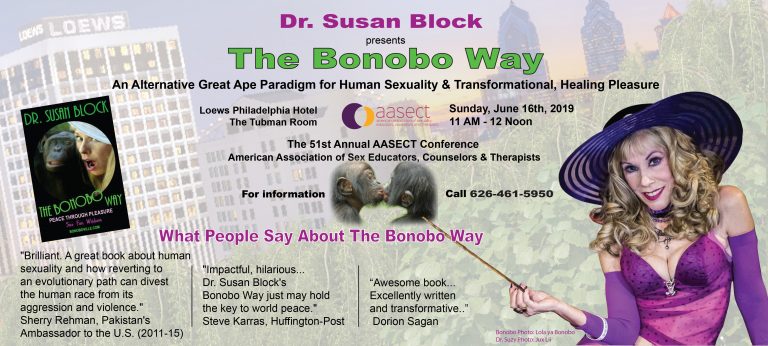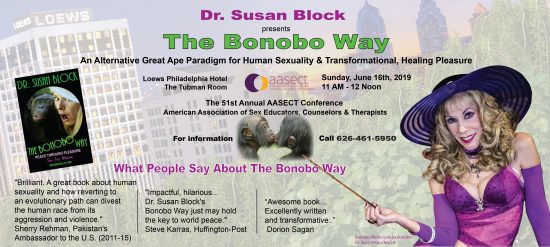 LOS ANGELES, Calif., June 4, 2019 — Susan M. Block, Ph.D., a.k.a., "Dr. Suzy," internationally renowned sexologist and best-selling author of The Bonobo Way: The Evolution of Peace through Pleasure (Gardner & Daughters Publishers), will present "The Bonobo Way: An Alternative Great Ape Paradigm for Human Sexuality and Transformational, Healing Pleasure" at the 51st Annual  Conference of The American Association of Sexuality Educators, Counselors and Therapists (AASECT) 11 AM – Noon on Sunday, June 16th in the Tubman Room at the Loews Philadelphia Hotel in Dr. Block's hometown of Philadelphia, PA.
"I look forward to coming home to Philly to see Billy Penn, eat a hoagie and share the Bonobo Way," says Dr. Block, who grew up in Penn Valley and attended Harriton High School in Lower Merion, where she was editor-in-chief of the Harriton Forum, captain of the debate team and starred in the school's Noël Coward play before getting her B.A. in Theater at Yale University. After earning her Master's and Ph.D. in Psychology from Miramar, she received a Doctorate in Sexology from the Institute for the Advanced Study of Human Sexuality in San Francisco.
Best-known for her #1 Nielsen-rated HBO specials, Radio Sex TV and Off the Dial, and her appearances on HBO's Real Sex and Cathouse, she has been broadcasting live on the air on radio, TV and the internet for over 30 years. She is also the director of the Dr. Susan Block Institute, an international sex therapy center serving clients from Los Angeles to Saudi Arabia. But she never forgets her Philly roots—which really show when she is passionate about something, like bonobos.  
"Now more than ever, in a world beset by endless war, climate crisis, corrupt leaders, mass murder, spiraling wealth inequality,  unsatisfying relationships and a lot of bad sex, The Bonobo Way presents an invaluable approach to human sexuality and culture, inspired by a role model who isn't even human, yet is incredibly humane: our closest genetic cousin, the bonobo," says Block, an AASECT member since 2005. "Bonobos are the only great apes who have never been seen killing each other in the wild or captivity. They're the Make-Love-Not-War chimpanzees who swing through the trees as well as with each other. We can learn so much from our bonobo cousins about how to make love, empower females, benefit males, share our resources and make 'peace through pleasure.' Speaking of which, the great City of Brotherly Love is where I first learned about love and pleasure… sometimes in the back seat of a car, but you've got to start somewhere!"
Block has presented different aspects of The Bonobo Way at conventions and symposia throughout North America, including AASECT in 2016 in San Juan, Puerto Rico where she delivered The Bonobo Way of Inclusivity, as well as UC Berkeley where she presented The Bonobo Way of Nonmonogamy for the 5th Conference on Monogamy and Nonmonogamy. She gave the keynote speech on The Bonobo Way of Ecosexuality at the University of Puerto Rico, Mayagüez, for the world's first ecosexuality symposium at an academic institution. At Yale University (her alma mater), she spoke about her writing process for The Bonobo Way, and she delivered The Bonobo Way of Great Sex to Adultcon LA with a group she calls the Bonoboville Commedia Erotica Players. She has presented FemDoms of the Wild: The Bonobo Way of Female Empowerment at five consecutive DomCon conventions, DomCon 2019, 2018, 2017, 2016 and 2015, and has been invited back for 2020. She has also spoken about bonobos at the Young Presidents Organization, the Lifestyles Convention, MENSA in San Diego, USC, UCLA and Caltech, but this will be her first time delivering the Bonobo Way in her hometown of Philadelphia. These presentations and others are made possible thanks, in part, to Malcolm Jones and the Bonobo Way Female Empowerment Outreach Project.
AASECT 2019 will be held June 13-16, 2019. This year's theme is Let the Body Rejoice: The Interplay of Sexuality Education, Sex Counseling and Therapy.  "The Bonobo Way, including the '12 Steps to Releasing Your Inner Bonobo,' presents an organic path to recognizing our physical bodies as 'conduits' for our bonoboësque spirits, mixing trust with lust, as well as comingling sex education, a deeper understanding of our animal nature and the life-saving, largely untapped value of natural, ecosexual pleasure," says Block. "Bonobos show us that the pleasure our bodies experience and consensually share can be a transformational, healing force for female empowerment, male well-being, sharing resources and maybe even peace on earth.
A consistent message in all of Block's Bonobo Way presentations is the importance of saving the highly endangered wild bonobos from imminent extinction, and she encourages her audiences to "adopt a bonobo" with Lola ya Bonobo, Bonobo Conservation Initiative or The Bonobo Project. "Bonobo conservation is integral to the Bonobo Way," says Block. "If we lose the bonobos, then we lose a key to our potential for peace that we can never find again."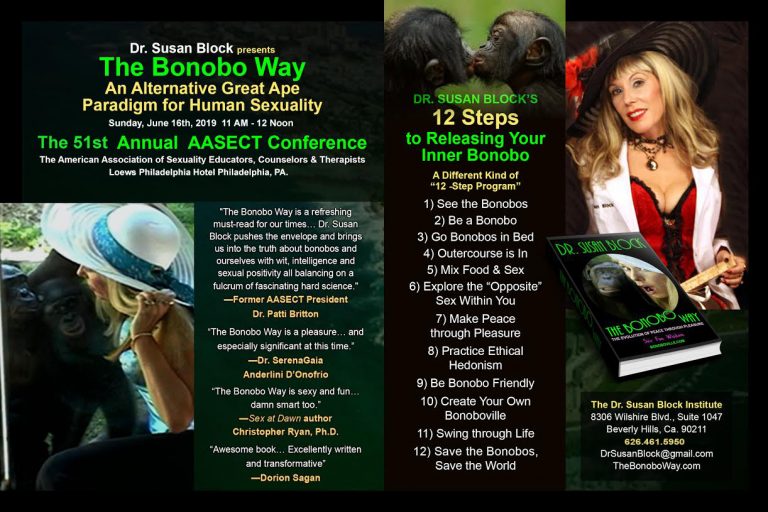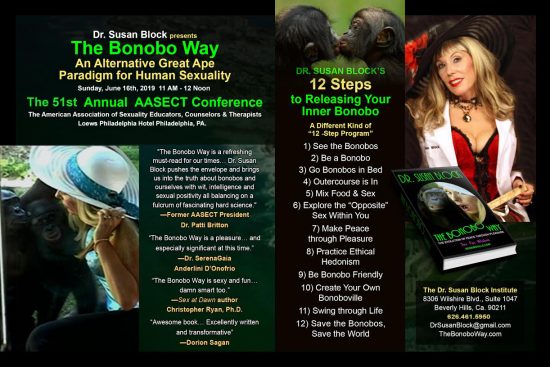 For a taste of what's to come, watch The Bonobo Way of Inclusivity at AASECT 2016.
For information about The Bonobo Way at AASECT 2019 in Philadelphia or to arrange an interview with Dr. Susan Block, please call 213-291-9497.
Contact: David Rossi Phone: 213-291-9497  Email: DrSusanBlock@gmail.com
Web: thebonoboway.com   Watch Promo: http://j.mp/TBWyouTubeTrailer
WHAT HUMANS SAY about THE BONOBO WAY
"The Bonobo Way is a refreshing must-read for our times. Dr. Susan Block pushes the envelope and brings us the truth about bonobos and ourselves—with wit, intelligence and sexual positivity all balancing on a fulcrum of fascinating hard science." 
—Dr. Patti Britton, American Association for Sexuality Educators, Counselors and Therapists (AASECT) Past President
"Impactful, often hilarious… wildly entertaining… The Bonobo Way just might hold the key to world peace."
—HUFFINGTON POST book review by Steve Karras
"The Bonobo Way is sexy and fun… damn smart too."
—Sex at Dawn, author Christopher Ryan, Ph.D.
"The Bonobo Way is a pleasure on all counts… and especially significant at this time."
—Dr. SerenaGaia Anderlini D'Onofrio, co-editor of Ecosexuality 
 "Bravo Dr. Block for paving the way to a hopefully more bonobo future."
—Vanessa Woods, Duke University primatologist and author of Bonobo Handshake 
 "Brilliant. A great book about human sexuality and how reverting to an evolutionary path can divest the human race from its aggression and violence." 
—Sherry Rehman, Pakistan's Ambassador to the U.S. (2011-15)  
"Amazing! Dr. Susan Block is an ecosexual visionary." 
—Annie Sprinkle, Ph.D., ecosexual artist and filmmaker
"The Bonobo Way is marvelous! A happy book for a happy life in a happier world." 
—Xaviera Hollander, author of The Happy Hooker
"Awesome book… Excellently written and transformative" 
—Dorion Sagan, science writer and author of Death & Sex
 "Dr. Susan Block has a new understanding of how to enhance our intimate relationships!"
—Progressive News Network interview with Dr. Diana Wiley
"Adventure, optimism, and love is what Dr. Susan Block is all about… Patients become fans, and fans become evangelists."
—CITIZEN LA Inside the Pleasure Compound with Dr. Susan Block
"AMAZING… The Bonobo Way shines a light on humanity's capacity for peace."
  —Dr. Scott Barry Kaufman, author of Wired to Create
"The Bonobo Way will save our planet! Dr. Susan's insight into sexuality is not only incredible…it is also the sexual revolution, easily mapped out, that we have been waiting for."
–Tracy Vanity, blogger
"I love every page of The Bonobo Way!" 
—Christian Bruyère, producer of Champions of the Wild
The Bonobo Way is available in kindle and paperback on Amazon or direct from the publisher. A portion of all proceeds from book sales goes to Lola ya Bonobo, the Bonobo Conservation Initiative and the Bonobo Project, as well as other organizations actively helping to protect and save the highly endangered wild bonobos from extinction.
Tired of conventional sexuality experts? Dr. Block is available for comment or interview. Would you like to review The Bonobo Way? Contact us today.
   David Rossi
Phone: 213-291-9497  Email: DrSusanBlock@gmail.com  Web:thebonoboway.com   
Watch the Video: http://j.mp/TBWyouTubeTrailer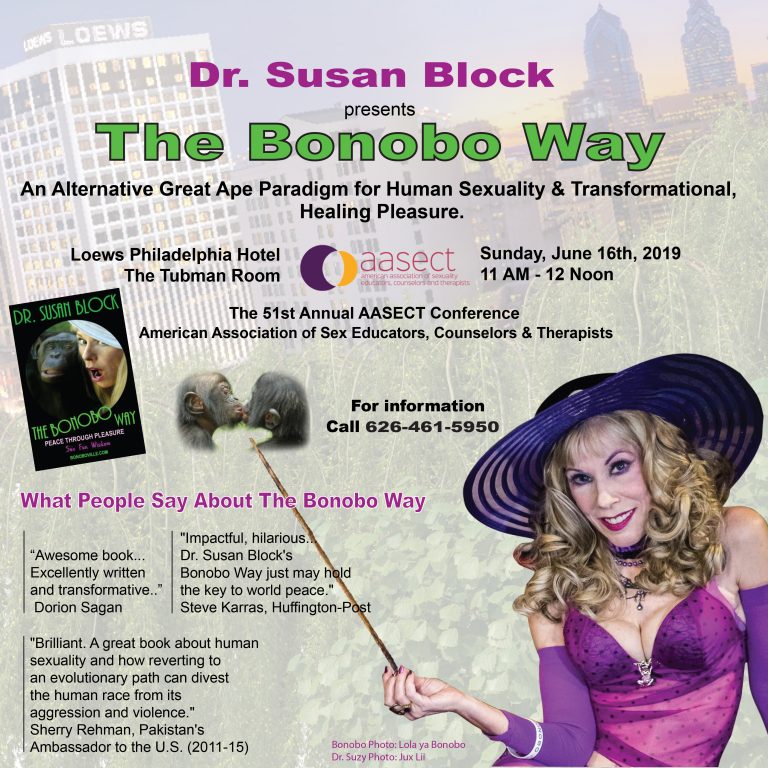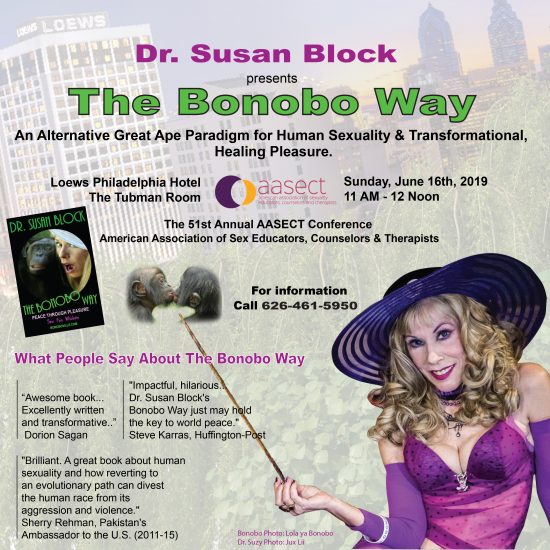 ---
Explore DrSusanBlock.com
Need to talk? Sext? Webcam? Do it here. Have you watched the show? No? Feel the sex. Don't miss the Forbidden Photographs—Hot Stuff, look at them closely here. Join our private social media Society. Join us live in studio 😊. Go shopping. Gift shop or The Market Place. DrSusanBlock.tv, real sex TV at your toe tips. Sex Clips Anyone? FASHION, we have fashion! We also have politics. Politics? Have you Read the book? No? How about the Speakeasy Journal? Click here. Ok, how about some free sex advice?
---
---