A Threesome of Hot Shows in the New Bonoboville + We're LiVE this Saturday! M Month COMING: Need a Hand? Call Us!!
For Info: Call 310.568.0066
Masturbation Month is COMING, so if your April showers didn't get you wet enough, get set for May. Do you need a hand? The Therapists Without Borders of the Dr. Susan Block Institute are available 24/7, anytime you need to talk. Do you need a guide for Guided Masturbation? Want to explore the Erotic Theater of the Mind: spanking, splosh, striptease, stockings, teasing, cuckolding or other secret sexual fantasies? Want to know why spanking the monkey is healthy and beneficial to both mental and physical health? Read the 8 Great Benefits of Masturbation. Whatever your fetish, fantasy, interest, question, problem, pleasure, kink or conundrum, you can call the Institute at (213) 291-9497 anytime to talk about anything; we're just a phone call away. Experience therapy by phone, webcam or sexting. In honor of self-love, check out Dr. Suzy's Masturbation Month History Lesson. For more videos featuring Dr. Suzy's wit, wisdom and inimitable eroticism, check out the Dr. Susan Block Youtube Channel! Subscribe for more!

 

Dr. Block's Journal

The Little Love Church of the Bonobo Way in the newly inhabited Bonoboville was christened with it's first Saturday night service, the Irreverend Dr. Susan Block presiding in the ceremoniously titled Virgin Show in New Bonoboville. With a few cherries popped exploring virgin territory, the new Bonoboville feels like a familiar lover, safe but still full of exciting possibilities…Then, before we can count to 26, it's time to celebrate Dr. Susan and Capt'n Max's 27th Wedding Anniversary Although more intimate than previous anniversary exxxtravaganzas (less in-your-face orgy, more behind-the-scenes love-making), we can still see that eternal flame and the balance of both intense sexual passion and understanding compromise that many lovebirds fail to juggle. In addition to the celebration, a new Bonobovillian makes her debut, bright and beautiful editorial assistant Shannon Sweet of Texxxas… Next, with a smorgasbord of Spring holidays on her plate, Dr. Block, in the mad-creator tradition of Dr. Frankenstein, stitches together Easter, Earth Day, Passover and 4/20, making the all the parts come alive together, resulting in a fabulous, sexy, silly but meaningful Bunny 420 Passover Honey! Paying tribute to spring resurrections preceding Jesus, Dr. Suzy and the Commedia Erotica players act out the Greek Myth of Persephone, with the title role played by Blossom, bubbly as the young girl, then majestic as the Homecoming Queen of the Underworld, along with Shannon as nymph-girlfriend-turned-wrathful-mother-Demeter, and culinary assistant Ana as Uncles Hades (!). We also perform a very sexy Seder with lots of sacred Manischewitz wine, scallion flogging, bitter herbs and 420 herb, Jesus Christ Superstar karaoke and Jux Lii's birthday! Watch this threesome of hot new shows free on DrSuzy.Tv, or enjoy more fantastic photos and immerse yourself in the mish-mash melding of Dr. Suzy's sapiosexual show blog.


 

Revisit 20+ years of sex, politics, porn stars, dommes, birthdays, anniversaries, sex educational demos, fascinating interviews, inspirational monologues, squirt salons, masturbation marathons and orgies – now all FREE and only on DrSuzy.Tv! To get you in the mood to love yourself for May and (hopefully) forever, check out how we got it done last year: Masturbation Month Kick-Off & Incel Therapy, Bonobo-Style


Enhance your sex life, keep love alive for decades, find like-minded partners and be more ecosexual with Dr. Susan Block's critically acclaimed, paradigm-shifting book, The Bonobo Way: The Evolution of Peace Through Pleasure. Give it on Amazon give it to someone you love, and spread the bonobo message of peace-through-pleasure, female-empowerment and inclusivity today! A portion of all proceeds goes towards conservation of the real bonobos. NEW: Read Dr. Block's latest political blog and heal yourself or your loved one(s) of Post-Trump Sex Disorder(s).

 

In the ultimate display of feminine self-love, actress and pornstar Malena Morgan brings herself to a sensational squirting orgasmic climax all on her own! View it here.

 

Travel back to the not-so distant past of 2017 when Dr. Suzy kicks off masturbation month with more than a pinkie fingerbang featuring a bunch of USC satire students and the ultimate SoCal blonde, Riley Riles, winner of "Most Bonobo" and "Most Sapiosexual" SUZY Awards, going all the way with her loved one, herself. Explore it here.


Yes, bonobos masturbate just like humans (and a lot of other animals), so get ready for the M Month with The Bonobo Way and learn the ecosexual arts of peace through pleasure. A portion of all Bonobo Way book sales are donated to bonobo conservation, so when you order your copy of this life-changing book, you are also helping to save these marvelous creatures from extinction. Coming up, Dr. Suzy and and The Bonobo Way are BOUND for DomCon LA. Don't miss it!


Cruise Bonoboville.com to find out what's new in the Bonoboville universe and beyond. See the Forbidden Photographs from Valentine Splosh, Sex & Love, SQUIRTING Kink Month Kickoff + LABIA DAY 2018, Erotique Politiques. Masturbation Month Kick-Off 2018, Spring Showers, Woman Power and our 26th Wedding Anniversary Bacchanalia. Featured Post: NOW BOOKING Guests for the LIVE broadcast of The Dr. Susan Block Show! Explore the Bonoboville City Limits and build your village using our Classifieds, Events, FAQ page, Forums, Groups, Obituaries & much more!


---

Shop Dr. Susan Block's Pleasure Shop and spread The Bonobo Way of pleasure this throughout the new year. Does your loved one enjoy the bonobo lifestyle but not a big reader? Surprise them with a beautiful, handcrafted Vulva Pendant or a stylish bonobo t-shirt instead!


---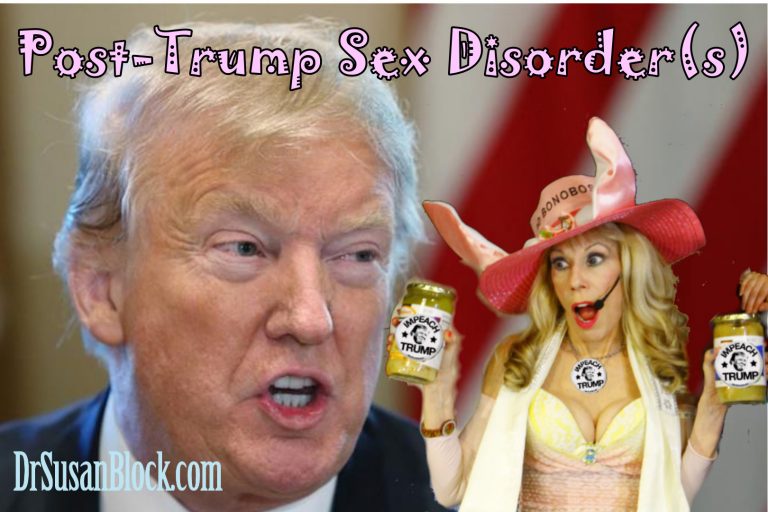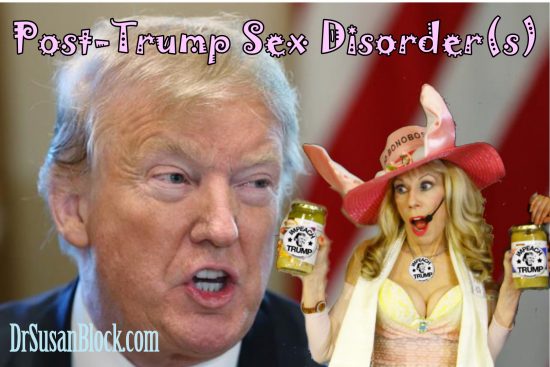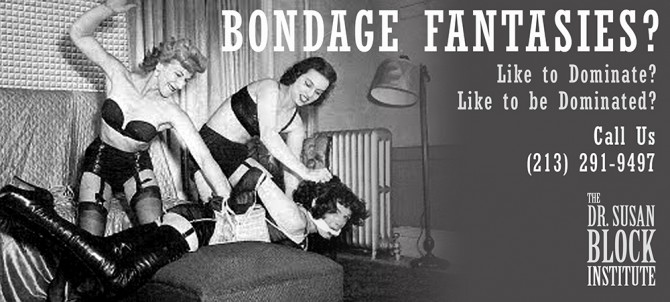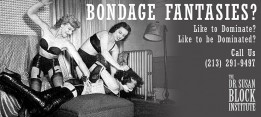 ---
Explore DrSusanBlock.com
Need to talk? Sext? Webcam? Do it here. Have you watched the show? No? Feel the sex. Don't miss the Forbidden Photographs—Hot Stuff, look at them closely here. Join our private social media Society. Join us live in studio 😊. Go shopping. Gift shop or The Market Place. DrSusanBlock.tv, real sex TV at your toe tips. Sex Clips Anyone? FASHION, we have fashion! We also have politics. Politics? Have you Read the book? No? How about the Speakeasy Journal? Click here. Ok, how about some free sex advice?
---
---