Bunny 420 Passover Honey!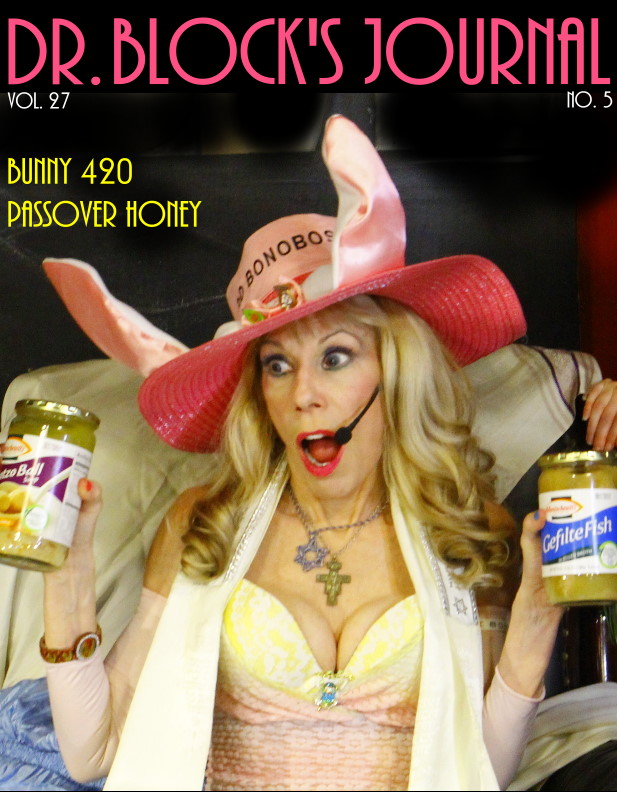 Length 01:24:48 Date: Apr. 20th, 2019
Easter bunnies gather 'round the Seder table in the Womb Room for Easter Eve, the second night of Passover and 4/20 festivities in the little Love Church of the Bonobo Way in the Womb Room sanctuary of our new Bonoboville.
Officiating in my Easter pastel pink and blue priestly robes, fringed tallit, a Medieval-style Christian cross and a Star of David (woven for me by Twin Towers inmates from the threads of their prison uniforms) around my neck, a "Lox et Veritas" g-string (made for a Sex Week at Yale when I spoke to the Chai Society), a Virgin of Guadalupe bracelet (given to me by Ana when I was in the hospital last year), a 420-green Agwa lei and matching JuxLeather finger flogger, big pink rabbit ears on my Easter hat and (off and on) Star-of-David shaped sunglasses, I, the Irreverend Dr. Susan Block, channel the spirit of the Great Bonobo Spring Easter Bunny 4/20 Matzah Goddess…
PHOTOS 1, 2 & 5: SELFIES. PHOTOS 3, 4 & 6: BIANCA
Whereupon great miracles occur!
Considering we didn't start broadcasting last Saturday until two hours past showtime, it's a miracle that we even get this show underway while it's still 4/20.
PHOTOS 1, 3, 4: HARRY SAPIEN. PHOTO 5: JUX LII
Yes indeed, we are still testing our equipment (different stuff this time), and the Womb Room is so NOT set up, we still don't have guests… though my entire on-camera staff is wearing bunny ears.
PHOTOS 1, 5, 6, 7, 8, 10: JUX LII. PHOTOS 2, 3, 4, 9: BIANCA
This includes Capt'n Max, shooting MaxCam-style as seriously as he can in a purple Mad-Hatter bunny-eared chapeau, as well as my cute kittycat show assistant Blossom Green, my hot new editorial assistant Shannon Sweet and my culinary assistant Ana, who helps me prepare all the ritual Passover foods my mama used to make.
Nevertheless, this is not your (or my) mama's Passover or Easter.
Though if your mama was into 4/20 or liked a little wine (four full cups!) with dinner, she'd feel right at home here in the little Love Church of the Bonobo Way, as we celebrate the Judeo-Christian-Pagan holidays' smoking lit Rites of Spring.
Resurrections & Res-ERECTION!
Mixing the spiritual and the sexual, we combine the eggs of Eostre with the sacred spirits of Manischewitz wrapped in a Mexican rosary, the bitter herbs and the stoner herb, blasphemy with ecstasy. We don't mean to offend, but one person's blasphemy is another's ecstasy.
PHOTOS: HARRY SAPIEN
Before we get to herbs, wine and ecstasy (make of that what you will), we roleplay the resurrection as a res-erection with our golden Divine Interventions "Jesus Jackhammer" dildo rising up out of a Vulva Puppet. Then He goes back in…. then out, and then in again.
Upon penetration, I declare, "Jesus is in her now!"


And the congregation sings "Hallelujah! Amen… and Awomen."
Seriously (sort of), the resurrection of Jesus on Easter Sunday is a cornerstone of Christian faith. Yet long before the Rebirth of the Holy Son returning to His Heavenly Father, there was the Resurrection of the Holy Daughter coming home to Her Holy Mother, the Greek Goddess Persephone (Proserpina to the Romans) rising up from the Bowels of Hades to rejoin Her Earth Mama Demeter (Ceres) who is so ecstatic to embrace the resurrected Fruit of Her Loins that She showers the world in Spring.
In retelling the ancient tale, I am ably assisted by my hastily assembled Commedia Erotica players, Blossom, Shannon, Ana and Miguel. Blossom takes the role of the young virginal Persephone, daughter of Demeter and Zeus (who also happen to be sister and brother), picking flowers in the meadow with her nymph girlfriend (played by Shannon) when suddenly, her Uncle Hades, Lord of the Dead, grabs her, allegedly "raping" and abducting her into the Underworld.
PHOTOS 1, 3 & 4: JUX LII. PHOTO 2: BIANCA
Miguel, being the only male in our troupe, seems the logical choice to play Uncle Hades. But rape, incest and abduction are a little tricky to play in the #MeToo era, and Miguel is too much of a gentleman to grab Blossom, let alone "rape and abduct" her, even in simulated fashion (though he has no problem grabbing Ana).
So, I make a quick casting switch and designate Ana (who I'd originally given the role of Demeter, because she's such an Earth Mama) as Hades, since Ana and Blossom are always grabbing and hugging each other anyway. Ana successfully wrestles Blossom to the floor under my desk… which represents Hell within our very limited set.
But now we have no Demeter. Shannon steps into the role like she was born to play the Goddess of the Harvest, Agriculture and Fertility, expressing Demeter's tremendous, Earth-destroying sorrow at losing her precious progeny (at the hands of her brother Hades, no less, with her other brother Zeus' heavenly approval), as well as her rapturous, revitalizing joy when she embraces her Holy Daughter again, all with award-winning emotion and hilarious facial expressions.
These are the Eleusinian mysteries of Easter Eve in Bonoboville, celebrating girl power on a holiday weekend mostly presided over by boys. You know, I love men—and yes, the Resurrection of Dionysus also preceded Jesus—but let's acknowledge some female antecedents.
PHOTOS 1 & 3: JUX LII. PHOTO 2: BIANCA
Unlike the Judeo-Christian-Islamic "God" and His Son Jesus, who are depicted as absolutely perfect, eternally righteous, all-seeing, all-knowing and (of course) all-male, the Greek gods and goddess are as imperfect as humans, albeit with special superpowers and immortality. Because they have faults like us, the Greek myths can teach us a lot about how to handle our own lives, like really well-conceived soap operas without the commercials.
Persephone's story is, to a great degree, Demeter's tale. Her miraculous transformation from raging, Earth-ravaging Helicopter Mom to abundant, life-restoring Earth Mama of Spring shows us that great despair can be followed by tremendous joy, and that no conflict is so absolute that it can't be worked out somehow. The story climaxes with a compromise between prehistoric matriarchy, symbolized by Demeter, and the emerging patriarchy, represented by Zeus and Hades, in which Persephone will spend half the year with her doting mom and the other half as Queen of the Underworld with her abductor hubby—whom she doesn't appear to loathe quite as much as Demeter and the #MeToo movement might wish she did (such are the complexities of Greek deities). If only modern leaders could negotiate peace, economic inequities and climate change resolutions with such bonoboesque success!
Hallelujah for the Resurrection of Persephone! Praise be to God above us—who appears to us as the Goddess Marilyn, looking like a 1950s Persephone visiting Bonoboville from the Underworld to remind us that all is beautiful and sexy, above and below.
Jesus Christ Superstar
Now to the Passover…
I've loved Pesach (Hebrew for "Passover" because "the Lord passed over" the houses of the Hebrew slaves when "He" killed the firstborn children of the Egyptians), the Seder, the stories and rituals since I was a little girl reciting the "Four Questions" and having my first tipsy sip of sweet 11% alcohol content Manischewitz. Next to Purim, it's my favorite Jewish holiday.
Since It's 4/20, I also reminisce about my first puff of pot, which happened to be in the Bible closet over the sanctuary of my synagogue with a boy named, of all things, Buzz.
Unlike Christmas and Hanukkah which have nothing to do with each other (except capitalism), Passover and Easter are deeply related. The Last Supper of Jesus and the Apostles on the Thursday before Good Friday is said to have been a Passover Seder. Jesus shares of his body and his blood – maybe symbolically with the matzah (which later becomes a Communion wafer) and the wine. Then again, maybe Jesus literally shared his body and "blood" (semen?) with Mary Magdalene, probably his wife, certainly his lover. Maybe with the other apostles too; Jesus certainly seems bisexual. Nowhere do the Gospels say he is celibate. If he was a Rabbi, as the Gospels indicate, he'd be married. Some say the beautiful beardless apostle to the right of Jesus (House of David) in DaVinci's rendition of that "last seder," is Magdalene (House of Benjamin).

PHOTO 1: JUX LII. PHOTOS 2 & 3: BIANCA
Whereupon, we play "I Don't Know How to Love Him" from Andrew Lloyd Webber's brilliant Jesus Christ Superstar, which I remember really hitting home with me as a little Jewish girl trying like Webber's Mary (or Judas) to make sense of this intensely erotic yet oddly chaste man-god.
Shannon takes the mic and karaoke-sings Magdalene's anthem of conflicted love for the man-god, belting it out (well, some of it) like a diva.
PHOTOS 1-2: BIANCA. PHOTO 3: HARRY SAPIEN. PHOTOS 4-6: JUX LII
During this dramatic musical display of lust, I feel Shannon needs an object for her affections and hand her Jackhammer Jesus to which she sings with ardent passion, as the rest of us provide a chorus of sorts.
As I write this, I'm looking at photos from last night and listening to the original 1970 JCS soundtrack on one computer, while on the other trying to make sense out of the latest senseless mass murder, this time over 200 people slaughtered at Easter services in Sri Lanka. Talk about crazy combos.
Spring is all about birth and rebirth, but death is never far away.
Bitter Herbs & Boner Herb
Using my dearly departed cousin Jeff's Haggadah from my old family Seder days, I lead a very truncated version of the Passover service with prayers for wine and all the ritual foods, leaving out all the "boring" parts, as well as a few interesting parts because, unlike the gods and goddesses, we don't have eternity.
We do have a huge Seder Plate (a wedding present from the late Bobby Block) with all the trimmings, including the egg which is, in this case, a yellow airbrushed Easter egg burned in the Passover tradition, the parsley, the shank bone (a lamb chop bone since shanks bones are not plentiful in our new neighborhood), the haroseth, a delicious mixture of nuts, raisins, dates, apples, honey and, of course, wine. Jesus turned water into wine, and on Passover, we don't stop drinking it, praying over it, pouring it all over the food, and spilling it all over everything else.
PHOTO 1: JUX LII. PHOTOS 2-3: BIANCA
I sing–in Hebrew, albeit a bit off-key–the prayer for the wine. Baruch atah adonai elohenu melach ha-olam boray piree hagafen (Blessed art thou, oh Lord, king of the universe, who brings forth fruit from the vine)! Amen and Awomen. L'chaim (to life)!
PHOTOS 1 & 4: JUX LII. PHOTOS 2-3: BIANCA
We also have the traditional parsley, along with the Passover bitter herbs… and the 4/20 stoner boner herb. Yes indeed, unlike oysters and chocolate, cannabis (like wine) is a real aphrodisiac
The "bitter herbs" (in Hebrew: maror), aka horseradish, are supposed to remind you of the suffering the Hebrews endured as slaves in Egypt (for which, by the way, there is no historical proof), building pyramids, storehouses and/or sphinxes. Usually, you have white maror or red maror, but I like to layer them both into a glass, giving the appearances of a sweet vanilla and strawberry sundae… until your first bitter bite, when you realize you've been served the Poison Parfait of Dr. Suzy's Seder. Heh-heh.
Ours is truly homemade since we couldn't find red maror, so we used Ana's beet juice to color some of the white stuff red, and praise the Lord and Lady, if it doesn't look and taste as good—and nasty—as the authentic article.


The central food of the Passover seder is, of course, the matzah or matzo (depending on your transliteration) which, like the Communion wafer it probably spawned, is a dry, bland, brittle cracker that wants to be bread, but doesn't rise to the occasion. Ba-da-bing.
Supposedly the Hebrew slaves had to leave Egypt in such a hurry, there wasn't time to let the bread rise, so they ate these awful matzah crackers and condemned us all to do the same every Passover.
These Spring holidays are all about rising or not rising.
Happy Birthday Jux!
Not only is it Easter Eve, Passover and 4/20, as the clock ticks past midnight to 4/21, it's Jux Lii's birthday!
He's shooting camera, as usual. But he takes a break to blow out the candles on his yummy Tiramisu cake, brought in ceremoniously by Blossom.
We met Jux in 2010 at our Eros Day Housewarming Orgy as a photographer, then he became my editorial assistant (and an excellent editor he was), then went back to being Bonoboville's premier photographer with a vivid, distinctive, award-winning style.
Among his many talents, Jux makes awesome edibles under his brand Cannabelly, and his amazing brownies decorate the seder plate along with the more traditional herb and bitter herbs.
PHOTOS 1 & 4: BIANCA. PHOTOS 2,3,5: HARRY SAPIEN
They also make their way into my mouth, though I gotta say: munching a brownie is just not as sexy as smoking a dooby. Spark one last one up for 4/20 and another one to kick off 4/21.
Happy birthday Jux!
Dayenu Scallion Flogging
Come let us play! One of my favorite Passover seder rituals is scallion flogging. Yes indeed, Brothers and Sisters: Season's beatings! Unfortunately, I didn't grow up with this particular Sephardic Jewish ritual at my Ashkenazi family seders. I learned it in the 1990s from Orthodox Rabbi Shmuley Boteach, now a Trump supporter. I know: blech. But this was during the Clinton years, when "America's Rabbi" was a guest on my show three times. Then he invited Capt'n Max and me to his family Seder with his seven kids, wife, dad, brother and sister-in-law sitting around the table, everything proceeding pretty conventionally, though I wondered why a bunch of scallions were on display by the seder plate.
Suddenly, as we sang the traditional Dayenu, everyone—rabbi, rebitzen, kids and grandparents—grabbed a scallion and started smacking each other. Max and I were shocked (we thought we were kinky), but we quickly got in the spirit and joined in on the smacking, and we've included this wild and crazy ritual in our own seders ever since, though our smacking is more like spanking.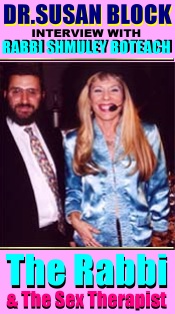 While Rabbi Schmuley's family-style scallion-flogging tended to go for the back or shoulder, we go for the ass every time.

Then and now, with every other smack or spank, the scallions break, which breaks everyone up into giggles of cathartic release, though Sephardic tradition tells us they are reminders of the terrible whippings the Hebrew slaves endured from their Egyptian taskmasters.

PHOTOS 1, 2, 4: HARRY SAPIEN. PHOTO 5: BIANCA. PHOTO 3 & 6: JUX LII
It's a different kind of "family-style" consensual whipping, if you ask me. Here is a case in which something that appears sacrilegious is actually religious. Yet isn't that often the case with religion? One person's blasphemy is another's voice of God emanating from a cloud, a conman, a Marilyn painting or a burning bush.
Even if it doesn't do anything for you spiritually, there's nothing like a good ritual veggie-whacking to get the blood pumping after too much wine and crackers.


Even Capt'n Max in his bunny hat gets in on this action. When our scallions break, we use giant leeks for maximum impact.
The Easter/Passover "bitter herbs" of bondage, torture, slavery and pain can be transformed into pleasure and illumination through consensual roleplay… and a little good herb (the stoner, not the bitter, kind).
PHOTOS: BIANCA
Happy 420 flogging!
The Gospel According to Mueller
Speaking of Haggadahs, Gospels and Bibles, the Mueller Report is out! Like the Old and New Testaments, the Gospel according to Mueller is heavily redacted, but full of juicy stuff (most of which we pretty much already knew) about what lying, thieving, obstructing criminals Trump and the Trump Crime Family and Friends are and always have been. Mueller won't call them criminals because, well, he was hired by Bush the Worse to head the FBI and covered up Bush (not the Burning Bush, the Bombing Bush) and Dick (yes, Cheney) and the FBI's incompetence and/or criminal collusion that allowed 9/11 to happen. I don't know why so many Dems trust this diehard Republican so much, but they're the same Dems who want to invade Venezuela, kill the New Green Deal and take Trump's impeachment "off the table," so there you go.
But even a heavily redacted inconclusive report shows that Trump welcomed Russian help and tried to collude with them, but he and his people were too incompetent to get it done, and too many of them are still lying, though we do know, on several occasions, in plain view and private, he "obstructed justice." So, impeach his orange ass! But, speaking of body parts, do the Dems have spines? Doesn't seem so, but #GoBonobos for Senator Elizabeth Warren who is calling for impeachment now.


I'm hopeful… eternally hopeful. But I'm not naïve. So, while Trump's here in Bonoboville, he's under gag order with an Easter egg… and wearing broken bunny ears. The banana's wearing the dunce cap because… collusion.
At the moment I say "Impeach his orange ass," Betsey the Dog comes running into the Womb Room and barks, like she's demanding his orange ass out of our White House too.
Then she licks Trump's big furry pink balls and tiny toadstool peepee. Well, I do put a doggie treat there, but still!
10 Plagues of Climate Change
One of many Passover rituals I don't have time to do is the 10 Plagues:
Reads like the current and coming effects of Climate Change, doesn't it? All made even more disastrous thanks to Trump giving former fossil fuels industry execs and lobbyists and other climate change deniers the keys to the environmental candy store, so the thunderstorms of hail and fire, pestilence, blood, death and darkness are coming sooner rather than later, and for many of us, that means now.
The Passover ritual involves spilling 10 drops of wine on your plate (though very often, my family's wine drops wound up on our Haggadahs or clothes), to symbolize giving up something valuable in sympathy for the Egyptians' suffering and as a sort of penance for our good fortune. Spilling the wine is like paying a tax. You've got a full cup; why not spill a little to show you care? This is a good analogy for what the 1% really need to do, and not just to repair Notre Dame so they can get their name on a plaque, but to help the 99% and/or save our environment from otherwise inevitable destruction.
Though we neglect to spill the wine ritualistically, Blossom manages to spill my wine accidentally… at least not on my pastel priestly robes and the Haggadahs have been thoroughly doused with wine over the decades anyway.
So I wind up paying more than my fair share of alcohol taxes during this seder.
Making even more of a mess, we pop confetti Easter Eggs all over each other.
Then we show off our Speakeasy Journals.
PHOTO 1: JUX LII. PHOTO 2-3: BIANCA. PHOTO 4: BLOSSOM SELFIE
There's one that Amazon published, and there's one they refuse to publish, maybe because of Bezos' pecker.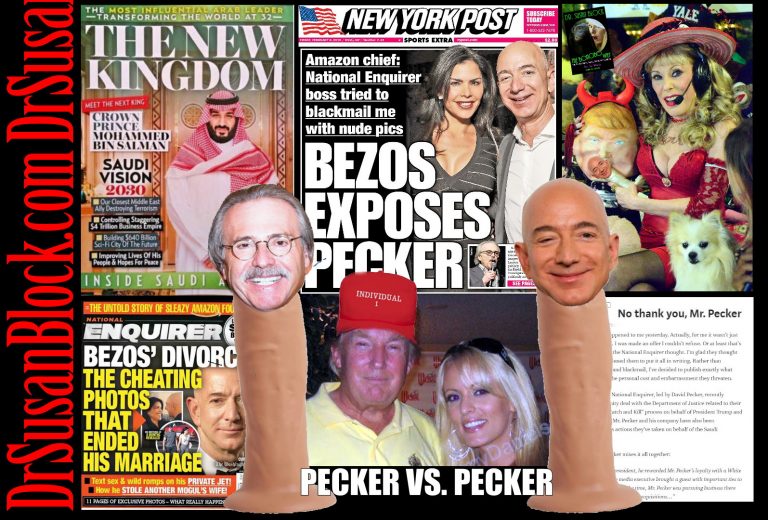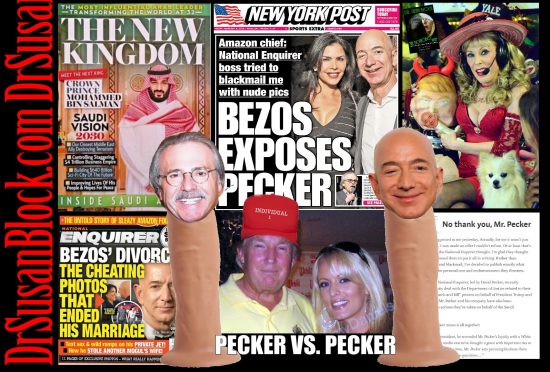 Trump's Pecker (David, the National Enquirer CEO) may not have the guts to publish Bezos' pecker, but we do, though doing so has apparently endangered our relationship with KDP. Now we just need a publisher before DomCon 2019!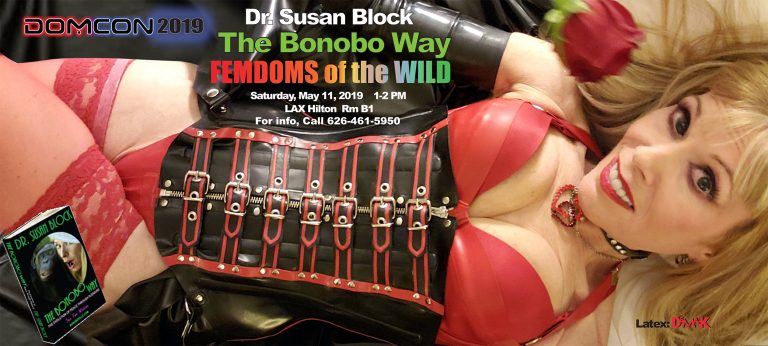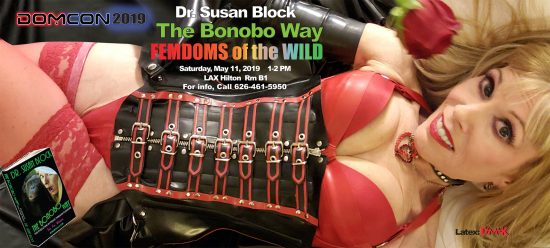 Happy Earth Day!
As I'm writing this, it's actually Earth Day, maybe the most important Spring holiday of all right now when we have about 12 years to change our gas-guzzling ways.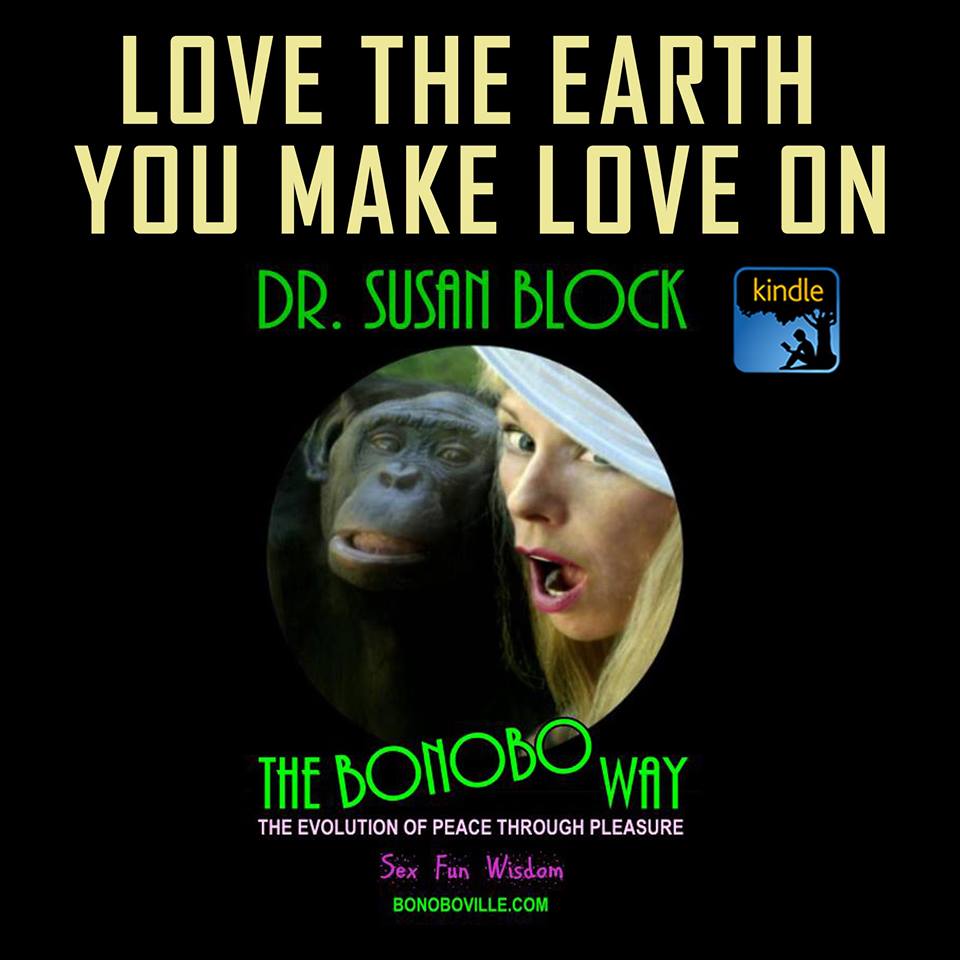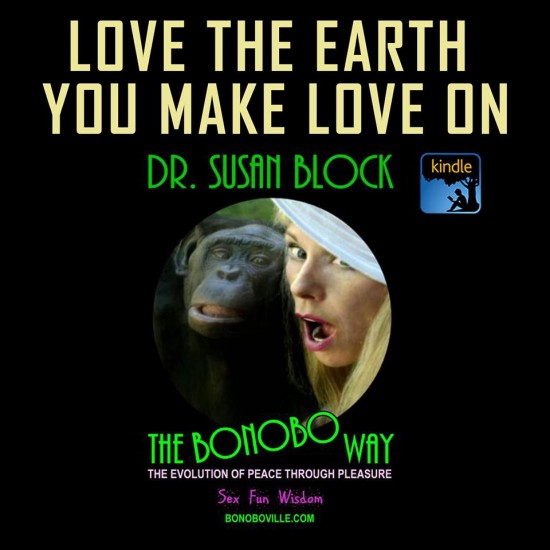 Love the Earth You Make Love On. She's one Baby Mama we can't deny.

Happy Bonobo Spring! May the Bonobo Way of female empowerment, male well-being, ecosexuality and peace through pleasure sprout for you, and all of us, from the deep doo-doo of our times.
© April 21, 2019. Susan Block, Ph.D., a.k.a. "Dr. Suzy," is a world renowned LA sex therapist, author of The Bonobo Way: The Evolution of Peace through Pleasure and horny housewife, occasionally seen on HBO and other channels. For speaking engagements, call 310-568-0066.