A Midwinter Night's Sex Comedy on DrSuzy.Tv
Length 1:48:25 Date: January 16, 2016
"Sex is a comedy, not a tragedy," said art historian Camille Paglia in Vamps and Tramps, though according to my recent Google search, I'm known for popularizing the phrase more than Dr. Paglia is for coining it. In any case, it hits the nail on the throbbing mushroom head of this show.
Rape, STDs and blue balls notwithstanding, the great tragedies of life tend to be about death, not sex. Case in point, in just the last few days, I've felt buried alive by a small avalanche of untimely cancer deaths of people I knew and/or who have touched my life: Dan "Grizzly Adams" Haggerty (who outed himself as a "bonobo fan" when I interviewed him at the Hollywood Show), David Bowie (whose genius was the soundtrack to much of my early life's erotic explorations) and my own dear dapper cousin Jeff Block.
So before we frolic into the comedy of sex on this melancholic midwinter's night, Snake Eve in hand, we talk about the tragedy of death, Thanatos, as the Greeks called this force of murder and war, which has, in modern times, encompassed cancer and environmental destruction as well as more murder, mass-murder and war. In comparison, Eros, the Greek word for the sexual energy that drives all of life on Earth, is pure comedy, or maybe a farce of worldwide proportions.
After such sad farewells, we need a good laugh and my first guest, stand-up comic, Joan Rivers joke contributor and Hollywood Rockin' Wrap Up host Jason Hadley, does the job. I must confess I feel a schoolteacher's pride in her student, since Jason watched early episodes of The Dr. Susan Block Show (when I was on public access and HBO) at a very impressionable age and apparently, it made quite an impression.
He explains that he was especially impressed with some oral sex lessons I gave using my Wondrous Vulva Puppet, specifically the intensely pleasurable cunnilingual technique of lightly squeezing a very wet clitoris between your index and middle fingers while licking and sucking the little "man in the boat" until "he" explodes like liquid pop rocks in your mouth.
Jason never forgot these oral teachings—which now seem rather commonplace and "vanilla," but were rather esoteric when I was teaching them back in the 1990s—and his girlfriend is extremely grateful. He even demonstrates the technique as well as G-spot stimulation on one of my current Vulva Puppets as I hold it. If a puppet could squirt, this one would!
His reward for a lesson well-learned is Bonoboville Communion with the fabulous Dayton Rains—award-winning porn star, webcam and phone therapist with the Institute, and associate producer for DrSuzy.Tv—as "altar girl," a role that she plays so well she won the SUZY award for it. Usually, the guest picks the body part to use as the altar, but with his girlfriend watching carefully but indulgently from home. "She understands that it's just business," Jason explains. Nice work if you can get it. Nevertheless, the faithful boyfriend requests that I take charge and choose the body-part-of-communion for him, perhaps so the GF can see that he has "no choice."
Decisions, decisions… the wrist, the back of the neck, the boobs, the butt? Yes, the butt. Considering this is a loose (very loose) take-off on Shakespeare's A Midsummer Night's Dream, I choose our Altar Girl's lovely ass or bottom, "Bottom" being the name of the central Shakespearean character, a handyman and amateur actor who is magically transformed into an ass… that is, a donkey (Equus asinus asinus), though the Elizabethans appreciated the double-meaning of the "ass" word at least as much as we do.
Since Jason is Jewish (and "will feel guilty about this for hours," he moans), I sing the Hebrew blessing, substituting Ron de Jeremy rum for wine, as he takes his Bonoboville Communion with all the reverence of a Bar Mitzvah Boy-Gone-Wild. To top things off, Jason asks me to sign his copy of The Bonobo Way to his mother whose name is "Susan." I'm not even going to venture into what that means. I'm sure he has a comedy routine on the subject or, if he didn't before, now he will.
The next joke is on us because our other featured guest (who will not be named, out of respect for her otherwise excellent agency) is a flat-out no-show. This could have put us into a "show hole" but, always aware that the best laid plans may not get you laid the way you planned, especially when you're doing the "most unscripted show on Earth," Commedia Erotica-style, we just go with the flow and do a great show.
Scanning the Womb Room congregation, I spot the tall, Modigiliani-beautiful Hannah Ray, and invite her up on the bed for a chat and then an over-the-knee (OTK) Bonobo Way book–spanking, since she hasn't yet read the book (be well-read or get, well, red), finding the sweet spot on her deliciously curvaceous bottom through a strategically torn rip in her jeans. Having worked with us a few years ago, Hannah is a Bonoboville alumna in good standing, on her way to Vegas to join forces with another Bonoboville alumna, the sultry Liliana. Hannah is a bit body-shy this show, keeping her pin-striped shirt buttoned to the neck, but she does take Bonoboville Communion with relish—and Agwa Coca Leaf Herbal Liqueur—from Dayton's bare and bountiful breasts. I then pronounce Ms. Ray "Hannah Banana," and stick a plantain in her mouth. Dayton too. Jason politely declines the offer. Although he's into all manner of porn (including pregnant lesbian porn!) and sex, he does not go for cylindrically-shaped foods. Well, at least we get him lei'd.
Hannah is accompanied by the perpetually mysterious adult film auteur Jack the Zipper, whom she first met in Downtown Bonoboville a few years ago. As usual, Jack will not show his handsome self on camera, but he does regale us with sexy-comic tales of Charlotte Stokely, Johnny Depp and Johnny's particularly sweet variety of medical marijuana, christened "Honey Depp."
This brings us to our next Bonoboville sacred-sex ritual of reverent irreverence, wherein Dayton metamorphoses, legs outstretched, into the Goddess Venus Cannabis, legitimizing her claim to her other SUZY award for "Most Talented Twat," aka "Best Kegels," by literally smoking a blunt through her cunt.
As Jason says, "America's Twat Talent!"
Then she puffs out vagi-canni fumes to Jason, our featured guest; Jonathan, a new Studio member; me (of course) and (sort of indirectly) Capt'n Max.
Thus fortified, the Captain speaks candidly about his own personal Big C Battle, and how there is life—and sex, including some of the most intense orgasms he's ever had!—after cancer (at least certain kinds, like bladder cancer) for some very fortunate folks like him.
Yes indeed, we are a lucky little couple bebopping along through our third show of the second Year of the Bonobo, getting ready to #GoBonobos and give the Keynote at the first Symposium on Ecosexuality in the Caribbean. Christopher Columbus invaded the island of what we now call Puerto Rico with guns and smallpox, and now we are coming to the University of Puerto Rico, Mayaguez with books and the Bonobo Way.
Which brings me back to bonobos (I always come back to bonobos) and what I call "The Bonobo Funnies" in the book. Many psychologists consider humor, even if it's just a chuckle, a hallmark of humanity. But bonobos (pan paniscus) also love to laugh when tickled physically or mentally. Moreover, they even crack the jokes, and the complexity of their funny bones is right up there with Buster Keaton. One of my past show guests, "Champions of the Wild" filmmaker Christian Bruyère, related how the human-trained, but still quite independent bonobo, Panbanisha, put him through a comedic gauntlet before consenting to let him film her. Via computer sign language and gestures, she turned the tables on the award-winning director, directing him to dress up in a gorilla costume and pretend to scare an on-site employee. Dutifully, Bruyère donned the furry suit, then beat his gorilla chest and chased the staff member down a hill. All the while, Panbanisha enjoyed the slapstick scene from her director's chair. Only after Bruyère followed her precise, Keatonesque directions did this demanding diva consent to his original request that she appear in his movie. I should be so smart in my dealings with Hollywood filmmakers.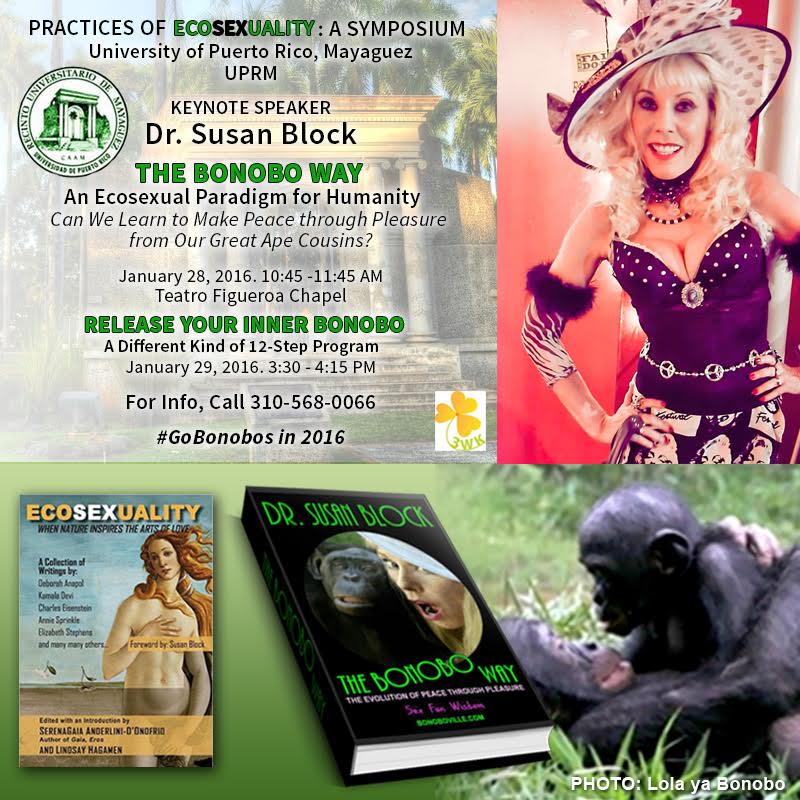 Of course, common chimpanzees (pan troglodyte) also have a sense of humor and love to play practical jokes, but the punchline is that they kill you. Haha. Actually, the common chimp kill rate isn't anywhere near as high as the human War Machine. Hahaha. At least, individual humans do tend to feel some guilt about killing, whether it's Catholic guilt, Jewish (gelt?), Muslim remorse or just non-denominational PTSD. This is why, in the midst of all the modern mass-murder and mayhem, I believe in the Bonobo Way.
Read it or get spanked by it!
Beautiful Birthday Gal Aaliyah Corsets is 30 years old and an hour late for which she receives her OTK birthday spanking, black patterned pantyhose stretched across her bouncy bottom (there's that ass again!), as she eats Jake's cake. Yes, Handsome Hollywood Jake is back. Last Saturday, Destiny Dare ate Jake's balls. Apparently, the ladies like the taste of our Speakeasy bartender's goodies.
Big bonoboësque thanks to Joe Williamson and Roberto Bonobo, Dr. Susan Block Show associate producer (the abbreviation for that is "ass producer" in keeping with the Shakespearean theme), for coordinating Jason's very special appearance on this very funny, surprisingly sexy Midwinter Night's Wet Dream.
See you soon on The Island of Enchantment!
© January 16, 2016. Susan Block, Ph.D., a.k.a. "Dr. Suzy," is a world renowned LA sex therapist, author of The Bonobo Way: The Evolution of Peace through Pleasure and horny housewife, occasionally seen on HBO and other channels. For speaking engagements, call 310-568-0066.
---
Explore DrSusanBlock.com
Need to talk? Sext? Webcam? Do it here. Have you watched the show? No? Feel the sex. Don't miss the Forbidden Photographs—Hot Stuff, look at them closely here. Join our private social media Society. Join us live in studio 😊. Go shopping. Gift shop or The Market Place. DrSusanBlock.tv, real sex TV at your toe tips. Sex Clips Anyone? FASHION, we have fashion! We also have politics. Politics? Have you Read the book? No? How about the Speakeasy Journal? Click here. Ok, how about some free sex advice?
---
---