"Sushi Girl" in Bonoboville: Go Bonobos in the Year of the Monkey!
Length 1:25:34 Date: Feb. 6, 2016
It's the eve of the Chinese New Year, and we're having a lovely sushi dinner on DrSuzy.Tv. Actually, the dinner—fine vegan sushi from Ralph's—isn't nearly as lovely as the dinner plate: a beautiful naked woman.
And yes, sushi is Japanese, but it is said to have been invented in Southeast Asia, migrating through South China before reaching Japan where it was recreated by Chef Hanaya Yohei as the nineteenth century's version of Tokyo Fast Food. History or mystery, ringing in the New Year of the Monkey (we're always up for a good celebration) with a bonoboësque banquet of seaweed, cucumber, carrot, ginger, avocado, wasabi and white rice decorating the clean clear skin of a beautiful naked woman feels festive, if not strictly authentic.
Cortney Palm, Sushi Girl
Within establishments that serve their raw fish on nude human platters known as "nyotaimori," that "woman" is usually a nameless, personality-free model. However, our featured guest and the centerpiece of this silly, decadent and rather educational "Asian Fusion" New Year's feast is the star of the movie "Sushi Girl," Cortney Palm. The film, a vividly-acted, creatively shot and grossly gory horror/gangster flick that climaxes in a lurid bloodbath that leaves little to the violent imagination, is not at all bonoboësque, to say the least. But Cortney, as "Sushi Girl," certainly looks good enough to eat throughout most of the film, laying perfectly still, wearing nothing but an arrangement of raw fish and palm fronds.
Thus we are honored and delighted to have Cortney reprise her signature role in Bonoboville, especially as laying perfectly still with food all over your body isn't the easiest, most comfortable thing for even a vegan goddess like Sushi Girl to do. We try to make her feel at home in our own signature way, trading the film's Ming Dynasty effects ("Not exactly Japanese," as the film's first victim points out) for some Thai monkeys, Vulva puppets and Snake Eve. We also replace the film's violent bullies for me in my lucky red Chinese "Suzie Wong" outfit and the fabulous Dayton Rains—award-winning porn star, webcam and phone therapist with the Institute, as well as associate producer for DrSuzy.Tv— chopsticked, flat-ironed and breathtakingly corseted into her rendering of a live-action Sicilian-Japanese Geisha Love Doll.
Vegan Sushi, Zombie Beavers
We also use vegan sushi instead of fish, honoring Cortney's passionate and extremely well-informed animal rights advocacy. Also, ours is a live, unscripted internet TV show, not a feature film with a screenplay and time to frame shots and place the sushi, which Dayton and Miss Ono Bo do a remarkably artistic job of placing in very little time. Speaking of which, here's a hot Hollywood tidbit: the sushi on "Sushi Girl" isn't even sushi—it's plastic.
Photos 1 & 2: Cavie.  Photo 3: Ono Bo
Here in Bonoboville, however, our sushi is real (thank you, Uncle Ralph) and, despite a scarcity of soy sauce, we manage to scarf down quite a bit of it right off of Cortney's good-natured, gorgeous, vegan-pure and patient skin. Yum! Ginger never tasted so succulent. Our dinner companions include singer and anti-bullying activist Tyler V. Orion (last seen on the show with his ex-girlfriend Amanda Blow), adult industry newcomer Gabriella Lane (courtesy of 360 Model Agency), associate producer Roberto Bonobo, Handsome Hollywood Jake and my hungry hubby, Capt'n Max, with Ikkor hovering hungrily like "The Wolf" that he is. Shout-outs to Samurai Del Rey in-house and Chelsea Demoiselle "in the field" for tweets as tasty as fine restaurant reviews.
Before we eat off her body, we attempt to penetrate Cortney's keen mind, discussing life beyond Sushi Girl," which includes environmental activism and animal rights advocacy, as well as her profound maternal relationships with her beloved dogs and her latest role in the whacky horror spoof, "Zombie Beavers" (Dayton to play Cortney in the inevitable XXX version).
Lover Earth
An ardent environmentalist, Cortney takes to our Ecosexuality idea of "loving the Earth we make love on," and even treating the Earth as a lover. We're accustomed to anthropomorphizing the home planet as Mother Earth, our dear old long-suffering Mama who will always support us unconditionally even when we, her spoiled brats, abuse her through deforestation, pollution and industrial mining.
Photos 1 & 2: Ono Bo.  Photo 3: Cavie
"Lover Earth" is not as forgiving and just might rid herself of a toxic partner (or species) like a bad sexually transmitted disease. However, our romance with Lover Earth can be amazing, intimate, deeply rewarding and orgasmically exciting in ways that most of us would never share with Mom.
As popularized by Drs. Annie Sprinkle and Beth Stephens, as well as Ecosexuality co-editors Lindsay Hagaman and Dr. SerenaGaia Anderlini D'Onofrio, Lover Earth ought not to be taken for granted, but must be wooed, adored, respected and cared for, especially if we're to cultivate a mutually beneficial, sustainable relationship. Being a good partner to Lover Earth takes more effort than being the overindulged, self-centered child of Mother Earth. However, Ms. Palm seems more than up to the challenge.
Enough with the Bullying! Make Like Bonobos, Not Baboons!
Cortney also talks about being bullied, even told to "kill yourself" by jealous haters which the internet seems to breed like, well, zombie beavers.
Post-sushi, this segues into Tyler's impassioned delivery of his anti-bullying message for tyrants at all levels, from schoolyard goons to titans of the Military Industrial Complex to stop the bullying, as well as to the victims of bullying to join together against violent oppression. It's a very bonoboësque message, so I give him a (signed) Bonobo Way book-spanking with orders to read it now. If anybody knows how to stop—or at least curtail—our bullying of each other and the Earth, the bonobos know.
Eating While Eating
Bonobos also love to combine food and sex (eating while eating!), which Dayton comes teasingly close to doing when she eats sushi from the coochie of the Sushi Girl. What good fortune!
Then Cortney turns the tables and gets Jake to doff his shirt and assume the position of "Sushi Boy." This time, Dayton devours her California roll from Jake's arm-pit—oh my! No wasabi necessary.

Sushi dinner segues into Bonoboville Communion between Gabriella, who chooses Agwa Coca Leaf Herbal Liqueur, and Dayton, who takes Ron (the rum, not the hedgehog) down her throat.
Photo 1: Unscene Abe.  Photo 2: Cavie.  Photo 2: Ono Bo
Then Gabriella strips naked as a nyotaormori without the sushi (or the panties), and Dayton eats Gabriella's sushi, and no it's not vegan. It's meaty with a hint of ginger, hairless and according to Dayton, who goes down for seconds, quite delicious. Yes indeed, this beaver ain't no zombie.
Photos 1 & 2: Unscene Abe. Photo 3: Del Rey
From there, our Happy Chinese New Year of the Monkey Nyotaimori Sushi Dinner goes bananas into another Bonoboville after-party of sharing pleasures with friends and lovers, old and newbies.
Going Bonobos from UPRM to UC Berkeley
Thanks again to University of Puerto Rico, Mayaguez Professor SerenaGaia for hosting us at the first Ecosexuality Symposium in the Caribbean, held on-campus at UPRM. What an awesome time (pix and blog coming soon), giving the Keynote Speech on the Bonobo Way: An Ecosexual Paradigm for Humanity for 200 students and professors, "marrying" Playa Azul and falling love with Puerto Rico (pix and blog coming soon).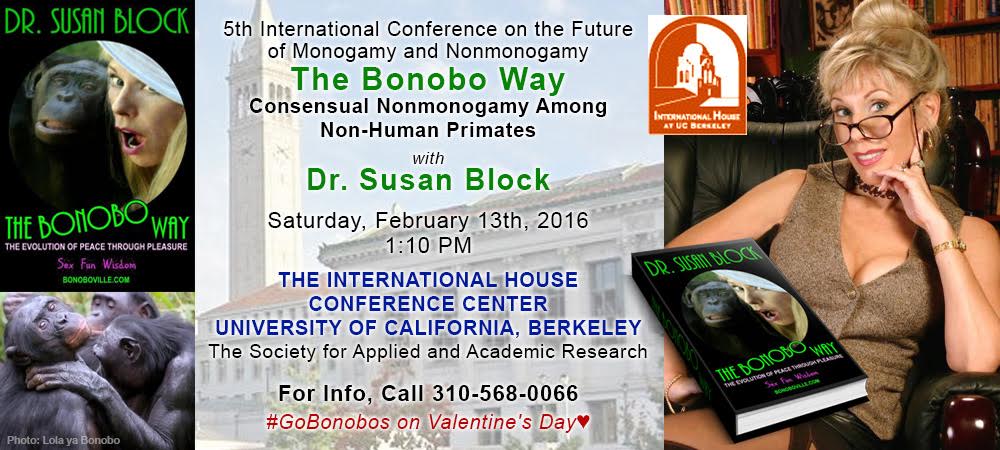 Coming up faster than a roller coaster, we're going to the great and historically revolutionary campus of UC Berkeley for the 5th International Conference on Monogamy and Nonmonogamy where I'll give a talk on the Bonobo Way: Consensual Nonmonogamy among Non-Human Primates and try to climb the Bay Bridge again (just kidding on climbing the bridge; been there, done that, plus the Golden Gate). If you're up in the Bay Area, then come join us for some pre-Valentine's Day sapiosexual stimulation… Stuck in LA? We'll be back in Bonoboville for a belated Lupercalia starring Dayton Rains as a topless "furry" she-wolf (the "Luper"), februa by JuxLeather and much more. RSVP now online or call 310-568-0066 anytime. We're always here for you. And remember, membership has its pleasures.
© February 7, 2016. Susan Block, Ph.D., a.k.a. "Dr. Suzy," is a world renowned LA sex therapist, author of The Bonobo Way: The Evolution of Peace through Pleasure and horny housewife, occasionally seen on HBO and other channels. For speaking engagements, call 310-568-0066.