Masturbation Month is COMING…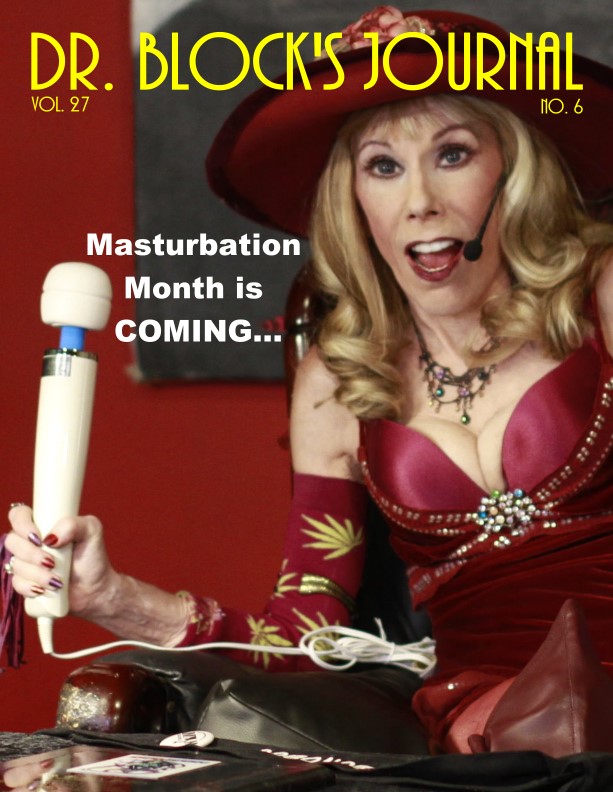 Length 01:34:31 Date: Apr. 27th, 2019
Did I spill wine all over myself at last Saturday's Bunny 420 Passover, Honey? Because I'm decked out in burgundy everything for this show, from my big wine-colored hat (a gift from HBO) to my Manischewitz-colored high-heeled boots (another gift from a boot-fetish fan).
What's the favorite wine of a Jewish American Princess (JAP)? I wanna go to Miami! That's an ancient joke, before climate change and corruption turned Miami Beach into an alligator and human lizard-infested swamp. Now maybe Palm Beach and Mar-A-Lago are places to whine for, but watch out for the hooker police! Emboldened by the rather loosely defined SESTA/FOSTA laws, they're charging any woman with "human trafficking" if she accepts money from any man… for just about anything.
PHOTOS: HARRY SAPIEN
420 also seems to have manifested cannabis leaves on my sleeves. As for those boots, they are big over-the-knee leatherette waders, the better to stride unsullied through the hogwash flooding our increasingly toxic pigshit culture. Happy Year of the Pig, Brothers and Sisters, Lovers and Sinners.


Thus equipped, off I go into our fourth great show live from the little Love Church of the Bonobo Way in the new village of Bonoboville, and no, we still haven't pulled things together enough to have guests. Clothes racks are still in the studio, sculptures are still in bubblewrap, boxes and unhung art everywhere, while whatever we happen to be looking for is nowhere to be found. What can I say? Unless you're a billionaire, moving's a bitch.
PHOTOS 1-3: BIANCA.  PHOTOS 4-5: HARRY SAPIEN
Not that I'm all alone in the Womb Room. Capt'n Max is filming, along with the rest of my beloved Bonoboville crew, including Harry Sapien, his signature knee pad tied hilariously around his right leg, so he can get down on bended knee. No, not to propose–to get the perfect shot (Shoot Cameras, Not Guns)!
Dazzling eye candy, titillating giggles, cogent commentary and fascinating true confessions are provided by my pair of darling deputies: There's my leopard-corseted kitty cat show assistant Blossom Green of Laguna Beach, uncorking fine wine whenever I whine, making sure tRump's penis pacifier stays in his big mouth, and fielding your questions and comments on Facebook Live. Lots of enthusiastic comments this show, keep 'em coming. #GoBonobos!
PHOTOS 1 & 3: BIANCA.  PHOTOS 2 & 4: HARRY SAPIEN
Then there's my sexy editorial assistant, Shannon Sweet of San Antone, in matching frilly pink short-shorts and midriff top that she made herself!
She looks like Daisy Mae Scragg in Lil Abner, doing ever-so-innocently obscene things with Jacob Sokoloff's big moustachioed banana.
Then the two of them ride the banana like a seesaw. That's one happy banana!
Our three outfits don't match, but we're all wearing different kinds of boots for the boot fetishists!
I even wear two kinds of boots, changing mid-show from the big, "Dommy Mommy" over-the-knee subbie-stompers to short suede booties (cabernet-colored, of course) with toes so pointy they could slice bread.

These boots are made for walking… trampling and boot worship.
DomCon here we come! Once again, I'll be wearing fabulous DeMask Latex at Domcon.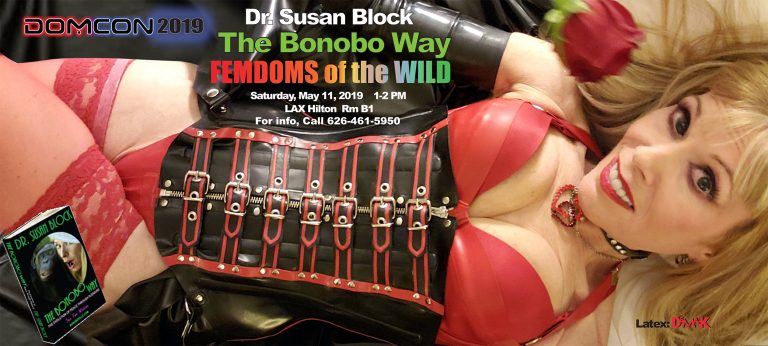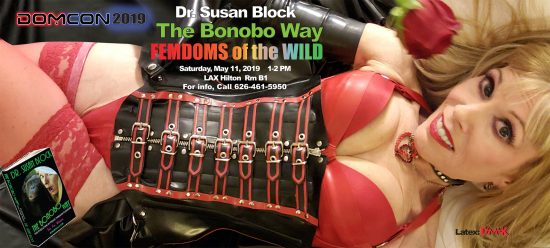 It's my third time wearing custom Demask and fourth time delivering The Bonobo Way: FemDoms of the WILD, though it'll be a different outfit, of course, and an updated presentation featuring fabulous Rhiannon Aarons, Del Rey, Tim Sewall, Blossom and Shannon.
PHOTOS 1 & 5: HARRY SAPIEN.  PHOTO 2, 3 & 4: BIANCA
Even sooner that that… Masturbation Month is COMING. Get your lube, toys, fantasies and self-pleasure plans ready for the merry month of May!
Shoot the Gun Between Your Legs
Before we delve too deeply into diddling, we get serious (though interestingly, it brings us back to diddling). That morning, the last day of Passover, a 19-year-old self-declared white supremacist, opened fire in a Chabad synagogue in San Diego (home of my bonobo family at the SD Zoo), using an AR-15, a weapon of war and the mass murderer's weapon of choice, killing one person and wounding three—this, the day after Trump reiterated his reference to neo-Nazis as "very fine people" (for more about this, read the new Post-Trump Sex Disorder and old Fire & Fury of the Tiki Torches). The day before, a U.S. Army veteran with PTSD crashed his truck into a bunch of people he thought were Muslims. And then there were the horrendous Easter killings of over 200 people in Sri Lanka. And that's just recent religion-focused horrors that come to mind.



Thoughts and prayers don't cut it. But what does? Gun control is really vital (people don't need AR-15s!), but doesn't stop trucks and bombs.
PHOTO 1: SELFIE? PHOTOS 2-4: BIANCA
And what does sex have to do with it? All these murderers, in addition to being truly messed up in a multitude of ways (though not often diagnosed as "mentally ill"), are sexually frustrated. Some are incels. They need some good clean wholesome SEX. And if they're too messed up to find a consensual partner, well, that's one reason why we masturbate.


Hey, it's almost Masturbation Month, but go ahead and start early! Shoot that gun between your legs, guys and gals and everybody else. Follow the Bonobo Way of peace through pleasure. There's even a very nice "men's… condom safe" silicon lube called Gun Oil for the ammosexuals who want to try to be more bonobo.
This is what I try to help folks do through the show, the talks, private sex therapy and the book.


Call me the Masturbation Mama, because I believe in the power of pleasure. Sure, it's nice to get it from other people, when and if they're in the mood to give it to you just the way you need it, but there's no easier, more direct way to get your daily dose of pleasure than to give it to yourself.
If only we could stop shaming ourselves for masturbating. If only we could be as proud of our ability to masturbate as we are of being "good" at any sport, art or hobby. If only we could stand up in our synagogues, mosques, temples and churches and say "Lord (or Lady)! I masturbate! And I am not ashamed."
If these mass-murderers could just shoot the gun between their legs—and feel good about it (i.e., not ashamed)—before shooting their AR-15s, maybe they would just forget where they put their AR-15s and take a nap.
First-Time Masturbation Stories

Capt'n Max gives me the best gifts. For Masturbation Month 2019, he's gives me a brand new Hitachi Magic Wand! Woohoo!
The Hitachi Magic Wand is the best masturbation sex toy ever, especially for women. Give one to someone you love, even if that someone is you.
Of course, the real reason he gifts it to me is that he wants my old Hitachi, which he immediately takes possession of… for foot rubbing, not prostate massage, though that's another use! It's also for back massages, which is what the coy, non-sexual packaging actually advertises.
It's the perfect gift for the merry Masturbation Month of May, so designated to honor former U.S. Surgeon General Dr. Joycelyn Elders who was fired back in 1994 by none other than President Bill Clinton for having dared to suggest that one form of "safe sex" is masturbation, and sex education classes should be sure to include that fact. If only Billy had taken the good doctor's advice instead of firing her, we might not be where we are now. But he didn't (he preferred intern blowjobs that almost cost him his day job), and so the ladies of Good Vibrations as well as my friend and mentor, Dr. Betty Dodson, created Masturbation Month, to honor this marvelous but much-maligned pastime.
This launches me into the story of my first voluntary orgasm when, at the age of 19, in my little single bed in my college dorm room, I read Betty's book Liberating Masturbation (now retitled for squeamish bookstore buyers as Sex for One) and learned enough basic anatomy to figure out how to touch my clit properly to push me over the divine climactic edge.
I'd been "playing with myself" ever since I can remember (at least, since the age of two, which is as far back as my memory goes), but this was the first time there was a deliberate grand finale to my masturbation meditation (which Annie Sprinkle dubs "medibation.")
I ask Blossom and Shannon to share their first-time masturbation stories. Blossom says she started at around age 10 or 11 while watching TV, playing hooky from school. She didn't quite climax, but she did quite enjoy herself, and now, thanks to her learning and liberating experiences here at the Institute, she's well on her way to shameless orgasmic greatness.
As for Shannon, she says she's "never masturbated" in her 24 years of life on Earth.
"Why?" I ask, slightly dumbfounded. After all we just created a newsletter on the subject together, and savvy Shannon seemed totally "into it." But writing about masturbating and letting your fingers do the walking (on yourself) are two very different endeavors.
"I guess I'm just a late bloomer," Shannon replies sweetly.
In many ways, I was also a "late bloomer," but masturbation wasn't one of them.  I was avidly polishing the pearl as a toddler, even in public, when my Mom, ever the practical but not Puritanical guide, scolded me quietly, "Suzy, take your hands out of your pants. Your hands are dirty, and it's clean down there!"
At least, she told me my "down there" was "clean." Which made me feel good about washing my hands and rub-a-dub-dubbing away—to this day. Thanks Mom!
It's tough to be a Mom or Dad in this sex-negative society, especially if you're trying to be sex-positive. Post-show, Shannon tells me how open and sex-positive her Mom and Dad are. Nevertheless, she's never masturbated. Or maybe that's why. Maybe it's been a way to rebel. That's one reason parenting is so tough; no matter how great you are, your kids are going to find ways to rebel. Though Shannon may also have been rebelling against her sex-obsessed peers. Now here she is at Masturbation Central, the Dr. Susan Block Institute! I suggest that sometime during the merry Masturbation Month of May, she should try petting her private kitty. She agrees, but we shall see.
Actually, we probably won't "see," but hopefully, we'll get a report.
Also… what was she doing with that banana?
What's a Masturbation Month prep show without Capt'n Max's heart-warming and humorous coming-of-age first-time masturbation story on how he learned about the wonders of toilet paper. Listen above or watch free on DrSuzy.Tv for the tale as only Max can tell it.
A Ray of Sunny Shine

We also take a call. Yes, "a" call. One of my quibbles with modern culture is that people don't use phones as phones. They text on their phone, they take pictures with their phone, they watch movies on their phone, they play video games on their phone… but they don't seem to know how to TALK on their damn phone (Alexander Graham Bell would be appalled).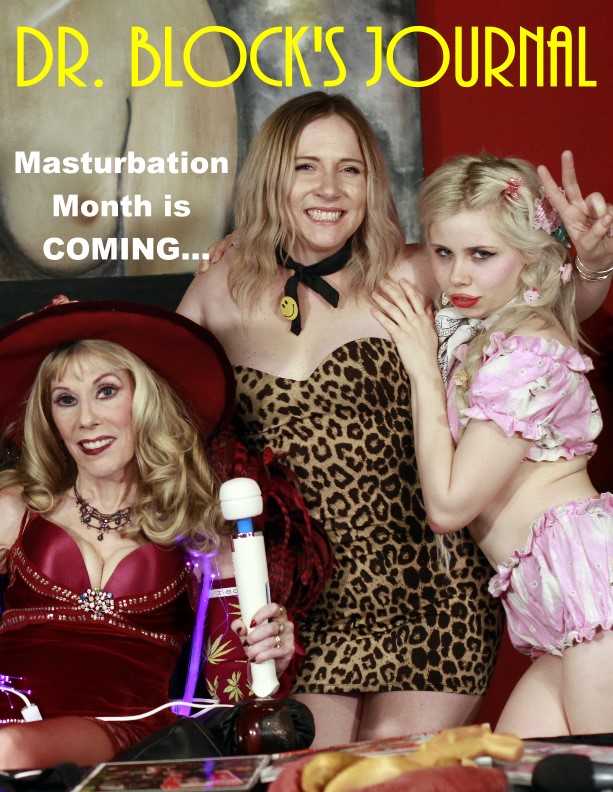 So, asking viewers to call the show is like asking them to fly to the moon. This one guy that calls us sounds like he's on the moon, though his name is Sunny. A faceless (on Facebook) middle-aged dude with an average income and less-than-average looks, on the 1-10 scale, Sunny gives himself a "4"—no wonder he's faceless on Facebook. I don't mean to insult the guy; this is Sunny's description of himself, not mine!
The unappetizing human specimen that he presents himself as, Sunny wants to know how to get women interested in him, women, for instance, like Blossom and Shannon—both 10's in my conservative estimation, and probably Sunny's. Blossom and Shannon agree that the most important thing a guy can do is to be—or at least, act—interested in them as individual, special human beings.
When I ask Sunny if he's absorbed this basic, good, sound advice, he pauses like he can't hear or is distracted by something he's watching out the window or on TV, but eventually he manages to squeak out a "yes."
PHOTOS 1,2,5: HARRY SAPIEN.  PHOTOS 3-4: BIANCA
Unsurprisingly, as Sunny continues to talk to us (minimally) and comment on Facebook Live (obsessively) it appears he has no idea how to talk to women as "human beings," and not much genuine interest in learning. The poor guy is way too dazzled by women's beauty, and other rather objectifying buzzwords that feed his starving libido, to begin to think about these powerful mysterious female creatures as "human beings," let alone "special" or "individual" which might require really listening to what we have to say.
It's not that Sunny doesn't want to talk. But he prefers subjects like "legs," women with "no panties" on under "long skirts" and "anal." We had a good giggle at all of them.
Turns out Sunny is "always alone." Either he's incel or secretly married. He also confesses that he is a "premature ejaculator," but doesn't show much interest when I suggest ways he can learn, during masturbation, to slow down his lovemaking (check out my "Premature Ejaculation Combat Techniques"). Then again, maybe it's his lousy cell phone connection. But there's something very sweet about Sunny that shines through like… the sun(!), and we all share our bonobo love for him, blowing him kisses good-bye.
PHOTOS 1 & 2: BIANCA.  PHOTOS 2 & 3: HARRY SAPIEN
Then Sunny does something marvelous off the air that I can't talk about (at least, not at the moment), except to say that it's marvelous.


Which brings me back to humanity's burgeoning mass murder problem. If only more people could afford the sex therapy they need, including loving guided masturbation, we might not have it, or at least not so much of it. Billionaires should be happy to fork over a few mil to subsidize sex workers for the masses, to help prevent the violent sporadic insurrections that are exploding all over the world. A Hitachi in every pot.
"Peace on Earth" comes from "Pleasure for All." This is our human right, along with clean air, food and water, all of which are becoming disturbingly scarce.


Hopefully, we will figure out a way—the Bonobo Way?—to distribute all these basic creaturely needs more equitably amongst us.
In the meantime, we wind up another great show, and I take my sexy new Hitachi and sexier old husband to bed, for a pre-Masturbation Month practice run and orgasmic romantic bliss.
WATCH "MASTURBATION MONTH is COMING" on FACEBOOK LIVE
© April 28, 2019. Susan Block, Ph.D., a.k.a. "Dr. Suzy," is a world renowned LA sex therapist, author of The Bonobo Way: The Evolution of Peace through Pleasure and horny housewife, occasionally seen on HBO and other channels. For speaking engagements, call 310-568-0066.