Virgin Show in New Bonoboville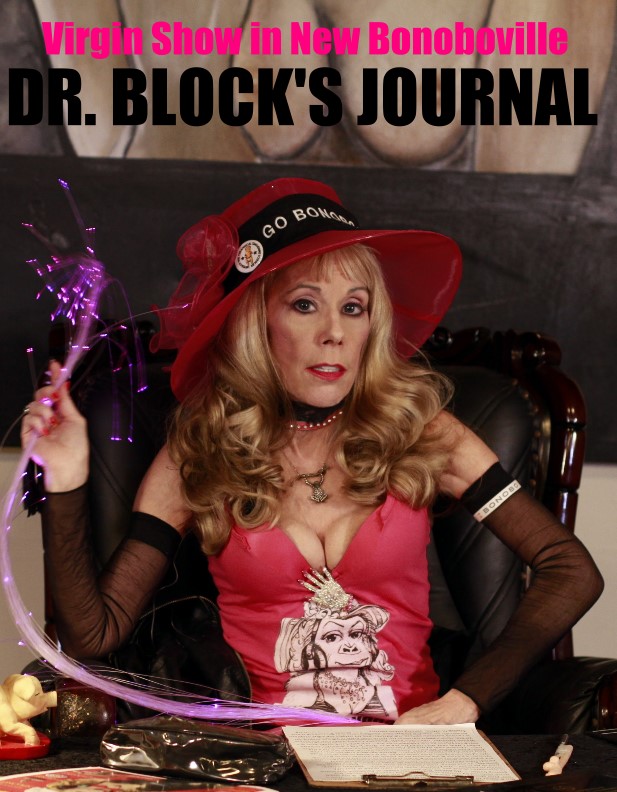 Length 01:30:06 Date: Apr. 6th, 2019
It's our first show in our new space! There's a first time for everything, but there's only one first time for anything. I may not believe Sade when she sings that it's "Never As Good As the First Time," but I will say you never get to have a second first time. This is it!
New space, new place, new fresh mountain air, new neighbors, new places to have sex… but watch out for those neighbors!  

On this virgin broadcasting voyage, we're just testing our equipment, some of which is still packed away goddess knows where amongst all the boxes and bubble wrap, and some of which we haven't gotten yet for our newish all-digital system. We don't even have a mixer and, due to a glitch in a new app we're testing, one of our two cameras doesn't even record!
PHOTOS: DON JUAN
So, no guests on this show. Just the Villa Bonobo "inner circle," though we're happy to broadcast live again to the far reaches of Greater Bonoboville, in the Lounge, on DrSuzy.Tv and Facebook Live. Only the Facebook Live camera was recording, so no nudity on this show, all Facebook "safe" for the tender sensibilities of the unscrupulous Marky Z.
And no, I don't give out the new location, except to say it's near the mountains. It's that top secret!
Respiration Stimulation
We don't exactly have a set yet, but we do have our giant topless Marilyn painting by the amazing Mark Christian (who only paints Marilyn and always while drunk) right behind me. Sad how this angelic creature who made so many people feel good led such a tortured life, dying so young and mysteriously. Marilyn being my middle name, it feels good to have her behind me, or hovering above me, watching over me from icon heaven. She used to hang in my private office, but now I'm delighted to share her with you.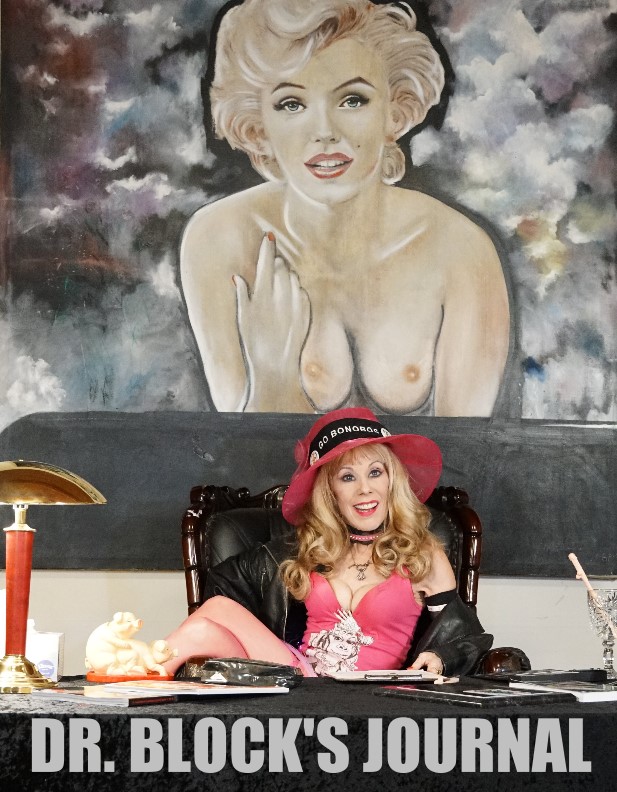 We're also testing my voice, much ravaged by climate change-fostered respiratory issues. Just a couple of months ago, before the ash from the fall wildfires had gone away (has it even ever gone away?), I couldn't breathe to the point we called an ambulance. I thought I was a dead duck, or a rapidly expiring bonobo, but with the help of Capt'n Max, Ana and a hunky paramedic, I survived, and now I'm breathing like a Tantric yogi.
In case you're interested (thanks to the increase of pollution in the Trumpocalypse, breathing problems are way up across the land), I attribute my respiratory recovery to chewing raw garlic; it's awful (apologies for the smell, bonobos), but clears the lungs more efficiently than all the medicines and treatments my Kaiser doctors have prescribed and suggested. Also, Max and I discovered that the Hitachi Magic Wand is not great just for female orgasms, but also for vibrating my back to stimulate my lungs into expectorating the old phlegm that's clogging them. Gross (again, sorry!), but it works, so now I can breathe! Though I've still got this tremendous, horrendous cough that erupts at the most inopportune moments, and I was sure I would cough during the show.
Incredibly, though I hacked up a hurricane before and after, and my voice is less like Marilyn than Lauren Bacall, I don't cough once during the broadcast. I'll attribute that little miracle to the magic of show biz.
Bonoboville Crew
A big beautiful painting like that requires a big queenly chair, and the one I'm sitting in Capt'n Max gave me for (I think) our 12th wedding anniversary. Next week, we'll be celebrating our 27th!  As always, Max is producing the show, and for this broadcast, he shoots camera and talks on the camera mic at the same time. My hero, my multitasker, my Max!
My bubbly show assistant Blossom Green replies to the Facebook Live comments and laughs uproariously at my jokes, demonstrating her good taste in humor.
PHOTOS: BIANCA
Her other job is to make sure that our Trumpus doll keeps his dunce cap on his head and the penis pacifier in his mouth. That's the only way I'll allow even a Trump doll in Bonoboville, under gag order with a dildo.
Meanwhile Romi live-tweets, Gideon and Harry help Max shoot video, Abe, Bianca and Don Juan shoot stills, Ana and Miguel help with the set and Mar sits there, because usually he switches, but we don't have a switcher, so he gets to enjoy the show.


Not that there's much of a show. There's just little ol' me in my hot pink hat and tank top made by Gonzo Bonobo, aka Chris Lee, featuring a caricature of me as a bonobo broadcaster by former Disney cartoonist Helane.  Also pink stockings, garters, Yale panties and a Jux Leather finger flogger, plus my fiber-optic flogger, a spanking-hot gift from Goddess Phoenix.
PTSD & Russian Bromance
Once we think everything's nice and tested (little do we know…), I've got another 89 minutes to go. So I try to catch up on "stuff" that's happened with us and in the world since I was last broadcasting live on Lupercalia. That was one of our "party shows." I love party shows, though they involve a lot of orchestration and a clean set, and New Bonoboville has too many boxes, art works, clothing racks and planks of wood hanging around everywhere to host a bunch of people here. Not yet. Plus the recording glitches that need ironing out.

This gives me a good excuse to just talk-talk-talk, mostly about politics, but sex too, of course. Otherwise, I'd bore myself.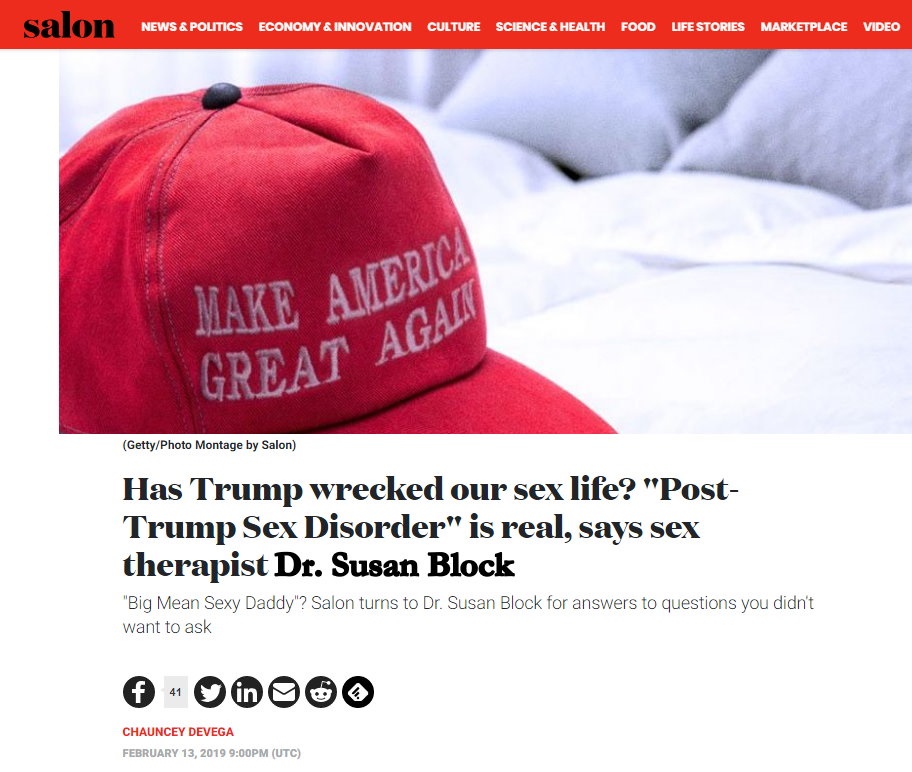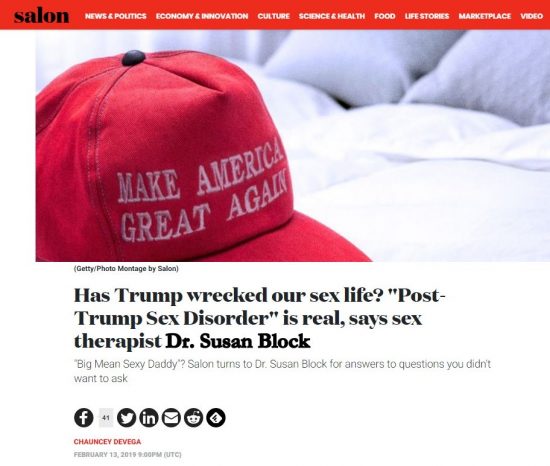 Speaking of politics and sex, Post-Trump Sex Disorder is one of our talking points, since Chauncey Devega interviewed me about it in Salon just before my last show. Then Fox-News picked it up, pronouncing it "kooky," and right on V-Day, an avalanche of hate mail fell on my head. Ouch! Actually, it wasn't hate so much as an attempt to mock me and anyone who has a sexual problem. I guess I should call it "mockery mail." More on all of that later… Suffice it to say: Bonobo Way all the way!  


Then Mueller. What a bust! As those of you who know me know, I could never get on that Russian Collusion bandwagon. I did some great shows with Trump and Putin masked guests making out in our Erotic Theater. If you didn't listen carefully, you might have figured I was the Rachel Maddow of Sex (yuch!), but as I always explained, I love their bromance, because it's kinky, funny, very bonoboesque, and because we really should be at peace with Russia. Those Russian bears don't just have claws; they have nukes. I just hope we can get these Cold War Dems past their obsession with Russian collusion, so we can get serious about the really bad and easily provable things the Trump monster's been doing, like serving the .001% at the catastrophic expense of the rest of us, destroying the environment, high and low level corruption (that's the true story of Russia, Saudi Arabia and the whole Trump Crime Family), promoting fascism, praising Nazis and KKK, assaulting women, belittling minorities, harming sex workers, discriminating against trans people, trashing immigrants from lands that corporate America's meddling has ruined, putting children in cages… We all know the crimes.
PHOTOS: DON JUAN
The worst part is watching as Trump's carnie barker sideshow distracts us from what is going on under the Big Top where the billionaires and big corporations are stealing the rest of us blind.


Bernie in the Year of the Pig
Can't we just get this orangeade-stained narcissistic malignancy out of our Oval Office, our brains and our sex lives (well, some of our sex lives)? The way it's looking at the moment, probably not, but we have a chance.
Which brings me to Bernie. What can I say, I'm a sucker for bald men with big ideas.
Bernie is currently the Democratic front runner, but the mainstream media doesn't cover him much because his "socialism" scares their billionaire piggy paymasters, and not in an arousing way.
Well, my dear greedy rich piggies, it's the Chinese Year of the Pig! Real pigs are pretty cool actually; they're smarter than dogs and have 30 minute orgasms. But in human culture, pigs (like in Animal Farm) symbolize greed, probably because pigs will eat almost anything and a lot of it while oinking noisily and making a mess. Sound like those piggy billionaires who are eating the rest of us out of house and home, while making a mess of the environment? Also, "pig" was/is also a particularly derogatory term for a police officer, maybe because they only seem to "protect and serve" the rich, often beating up on the poor.


So what is happening with all these human piggies in the Year of the Pig? Ironically, Chinese New Years are not often lucky for those born under the sign of that year's animal. Perhaps this is helping Bernie's message that essentially, THE RICH ARE PIGS, to go viral. It's being picked up by AOC, Elizabeth Warren and many others, bringing out thousands of supporters to Bernie's appearances and resonating with multitudes more. May they shout loud enough to penetrate the golden earplugs of some of these billionaires and their fortunate sons and daughters.
Whether they can hear it or not, finally, the .001% are being called out as the piggies they are, and that's the beginning of some cultural therapy we all need that will hopefully translate into action. The super rich are afflicted with what my fellow Counterpunch writer Chuck Collins aptly calls Excessive Wealth Disorder. Of course, this kind of disorder harms others more than the ones who have EWD; their biggest hardship is deciding whether to wear the ostrich coat or the python. The pathology of EWD emerges in what it does to others, causing extreme poverty, accelerating climate change, fostering fascism, keeping America and the world at war, flimflamming the populace into thinking "tax cuts" are good for them, and yes, creating and maintaining the Trump monster.
Piggy Padilla
Having gotten warmed up on billionaire piggies I don't know, I move onto another lesser (and lessor) piggie, someone I do know rather well as he is our former landlord, not a billionaire, just a smalltime millionaire who used to own swinger motels, drives a Rolls Royce, wears a diamond ring almost as big as his head.
His name is Hector Padilla of HP Capital Investments, and SWI ("Success with Integrity") Realty, and his piggy greed and complete lack of integrity is the reason we had to move as he unethically and illegally broke our lease on the old Bonoboville, so he could raise our rent almost 50% and force us out.
Hector Padilla is notorious for using his family political connections to feed his greed, his uncle being Inglewood Councilman Alex Padilla, according to investigative reporter Jason Henry's article in the Daily Breeze. This fascinating, damning piece reveals just how our Hector, with the help of Uncle Alex's allegedly insider tip-offs, along with Alex's son Miguel Padilla, has done a lot of damage to many Inglewood people. So, we are not alone. Nevertheless, to be forced to move almost 9000 square feet of art, antiques, designer furniture sets, offices and 30 years of show archives by a deceitful piggie landlord (in collusion with our original landlord, former race car driver and current sleazebag Jeff Lloyd of Horizon Realty), is traumatic physically, emotionally and financially. And yes, we plan to sue the bastards, once we get back on our feet… which takes a little longer in high heels. Here comes the suit!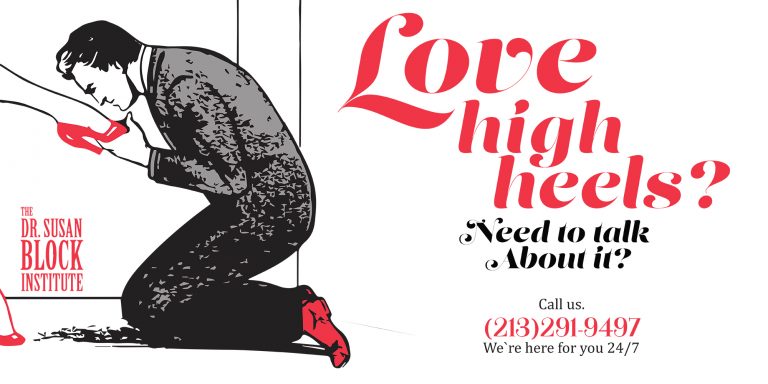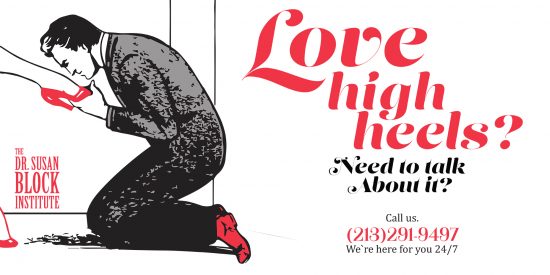 Meanwhile, if life gives you lemons, make lemon-flavored lube for hot citrusy sex! And in our new garden, we just happen to have a lemon tree…
Touring New Bonoboville
This brings us to a grand tour of the New Bonoboville, aka Villa Bonobo, aka the Dr. Susan Block Institute, aka Block Studios.
The first thing we encounter is the "wall" Max created of three racks of my clothes smothered in Saran wrap and looking very uncomfortable (for clothes), like they're about to burst through the plastic and join us. Actually (are the edibles kicking in?), they look like an abstract painting of the immigrant families applying for asylum locked outside in the cold, thanks to Trump's heartless policies.  
Behind the wall of imprisoned clothing is the kitchen, la cocina—Bonoboville's biggest yet!
Then we turn around and wade through upside furniture, two St. Andrew's crosses, my great grandmother's 1926 Steinway baby grand piano, and multiple boxes and packages.

I love boxes and packages (I have a dirty mind), plus lots of art encased in bubble wrap, and some falling out of its frames (sorry Art!).
We wander through hallways and past private offices, almost each of which has its own executive bathroom! Do your people have that, Google?
Then we venture into Max's and my offices and the wardrobe area, currently a mess, but a messy Mecca for the lingerie and high heel fetishist.
Bubbly, Bananas & Orgasms
Then some people (who aren't wearing high heels) go off into the yard, hopefully to do wild erotic things that the neighbors can't see.
PHOTOS: DON JUAN
Bubbly Blossom pops the bubbly, and we toast our new Bonoboville.
Ana joins me on the divan holding a big banana (given to us by one of our favorite threesomes: Jacob Sokoloff, Daniele Watts and Chef Be*Live), making a threesome of Susana, Ana and a big banana…with shifty eyes and a twirly moustache. People on Facebook Live like the way we twirl it.
This ignites a sperm war in Max's loins and/or maybe mine, so after the show, off we go for our Post-Trump Sex Disorder cure: each other.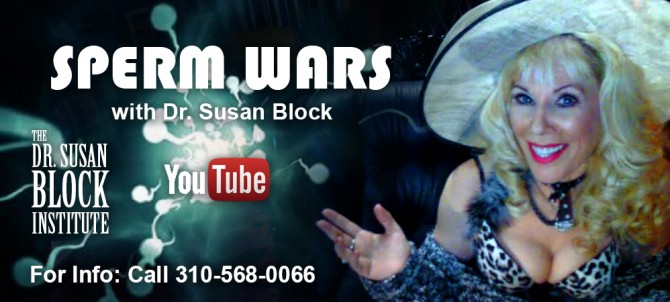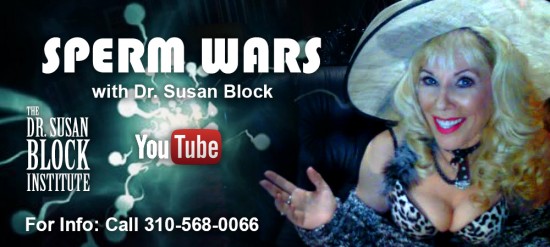 Oh yeah, and orgasms! Have one. Have another. You deserve the pleasure. Everybody does.
It may never be as good as the "first time," but it's good! And usually it's better the second, third or 800 millionth time anyway.


See you next Saturday for our 27th Wedding Anniversary! It definitely won't be as big as our 26th, 25th or 24th, but it'll be good!
PHOTO 1: UNSCENE ABE.  PHOTOS 2-3: SELFIES
Welcome to a new era of shows.
© April 7, 2019. Susan Block, Ph.D., a.k.a. "Dr. Suzy," is a world renowned LA sex therapist, author of The Bonobo Way: The Evolution of Peace through Pleasure and horny housewife, occasionally seen on HBO and other channels. For speaking engagements, call 310-568-0066.