Funny Bunny XXXmas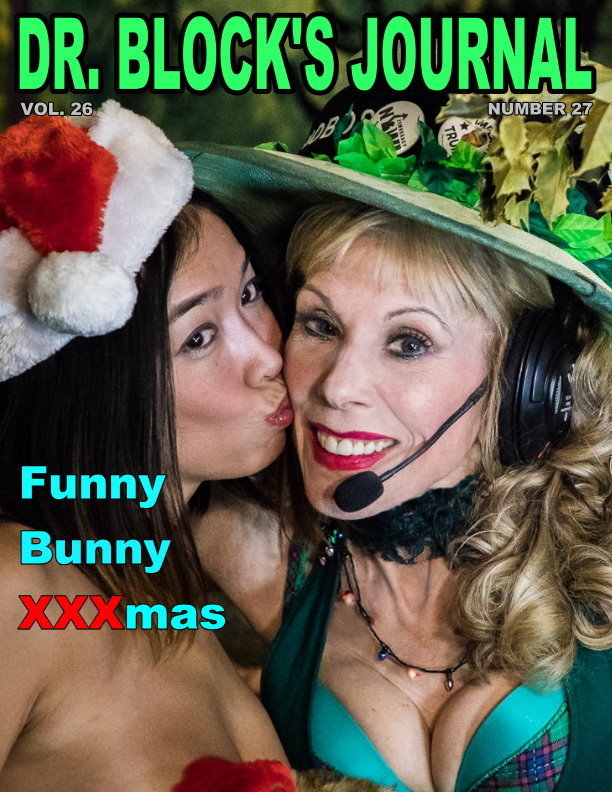 Length 01:52:06 Date: December 9, 2017
Funny Bunny XXXmas
It's mid-holiday party season in Bonoboville, and if the Clown-Tyrant Trump can make the sheeple bray "Merry Christmas" to their corporate overlords, then we can say "Merry XXXmas" to you.
And we do have a very merry XXXmas season kick-off here in the Womb Room of the Church of Bonoboville, filled with divine stripteases, sapiosexual sermonizing, celestial harmonizing, two heavenly topless Communions, and a Bonobo Way book-spanking for the Dickhead-in-Chief (with a tiny penis). It all climaxes with a climax, as our featured erotic elf, super-sexy Lexi Girl, squirts Holy Water all over the Motorbunny.
Yes, bunnies are for Easter, but this bunny is a motorized sleigh ride—a great escape from the Holiday Blues into the orgasmic red of an aroused clitoris, and the ecosexual green of XXXmas bliss.
Merry XXXmas Everyone! Peace on Earth. Pleasure for All.
Fire & Fury
Not that there aren't all kinds of reasons this season to be mired in the holiday blues. Southern California is burning like a surreal Hollywood disaster movie; a tsunami of flames roaring down the 405, gargantuan billows of smoke rising up behind the iconic Hollywood sign, toxic ash in our air, everywhere. This is how the demonic "Spirit of Global Warming" proves the fiery reality of its unholy existence to the unbelievers amongst us.
It's the LA Apocalypse, from which no one and nothing is safe, not even Rupert Murdoch's idyllic vineyard mansion in Bel Air.
And then there's the Trumpocalypse, the Fire and the Fury, the blazing narcissism and the burning nastiness; the all-consuming corporate greed and the scorching anger that inflames so many of us across this scorched nation, pitting neighbor against neighbor in what feels like a cultural civil war being fought on multiple volcanic fronts where "burn or get burned" is the name of the game.
Even the #MeToo movement leaders are shooting flaming arrows at each other's hearts across the Interwebs. A-List Harvey Weinstein accuser Rose McGowan just twitter-attacked A-List #MeToo activist and fellow "Charmed" co-star, Alyssa Milano, for saying nice things to People about her friend Georgina Chapman, ex-wife of the ignominious Weinstein.


"You make me want to vomit," McGowan tweeted. "You actually gave me a body flashback. Well done, fake one."
Oh Baby Jesus, Mary and Joseph, whose side does a sex-positive bonobo feminist take in that catfight? Speaking of Mary and Joseph, Alabama State Auditor Jim Zeigler says that Senate hopeful/ Bible bully Roy Moore's sexual relationship with a 14-year-old girl when he was 32 is just divine because, "Take Joseph and Mary. Mary was a teenager and Joseph was an adult carpenter. They became parents of Jesus."
In the face of such twisted patriarchal tyranny, I will follow McGowan and Milano's broomsticks into heaven, and I support all the other brave women—in and out of Hollywood's "reckoning"—who are calling out and standing up to their sexual harassers, igniting the scandal-loving media even more than LA's epic fires. Scandal or no scandal, nonconsensual sex of any kind is wrong, and women of the world have been victims of it for too long. It's certainly not the Bonobo Way. In fact, the gender-egalitarian bonobos make a great paradigm for the #MeToo movement's vision of a female-empowered society that is almost free of sexual harassment and rape.

Like the #MeToo movement, the foundation for bonobo femocracy is female solidarity. Stand up for your sisters. Support and defend your fellow females, as well as the younger, weaker males. Don't put up with male brutality. The bonobos show us that this type of society is not just a pie-in-the-sky feminist pipedream, but a real, viable way of life that has been practiced successfully for many thousands of years by humanity's closest genetic cousins.
Yet, there's a key element to the Bonobo Way that the #MeToo movement seems to be missing—at least, so far. While most #MeToo'ers imply that good men should simply zip it up and shut up, bonobos show us that female empowerment among Great Apes (like us) is closely linked to male well-being. One reason that harassment and rape are relatively rare among bonobos (and murder and war are non-existent), is that bonobo males get laid a lot. Bonobo males have lots of sex, just not with the females that don't want to have sex with them, but with females that do (bonobo females are not shy about proposing sex with their chosen males and with each other), or with other horny males (bonobos are all bisexual). This appears to cool them out, lowering their hormonal levels of "toxic masculinity" and elevating their aptitude for love.


This is how bonobos make "peace through pleasure." Can we do it too? I certainly hope so, because if we don't learn how—and quick—the predatory flames of Armageddon are roaring down the freeway, ready to engulf us all.
#MeTooWhatNext: Decriminalize Sex Work!
Thus, when people ask #MeTooWhatNext, I say decriminalize and destigmatize sex work. Free the hookers! Let's get our menfolk laid or let them jack off in front of someone consensually. My guess is that many of their wives don't want to do that job, and if they don't want to (even after couples therapy), they shouldn't have to. Of course, their interns, assistants, aspiring actresses, waitresses and farmworkers shouldn't be pressured to do it either, as has apparently been practiced as long as there have been casting couches and farms.
But to shut down male (or female) sexuality with no options is also wrong. Okay, it's not as wrong as engaging in predatory sex, but the effects of Puritanical sexual repression can be extremely hazardous to everyone's health. It plays into the right-wing agenda, the result of which may be the physical separation of men from women in the workplace, ostensibly to "protect the delicate ladies from those beastly men." This would be disastrous for feminism, as we all know that separate is never equal.



Speaking of separate and unequal, civil rights hero John Conyers has resigned from Congress in the face of numerous harassment allegations. Fellow Democrat Al Franken (whom I've never really liked due to his cheerleading for America's Perma-Wars, though his support of women's rights has been A+), pressured by colleagues, has resigned from the Senate (though now there's talk of Franken's accuser LeeAnn Tweeden, who is a "birther," being coached by Trumpers to attack Franken). Meanwhile, the self-confessed (though now disputed) Pussy-Grabber-in-Chief, accused of sexual harassment, abuse and rape by no less than 19 women (none of whom appear on Time's #MeToo "Silence Breakers" Person of the Year cover) is still occupying our nation's highest office. Moreover, he's is not just grabbing individual pussies, he is grabbing all of our pussies' reproductive rights.
Yes indeed, while Hollywood confronts Dustin Hoffman's dirty hands, the Orange Swindler, his Cabinet of BIGLY unqualified, unbonobo billionaires and butt-licking Congress of ecocidal corporate sissymaids are stealing our money, ruining our resources, extending our Perma-Wars, militarizing our police, encouraging white supremacists, and grabbing our pussies' reproductive rights, as well as generally harming women, LGBTQ people, people of color, Native Americans, immigrants, the poor, the middle class; basically, everybody who's not a billionaire.
XXXmas Cheer with Sexy Lexi!
But tis the season to be jolly, and though we've got more fire than ice, we wish you a Merry XXXmas from Bonoboville, El Lay.
This holiday week, our gift to you is a great sexxxy show sure to cure your holidays blues, fiery fears and/or Post-Trump Sex Disorder, caused by any of the above and more, in a Womb Room decked out with bonobo Santas, lust-inducing mistletoe and sparkly Xmas trees, big and small.
The dazzling angel-on-top-of-it-all is our featured guest, porn starlet, cam girl and cosplayer, Lexi Girl, aka Lexi Mansfield. "I'm cultivating a field of men," she explains, alluding to her burgeoning popularity in her very first year as an erotic performer.
Meanwhile I'm imagining Ms. Mansfield as a "Man's Field" to be plowed by his lusty tractor. Vroom-vroom!
Though she speaks English more fluently than most Americans, Lexi was, like many holiday gifts, "made in China."
Born and raised in Shanghai, she grew up in a very strict Catholic household. Thanks to her exquisite beauty, she was soon "discovered," and by the time she was old enough to be Jesus' Mom, she was working as a fashion model.
Modeling led to camming, a foray into striptease, a recent porn shoot, and this, her virgin appearance on The Dr. Susan Block Show.
She makes quite a splash, and not just because she squirts like a mini Trevi Fountain all over the Motorbunny. She's effervescent yet thoughtful and engaging, and her intimate, lapsed-Catholic "confessions" of her life's erotic turning points captivate the Womb Room.
Like a wild Hentai super-heroine with octopus arms, she gives our Trump Dickhead doll with the tiny peepee a good Bonobo Way book-spanking. She even gives us a sample of "dirty talk" in Chinese. We have no idea what she's saying, but from her luscious lips, it sounds hot.
We also have some holiday fun with Divine Interventions' dildos, including the Jesus Jackhammer and the adorable Christmastime Baby Jesus Buttplug, as well as our Buddha dildo for Lexi Girl (yes, she's Catholic, but we're catering to Asian stereotypes here).
Lexi also loves bonobos! How could Bonoboville not love her?
On a more serious note, after the show, Lexi and I discover that we have something else in common: We both survived near-death bouts of septic shock, the virus that appears to have taken the life of Playboy icon Hugh Hefner, among countless others. But that's the subject of another, more serious show. This show is (mostly) an XXXmas escape from the holiday blues. This season, we should call them the Trumpocalypse blues.
Lexi's fashion model training shows in her strikingly original, quirky but super-sexy outfit: big "New York City" tank top over a black lacy bra, frilly garter belt and patterned stockings (see above). It's my kind of quirky, and it looks fabulous on her, and even better as she strips to the music of The Kinkster by Mark Will of [ai] aka Carmina Formosa (inspired by Bonobo Way), down to her crotchless leopard-print panties framing her perfectly shaved vulva tattooed with the apt caption, "Muse."
She is, indeed, our muse, our water nymph, our angel and our erotic inspiration—especially as she sits upon the Motorbunny, riding the vibrations above the congregation.
Hallelujah! XXXmas 2017 has come. And come again.
Lexi, Phoenix & the Spirit of XXXmas
Before and after her orgasmic Motorbunny ride, Lexi engages in one of our favorite spirit-ual rituals, Bonoboville Communion.
As a nice Catholic schoolgirl, she took many a serious Catholic Communion with wafer and wine (developing an early taste for the true Holy "Spirit"), but this is her first Communion, Bonobo-Style. She licks up the sacred Communion salt lustily from the lovely "altar" of my new assistant, Phoenix Dawn.
Looking even sexier than on last Saturday's Kinbaku Bondage show, clad in black lace and XXXmas red, with a Santa cap crowning her lustrous hair, Phoenix seems to relish her vital role in the Womb Room.
Phoenix and Lexi make a good bonobo girl-girl pair, kissing under the mistletoe, doing the hoka-hoka and much more. As they pleasure each other in adorable Santa hats, they give the Womb Room an eyeful of holiday eye candy.
They provide and receive their Bonoboville Communion and Waterboarding, Bonobo-Style with the true "spirit" of XXXmas: Agwa de Bolivia Herbal Coca Leaf Liqueur.
It's the perfect libation for any holiday celebration.
Sean-Michael, Ikkor & #DickLivesMatter
In between Communions, Lexi and Phoenix go bonobos for bananas, engaging in a bonoboesque banana-sucking competition.
Phoenix "wins" by sucking her whole banana right down her throat before Lexi can get her lips wrapped around hers. Of course, Lexi makes "losing" look delicious, licking her banana lasciviously.
Bananas remind us of penises, of course, which have been accused of showing up in a lot of wrong places these days, and then there's the Big Dick with small penis syndrome in the Oval Office…
"Dick Lives Matter!" quips Bonoboville's favorite hiphop artist, Ikkor the Wolf.
Throughout civilized history, the human penis has been admired, maligned as "indecent" or "obscene" and usually hidden from view. Thus it is often aching to make some sort of appearance in front of somebody. Where should it show itself? Best to show and share with a loved one, but this can be difficult, especially in this alienated day and age. Back to my #MeTooWhatNext prescription: Decriminalize sex work, and let professionals take care of your executive penis issues.
"Vulva Lives Matter" too, as observed by our other featured guest, comedian Sean-Michael Bowles, who puts the "funny" into this "Funny Bunny XXXmas" with his wry quips, funny faces, observations and appreciation of the illuminating view of positive sexuality on display in the Womb Room.
We talk about the importance of pleasuring a woman's outer parts before going inside. "Yes, I learned that later in life," confesses Sean-Michael. "In my 20s I was like 'rawwwwrrrruuggh' but later I learned it's way better if you just slow things down."
Speed banana-sucking contests notwithstanding.


Towards the end of the show, I ask Sean-Michael how he enjoyed his stay in Bonoboville. "I'm not leaving," he deadpans. "I'm staying right here." He does rather look at home.
Yes indeed, it's a homey holiday show, so relaxed, warm and inviting in this cold, crazy world that a couple of our newest studio audience members step up on the stage and sit right down with us.
They are Brendan and Maurice, two big, hunky, beefy, ex-military guys who are evolving into bonobo sapiens, or trying to. The idea, I suggest, is as old as turning their "swords into plowshares." At least they're trying to. Brendan, built like a tank, was a Green Beret. "I'm a killer," he confesses in an engagingly candid, and rather scary moment after the show. "But I love what you do," he continues. "I want to learn to be a bonobo."
Whether it's sheer horniness or something deeper, I appreciate any man's desire to evolve, even if it's just for the sake of getting laid. After all, bonobo males behave themselves partly because the females tend to reward the "good boys" with more sex.
Maurice has been watching my show since it was on cable TV in the 1990s. He gives a passionate, eloquent endorsement of the importance of the work that Capt'n Max and I have been doing for almost three decades. He's so nice, it's embarrassing! He makes me realize how many military guys have tuned in over the years for another perspective, or maybe just a wank, but it's a peace-through-pleasure kind of wank.
As those of you who know me know, I'm as anti-war as a Quaker. I do "support the troops," not as they further the deadly, corporate coffer-filling missions of the Military-Industrial Complex, but as they come home and try to heal.
All four of these sexy guys—Ikkor, Sean-Michael, Brendan and Maurice—form a very intriguing ring around the gals—Lexi, Phoenix and me. It's like the Congregation of the Boyz of Bonoboville worshiping at the Altar of the XXXmas Goddesses.
It's especially intense when Lexi rides the Motorbunny. She's almost naked, so exposed and so vulnerable, and a little silly-looking with my Santa cap on her head. And though she's flanked by her new "sistahs," she's surrounded by big beefy males (well, Sean-Michael is more brain than brawn, but still…). It could be a very threatening, predatory situation…
But it isn't at all. Lexi shines with the radiant power of a sexual Wonder Woman, a made-in-China XXXmas star. When she rides that Motorbunny into a celestial squirting orgasm, it's as if she takes us all with her into heaven, communal ecstasy radiating through the Womb Room.
The boyz behave like angels through the whole thing. For that, they are rewarded, each in their own way for being trustworthy during this peaceful pleasuring.
Then Ikkor performs a very rousing rendition of our bonobo gal anthem, "She Bad," giving each of us bonobo gals a verse to twerk to.
He seems to be more charged up than usual, maybe by the ladies, or maybe by all those guys. Shades of Sperm Wars!
"She Bad" is the beat of Bonoboville.
Then before we know it, we're out of time, even with overtime. But the after-party continues around the Xmas tree, at the bar and into the night. I go with the flow almost as long as the flow goes, then ascend to the Captain's Quarter's where we take our own orgasmic ride into XXXmas heaven, leaving those Trumpocalypse blues in our dust.
Thanks to Our Volunteers: Videographers- Michael Sullivan, MC; Photographers – JuxLii, KaUKpUMp, Slick Rick, Christine Dupree; On-Campus Bonobos – Abe Perez, Camille Rosebud, Mita Altair, Harry Sapien, Jay Red, MarsFX, Clemmy Cockatoo, Ana & Miguel.
© December 10, 2017. Susan Block, Ph.D., a.k.a. "Dr. Suzy," is a world renowned LA sex therapist, author of The Bonobo Way: The Evolution of Peace through Pleasure and horny housewife, occasionally seen on HBO and other channels. For speaking engagements, call 310-568-0066.


---
Explore DrSusanBlock.com
Need to talk? Sext? Webcam? Do it here. Have you watched the show? No? Feel the sex. Don't miss the Forbidden Photographs—Hot Stuff, look at them closely here. Join our private social media Society. Join us live in studio 😊. Go shopping. Gift shop or The Market Place. DrSusanBlock.tv, real sex TV at your toe tips. Sex Clips Anyone? FASHION, we have fashion! We also have politics. Politics? Have you Read the book? No? How about the Speakeasy Journal? Click here. Ok, how about some free sex advice?
---
---