F.D.R. (F*ck Da Rich):

Happy Birthday Capt'n Max! Happy 7th Anniversary the Bonobo Way!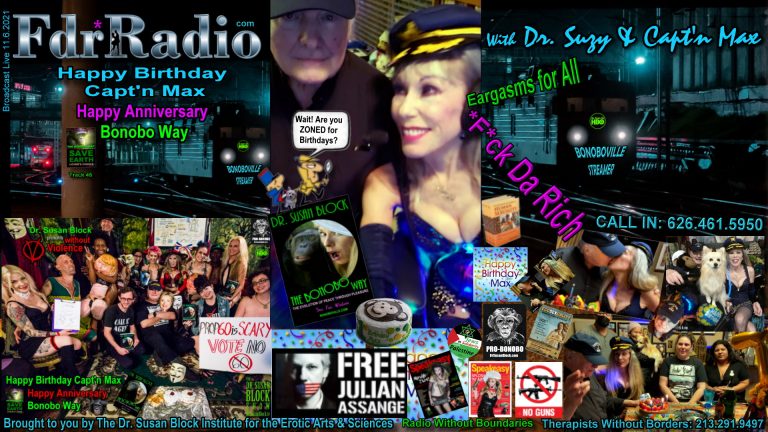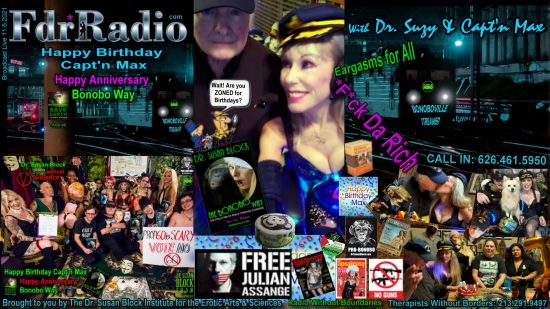 Length 01:32:50 Date: November 6, 2021, 2021
by Dr. Susan Block.
Ahoy there, mates and primates! All aboard Capt'n Max's Scorpio Birthday Love Train—riding around on a ship (don't ask how)—and a happiest of Happy Birthdays to the Captain of My Heart, the Love of My Life, my partner, my lover, my prime mate, my witness, my husband, my hero, one of history's greatest revolutionary publishers and co-host of F.D.R.
And Happy 7th Anniversary to The Bonobo Way: The Evolution of Peace through Pleasure, which was my birthday present to Max—and which he published—exactly seven years ago (this birthday, I gave him an RV).
Over the years, we've held many big bacchanalian birthday shows, some of which morphed into orgies, to honor Max's special day, but this podcast focuses more on Max himself, his life, his loves, his philosophy and his great passion for publishing, for which he has been prosecuted, persecuted, incarcerated and tortured, putting his very life on the line.
Speaking of unjustly incarcerated and tortured publishers putting their lives on the line, FREE JULIAN ASSANGE! His fate could have been—and could still be— , and if you're a non-corporate journalist of any kind, it could be yours.
Bonobo Prince Filangieri

Capt'n Max may not be a real Navy Captain or even licensed to steer a yacht, but he is a real prince, and Prince Maximillian Rudolph Leblovic di Lobkowicz di Filangieri made his royal entrance onto the world stage in a small pediatric hospital next to the Vatican called Bambino Gesù at 2:00 AM, November 8th, 1943.
Listen above or below as Max tells the story of coming to America as a seven-year-old royal refugee awed by all the aristocratic passengers sneaking into each other's staterooms. Crouched under the great ship's hull, sprayed by the briny sea, young Maximillian fantasized about piloting a big, exciting ship like the one holding his family and other royal families, leaving the Old World for the New. He never got the job (or even tried), but he did get the hat.
Now he's my Captain, and I'm his Admiral, and we're both First Mates—Prime Mates—to each other, on our sailing Ship of Fools for Love.


Max was the pioneering publisher of the first "reader-written" media—decades before the Internet transformed the great majority of media that most of us consume into "reader-written," aka social media.

A descendent of many Old World Princes and Princesses on both his Lobkowicz and Filangieri sides, Max's most famous ancestor is the brilliant Enlightenment philosopher Gaetano Filangieri, whose writings influenced American Founding Fathers Thomas Jefferson and Ben Franklin, and our still-powerful concepts of "life, liberty and the pursuit of happiness."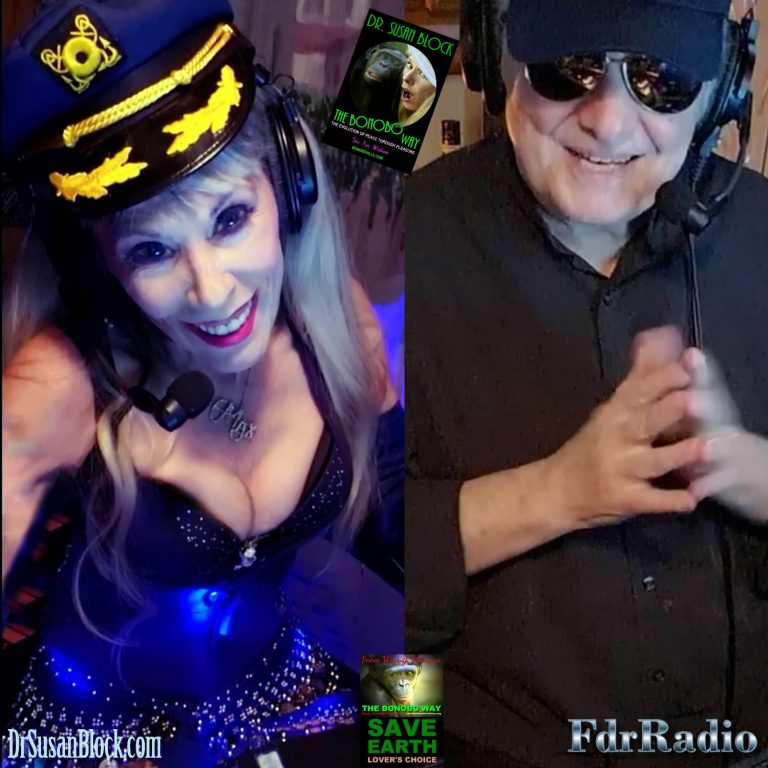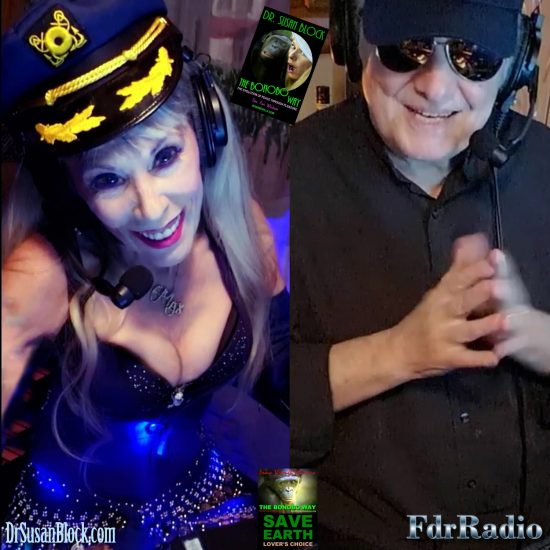 I think Max is also a descendant of Jesus and Mary Magdalene, which I'll explain again on some other show.
Back to the Birthday Boy who has created for himself, for me and for so many others a wonderful life. Max has done so many important revolutionary things that most people don't know about. On this show, we hear a little bit about some of those things, including tales of Max's first foray into publishing, secretly mimeographing his high school friend's rendition of "Peyton Place," which got him suspended, but also inspired him to devote his life to publishing.
Most significantly, Max was the pioneering publisher of the first "reader-written" media—decades before the Internet transformed the great majority of media that most of us consume into "reader-written," aka social media. We talk about the benefits and drawbacks of "getting to know what your neighbors really think" that reader-written, aka "social" media, allows and even, in its own Big Tech passive/aggressive way, forces upon you.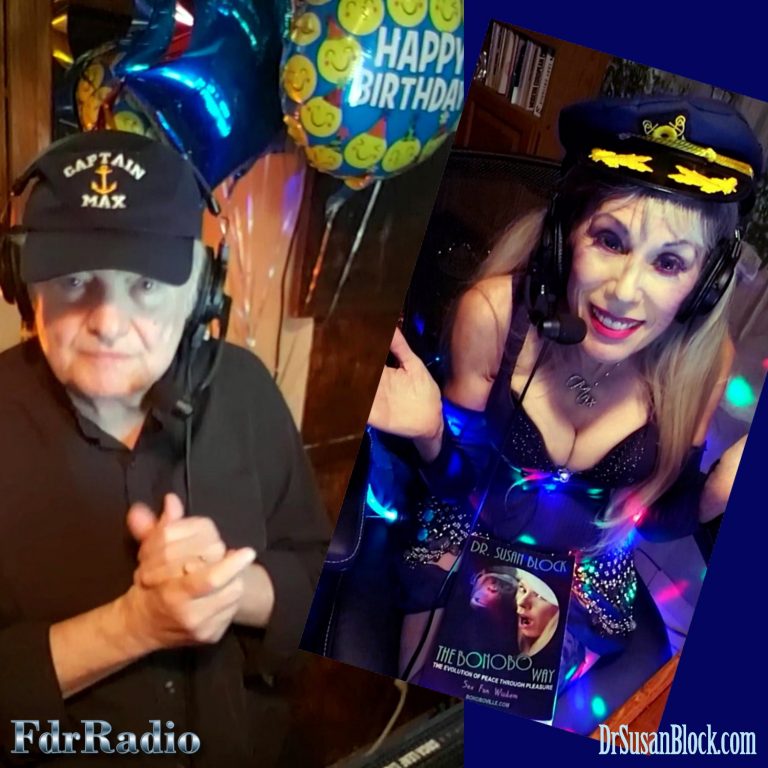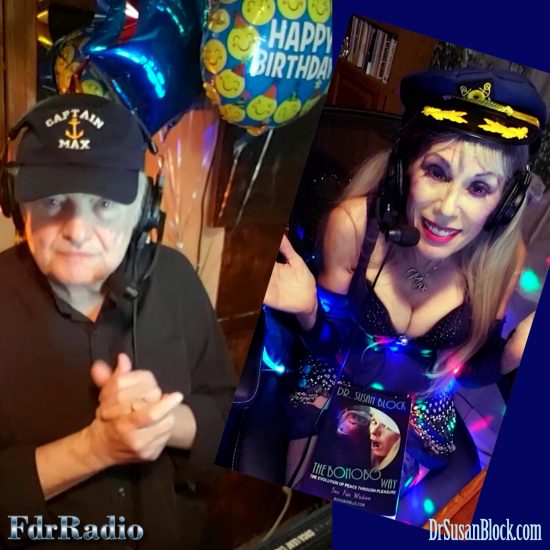 Max's first reader-written publications were the LA Star, Love, Hate, Finger, The Brentwood Bla Bla and Beverly Hills, the Magazine, as well as Dr. Susan Block's SPEAKEASY Journal. He's also executive producer of The Dr. Susan Block Show and Bedside Chats, co-founder of Bonoboville, and of course, co-host of F.D.R., fighting against fascism, censorship, war and violence for love, sex-positivity and liberté, égalité, fraternité, the Bonobo Way, his whole life.
Bonobo Way for Today
In these times of divisive politics, ammosexual violence, widening economic disparities, rampant and deadly social irresponsibility and mounting Climate Catastrophes, the message of the Bonobo Way of peace through pleasure, female empowerment, male well-being, sharing resources and ecosexual engagement with our environment is more important than ever.
It also makes a great holiday gift! Help someone you love to release their inner bonobo, even if that someone is you.
Spread "Peace on Earth and Pleasure for All… and maybe increase your chances of getting in on some bonobo fun.
Plus a portion of all proceeds goes to help save the real, highly endangered bonobos in the wild.
Gangbangs, "Conscious Capitalism," Sweetness & Stilettos
Though we're still being censored on Reddit, we're broadcasting live on IG, FB and YT, as various calls and comments come in wishing Max a happy birthday and stirring some intriguing subjects into the birthday melange.
After extending Max his happy birthday regards, our first caller, José from Texas, inquires about gangbangs—probing both my professional expertise and personal experience. Listen above or below to my explanation and true confessions (the most men I've ever had sex with simultaneously = six); I'd just add that sperm wars plays a big part in gangbang excitement. I haven't done a real-life gangbang in a while, but Max and I love to incorporate the gangbang fantasy into our sex talk, including on the morning of this show! Not to be outdone, our therapist Erica chimes from the Facebook feed to say she loves gangbangs, though her biggest was with just three guys. See, it's not just my two doctorates and Yale BA; I graduated from the College of Carnal Knowledge and took on six dudes at once!
Then one of our former therapists, "1sweet_ness" on IG, comments:
"I need to get signed back up to be a therapist!!! I miss it! Love you Dr. Suzy. Love always to the bonobos!…. Dr. Suzy's Therapists Without Borders are LIFE."
Wow, let's get 1sweet_ness' sweetness back on the crew!
Totally.hippie on IG comments lovingly on "conscious capitalism," which they consider "the way." The way to what, I'm not sure, though it's not the Bonobo Way. That said, it's far better to sell hippie clothes and patchouli oil than AR-15s or motor oil. Nevertheless, whatever you're selling, we prefer our capitalism—conscious as the Buddha or sleepwalking into space—with a generous helping of socialism.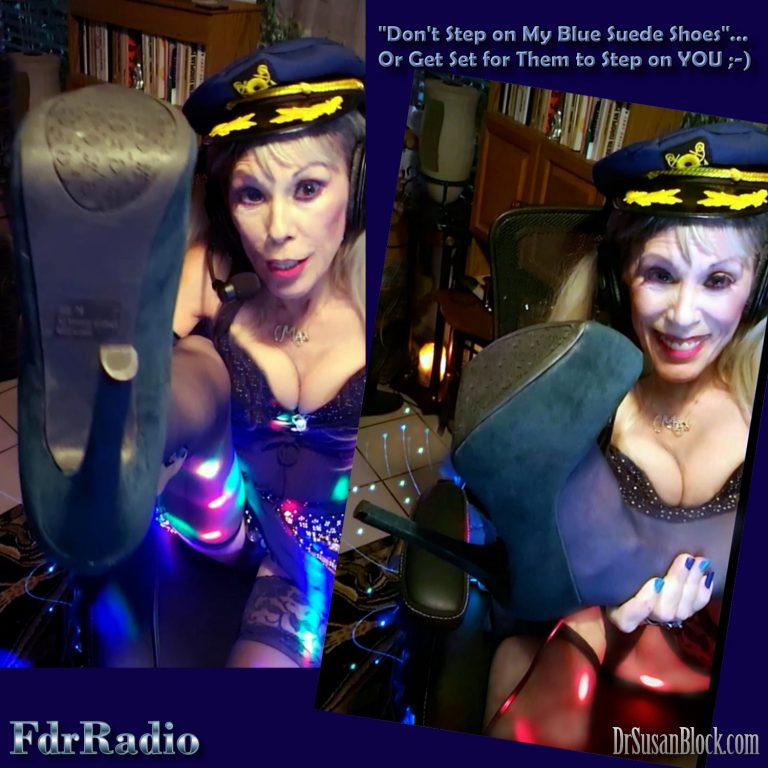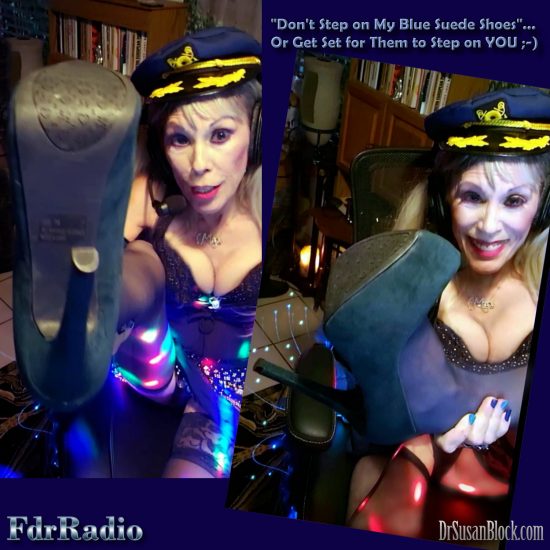 In the midst of all this econ-talk, Michael D. asks me to show off my stilettos (how did he know I was wearing them?), so I kick up my heels, and it just so happens they're Blue Suede Shoes.
Life-Saving Phone Sex Therapy
"Hopeless" Dave M. calls in from Dana Point, first showering Max with birthday wishes, questions about his late World War II babyhood, and compliments galore. "You're even smarter than Dr. Suzy!" he exclaims. I'm not sure how I feel about that, but before I can verbally strangle Mr. Dave M., he's distracting me with a different kind of compliment.

Dave M. testifies that the Dr. Susan Block Institute literally "saved [his] life" when he was at a suicidal, self-mutilating "really low point."


In a booming radio voice, speaking as if he were a paid promoter (he's not!), Dave M. testifies that the Dr. Susan Block Institute literally "saved [his] life" when he was at a suicidal, self-mutilating "really low point," swearing that his sessions with our amazing therapists (particularly Danielle) "rocked me out of my gloom."
"It's unbelievable how kind you were to me, and what a pest I was," he exclaims. "I am grateful to you forever."
We are grateful to Dave M. for speaking so openly in public. Over the years, we've had countless clients sing our praises, but they value their privacy and so do we. Thanks to Dave M's courage, other people who are suffering from "gloom" might call our Therapists Without Borders, and maybe another life will be saved.
Dave M. even says, "I want to thank you for respecting your husband." Well, of course, a big part of my love for Max is my respect for him. Besides, what should I do on his birthday? Sit on his cake?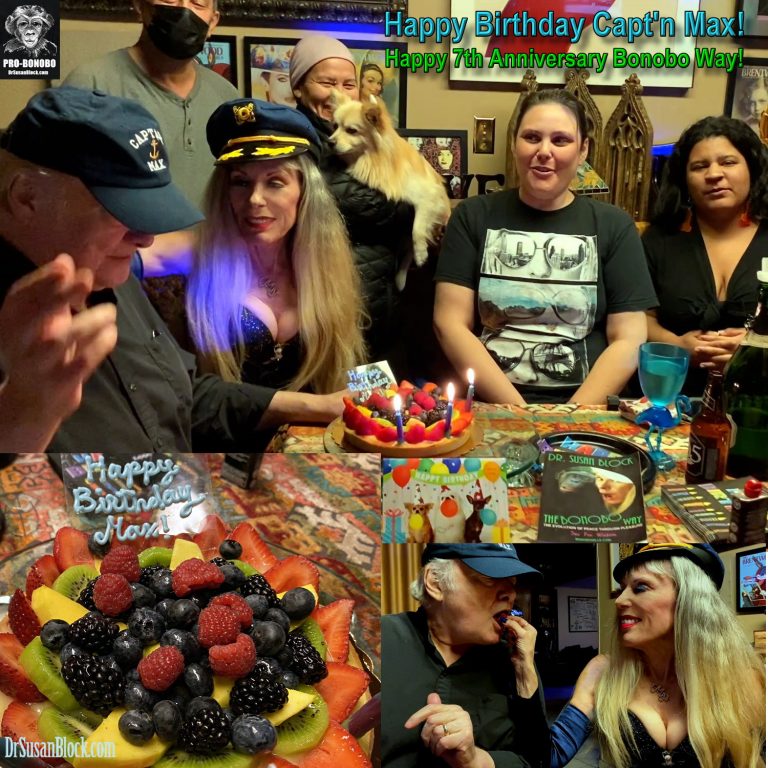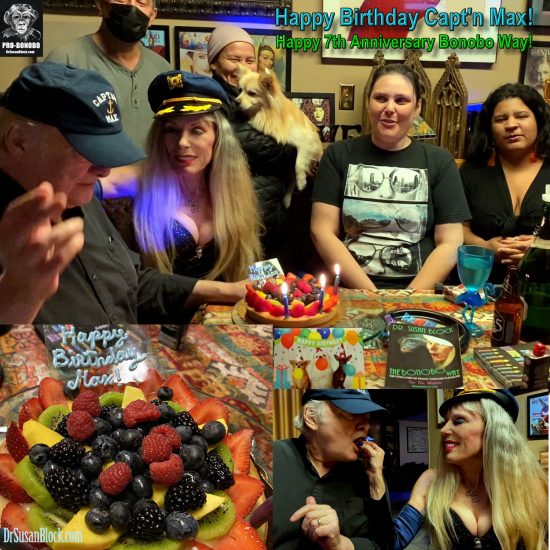 Actually, I did that one year…
The Goal is the Journey for Capt'n Max
For wild naked cake play, passionate politics, sex, fun, wisdom and much more, check out the throwback show, "V" Without Violence: Happy Bday Capt'n Max! Happy Anniversary Bonobo Way.
Lots more comments flow through our portals, but we really want to hear more stories from Max's colorful life. We also talk about the power of stories for good as well as evil in the world.
When I ask Max what he's learned during his 78 years of life on Earth, he ponders and says the more he learns, the more he realizes he doesn't know.
However, there is one thing he has always known, and continues to learn afresh every day: The goal is the journey.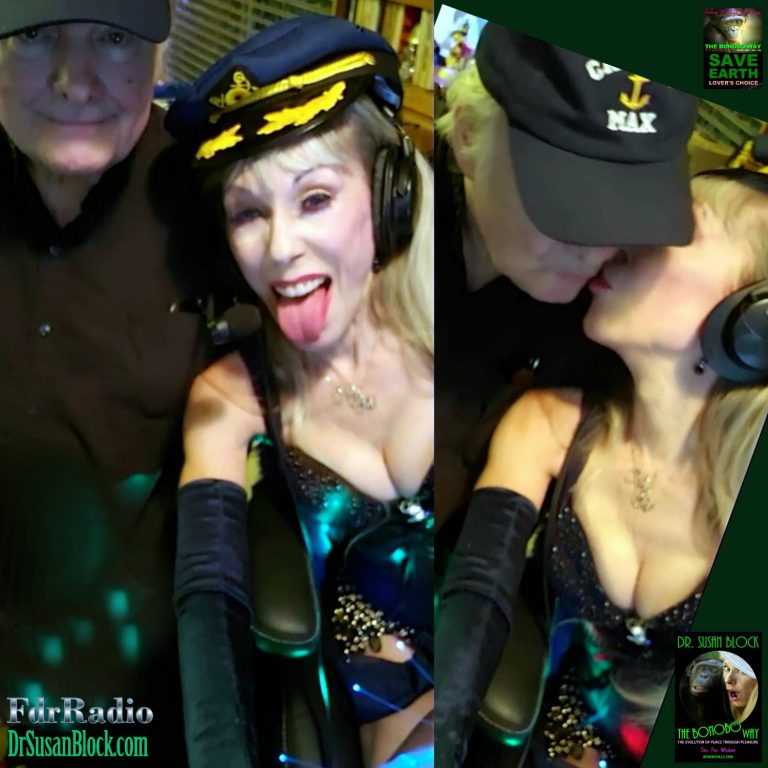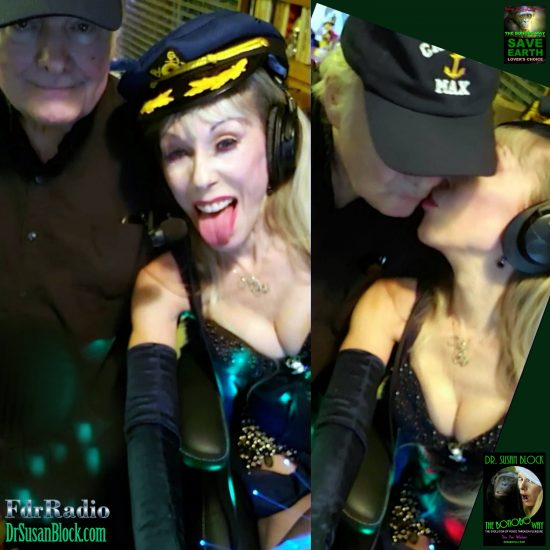 And there's one thing I always know: I love my Captain more every day, and always relish this ecstatic, erotic journey we are on—whether by ship, train, plane, police car, limo, bike, foot, horse, ambulance or imagination—following the Bonobo Way every day into adventure.
Happy Birthday Capt'n Max! And Many Happy Orgasms…


© November 6, 2021 Susan Block, Ph.D., a.k.a. "Dr. Suzy," is a world renowned LA sex therapist, author of The Bonobo Way: The Evolution of Peace through Pleasure and horny housewife, occasionally seen on HBO and other channels. For speaking engagements, call 213-291-9497.
PHOTO ALBUM