Harry Reems Tribute this Saturday on The Dr. Susan Block Show broadcasting LiVE from DEEP THROAT The Play
This Saturday, March 23rd,
The Dr. Susan Block Show

Broadcasts LiVE from Deep Throat The Play
at the Zephyr Theater with a Special Tribute to

Harry Reems (8.27.1947–3.19.2013)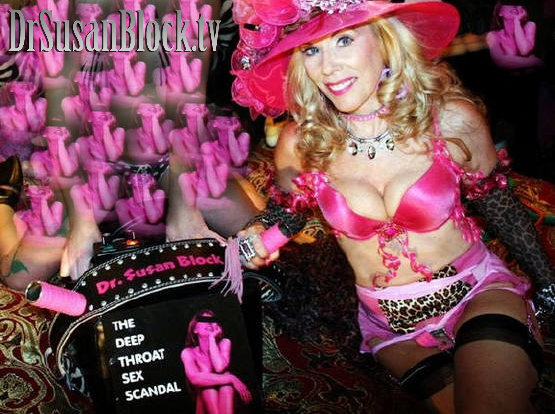 Your Hostess Dr. Susan Block . Photo: L'Erotique
RSVP Here or Call 213-670-0066
Doors Open @ 9:30pm
Show Starts @ 10:30pm
After-Party @ Midnite!
"RIP Harry Reems," says Dr. Block, "the actor/pornstar/hero who stood up to President Nixon's attempts to censor Free Speech. Busted by the Feds for getting a consensual on-camera blowjob, Reems went through hell, but got his conviction overturned. And Nixon got his just desserts, forced to resign in disgrace, busted by a Watergate informant ironically named 'Deep Throat'."
This Saturday, March 23rd, 2013 The Dr. Susan Block Show will broadcast live on location from The Deep Throat Sex Scandal, the critically acclaimed play by David Bertolino about the making of "Deep Throat," with a special memorial tribute to this groundbreaking 1970s porn film's male star, Harry Reems, who passed away this past Tuesday in Salt Lake City, Utah.
"I'm honored to host this Saturday's memorial tribute to American Free Speech hero Harry Reems with the marvelous cast, crew and friends of 'The Deep Throat Sex Scandal,'" says Dr. Block. "Though Harry was born again and expressed ambivalence about porn towards the end of his life, this wonderful, funny and heartfelt play captures his free spirit.  It tells his quintessentially American story: from broke wannabe actor to the first really famous male porn star, to the first and only actor to be arrested and convicted of federal obscenity charges just for having sex in a movie, to overturning that conviction with the help of such luminaries as Alan Dershowitz, Warren Beatty, Shirley MacLaine and Jack Nicholson, and then onto a life-after-porn as a Born Again Christian, happily married, real estate agent in Park City, Utah.  What a life!  And what an example Harry Reems, aka Herbert Stricher, set for us back in 1976 when he literally put his body on the line and fought for our First Amendment rights against the nefarious, well-funded forces of Puritanical hypocrisy."
Joining international sexologist Dr. Susan Block live on the air at 10:30pm PST from the Zephyr Theater in West Hollywood right after the play this Saturday will be Deep Throat Sex Scandal cast and crew, including Marc Ginsburg who plays Harry Reems, Natasha Parker (Linda Lovelace) and veteran adult film stars Nina Hartley, Tom Byron, Hyapatia Lee, Ron Jeremy (recently released from Cedars-Sinai after emergency heart surgery and now doing much better!), Paul Thomas, Rebecca Bardoux, Veronica Hart, Alana Evans, Bill Margold and Herschel Savage, producer/writer Bertolino and director Jerry Douglas, plus representatives from the Free Speech Coalition.  Also in attendance will be sexologist Yasi Madanikia, Paulina Li, Dr. Hernando Chaves and more TBA.
Get your "Deep Throat Sex Scandal" tickets here or call 800-838-3006. Tickets for this Saturday's show have been reduced from 90.00 to 29.00 which includes the open wine bar and Hustler Superstore Goody Bags and show poster!
Dr. Block's "Harry Reems Memorial @ The Deep Throat Sex Scandal" will air live March 23rd, 2013, 10:30pm-Midnight PST on The Dr. Susan Block Show. Listen FREE on RadioSUZY1
NEW: LISTEN FREE ON YOUR MOBILE PHONE

Listen Free to Dr. Block's broadcast and see the free pix from Opening Night of "The Deep Throat Sex Scandal" at the Zephyr and read the blog/review
Coming Up Soon on DrSuzy.tv... (click here to RSVP or call 213-670-0066)
3/30/13 – Kiara Mia, Brandy Love, Tawny Ocean, Juju Natasia, Pamela Balian, Idelsy
4/13/13 – Dr. Suzy and Pr. Max's 21st Wedding Anniversary
4/20/13 – "Prostate Pleasure & Health" Author Dr. Charlie Glickman
5/04/13 – "Sex & God: How Religion Distorts Sexuality" Author Dr. Darryl Ray
Watch the LIVE BROADCASTS on DrSuzy.TV Call-In Free: 1-866-289-7068 Read Our Rave REVIEWS!
WiLD FEET is a

foot fetish

fiesta, along with

high heels

,

stockings

, bday

spankings

, fun with cake, bondage &

tickle

play, discussions of sex and religion,

bonobo

tales and sexy tails, featuring "Most Fanatic Foot Fetishist"

DrSuzy.tv Award Winner

Kayla-Jane Danger

, sweetfeet petite

Jenna J. Ross

TS

Morgan Bailey

, distinguished actor

John Barrymore

, Bday Girl

Sharday

& award-winning "Champions of the Wild" filmmaker

Christian Bruyère

. Watch it now on

DrSuzy.tv

. Photo: JuxLii

This St. Patty's....Give the Gift of Pleasure to Someone You Love, Even If That Someone is You!

"Dr Susan Block's 10 Commandments of Pleasure are the best to come around in the past 2000 years. Bravo!"
Nina Hartley, adult film star & sex educator

"Thank you, Dr Suzy, for showing me that sex education can be sexy."
Sheila Nevins, Executive VP, HBO

"Any man who follows Dr. Suzy's 10 Commandments of Pleasure will have women eating out of his hand. Any woman will have men groveling at her feet."
Dr. Tracy Cabot, Best-Selling Author
| | | |
| --- | --- | --- |
| Recent Bloggamies, Shows, Free Pix Pages | | |
Make Like Bonobos,

Not Baboons! Make Love, Not War.Make Love to Someone You Love Tonight, Even If That Someone Is You.


I LOVE YOU
Peace on Earth ♥ Pleasure for All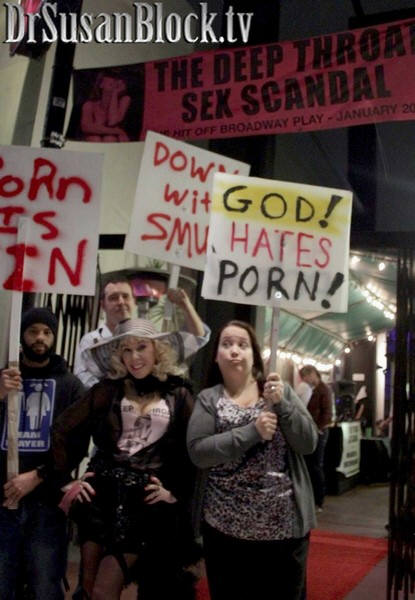 AMEN ♥ AWOMEN
x S


DrSuzy
---
Explore DrSusanBlock.com
Need to talk? Sext? Webcam? Do it here. Have you watched the show? No? Feel the sex. Don't miss the Forbidden Photographs—Hot Stuff, look at them closely here. Join our private social media Society. Join us live in studio 😊. Go shopping. Gift shop or The Market Place. DrSusanBlock.tv, real sex TV at your toe tips. Sex Clips Anyone? FASHION, we have fashion! We also have politics. Politics? Have you Read the book? No? How about the Speakeasy Journal? Click here. Ok, how about some free sex advice?
---
---