Easter Eve Bacchanalia Primavera this Saturday & Spring Fever on Your Phone 24/7 ❤
This Saturday, March 30th on
The Dr. Susan Block Show
EASTER EVE BACCHANAL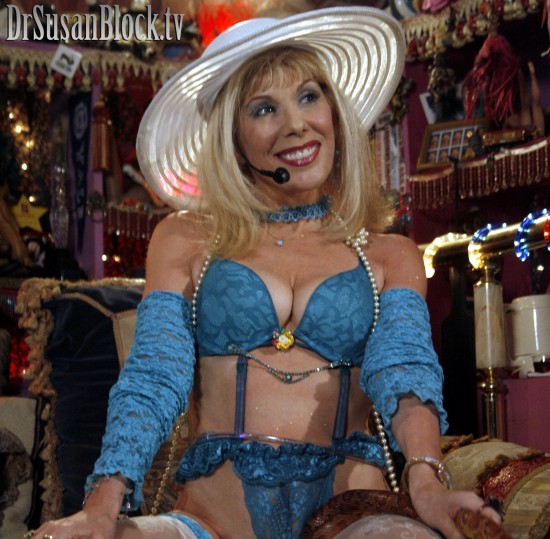 Your Hostess Dr. Susan Block . Photo: Ellis Martin

RSVP Here or Call 213-670-0066
Doors Open @ 9:30pm
Show Starts @ 10:30pm
After-Party @ Midnite!
"Bacchus, Lord of the Bacchanalia, is the Classical God of Spring, forerunner to Jesus, God of Wine, Women, Ecstasy, Community & Miracles," says Dr. Block
This Saturday, March 30th 2013, The Dr. Susan Block Show will honor the Bacchanalian roots of Easter and Passover with a Primavera bouquet of fresh Spring bacchantes and a lot of love.  Joining international sexologist Dr. Susan Block in her Womb Room broadcast studios will be exciting adult stars Pamela Balian, Natasia Monroe,  Brandi Love and Idelsy Love..
Easter Eve Bacchanalia Primavera will air live March 30th, 2013, 10:30pm-Midnight PST on The Dr. Susan Block Show.
Listen FREE on RadioSUZY1 or Watch the LIVE BROADCAST on DrSuzy.TV Call-In Free: 1-866-289-7068 Read Our Rave REVIEWS!

NEW: Listen Free on Your Mobile Phone at http://m.drsuzy.tv
To join our exclusive live in-studio audience and the after-party at Dr. Suzy's Speakeasy in the Soul of Downtown LA, aka BonoboVille, click here or call 213.670.0066
NEW: LISTEN FREE ON YOUR MOBILE PHONE AT m.drsuzy.tv
Coming Up Soon on DrSuzy.tv... (click here to RSVP or call 213-670-0066)
4/13/13 – Dr. Suzy and Pr. Max's 21st Wedding Anniversary
4/20/13 – "Prostate Pleasure & Health" Author Dr. Charlie Glickman
5/04/13 – "Sex & God: How Religion Distorts Sexuality" Author Dr. Darryl Ray
The Dr. Susan Block Show beverages of choice are Absinthe and Hennessy, among the many fine libations and gourmet hors d'oeuvres featured at the always-popular Speakeasy Open Bar and Aphrodisiac Buffet.  Sex toys provided by Sybian, CalExotics, ScreamingO, Divine Interventions, Stockroom, JuxLeather, Pipedream Products and Condomania condoms. Proceeds from donations go to help save the highly endangered "make love not war" bonobos from extinction in the Congo and to promote the Bonobo Way of Peace through Pleasure around the world.
It's another wild, erotic, educational Porn 'n' Purim Bacchanal in the Womb Room: A Commedia Erotica cast of porn stars, comics, transwomen, hot Jewish girls & sexy shiksas act out the sexiest story in the Bible (or 2nd sexiest, if you prefer "Song Of Songs"): the Megillat Esther, the tale of the ancient beauty contest winner who saves her people from genocide with her Weapons of Mass Seduction. The storyline might be familiar, but this is not your Bubbe's Purim. Watch it now on

DrSuzy.tv

. Photo: JuxLii

This Primavera....Give the Gift of Pleasure to Someone You Love, Even If That Someone is You!

"Dr Susan Block's 10 Commandments of Pleasure are the best to come around in the past 2000 years. Bravo!"
Nina Hartley, adult film star & sex educator

"Thank you, Dr Suzy, for showing me that sex education can be sexy."
Sheila Nevins, Executive VP, HBO

"Any man who follows Dr. Suzy's 10 Commandments of Pleasure will have women eating out of his hand. Any woman will have men groveling at her feet."
Dr. Tracy Cabot, Best-Selling Author
| | | |
| --- | --- | --- |
| Recent Bloggamies, Shows, Free Pix Pages | | |
Make Like Bonobos,

Not Baboons! Make Love, Not War.Make Love to Someone You Love Tonight, Even If That Someone Is You.


I LOVE YOU
Peace on Earth ♥ Pleasure for All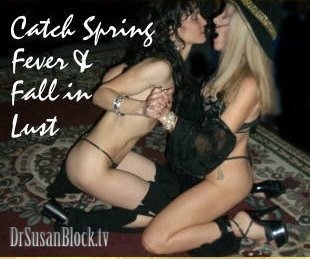 AMEN ♥ AWOMEN
x S


DrSuzy