Birthday Pride Party Show
by Dr. Susan Block.
It's my birthday—such a perilous time!—but I'm surrounded by old friends, new lovers, rainbows galore, condom balloons, sweet kisses, birthday-spankable asses, beautiful boobies, barking doggies and so many cakes Bonoboville could open a bakery. So, life is good, and I've got Birthday Pride.
Plus I get my best gift ever, my big love, my best friend, my Prince, my witness, my husband, the present of his presence, this birthday and every birthday: Capt'n Max.
Rainbow Pride vs Proud Boy Shame
So, life on this birthday is very good indeed, and for that I'm grateful and… well, it's a "sin" to be "prideful," but I've got that Birthday Pride, in part because it's Pride Month.
So, it's a Rainbow Pride Birthday as it's pretty much been for the past 10 years or so, but a little more so because our trans and other LGBTQ comrades are being attacked by religiofascist politicians, cops and Proud Boys.

Statistics show that people who have the most birthdays live the longest.


Why do Proud Boys attack Pride? Shouldn't they have "pride" if they're "proud"? Seems like Proud Boys are secretly ashamed that they don't have the pride—or balls—to let their freak flags fly instead of stomping on the vulnerable with their fascism fetish.
Well, whether you take "pride" in your birthday or would rather not fuss about it, birthdays are good for you! Statistics show that people who have the most birthdays live the longest.
Still, I have mixed feelings about birthdays, especially my own, and some years I go the no-fuss route. However, this year's birthday happens to fall on a Saturday, so I take the FDR Love Train through time—down the tracks of my years—while having the time of my life.
Love, Censorship & Communion
It really is "the best of times" and "the worst of times"—with a hat tip to Charles Dickens. Good things are blossoming in Bonoboville, the yellow lilies are blooming in the garden, and our much-anticipated Vice documentary, featuring our fabulous Bonoboville Reunion, is coming to the recently bankrupt but saved-by-Soros channel on July 18! Nevertheless, my personal social media accounts on YouTube, Facebook and Instagram have all been censored and permanently disabled—with no reason given by Google or META, except "violation of community guidelines," a euphemism for "we can disable anyone's account—including yours—and we're not even going to tell you why."

We deserve and demand our right to free speech on social media, the digital equivalent of the "Commons" which we all have a right to occupy.

It's been devastating, unnerving and very disturbing (I'm just one of millions being censored like this), but it really warms my heart to see friends like Rhiannon Aarons make up a petition to "Restore Dr. Susan M Block's Facebook and Instagram Accounts," and Chris Gagliardi call for "Justice for Dr. Susan M Block!"
So, social media censorship, book-banning and book burning are big topics on this FDR, other than birthdays and, well, my birthday. Wheeee!
Honoring the Day of My Birth on Earth in-studio are a bevy of beauties and brains including brainy beauty Rhiannon Aarons, Cal State Long Beach lecturer, artist, filmmaker, SUZY-award-winning "Most Well-Rounded Kinkster," MILF and pro-active petitioner of my social media restoration.
Beautiful, sweet and slightly sadistic Dominatrix Mistress Lilith Kat (whose friend Tes Presley makes a short and slinky appearance) chimes in to say her Facebook and IG accounts were also recently disabled—not for any particular post, but (she believes) simply because she is a sex worker.
Sex Workers of the World Unite! We deserve and demand our right to free speech on social media, the digital equivalent of the "Commons" which we all have a right to occupy.

Trumpty Dumpty (has) really fallen off the wall this time, having just been indicted for "espionage."

Both Rhiannon and Lilith are members of Dominatrixes Against Donald Trump which held sparkling Russian Hooker Pee Parties in Bonoboville during the lunatic reign of the Trumpus.
Speaking of Trumpty Dumpty, he's really fallen off the wall this time, having just been indicted for "espionage." I have mixed feelings about these charges, but ultimately agree with my Counterpunch editor Jeffrey St. Clair that "If Trump had leaked these documents to say Wikileaks, he might have a credible claim as a whistleblower. Instead, he kept them for his own vanity, flashed them to visitors and had his Justice Department file charges against Julian Assange for violating … the Espionage Act."
Back to my guests, including another great, longtime supporter of Free Speech, FDR and The Dr. Susan Block Show: GasMaskGirl. It's great to see Manny—Iraq war veteran who turned his war trauma into a fetish for GasMasks—as well as hot new GasMaskGirl model Kyla Keys. Kyla looks gorgeous in a gasmask, but even better without one, and she reveals her beautiful bare ass for a birthday spanking during the afterparty.
I've had so many birthdays at this point, I'm more likely to give spanks (and thanks!) than receive them.
Longtime friend (since 2011) John Barrymore (looking fit and bearded this birthday) of the Hollywood Barrymore Dynasty that includes John's mega-celebrity sister Drew Barrymore, adds his always informed and penetrating views on censorship, self-censorship and the AI (Artificial Ignorance) that is, inch by inch and byte by byte, taking control of our lives.
My oldest friend in Bonoboville , Janelle Hopkins, also joins the party. I've known Janelle even longer than Max, since she came to visit my radio show at the age of 18 back in 1986 and essentially never left, becoming my assistant and then—despite my best cautionary warnings—falling in lust with my radio producer John Clark (Lynn Redgrave's husband) and proceeded to have his baby—the Love Child who grew into an awesome and talented young man—Derek Wilder. We reminisce about the old times and commiserate about the new censorship. Yes, even Janelle the wholesome mom has been censored on Facebook for posting "fake news." Indeed, Big Brother is watching—and censoring—YOU.
Though relatively tame, this show is still too X-rated for Facebook (even the old, more easy-going Facebook). We keep Bonoboville Communion PG during the show, licking up the sacred salt from Mistress Lilith's lovely wrist.
But the afterparty brings us Rhiannon's boobs—bigger than ever—as a Holy Altar for my auspicious, delicious Bonoboville BIRTHDAY Communion, as well as ample cushioning for Waterboarding, Bonobo-Style with Agwa di Bolivia Herbal Coca Leaf Liqueur. A big tipsy thank you to Chuck for Agwa, Absente Absinthe, Rhum Barbancour, Magellan Gin and other fine libations that we pour down our deep throats.
Other guests include our good friend and frequent DrSuzy.Tv guest Ikkor the Wolf who wishes me a "Happy Life Day" and sings "She Bad" in the afterparty; our beloved Bonoboville manager Lisa Villareal, the "Dog Whisperer" who miraculously gets a barking spitz-pomeranian Chico (Happy Barkday to You?) and quivering poodle-shitzu Frankie to get along; Rhiannon Aarons' hubby Jonny Menton, who relishes sloppy seconds on Bonoboville Communion; DrSuzy.Tv guest "the Contessa" from 30 years ago(!), now "sound yogi" Renee Lynn; Eddie Drips the Painter stroking a very abstract rendition of me (to add to the collection) onto his canvas; and the return of Fawnia who shares a quick but succulent post-show Bonoboville Communion with me.
Let Them Eat Boobie Cake!
Last but not least and first to arrive, the best hairdresser ever who saves me from split ends, creates radiant golden highlights and tames my wild naturally frizzed-out mane into something beautiful (or at least presentable), Mark Brown.
Also bringing a pot pourri of rainbow birthday desserts, the multi-talented and super generous Mark makes this birthday a truly sweet treat of treats.
Soooooooo many sweet treats to eat!
I must be the Marie Antoinette of Birthdays. At least on this birthday, one of the unintentional themes becomes "Let them eat cake!" Don't guillotine me please, but I don't think I've ever had so much cake at one birthday party. In terms of people, it's a small soiree, but in terms of cake, this one, well, it takes the cake!
First and most picturesque is a beautiful Boobie Cake made by Dre and her friend Vivian, which frees the nipple with a topless rainbow trimmed bustier which, hopefully, won't get censored because it's just cake… but you never know.
Ana Quintana—Queen of the Bonoboville Kitchen, aka Ana Cuchina—also provides (along with her famous taquitos) a sweet little red velvet company store-bought cake, but with that personal touch of "Happy Birthday Dr. Suzy" in rainbow icing.
Then, just before showtime, our old friend and supporter, Dragon Steele, sweeps in with a huge, homemade, Barbie pink birthday creation, just to make sure we have enough cake.
Fourth and finally, Mark's mango cake takes the taste prize, plus his strawberry cream chocolate fountain for fruit dipping is a dessert fetishist's fantasy. And then there's the dazzling array of chocolate dipped pretzels in rainbow colors.
Having just come off of a big Deep Throat 50th anniversary weekend (more on that later), we feel an urge to deep throat the ultra long phallic pretzels. Former Bonoboville manager Lisa Villareal wins the prize for best deep throat… of a pretzel.
Bonoboville's Got Talent!
Unabomber Fizzles
I'm sure he didn't time it this way, but Ted Kaczynski aka the Unabomber, was found dead in his prison cell on my birthday.
Kaczynski showed us that you don't have to be a dumb Proud Boy to brutalize your fellow humans; you can be a genius-level UC Berkeley college professor.
I can appreciate some of Kaczynski's manifesto, especially the anti-"Industrialized Society" ideas (more lucidly expressed by John Zerzan), and I feel some sympathy towards Kaczynski's victimization by the abusive MK-Ultra-related project experiments on him while he was a student at Harvard. Nevertheless, he was still a serial killer, not "Uncle Ted," as some Twitter idiots are calling him.
Well, at least Twitter hasn't disabled me… so far.
Call-In Love & Birthdaygasms
Speaking of censorship, the callers line up to greet the Birthday Gal, and first in line is SUZY-Award winner Chris Gagliardi who gives an impassioned speech: "Tonight as we celebrate your birthday, this is a rally for social media justice and social media change."
Next up are "Most Bonobo Couple" SUZY award winners "BeLiveDaLove," Chef BeLive and Daniele Watts, wishing their "mentor" a Happy Birthday, giving us a report on their work and play as "Bonobo Missionaries" somewhere in Northern Cali and sharing their excitement for German nudism from Weimar to the U.S.S.R., and the development of their "Door Hash" cannabis delivery service, and Red Wing sex.
We extend the Red Wing sex talk into Brady Crow blessing my blue-green eyebrows with Birthday Sex Magick. Brady's "Singing Dog" Rufio won a SUZY, so he's in the winner's circle by family relations, though he says he's "as censored as a nipple" himself.

Happy Bday to Fellow Gemini & FDR Engineer Unscene Abe!

We could have taken a lot more callers on Callin, but we so rarely have in-studio guests these days, we give them—as well as the cake, the Agwa and the stripper pole—priority.
Yes, we now have a stripper pole in front of the show bed in Bonoboville, courtesy of Dre!
It just so happens, no Olympic-level pole dancers like we've had before on the show are in attendance for this one. But Dre gives it a spin, and after a few shots, so do I (in very limited fashion), and so does Adriana for the first time ever, plus a few other Bonobovillians.
It's also Unscene Abe's Birthday! Another Gemini June Baby (his is June 1), he lets his unscene self be seen a little more this show, and even does a turn on the stripper pole.
It being a smallish soiree this year, I give just a few spanks, but I give LOTS of thanks to everyone in Bonoboville—Abe, Harry Sapien, Ana, Miguel, Mars FX, Gideon, Adriana, Dre, Mo, Chico, and if I forgot anyone, thank YOU.
After a few more limited shenanigans and a lot more love, I slip out of my rainbow lingerie and into my birthday suit with Capt'n Max for a big birthdaygasm, the Bonobo Way.
And many more…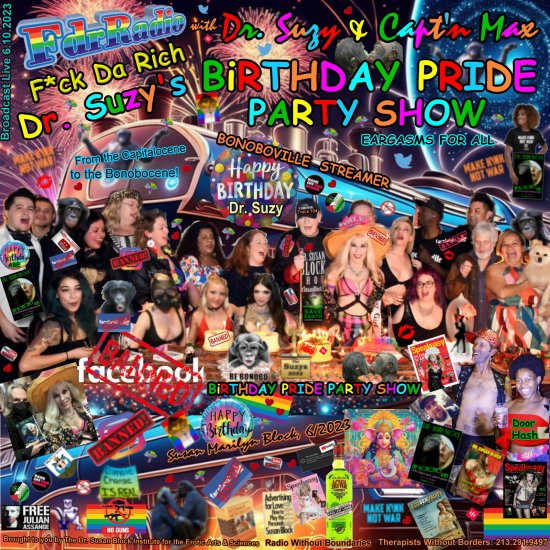 Birthday Pride Party Show Photo Gallery
© June 10, 2023 Susan Block, Ph.D., a.k.a. "Dr. Suzy," is a world renowned LA sex therapist, author of The Bonobo Way: The Evolution of Peace through Pleasure and horny housewife, occasionally seen on HBO and other channels. For speaking engagements, call 626-461-5950.
---
Explore DrSusanBlock.com
Need to talk? Sext? Webcam? Do it here. Have you watched the show? No? Feel the sex. Don't miss the Forbidden Photographs—Hot Stuff, look at them closely here. Join our private social media Society. Join us live in studio 😊. Go shopping. Gift shop or The Market Place. DrSusanBlock.tv, real sex TV at your toe tips. Sex Clips Anyone? FASHION, we have fashion! We also have politics. Politics? Have you Read the book? No? How about the Speakeasy Journal? Click here. Ok, how about some free sex advice?
---
---