Deep Inside "Deep Throat"
With Gerard Damiano, Jr. & Christar Damiano
by Dr. Susan Block.
Streaming through the Tunnel of Love, we go deep inside Deep Throat, one of the most ground-breaking, profitable and controversial American films ever made… which happened to be about blowjobs.
Of course, Deep Throat was not just about blowjobs. It actually showed blowjobs as well as cunnilingus, doggy-style, reverse cowgirl, orgies and more—in all their cinematic, super close-up, technicolor glory—on the big screens of major movie theaters throughout the U.S.A., from its debut in 1972 until the invention of the VHS-tape in the early 1980s led porn into private spaces, and the smartphone took it under the covers.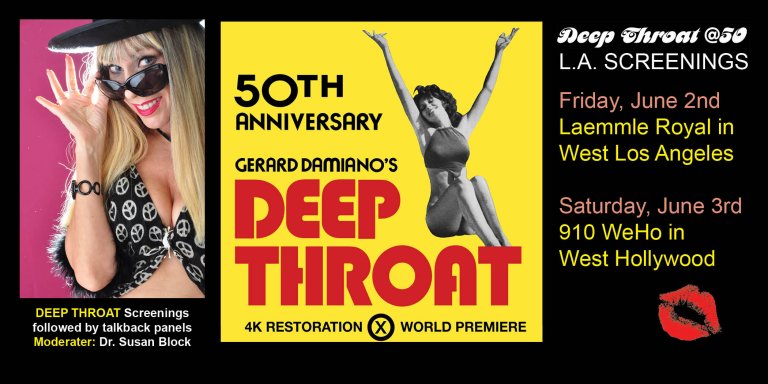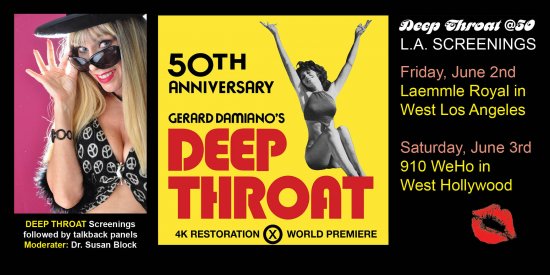 Our guests on this riveting ride into porno-cinematic history are Deep Throat auteur director Gerard Damiano's son and daughter, Gerard Damiano, Jr. and Christar Damiano, who regale us with tales of growing up with the "King of Porn"—though as kids, they never saw the porn—and carrying on the legacy of their dad's work, including Deep Throat, now commemorating its 50th anniversary with 4k restoration screenings, talkback panel discussions, interviews and parties at theaters and festivals around the world. However, for a few wild and wonderful years, everyday people watched porn on big screens in big theaters—partaking in a group experience of what I call "communal ecstasy"—and Deep Throat was the biggest of all.
Other Damiano films, like The Devil in Miss Jones and Memories Within Miss Aggie, may be more artistically refined, but Deep Throat was a phenomenon, a little $24,000 movie that went on to gross $400-600 million; Capt'n Max heard it may have even topped a billion! Its exact profits (of which the Damianos barely saw a dime) are shrouded in mystery, along with many other elements of this iconic motion picture that helped to spark the Sexual Revolution and "Porno Chic." So popular, it became a household term—even in respectable, upper middle class households—"Deep Throat" also served as the codename for the Watergate informant (Assistant FBI Director Mark Felt) who exposed U.S. President Richard M. Nixon for being a common (in addition to war) criminal, forcing him to resign. Yes, Tricky Dick really tried hard to shut down Deep Throat, but "Deep Throat" shut down Tricky Dick.
Deep Throat also made a huge star out of its leading lady, Linda Lovelace, the original "girl next door," who played a sexually frustrated woman whose psychiatrist (the inimitable Harry Reems) discovers that her clitoris is located in her throat and then helps her to pinpoint it—in the interests of medical science and her own relief, of course—with his dick. See, it's all about blowjobs!
Well, it's a comedy and a very conventional male sexual fantasy that distorts women's physiology in pursuit of the ultimate BJ. Nevertheless, Deep Throat did teach a lot of sexually uneducated adults that women are capable of experiencing tremendous orgasms, usually via stimulation of the clitoris (which is never in the throat). From its own goofy, low-budget, decidedly male point of view, Deep Throat supported sex-positive feminism, and the lovely and talented "Nurse" Linda Lovelace was its poster girl.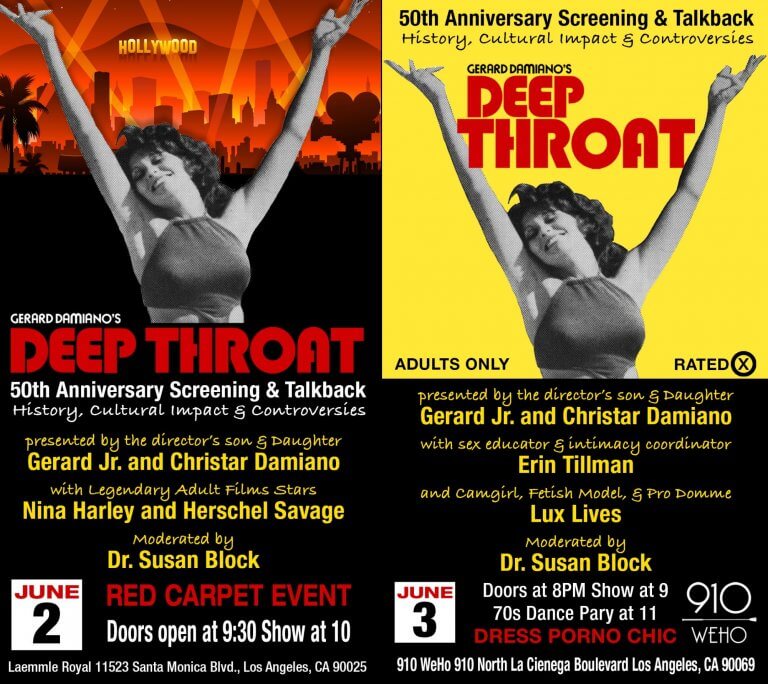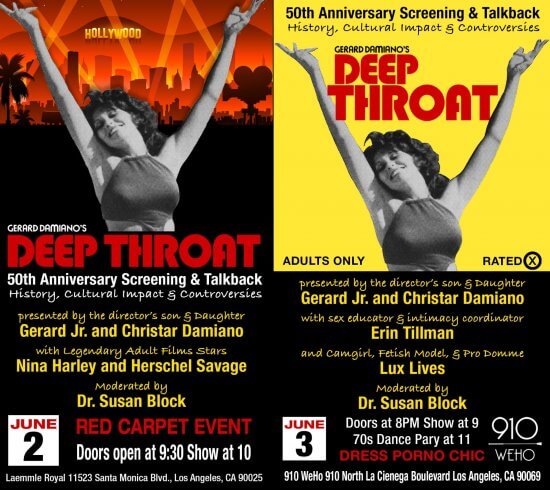 But alas, years later, in books and interviews, Linda revealed that she suffered terrible physical and emotional abuse, first from her mother, and then more severely at the hands of her ex-husband Chuck Trayner. Also her "manager," Chuck seems to have been a cuckold who couldn't handle his own jealousy. He loved the money and excitement of pimping his wife out in porn, but resented the power that porn was giving her. When Linda finally broke free of this goon and revealed his abuse, anti-porn feminists like Catherine McKinnon jumped at the chance to blame pornography for her suffering, took her under their wing, and remade her into a poster girl for the dangers of porn. Though Linda never said she was abused on the set of Deep Throat or any other film, thanks to McKinnon's spin on her tragic story, it looked—and still looks—to many who don't know the full, complex story, like Deep Throat was somehow responsible for the abuse of Linda Lovelace.
According to Gerard, Jr., the opposite was true, and Linda was a victim of "domestic violence" at the hands of her husband, but she was never abused on set (and actually, no one has said that she was) and indeed it seemed she found freedom in making Deep Throat, and being treated like a star with a very special "talent" by the cast, crew and eventually millions around the world certainly buoyed her chronically low self-esteem.
Going from abused child to battered wife to celebrated porn star to anti-porn Born Again Christian and then back to a form of porn (erotic modeling) just before her sudden death in a car accident, Linda's true story is very complex. It deserves and receives our careful consideration in this show, but it doesn't lend itself to soundbites or memes. As a result, many people (most of whom have never seen Deep Throat) are under the erroneous impression that she was abused on set and forced to perform the sex acts you see in the film.
Gerard and Christar correct that misconception as best they can on this show and elsewhere. Nevertheless, there is always pushback to showing Deep Throat anywhere in public. One of our scheduled screenings in Southern California was canceled almost at the last minute, and a few other screenings of the Damianos' 50th anniversary tour have either been canceled or picketed by protestors, though most have been received with open arms, curiosity and appreciation.


Now it's LA's turn, and I'm honored to serve as moderator for talkback panels after the two screenings in West LA and West Hollywood. Click the links to get your tickets now!
Both panels will feature the Damianos. The amazing Nina Hartley and Herschel Savage, both of whom worked with Gerard Damiano, Sr. (Nina starred in the unforgettably named Splendor in the Ass) will join us on the red carpet and the panel at the Laemmle Royal.
Our old friend Barry Miller—who attended a Hollywood fundraising party back in 1976 thrown by Warren Beatty and Jack Nicholson to help Deep Throat fight "obscenity" charges against Harry Reems—will join us at 910 WeHo. Intimacy coordinator Erin Tillman and fetish model Lux Lives will be on our 910WeHo talkback panel, after which we'll have a VIP party with Agwa di Bolivia Herbal Coca Leaf Liqueur and Absente Absinthe and more of Bonoboville's favorite beverages to pour down your deep throat!
If you've never experienced Deep Throat, now's your chance! If you are old enough to have seen it in theaters, you'll appreciate the nostalgia, and you'll see things you may not have noticed before. For instance, there's a kinky scene involving Coca Cola and a rather hairy nether region (almost all the genitalia in Deep Throat—except Linda Lovelace herself who is shaved—is as hairy as a bonobo!). Seeing this scene again made me realize that Supreme Court Justice Clarence Thomas' famous obsession with "pubic hair on a Coke can" probably comes from watching Deep Throat.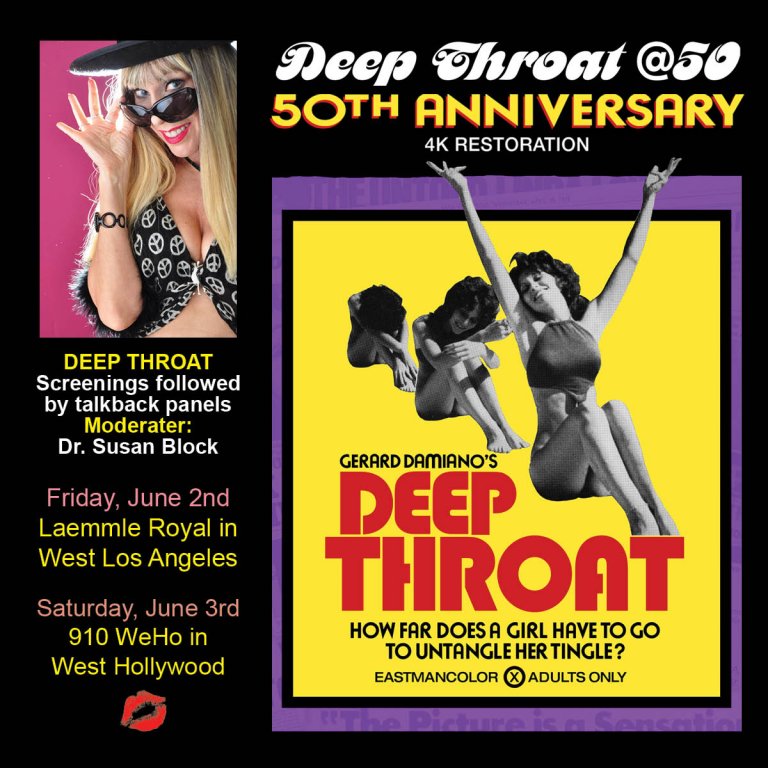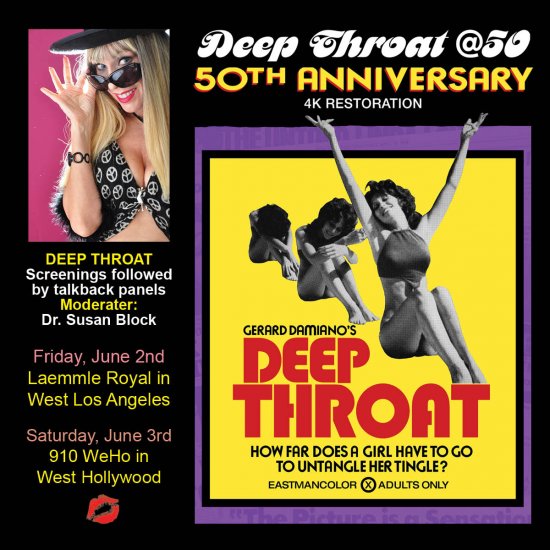 In other news… censorship is in the air—everywhere—and being shoved nonconsensually down our collective deep throats… especially censorship of sex-positive sex education (celebrity sex and even nudity is usually fine), but a pinch of leftist politics will make your sex-positive posts on social media more likely to be censored. Big Social Media consumes years of your work by canceling your posts and banning your accounts, and it may even be worse—in some ways—than back in the old Deep Throat days.
Check out my latest pro-bonobo manifesto "Kinsey Defunded, Perma Wars Mega-Funded, Books Banned, Social Media Censored & Our Humanities Up in Smoke." Read it on Counterpunch.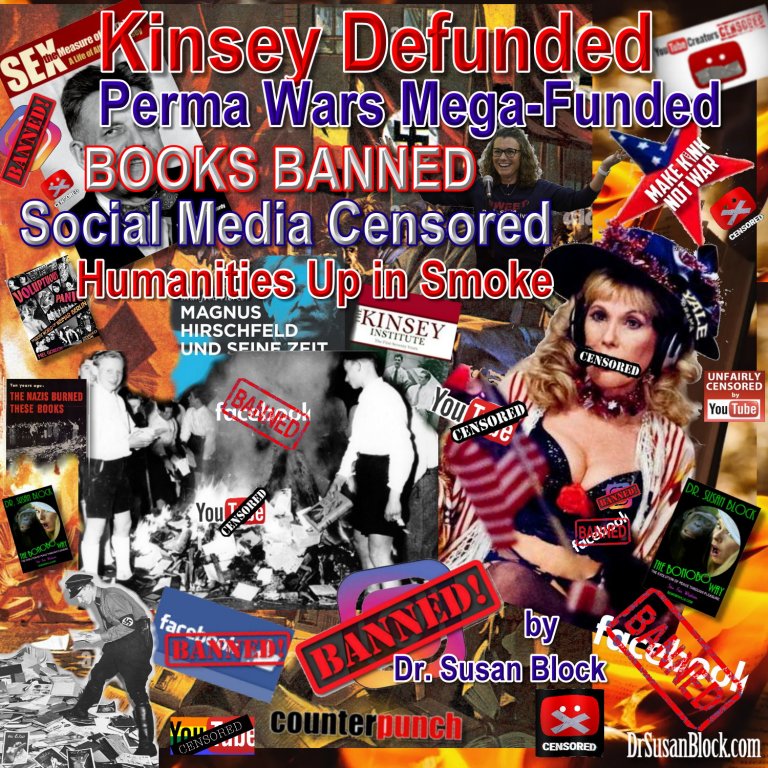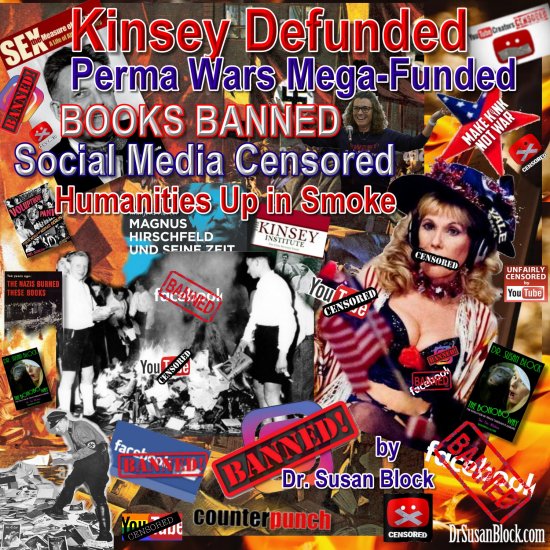 And yes, my accounts are still terminated on YouTube, Facebook and IG.
Sign our dear friend Rhiannon Aarons' eloquent petition to restore my Facebook and IG accounts. It's a long shot, but you never know—it just might work!
© May 27, 2023 Susan Block, Ph.D., a.k.a. "Dr. Suzy," is a world renowned LA sex therapist, author of The Bonobo Way: The Evolution of Peace through Pleasure and horny housewife, occasionally seen on HBO and other channels. For speaking engagements, call 626-461-5950.
---
Explore DrSusanBlock.com
Need to talk? Sext? Webcam? Do it here. Have you watched the show? No? Feel the sex. Don't miss the Forbidden Photographs—Hot Stuff, look at them closely here. Join our private social media Society. Join us live in studio 😊. Go shopping. Gift shop or The Market Place. DrSusanBlock.tv, real sex TV at your toe tips. Sex Clips Anyone? FASHION, we have fashion! We also have politics. Politics? Have you Read the book? No? How about the Speakeasy Journal? Click here. Ok, how about some free sex advice?
---
---