BIRTHDAY KiNK
Tales of Sex, Death, Love, War, Pleasure, Pain, Vice TV, DomCon, Yale & More!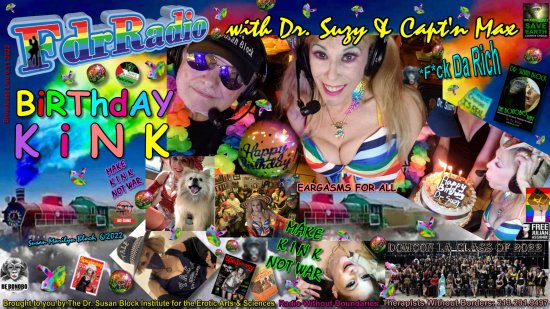 Ah birthdays… Everyone's got (at least) one, and mine lands with a blast on the weekend of my return to F.D.R. with this rollicking live broadcast.
Yes indeed, after over a month of amazing, erotic, exhausting, high-flying, kinky, orgasmic, real-life action, I'm back on the Love Train again, and it's been so long, it's a bit of a reunion for me with YOU, my darling viewers, listeners, readers, brothers and sisters, lovers and sinners…
Reunions Galore
It's Reunion Season, and we've been privileged to partake in several reunions over these past few whirlwind weeks.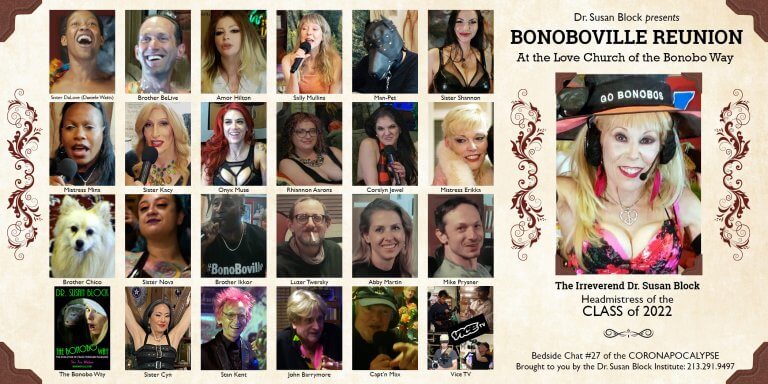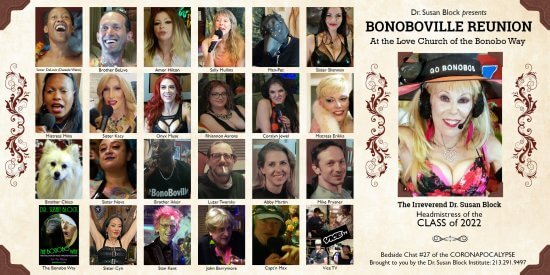 First out the gate of our Coronapocalyptic hibernation was our Bonoboville Reunion with Vice (coming soon to a Vice TV channel near you!) that was awesome, erotic, intimate, exciting and blessedly Covid-free, as guests were tested before joining us inside the Womb Room.
However, they weren't tested for colds, and—despite my divine attempts to "turn the other cheek"—one of those sweet snifflers managed to give me pneumonia.
A few days later, I was having a reunion with my doctors in the emergency pulmonary division of Kaiser-Permanente.
They pumped me full of antibiotics, albuterol, oxygen, steroids and vain admonitions to "take it easy," and then sent me off to my next reunion with the great FemDoms and kinksters of DomCon where I delivered "Make Kink Not War: Be Bonobo."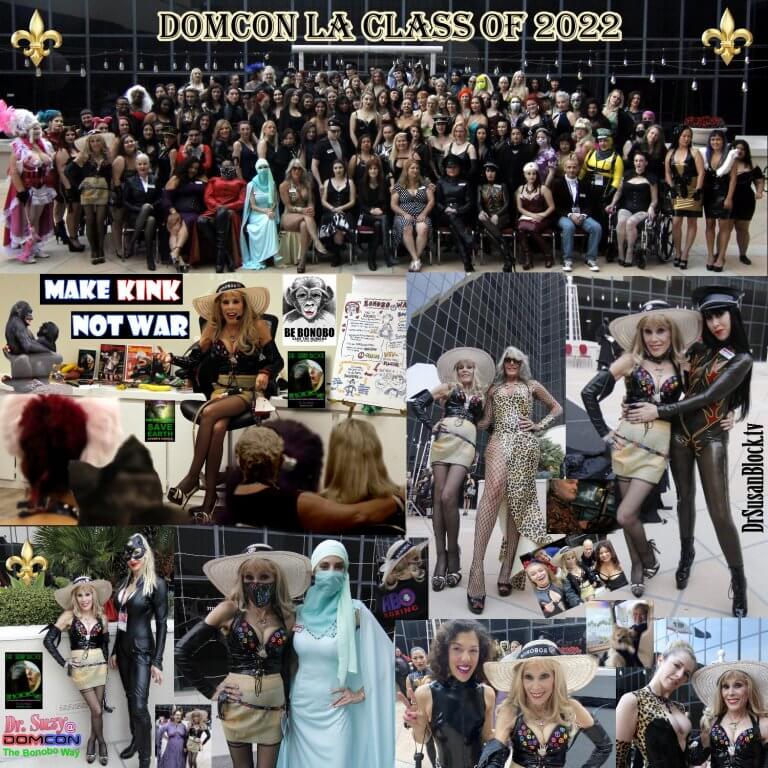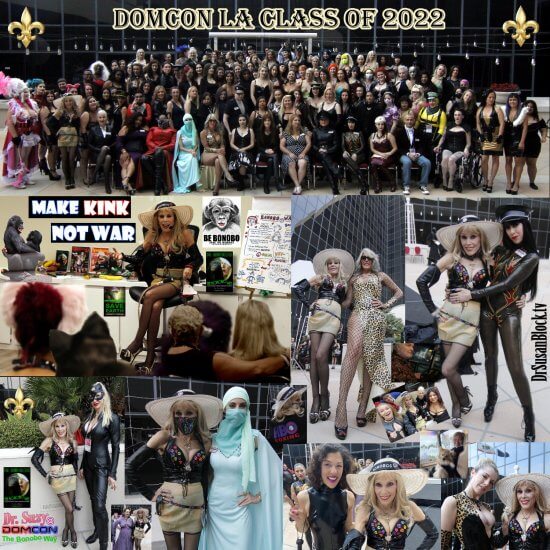 Speaking of birthday kink, DomCon Founder and Director Director Mistress Cyan gave me my first consenting adult birthday spanking back in 2004.
That particular birthday, a member of the Porn Klown Posse sat in my cake, giving me a taste of birthday cake splosh, another yummy type of birthday kink. Tune in above or below for a few tasty tales of DomCon 2022 (including Capt'n Max's story of our AAA mechanic having a tender reunion with our RV battery). Lots more coming soon!
Vice to Emergency to DomCon to Yale
The week following DomCon, we jetted like the geriatric jetsetters we are to New Haven for a more old-fashioned type of reunion—a traditional college reunion at a very traditional college—my alma mater, Mother Yale.
At Yale, I led a Roundtable discussion of Peace, Love, Bonobos and Sex Week at Yale. While staying in the dorms, Max and I pretended to be college sophomores enjoyed a few sophomoric, slightly cramped but very deep and rather nostalgic orgasms in our tiny little dormitory single bed.
Ah, the pleasures and pains of boarding school sex! Even seniors can enjoy it… and suffer from it—though those kind of pains are kind of nice.
The Reunion of Your Life
Speaking of rapidly aging sexpots, this birthday, like all birthdays, is the quintessential reunion of me—in the present moment—with the rest of that thing we call life… my life—past and future, hopes and fears, fantasies and reality.
There are no name tags or goodie bags for this reunion… just memories, dreams fulfilled (and not), and that bittersweet birthday awareness of time passing far beyond your control.
One of my more disturbing memories is pretty fresh actually, it being my actual birthdate 24 hours before where, due to my own fault entirely, I managed to conjure up one of my worst birthdays ever.
It was no fault of the restaurant, the historic Derby, founded exactly a century ago, towards the end of an earlier pandemic, in 1922, as the Proctor Tavern by the racetrack. Nowadays I'm way too concerned with nonhuman animal welfare to support horseracing, but I've always loved horses (and yes, as a kid, I was into horseracing more than other sports, mostly because it involved these beautiful beasts). So, I thought it would be fun to celebrate another birthday among equestrians in big hats (like me!) and horsey memorabilia.
Horseracing is animal abuse, but at least the Derby appreciates pets and put out the welcome mat for Chico the Pomeranian Pleasure Puppy (and service dog), as well as our friends Ana and Miguel, and of course, my darling husband of 30 years, my witness in the various courtroom dramas of my life, my beloved Capt'n Max. The five of us made a lovely little birthday celebration table.
Well, Chico was under the table.
The food was scrumptious, decadent lobster, divinely prepared (for a steakhouse) Brussel sprouts and other indulgent gourmet fare.
However, the drinks were the pinnacle—and probably also the nadir—of my birthday dinner. My first (you can already tell I had one too many), dubbed "The Iceman," is the Derby's signature drink, a very strong vodka martini with bleu cheese-stuffed olives (a nice touch) presented in an elegant and whimsical copper champagne glass, keeping that Iceman icy.
Next down the hatch was a Moscow Mule, which has become Max's and my drink of choice in the wake of Imperial Moscow's attack on Ukraine. It's our way of signaling that though we abhor Putin's war, we support innocent vodka-loving Russians, especially the incredibly brave Russian anti-war protestors who are locked up (with no vodka or probably any decent water) for 15 years for daring to speak out against this horrible war.
Even yummier than the Iceman, our twin Moscow Mules were also beautifully presented in copper cups engraved with "Tito" (not the old Yugoslavian strongman; there's apparently another Tito in Texas now hammering out these copper cups), with fancy handles. Anyway, too much of a good thing can be bad, and I probably drank too much of this very good Mule because the next thing I knew, it was kicking my ass like a donkey, and I was sitting all alone at the table in front of a big bowl of rapidly melting Baked Alaska.
Even Chico was gone.
It's a torrid tale of birthday blues, a little embarrassing but all too common (I'm sure you can relate!), and you can hear more about it on this show.
Birthday Orgies & Toxic Blowjobs
Though there's too much joy in the room—and at the Speakeasy bar—to wallow long amidst the ghosts of yesterday's birthday.
Life's too short… and another birthday sure reminds you of that.
We take a few calls, starting with Amor Hilton, one of the stars of our Bonoboville Reunion with Vice, and various friends and fans write in (too lazy to call, eh?) to convey their birthday love, appreciation for my rainbow high heels and custom-made "Doctor Susan" cowgirl hat.
I'm pretty rainbowed up, celebrating LGBTQ Pride, Gay Pride and my own pride in my long life, my great loves—especially my greatest love, Capt'n Max—my friends (human, bonobo, canine and reptile), my work as a sexologist and therapist, my Bonoboville community and my journey along this path I call The Bonobo Way.
I've celebrated many birthdays with orgies, big bacchanals and huge raise-the-roof parties. Even as a kid, my birthday parties were legendary carnivals of kiddie pleasures, thanks to my artist Mom. But I don't invite anybody to this one. After all, I'd just come back from four different reunions!
Nevertheless, Handsome Hollywood Jake and his beautiful girlfriend Rica show up for birthday cake and good vibes, and that's awesome. We haven't seen them since Bonoboville in Inglewood, and they look just like they did before, or maybe a little more handsome and beautiful than before.
Jake just returned from the Ukraine where he was volunteering to help the refugees and to "see it for himself… to make sure it was real." His verdict? It's real. Too real.
Once again, we are impressed by Jake's casual courage and bonoboësque care for helping those in need, when most of us just talk about it. Watch the show or read the transcript for more.
We also take a call from 21-year-old Daniel in San Francisco who complains that his 22-year-old comedienne girlfriend is too "toxic" and "mean" for his sensitive disposition, but whenever he tries to break up with her, she gives him a fantastic, almost hypnotic blowjob, and he can't bring himself to leave. Tune in above or below or check out the transcript for my advice to him.
We also talk about why being called a "pussy" should be a compliment, not an insult, and I open a lot of cool presents from clients and friends, including images of two of my guardian angels, Marilyn Monroe from Crysta and Bettie Page from Adriana.
And Max gets lei'ed the Rainbow Bonobo Way.

"BIRTHDAY KINK" PHOTO GALLERY


Derby Restaurant Photo Gallery

"BIRTHDAY KINK" TRANSCRIPT
MAX
Hop on the train. We're good we're on and we're here with some friends and OK, and we're celebrating my sweetheart's birthday. This has been my sweetheart and my partner and friend forever. And she really is shining light. She has a voice, and she is a voice.
Yeah, so tonight we're going to talk to Dr. Suzy. We're going to talk about various subjects… I believe from the trip maybe or I have no idea what we're going to talk about, but here she is, Dr. Suzy.
Dr. SUZY
Happy birthday to me.
GROUP
Applause.
Dr. SUZY
It's a Rainbow Birthday, brothers and sisters, lovers and sinners. Abe, my Unscene engineer, also has a birthday this month… Happy Birthday Abe!
UNSCENE ABE
Happy birthday, Dr. Suzy.
Dr. SUZY
We both have to contend with the constant rainbows.
MAX
Wait, wait a minute. Didn't he already have a birthday?
Dr. SUZY
Yes, but it's in June. Rainbows, baby, rainbows. All kinds of rainbows. Rainbow pride, which is sometimes translated as gay pride or LGBTQ pride.
And I feel it's also sexual pride, pride in sexual diversity and kink. Let's not forget kink. Let your kink flag fly! Along with your rainbow flag, and your rainbow flag is your kink flag. And it's my birthday flag. I can't help it. It's just when I was born.
And that's what we're dealing with on this F.D.R., Birthday Kink and all kinds of birthday pleasure and pain. You know, pain…
MAX
Ahem.
Dr. SUZY
Yes, Capt'n Max?
MAX
Yes?
Dr. SUZY
Yes, my husband, my partner, thank you so much for introducing me so beautifully and always being by my side these 30 years even when the long non-rainbow arm of the law separated us by oceans and continents.
MAX
That was fun too.
Dr. SUZY
Yes! We were still together. But I did have some painful birthdays when I was separated from you.
MAX
But we had some good stuff to eat.
Dr. SUZY
Good stuff to eat? When we were separated? Or do you mean last night?
MAX
When you came over, yeah.
Dr. SUZY
OK, when I did come over to visit you in France, which didn't usually fall on my birthday, and there's something about that day. I think everybody can relate to that.
MAX
Right.
Dr. SUZY
I used to hate birthdays. I mean, everybody has one, so it's like, who cares? What's unique about it?
And then I decided that's just what's cool about birthdays. Everybody has one. Not that I LIKE birthdays, but it's just, well, I have to deal with them, just like everybody else. I have to handle my birthday. I can't ignore it.
MAX
Yeah.
Dr. SUZY
So, when I realized that, I started throwing birthday bacchanals. Really, birthday orgies because there's nothing that can take your mind off growing older faster than an orgy. So that's really cool.
But to have a Birthday Orgy post-Covid, right now, well, I just can't. I barely want to get near anybody. I didn't invite anybody to this live show tonight because of COVID.
Now I did do an incredible live show a few weeks ago where Vice TV was here, but they did COVID testing right outside so I felt safe to hug and kiss and slobber all over everybody.
MAX
Yeah, yeah.
Dr. SUZY
But now I'm back to physical-distancing, and wearing sexy masks, though not as much as before.
Anyway, I didn't invite anyone tonight, but I do have some very handsome and beautiful gatecrashers, Handsome Hollywood Jake and the beautiful Rica, so I'm going to talk to them in a little while, but I'm very happy to see them.
MAX
You're gonna talk to him, right?
Dr. SUZY
You see, you take a risk when you come here like this. Although they didn't really crash, they did call. But they didn't get invited exactly. They invited themselves, which is a risk, because we could say no. We usually say no! But we said yeah, because yeah, little by little, we're opening up again. Don't get too excited out there, and don't come over here now! But actually, if you want to call us on the phone, you can do that. Our number is 626-461-5212 and you can chat with us about birthdays or kink or birthday kink.
Sorry I'm not in my birthday suit. I would like to be, in a way, but there are various reasons that I'm not- one of which is I could not be on all these platforms.
But I'm in my birthday suit under my rainbows, actually. We're all in our birthday suits under our rainbows, actually. Aren't you so?
MAX
Yeah.
Dr. SUZY
So, I haven't been here on FDR in over a month, right Capt'n Max?
MAX
Yeah, right.
Dr. SUZY
Did you miss me?
MAX
Did I miss you? I was with you.
Dr. SUZY
I mean, doing the show.
MAX
Yes, I missed you on the show. Yes, of course.
Dr. SUZY
I mean, you did a show yourself.
MAX
Yes that one time was traumatic for me.
Dr. SUZY
Haha, you've enjoyed it.
MAX
I couldn't, I couldn't sleep.
Dr. SUZY
You were in your element.
MAX
I could not sleep for weeks.
Dr. SUZY
But I'm back with my rainbows and my bonobos.
So, it's been about a month and a half of reunions, oddly enough. And the first one was with VICE. I mean not that we were having a reunion with VICE, but VICE kind of supported the reunion. It was a reunion with a bunch of amazing people, actually a Bonoboville reunion of rainbow people, podcasters and sex workers, therapists, political activists, newscasters, documentary filmmakers, porn stars, mistresses and submissives, lots of kinksters and, of course, rappers, and so it was amazing.
And VICE did the COVID testing, so we could really commune for Bonoboville Communion and just in general. So, it was kinky and super fun. I must say it was not as sloppy and orgiastic, although there were a few orgasms on the Motorbunny and elsewhere, a few spankings, lots of licking. But not as body fluid-rich- although we did have menstrual blood. Should I say whose menstrual blood?
MAX
Yeah, sure, turn it up a little bit.
Dr. SUZY
Daniele Watts gives me the gift of her menstrual blood is given to me, as a sacrifice of her womanhood. It was very beautiful. You'll have to see it.
And Chef BeLive has his part with the flowers. Very romantic, spiritual and erotic. Lots of sex and poetry and breathing in each other's essences on this show.
So, it's really kind of amazing that nobody got COVID right?
MAX
I didn't.
Dr. SUZY
Nobody did or believe me, we would hear about it.
MAX
Oh oh oh, you mean visitors, no.
Dr. SUZY
Nobody got it, and I was very happy for us, happy for our friends and guests. I felt happy in an emotional way and also in a professional way, because our protocols worked.
So, I didn't catch COVID. But I did catch pneumonia.
MAX
Right.
Dr. SUZY
Because they tested for COVID but not for the common cold. And there were a lot of people with drippy noses. I'm not going to name names right now. Maybe later in my blog. I haven't been able to blog about any of this because I've been so busy reunioning.
MAX
Put it in the new book.
Dr. SUZY
So, for Bonoboville Reunion there were some snifflers. And there was a lot of going to the restroom also, so it could have been one of those Republican cocaine parties…. In any case, there were drippy noses and I think some of them were due to colds, and I got one. Whereas other people who catch a cold just catch a cold, I caught pneumonia.
So, my next reunion was with the doctors in the Kaiser-Permanente Hospital, and they were happy to see me because, you know, they get paid.
No, I mean, they're nice, they're good, and they gave me some shots, once they found my vein, they always have trouble with that because I have rainbow veins darling, they're hard to spot. They're so multi color and hypnotic. You can tell I'm not a junkie when I enter the hospital, because they have so much trouble finding a vein. But it's the opposite when I leave the hospital because at that point, I look like a junkie because they are jabbing me everywhere. This time, they finally realized it's easier to find veins in my wrists than my arms, so when I left, I looked like a junkie who also slashed my wrists.
MAX
Got you that?
Dr. SUZY
Well, at least, I made it out of there and went onto my next reunion… with the Dommes of DomCon!
MAX
Right.
Dr. SUZY
It was good to go back, but I wouldn't say it was my best DomCon ever.
See, I like to really immerse myself in the DomCon experience. You know, different latex outfits every day for 4 days, dancing, eating together, doing a talk, roaming around the booths, going to the parades, talking to the Doms, packed together, doing kinky little scenes here and there—it's a total experience.
Well, this time I did a little of that, but basically it was an in and out kind of experience.
And you know how these in and out experiences are sexually and emotionally… they're OK, and sometimes they do the trick, And I did the trick in a way, but it was a little bit off, and I'll probably write about it in my journal at some point.
The talk had its own little technical issues, which are getting their spankings…. Though actually a great great group of people that came to the talk.
But in any case, it was a great reunion of Dommes and cons, and actually it's interesting because Mistress Cyan who founded and still runs DomCon with a rainbow fist, or I would say more of a snake tail whip, no fists. But yes to whips, beautiful, graceful, elegant, consenting adult rainbow whips. So, she's ruled DomCon pretty much as long as I've known her, which is since 2004 when she gave me my first consenting adult birthday spanking, speaking of Birthday Kink.
UNSCENE ABE
Woohoo!
Dr. SUZY
It was quite an eye opener. It was quite a birthday too. A very rainbow birthday, surrounded by clowns in the Porn Klown Posse who sploshed the cake! No Rainbow Showers though.
But yes to splosh for Birthday Kink. Speaking of which, this is kind of a rainbow edition of Sploshing Arts since it came out on my birthday a couple of years ago, featuring BeLive and Daniele Watts, aka DaLove, plus Gypsy Bonobo and a few other luminaries, including Ikkor the Wolf.
Yes, sploshing is a great form of Birthday Kink.
So, reunions, reunions? Yeah, they don't seem kinky when you hear the word "reunion." But that was a kinky reunion at DomCon.
Though like I said, it was just a quickie and made me feel a little bit like an outsider which felt weird, but actually turned out to be a good thing.
What I mean is: We didn't get COVID. None of us got it, and a lot of DomCon people did.
This was not DomCon's fault because they tried to get everybody tested and vaccinated, and I'm not going to go into their protocol, but they did have a strong one, though not as tight as our protocol with our VICE show, and that's partly because they had so many people going in and out and in and out, whereas with our Bonoboville Reunion with VICE TV, it was just in. You didn't go out…. until we were done with you, darling.
MAX
Right.
Dr. SUZY
Not that we kept you against your will, it was just so much fun, I don't think anybody left. Right?
MAX
No and Justin's been doing a lot of videos, a lot of interviews and stuff and ours is his favorite. Or was that Zach? One of the VICE guys.
Dr. SUZY
Yeah, Zach told me he's done a ton of different shoots since he was here, but ours is still his favorite.
MAX
Yeah.
Dr. SUZY
In fact, ours is the only one he remembers.
And he's a rainbow kind of guy, but really immersed in documentary film making. It's a kink, if you will, but not necessarily sexual. Although he does other sex-oriented documentaries, so there is some learning involved, and in my not-so-humble sex therapist's opinion, there is always sexual feeling involved in everything in every way, but in any case, Zach thought that ours was the most memorable… Maybe 'cause it's the sexiest.
What do you think?
MAX
It's homie.
Dr. SUZY
Yeah, the combination of homie and horny is it, I think.
MAX
It is stories well told.
Dr. SUZY
Real and sexual, because they do a lot of sex themes.
MAX
Really real. Really real not made up.
Dr. SUZY
Real Sex. We were on that documentary show that HBO did in our earliest days, although we were already doing our style, but Real Sex did influence us actually.
MAX
So yeah.
Dr. SUZY
Our HBO producers liked for us to have an in-studio audience, so we had more in studio audiences after doing "Real Sex" and "Radio Sex TV." Now that would be an interesting reunion.
Well before I leave our DomCon Kinkster Reunion, Capt'n Max, would you like to say a word about our RV mishap, maybe not the whole story?
MAX
Hey no, what story are you talking about?
Dr. SUZY
About our RV trouble right after our DomCon Reunion. Basically, we couldn't leave for hours.
MAX
OK, so, we just went to this Convention and we're all sitting for free in the Carl's Junior parking lot, dozens and dozens of cars. And our batteries went dead. We called the guy out from the Camping World, and he said, "OK, no problem, where's your batteries?"
I said, "Now you tell me where the batteries are."
He says, "You don't know where your batteries are?"
I said, "Do you know where they are? That's really the issue, right?"
So, he left because he didn't have any wrenches. He didn't have anything, and then I called the Automobile Club and I got some. Wonderful hot rodder kid.
Dr. SUZY
Right, he had a reunion with our RV engine right there, like he really knew that engine.
MAX
Oh yeah, no, no, that's the engine in the-
Dr. SUZY
He was at one with that engine. He had a feel for where the hell it was. Nobody could figure out where it was.
MAX
The guy from the Camping World.
Dr. SUZY
Right, that was a key.
MAX
Good fitness.
Dr. SUZY
Problem is just where the hell is this engine? Nobody knew, and yet we all knew it was in the floorboards under the steps, but we couldn't find it there. And so, we kept looking for it in other places. But we eventually went back to the steps, and that's where the engine is.
UNSCENE ABE
Not the engine, the batteries.
Dr. SUZY
Excuse me, not the engine, the battery.
MAX
Changes up front.
Dr. SUZY
I said engine when I meant batteries! I'm not even going to edit that because that is just so dumb.
MAX
No, no, that's great.
Dr. SUZY
Rainbow Dumb, you know, not even just a Dumb Blonde. I am Rainbow Dumb. Story of my Birthday. OK, forgive me.
MAX
Anyway, he was full of joy and passion. He said, "I'm a hot rodder."
Dr. SUZY
Right.
MAX
I love what I do. Yeah, and listen, I love that engine.
Dr. SUZY
And we love passion of all different sorts, whether it's sexual passion or professional passion for an engine or a battery.
The only type of passion that we have a problem with is ammosexuality, that kind of passion for gun porn. Don't worry, we don't want to take away your little hunting rifle. But these assault weapons are not hunting rifles unless you need to shoot, like, 30 pigeons in 15 seconds. That's not hunting baby, no. And we're not for that kind of passion, but we'll talk about that in a minute.
Back to my reunions. All of this is about our "Make Love Not War" and "Make Kink Not War: Be Bonobo" campaign, and that was the name of my talk at DomCon.
"Make Kink Not War: Be Bonobo."
Because love is great, but love is not always a pleasure. Love can be painful and by that, I don't mean consenting pain. But when kink is done properly and it's only when it's done properly that I consider it actual kink. Consenting kink is the only kind I call kink. Otherwise, it's violence, torture, criminality.
But if it's consenting, it's kinky. And kink is more predictably peaceful than love or a lot of things, actually. Sure, you can have accidents, but if you're doing it right. You're not killing anybody, and you're not really hurting anybody that doesn't want to be hurt, so Make Kink Not War.
Some people, they fight wars out of love. And I get it, but I don't recommend it, unless you're defending yourself or your loved ones. I am for self-defense. I'm not for like lying down and sacrificing yourself unless you're really doing a special kind of protest.
But save yourself and your family, of course. But otherwise, Be Bonobo.
MAX
Be Bonobo.
Dr. SUZY
So I'm going to talk to a caller in a moment named Daniel with a relationship issue in the Bay Area.
MAX
We will be right with you.
Dr. SUZY
Yes Daniel, I just have to say my next reunion was a more traditional reunion, my Yale reunion, my college reunion. That's the one that we all call a "reunion," and no, I did not wear rainbows. I wore a lot of navy blue and white, but I guess at Yale, I made navy blue and white look like rainbows with my artfully applied Yale accessories. So, I created some controversy, but some people were also asking me where I got my Yale accessories, so in a way it was cool. Next reunion, they'll all be dressed up like me.
Though my "Sex Week at Yale" hat, that's unique. You can't get that in the Yale Bookstore. Anyway, we'll get more into my Yale reunion later….
But my last reunion is my reunion with myself on the occasion of my birthday, which I'll get back to after I talk to Daniel. Hi Daniel!
DANIEL
Hi, happy birthday.
Dr. SUZY
Thank you, Daniel.
DANIEL
Yeah, of course. I love your outfit. I love the colors. Happy Pride.
Dr. SUZY
Thank you, thank you Daniel.
Speaking of Pride, Kristen Rock just wrote "happy birthday" and rainbows to Dr. Suzy and Abe, and he seems to like our birthday orgies. Teresa Baker says, "Happy Birthday," but back to Daniel, did you have a birthday question or a relationship issue or a sexual problem?
DANIEL
So, uh. I saw the opportunity to talk to you Dr. Block, and I've been going through some relationship issues with my girlfriend.
Dr. SUZY
How old are you?
DANIEL
I am 21. I'm about to turn 22. She's 22.
Dr. SUZY
She's an older woman.
DANIEL
Just a few months older.
Dr. SUZY
A few months, but you're only a few years old, really, you're only 21. But anyway, congratulations you have a relationship at 21. That shows something good.
DANIEL
Thank you.
Dr. SUZY
And now you have a relationship issue. So, what's that?
DANIEL
So, we've been together for about a year and a half, and the issue is we've always kind of been a bit toxic, unfortunately. I'd say I'm more, or she's more like mean. I'm more sensitive. I'm not really as mean as her, so we can't really match each other.
MAX
Oh, she's a meanie.
Dr. SUZY
MAX knows the type.
Dr. SUZY
A She-Meanie.
DANIEL
Yep, yep.
Dr. SUZY
Now this is not physical, is it? Or does she harm you physically?
MAX
It's hard, right?
DANIEL
No, no, it's not physical. I will never take it to like the police or anything.
Dr. SUZY
Well, I hope not, but I'm not talking about the police. What I mean is that if it is physical, I would certainly suggest you leave now, but if it's emotional kinds of abuse, well, that depends.
DANIEL
Oh yes.
Dr. SUZY
What does she say when she's mean? Is it abusive or is it kinky? We're talking about birthday kink and other kinds of kink tonight.
DANIEL
I definitely say it's a bit emotional abusive, but the issue lately is that it's gone so bad lately, but I'm never the one to break up. I've never broken up, she's always been through the breakup saying I want to break your balls when we get back together. But now I'm saying we should break up because it's gotten so bad, I feel so hurt.
Dr. SUZY
You sound hurt.
DANIEL
But then, but then she offers like a blowjob.
Dr. SUZY
Ah, that's the best solution to any problem, isn't it?
MAX
So, she gave you a blowjob?
DANIEL
Yeah, so it gets toxic and I'm like I'm so hurt from the relationship and then she gets deeper sexual with me and it's hard to deny her.
MAX
She doesn't bite your dick off or anything like that.
DANIEL
And then we get like super sexual, and it's like we don't have issues, but we do have issues.
MAX
That's hard to deny.
Dr. SUZY
Well, I understand that. You're 21, and it's good to have a regular sex partner. And it's really good that you care about your genitals.
MAX
Yeah, that's true. Calm you down.
Dr. SUZY
It's good to care about sex and make it a priority above other concerns.
And Lord and Lady knows and also the Trans Deity… but let's just say most of our deities and authorities tell us NOT to care about our genitals and they laugh at that, that you would stay for a blowjob.
And it is kind of funny, especially that word blowjob.
DANIEL
My thing is I love that kind of stuff. I can't deny it.
Dr. SUZY
No, you can't deny that you love it, and that it's important that you have it, that it's a priority. But then you have to look at the situation as a whole, and weigh the pros and cons. Don't let a good blowjob drag you back into a toxic relationship.
DANIEL
Yeah.
Dr. SUZY
The blowjob drugs you. So, you should, in a sober moment when you're not receiving a blowjob, make a checks and balances scorecard and-
MAX
If you liked it.
Dr. SUZY
Add things up and check to see if the blowjob is worth the poison that follows. Maybe it is.
Everybody in any love relationship has to accept a little bit of yucky stuff from their beloved. Everybody does. You say she's mean. But she gives this great blowjob. That's doesn't sound very mean… unless you're saying it's a manipulative blowjob, like "Let me lull you into bliss before I bite you."
DANIEL
No, the thing is she's cool, she's funny. She's a great person. I love her. It's just the blowjob…
Dr. SUZY
She's funny? What's she mean to you about? Is she funny about it?
DANIEL
She's a comedienne.
Dr. SUZY
So maybe she's funny.
MAX
She's a comedienne.
DANIEL
The other day it was getting so it was just like OK, we need to break up, you know, and then we started to be healthy about it, which is not really usual with us.
Dr. SUZY
Hmmm…. I'm going to try another hat with you.
MAX
Yes nothing, nothing major, just changing hats.
Dr. SUZY
This one has my name on it.
MAX
This one says "I love Dr. Susan Block"… is that the one?
Dr. SUZY
I think it was made for me by a fan or a friend of a fan who made it.
MAX
I made it.
Dr. SUZY
You didn't make this.
MAX
This one here that I'm wearing…
Dr. SUZY
Oh no, no, no, I'm talking about this hat, not your hat.
MAX
Oh, that one… That is great.
Dr. SUZY
Yes, thank you, it's fun. It is colorful.
MAX
It's a work of art.
DANIEL
Yeah, here we go with a whole new different vibe. I love it.
Dr. SUZY
It's my Cowgirl Vibe.
DANIEL
Oh sorry, Cowgirl.
MAX
What were you?
Dr. SUZY
Now I'm Cowgirl on Top, all right, so Daniel, your girlfriend's really funny?
DANIEL
Can I just say OK, cowgirl?
Dr. SUZY
Sure, but what does she criticize about you? How is she mean? What does she point out about you? Everybody wants to know.
DANIEL
She knows me very well.
Dr. SUZY
Is it sexual?
DANIEL
She can call me names that like, you know, hurt my soul. She can bring up things that definitely hurt my ego.
Dr. SUZY
What does she call you?
DANIEL
Oh, just like she's called me like, uh, "pussy." And before, like a "piece of shit." And she called me "psychopath" before.
Dr. SUZY
OK, now these are three very different things to be called. OK, so first of all, being called a "pussy" is not an insult.
MAX
Correct.
Dr. SUZY
I have one.
DANIEL
Yeah.
Dr. SUZY
A very nice one.
DANIEL
It's actually very equal.
Dr. SUZY
I know she means it in an insulting way, and in that respect, I'm not rooting for her.
DANIEL
As much as I love it, I think it's beautiful.
Dr. SUZY
And I just want you to see that calling a man or anyone a "pussy" should not be an insult. Let's say that's how it would be and how it is in my perfect world where I am the Cowgirl on Top.
DANIEL
Oh yeah.
Dr. SUZY
So, it's my birthday and my birthday wish is that "pussy" not be a dirty word, not be a bad thing for anybody.
MAX
Right, right.
Dr. SUZY
I mean, if you want to call somebody a coward or a dork, fine, but not a woman's genitalia.
DANIEL
I agree with you.
Dr. SUZY
I'm sorry Daniel, but now that this is happening. I am going to get Max lei'ed. I love you honey.
MAX
I love you too.
Dr. SUZY
Alright, and so you are witnessing a miracle. Actually, it's a ritual.
Take the hat off and give me your head.
MAX
Yeah, yeah.
Dr. SUZY
You got Lei'ed on F.D.R. !
MAX
You too can get lei'ed on The Dr. Susan Block Show.
DANIEL
Happy mate.
GROUP
Applause.
Dr. SUZY
All right, Daniel, back to your relationship issue.
MAX
For $4.95, we'll send you some leis.
Dr. SUZY
So Daniel, she calls you a "pussy" in a sexual way or just in general about life?
DANIEL
No, no, it's very foggy. Look, you know, I love her, and we go through our beefs. It's just, I think, the way she's mean is a little too brutal for me, being a very sensitive dude, I was raised by my mom and everything I've heard means this hurts too much.
Dr. SUZY
I agree.
DANIEL
It's just really hard.
MAX
Where you from, Danielle?
Dr. SUZY
That's Daniel, and he says he's from the Bay Area.
MAX
The Bay Area.
DANIEL
I am from the Bay Area.
Dr. SUZY
How could you Bay Area voters recall that nice progressive District Attorney? Chesa is his name….
DANIEL
Oh, I'm just wondering something pretty unique that she likes to bring up. She thinks people from the Bay Area which is a huge like metropolitan, a huge geography area in California, she says people from there are pretty much kind of stupid.
And this is a very PC person.
MAX
There's a little travel log for you.
Dr. SUZY
Bay Area people are stupid? What, as opposed to Texas or Alabama?
MAX
Somebody told me that the other day also, I've actually heard that over the years.
Dr. SUZY
I'm just wondering: where does she think people are smart?
DANIEL
I don't know, she's just being like that.
Dr. SUZY
You don't know?
MAX
Where the dumb ones are.
Dr. SUZY
Well my darling you are hypnotized by this blowjob.
DANIEL
Thank you so much.
Dr. SUZY
And while I don't blame you, I suggest you get away from the blowjobs for a moment and consider what you know and don't know about her.
MAX
Stop everything.
Dr. SUZY
Like maybe some of the things that I've been asking you.
Dr. SUZY
She does sound pretty mean, and not in a kinky way. If this was kinky and it was consenting, yeah, then of course, it would be OK. Let your kink flag fly.
MAX
In fact, I could before I go and hang out.
DANIEL
Dr. Block, I'm pretty serious. I don't know if I should ask. Like, uh, was Should I break up with her?
Dr. SUZY
Well, I think you need to do the checks and balances I talked to you about earlier, and then call me back.
MAX
Yeah and break up and join again and break up. That, you're gonna find that in life.
Dr. SUZY
And maybe get one more blowjob.
MAX
Right and get a couple of those.
DANIEL
OK.
Dr. SUZY
It never hurts to get a blowjob, but she certainly sounds like she's got some problems and a lot of her complaints about you are really based on her own insecurities.
MAX
She sounds very toxic.
Dr. SUZY
Yes, I heard an echo out here in the room of the Speakeasy that said it in a different way.
DANIEL
Coming out.
Dr. SUZY
It's a projection. That's what this could be. And since you're both very young, you know, one wonders, I mean, where's this meanness coming from? So, I imagine she's coming from someplace that is very insecure, and she is, you know, out there performing comedy and good for her, you know, I have great respect for young women that get out there on a stage and speak their mind. But hey, it's tough, it's stressful.
MAX
Me too.
Dr. SUZY
And she opens herself up to criticism. And so maybe she thinks you ought to be able to take it too. After all, she takes it.
Well, not necessarily from you 'cause she didn't choose somebody that would criticize her, but she figures a guy who's going to be a comedienne's boyfriend is going to have to put up with her incisive humor that can be very mean. Most humor is mean, and some people are so offended that they slap you-
DANIEL
Does that mean…?
Dr. SUZY
Which isn't right. But that's the power of humor. It can make you so upset.
So, if humor, like Chris Rock style, upsets you, get out of there before somebody starts slapping.
DANIEL
I'm sure you're right, Dr. Block. I appreciate all your advice. And I thank you. I'm gonna call back.
MAX
How old are you?
Dr. SUZY
He's 21.
MAX
21? OK, you're going to have a lifetime of this.
DANIEL
Right.
MAX
Yeah, and you're going to get better-
Dr. SUZY
Yeah, you might be attracted to mean women.
MAX
And better at it. Love will come to you. It might take three or four times.
Dr. SUZY
You're learning and you're smart to call in and learn about your toxic attraction to meanness in women, and maybe you can head the next one off at the pass.
Or maybe, who knows, this one, is it? And if it is, you will figure out how to handle it.
DANIEL
I think I will follow your advice.
Dr. SUZY
OK, you take care. Keep in touch.
DANIEL
I will.
Dr. SUZY
So…. "Happy Birthday" says Jux Lii and Don Pascal.
MAX
Hi Jux!
Dr. SUZY
Yes, both are old friends. We've been friends with Don since K Fox.
MAX
Wow, that's a long time ago.
Dr. SUZY
You used to come Into the KFOX studio with me. I don't know how long Don was listening, but I was on there a few years.
MAX
This is same guy.
Dr. SUZY
Yes, Don used to call himself Polybi.
MAX
Oh Polybi!
Dr. SUZY
Yes, Polybi.
MAX
There's only one Polybi.
Dr. SUZY
So he says, "I love you."
MAX
Aw…
Dr. SUZY
He says he's just trying to stay healthy enough to keep fighting that good fight. He knows which fight. And it's a bonobo fight. It doesn't fight with fists and guns. It fights with words and love.
MAX
That's the thing about Toms toothpaste.
Dr. SUZY
Tums?
MAX
Tums?
Dr. SUZY
Oh, I thought you said "Tums."
MAX
Oh, and Tums sometimes works when you get to fucked up, that's for sure.
Dr. SUZY
Haha, yeah, when you are fighting with words, you often get a stomachache, and then you need Tums.
MAX
There you go.
Dr. SUZY
Jack says, "I love you and Maximilian Lobkowicz and Team Bonobo."
Now here's Frank Blak. Is that someone related to me? He spells it completely differently. He says, "Happy birthday Doctor."
MAX
Interesting.
Dr. SUZY
Jux writes, "We get super short memories when BJ's are on the table."
Or under the table, Jux.
MAX
Right, yeah, exactly.
Dr. SUZY
I totally understand that.
But you have to be aware of that, and proceed, you know, maybe get one or two blowjobs, but even that's risky with a toxic lover, because as you release your semen, she releases these invisible hormones, pheromones that tie you to her, like what's happening with Daniel. And if she's toxic, whatever that means… If she's not good for you, I mean, toxic sounds like you're bad for everybody, and I don't think that's always true. Some people are bad combinations like this girl sounds like she could be great for somebody, maybe even him. Then again, maybe not him.
MAX
That the meanie.
Dr. SUZY
The meanie, yeah, the comedienne.
MAX
Yeah, sure. Oh OK, so some people like the meanies.
Dr. SUZY
Yeah, if they give good blowjobs. Hey, some people think I'm a meanie. Well, at least I give good blowjobs.
MAX
Yeah, you do.
Dr. SUZY
Can you give a testimonial?
MAX
You see that I have nothing, nothing to say about that at this time.
Dr. SUZY
You can't say that I give good blowjobs?
MAX
Oh yeah, I can say that Dr. Suzy gives good, really good blowjobs. She gives other things too and she's very sexual. I married her because of her reputation.
Dr. SUZY
Well thank you. Blowjobs are important. Though Daniel didn't seem like he was enjoying his.
MAX
Well, he's also only 21, you know, but already when you reach 21 you must have broken up going steady at least a couple of times right? Did they have going steady? Like you know where you wear your ring or when you wear her ring, no, when you wear his ring around your neck.
Dr. SUZY
Right, there you go. So, we're having a very casual rainbow celebration birthday and a reunion. I am reuniting with myself in a way. it's a reunion of me with my life, past, present and future. Isn't that what a birthday is?
MAX
Yeah.
Dr. SUZY
And we've had all these other reunions with our show guests, DomCon, Yale…
MAX
I love Yale.
Dr. SUZY
OK, so we did go to a Yale reunion and I'm going to write a whole blog about it. I'm writing blogs about all these reunions.
MAX
Great.
Dr. SUZY
But right now, we're doing a show, just reminiscing.
Oh, for God, for country… what's going on there?
Oh, so should we show this pennant? "For God, for Country and for Yale."
MAX
Great.
Dr. SUZY
You want to hold one end and I will hold the other end? Notice "For God" here. There's no Goddess involved, let alone all the other genders.
MAX
And pussy.
Dr. SUZY
Right? All kinds of pussy.
MAX
Shut up Max.
Dr. SUZY
Well, there was some pussies at Yale, although my class was mostly dicks. I was in one of the earlier classes, not the earliest, not the first class to accept girls – or women – but I was in like in the 3rd or the 4th Yale class to accept women, so we were in the minority, and it was definitely a man's class. Could you feel it?
MAX
Yeah, yeah, they're all running around in these shorts and the high socks.
Dr. SUZY
At least one in an Ascot.
MAX
Oh yeah, can I tell that story?
Dr. SUZY
The one with my name.
MAX
Yeah, don't go too far, no.
Dr. SUZY
OK. Sure.
MAX
Yeah, without naming names. Ok, just as a story. So, you go to this reunion. Oh hey, you go to this reunion, and you meet a guy who's wearing an Ascot and he's seen us a couple of times at other unions and I don't want to name the names, but he is exactly the total opposite of what most of us in this room stand for? Is that right?
Dr. SUZY
Yes, that's right.
MAX
And he sits down at our table.
Dr. SUZY
Right.
MAX
Right anyway, I invited him. He is the guy that has newspapers. He's not in the news, but this family has funded a lot of the Right Wing.
Dr. SUZY
Right, so David D. likes my high heels, so while you're telling the story, I'm going to put on my rainbow high heels.
So, these are my rainbow toes.
MAX
Nice.
Dr. SUZY
You can keep telling your story.
MAX
So, oh where was I?
Dr. SUZY
At Yale with my cousin.
MAX
Oh OK, so yeah. So, he sits down. He's got an Ascot on and then I'm sitting there with one of those round hats and the tri-colored shoes with all the pin holes in it. I don't know and the double-breasted suit. This guy's family owns media. A lot of media.
Dr. SUZY
We're not going to say what media.
MAX
We're not gonna say that no, no.
Dr. SUZY
Although when they say, "For God, for Country and for Yale," you know they're talking about a certain Republican God and a country where the rich rule the poor.
MAX
Yes, and they own a lot of media, and they support causes that I worked my ass off every day to defeat.
Dr. SUZY
But we were very friendly with each other.
MAX
We were very friendly.
Dr. SUZY
And it was a bonobo moment for all of us.
MAX
Right?
Dr. SUZY
You've shared your Italian recipes which he appreciated.
MAX
Yeah, yeah.
Dr. SUZY
You talked about Italy.
MAX
He makes his own lasagna and spaghetti.
Dr. SUZY
And you were basically doing something that we had seen Dr. Jane Goodall do.
MAX
Yeah.
Dr. SUZY
And I have been honored to be called "Jane Goodall After Dark" by journalist Tom Quinn.
MAX
Oh yeah, Tom. Hi Tom.
Dr. SUZY
A journalist who became a friend after he said that. Or maybe he said that while he was our friend, but it's a good line and so we keep using it and other people have compared me to her which is kind of ridiculous because she's so amazing.
MAX
And so are you.
Dr. SUZY
Not that I'm not amazing, but you know she is like a goddess primatologist, and one of the things she does that is a little controversial is that she will call upon these very conservative gas company executives to support her chimp sanctuaries in Africa, and it's very effective, even though, yeah, it kinda makes you feel like she's making a deal with the devil. But she gets her chimp sanctuary out of them.
MAX
You do the lesser of two evils.
Dr. SUZY
There's something there, and so we broke bread, so to speak, at Yale with someone who shares my last name, but with whom we very much disagree about all kinds of politics, and who we have already spoken about on this program around the time of the January 6 attempted insurrection, as well as my past reunion.
MAX
Correct and he remembered that. And it wasn't pleasant.
Dr. SUZY
Yes, his connection to the Insurrection isn't pleasant.
So now I'm starting to give away who he is which I really want to address at a later date, but that does bring me to one of our subjects, which is what's going on in the world since we've been at our Yale reunion as well as all the other reunions, including our reunion with air travel, and this month was our transportation mishap month between the battery under the steps in the RV that no one could find and the plane that got lost.
MAX
Oh, the plane.
Dr. SUZY
The Delta Delay Disaster.
MAX
Oh, that's it. That's a real flight mystery, actually.
Dr. SUZY
Right, what happened to the plane?
MAX
If you tell them.
Dr. SUZY
First, they couldn't find the plane. Then they couldn't find a pilot once they found a plane.
MAX
Right? And incoming from Los Angeles to New York, which was supposed to arrive at a certain hour, is that correct, right, right?
We're getting ready to board. And it's almost time to board, 10 something.
And suddenly, the flight is not cancelled but it, yeah, it won't arrive till 1:10 AM in the morning. Right?
Dr. SUZY
First it was postponed, then it was cancelled.
MAX
Push button tray.
Dr. SUZY
So, we think, "OK."
Anyway, I don't know if I want to tell the whole story.
MAX
No, no, but I just wonder where the pack…?
Dr. SUZY
We ended up spending the night in the airport.
MAX
Right?
Dr. SUZY
This is a lot of fun for a teenager. I've done it many times. But as an adult…
MAX
That was my first time.
Dr. SUZY
Yeah.
MAX
Well, I did it in prison. But that was… Yeah, right, so?
Dr. SUZY
Oh, you mean you slept on the floor in prison, yeah. But in the airport, you sort of sort of fell on the floor.
MAX
Yeah.
Dr. SUZY
Technologique says, "the lights are really cool guys."
And David D, who is our high heel lover says, "I'm not ashamed to say I'm pussywhipped."
Yes, right?
MAX
Well, I bet you're not, that's right.
Dr. SUZY
There you go.
MAX
Pussywhip me baby. Oh yeah, I'll tell you that I love you.
Dr. SUZY
Don't be ashamed of any of it. And you can write to us about it, whatever platform you are tuned into. This is FDR, which stands for Franklin Delano Roosevelt, our 32nd president, and also it stands for "Fuck Da Rich."
The middle finger is a DomCon gesture, although they kind of didn't do it this year.
MAX
That's "fuck you."
Dr. SUZY
So yeah, they did things a little differently this year. We'll get more into that later, but the title of our show FDR is the ongoing train. Fuck Da Rich. Because "Da Rich" are too rich, and that's a big, big cause of all of our problems, including our wars.
MAX
And pay.
Dr. SUZY
Including the war at home. We are armed to the teeth, and the rich are getting richer because you better believe the owners of those arms companies, whether they are arming Ukraine, NATO, Russia or your local ammosexual incel, they are making a lot of money.
Somebody is making a lot of money, whether it's a European and American or Russian oligarch, they're making money on this.
MAX
War, corruption.
Dr. SUZY
Corruption exactly, and the politicians.
MAX
Total, total corruption.
Dr. SUZY
That's where the corruption comes in.
MAX
We are going to have an investigation to see if this works.
Dr. SUZY
Because how could they have a war without all of this? So, they have to corrupt the politicians.
MAX
Yeah.
Dr. SUZY
Great obscene wealth is behind war in the world, and it is also behind our unique American war – and I hope we don't export it – which is our war on ourselves.
MAX
Yeah.
Dr. SUZY
Thanks to everybody getting an AR-15 when they're barely older than 15.
MAX
Yeah.
Dr. SUZY
Or actually, you could get it when you're 15 from your 18-year-old friend. A lot of 15-year-olds have 18- year-old friends. And these last two multi-murders that we've had since I was last on the air live, we've had numerous other murders, but these multi-murders, you know…
MAX
Yes, yeah, I mean, it's really not comprehensible. And there's all kinds of theories about it, but you know, I was thinking today, and I must admit I was a little stoned and drunk… That says we relaxed the clothing. The fashion Easter. We become sloppier.
Dr. SUZY
I beg your pardon, sloppier? What? I know I have frizzy hair because I haven't actually done my hair since I was in Philly, not Philly, which is the same weather, but New Haven.
MAX
I love your hair.
Dr. SUZY
New Haven is all about the frizz.
MAX
So, God, California was too. There were a lot of wonderful hippy girls with frizzy hair.
Dr. SUZY
I had very nice hair for half a day, but then it rained and forgot about it.
MAX
Yeah, they were nice. They smelled like oils. Yeah, everybody had oil.
Dr. SUZY
Somebody said I smelled good tonight. Not you though.
MAX
I beg your pardon.
Dr. SUZY
It was somebody else, I'm not going to say who.
MAX
You talking to my wife?
Dr. SUZY
So it's my birthday I'm not in a birthday suit. My actual birth date was yesterday, and it was entirely my fault, that it turned into one of my worst birthdays, to be frank… and we were at a place like Musso and Franks, a place called the Derby, and it wasn't their fault. It was all my fault.
I don't usually go to a restaurant on my birthday, so maybe that was part of the problem. And then there was the delicious martini that they called the Iceman, as well as the Moscow Mules that were in these really nice little cups.
MAX
Someone gifted us ones coming soon. Moscow mule mugs.
Dr. SUZY
Nice handle, right? And the martini glass, which was really a champagne glass was very nice copper and the whole place was good. Just not me. I wasn't good.
MAX
Amor Hilton is on the line.
Dr. SUZY
Okay, we'll talk to Amor in a minute… They did let Chico into the Derby, which was kind of fun.
MAX
And he forgot his license and stuff.
Dr. SUZY
Oh, his license.
MAX
Yeah, to be a guard dog or whatever he wants.
Dr. SUZY
He's a service animal. He serves us and we serve him.
MAX
He didn't have a suit on.
Dr. SUZY
We're actually his service animals.
MAX
Where's the dog suit? I forgot it.
Dr. SUZY
OK, so Amor Hilton, AKA Baby Block, is going to call me Mom now.
MAX
OK.
Dr. SUZY
This is not a genetic thing, so don't get too bent out of shape about it.
MAX
OK, OK.
Dr. SUZY
Hello, Amor.
AMOR HILTON
Hi Mom!
Dr. SUZY
See, I knew she'd call me "Mom."
AMOR HILTON
Oh my goodness! Happy Birthday Mommmmeeeee!
Dr. SUZY
Well, thank you darling.
AMOR HILTON
You there mom?
Dr. SUZY
I am here for you, darling, how are you doing?
AMOR HILTON
There you are. I just was so sorry I need a spanking I didn't get to call you yesterday.
Dr. SUZY
Oh OK, well that's OK sweetie. You also have a jacket here at the Bonoboville Speakeasy lounge.
MAX
Like that?
Dr. SUZY
No one has put it on to my knowledge.
MAX
Yeah, I saw some people smelling it, but…
Dr. SUZY
You're calling very late in the show, and I only have a few more minutes, so I'm kind of opening a few things while we talk.
And quick happy Friday! "Positive vibes for your birthday!" Happy positive vibes!
Is this a reference to Hitachi Magic Wands?
AMOR HILTON
I love you, Mom!
Dr. SUZY
Ok, this card says "Dr. SUZY, thanks for having a revolutionary"… No, it says
"for BEING a revolutionary," though I also HAVE a revolutionary, my husband…
AMOR HILTON
I love you!
Dr. SUZY
"I don't always show it, but being a part of Bonoboville has been one of the best things to happen to me."
AMOR HILTON
I love you, Mom!
MAX
How do you want your jacket? How should we ship?
AMOR HILTON
Love you.
MAX
Yes, goodbye, love you.
Dr. SUZY
Love you Amor!
Dr. SUZY
Hey our Bonoboville Reunion with Vice video is going to be up soon. It's great. And you're great in it, Amor! You looked great doing Bonoboville Communion in her Catholic schoolgirl outfit.
MAX
Yeah.
Dr. SUZY
She wore a little mini skirt. And she allowed us to use her beautiful boobs as an Altar for Bonoboville communion.
Dr. SUZY
I don't know if the writer of this card wanted it to be private, but you shouldn't expect that my cards are going to be private… so it is from Adriana, oh, I see! Thanks Adriana.
MAX
Who's that from? Oh, Adriana.
Dr. SUZY
That's beautiful, and thank you Adriana, and yeah, it's not private.
MAX
Thank you.
Dr. SUZY
I got it. So, I guess I'm sort of sorry, not sorry.
MAX
This this is from UPS. They sent this for your birthday.
Dr. SUZY
This is a card from a client, so I'm actually not going to show this card. But he sent me panties – oooh la la! – which they probably hope I will wear.
MAX
You wish reward, huh? You wish to reward.
Dr. SUZY
No, I don't.
And OK, so what is this?
Look at this gift, a pretty little figurine.
MAX
Oh, is that pretty yeah?
Dr. SUZY
This looks like something I could put on my little altar.
She's hot.
UNSCENE ABE
Yeah, yeah.
Dr. SUZY
She looks she looks a little submissive, see, Abe likes her.
UNSCENE ABE
What's it supposed to hold?
Dr. SUZY
See, Abe likes her. She's cute.
UNSCENE ABE
Makes my hand look bigger.
MAX
What is that?
Dr. SUZY
Oh, this one looks broken.
MAX
Oh no, that's the wings.
Dr. SUZY
She has wings.
MAX
Wings that they've come apart.
Dr. SUZY
I see, you stick her wings into her shoulders… And then she has wings as she flies.
UNSCENE ABE
It's optional.
Dr. SUZY
Now she can fly the friendly skies.
UNSCENE ABE
You want to put it together?
Dr. SUZY
OK, but no, I don't think you should stop engineering to put together the wings on my birthday gift figurine. I think we'll fix it.
MAX
Yeah no, no. This window will fix that.
Dr. SUZY
There's all kinds of other little odd gifts here.
MAX
Very nice.
Dr. SUZY
OK I'm not gonna say who it's from, but how about that big present now?
MAX
It's from UPS.
Dr. SUZY
It's from Crysta. Look at this. I like the wrapping.
MAX
Yeah, look at this. OK, watch out.
Dr. SUZY
Alright, so here I guess we need to do this together this.
MAX
Yeah, because yeah.
Dr. SUZY
This is Handsome Hollywood Jake who we haven't seen since Bonoboville in Inglewood. He's still handsome.
MAX
Still handsome
Dr. SUZY
And Rica.
MAX
Right.
Dr. SUZY
Rica is more beautiful than she was.
MAX
Oh no, no.
Dr. SUZY
OK, it is, big as a door. I feel like this is Door Number One in a game show.
MAX
OK.
Dr. SUZY
With pearls in the wrapping, yes, pearls for the 30th wedding anniversary which we get to kind of milk all year. Yes, regardless of our marital issues we get to milk our 30th wedding anniversary, even on birthdays. And oh wow, this is this Marilyn, oh wow, wow, let's have a look at Marilyn.
MAX
Yeah, I like that.
Dr. SUZY
Can you hold this up, Jake? This is beautiful. Very lush. Look at Marilyn… Wow.
MAX
Wow, look at that.
Dr. SUZY
Marilyn is my middle name, of course.
Thank you, Crysta.
MAX
Beautiful, Crysta.
Dr. SUZY
This is a particularly nice one, but you can never go wrong getting me any kind of Marilyn art because it is my middle name. My mother wouldn't allow it to be my first name because she thought my father – who wanted it to be my first name – was trying to raise me to be a sexpot of some sort (little did either of them know), but in any case, that's how I got to be "Susan Marilyn."
So, I always feel that Marilyn Monroe is my patron saint.
MAX
She really is.
Dr. SUZY
So this Marilyn is very nice.
MAX
Very nice.
Dr. SUZY
It's very vertical. Her beautiful hair is, of course, nicely highlighted and those red lips. Speaking of blowjobs, can't you imagine those lips giving you one?
MAX
I was just thinking about that.
Dr. SUZY
I knew you were thinking about that.
MAX
This is just like the old sexist days.
Dr. SUZY
Whether you're eggplant-size or straw-size, you're looking at those luscious lips.
MAX
Yeah, very beautiful. Thank you.
Dr. SUZY
You are thinking blowjobs when you see those lips
MAX
We should put her standing. It's somewhere that beautiful. OK.
Dr. SUZY
Wow, we're going to put her in a place of honor somewhere separate from the other Marilyns, which means I don't know there aren't that many places. Bonoboville is Marilynland.
MAX
So we'll see.
Dr. SUZY
David D. says I'm looking good. And Jux Lii loves those Greeks.
MAX
Ay la la la (glasses crashing).
Dr. SUZY
Speaking of Greek, I don't know if he meant a fraternity party where drunk frat boys are breaking glasses, which seems to be happening now here at the Speakeasy Bar. But yeah, we did talk about Sex Week at Yale, and that whole controversy, during my Yale roundtable.
Yes, I led a roundtable on "Peace, Love and Bonobos" for my Yale Communion, so to speak, at my Yale reunion.
MAX
Yeah.
Dr. SUZY
And I had several very smart people at my roundtable, so it's very nice that's it's a round table, much better than one of those long tables like crazy Russian imperialist Putin's table.
He could be pooping in the chair while the Secret Service is under the chair catching it… Putin's poop.
MAX
Oh no, Putin's poo…
Dr. SUZY
They've been talking about how his secret service agents snatch his poop, so just imagine a little bag under Putin's chair, and you wouldn't know because well, that's how far away he is on those long tables when he meets with a foreign dignitary.
UNSCENE ABE
I know nothing.
Dr. SUZY
So unlike Putin and his long table, I did this round table at Yale.
MAX
And now there's a round cake.
Dr. SUZY
Oh, let's have the cake. Forget Yale.
UNSCENE ABE
Where should it go?
Dr. SUZY
Chico is excited about the cake, and I don't blame him.
Dr. SUZY
I am also excited about the cake. I'm also excited about this rainbow card that I don't want to burn baby burn?
MAX
Here we go.
Dr. SUZY
And here we go.
MAX
Here we are.
Dr. SUZY
There's MAX. There's cleavage. It's very nice. There's not too many candles. I'm sorry it's hurting your arms but it's good for your muscles.
MAX
There we go.
UNSCENE ABE
All right, MAX show your cleavage.
Dr. SUZY
OK, so sing something like "My Country Tis of Thee."
GROUP (erratically singing)
Happy Birthday to YOUUUUUUUUU…. Dr. Suzy….
MAX
I just got a blowjob.
Dr. SUZY
Yeah, that cake just got a blowjob.
UNSCENE ABE
Blowjob, wait, wait?
Dr. SUZY
It did the job. Though I probably shouldn't have blown all over it.
MAX
It's going nuts.
Dr. SUZY
Although let me just say I did a COVID test very recently and I am COVID free.
I had to get tested for Yale. But I gotta get out of the habit of giving blowjobs to cakes. I should fan the flames out with a book or magazine.
CHICO
Arf! Arf!
Dr. SUZY
Oh, Chico is excited at the prospect of any kind of food, and we love all nonhuman animals.
MAX
He's coming, you know that?
Dr. SUZY
We believe in being Bonobo. But we love all animals.
MAX
Oh, let's eat some cakes.
Dr. SUZY
Let's eat some cake. I guess I have to actually cut the cake,
But yeah, there we are together on my birthday which is really nice that you're being so sort of sweet. And maybe it's 'cause we're on the air, I mean, and I did misbehave yesterday, but I was in the doghouse on my birthday. Seriously, it was quite an intense birthday experience. I feel like I should put the dunce cap on myself right now and cry, "It's my birthday and I'll ruin it if I want to!" Anyway, I ruined I it. But it's OK, I survived. We all survived. And it was actually a very nice restaurant. So, it was just me. I don't know if you've ever ruined your own birthday, but I've done it before, and there's always redemption, such as stretching it out into a birthday weekend, which is what I'm actually doing tonight.
MAX
That's right.
Dr. SUZY
All of this reunioning was really like one birthday after another.
MAX
Yeah.
Dr. SUZY
We did have hot birthday sex at Yale. Well, it wasn't really birthday sex, but it was hot.
MAX
Yeah.
Dr. SUZY
Hot tight dorm room single bed sex in a Yale dorm. It was pretty good, wasn't it?
MAX
No, no it was very good. It was very, very good. You have to be very, very careful when you're older.
Dr. SUZY
And you're in a single band.
MAX
'Cause as an older person you could easily fall out and slip onto the floor and hurt yourself.
Dr. SUZY
Which you actually did later.
MAX
I actually did that later-
Dr. SUZY
At the airport.
But at Yale, we managed to stay in that little single bed for very good sex that kind of reminded me of my Bright College Years, having sex in your tiny little dorm room bed.
MAX
Yeah, that's very nice.
Dr. SUZY
And big orgasms! I think we were very stressed by the whole trip, and we needed a release, so we had big orgasms. And it kind of kicked off June, my birthday month, so it was kind of like birthday sex. Lots of fireworks.
MAX
Yes.
Dr. SUZY
And then they delayed our flight, then canceled our flight, then you fell off the chair right onto the floor.
MAX
Onto the floor. I'm bruised my knee in my back hurts.
Dr. SUZY (laughing)
I shouldn't laugh.
MAX
Oh no, no, no, it's kind of a laughing matter because when you get to my age and then you fall out of a chair, it's kind of like you know, a joke.
Dr. SUZY
I shouldn't laugh. It was serious, but crazy.
MAX
I don't know anyway, so the problem was they didn't send me the wheelchair after they cancelled.
Dr. SUZY
Right, that was one of the problems.
MAX
Yeah, that was the big problem because I can't walk far.
Dr. SUZY
And all this business of telling us it's postponed and then it's cancelled and really no attention, no care for the passengers or anyone with special needs. I guess they're overwhelmed, but that isn't fair to the customer, shall we say? Delta should take responsibility. But anyway, we got here and we're grateful for that.
But we did spend the night in the JFK airport, which provides torture free of charge by not having any sitting space that doesn't have an armrest within two feet.
MAX
Right.
Dr. SUZY
You cannot lie down anywhere, in other words. No lying down!
MAX
Maybe midgets can lie down.
Dr. SUZY
Oh, no, I'm already pretty small, and I had no room to lie down.
MAX
Then just newborn babies. They could sleep there.
Dr. SUZY
Yeah, that's about it. Everybody else falls asleep in the chair, then slides off the chair onto the floor.
MAX
That's what I did.
Dr. SUZY
Lashonda on Facebook says happy birthday beautiful. Thank you so much.
So, somebody made this fantastic cowgirl hat for me. Look at the center, it's a beautiful pussy. Speaking of pussy, I love pussy. The word should never be used as an insult.
MAX
Who made that?
Dr. SUZY
Yeah, an artist who was a fan of the show made it years ago somewhere around the HBO show. They were from the Midwest, and it just seemed very rainbow and birthday.
MAX
It's a, it's a hand-painted straw hat. Cool beautiful.
Dr. SUZY
Yeah, and it has a lot of designs. It's got these eyes right underneath where my headset is.
MAX
Where is your other hat?
Dr. SUZY
I gave it to you.
MAX
You gave it to me.
Dr. SUZY
It's your fault.
MAX
My fault?
Dr. SUZY
No, it's my fault. It really is.
MAX
Thank you.
Dr. SUZY
It really is almost always my fault.
MAX
Let me see the other hat.
I like this hat too.
Dr. SUZY
Yeah, you could wear it.
MAX
I will wear this.
Dr. SUZY
So, are we gonna have some cake?
MAX
Let them make space for the cake.
Dr. SUZY
OK, they gave me the child-friendly knife.
I know I'm very childlike and sometimes such as on my birthday, being childlike is nice and helps me to enter the theater of the mind. But the childish part, yeah, that gets me in trouble. So, I gotta watch for that.
OK, here we go and oh, that feels so good. Oh yeah, oh I, you know I must admit I like how penetration feels sometimes.
OK, I'm not gonna I'm going to resist the urge to lick this penetrating knife like…
MAX
No, no please don't.
Dr. SUZY
I won't, but you know I want to. I'm going to pretend to lick the knife. Yum!
MAX
You want it.
Dr. SUZY
What am I? Max is a little bit jealous of the knife.
MAX
It looks like you're giving it a blowjob.
Dr. SUZY
Tonight's subtheme is blowjobs…
OK, so now I have a small fork and we'll see how good I was at cutting this cake in mid-air with just Jake holding it.
MAX
Pretty good.
UNSCENE ABE
That's pretty good.
Dr. SUZY
Bravo Birthday me! Look at this cake cutting expertise.
That piece of cake takes the cake, actually cut quite perfectly here.
OK, see, this is the perfect birthday. Yesterday was kind of awful, but that was all my fault. As the Birthday Girl, I am responsible for my own birthday, right?
UNSCENE ABE
Right though.
MAX
OK.
Dr. SUZY
So anyway, now it's transformed into fun. I guess this is one of the reasons that I do a show – to take my mind off things like what to do on my birthday. A restaurant just doesn't compare to a show.
MAX
Here's another piece.
Dr. SUZY
All right, sing for your cake. So, Speaking of singing for your cake, are you going to get on the mic Jake and say hello with Rica?
JAKE
Hello, you guys hear me?
Dr. SUZY
OK Jake, you held that cake beautifully.
JAKE
Look like it was nobody's business say.
Dr. SUZY
Like a pro. And you are a pro. And wow Jake, we have missed you. You have been away, as has everyone really from the Bonoboville Speakeasy. And how have you been?
JAKE
I've been all right, I've been just here in LA.
Dr. SUZY
Can we shoot you? Oh, I shouldn't say that in this world.
MAX
Yeah, I don't know.
Dr. SUZY
No, I mean it. The camera in fact part of an anti-gun stance. I often say: shoot cameras, not guns.
UNSCENE ABE
Like no, don't shoot me.
MAX
Anybody know if there's a fork?
Dr. SUZY
OK, so Handsome Hollywood Jake, where is your beautiful girlfriend?
MAX
He hasn't changed.
JAKE
She's around here somewhere.
Dr. SUZY
Yes, she's back.
RICA
Hello, hi.
MAX
Hey, wait, both of you guys have not changed much over the years, you have aged very well.
Dr. SUZY
JAKE hasn't changed a bit and Rica looks even more beautiful. She's improved. It was hard to improve on perfection, but I think she has.
So, what have you guys been-
MAX
If anybody needs more cake, let me know, OK?
Dr. SUZY
What have you been up to?
JAKE
What have we been up to, Rica?
RICA
No good.
Well, well, you went to Ukraine.
JAKE
Right, oh yeah, I just came back from Ukraine.
Dr. SUZY
Ukraine, wow.
JAKE
Yeah, I went over to the border to volunteer for a little bit.
MAX
In Poland or…?
JAKE
Out between Poland and Ukraine, yeah, but I was over on the Ukrainian side.
Dr. SUZY
You were inside Ukraine, wow, and what were you doing, Rica, while Jake was in Ukraine?
RICA
All I could do was just stay at home and I guess and hope for the best.
Dr. SUZY
You didn't send him sexy videos, Rica?
RICA
That's for him.
Dr. SUZY
I see, okay.
JAKE
She sent me pictures of our cats.
Dr. SUZY
Well, we love pussy.
Back to you in you on the border of Ukraine, is that right?
JAKE
Yeah, but no, I was literally in Ukraine.
Dr. SUZY
Wow, that's dangerous.
JAKE
I would think all the way to Lviv. That's as far as I went in the veves.
Dr. SUZY
That's pretty deep in Ukraine, yeah.
JAKE
Yeah.
Dr. SUZY
What were you doing?
MAX
Now, did you go there as a as a military person or?
JAKE
No, I promised Rica that I wouldn't join up with the Legion they had going on there for the volunteers.
Dr. SUZY
Well, I'm glad that Rica made you promise that, because I would have made you promise too, as your Bonoboville Mom.
JAKE
Thanks Mom.
Dr. SUZY
Not everyone calls me that. Amor does. It's cool I'm just very glad that you didn't fight. I understand people desire to fight in this war, but I'm glad you did humanitarian work.
JAKE
Thanks.
Dr. SUZY
So, what did you do?
JAKE
I showed up there. I was willing to pretty much do whatever they needed… If they need me to move supplies, if they wanted me to help people move their luggage across the board or anything. I mean, I was up for anything for the most part, I would say exactly what I outlined. I was moving supplies from the Polish side to the Ukrainian side, and when I get to the Ukrainian side, I would pretty much help anyone with bags or anyone that kind of needed a I guess I care for, like elderly. Like grandparents and things like that, wheelchairs… and yeah.
Dr. SUZY
And you volunteered to do this, that's awesome.
JAKE
No, that's just me. There was a lot of Americans, surprisingly yeah.
Dr. SUZY
Well, I know, but you are the one that is here at my bar on my birthday so you're the one I appreciate for this.
JAKE
Yeah, definitely.
Dr. SUZY
Well, I imagine you had a good reason you wanted to go.
JAKE
I mean, I saw what you guys were seeing on the news and I just- I was getting kind of… I just bottled up. I wanted to go out there and see for myself. There was a lot of people saying that maybe it was fake, and I just thought to myself, like "There's no way there's no way to know and so…"
Dr. SUZY
Oh no, but that you actually went over there to help is really commendable. I'm of course very anti-war, yeah but this war was started by Putin. I mean, you can't say that all the blame can be put on any one person. There is lots of blame to go around, but Putin is the one that invaded just like Bush invaded Iraq.
JAKE
I agree.
Dr. SUZY
In fact, what did Bush say recently?
JAKE
Oh yeah, he had a slip up though.
Dr. SUZY
This was my favorite Freudian slip maybe ever. He said a dictator perpetrated a brutal and illegal invasion of Iraq—I mean, Ukraine.
JAKE
Right? That was pretty funny.
Dr. SUZY
But yeah, you guys are doing your part, and you look great. How long have you been together now?
JAKE
Six years.
Dr. SUZY
So, it's really great that you did such a humanitarian thing.
MAX
And the courage to do it.
Dr. SUZY
Most people do things in our capitalist society for some moneymaking reason. So, was there a capitalist reason at all that we're not aware of behind your volunteering?
JAKE
No, frankly it came out of my pocket, and I honestly wanted to see for myself what I could do when I got there. I mean, I didn't volunteer with any groups prior to going there, I just flew out there and I wouldn't recommend doing that. If you do, do it. It's you. You can definitely get hooked up with a group there. As of now, I think things have kind of died down, but I mean there's still volunteers there providing help on both sides, the Poland side and the Ukrainian side.
Dr. SUZY
They sure need help.
JAKE
It was really nice seeing how cohesive everything was with the volunteers. You know, not everybody could speak Ukrainian or Polish, but the people there were happy to help you out, show you where to go and get you hooked up. Sorry, get you hooked up with whatever you needed in order to kind of, you know, help. They had a place for you.
Dr. SUZY
Well, that's fantastic, you helped people, you didn't get yourself killed, and I'm so glad that your relationship survived.
RICA
Haha, yeah.
Dr. SUZY
But neither of you is like "mean" and calls each other names.
RICA
Oh, he can be mean, he calls me an old Asian lady.
JAKE
I didn't say that. She's just trying to win brownie points.
Dr. SUZY
He's just an old Ukrainian man anyway.
MAX
I have to go somewhere.
Dr. SUZY
You have to go somewhere.
Dr. SUZY
That cake did it, huh?
MAX
I think the beer did it.
Dr. SUZY
Oh OK, well we have to wind up the show anyway.
MAX
OK, let's do that.
Dr. SUZY
OK, this has been a show about reunions, and my return to FDR on my birthday, which is my reunion with me, the good and the bad, the pleasure and the pain and all about my journey.
As Max says, "the goal is the journey," and I just hope I can stay on this journey with Max for a long time.
MAX
Oh yeah, yeah, we gotta keep on the journey.
Dr. SUZY
OK, you heard it here.
MAX
Otherwise, you end up in the Gurney.
JAKE
Sing it, brother.
Dr. SUZY
I don't know. Sometimes I feel so insecure and that is always an anxiety, and it comes out on birthdays especially.
JAKE
That's being human.
MAX
But just think about this for a sec about anxiety.
Dr. SUZY
OK, what should we think?
MAX
We're on a rock.
JAKE
How big the rock?
MAX
OK, it's a huge rock hard and it's flying through space. Oh, that rock is 73,000 miles an hour. And not much keeps us here. It's a big mystery…. What are you doing?
Dr. SUZY
I'm making you look more like you're the planet Saturn with rings.
JAKE
It's imagery, Max, work with it.
Dr. SUZY
Right.
MAX
Right?
Dr. SUZY
You're out there in outer space.
JAKE
Back to the Flying Rock, Carl Sagan.
MAX
So off we are in this land rock which we never know where this fucking thing's going and we're going. What are we doing here? The greatest minds can't figure it out. What's going on here?
Dr. SUZY
Right, and what keeps us going… but hope, which is a wonderful thing, but also the last evil that Pandora left in the box to torment us… with hope… with empty promises.
MAX
Yeah.
Dr. SUZY
Like a politician who says he's gonna vote for gun control, or for peace, or against the anti-abortion fanatics, but then he doesn't, and isn't it funny how they keep doing that, these politicians?
You almost can't blame the arms manufacturers and the people that are pushing for their cause. I haven't a bigger problem with the politicians that see that the majority of us want peace, want sanity, want to be able to have abortions if we need them.
We are the rainbow people of America. We don't want to kill or be killed in our supermarkets and schools while police wait outside until it's safe as we die, as teenagers shoot their guns, looking at ammosexual gun porn. I don't even fault the creators of gun porn like Daniel Defense that actually markets to teenagers and younger. It's like comic book stuff.
I blame our politician that allow teenagers to get semi-automatic weapons right after their 18th birthday so they can shoot it up, Bang Bang their families and neighbors.
The politicians are at fault. And we are at fault for keeping them in office. Although it's getting harder and harder to make your vote count. And that you could blame on our Supreme Court and their history.
Speaking of which, a Democrat finally brought a gun to a Supreme Court Justice's house. It was Kavanaugh's, which makes total sense, though I don't recommend bringing guns to anybody house. And this guy was such a liberal and a snowflake in the best sense of the word that even though Kavanaugh, oh my God, he kind of deserves it, but nobody deserves it, nobody should be assassinated, nobody should be murdered, not even Lying Crying Brett Kavanaugh. And this guy realized that, and he called the police and he turned himself in and he didn't do anything to Kavanaugh or anyone else.
But that is so rare. Or maybe it's not. Maybe we don't even know how many times people stop themselves from doing the wrong thing. But there are so any cases now, more and more where they just do the wrong thing, out of anger and for the sexual thrill, the ammosexual thrill.
They do it for the fame too. They see these celebrities and they think, how can I be a celebrity?
MAX
To a few people, yeah. More than 4.
Dr. SUZY
Then you get known, you get looked at.
JAKE
Right?
Dr. SUZY
When you're looking at all this social media and you can't get two likes and you think, hey.
MAX
Little punk.
Dr. SUZY
I'm gonna do something terrible and get known. Social media does play its part, but we can't stop social media. We shouldn't stop social media because we use it for a lot of other things, but we don't use semi-automatic weapons for a lot of other things, and I'm not against people having their guns in hunting, but most people aren't hunting.
JAKE
Be nice.
Dr. SUZY
Now they say it's for defense.
JAKE
Right.
Dr. SUZY
Defense, usually you shoot yourself in the foot, or your kid.
MAX
But you can search in the back anyway.
Dr. SUZY
So much for guns.
Make kink, not war. Be Bonobo and we'll be back soon.
We love you. We are happy to be reunioning with you and with Jake and Rika now and with everyone here for my beautiful birthday and. Look at all the cake.
JAKE
Happy birthday.
Dr. SUZY
OK so Max is doing a good job on this cake.
MAX
I'm on to this cake.
JAKE
What flavor is it?
MAX
I have no idea. It's creamy and good and chocolatey.
Dr. SUZY
So, make like bonobos, not baboons, Make Love, not war. Make Kink Not War, whether it's your birthday, or it's just the birth of a new day.
JAKE
Awomen.
Dr. SUZY
Amen and Awomen and A-everybody else, because we don't want to leave anybody out because those left out people, they're the ones you got to watch out for. We want to feel safe in our supermarkets, our schools and our massage parlors. That massage parlor mass murderer bothered me a lot.
JAKE
It's gross.
Dr. SUZY
Yeah, anyway you always feel it when it kind of hits you somehow and it always kind of hits you somehow whether it's a church or a synagogue or a massage parlor… don't shoot!
Just stay home and shoot the gun between your legs, brothers and sisters.
Let's channel our sex drive into sex. Give me that as a birthday present, please.
Oh, and I just got a great card with something extra from Dragonsteel. Thank you Dragonsteel for supporting the bonobos.
MAX
And the cake we're eating.
Dr. SUZY
And the sugar shock Max will be going into any moment now.
MAX
It's helping my breathing.
Dr. SUZY
Thank you all for your cards and your presents, and your presence in my life, past, present and future.
Make Love not war. Make Love to someone you love tonight, even if that someone is YOU. I love you.
MAX
Good girl.
JAKE
Happy birthday.
MAX
Does somebody want to bring this cake?
Dr. SUZY
Okay, you got lei'ed!
Dr. SUZY
OK, you gonna give me a kiss for my birthday?
MAX
Come to me, dear. I've wanted to kiss you for a long time.
JAKE
Show us how it's done next.
MAX
Here's how you do this fellow…
Dr. SUZY
Fellow Kissers!
JAKE
Fellow kids?
Dr. SUZY
No, this is not for kids. This is adult kissing right now. Consenting adults only. Mmmm…
MAX
Mmmmmwa!
JAKE
Oh, so that's how it's done.
MAX
This is how it's done.
JAKE
Taking notes.
© June 11, 2022 Susan Block, Ph.D., a.k.a. "Dr. Suzy," is a world renowned LA sex therapist, author of The Bonobo Way: The Evolution of Peace through Pleasure and horny housewife, occasionally seen on HBO and other channels. For speaking engagements, call 213-291-9497.
Show Length 01:49:58 Date: June 11, 2022
---
Explore DrSusanBlock.com
Need to talk? Sext? Webcam? Do it here. Have you watched the show? No? Feel the sex. Don't miss the Forbidden Photographs—Hot Stuff, look at them closely here. Join our private social media Society. Join us live in studio 😊. Go shopping. Gift shop or The Market Place. DrSusanBlock.tv, real sex TV at your toe tips. Sex Clips Anyone? FASHION, we have fashion! We also have politics. Politics? Have you Read the book? No? How about the Speakeasy Journal? Click here. Ok, how about some free sex advice?
---
---