It's Dr. Suzy & Pr. Max's 21st Wedding Anniversary this Saturday!
This Saturday, April 13th on
The Dr. Susan Block Show
DR. SUZY & PR. MAX's 21st WEDDING ANNIVERSARY!
♥
"Finally, our marriage is old enough to drink in California," says Dr. Block.
This Saturday, April 13th 2013, The Dr. Susan Block Show will commemorate the 21th wedding anniversary of our host, international sexologist Dr. Susan Block, and her charming Prince, Captain Max (aka Prince Maximillian Rudolph Leblovic di Lobkowicz di Filangieri), including the true romance of how they met and fell in love, and somehow stayed in love and in lust despite (or because of) countless people, police and forces of nature seemingly hell-bent on tearing them apart, lo these 21 years. The celebration will be attended by a bevy of celebrities, socialites, artists, art patrons, comedians, authors, doctors, lawyers, poets, pundits, philosophers and porn stars, including Amor Hilton, Chris Gore, Hyapatia Lee, Sinn Sage, Malaika Millions, Vicky Vixen, Natassia Dreams, Daryl Wright,Ana Foxx, Isiah King James, Sienna Sinclaire, Charity Bangs, Jessi Palmer, Pressley Carter, Barry Fisher, Kiki Daire, Selma Sinns, Flash Brown, Dr. Hernando Chaves, Jesse Flores, Keni Styles, Cece LaRue, Murrugan the Mystic, Master D, Ms. Zhang and Fawnia the Naughty Realtor.

Dr. Suzy & Pr. Max's 21st Wedding Anniversary will air live April 13th, 2013, 10:30pm-Midnight PST on The Dr. Susan Block Show.
Listen FREE on RadioSUZY1 or Watch the LIVE BROADCAST on DrSuzy.TV Call-In Free: 1-866-289-7068 Read Our Rave REVIEWS!

NEW: Listen Free on Your Mobile Phone: http://m.drsuzy.tv
To join our exclusive live in-studio audience and the after-party at Dr. Suzy's Speakeasy in the Soul of Downtown LA, aka BonoboVille, click here or call 213.670.0066
This special edition of The Dr. Susan Block Show will feature Dr. Suzy's Bonoboville Jello Shots by Lisa Marie , among the many fine libations and gourmet hors d'oeuvres featured at the always-popular Speakeasy Open Bar and Aphrodisiac Buffet. Sex toys provided by Sybian, CalExotics, ScreamingO, Divine Interventions, Stockroom, JuxLeather, Pipedream Products and Condomania condoms. Proceeds from donations go to help save the highly endangered "make love not war" bonobos from extinction in the Congo and to promote the Bonobo Way of Peace through Pleasure around the world.
Coming Up Soon on DrSuzy.tv... (click here to RSVP or call 213-670-0066)
4/20/13 – 420 Celebration + "Prostate Pleasure & Health" Author Dr. Charlie Glickman
5/04/13 – "Sex & God: How Religion Distorts Sexuality" Author Dr. Darryl Ray
Now Playing on

DrSuzy.tv

:
From the Myth of Sex Addiction to a Sex Addicts Orgy
Are you a sex addict?  Has anyone ever called you one? What is sex addiction?  Is it a real psychological illness or a myth concocted by professional addictionologists, inflated by the sensation-hungry media and perpetrated celebrity "sex addicts" like David Duchovny and Tiger Woods seeking redemption? This show's scintillating discussion on these subjects with Dr. David Ley, author of the The Myth of Sex Addiction, is followed by a Sex Addict Orgy of porn stars on my bed! Watch it now on

DrSuzy.tv

. Photo: AJ

This Primavera....Give the Gift of Pleasure to Someone You Love, Even If That Someone is You!

"Dr Susan Block's 10 Commandments of Pleasure are the best to come around in the past 2000 years. Bravo!"
Nina Hartley, adult film star & sex educator

"Thank you, Dr Suzy, for showing me that sex education can be sexy."
Sheila Nevins, Executive VP, HBO

"Any man who follows Dr. Suzy's 10 Commandments of Pleasure will have women eating out of his hand. Any woman will have men groveling at her feet."
Dr. Tracy Cabot, Best-Selling Author
| | | |
| --- | --- | --- |
| Recent Bloggamies, Shows, Free Pix Pages | | |
Make Like Bonobos,

Not Baboons! Make Love, Not War.Make Love to Someone You Love Tonight, Even If That Someone Is You.


I LOVE YOU
Peace on Earth ♥ Pleasure for All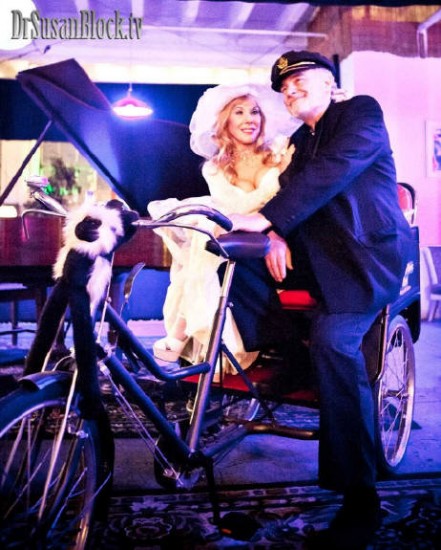 Dr. Suzy & Pr. Max's 20th Rickshaw Ride
Around the World.  Photo: JuxLii
AMEN ♥ AWOMEN
x S

DrSuzy