Bonobo Way at DomCon LA THIS Saturday! Anal Sex in Cosmo! Post-Trump Sex Disorder(s) in Counterpunch! And More Masturbation Month!
Join us at DomCom LA 2019 to witness Dr. Susan Block deliver "The Bonobo Way: FemDoms of the Wild" and have a fabulous, kinky weekend at this erotic 

playground for mistresses, doms, subbies and kinksters wielding whips, ballgags and nipple clamps! Show up and b

e a part of Bonobo Way/DomCon LA history!!!

Can't make it to the dungeon (AKA the Hilton LAX Hotel)? Catch Dr. Suzy's talk this Saturday at 1 PM PST on Facebook Live!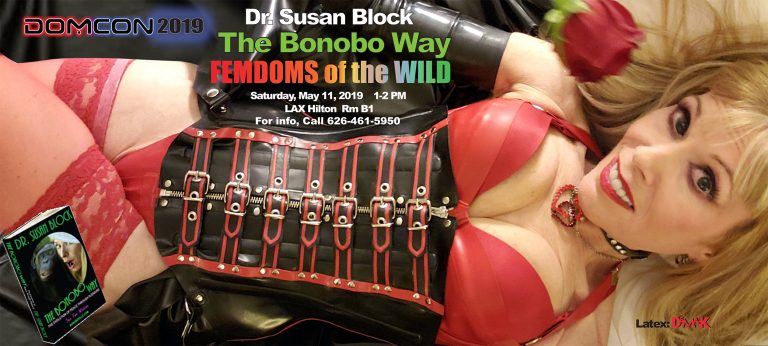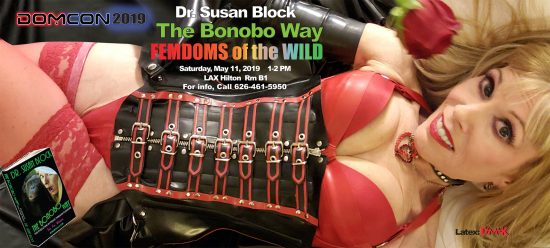 For Info: Call 213-291-9497
We're bound for DomCon, but do YOU feel (or want to be) restrained? Do Dr. Suzy's anal sex tips in Cosmo make you hot for butt play? Need help coping with Post-Trump Sex Disorder? With Mother's Day on the way, is your Mom fetish acting up?  Masturbation Month has also arrived! Need a hand? The Therapists Without Borders of the Dr. Susan Block Institute are available 24/7, anytime you need to talk. Do you need Guided Masturbation or want to express your kinkier side? Want to explore the Erotic Theater of the Mind: spanking, dominating, teasing, humiliating, spanking, bondage, taboo desires or secret sexual fantasies?  Whatever your fetish, fantasy, interest, question, problem, pleasure, kink or conundrum, you can call the Institute at (213) 291-9497 anytime to talk about anything; we're just a phone call away. Experience therapy by phone, webcam or sexting. Gear up for DomCon 2019 with Dr. Susan Block's ever-evolving seminar from DomCon 2017. For more videos featuring Dr. Suzy's wit, wisdom and inimitable eroticism, check out the Dr. Susan Block Youtube Channel! Subscribe for more!

 

 

Dr. Block's Journal

The Little Love Church of the Bonobo Way in the newly inhabited Bonoboville plays host to a sexy pas de deux: its first-ever DomCon dress rehearsal, featuring sapiosexual Dr. Suzy in shiny Demask latex, stiletto red-bottom heels and fiber-optic whip, with her bright and beautiful editorial assistant Shannon, Also featuring suggestive displays of banana fellatio, ball juggling,12 over-the-knee editorial spankings (one for each of the 12 Steps to Releasing Your Inner Bonobo) and getting LEI-ed! Watch this dress (and slightly un-dressed) rehearsal free on DrSuzy.Tv, or Facebook Live. AND it's already May, but our Masturbation Month is COMING show, a shameless celebration of mentally (and physically) self-loving yourself. will get you in the mood, now and (hopefully) well beyond M Month. Caller Sunny gets some sound dating advice, a Hitachi buzz and hot legs with boots in the air! Watch on DrSuzy.Tv or Facebook Live and call us free next Saturday 10:30 pm PST at 213-291-9497 or 1-866-289-7068. Enjoy more fantastic photos and stimulating ideas in Dr. Suzy's sapiosexual show blog.


 

Revisit 20+ years of sex, politics, porn stars, dommes, birthdays, anniversaries, sex educational demos, fascinating interviews, inspirational monologues, squirt salons, masturbation marathons and orgies – now all FREE and only on DrSuzy.Tv!  To inspire you to oil-up your latex, dust your whips and shine your chains, watch 2018's Kink Month Climax!


Enhance your sex life, keep love alive for decades, find like-minded partners and be more ecosexual with Dr. Susan Block's critically acclaimed, paradigm-shifting book, The Bonobo Way: The Evolution of Peace Through Pleasure. Give it on Amazon give it to someone you love, and spread the bonobo message of peace-through-pleasure, female-empowerment and inclusivity today! A portion of all proceeds goes towards conservation of the real bonobos. NEW: Read Dr. Block's latest Cosmo interview on everything anal and Post-Trump Sex Disorder(s) on Counterpunch.  

 

For a brief crash-course of a dom-sub relationship that's shorter, more entertaining and hotter than 50 Shades of Grey, watch Slut Puppy Gets Cock-Slapped by his Sexy Strap-On Mistress! View it here!

 

Travel back to the not-so-distant past of 2016 when Dr. Suzy delivers her first life-altering presentation of 'The Bonobo Way of FemDom Power' at DomCon LA, introducing her kinky audience to the FemDoms of the Wild, the female-empowered "make love not war" bonobos. Watch it here!


Yes, bonobos masturbate just like humans (and a lot of other animals) and engage in a kind of BDSM play, so celebrate M Month and DomCon LA with The Bonobo Way and learn the ecosexual arts of peace through pleasure. A portion of all Bonobo Way book sales are donated to bonobo conservation, so when you order your copy of this life-changing book, you are also helping to save these marvelous creatures from extinction. Coming soon: Dr. Suzy and The Bonobo Way are BOUND for DomCon LA. Don't miss her sure-to-be-amazing talk THIS Saturday at 1 PM in the LAX Hilton.


Cruise Bonoboville.com to find out what's new in the Bonoboville universe and beyond. See the Forbidden Photographs from Valentine Splosh, Sex & Love, SQUIRTING Kink Month Kickoff + LABIA DAY 2018, Erotique Politiques. Masturbation Month Kick-Off 2018, Spring Showers, Woman Power and our 26th Wedding Anniversary Bacchanalia. Featured Post: NOW BOOKING Guests for the LIVE broadcast of The Dr. Susan Block Show! Explore the Bonoboville City Limits and build your village using our Classifieds, Events, FAQ page, Forums, Groups, Obituaries & much more!


---

Shop Dr. Susan Block's Pleasure Shop and spread The Bonobo Way of pleasure this throughout the new year. Does your loved one enjoy the bonobo lifestyle but not a big reader? Surprise them with a beautiful, handcrafted Vulva Pendant or a stylish bonobo t-shirt instead!


---
.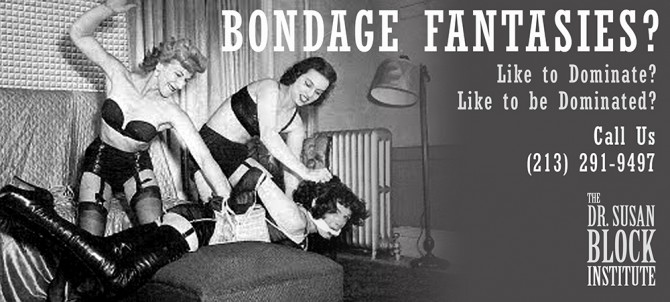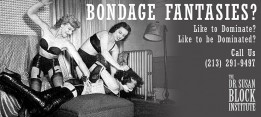 ---
Explore DrSusanBlock.com
Need to talk? Sext? Webcam? Do it here. Have you watched the show? No? Feel the sex. Don't miss the Forbidden Photographs—Hot Stuff, look at them closely here. Join our private social media Society. Join us live in studio 😊. Go shopping. Gift shop or The Market Place. DrSusanBlock.tv, real sex TV at your toe tips. Sex Clips Anyone? FASHION, we have fashion! We also have politics. Politics? Have you Read the book? No? How about the Speakeasy Journal? Click here. Ok, how about some free sex advice?
---
---