"Deep Throat" The PLAY this Saturday + Expert Oral Education on Your Phone or Webcam Anytime :)
This Saturday, February 2nd
The Dr. Susan Block Show broadcasts live from
DEEP THROAT SEX SCANDAL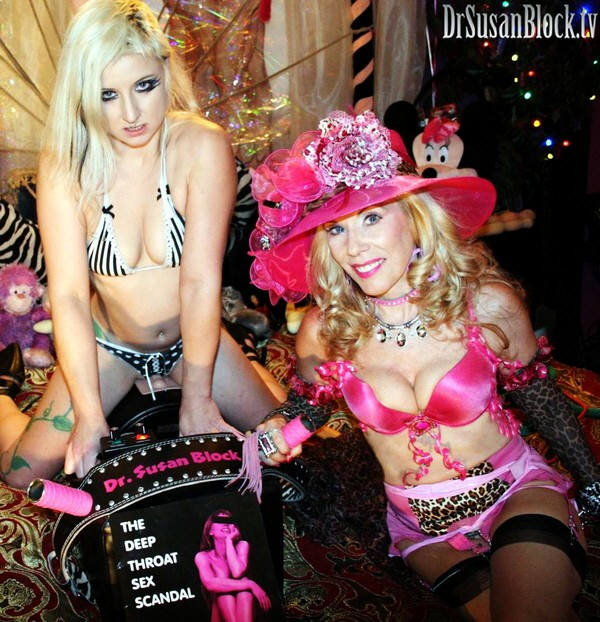 DrSuzy.tv producer Tasia Sutor & hostess Dr. Susan Block get set to broadcast live from The Deep Throat Sex Scandal this Saturday. Photo: L'Erotique
RSVP Here or Call 213-670-0066
Doors Open @ 9:30pm
Show Starts @ 10:30pm
After-Party @ Midnite!
"Deep Throat sparked the 'porno chic' wing of the sexual revolution, important Free Speech court cases, Watergate code and various ongoing scandals, and had millions of women checking their tonsils for their clitoris. We can't wait to see the play and go deeper…" says Dr. Block.
This Saturday, February 2nd, 2013 The Dr. Susan Block Show will broadcast live on location from the West Coast premiere of The Deep Throat Sex Scandal, the critically acclaimed new play by David Bertolino about the making of the notorious, groundbreaking, 1970s porn film "Deep Throat" and the subsequent controversies it ignited. Joining international sexologist Dr. Susan Block live on the air from the Zephyr Theater in West Hollywood right after the play will be Deep Throat Sex Scandal cast and crew, including Natasha Parker (Linda Lovelace in the play), Marc Ginsburg (Harry Reems), veteran adult film stars Veronica Hart and Herschel Savage, producer/writer Bertolino and director Jerry Douglas, plus Golden Globe award-winning actress Sally Kirkland and renowned Oscar-winning comic writer and performer Bruce Vilanch, who also have parts in the evening's production.
Tickets to the play are available here at or by calling 800-838-3006.
Dr. Block's "Deep Throat Interviews" will air live February 2, 2013, 10:30pm-Midnight PST on The Dr. Susan Block Show. Listen FREE on RadioSUZY1
Coming Up Soon on DrSuzy.tv... (click here to RSVP or call 213-670-0066)

2/09/13 – Pre-Valentine's Sex Ed: BLOW EACH OTHER AWAY with Jaiya + Eric John & Vicki Chase

2/16/13 – VALENTINE/LUPERCALIA Celebration with Eden Alexander, Mr. Keys & more!

2/23/13 – Commedia Erotica PURIM Festival
3/16/13 – Squirting St. Patty's Eve with Deauxma & Elexis Monroe

3/23/13- Sexy Sexologist Yasi Madanikia
Now on

DrSuzy.tv

:
"Antidote to Mass-Murder: A Massive Musical Orgy of Love, Lights & the Bill of Rights!

"
We believe in the healing power of

Bonobo Liberation

and you can see, hear and almost smell that power flowing, dancing and ejaculating throughout this effervescent Orgy of Love, our antidote to a season of Mass Murder mania. From hardcore husband-wife lovemaking to the

communal ecstasy

that envelopes the congregation as we dance, suck, fuck,

spank

, 

squirt

and revel in live music inspired by ancient tribes, we celebrate 

eros

(love), counterpoint to thanatos (death). Don't miss this wild circus of enlightenment & carnal delights featuring Jewels Jade & Jay Voom, Max Hardcore, Cat, Sam, the Dogons, Shay Golden & Brock Hard. Watch it now on

DrSuzy.tv

.

Photo: JuxLii

For Valentine's Day, Lupercalia, Purim & St. Patty's....Give the Gift of Pleasure to Someone You Love, Even If That Someone is You!

"Dr Susan Block's 10 Commandments of Pleasure are the best to come around in the past 2000 years. Bravo!"
Nina Hartley, adult film star & sex educator

"Thank you, Dr Suzy, for showing me that sex education can be sexy."
Sheila Nevins, Executive VP, HBO

"Any man who follows Dr. Suzy's 10 Commandments of Pleasure will have women eating out of his hand. Any woman will have men groveling at her feet."
Dr. Tracy Cabot, Best-Selling Author
| | | |
| --- | --- | --- |
| Recent Bloggamies, Shows, Free Pix Pages | | |
Make Like

Bonobos

, Not Baboons! Make Love, Not War.Make Love to Someone You Love Tonight, Even If That Someone Is You.
I LOVE YOU
Peace on Earth ♥ Pleasure for All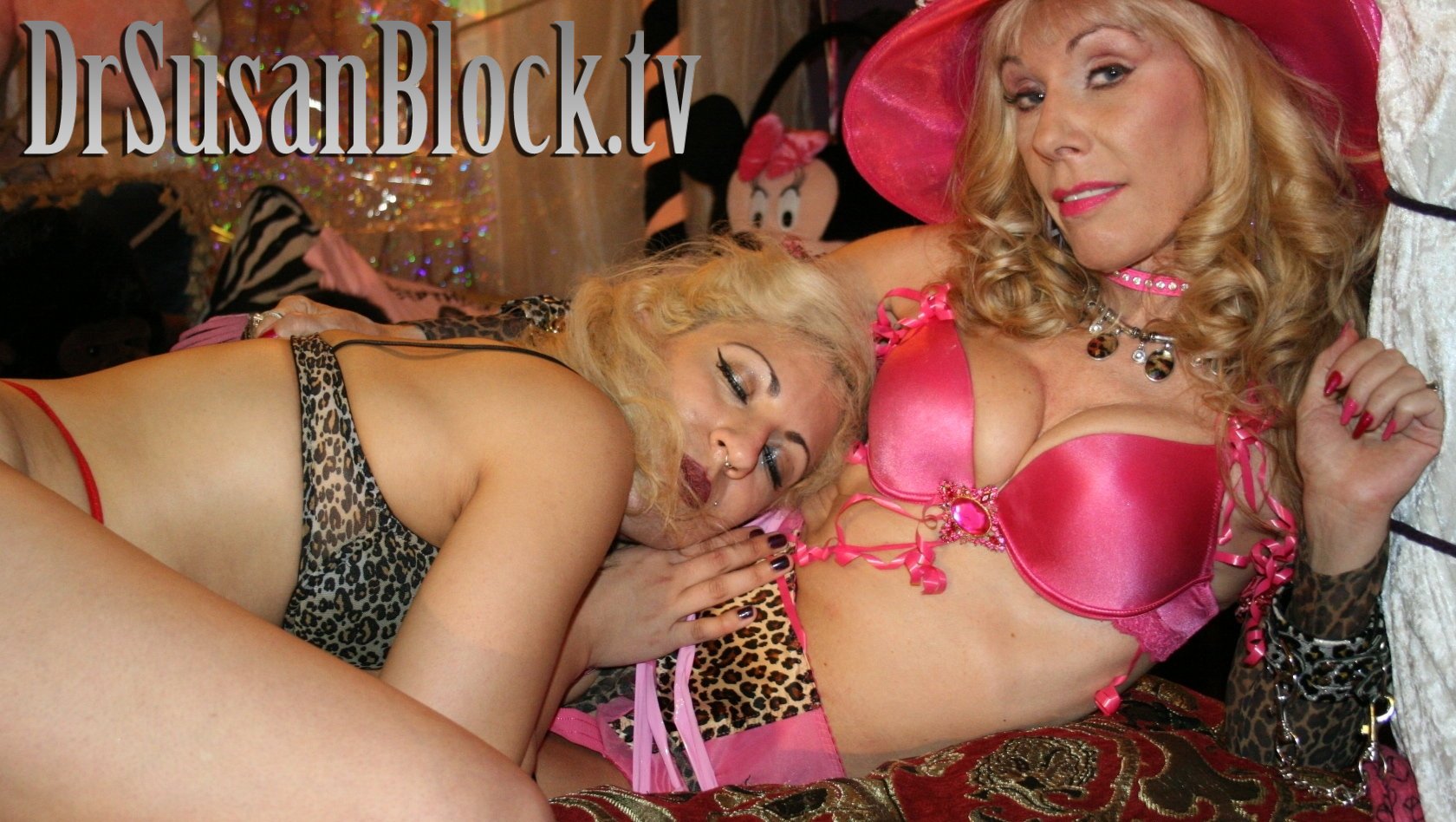 AMEN ♥ AWOMEN
x S


DrSuzy
---
Explore DrSusanBlock.com
Need to talk? Sext? Webcam? Do it here. Have you watched the show? No? Feel the sex. Don't miss the Forbidden Photographs—Hot Stuff, look at them closely here. Join our private social media Society. Join us live in studio 😊. Go shopping. Gift shop or The Market Place. DrSusanBlock.tv, real sex TV at your toe tips. Sex Clips Anyone? FASHION, we have fashion! We also have politics. Politics? Have you Read the book? No? How about the Speakeasy Journal? Click here.
---