1 Billion Rising, Blow Me Away!
This Saturday, February 9th
The Dr. Susan Block Show broadcasts live from
BLOW ME AWAY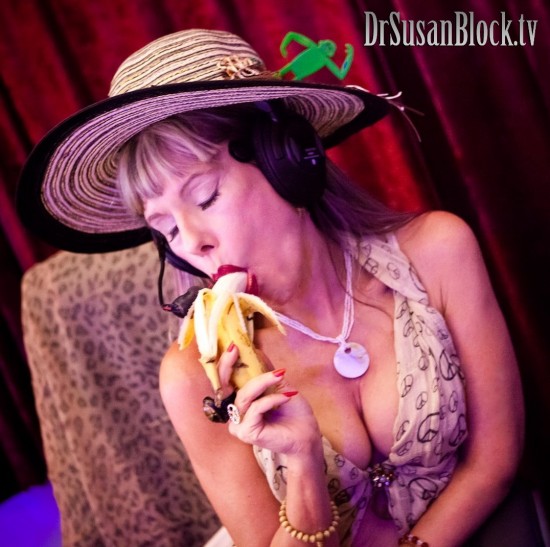 Your hostess Dr. Susan Block practices for Saturday's "Blow Me Away" show. Photo: JuxLii
RSVP Here or Call 213-670-0066
Doors Open @ 9:30pm
Show Starts @ 10:30pm
After-Party @ Midnite!
"We're getting pre-Valentine's Day Oral Education  this Saturday Night  in Bonoboville…Rise Up, Stop the Violence & Start the Party!" says Dr. Block.
This Saturday, February 9th, The Dr. Susan Block Show will get ready for Valentine's Day and Lupercalia by exploring the art and science of oral ecstasy—fabulous fellatio and connected cunnilingus—the Pleasure Wave and ancient techniques of the White Tigress. Joining international sexologist Dr. Susan Block in her Womb Room broadcast studios will be sensuous sex educator JAIYA sharing oral techniques from her new book Blow Each Other Away, her partner D.Love, erotic comic Amanda Blow (pun intended), her girlfriend Livia Godiva, porn star couple Shay Golden and Brock Hard, and TS starlet/supermodel Natassia Dreams. There will also be major mainstream media coverage of this show, which will be part of Eve Ensler's 1 Billion Rising: Strike, Dance, Rise Up Against Violence Around the World.
Blow Me Away: 1 Billion Rising will air live February 9th, 2013, 10:30pm-Midnight PST on The Dr. Susan Block Show. Listen FREE on RadioSUZY1 or Watch the LIVE BROADCAST on DrSuzy.TV Call-In Free: 1-866-289-7068 Read Our Rave REVIEWS!
Coming Up Soon on DrSuzy.tv... (click here to RSVP or call 213-670-0066)
02/16/13 –   VALENTINE/LUPERCALIA RISING – Part of 1 Billion Rising!
02/23/13 –   Commedia Erotica PURIM Harem Festival
03/16/13 –   Squirting St. Patty's Eve with Deauxma
03/23/13 –   Sexy Sexologist Yasi Madanikia
04/20/13 –   "Prostate Pleasure & Health" Author Dr. Charlie Glickman
Sex toys provided by Sybian, Divine Interventions, CalExotics, ScreamingO, Stockroom, JuxLeather and Condomania condoms. The Dr. Susan Block Show beverages of choice are Hennesey, Absinthe and Agwa di Bolivia Coca Leaf Liqueur, among the many fine libations and gourmet hors d'oeuvres featured at the always-popular Speakeasy Open Bar and Aphrodisiac Buffet. Proceeds from donations go to help save the highly endangered "make love not war" bonobos from extinction in Congo and to promote the Bonobo Way of Peace through Pleasure around the world.
Now on

DrSuzy.tv

:
"Antidote to Mass-Murder: A Massive Musical Orgy of Love, Lights & the Bill of Rights!

"
We believe in the healing power of

Bonobo Liberation

and you can see, hear and almost smell that power flowing, dancing and ejaculating throughout this effervescent Orgy of Love, our antidote to a season of Mass Murder mania. From hardcore husband-wife lovemaking to the

communal ecstasy

that envelopes the congregation as we dance, suck, fuck,

spank

,

squirt

and revel in live music inspired by ancient tribes, we celebrate

eros

(love), counterpoint to thanatos (death). Don't miss this wild circus of enlightenment & carnal delights featuring Jewels Jade & Jay Voom, Max Hardcore, Cat, Sam, the Dogons, Shay Golden & Brock Hard. Watch it now on

DrSuzy.tv

.

Photo: JuxLii

For Valentine's Day, Lupercalia, Purim & St. Patty's....Give the Gift of Pleasure to Someone You Love, Even If That Someone is You!

"Dr Susan Block's 10 Commandments of Pleasure are the best to come around in the past 2000 years. Bravo!"
Nina Hartley, adult film star & sex educator

"Thank you, Dr Suzy, for showing me that sex education can be sexy."
Sheila Nevins, Executive VP, HBO

"Any man who follows Dr. Suzy's 10 Commandments of Pleasure will have women eating out of his hand. Any woman will have men groveling at her feet."
Dr. Tracy Cabot, Best-Selling Author
| | | |
| --- | --- | --- |
| Recent Bloggamies, Shows, Free Pix Pages | | |
Make Like

Bonobos

,

Not Baboons! Make Love, Not War.Make Love to Someone You Love Tonight, Even If That Someone Is You.


I LOVE YOU
Peace on Earth ♥ Pleasure for All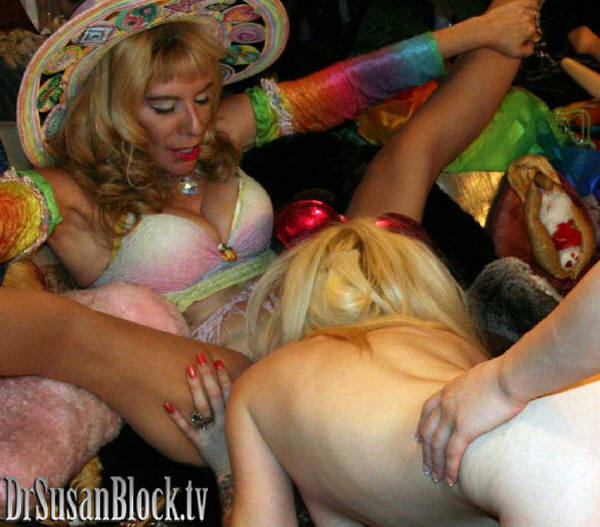 AMEN ♥ AWOMEN
x S


DrSuzy